Or as my soul beggeth, Chickeeeenwa burgers.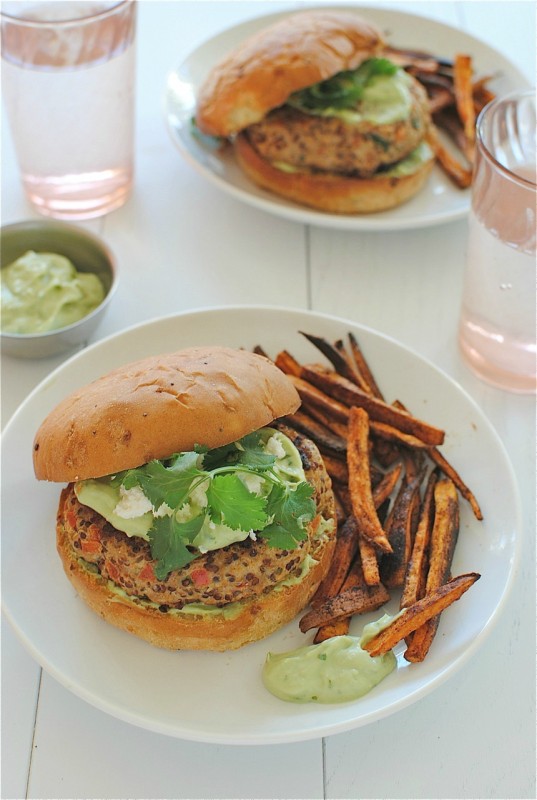 And while we're at it, don't look too closely at my sweet potato fries. It's hard to tell with the naked eye, but underneath all that Parenthood-(ahem)-induced, semi-burned crispy exterior, lie the soft, seasoned sweet potato fibers of Zion.
But you don't rightly care because you want to smear that dipping sauce all over your head and hair. Look I feel ya. I do.
But let's start with the chickeeeenwa.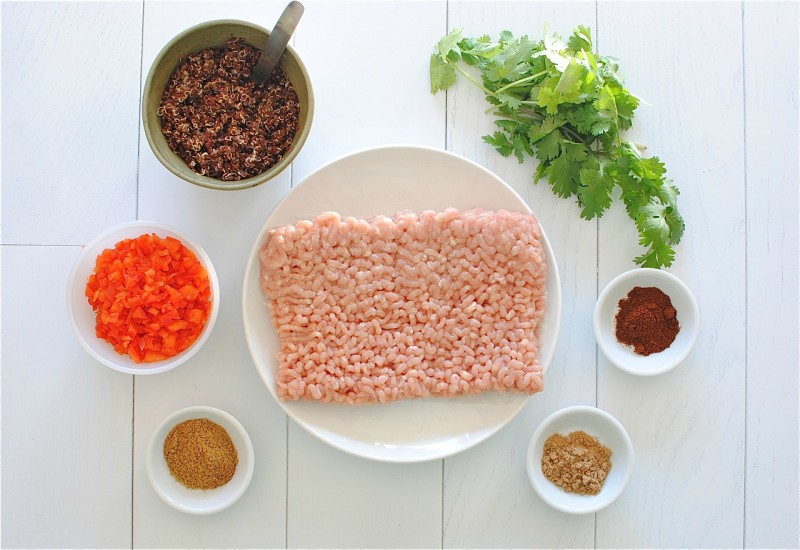 OR ACTUALLY, let's start with what Christmas movies you've watched so far, eh? eh?
You're gonna flippin' flip your flip, because for the first time ever in my lil' life I watched Scrooged with Bill Murray. L-O-H-O-V-E-D. Aaron's seen it a kazillion times, and was falling out of his skin when he learnt I'd never seen it. I think it was because in 1988 we were only allowed to watch Michael W. Smith, Sandi Patti and Amy Grant Christmas specials, MOM.
(dump some yummies in a bowl, mix mix mix, pat pat pat)
And then last night we watched National Lampoon's Christmas Vacation, omgggaaahahahahaaa. Now, before you freakin' freak your freak, I HAD seen bits and pieces of this one, but I didn't remember much. I think it was because in 1989 we were only allowed to listen to the Mannheim Steamroller Christmas cassette tape, DAD.
(sear sear sear, flip flip flip, sear sear sear, blitz blitz blitz, taste taste taste, coma coma coma)
I remember not being able to say Mannheim. I would say Mahn-A-heimlich maneuver and my little sister would knock me straight into the Christmas tree with the wave of her eye-roll.
(toast toast toast some onion buns, smear smear smear some sauce, top with the chickeeeenwa burger, another heavy dose of sauce smearage, an – WAIT A STINKIN' MINUTE. Look at this burger. Just look at it. It's totally Christmasy looking. How did I do this? How did this happen? Will we ever know?)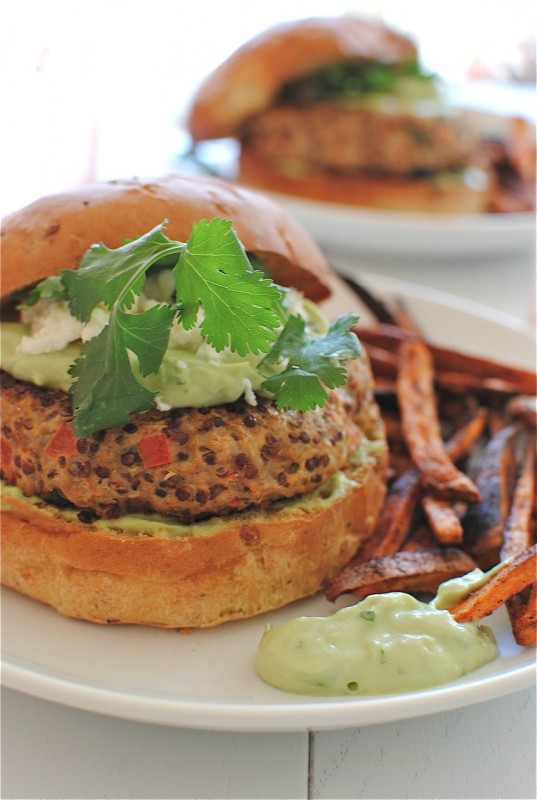 It's like the cosmic Christmas angels aligned the stars in the sky just for us on this very special day.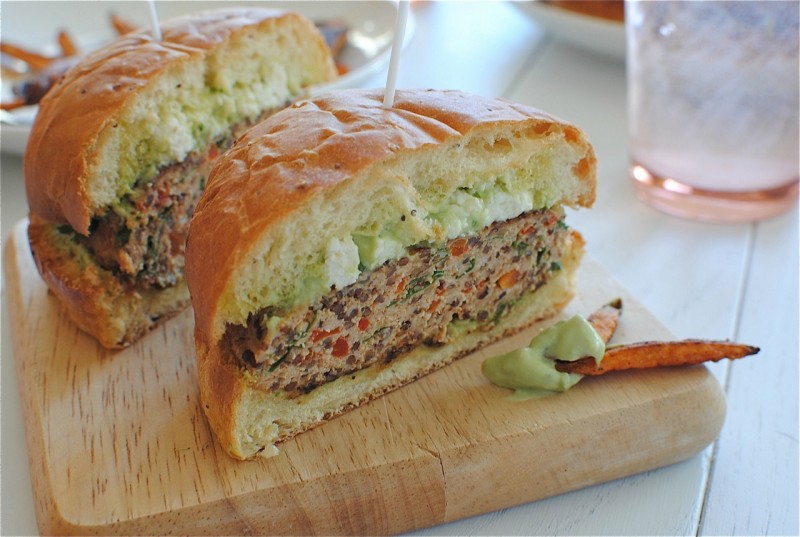 I guess eggnog first thing in the morning isn't the finest idea.
Chicken-Quinoa Burgers with an Avocado-Yogurt Sauce:
What it took for 4 burgers:
* 1 pound ground chicken
* 3/4 cup uncooked black quinoa (or regular)
* 1/2 red bell pepper, finely diced
* 1 cup cilantro leaves, divided in half
* 1 tsp chili powder
* 1 tsp cumin
* 1 tsp ground coriander
* 1/2 tsp garlic salt
* 2 Tbs. extra-virgin olive oil
* 1 avocado
* 3 Tbs. plain Greek yogurt
* juice from a lime (about  2 Tbs)
* 4 onion buns
* 1/4 cup crumbled cotija cheese
* coarse salt and freshly ground pepper
Cook the quinoa in boiling water for about 15 minutes, until it pops into little spirals. Drain and set aside.
In a large bowl, combine the chicken, cooked quinoa, red bell pepper, half the cilantro, chili powder, cumin, ground coriander, garlic salt, and a good pinch of salt and pepper. Thoroughly mix with your hands, and then form four little patties. You can chill these in the fridge if you want, for as long as you want, or go ahead and cook 'em!
Heat the oil in a large skillet over medium-high. Add the patties and sear until browned on both sides and cooked all the way through, 10 – 12 minutes total. Set aside.
In a food processor, combine the avocado, yogurt, remaining cilantro, lime juice and a pinch of salt. Blitz blitz blitz until smoooooth like buttah. Taste it. ah. know.
Lightly toast the onion buns brushed with olive oil and garlic salt.
Smear a little of the avocado sauce on the bottom half of the onion bun. Top with a chicken-quinoa patty. Then a ton more avocado sauce. Then some crumbled cotija cheese. Then ask someone how to pronounce cotija. And then tell me. Maybe a little cilantro for garnish? Yez.
Serve with sweet potato fries!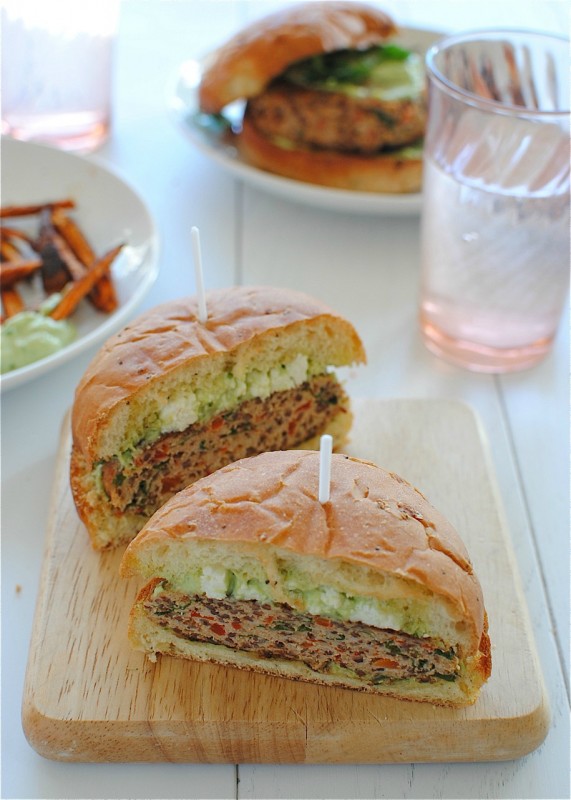 And the crumbled cheese is snow!
Never mind.