IT'S THE MOST, WONDERFUL TIIIIME OF THE YEAAAAAAR.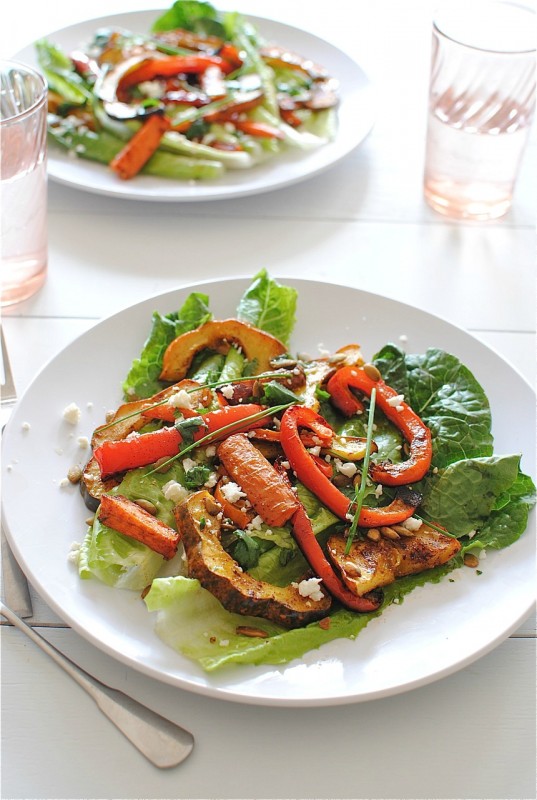 Freaking Christmas has taken over, you guys. Taken. Over. It's in my eyes, ears, nose, hair follicles, skin pores, eyelashes, under my fingernails. It's like, bad. I basically need to be punched.
WITH THE KIDS JINGLE BELLING AND EVERYONE TELLING YOU BE OF GOOD CHEEEEEER.
Hey, while I have you – what do you suppose they mean by, "SCARY GHOST STORIES AND TALES OF THE GLORIES OF CHRISTMASES LONG LONG AGOOOO?"
Uhhh what ghosts? What glories? Hi, we all know Santa Claus is not a ghost. He's as real as my hair is dirty. Maybe the writer of that song's face is . . . a ghost. Huh? Ever think about THAT?
THERE'LL BE PARTIES FOR HOSTING, MARSHMALLOWS FOR TOASTING AND CAROLING OUT IN THE SNOOOOW.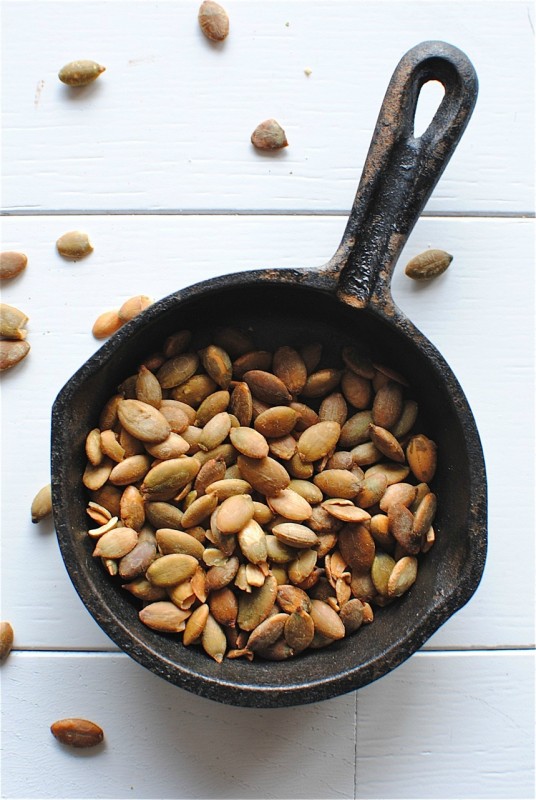 Have you ever seen the SNL skit of Will Ferrell singing the song on the little circle spinny thing? Oh. Oh my word. Oh I'm about to die. Stop what you're doing right this very second. Okay and I spent like 30 minutes trying to find a decent clip, and all of them are serious pieces of wonk-a-shonk. But here, watch this and wet your entire face for the remainder of the day.
THERE'LL BE MUCH MISTLTOEING AND HEARTS WILL BE GLOWING WHEN LOVED ONES ARE NEEEEAR.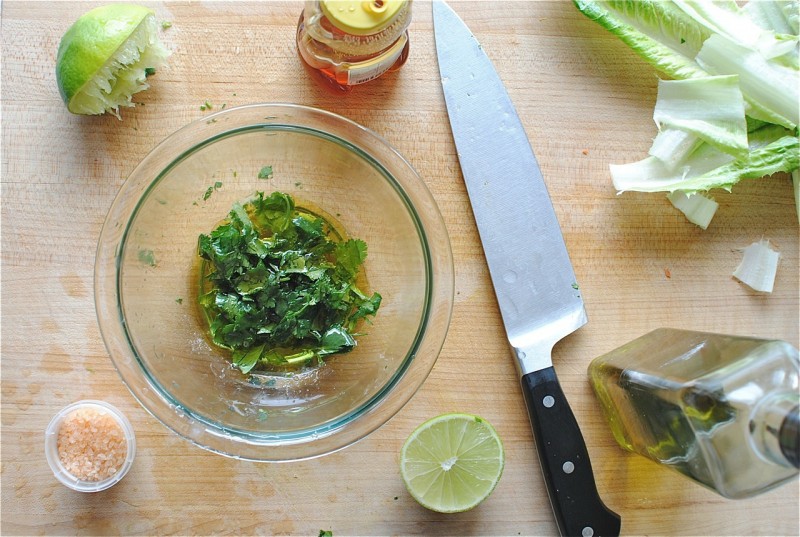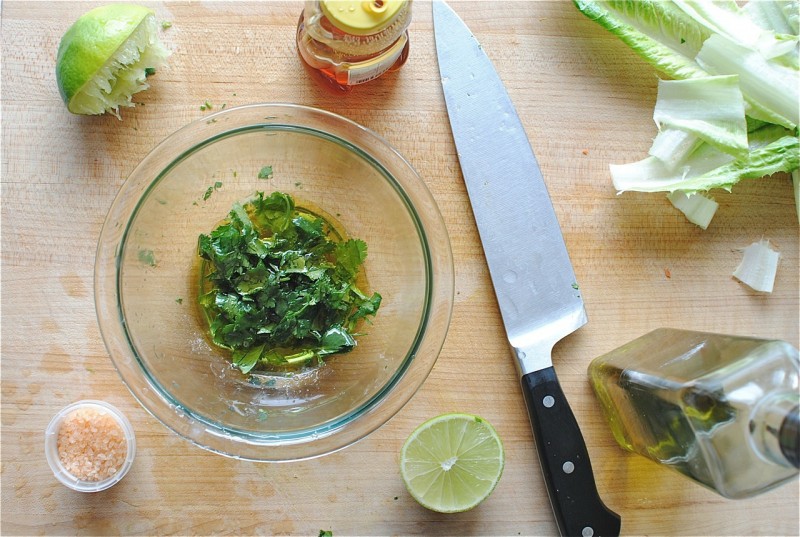 P.S. This salad? REEDIC. Quick-roasted acorn squash and vegetables with a kiss of chili powder. Crisp whole romaine lettuce leaves with a light drizzle of cilantro-honey-lime dressing. Light cotija cheese crumbles and chives as a quick but delicate garnish.
Christmas glory in ya' face!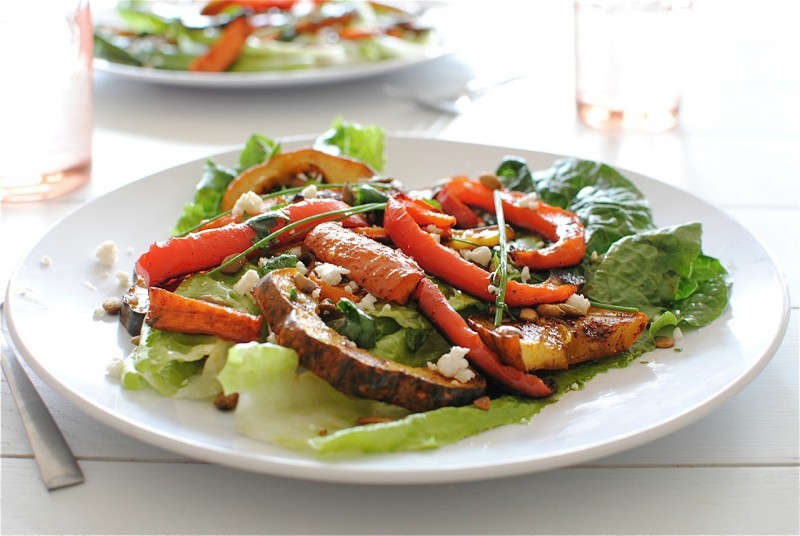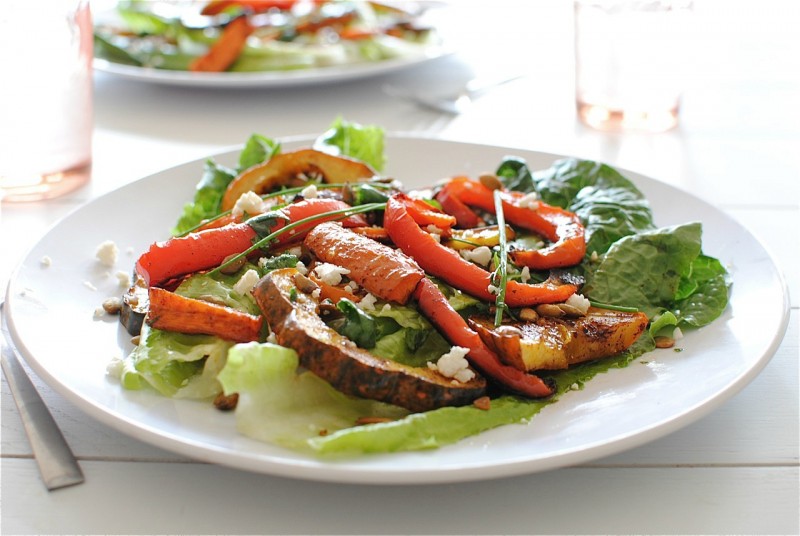 Chili-Roasted Vegetable Salad:
(adapted from the newest Everyday Food)
What it took for 2 large salads:
* 1 acorn squash, cut in half, seeds scooped out, and sliced into half moons
* 2 carrots, thinly sliced
* 1/2 red bell pepper, thinly sliced
* 4 tsp chili powder
* 5 Tbs. extra-virgin olive oil, divided
* 3 Tbs. lime juice
* 1/2 cup freshly chopped cilantro leaves
* 1 tsp honey
* 1 large romaine heart, rinsed and leaves separated
* 2 Tbs. pepitas, lightly toasted
* 1/2 cup crumbled cotija cheese
* coarse salt and freshly ground pepper
Preheat oven to 400.
On a rimmed baking sheet, toss the acorn squash, carrots and red bell pepper slices with 2 Tbs. olive oil. Sprinkle with chili powder and a good pinch of salt and pepper. Roast for 20 to 25 minutes, until all the veggies are soft and roasted and happy.
In the meantime, whisk together the lime juice, cilantro, honey, remaining 3 Tbs. oil, and a small pinch of salt and pepper. Stick your finger in that. Yes.
Now just arrange the romaine leaves on two dinner plates, and top with the roasted vegetables. Sprinkle the toasted pepitas and cotija cheese over it. Did we figure out how to pronounce cotija yet? No? Okay. Now just drizzle the salad with the cilantro-lime dressing.
Fo' da' real.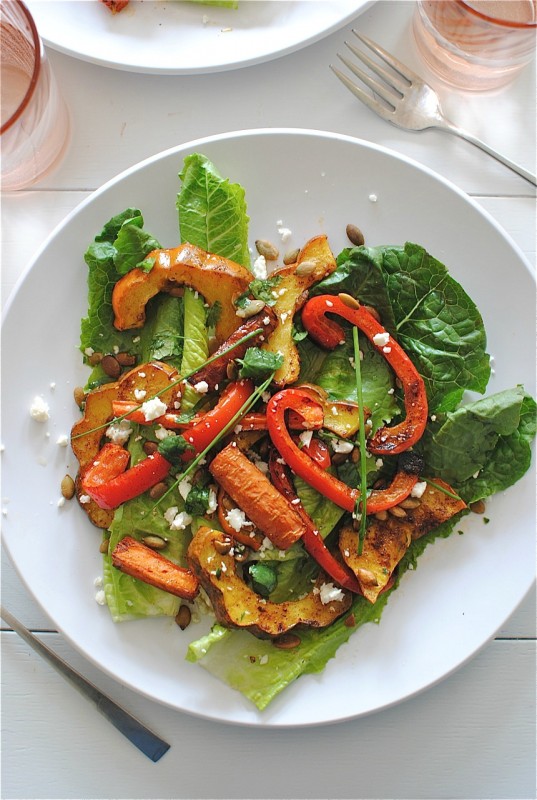 WITH THOSE HOLIDAY GREETINGS AND GAY HAPPY MEETINGS WHEN FRIENDS COME TO CAAAAAAA – okay.