Story time!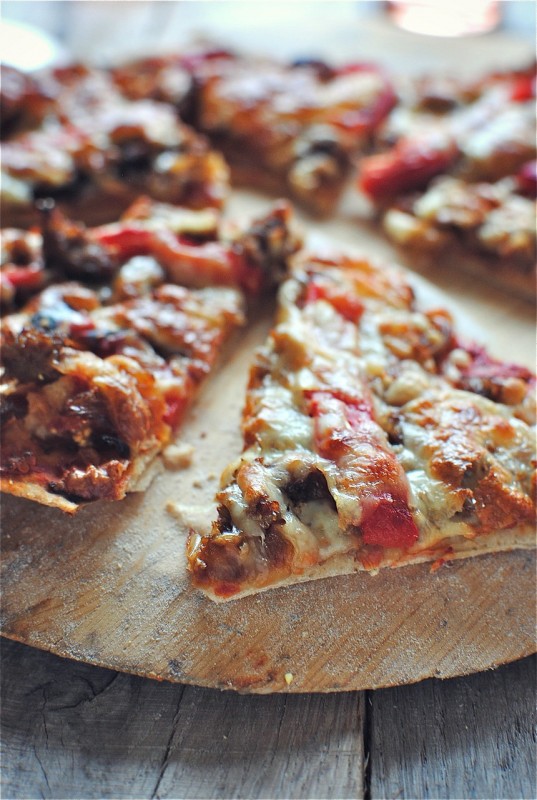 Wait, did you just GROAN?
I spent most of my formative years in Hobbs, New Mexico. Way out in the desert with tumbleweeds and dust and sleeveless muscle shirts. So from the ages of 9 to 19, if my family had any major shopping to do, like back-to-school style, we drove two hours to Lubbock, TX. The big city! With fancier tumbleweeds, dust and sleeveless muscle shirts.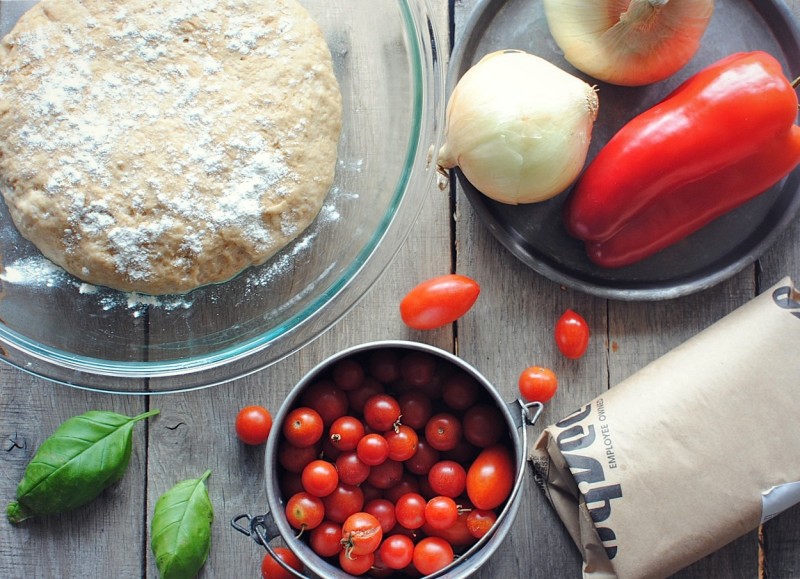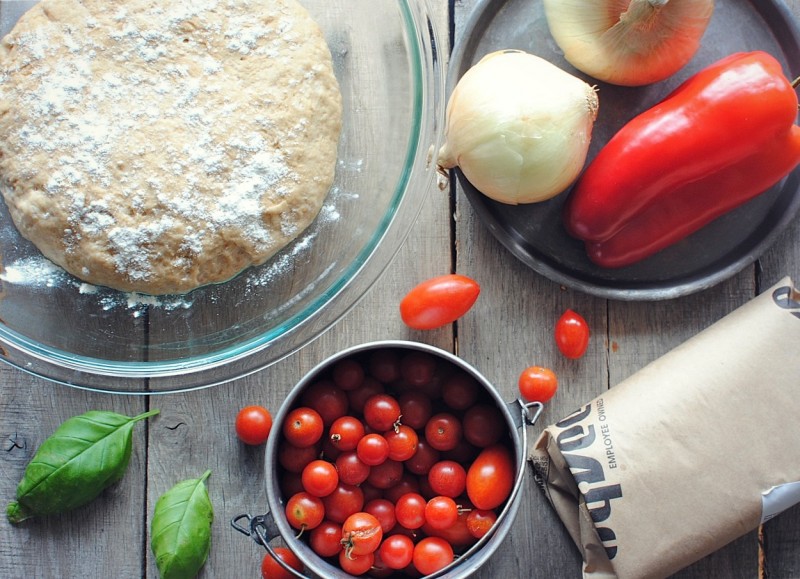 One late summer Saturday morning in 1989 my family of four hopped into our blue Astro minivan and made the trek to the Lubbocks. I was 13 years old and desperately needed some new neon Esprit coolots. I MEAN DUH. We arrived late morning and were all utterly famished and grouchy and I had just learned the exciting word "methane" and was adorably overusing it in every sentence, thus resulting in my 16 near deaths. Like, that morning.
Outside the GIGANTIC Lubbock mall (which is probably actually a regular sized mall now that I'm all grown upy and mature) there's a slew of chain restaurants. I'm talking chachki.ville. We jumped on the nearest Pizza Inn, slid into a booth (which my mom wanted a table because she's so tiny she can't ever reach the table, bahahah!), scanned the menu and quickly made our order before we resorted to feeding on our phalanges.
BUT WAIT.
"Did we order thin crust?"  "Dad, do you remember us actually saying the words THIN CRUST? I can't remember!" "Can you, mom?"  "Barbara, do you remember if we said thin crust?" "Oh no, Tim. We didn't say thin crust. I really don't think we said thin crust."  "Joan, I don't know either. I don't think we did. I don't think we said thin crust."  "Do you think they'll put methane in it?"
BEVERLY SUE BLANN.
My dad flags down our waitress. She walks over to our table, pen in her mouth, already visibly annoyed. My dad, "So sorry to bug you. We just wanted to double check our order. Did we make that thin crust?" She halfway scans her scribbled notepad, "Uh huh."
In unison, my entire family (I'm embarrassed just remembering) sinks into the hugest sigh of relief, "WHEEEEW! OH YAAAAAY. OH MY GOSH. I MEAN THAT WAS SOOOO CLOSE." Like, the whole entire restaurant heard it. All of the restaurants heard it. The whole mall a parking lot away heard it.
She slightly shakes her head, turns to walk away and under her breath, "Y'all needs ta get out more."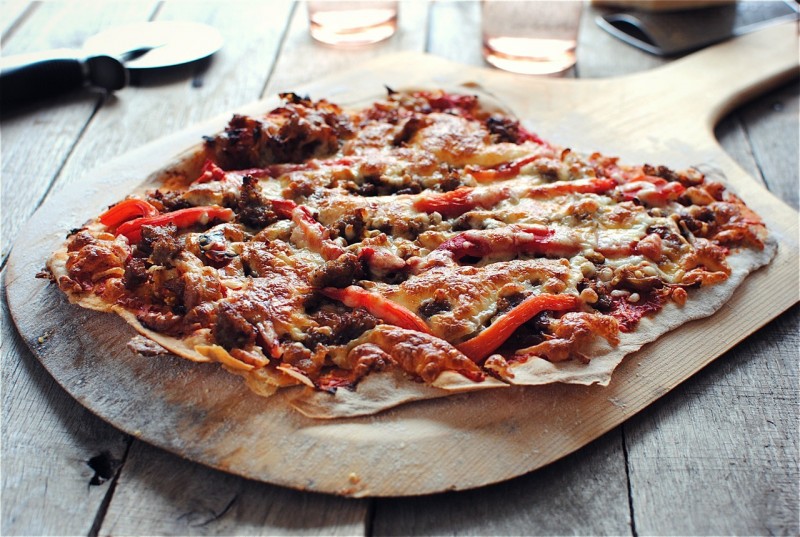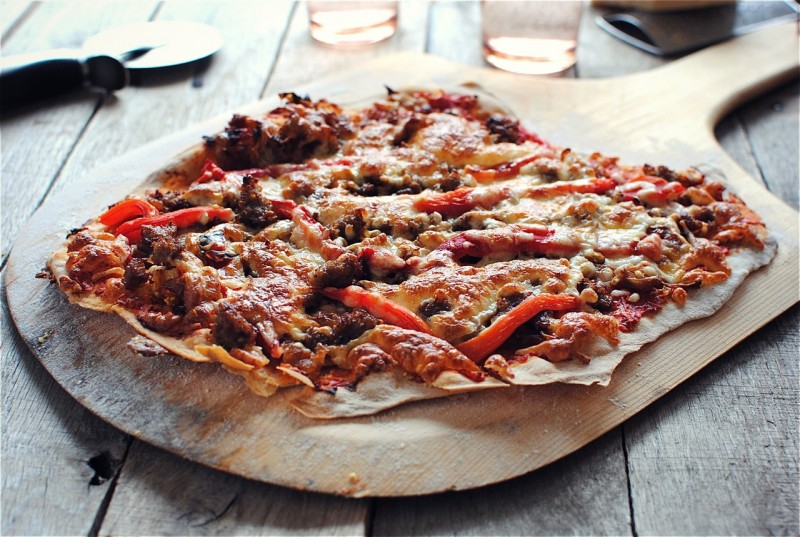 But we got our thin crust pizza.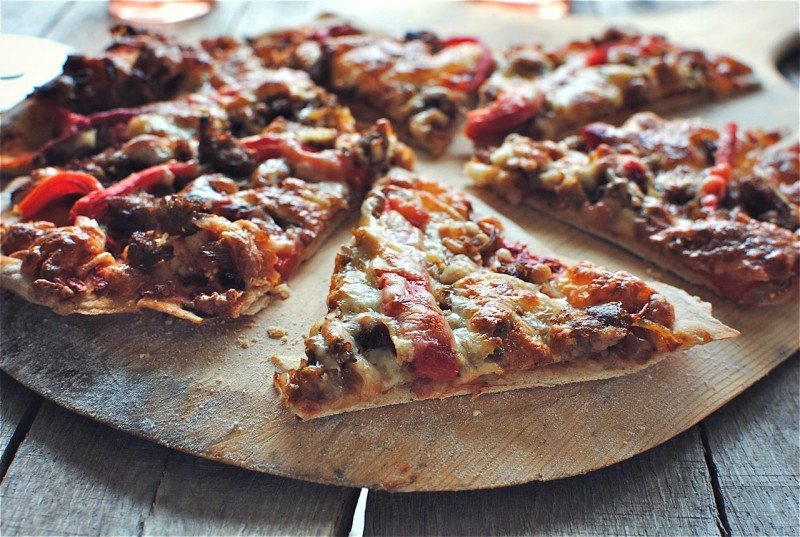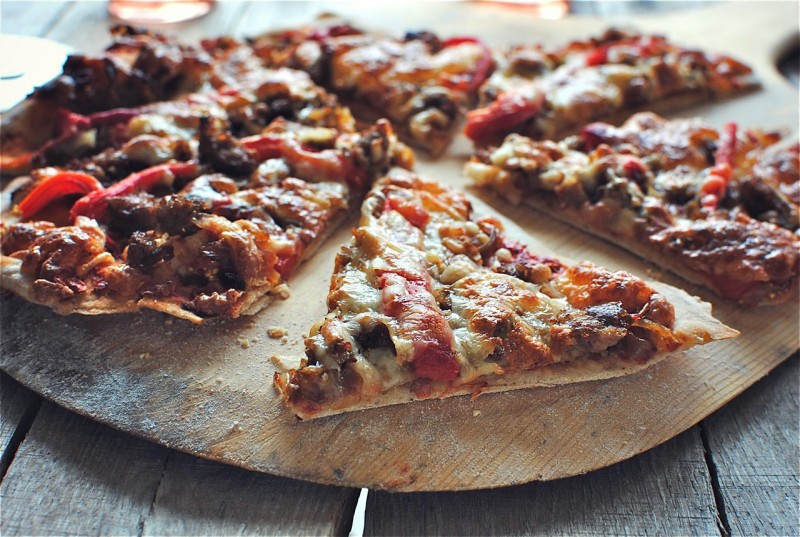 That's right we did.
Thin Crust Pizza with Caramelized Onions, Sausage and Roasted Red Peppers:
What it took for 2 (roughly) 10-inch pizzas:
* half of this pizza dough recipe
* 2 medium yellow onions, thinly sliced
* 1 large red bell pepper
* 2-3 cups cherry tomatoes (or your pizza sauce of choice)
* 2 links Italian sausages, casings removed
* 2 cups shredded mozzarella
Place the sliced onions into a large skillet, over low heat. Occasionally toss the onions, as they caramelize over the next hour or so. They'll turn brown and sugary and oh so lovely.
In the meantime, throw your tomatoes into a small food processor. Blitz until smooth. Transfer the sauce to a small sauce pan and simmer on low for about 30 minutes, reducing the tomatoes. Season with a small pinch of salt.
Also in the meantime, turn on your broiler. Using tongs, place the pepper on the top oven rack and cook until it's black and charred all over, turning the pepper as you go. Remove the pepper from the oven and place it in a bowl. Cover with plastic wrap and let it sit for about 10 minutes. The skin will loosen on the pepper. You'll then just pull the skin away from the pepper. Slice into strips!
(or you can buy them already roasted)
Once you're done broiling, set your oven to 400. Stick a pizza stone in there too if you have one.
Once the onions are caramelized, transfer them to a small bowl. To the skillet, add the Italian sausages. Cook until browned all over, about 7 minutes.
Roll out 2 balls of pizza dough until you get roughly 10-inch circles.
Evenly spoon the tomato sauce over each crust. Arrange the onions on top of the sauce. Then sprinkle the sausage crumbles over the onions. Then on go the roasted red pepper strips.
Then sprinkle the cheese over each pizza, slide each pizza onto the stone (preferably with a little corn meal on the stone) and bake about 13 minutes, or until the cheese is browned and bubbly.
Slice. It. And. Serve. It.