I'm about to officially leave the country and head to ISRAEL (!) today, but I feel like you need some pizza first. You need some pizza, right? You really do.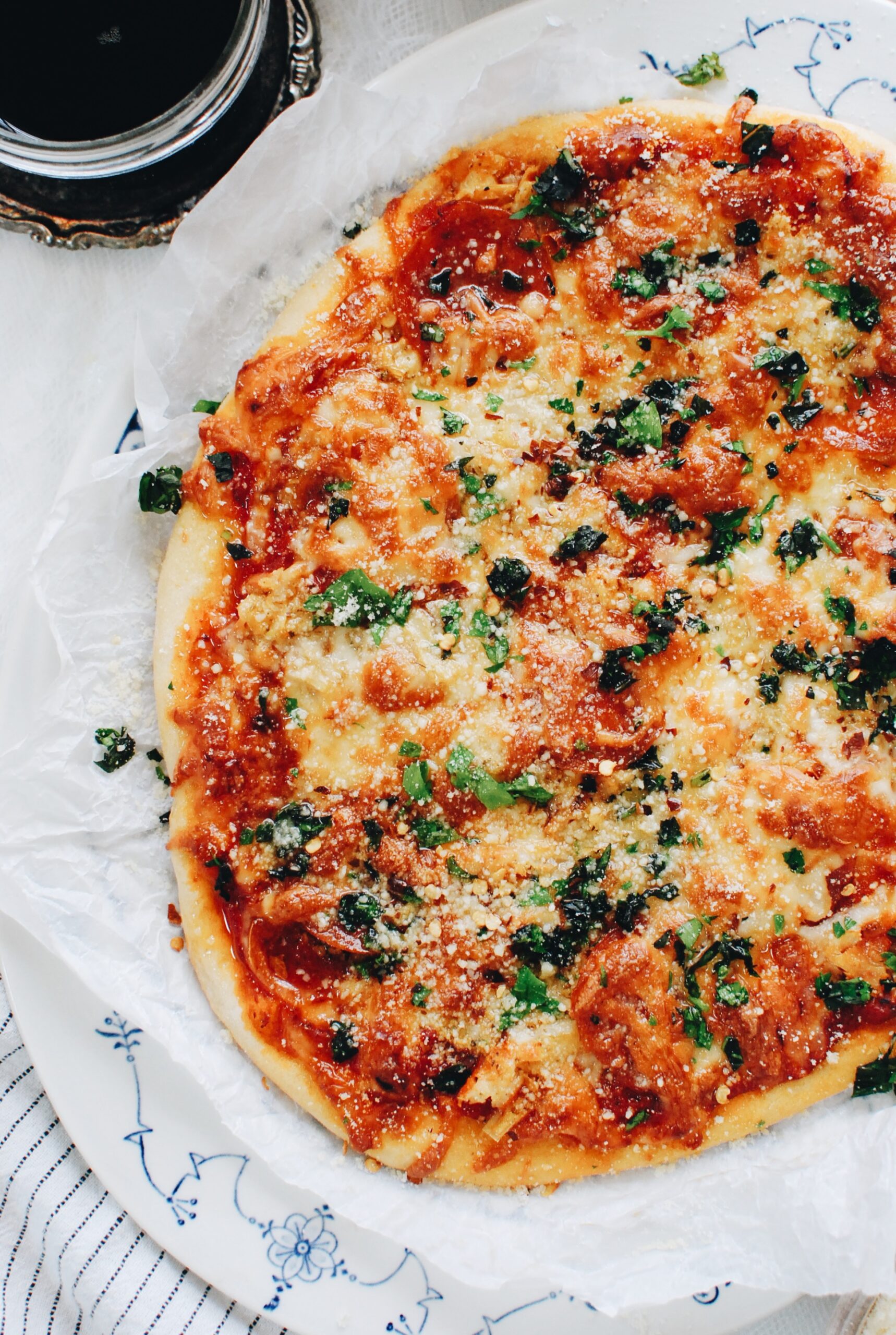 Aside from making your own dough, this could easily be slapped under the "dern tootin' easy" category.
You'll chop up some artichoke hearts, you'll grate mozzarella, and you'll do a little jig because that's mainly it.
Let us peepeth.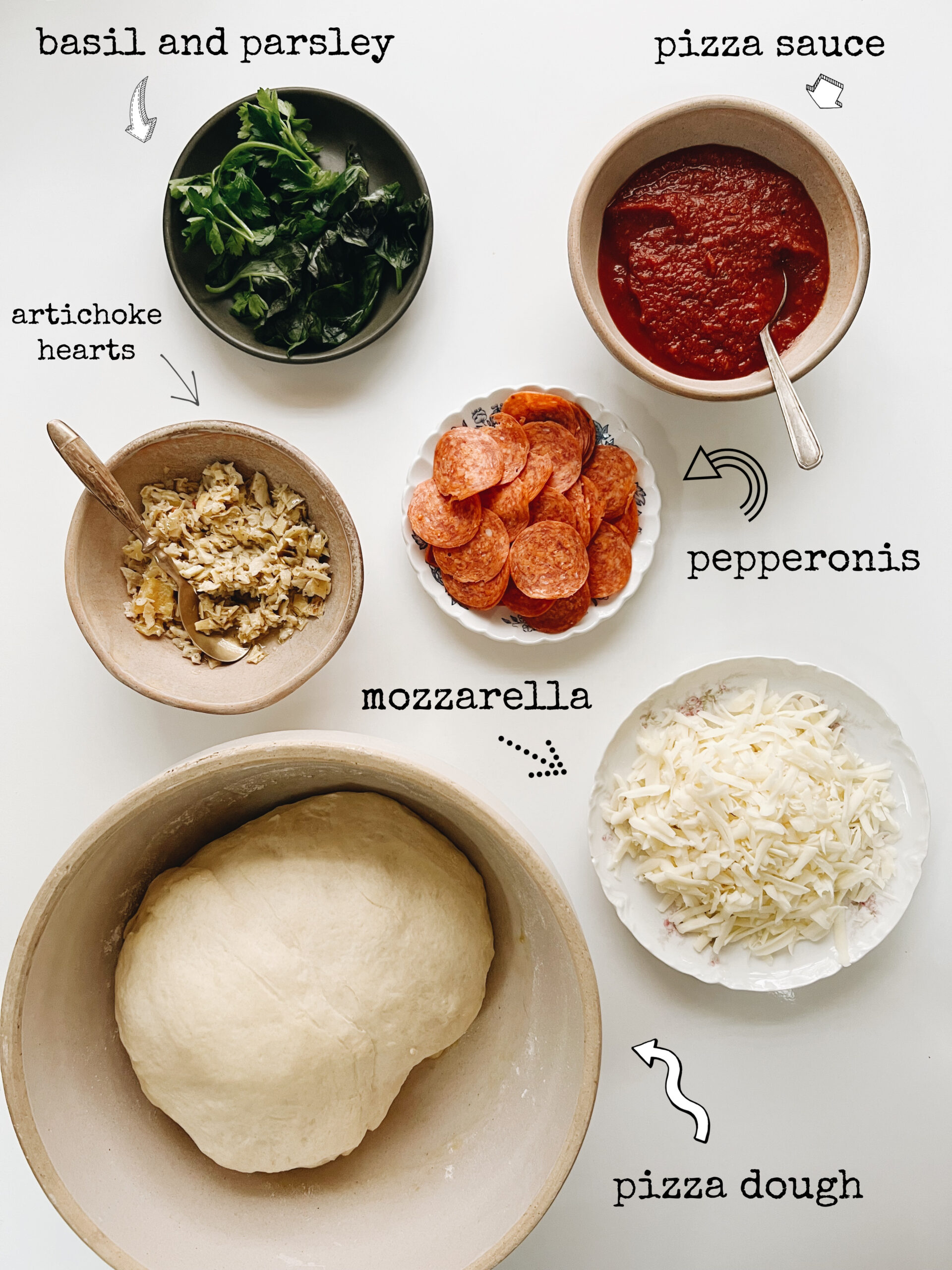 But make your own dough if y'awnt! It really doesn't take long, and the flavors are yeasty and billowy and delightful. You'll see it all in the reel.
The herbs get chopped and thrown on last second as a finish, and the pepperonis are just a throw-back staple of a childhood classic. I do love a good pepperoni once in a while. And as far as the pizza sauce, just grab your favorite brand. I honestly don't have one. I buy whatever looks good. Jarred, canned, it's all good.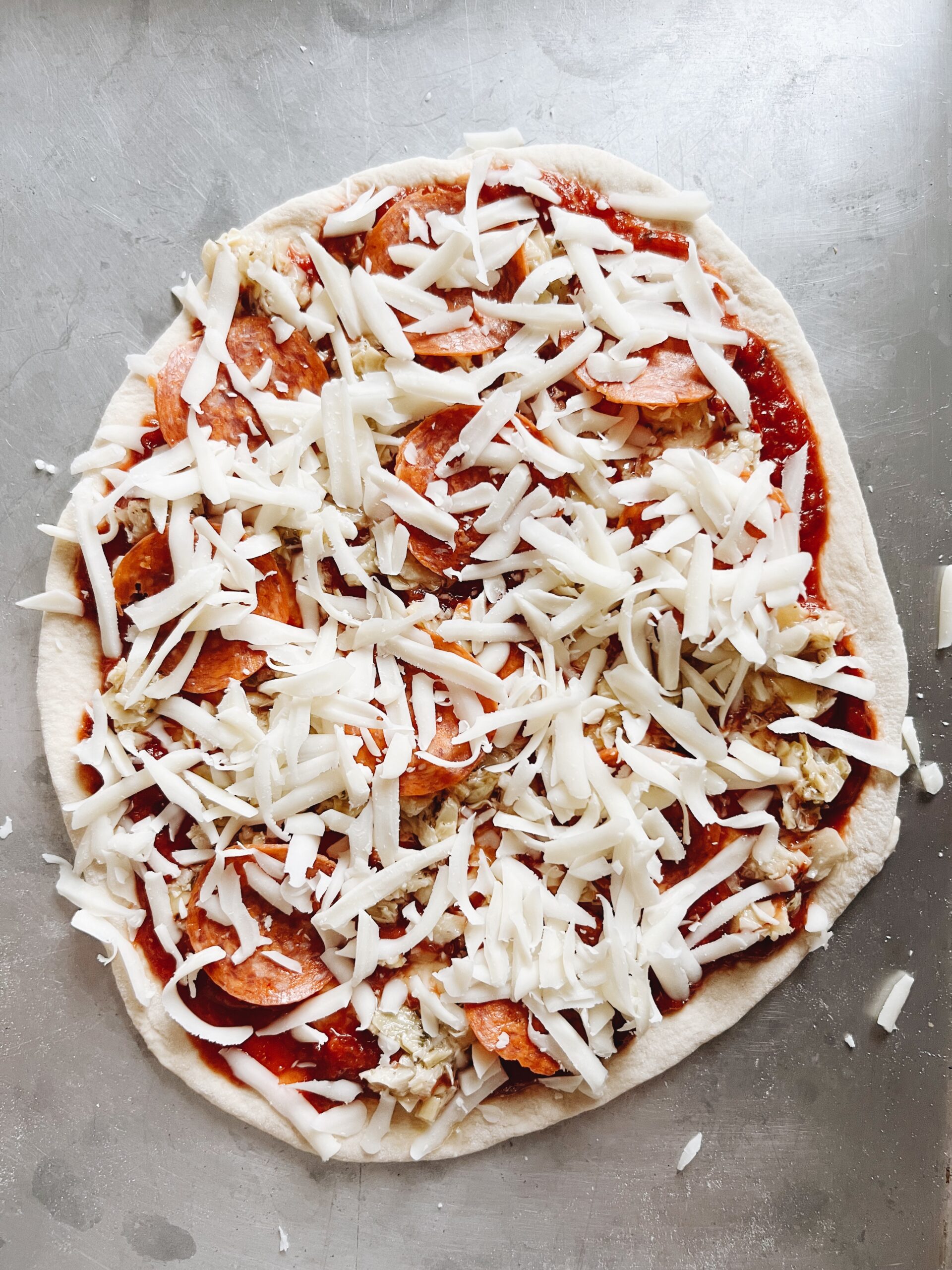 The artichoke hearts are tangy, acidic and vibrant. They added an unexpected depth to the pizza that I didn't really expect, so this is going to be something you can't skimp, okay? Artichoke your heart out. Hahahah.
And it's Valentine's Day! I didn't even plan that.
Maybe.
Yaaaaaaaa-hum. Lots happening here. The richness of the pepperoni and the brightness of the artichoke hearts move around each other like a scene out of Dirty Dancing. The chopped fresh herbs and parmesan sprinkling add an earthiness and a nuttiness that's orbital.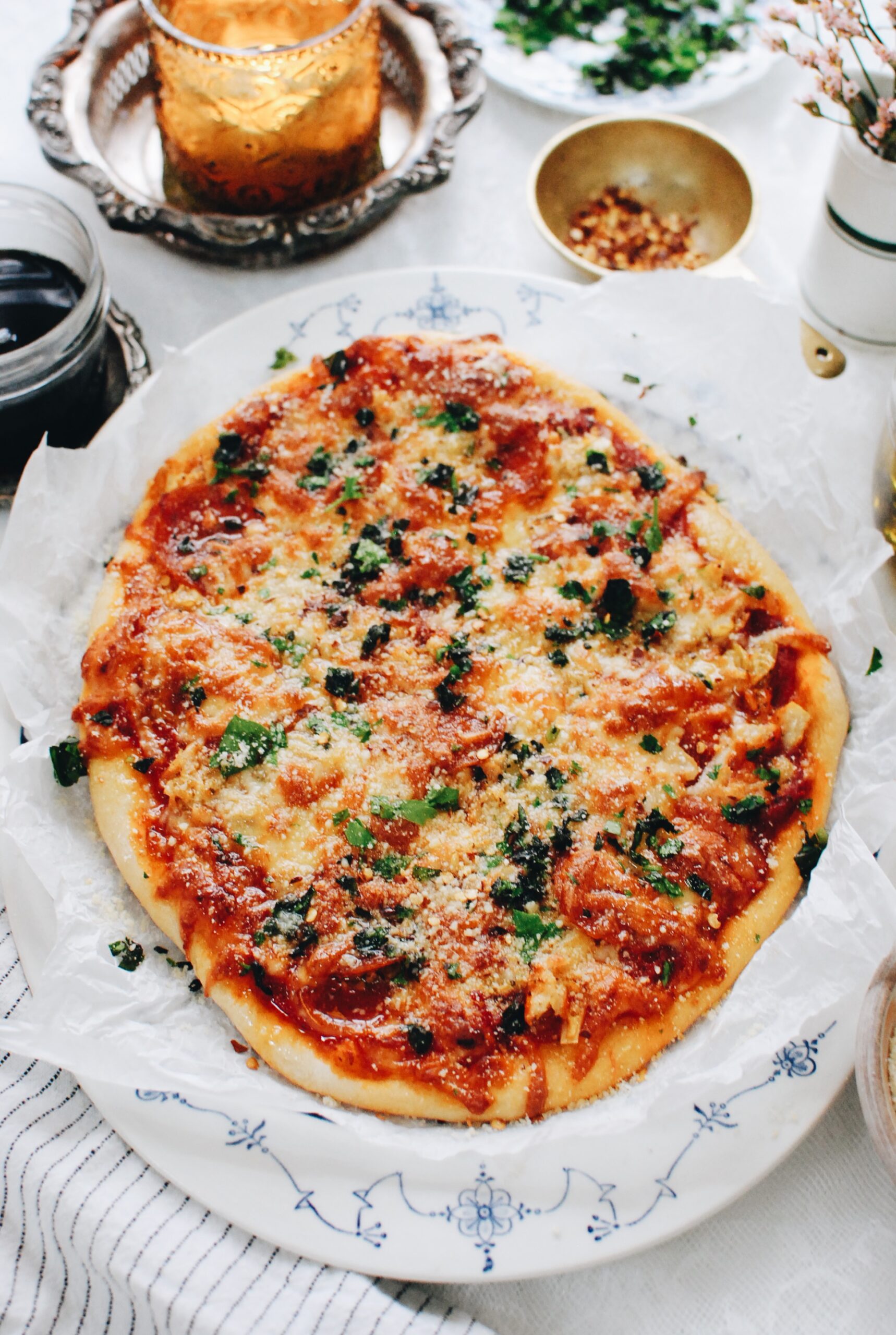 One of my favorite things in life is a good pizza with minimal effort. Yet you can SEE all the richness about to punch you in the face.
To die for.
Also, crushed red pepper and a little drizzle of your best oil will take it to an 11.
Trust those words just now. Trust 'em.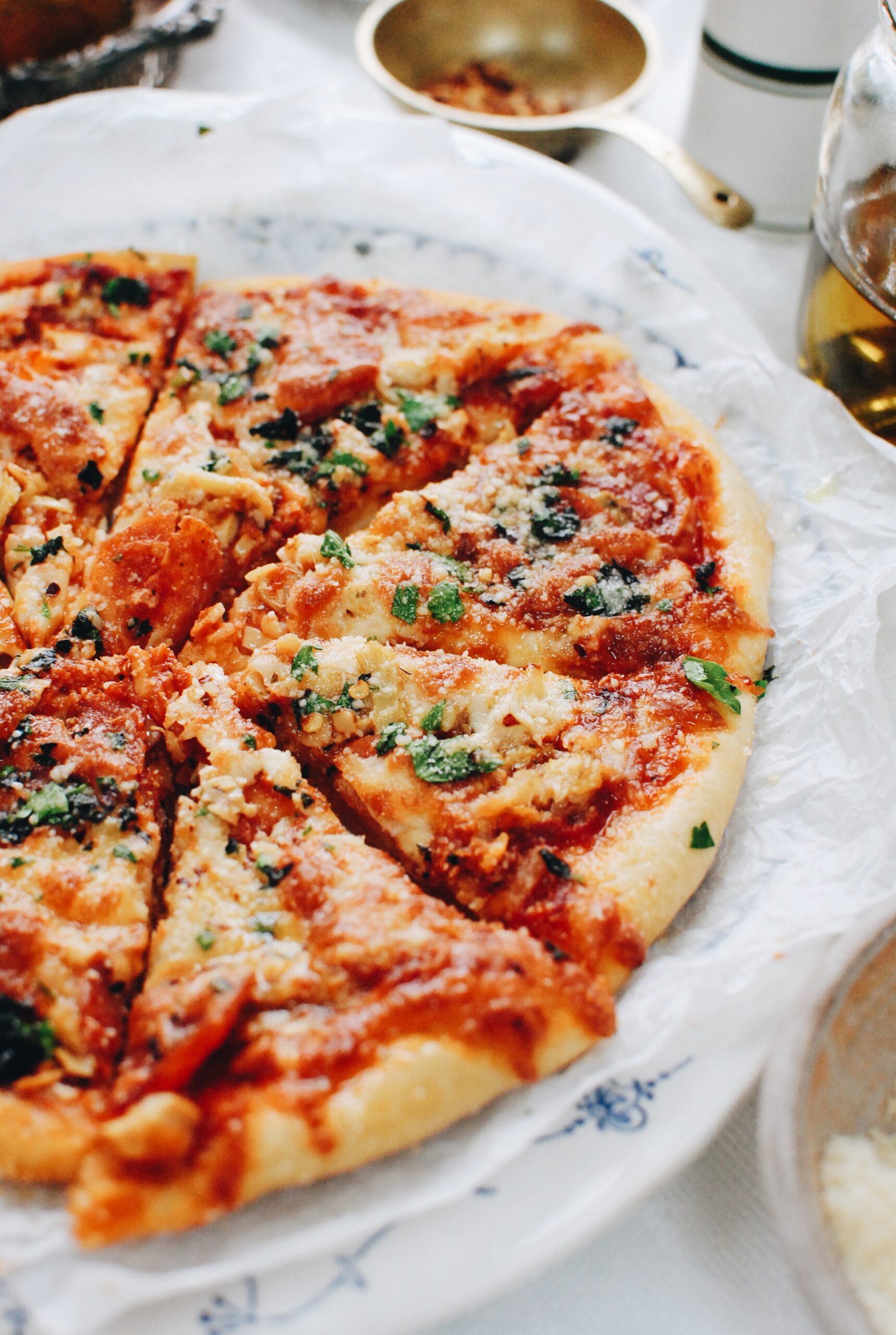 Give me every single piece.
Pepperoni and Artichoke Heart Pizza
Ingredients
1 1/4 cup warm water
2 1/2 tsp instant yeast
1/4 tsp sugar
3 cups all-purpose flour
1/2 tsp salt
6.4 oz jar artichoke hearts (or whatever little jar you find), chopped
1/2 cup pepperoni (more or less to taste)
1 cup pizza sauce
2 cups grated mozzarella cheese
Any herb you love, chopped (I used basil and parsley for this)
Parmesan cheese and crushed red pepper, for garnish
Instructions
In a small bowl, pour the yeast and
sugar over the warm water. Let it sit
until the yeast is bubbly and foamy,
about 10 minutes.
In a large bowl, combine the flour
and salt. Pour the yeast water into
the flour and stir to mix. Turn onto a
lightly floured work surface and
knead a few times, until it becomes
a ball of sticky dough. Place back in
a cleaned bowl. cover and let rise
for about 3 hours. Punch it down.
knead a few more times (it will be
much smoother and more elastic by
now, and let it rise again for another 2 to 3 hours.
Preheat your oven to 400.
Divide the risen dough into flour even mounds. (Or however many pizzas you're making) Roll out each mound to your desired size. Mine was about nine or so inches. The wider you go, the thinner the crust. You know. Plop the pizza dough on a rimmed baking sheet.
Spread each crust with pizza sauce, and top with the chopped artichoke hearts, pepperonis, and a good sprinkling of mozzarella cheese. Bake roughly 20 or so minutes, until the cheese is melted, browning and bubbling up so perfectly.
Garnish with chopped herbs, crushed red pepper, a drizzle of extra-virgin olive oil and a bit of parmesan cheese.
Slice and serve!
(Repeat with the other pies, or go two at a time, like we do.)
7.8.1.2
626
https://bevcooks.com/2023/02/pepperoni-and-artichoke-heart-pizza/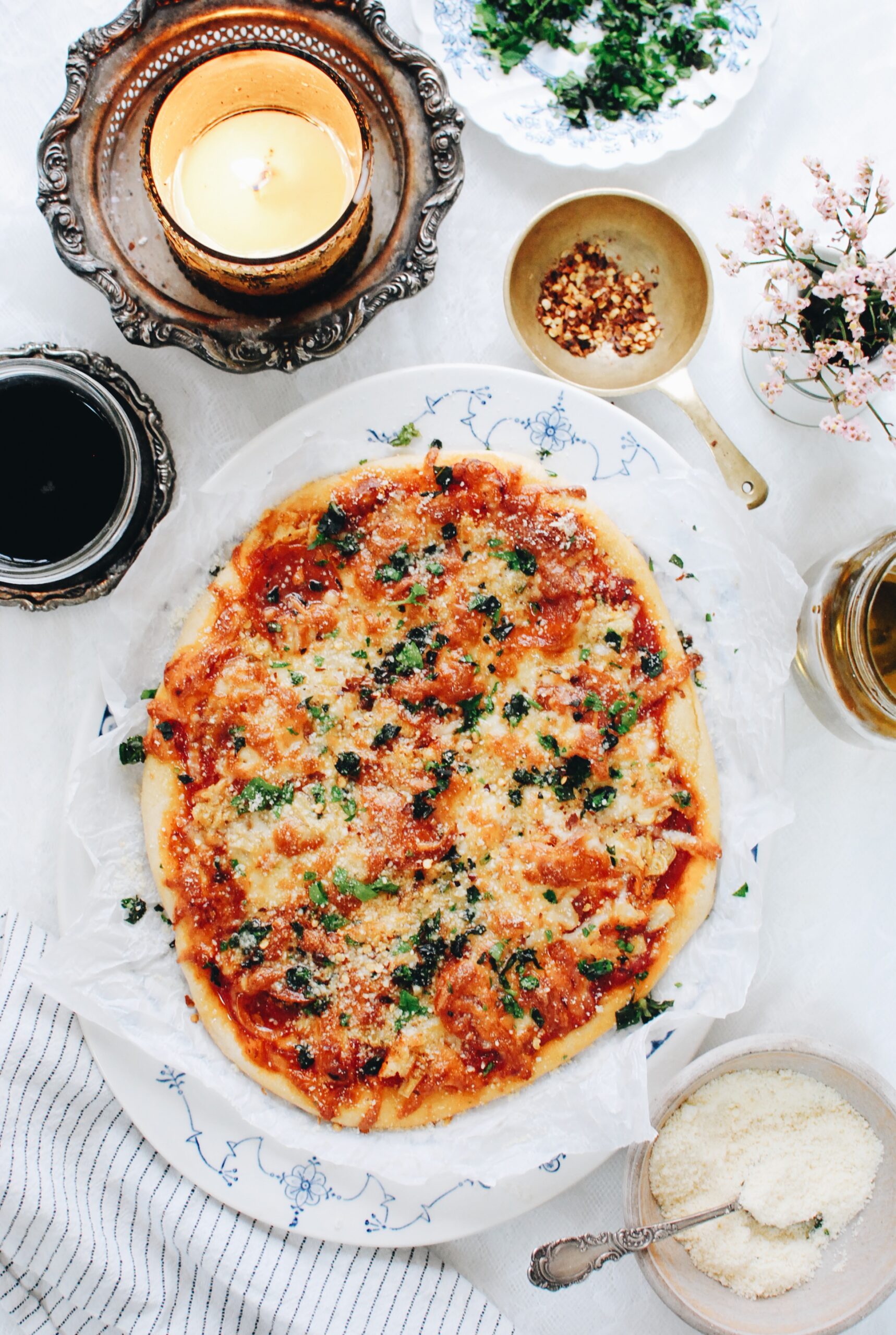 Okay, I'll be pausing on regular posts for a smidge over a week so that I can FULLY immerse myself in all the hummus and pita possible. I hope you follow along! I'll be posting in on Instagram constantly, so if you can, pop over there and let's learn a little about Israeli culture. And food! (The trip isn't religious-based, I've had so many perplexed messages on the why of this adventure. It's all food. It's a blogger/influencer trip purely focused on food and people and markets. Cannot wait.)
See you in Tel Aviv!
Also make this pizza while I'm gone.