Helloooooo, only five ingredients. I like you.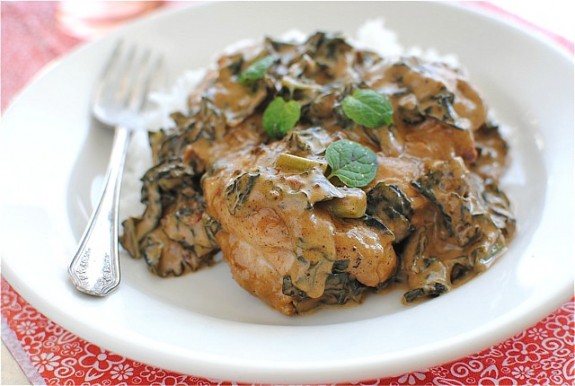 Well, seven including olive oil and a garnish, but who counts those anyway? Not me. Not I. Not me. Not me! I won't grow up, I won't grow up. I don't wanna wear a tie (I don't wanna wear a tie), and a serious expression (and a serious expression) in the middle of July. Um, Peter Pan pretty much ruled my entire face on Friday night. You guys, Cathy Rigby is 59 years old. FIFTY NINE. Home girl was cartwheeling and flying and jumping all up on things and doing the splits and flips and dipperty dips. I'm going to practice her moves later today in my living room. I'll be sure and report back on how many broken bones, skin abrasions and bruised souls doth result in my practice.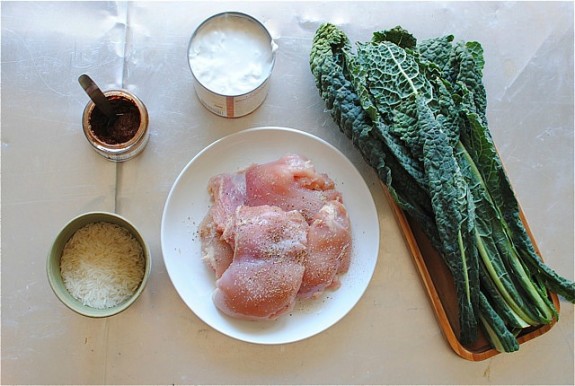 So guess what happens when you get a gorgeous sear on chicken thighs in a cast iron skillet?
Baby kittens meow in perfect harmony.
And guess what happens with you combine silky coconut milk with knock-you-in-the-nostrils aromatic tandoori paste?
New blades of grass rise in a lush blanket of dewy green glory.
And guess what happens when you nestle the seared chicken thighs back in the succulent, bubbly, coconuty sauce?
Infant fawns perform Mozart's concertos on mini harps in the open fields and meadows.
And guess what happens when you stir in freshly chopped kale and let it simmer and stew?
Facial skin tightens, eye lashes grow 13 inches and your home mortgage pays itself.
And guess what happens when you're in public and you're minding your own business and you accidentally step on a crunchy locust on the sidewalk in front of 25 people?
…Yeah.
Five ingredients, your mouth, true love and stomach babies forever.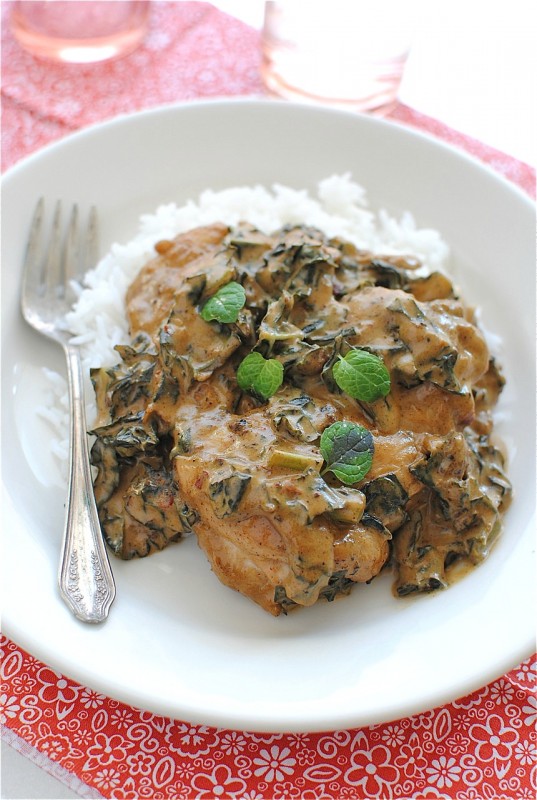 GIT IT.
Coconut Tandoori Chicken with Rice:
What it took for 2-3:
* 1 Tbs. extra-virgin olive oil
* 6 boneless, skinless chicken thighs, trimmed of excess fat
* 1 1/2 Tbs. Tandoori paste (or more if you love the spice!)
* 1 (13.5 oz) can coconut milk
* 3 cups chopped kale
* 1/2 cup white jasmine rice
* fresh mint or cilantro for garnish
Cook the rice in a rice cooker or your favorite stove top method.
In a medium cast iron skillet, heat the oil over medium heat. Add the chicken thighs and sear on both sides until browned, about 6 minutes. They are not going to be cooked all the way through, but that's okay. Remove from skillet and set aside.
Back in the skillet, add the tandoori paste and bloom 30 seconds. Add the coconut milk and whisk until combined. Add the chicken thighs back to the skillet and nestle them in. Add the chopped kale and stir to combine. Cover and simmer on medium until the chicken has cooked through, 10 more minutes.
Serve a couple of thighs over a small mound of rice. Garnish with mint or cilantro.
Yes.