Weeeeell okay.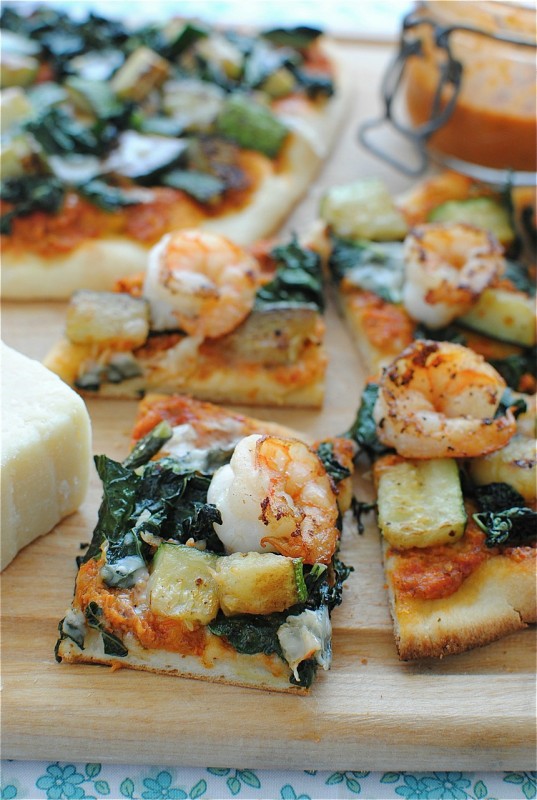 I mean if we muuuust have the pizza today then so be it. It is Friday after all and correct me if I'm wrong but in the How To Live Life Correctly and Not Like a God Forsaken Idiot handbook, isn't this rule on page, like, ONE? I think I read it there. Or in the foreword.
But this here pizza is kind of a big deal. Get this. Remember the trapanese pesto we slurped on Monday? Well, I thought I'd flex its flavor usage muscles (ew?) and use it as a base for pizza and show you today, whut whuuuut.
This is called BOOKENDING.
I got so excited and said to Aaron, "Oooo, I'm going to post the pesto on Monday and then show it again on a pizza on Friday! Ya know, bookending!" He didn't even look up from his laptop, "You really amuse yourself, don't you?"
Me, "What? Hahaha, noooo. Hahaha..ha….ha." But I totally had my fingers crossed behind my back so really the JOKE IS ON HIM.
Can I tell you something else I'm excited about right now? Okay you know my obsession for singing and musicals and dancing and acting like an obnoxious 5-year old? Which I'm sure there is a rule forbidding this behavior in the How To Live Life Correctly and Not Like a God Forsaken Idiot handbook as well, but we CAN'T FOLLOW THE RULES ALL THE TIME.
Well, my parents are in town right now and they are taking us to see Peter Pan tonight. P.E.T.E.R. P.A.N. Like, the live touring musical with Cathy Rigby. Yeah. My giddy pants are pretty much lined with crack.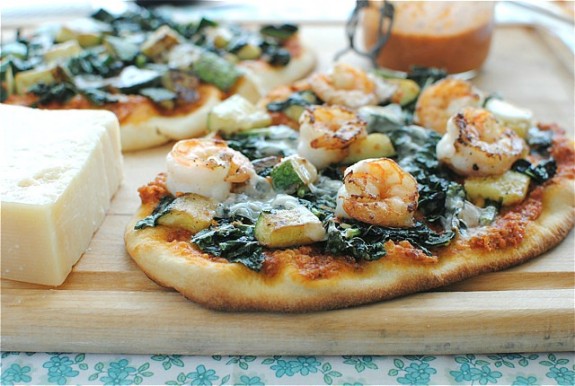 Okay so the trapanese pesto is so flamin' good on this because it's already packed with such depth and flava flave (I just broke another rule in HTLLCANLAGFI, didn't I?), you're liable to spiral straight up out of control and resort back to slurping before anyone can even stop what's happening. Hey I'm just warning you.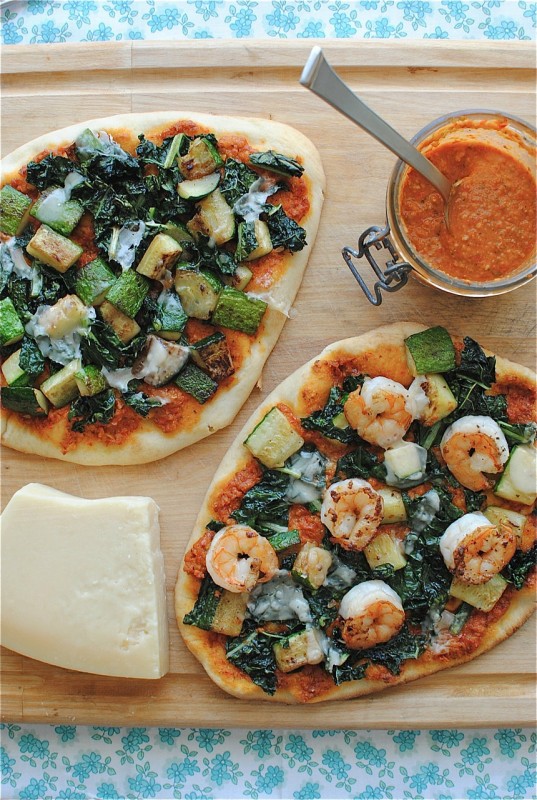 Hmmm, I wonder if they would strap me to a harness and wires and let me fly around Never NeverLand tonight after the show.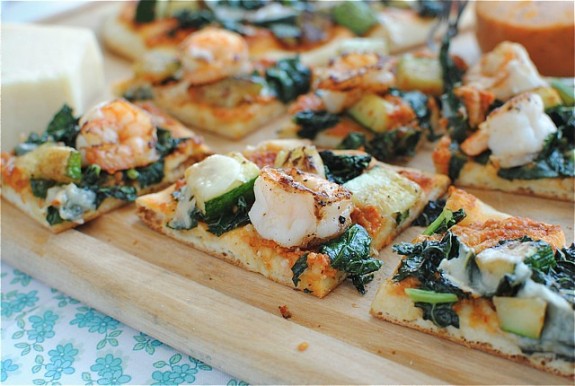 Don't break the rules. Just eat.
Trapanese Pesto Pizza with Shrimp and Kale:
What it took for 2:
* 2 Tbs. extra-virgin olive oil, plus more for drizzling
* 1/2 pound extra large shrimp, peeled and deveined
* 1 1/2 cup diced zucchini
* 2 cups chopped kale
* 2 naan breads (flavor is your choice!)
* 1/2 cup (roughly) trapanese pesto
* 1/3 cup fresh parmesan shavings
* coarse salt and pepper
Place a pizza stone in the oven and preheat to 400.
Heat the oil in a large skillet and add the shrimp. Season with salt and pepper and sear on one side for 2 minutes. Flip and sear 30 seconds to a minute more. Remove from skillet and set aside.
To the pan (add a little more oil if needed) add the zucchini. Season with salt and pepper and sauté until it starts to soften and brown. Add the kale and sauté until it wilts, another minute or two.
Spread the pesto over each naan bread. Top with kale, zucchini and shrimp. Loosely arrange the parmesan shavings over each pizza and slide her in the oven. Bake about 15 minutes, or until the cheese has melted and the crust is golden brown. Check at the 10-minute mark. I don't want it to burn and you end up cursing my name.
Remove from oven, gaze at it lovingly for a few minutes, and then drizzle with a little more oil, to finish.
Slice and inhale!