I don't guess I need to go into detail about how loudly I screamed last night when you know who made it into the the Idol finale, do I?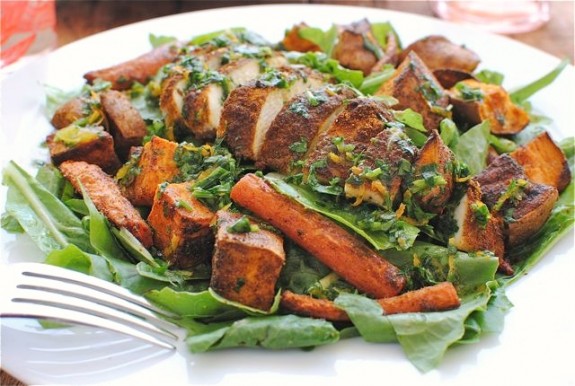 What about how ridiculously awesome I looked with imaginary pom poms cheering, "TWO FOUR SIX EIGHT WHO DO WE WANNA RUN AWAY WITH TO A REMOTE ISLAND BECAUSE OF THE FITTED BLACK CLOTHING AND THAT DANG BOB SEGER SONG" – need details on that one? Because I would gladly tell y—
Okaaaay, okay. Oh! What about the new octave I discovered in my vocal range that reaches the same zip code as the sun? Wanna hear about that?
Gotcha. I'm hearing you.
Okay but what about when I realized that the imaginary pom pom was in fact a glass of wine which was spilled all over my pup during the outburst of happiness not rightly fitted for a middle-aged woman? Shall I go into that? No?
. . . WAIT IS THAT YOUR HAND OVER THE BROWSER X?
Alright alright alright alright alright. (name that song) I get ya. I'm with ya. I'll move on. Yay for him or whatever. Good job. Yadda yadda yadda. It was exciting. But who cares. Not you. CERTAINLY not me.
I swear that the rest of this post will be about this roasted Moroccan chicken salad. It's why you're here after all. Not because of Phillip Phillips, I mean good grief. But you have to commend me for not talking about him in how many weeks? Riiiiight?! Look at me growing up!
I also thought his hair looked really good last night. Their stylists are goooood.
OH. SALAD. RIGHT.
Here's the deal: super quick Moroccan-y spice mix for the chicken and veggies. Roast, roast, roast. And then a zesty, fresh salad dressing with lots of parsley, cardamom, some orange zest, juice, HONEY. It's just so deliciously bright. Which rhymes with tonight. Which oh look at that is in the song title "We've Got Tonight" which Phillip sang the other night. Weird.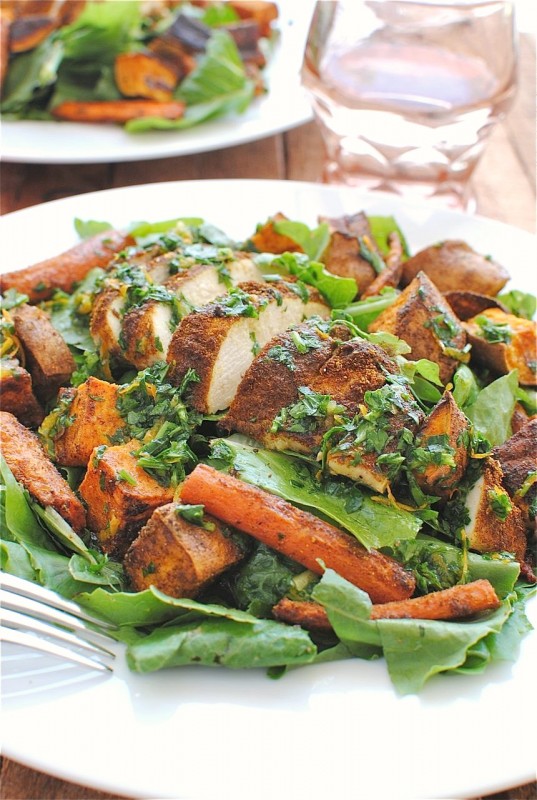 Tossed together with fresh garden greens and you've got yourself one hot little singer. I MEAN SALAD.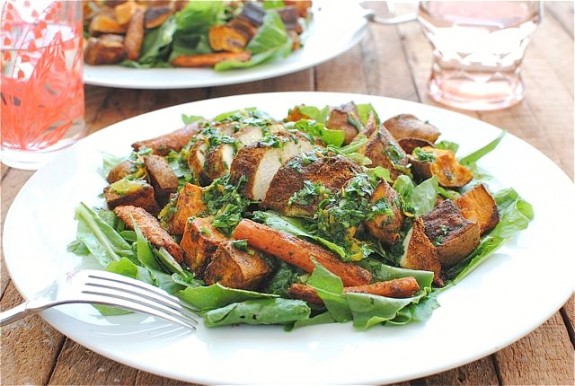 I promise this is over in one week.
Roasted Moroccan Chicken Salad:
What it took for 2 dinner salads:
* 1 Tbs. each cumin, turmeric, ground coriander and cinnamon
* 1 sweet potato, cut into a medium dice
* 3 medium carrots, sliced
* 2 chicken breasts
* 1/4 cup freshly chopped parsley
* 3 Tbs. orange juice
* 1 tsp orange zest
* 1/2 tsp ground cardamom
* 1/2 cup extra-virgin olive oil, divided
* coarse salt and freshly ground pepper
* 6 cups fresh salad greens
Preheat oven to 400.
In a small bowl, combine the cumin, turmeric, coriander and cinnamon.
Drizzle a couple of Tbs. of the oil over a large baking sheet, or two smaller ones. Toss half of the spice mixture with the carrots and sweet potatoes. Sprinkle the other half over the chicken breasts. Roast the veggies and chicken for 30-35 minutes.
In the meantime, make the dressing. Whisk the parsley, orange zest, juice, cardamom, a pinch of salt and pepper together. Add the oil in a thin stream and whisk a tad more.
Divide the salad greens among two dinner plates. Top with roasted chicken and veggies, and drizzle with the dressing.
Yes.
* of course I totally forgot about golden raisins. add some of those!