It's hard to see with the naked eye, but there are actually winged baby cherubs flying around in this pasta.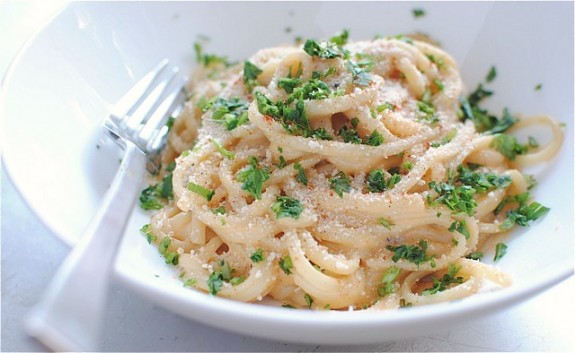 They flit. They float. They fleetly flee they fly. (name that movie)
YOU GUYS. We need to talk about something. A few things. I'm nervous to tell you because if I vocalize it through my fingers then I have to follow through with it. Ugh, okay.
1) I'm starting a 7-day detox today. I KNOW – STUPID. No booze, no coffee, no . . . well that's pretty much it. Only water, green tea and green juice for my lee-queed intake. The dinners won't change much as you'll, ahem, notice. But I'm forcing myself away from my routine breakfast tacos and going to focus on blueberries and yogurt and granola and I just fell asleep. I need more good detoxy things to eat. Hay-elp?
2) Obviously this pasta is okay to stay.
3) And the sauce, are you even ready for this?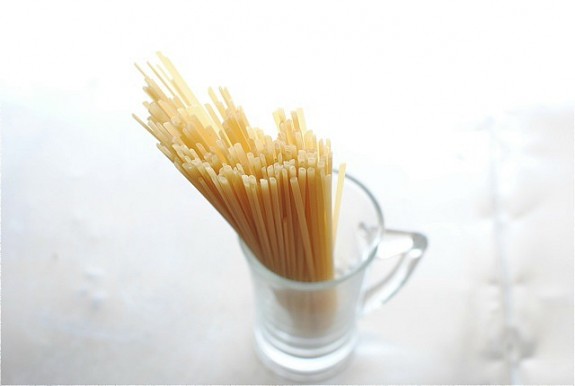 SMOKED. PAPRIKA. TOWN.
Yesyeysyesyeysyeysessss.
Hold on it's not over.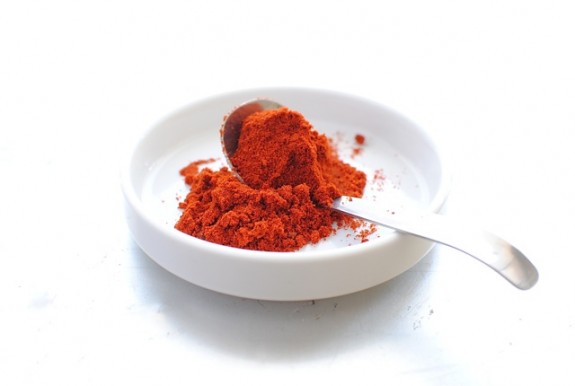 ROASTED. GARLIC. VILLAGE. (Aaron roasted it this time around and duuuude, it was like paste squeezing out of a tube. I died. And then licked it off my fingers. And then fleetly fleed and flied. flew. flied. (did you guess the movie yet?)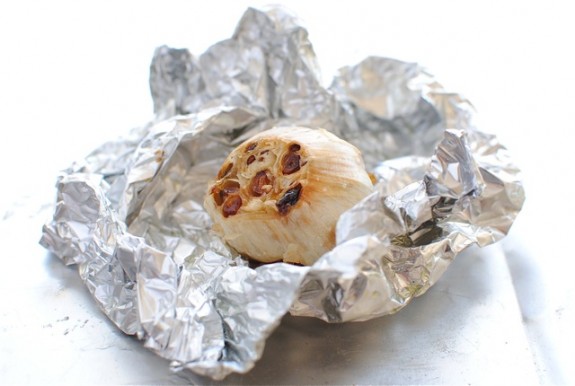 Okay and THEN. Remember the sauce that nearly sent me to the ER a couple of weeks ago? Well, all antes were upped, flitted, floated and fleetly flewed (wanna punch me yet?) because this time we added white wine, honey, the roasted garlic and the smoked paprika, BAM.
I change my mind. I'm going on a creamy smoked paprika sauce cleanse for the next 7 days.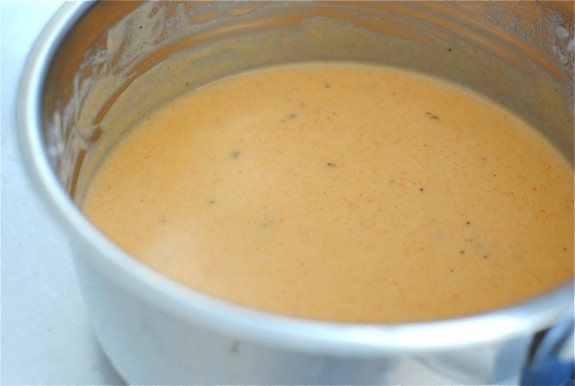 I am so not even joking right now.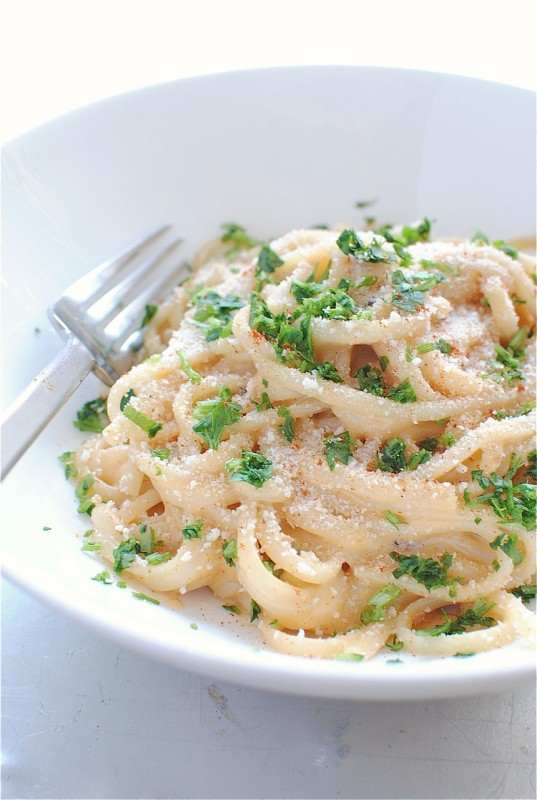 I flit, I float, I fleetl – OKAY OKAY.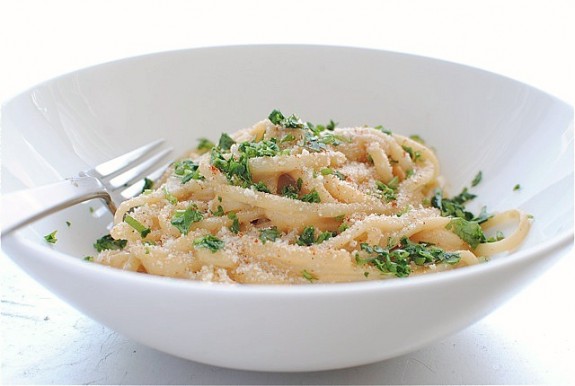 …ly flee I fly. I COULDN'T HELP IT.
p.s. make this and discover living.
Creamy Smoked Paprika Linguine:
What it took for 2:
* 1 head garlic, end lopped off
* 1 tsp extra-virgin olive oil
* 2 Tbs. butter
* 2 Tbs. flour
* 1/4 cup dry white wine
* 1 tsp honey
* 1 cup milk
* 1/8th tsp cayenne pepper
* 1 tsp smoked paprika
* 1/2 pound linguine pasta
* 1/4 cup chopped parsley
* 1/4 cup toasted whole wheat breadcrumbs
* fresh parmesan cheese for garnish
* coarse salt and freshly ground pepper
Preheat oven to 400.
Place the garlic head in a small sheet of aluminum foil. Drizzle with oil and a tiny pinch of salt. Wrap up and roast 30 to 40 minutes. Remove from oven and set aside to cool.
Melt the butter in a small sauce pan over medium heat. Once the bubbling slows, whisk in the flour. Once fully combined, pour in the wine and whisk about 30 seconds. It won't burn off. It will just enhance the flavor of the sauce. Add the honey and whisk another 10 seconds. Pour in the milk and slowly whisk until it thickens into a nice cream sauce, 2 minutes. Add the cayenne, smoked paprika, a small pinch of salt and pepper; stir to combine.
Transfer sauce to a small food processor. Squeeze the roasted garlic cloves into the sauce. They should just slide out of their skins. Blitz the sauce until well combined. Transfer back to sauce pan to keep warm. Oh! Taste it. Need more heat? Add more paprika. Need a little more salt? Do it.
In the meantime, bring a pot of salted water to a boil. Cook the pasta until al dente. Drain all but about 1/3 cup pasta water and return to pot. Pour the cream sauce over the pasta and toss to coat. If it's too thick, add some pasta water to thin the sauce to your desired consistency.
Serve pasta garnished with breadcrumbs and chopped parsley. And fresh parmesan. Do that. Good grief do that.