So do you want to know how cosmically and celestially connected I am to Mexican food and cheesy food and Mexican food with tortillas and cheese in it?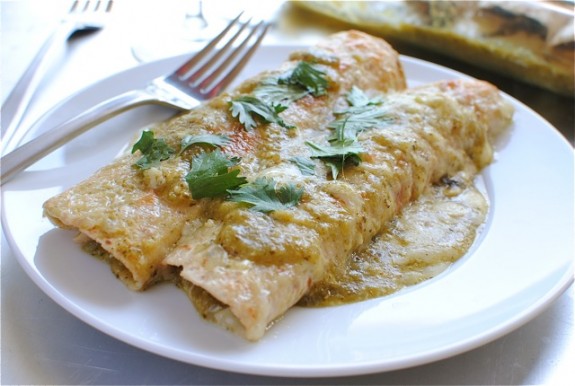 I'll tell you.
When I was making these here chicken enchiladas on Monday night, I WASN'T EVEN THINKING ABOUT CINCO DE MAYO. I know! And then yesterday I started seeing all of these food blog posts about Cinco De Mayo and I was like, "Well isn't that just kick-you-in-the-crotch, spit-on-your-neck fantastic!" (name that show) I love it when life goes bloop bloop bloop right into place.
The bloop bloop bloop thing would have been much more effective in person. I have hand motions and everything. And my bottom lip sort of sticks out. My chin does too.
Anyway.
During the remodel, I started to crave Mexican food so seriously bawd that my stomach cavity joined forces with my brain blob and formed a pretty nasty protest all up and down my esophagus until JUSTICE WAS SERVED. But 147 trips to Chipotle can only do so much. I needed some bull raging mountainous bubbling meltyness to coat my entire life and every last thing in it.
But here's the KICKER. It had to be a green sauce, which I'm sure has become obvious to you due to the photos all over this piece. It had to be green. As green as the luckiest leprechaun's hiney. As green as an army of baby Martians. As green as one thousand gardens blended up into one giant smoothie for da whole world to share. But we'd all have separate straws because I'd want to keep the risk of germ transferring to a minimum because you know law suits can be pretty expensive these days and I just can't have that on my plate right now.
So I did a little bit of poblano roastin', some garlic roastin', some tomatillo, cilantro, lime and pepper blendin', some taste testin', some two steppin', some addin' of a can of regular green enchilada sauce-in', some more blendin', some chicken shreddin', some garden spinach dancin', some cheese sprinklin', some bakin', some broilin', some Runnin' Man attemptin', and some fah-reaky freakin'.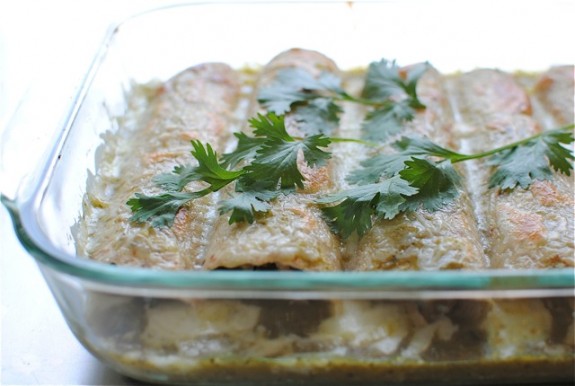 Justice. Has. Been. Served.
I'll have you know that my stomach cavity and brain blob are once again living in perfect harmony. For at least 15 minutes.
Green Chicken Enchiladas:
What it took for 2:
* 3 cloves garlic, in their skins
* 1/2 tsp extra virgin olive oil
* 1 rotisserie chicken, shredded (skin and bones discarded)
* 2 cups chopped spinach
* 1 poblano pepper
* 1 (11 oz) can tomatillos, drained
* 1 (10 oz) can green enchilada sauce
* 1 lime
* 1/2 cup chopped cilantro
* 2 cups shredded monterey jack cheese
* 10 whole wheat tortillas
* coarse salt and freshly ground pepper
Preheat oven to 450.
Place the garlic cloves in a small square of aluminum foil, drizzle with oil, wrap and stick in the oven (on a small baking sheet) for 15 minutes. Remove and set aside for about 5 minutes. Then squeeze the garlic right out of the skins. Smell that. Oh, baby.
Slice the poblano pepper in half lengthwise, remove the seeds and place on the baking sheet. Stick under the broiler for 8-10 minutes, until good and blistered on both sides. Remove from the sheet and seal them into a small plastic baggy. Let it rest for about 10 minutes. Remove from the bag and pull the skins off and discard. Give the peppers a rough chop.
While the garlic and peppers are cooking, you can use that time to shred your chicken and chop your spinach. Combine both in a bowl for the time being.
In a food processor, combine the tomatillos, roasted garlic, roasted poblanos, cilantro, a good squeeze of lime juice, a pinch of salt and pepper. Blitz blitz blitz until smooth. Taste it. Salsa verde! Then pour the can of enchilada sauce straight into the food processor and give it one more whirl to combine.
Adjust the oven to 350.
Pour about 4 Tbs. of the sauce into the chicken/spinach mixture. Toss to combine.
Pour a small amount of sauce along the bottom of a 9×13 casserole dish.
Place a small amount of the filling inside each tortilla and place in the dish, seam side down. Continue with the remaining nine tortillas. (You can lay out all 10 tortillas and evenly distribute the filling if that makes you happy. Because who likes to get to the end of the tortillas and NOT HAVE filling left? Me. That's who.)
Pour the remaining sauce over the dish and then sprinkle on that cheese, lovers. Cover with foil and slide her back into the oven for 30 minutes.
Remove the foil, switch the oven to broil and cook it until the cheese is browned and bubbly, maybe 4 minutes.
Serve garnished with fresh cilantro sprigs!
*NOTES*
– This is pretty mild, so feel free to bump up the heat with some fresh or roasted jalapenos. You know how I love my face to burn off.
– Aaron LOVED it, but felt like it could use a teeny bit more sauce. SO, if you can find a bigger can of enchilada sauce, go ahead and add that. Or more tomatillos. Or more peppers. Or more cilantro. Or Or OR.
– I think that's it, but I felt like there needed to be a third bullet point. Thank you and good night.