This meal might have forgotten to show up for hair and makeup, but maaaaaan the taste is going to stop you in your TRACKS.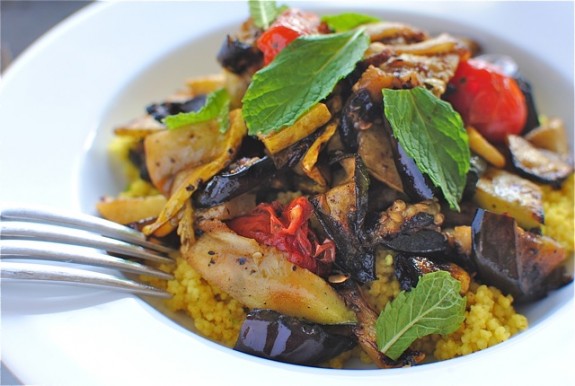 You know those little boxes of couscous that come with the little seasoning packets in them? No, no, not macaroni and cheese (although I would donate my pancreas to eat that right now) but the other little boxes with the little seasoning packets in them? Wayell, on Sunday afternoon when I was taking a break from stabbing my eyes out due to track lighting research, I found one of those little boxes with the little seasoning packets in them, buried deep in my pantry, behind the flax seeds and red palm oil. (don't ask)
Me, "Ooooo, Aaron! I found a box of Mediterranean couscous! WITH THE LITTLE SEASONING PACKET IN IT. Come smell!"
Him, "Hold on, let me finish trimming my nostril hair so that I can experience maximus sniffage."
Okay he didn't say that. If only my life were that grand.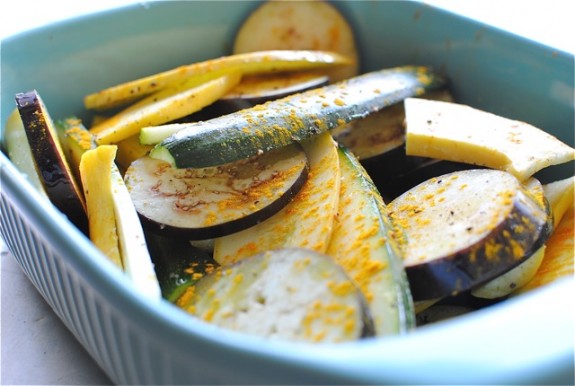 So then I put on my newest frock and skipped on out to my neighborhood grocery store to hand pick the finest and ripest vegetables to pair with the couscous. And I carefully placed them in my hand woven basket from the early Colonial times. And then I skipped all the way back home and sang songs of glee as birds circled my shoulders in harmony.
A little dash of turmeric here, a teeny pinch of crushed red pepper flakes there, a quick visit to the grill, a little fluffy mcflufferpants to the couscous, maaaaybe a bottle of sauv blanc or 2 to coincide with the frock, the hand woven basket and the freshly trimmed nostril hair.
And lest I forget the fresh mint and lemon juice – M.A.M.A.H.O.L.D.M.E.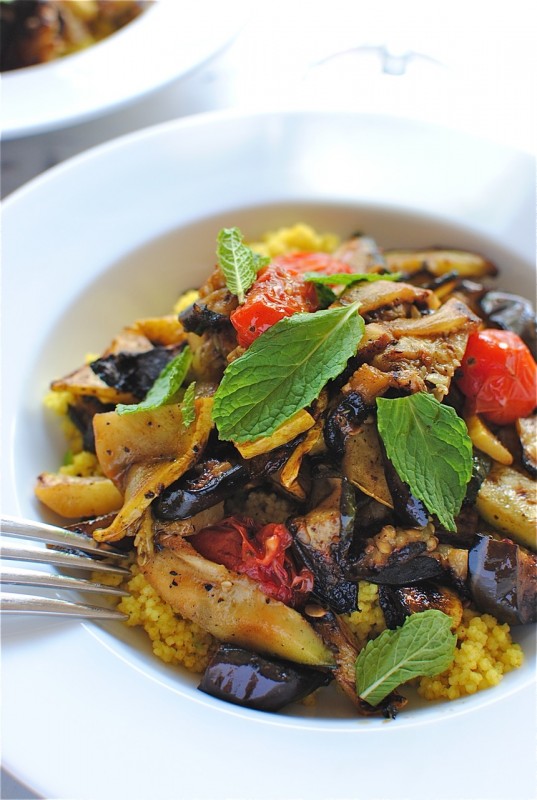 And sure, you won't find this meal winning a beauty pageant contest or on a stripper pole, but once it's in your mouth there is NO STOPPING WHAT IT CAN DO.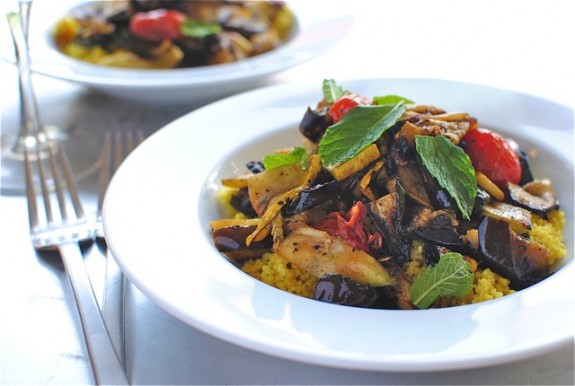 Now about that macaroni and cheese…
Mediterranean Couscous with Grilled Vegetables:
What it took for 2:
* 1 ( 10 oz) box organic Mediterranean couscous
* 1 zucchini, thinly sliced lengthwise
* 1 eggplant, sliced into rounds
* 1 yellow squash, thinly sliced lengthwise
* 1 cup cherry tomatoes, skewered on a metal or wooden skewer
* 1 tsp ground turmeric
* 1 pinch crushed red pepper
* 3 Tbs. extra-virgin oil, divided
* coarse salt and freshly ground pepper
* mint, for garnish
* 1 lemon
Preheat grill to medium-high.
Toss the veggies with the turmeric, crushed red pepper, a pinch of salt and pepper.
Brush grates with 2 Tbs. oil. Grill veggies until you get good grilled marks on both sides, 5-7 minutes. Remove from grill and give a rough chop.
Bring 1 1/4 cup water, seasoning packet and 1 Tbs. oil to a boil. Add the couscous, cover, remove from heat and let stand 5 minutes. Fluff with fork. (Box directions, y'all)
Serve couscous topped with the grilled vegetables. Garnish with mint leaves and give a good squeeze of lemon over the whole thing. Maybe a sprinkle of salt? YES.