Leave it to the cool culinary cat Mark Bittman to add grapes to a savory dish. Grapes!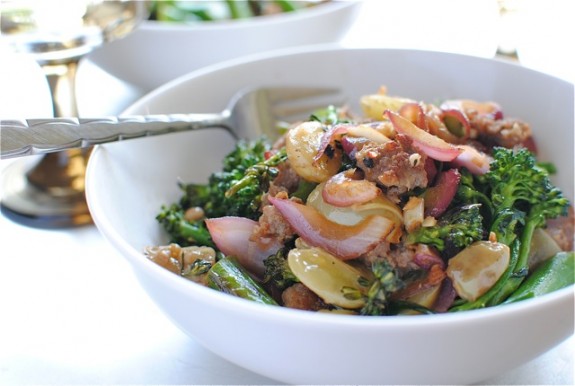 I can't believe I just called someone a cat. Does this mean I have to join a swing band now?
Of course I know he didn't invent adding grapes to something and I know I've seen it done before. But my only experience with adding grapes to, well, anything involves fermentation, repetitive pourage into my mouth hole, and phrases like, "WHO WANTS TO SEE ME TRY TO FLY."
My mom just fainted.
I've crushed on Mark Bittman (oh don't look so surprised) for years now, so in the new Cooking Light issue when he told me to put green grapes in my savory sausage dish, I said, "whut up!" and fist bumped the magazine. But it fell to the floor before I got the chance to do that little part where your hand explodes after the fist bump. So I just picked it up and said I was sorry to Mark. For dropping him.
And then I made his dish.
Ohhh my goodness grapeness (sorry), this FOOD. I had to willy nilly a tad-a-roo, based on what was available at my store. And instead of boiling the greens I sauteed them. But everything else is straight up MB. That's what I call him. MB. Hey, at least it's not MARKY MARK, thank yewwww.
This was like, the PERFECT meal for me. I'm in love with every element of it. Of course Italian sausage massages my soul fibers, and broccolini is crunchy yet soft and so divine. And it's no secret I would put on a nice dress for slightly caramelized onions. But those grapes. THOSE GRAPES.
Is it too soon for a little "Girl From Ipanema" on vinyl?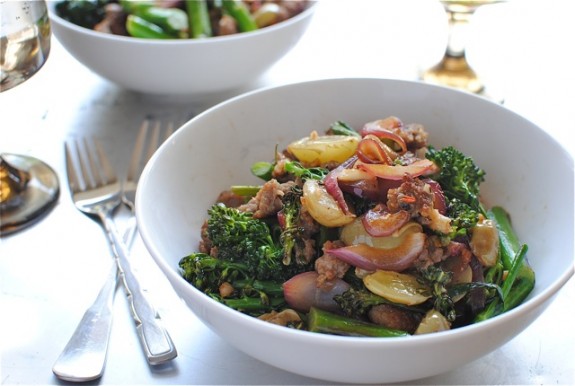 What about the planet of grapes? Get it!? Grapes? Not Apes?
Oh.
Italian Sausage with Broccolini and Grapes:
(adapted from Cooking Light)
What it took for 2:
* 3 Tbs. extra-virgin olive oil, divided
* 1 (7 oz) package of broccolini, cut into 2-inch pieces
* 2 Italian sausage links, casings removed
* 1 cup green grapes, halved
* 1/2 red onion, thinly sliced
* 2 cloves garlic, minced
* 1/4th cup white wine
* 1 tsp red wine vinegar
* 1/4 cup parmesan cheese, for garnish
* coarse salt and freshly ground pepper
Heat 2 Tbs. oil in a medium skillet over medium high. Add the broccolini and saute until crisp-tender, 3 minutes. Throw in a little pinch of salt and pepper. Remove from pan and cover to keep warm in a bowl.
Back in the skillet add the sausage. Break up with a wooden spoon and saute until browned all over. If you need to add a smidge more oil, that's fine. Toss in the grapes and another pinch of salt and pepper, cook 2 more minutes. Remove from skillet and add to the broccolini bowl.
Back in the skillet, add the last Tbs. oil. Toss in the onions and cook until they start to soften, 2 minutes. Add the garlic and cook another minute. Add the wine and cook 2 minutes, until it's burned off. Then add the broccolini and sausage mixture back to the skillet. Toss in the vinegar, give it a good toss and you're done!
Taste it. Salt? Maybe, maybe not.
Serve it with parmesan cheese, which I TOTALLY forgot about and cried buckets as soon as dinner was over.