The feta dip! AKA: the rest of your summer.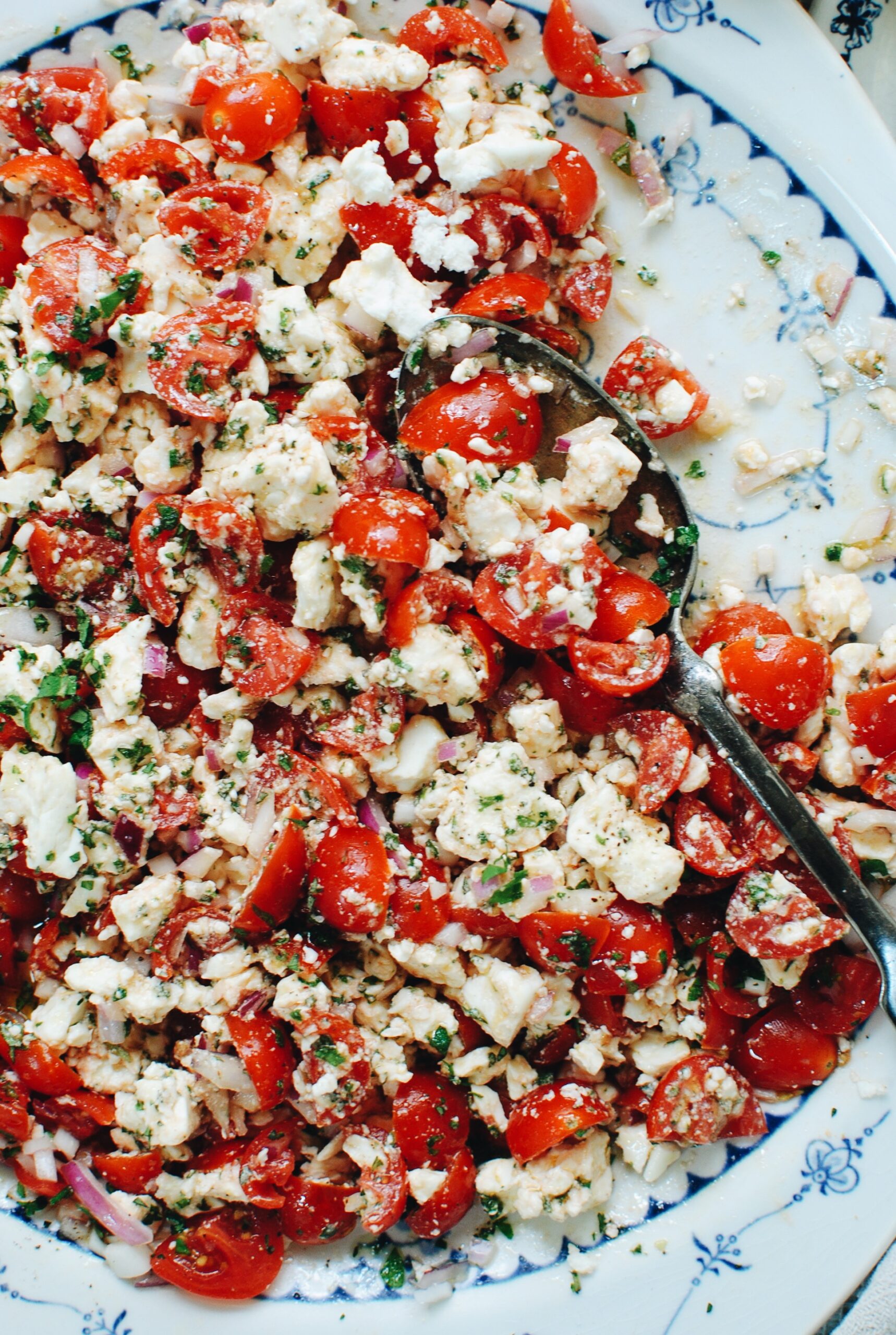 Pardon me if I'm completely unhinged in this post, because I don't think I realized just how insane this is. I don't think you do either. A no-cook situation (besides toasted baguette but even that is optional when it comes down to it), and all the briny, salty, vibrant flavors of summer just having a rager in your mouth hole.
Let us peepeth.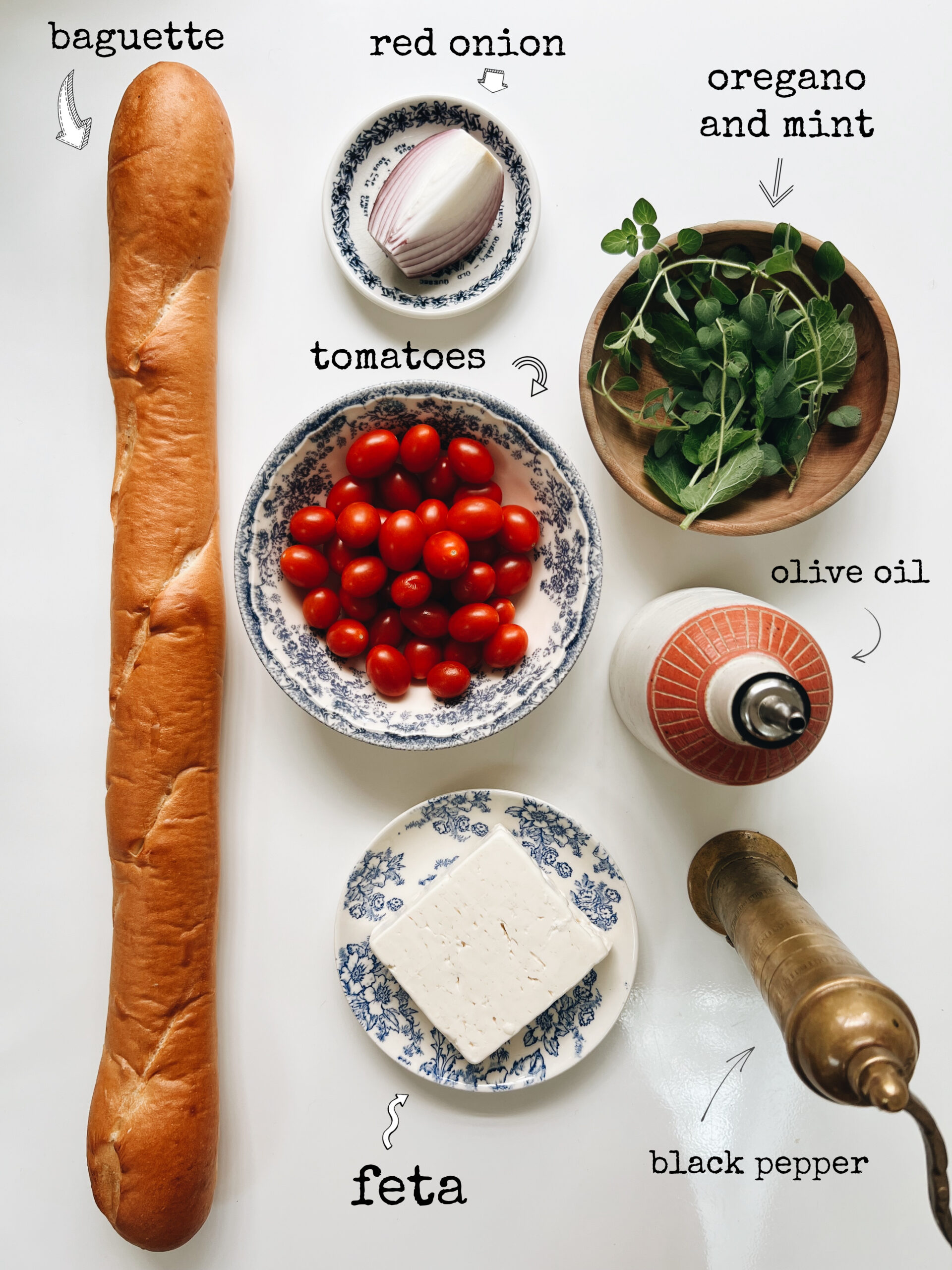 The story here is that I was trying to come up with something to bring to our block party (that got semi-cancelled-semi-not when the MASSIVE storms blew through a couple of Fridays ago), and I asked you all for dip ideas. I had 99% landed on buffalo chicken dip when someone sent me a link in IG Stories of something sort of similar to this. Theirs had scallions in it. Which sounds great but I have so many herbs in the garden begging to be snipped and devoured that I went in the mint/oregano direction instead. They also used a Greek seasoning, but I didn't because I felt it was good enough as is. And this is what we landed on.
The feta! Quick note. Go with the block if you can, only because the crumbles don't have as much flavor and they tend to be on the dry side. Block is better, bay-buh.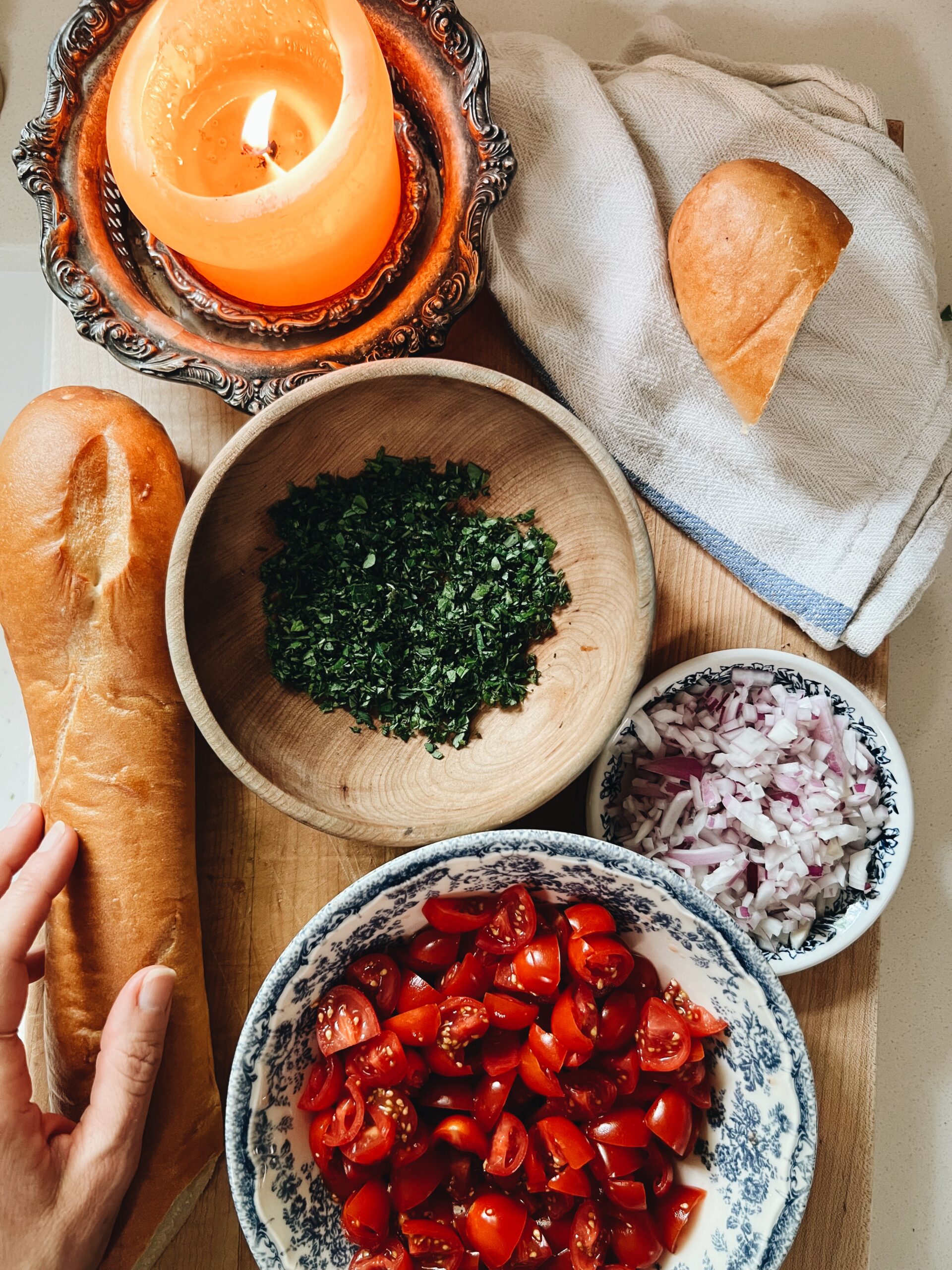 We really just quarter the cherry tomatoes, chop the onion and mince the herbs. Takes like ten minutes. Put on some jazz. Or Taylor.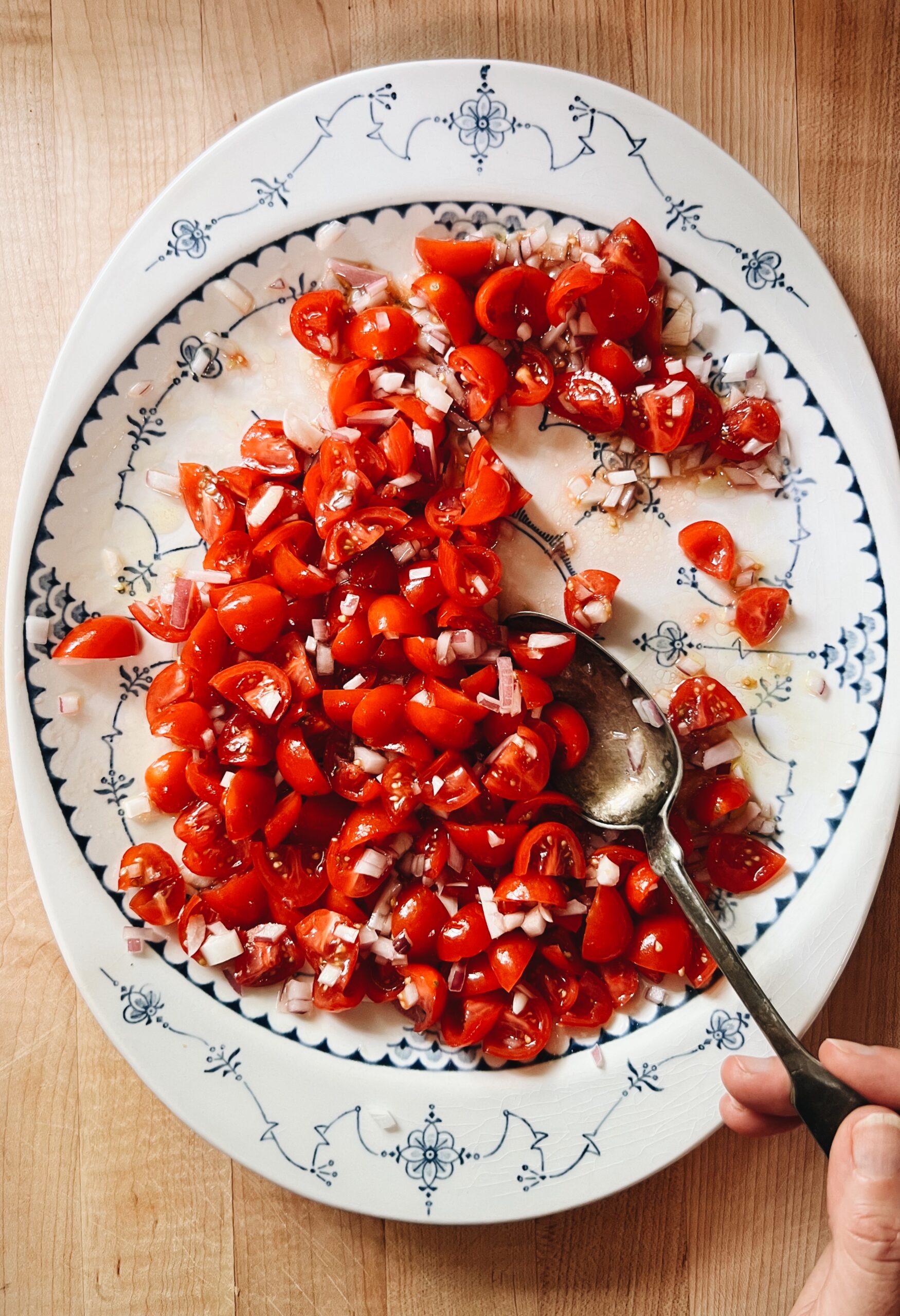 On a serving platter you'll drizzle a few tablespoons of extra-virgin olive oil. Go with your best stuff for this since we're not cooking it. Then toss the tomatoes and onions in it and give it a little toss with a spoon. Pinch of salt, one more toss.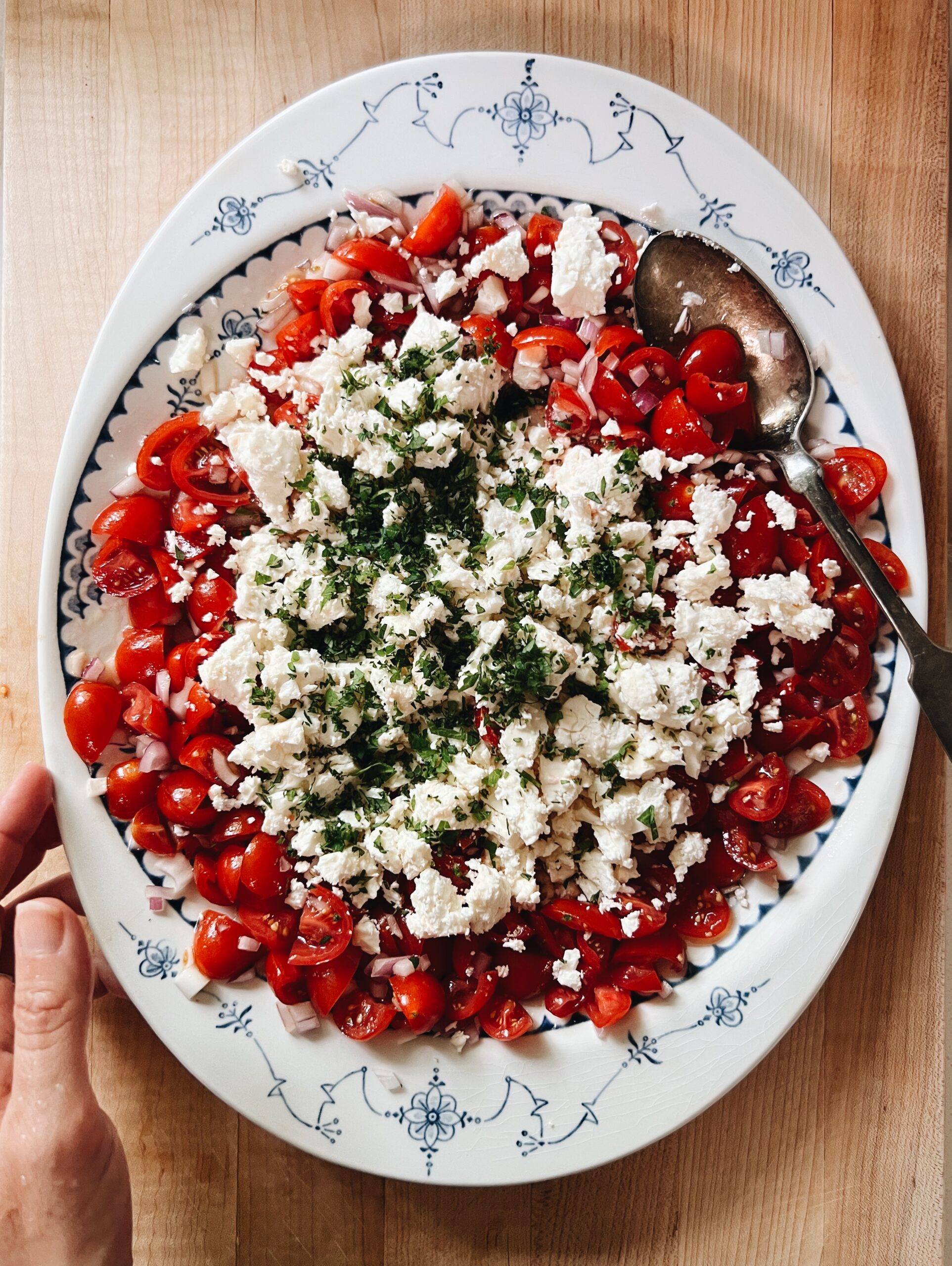 Then you'll just take the feta and crumble it right over the tomatoes with your fingers. Get the pieces down to something manageably dippable. Perfect.
Now add the minced herbed and give it another toss. Ugh. Look at this.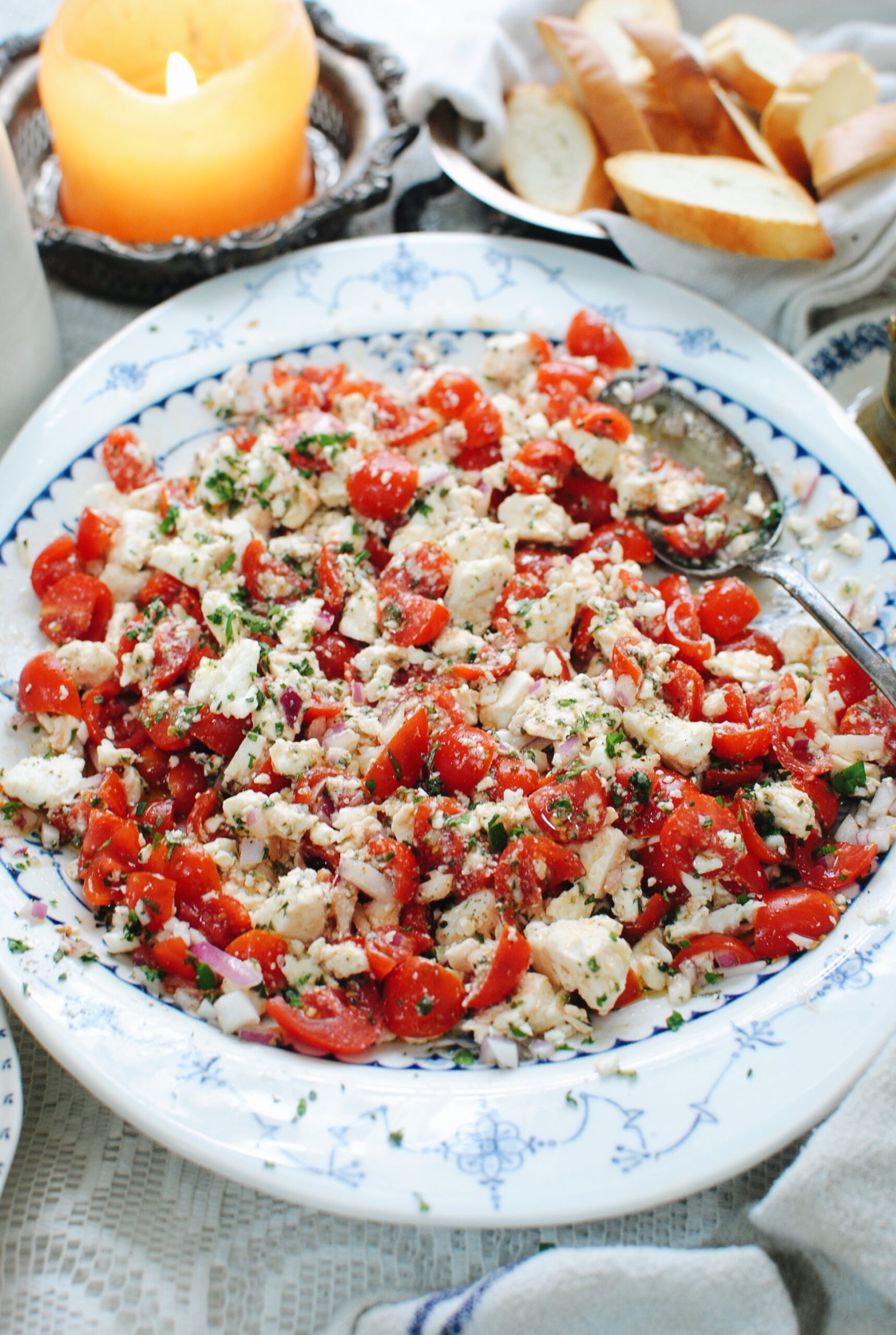 Soosososososososo good. More oil? More oil! We want it shiny and coated. A crack of black pepper for an extra flavor boost and you're all set. It's truly, truly scrumptious.
Light, bright, acidic, savory, salty – just ridiculous.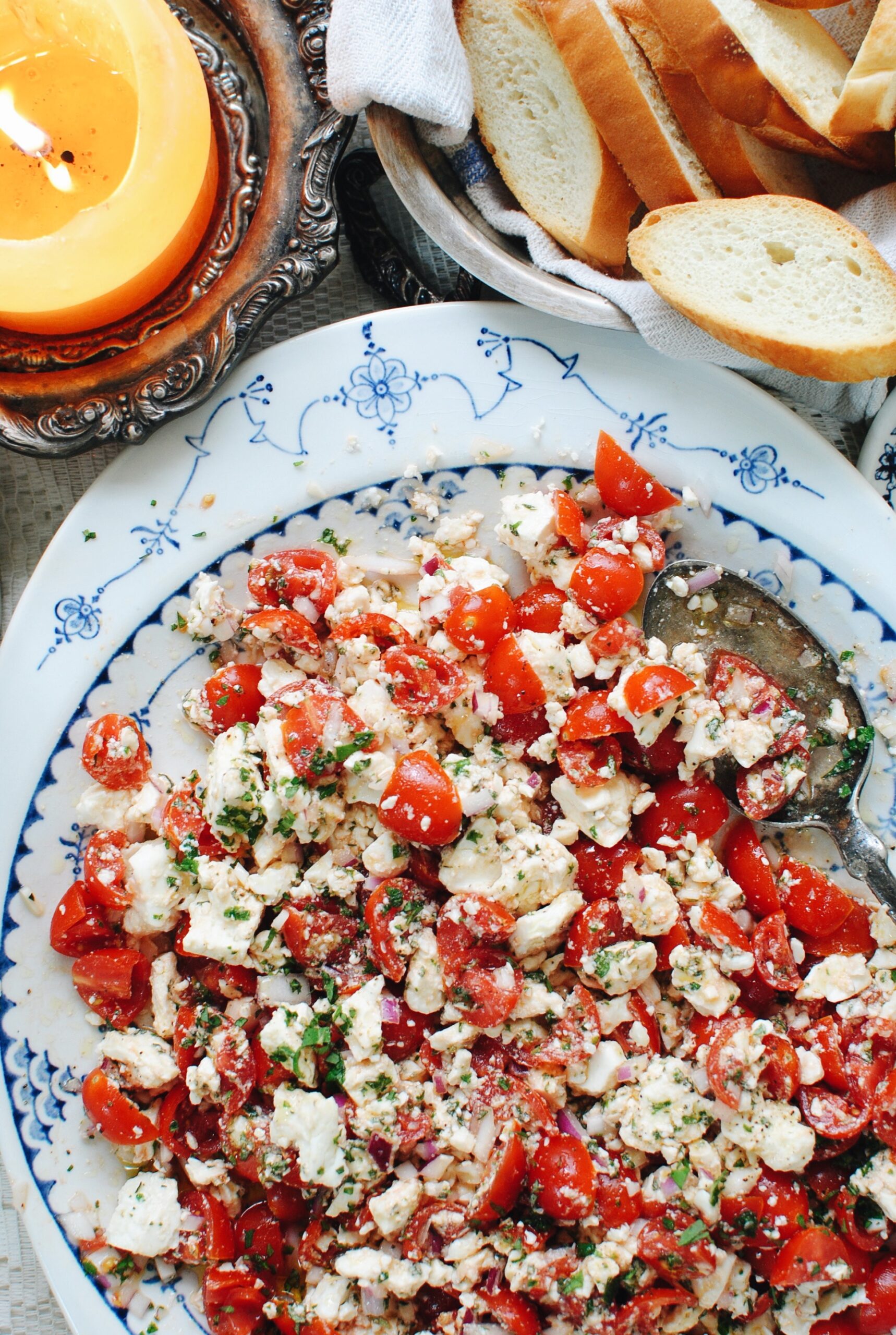 I served this to some friends during our Wet Hot American Summer movie night last week and my only feedback from Anna was, "For the adults, add crushed red pepper!" Ahhhhh, yes. I'm ALWAYS in for heat, so add some if you're feeling it. (good call, Anna)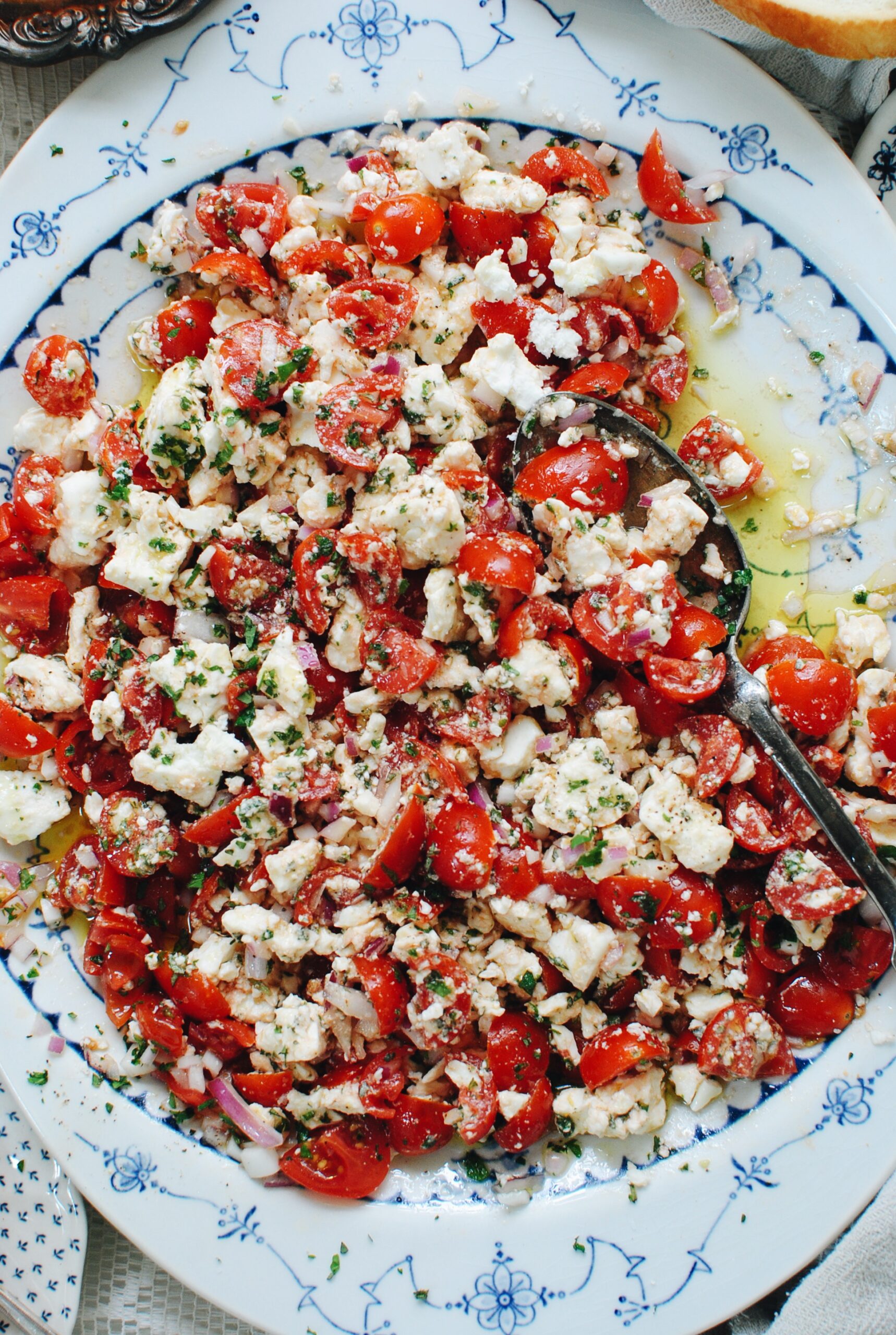 Everything breaks down ever so slightly together but in that way that makes you sob with joy. Juices release, the oil coats, the flavors meld and it's seriously one of the best things you could eat all summer.
Toast a baguette or serve with crackers and serve it up! Have a party this weekend? Have a solo party today? It's all figured out for you.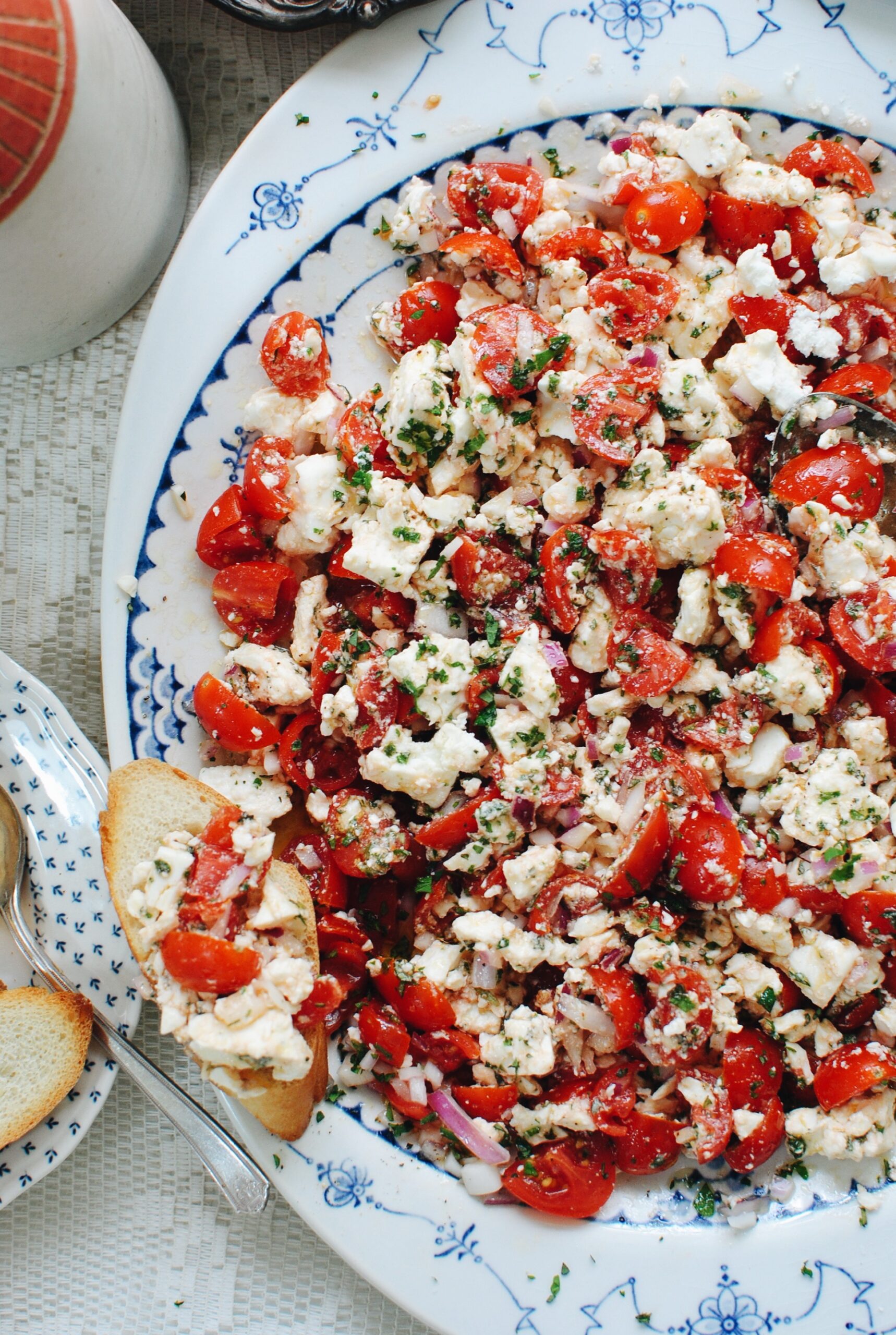 The only way to summer.
Feta Dip with Tomatoes and Herbs
Ingredients
8 oz feta cheese (block, not crumbled)
1/3 red onion, finely chopped
1 pint cherry tomatoes, quartered
1 Tbs. minced oregano
1 Tbs. minced mint
4-5 Tbs. Extra-virgin olive oil
Coarse salt and freshly cracked black pepper
Baguette, sliced and lightly toasted
Instructions
On a serving platter, drizzle 3 Tbs. olive oil. Add the tomatoes and onions and give them a little toss to combine. Season with a small pinch of salt and toss again. Add the feta and break up with your fingers into small pieces. Sprinkle the herbs on top and give it another toss with a spoon. Another drizzle of olive and a crack of blacked pepper and you're ready to go.
Serve with toasted baguette!
Serves 6.
7.8.1.2
651
https://bevcooks.com/2023/07/feta-dip-with-tomatoes-and-herbs/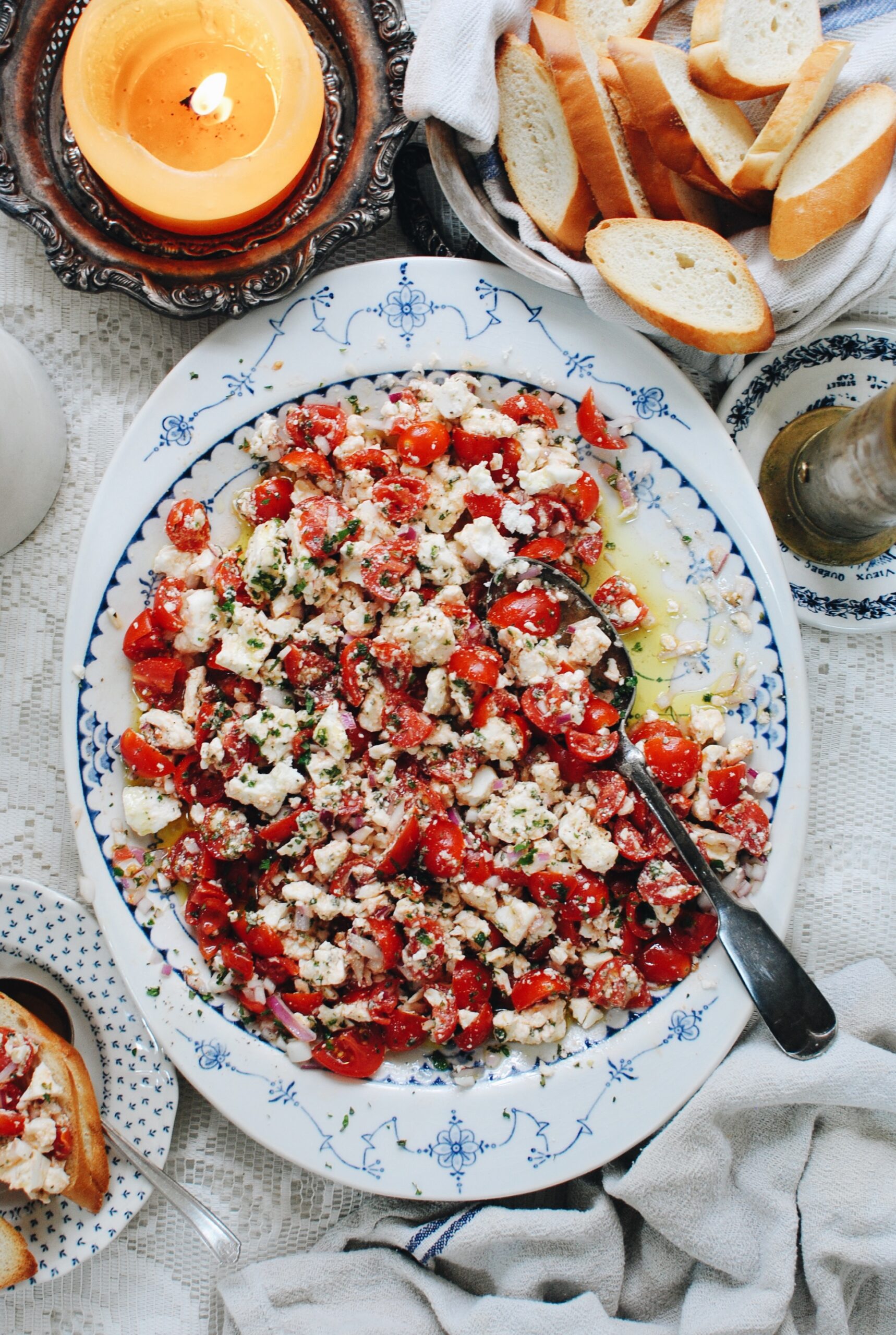 Maybe invite me over though.