This isn't really a recipe, my ladyship, but more of a "toss together anything you have cobby lying around and call it a day" salad, my lordship.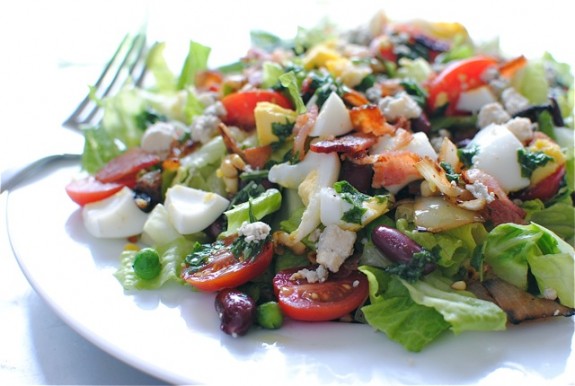 Oh, sorry about the nicknames. We just finished the first season of Downton Abbey last night and now I'm completely obsessed and wishing I had a hunormous castle to trot around in all day and receive telegrams and wear my hair in silky rolls and decide which brooch is best to wear on my new frock for dinner with the Countess and Earl and Duke and Hazard and Lordstress and Lordstrom.
Lordstress. That's what they would call me right now during this bloody kitchen remodel. And it hasn't even STARTED YET. But I won't trouble your pretty little head about this. Not just yet.
This whatever cobb salad was one of those last second decisions on Sunday. During that decision process this sentence may have slipped out from my significant Earlship. "Yeah, maybe we keep it vegetarian tonight since we just ate chicken last night. Oh, but let's add bacon!" I politely beseech you not to alert the council of this dreadful mishap. For we must firmly uphold our family name and reputation. Now fetch me a bottle of our best red from the cellar.
I WOULD BE SO GOOD ON THAT SHOW.
I also need to note that my Right Honourable Husbandship asked me to show you his corn row version of the salad next to mine.
Oh! It's like his and her towels! But with salad greens and veggies instead of sweat and shower germs.
I think this brooch in my frock might have punctured the artery leading to my brain.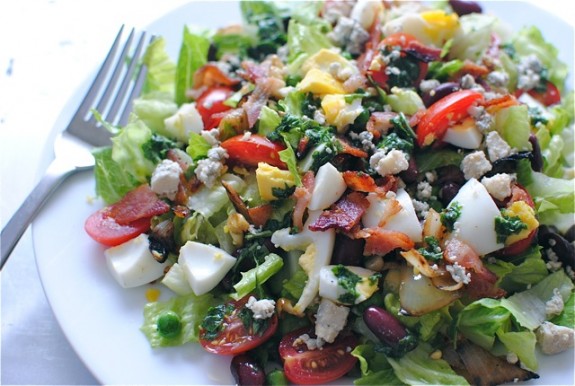 This is my telegram to you: Make it justly possible that your face courts this salad for the remaining of your evening activities. You won't harbor regret, my dukeship of pearl.
And PS. This brooch is like, way hideous.
The Whatever Cobb Salad:
What it took for 2 dinner salads:
* 2 romaine hearts, rinsed and chopped
* 4 slices bacon, cooked until crisp, drained and chopped, reserving 1 Tbs. bacon grease in pan
* 1/2 medium onion, thinly sliced
* 1/2 cup frozen corn, thawed
* 1/2 cup frozen peas
* 2 eggs, hard boiled and chopped
* 1/2 can kidney beans, drained and rinsed
* 1/2 cup cherry tomatoes, sliced in half
* 1/2 cup blue cheese crumbles
* 8 large basil leaves
* 1 tsp white wine vinegar
* 1/3 cup extra-virgin olive oil
* pinch of coarse salt and freshly ground pepper
Bring the reserved bacon grease to a medium high heat in the skillet. Add the sliced onions and saute until you see a little color, 5 minutes. Add the corn and saute until slightly caramelized, 5 minutes. Add the peas and toss until heated through, 1 minute.
In a food processor, add the basil, vinegar, oil, salt and pepper. Blitz until you have a nice dressing.
Evenly divide the chopped romaine on two dinner plates. Top with egg, bacon, tomatoes, kidney beans, corn and pea mixture, blue cheese crumbles and a good drizzle of the basil dressing.
Serve to all the Lords and Ladies and Valets and Puppies!
Wait, what?
*You can always add grilled chicken or salmon. Throw some avocado on der. Take off the blue cheese. Do whatevs makes ya squeal. The salad is your oyster. OH! Add oysters!*