Row, row, row your boat, gently down the. . .plate.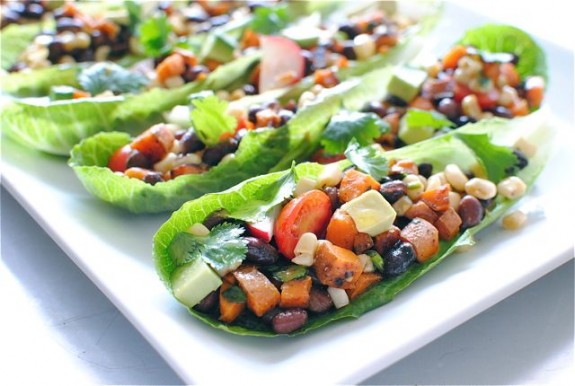 So, I can't decide if it's really really sad or really really awesome that the only Oscar nominated movie I'd seen was Bridesmaids.
And on top of that, I can't decide if it's really really embarrassing or really really sweet that I got 14 lumps in my throat when they walked out on stage to present the awards.
They just looked so glowy and magical and OSCARLICIOUS.
I need someone to teach me how to get my hair in those waves like Kristen Wiig's. Only if it doesn't take longer than 5 minutes, because I have a yard to ignore fertilizing.
Oh right, we were rowing our vegetarian Mexican salad boats gently down the plate.
But wait! Wasn't Gweneth Paltrow just flick-your-mama's-face-off-stunning? I'm so glad she asked to borrow my white gown for last night. I guess she looked okay in it.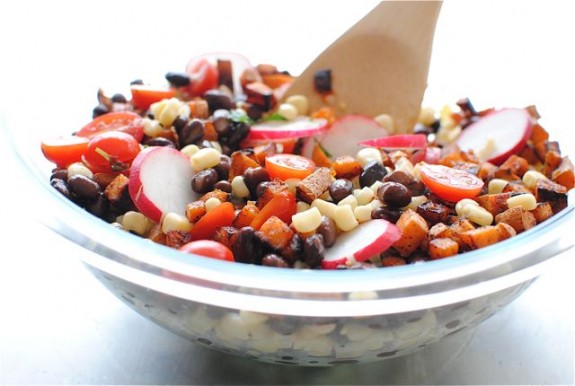 I need someone to teach me how to do that low stacked ponytail like she had. But only if it takes less than 5 minutes because I have chipped nail polish to continually forget about.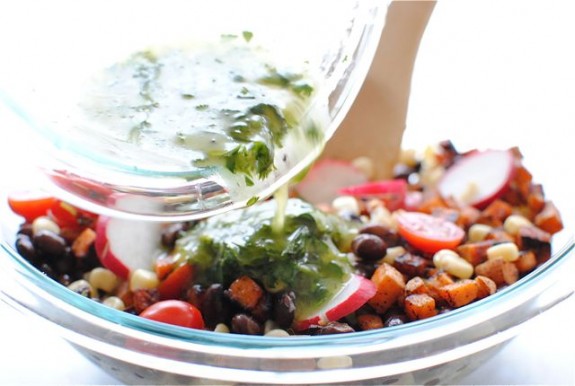 So sorry!  Merrily, merrily, merrily, merrily, life is but a . . . slate. OH! Like a clean slate. Get it?! Life is like a clean slate. Once you eat the salad boats on the plate. That you rowed for?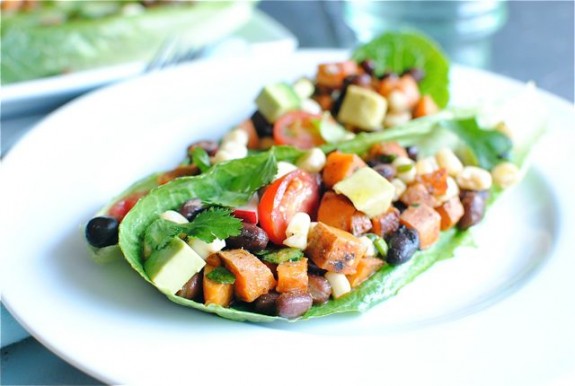 Because they are delightful and vegetarian and are loaded with superfoods and have this nice surprising crunch factor and when you eat them it's like you're rowing your way to glowing skin just like the Oscar stars and are you even there anymore?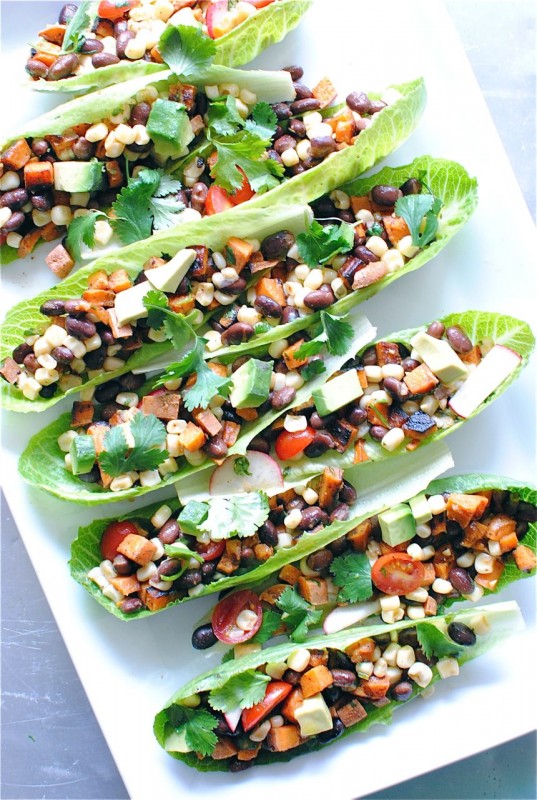 I WILL TURN THIS BOAT AROUND.
Vegetarian Mexican Salad Boats:
What it took for 15 boats:
* 1 bunch romaine hearts, rinsed and separated
* 1 sweet potato, finely diced
* 1 Tbs. cumin
* 1 Tbs. chili powder
* 1 (14.5 oz) can black beans, drained and rinsed
* 1 (10 oz) can sweet corn, drained and rinsed
* 4 radishes, thinly sliced
* 10 cherry tomatoes, halved
* 1/2 cup cilantro, roughly chopped
* 1 lime
* 5 Tbs. extra-virgin olive oil, divided
* coarse salt and freshly ground pepper
* 1 avocado, diced
Heat 2 Tbs. oil in a medium skillet over medium-high. Add the sweet potatoes, cumin, chili powder, a pinch of coarse salt and freshly ground pepper. Saute about 10 minutes, until browned and cooked through. Remove from heat.
In a small bowl, whisk together the remaining 3 Tbs. oil, juice from the lime, cilantro and another pinch of salt and pepper.
In a bowl, combine the beans, corn, sweet potatoes, tomatoes and radishes. Toss, toss.
Pour in the dressing and toss to combine.
Spoon the mixture into each romaine boat and top with diced avocado and more cilantro, if desired.
And guess what, if this route doesn't float your BOAT (get it?) you can always chop up that there romaine and just do this.
Either way, tah.dah.fah.