See these here enchiladas? Yeah, I pretty much saved your life with these.
But oh, let's start at the very beginning.
Things started off swimmingly! Just as I had planned. Every ingredient and step was lined out in my head that would make these shredded beef enchiladas so top drawer, you'd scoff at the idea of eating anything else for the rest of your life. I had my nearly 2-pound beef chuck roast snuggled in the crock pot getting its groove on with some sexy spices. There she lay for nearly 7 hours, sweating and transforming into a mass so beautiful, most Earthly beings only dream of it.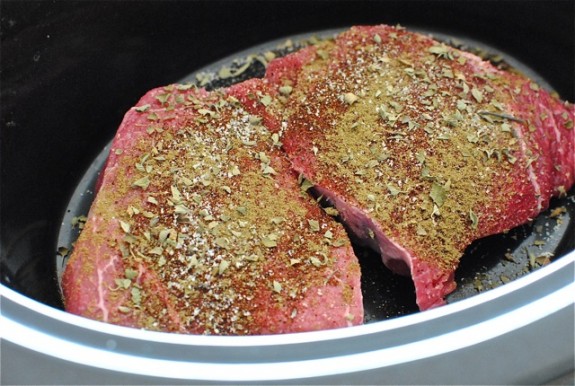 I shredded it, tasted it, lost consciousness, fell to the floor, stood up, tasted it again, repeated steps 3, 4 and 5, then added diced green chiles, and repeated steps 2, 3, 4 and 5, 67 more times.
Now, on to the sauce! I was SO excited about the sauce. You see, I had this hair-brained idea (weird!) that involved these little dried chiles that have been in my cupboard since Watergate.
Sure, they're pretty small and I'm not even sure what kind of chiles they are and I probably won't be able to get all the seeds out, but that's fiiiiine. I CAN HANDLE THE HEAT. I'm no sissy. Ba-ring it, chiles.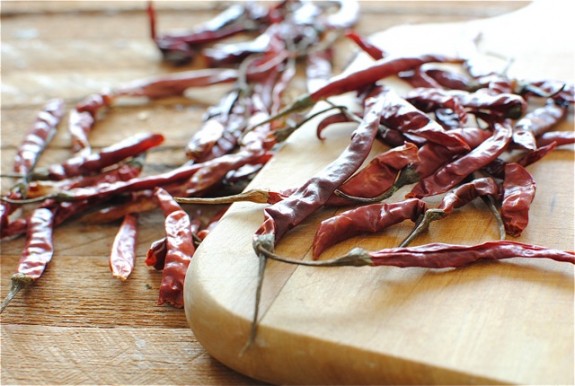 So, I stuck them them in some hot water for a while, ya know, to rehydrate. OHHHH this sauce is so going to rule.
2 hours later I thought, "uh, these aren't soft. I'll boil them!" So in they went for nearly 30 minutes, some seeds falling out, most staying in. No problem!
Realizing that it would take 2,945 episodes of Tom and Jerry to slice these things open and remove the seeds, I decided, "Eeeeh, I'll be fine! I LOVE THE HEAT."
Oh wow, this coughing is getting worse. And my eyes are starting to feel like a bee hive. Whatever, it's totally fine!
In the food processor they went, most of the seeds still in tact (no biggie!). Tossed in some garlic, some stock, some tomato paste. SO…cough cough…excited about this!
Blitz blitz. Blitz.
Stuck the tiniest tip of my index finger in (is my hair falling out?). . . touched my tongue, (my ears hurt). . .
Right. About that sauce. . .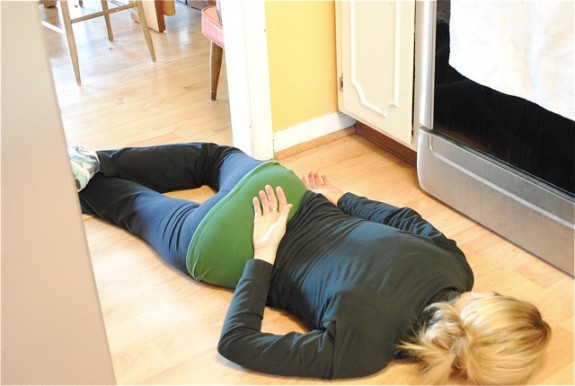 My mouth is still wrapped around a fire extinguisher. Right now.
So um, obviously this happened next.
I'm so glad my neighborhood grocery store allows customers with faces that bleed.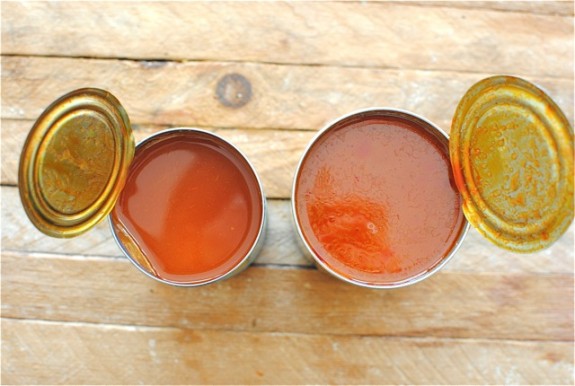 After reconstructive tongue surgery and 3 pounds of stage makeup to get my face looking back to semi-normal (I will NEVER look the same again), it was time to finish this jawb.
Tuck some shredded beef into each tortilla, roll 'em up, kiss the cans of enchilada sauce, and then pour them over the dish. Sprinkle loads and loads of cheese on top and bake bake bake. (See the naked ones in the back? Hi, remember my freak husband? Yeah.)
TOP. DRAWER. Even with canned sauce. I mean really, the beef is the shining star in these. Plus it's important to have a head that's not raining sweat so that you can actually EXPERIENCE the shredded tenderness.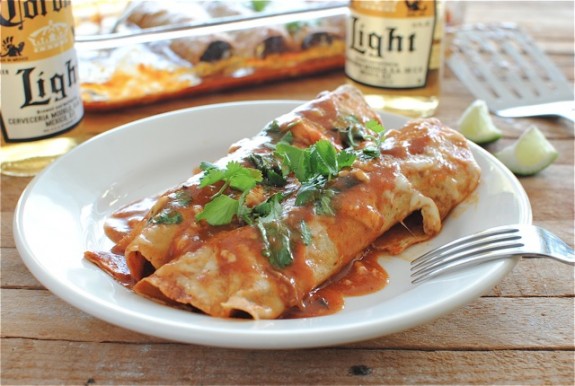 You have no idea how much you need these this weekend.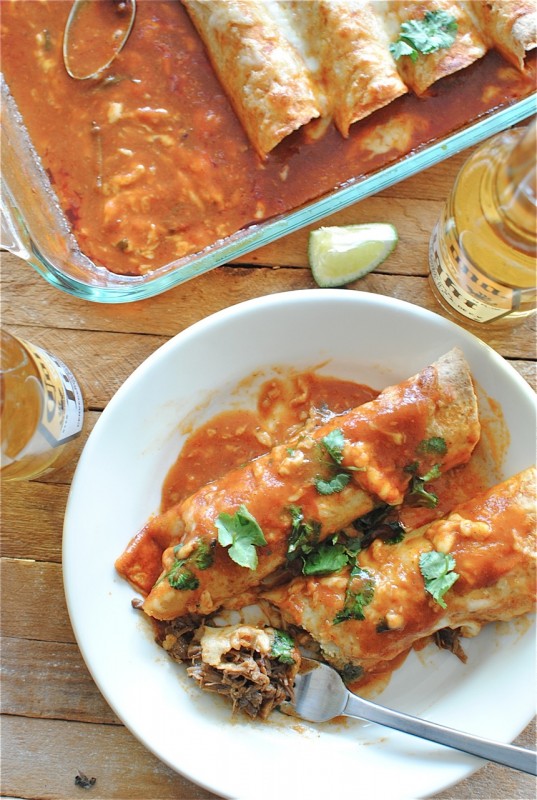 No sprinkler system needed!
* p.s. – ignore my outfit. I had just gone on a run.
* p.s.s – that's not a fly on the table. It's a natural blemish in the wood. Ahem.
* P.S.S. The winner for the Scharffen Berger chocolate was Christopher Sorel who said, "I drove many of mile to get good chocolate and will continue because why settle!!"  Congrats, Christopher!
Slow Cooker Shredded Beef Enchiladas:
What it took for 10 enchis:
* 2 pound beef chuck pot roast
* 1 tsp cumin
* 1 tsp chili powder
* 1 tsp garlic salt
* 1 tsp Mexican oregano
* 1 pinch coarse salt
* 1 pinch freshly ground pepper
*  1 (4 oz) can diced green chilies
* 1 (10 oz) can hot enchilada sauce
* 1 (20 oz) can mild enchilada sauce
* 10 6-inch flour tortillas
* 1/2 cup cilantro, chopped
* 2 cups shredded monterey jack cheese
Arrange the beef in the slow cooker and toss all the spices in (through the black pepper), cover and cook on the lowest setting for 6 hours. Shred with two forks. Taste. I know. Taste again, just to. . . make sure. One more bite? Okay ONE more bite. You have to stop now!
Place in a bowl and add the diced chilies. Combine.
Preheat oven to 375.
Mix the two enchilada sauces together in a bowl and pour a small amount in the bottom of a 9×13-inch baking dish.
Evenly divide the beef mixture and cilantro at the edge of each tortilla; roll up tightly and layer in the dish seam side down. Continue until the dish is filled. I needed two dishes. I was starving.
Pour the remaining sauce over the enchiladas. Get it in every crevice. Sprinkle the mozzarella cheese over the top. Throw it in the oven for about 40 minutes, until the cheese is browned and bubbly.
Let sit for about 5 minutes before slamming your entire head into it.
Garnish with cilantro!