Okay so there's this….thing.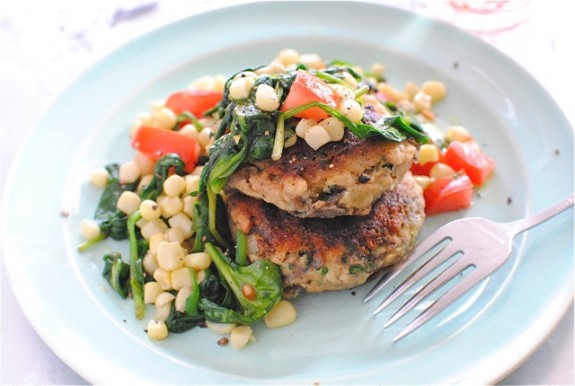 That like, the majority of the population of the universe fah-rickin' LOSE THEIR MINDS over to eat. They go to all kinds of lengths, risk important relationships, see expensive therapists, maybe even consider assassination for a single bite.
I SAID MAYBE.
But not me. For some reason, that one (or 45) special taste bud didn't find its way into my mouth DNA or whatever, and I'm left a loner in this cold, dark world.
Cake.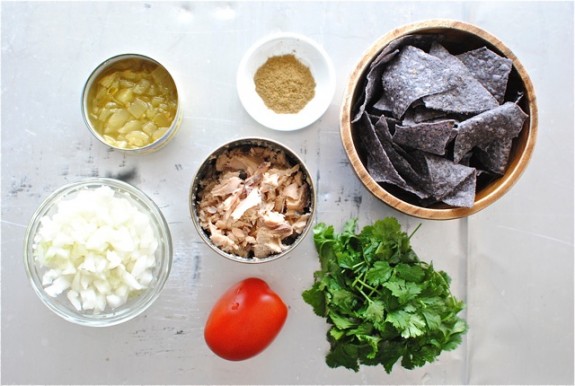 I KNOW! Cake. I'm just….eh about it. I will seriously watch people shovel 14 square-foot bites at a time into their mouths and I'm like, YAWN.
Stop laughing.
You know by now that I'm a savory lover to the max, through and through, until the cows come home and all that. But I want to be a part of this cake frenzy, dang it!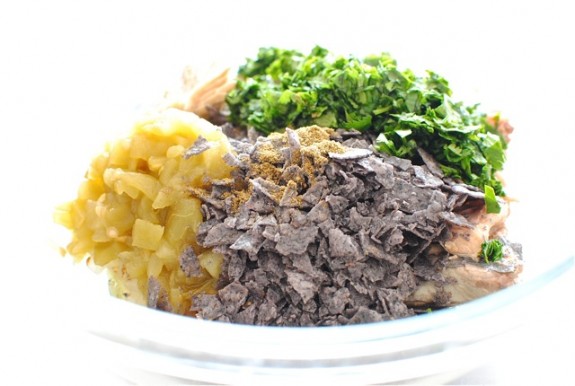 So this is what I had to do.
SERIOUSLY, STOP LAUGHING.
Tex-Mex salmon cakes! Um, yeah. Cute, little, with a RELISH ON TOP. It's a cake! But with healthy stuff in it. I'm so ruining your life right now.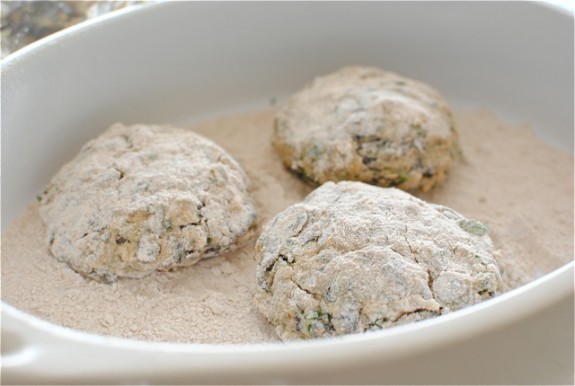 These cakes make my mouth do the Macarena. Does yours? HMMM MMMM.
Oh! I guess you could say, I can have my cake and eat it too, BAAAAHAAHAHAHAHA.
I'm not even going to apologize.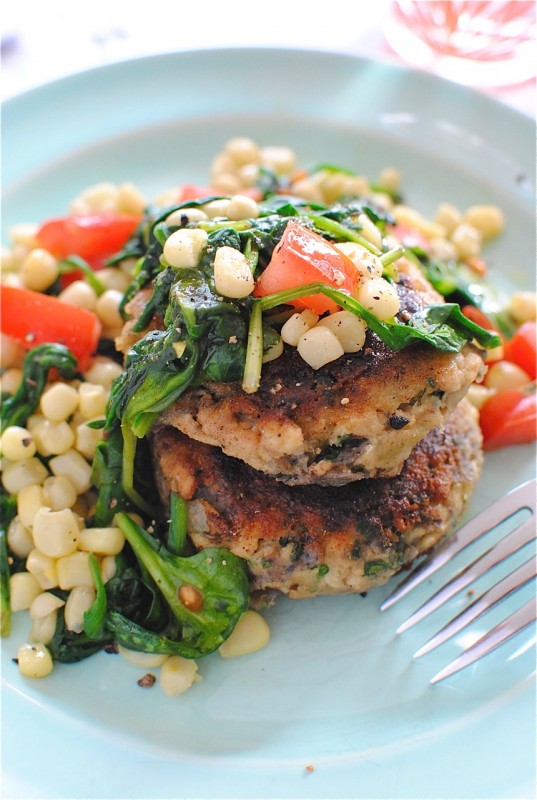 Dale a tu cuerpo alegria Macarena
Que tu cuerpo es pa' darle alegria why cosa buena
Dale a tu cuerpo alegria, Macarena
Hey, Macarena!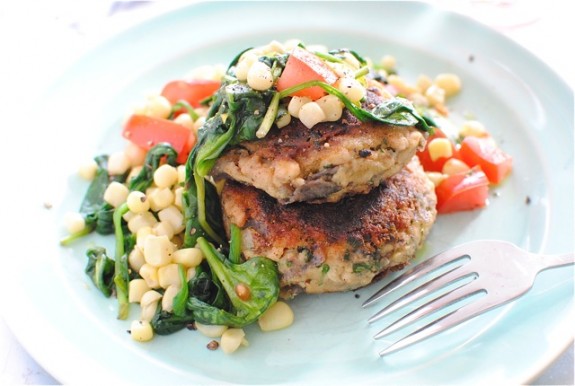 Does the cake club have tee-shirts? Because I have a great idea for one.
I'm not allowed in, am I?
Tex-Mex Salmon Cakes:
(adapted from Sara Moulton)
What it took for 8 cakes:
* 1 (15 oz) can salmon, drained (don't be scared!)
* 1 (4 oz) can green diced chiles
* 2 cups blue corn tortilla chips, crumbled in a plastic baggy
* 1 cup finely diced white or yellow onion
* 4 Tbs. vegetable oil, divided
* 1 cup cilantro, finely chopped
* 1 Tbs. cumin
* 1/2 cup all-purpose flour
* 1 cup frozen corn
* 10 oz baby spinach
* 1 roma tomato, diced
* pinch of coarse salt and freshly ground pepper
Heat 1 Tbs. oil in a medium skillet over medium-high. Add the onion and sauté until you see a little color, about 5 minutes. Remove from pan and toss into a large bowl.
To the bowl, add the salmon, crushed chips, cilantro, chiles, cumin and a small pinch of salt and pepper. Mix to combine.
Place the flour in a shallow dish.
With your hands, shape the mixture into 1-inch cakes. Dredge them through the flour, coating on both sides.
Heat the remaining oil in a medium skillet and (if needed, in batches) add the cakes to the skillet and brown them on both sides, about 6 minutes total.
Remove from pan and set aside.
In the meantime, wilt the spinach in another pan. Once it's starting to wilt, add the corn and diced tomato. The corn will heat through as the spinach finishes wilting. How many times can I say WILT? Season with a pinch of salt and pepper.
Serve the salmon cakes with the corn/spinach relish and get on it.