Remember when I went to Florida to visit Jaden, Julie and Jessica?
Of course you do. It's all I've talked about for 16,374 hours straight. DON'T YOU JUST LOVE ME?!
Well, it's taken me forever to get my act together and put together (together together together) a post of pictures to show you. All. Together.
But I did it! If you follow me on the Instagrams some of these will be familiar. I have some regular ol' camera shots mixed in as well.
Aaaaand roll back the curtains:
The day started early with a trip on my personal jet. Oh you don't have a personal jet? Oh.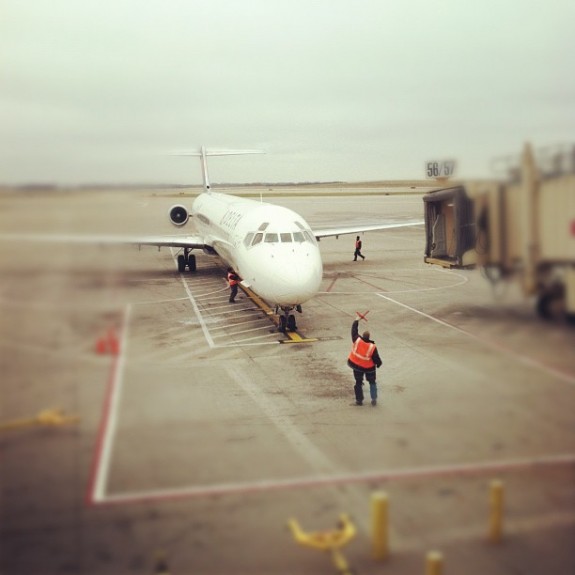 I made it! You guys those are PALM TREES. Here in Kansas we have dirt.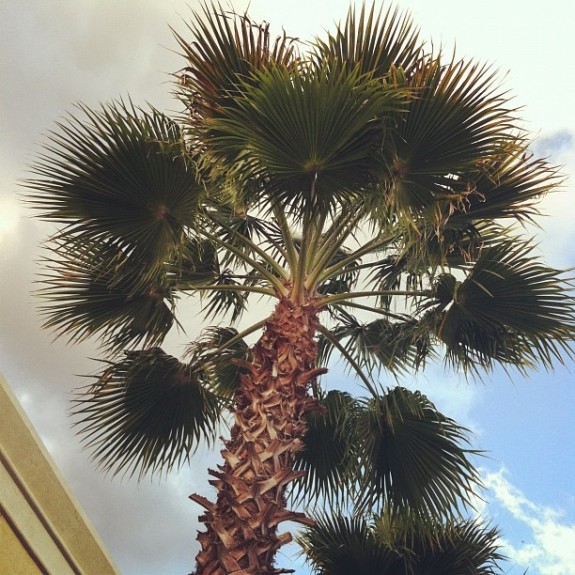 This little kid melted my heart from second UNO. At one point he said to me, "Can I tell you something?" Me, "Yes, Nathan, tell me." Him, "Did you know that when you say 'hello' to someone, there's a bad word in it?"
UGH. I just want spread him on a cracker.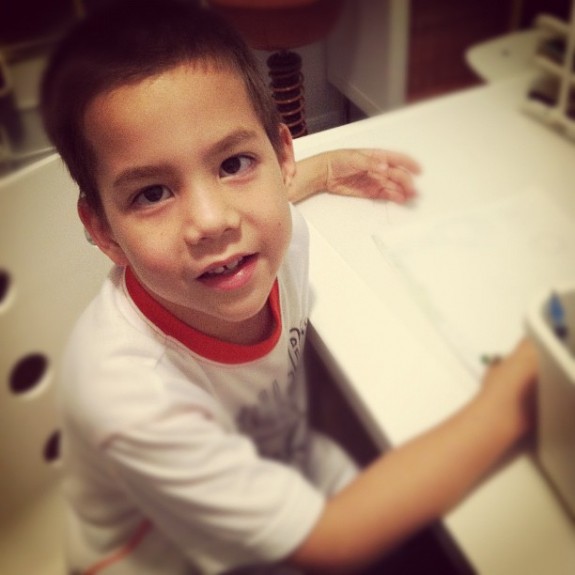 After a gorgeous steak and salad dinner (and a half game of Pokemon) we sat outside on her ridiculously pimp back porch, next to a pool and enjoyed some wine by some famous dude. Harry something? Jaden, what was his name again? But you guys, she had it in a glass CARAFE and it scared me. I'm clumsy. Like bad. So, I begged Scott to pour my drinks. It wasn't annoying at all.
Look who can knit! Did you know this about Jaden? She's a knitting maniac. It keeps her settled. I might need to knit.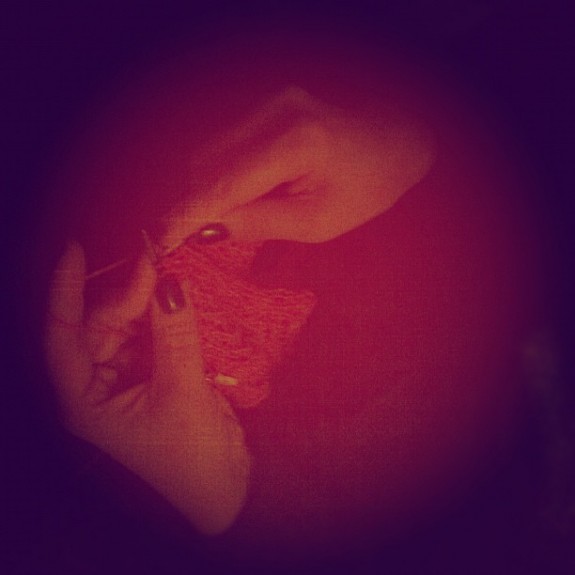 The next morning we got up and tended to FARM DUTIES. We fed the chickens, watered the garden, fed the fish. I wasn't jealous at ALL. (read: all. kinds. of.) I held one of these things! You can see that awesomely horrible photo of my double chin HERE.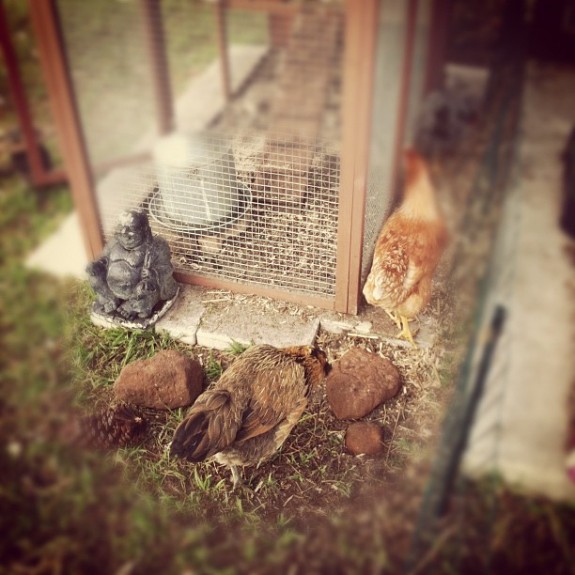 This photo makes me cry. It's perfect in every way. Just look at these kids. Their faces. "Mooom, It's mooorrrniinnnggggg. Whhhhyyyyyyyy???"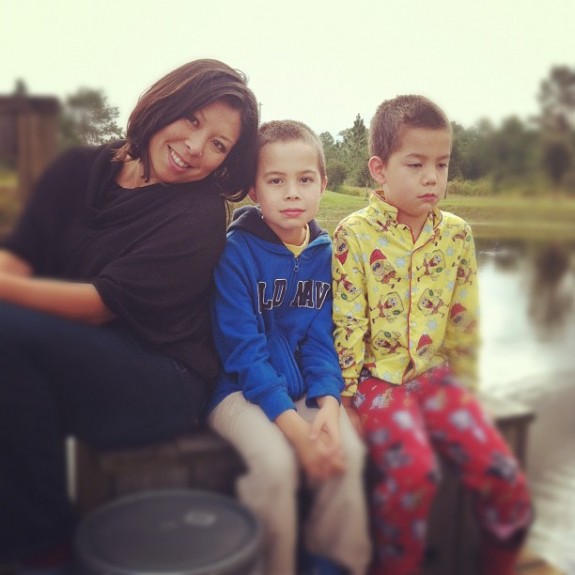 A little later we cleaned up and headed out to prepare for the girls' arrival later in the day. We hit up the farmer's market, which was teeny! But it was nice because it was like bam! bam! bam! DONE. (I get impatient sometimes.)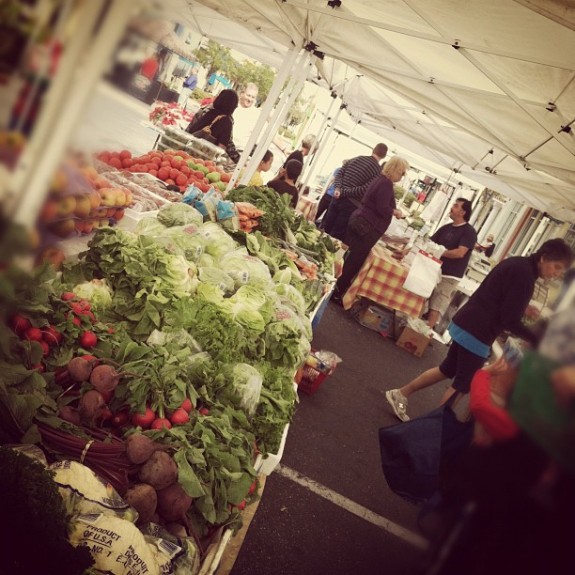 Then we went to Jaden's favorite local wine store. I about died. I swear I thought an Oger was going to walk out at any second and ask if we needed assistance.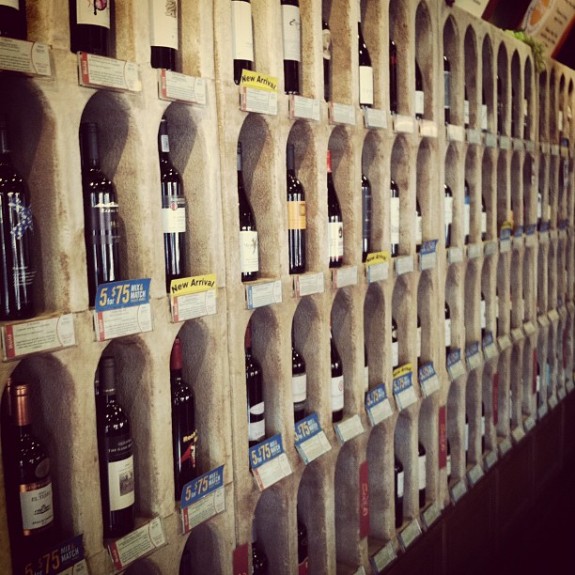 We got home and did our NAYAILS. I never do nails. Never. But after this, I've rearranged a few things in my life and nails have moved up a few notches in priority land. I never knew such joy existed!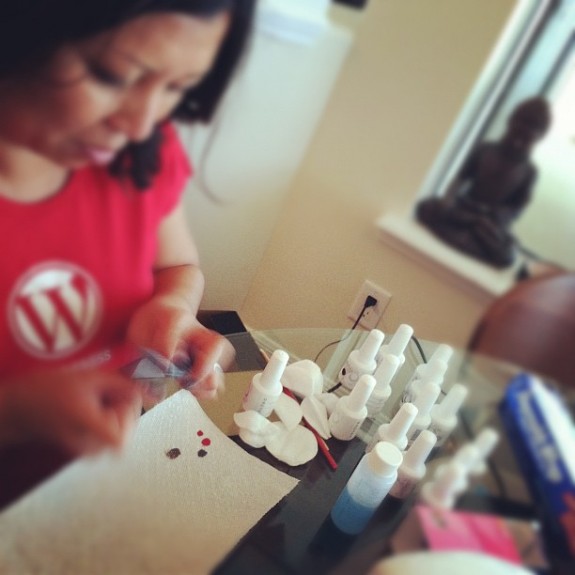 The girls arrive! CHEERS.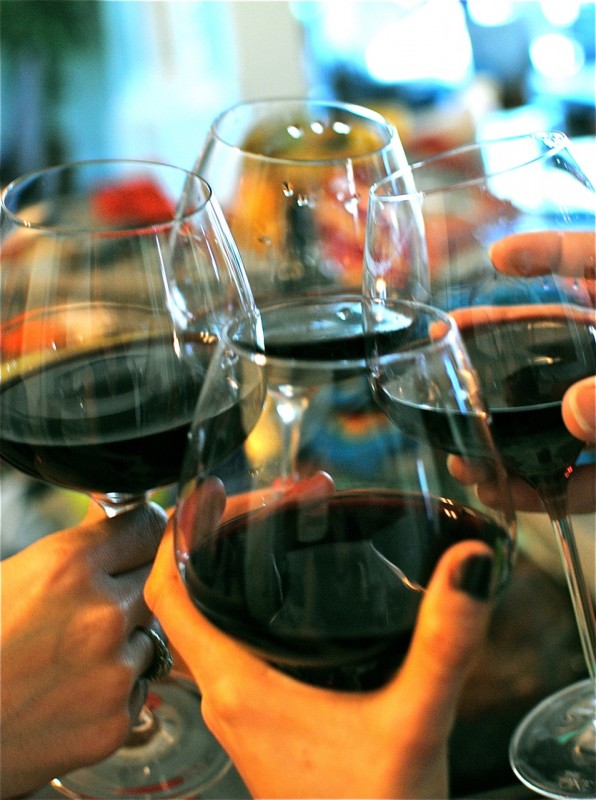 Jaden taught us how to make egg rolls from scratch. Her mom's extreme supreme recipe.
Here are the ladies holding vegetables and sharp utensils!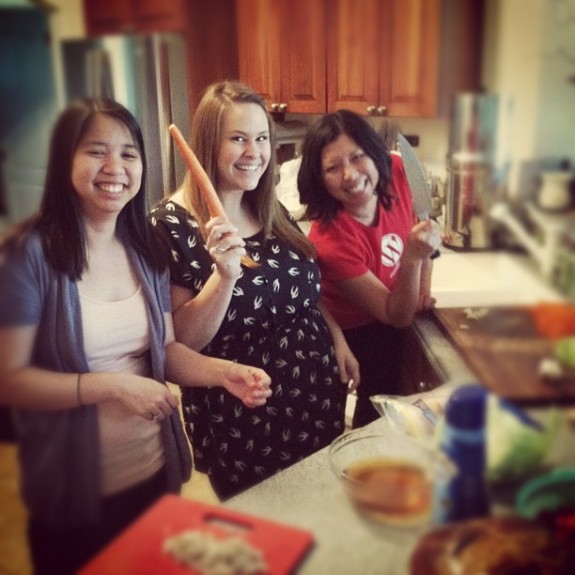 Jaden's prime egg rolling skills. She said we needed to tightly fold in the sides so oil didn't seep in and make the entire roll greasy.
I then discovered I'm the jankiest egg roller in the state of Florida.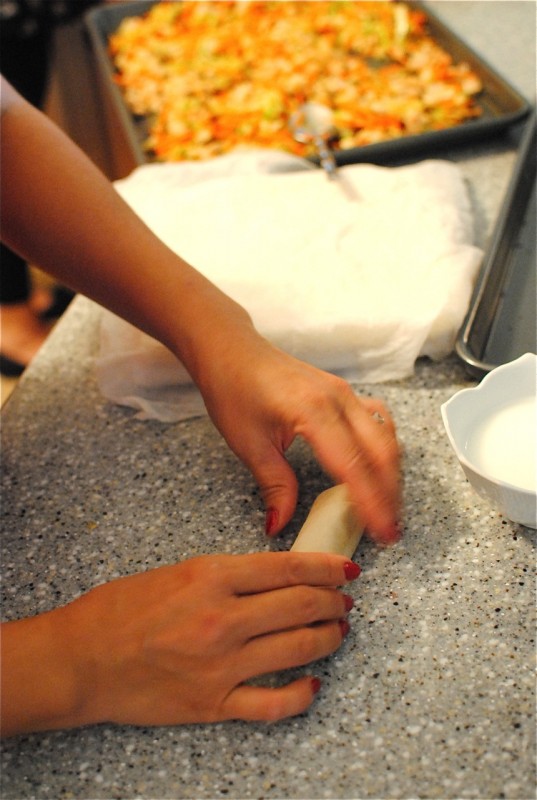 Yeah, y'all can go ahead and roll those things. I'll just watch. And sip wine. And take photos.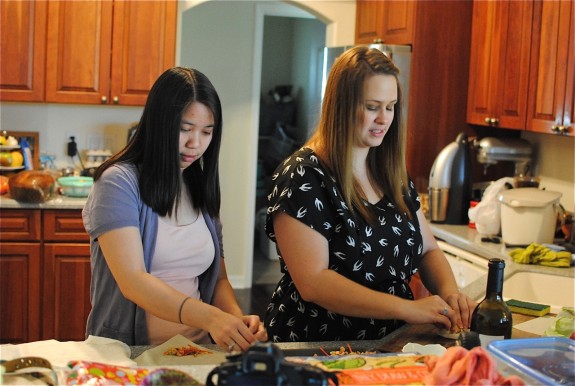 Seriously.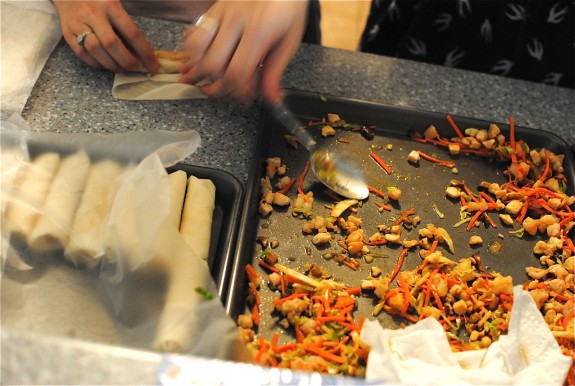 This photo BEGGED for a white vignette. HAHAHAHAHAAA!! Oh, I crack myself up.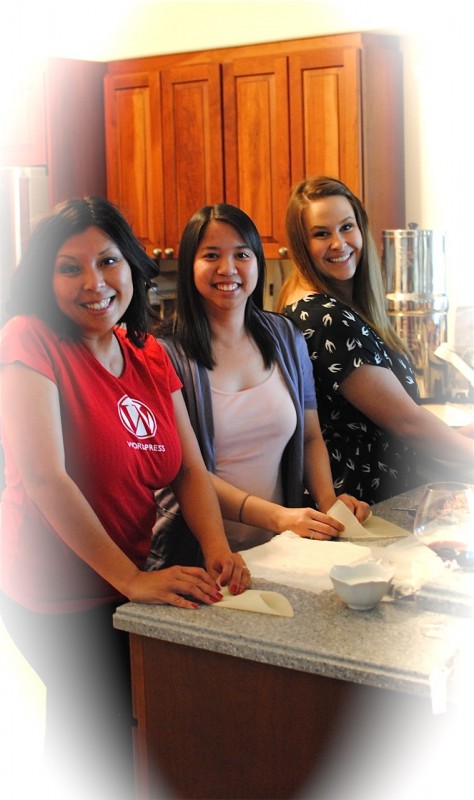 Once dinner was made, we put it all in a little yellow wagon and wheeled it down to the fire. A LITTLE YELLOW WAGON. There were so many, "omg! awww! look! this is so cute! I could just die!'" you have no idea.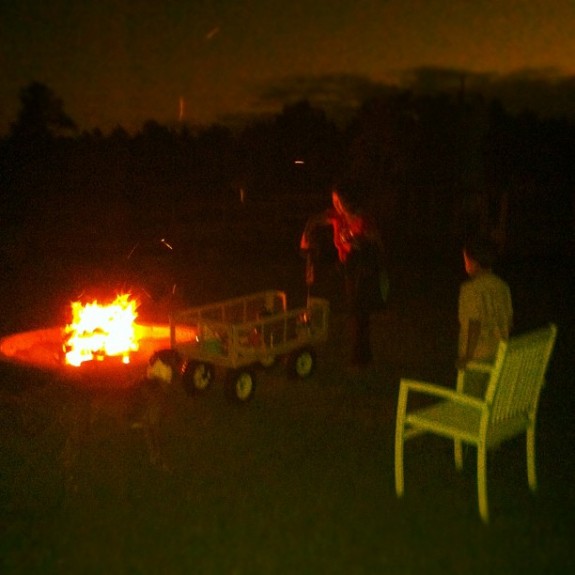 Dinner by fire. Oh yes.
We went to bed early. We're old.
The next morning Jaden and I enjoyed a cup of coffee while we waited on the girls to walk up from the COTTAGE. I want a cottage.
Look at her knitting. I hope that scarf is for me.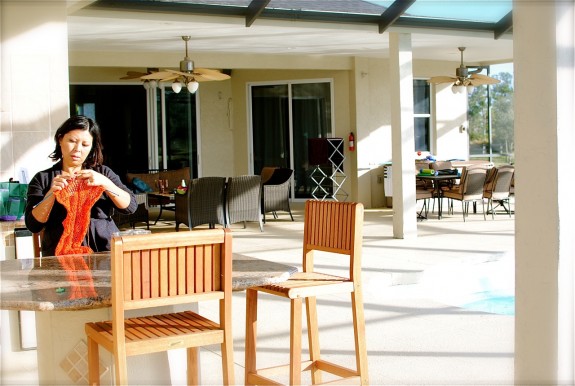 Once they made it to coffee hour, we did another round of farm tending. It was Julie's turn to hold the chicken, SO THERE.
We picked veggies from the garden and looked at the squirmy bugs in the compost bins. I know this might sound insano to you, but I love squirmy bugs in compost bins. But ONLY in compost bins.
Here's Nathan with his HARVEST.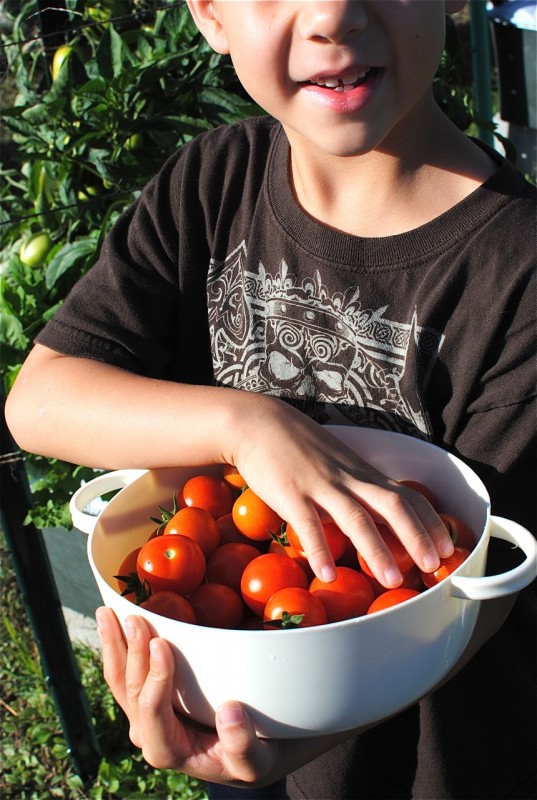 We walked back down to feed the fish, and their sweet pup, Coco tagged along to keep us on our toes. And to eat tomatoes straight from our hands.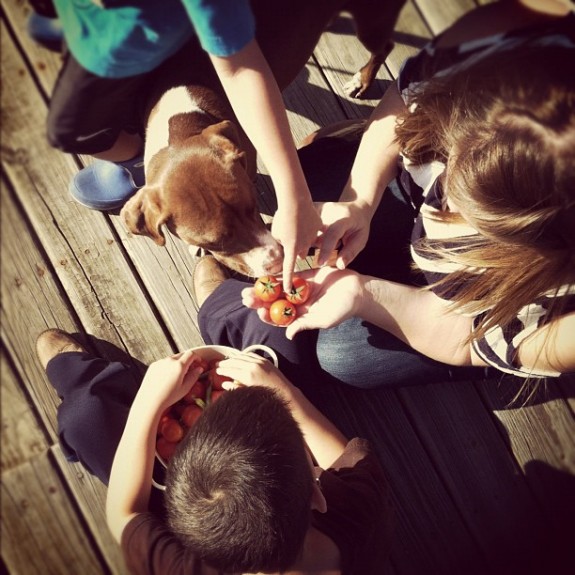 And to get fresh with Jessica and try to make out with her.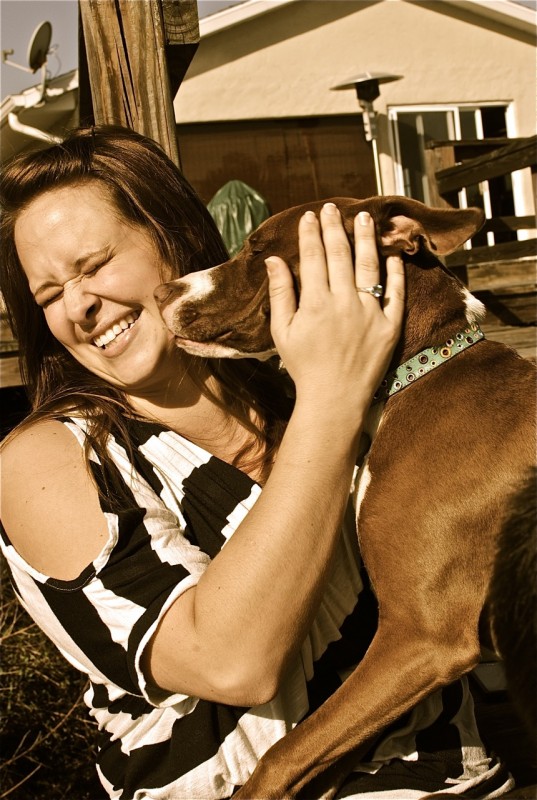 Sweet sweet Andrew caught a fish! And I screamed. And ran away.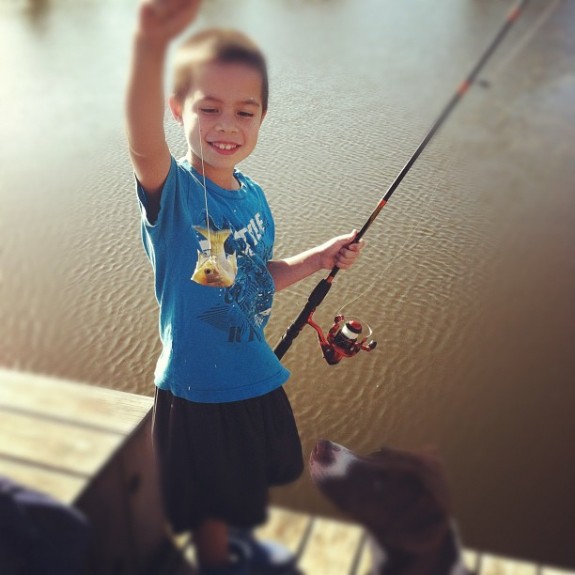 Once my heart settled down from all that highly dangerous fish catching, we went back up to the house and made brunch. Here's Julie with her freakishly awesome leek, artichoke and potato gratin.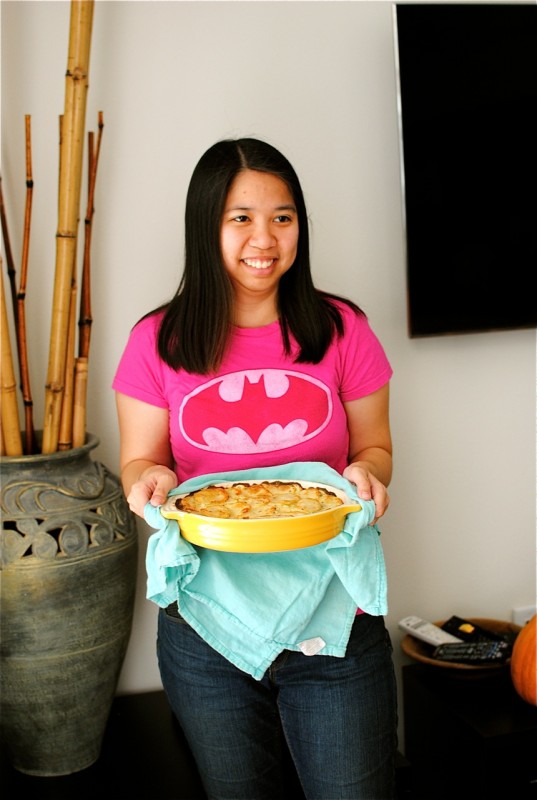 GROAN.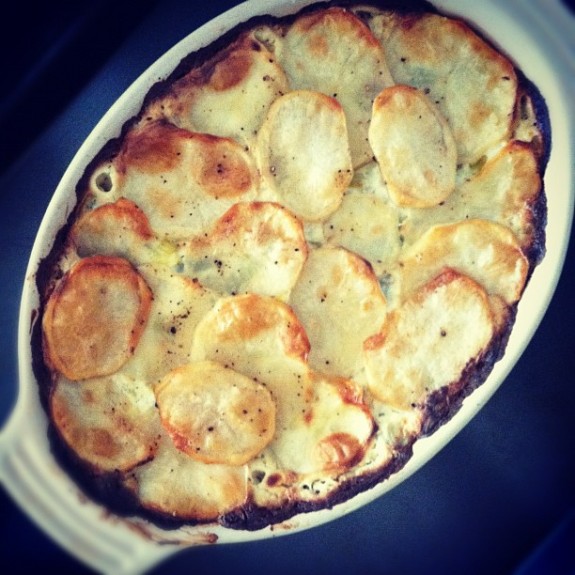 After brunch, the girls decided that I MUST HAVE A FACEBOOK FAN PAGE. So, Julie set it up for me!
Look at my page right there with NO friends on it. Sad.
And oh, pass me that cheese dip, please.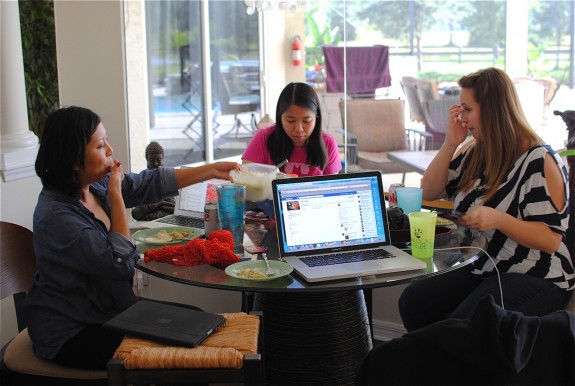 Too much work! More play.
Hello, fabulous mojito.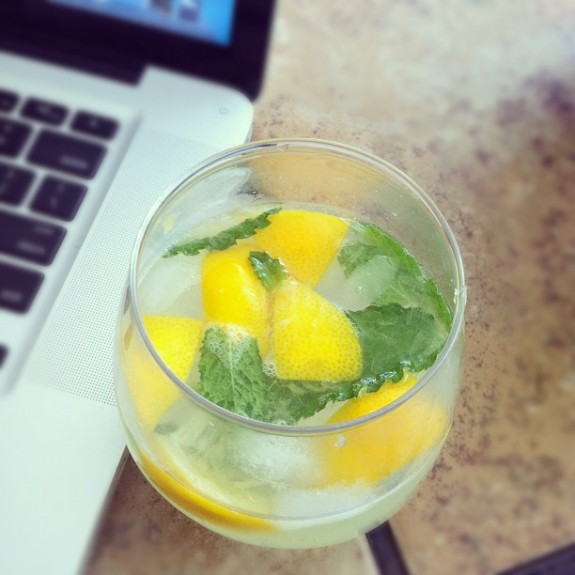 A few hours later I was back at the airport waiting for my personal jet once again.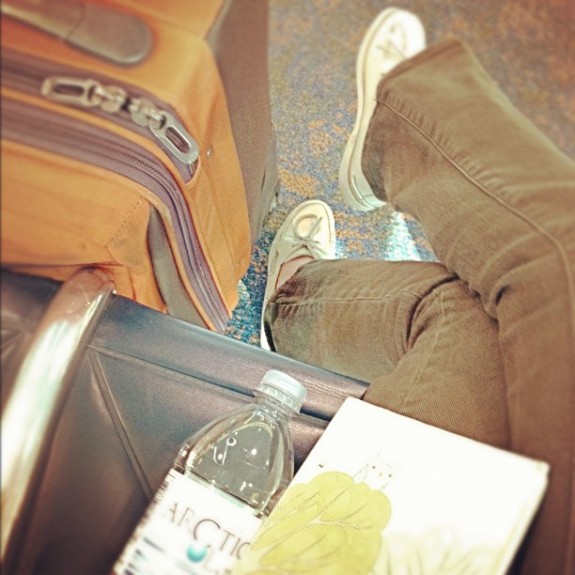 My pilot must have been napping or something.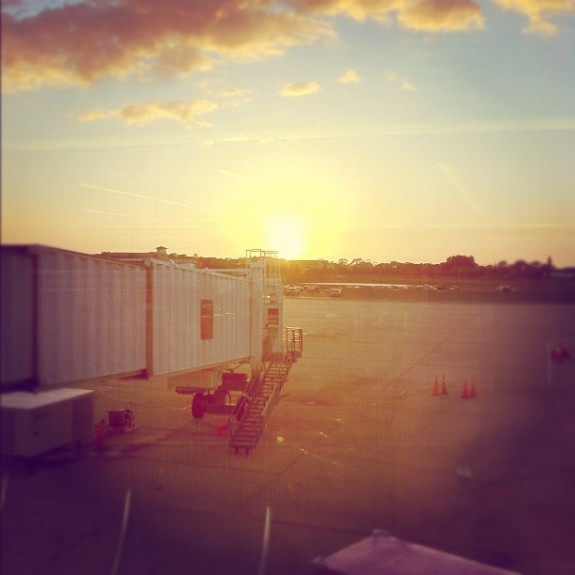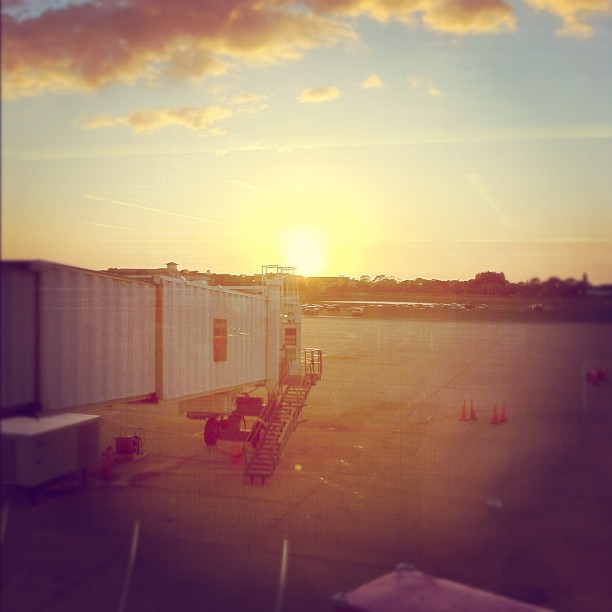 And this concludes the longest photo series ever of my girl time Florida trip to the max!
Thank you for humoring me for the past 2 hours of your life.
Tomorrow I'll be back with…wait for it…..DESSERT.
WHAAAT? Who. is. she?