He…he….here we go, y'all! The Pumpkin Cream Cheese Skillet Cake. (I baked!) Right in time for the big day. (I baked!)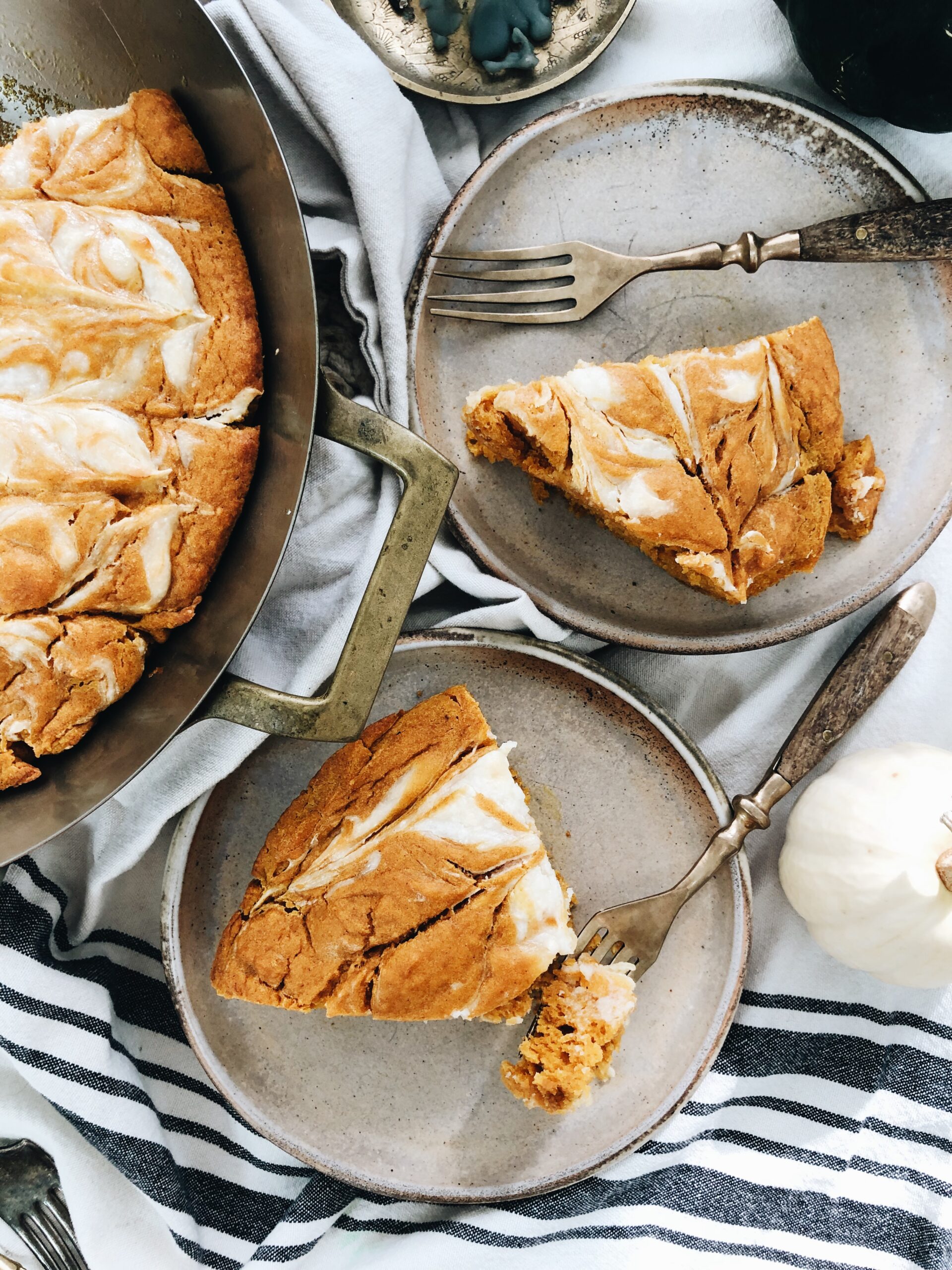 My Wannabe Baker Chronicles continue, you guys. This time in pumpkin form.
Which, okay. POOOOOOOOOLLLLLLLLLLAH!
Are you a pumpkin fan? (I'm not looking at you, pumpkin spiced latte fans.) I mean like really. Pumpkin is such a social media cliché now, but I do think that aside from all the nonsense and garbage created with pumpkin (STOP IT RIGHT NOW), pumpkin still has some character. In small doses. Namely in this super delicious skillet cake with cream cheese all swirled in.
Let us peepeth.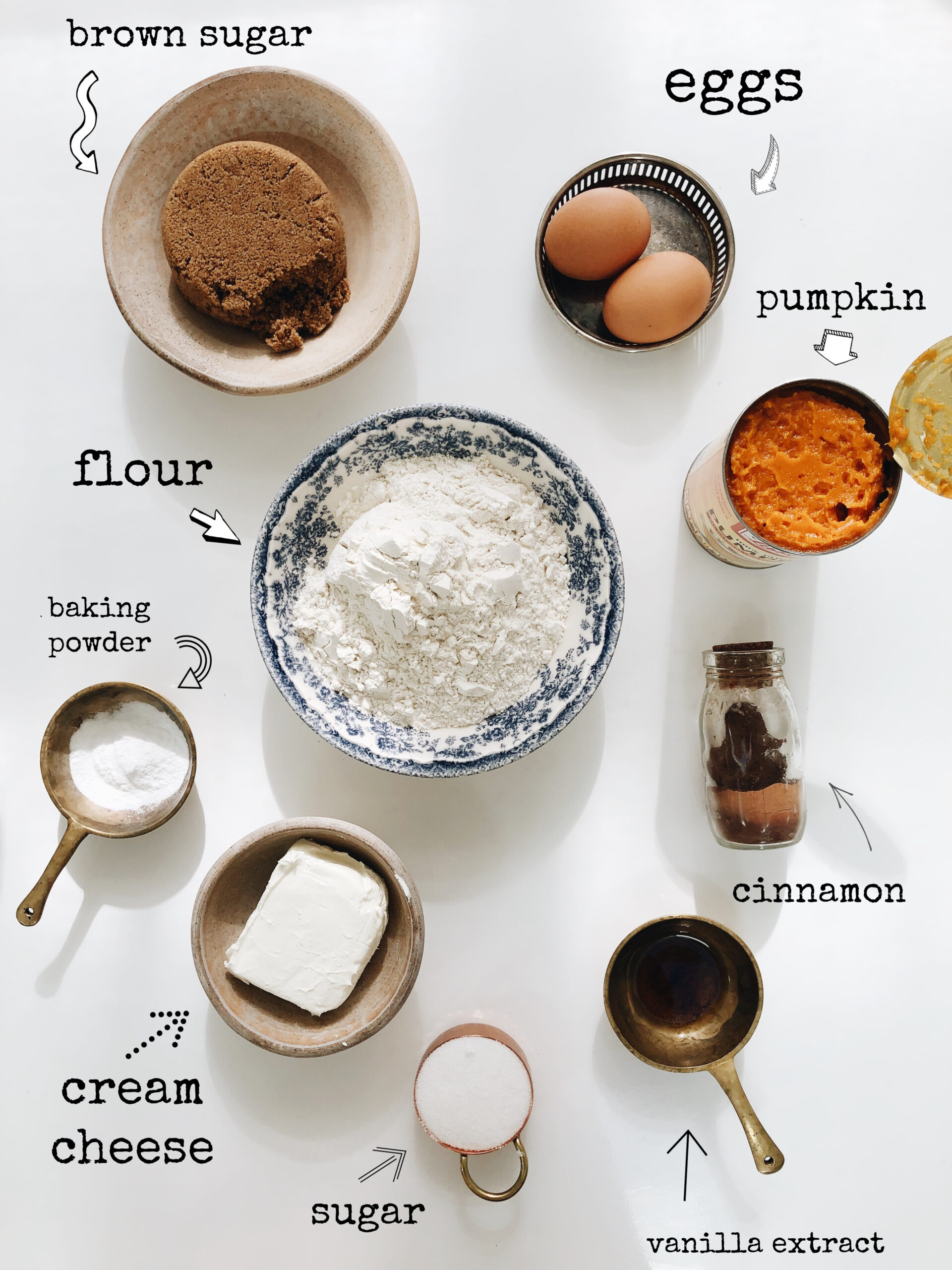 And guess what, we're using the whole can of pumpkin! I heard a lot of chatter about the annoyance of having to open a can of pumpkin, only to use a cup of pumpkin. Naw, girl. We're using all the pumpkin.
Oh! Remember when I first experimented with this recipe on a whim and told all of you who didn't ask for it in Stories? And I used bananas. Ripe bananas. Well, I nixed the 'nanas, bruh because who has ripe bananas on their counter at all times? Besides most of us? No one. A few. Never mind, we're not using bananas, okay?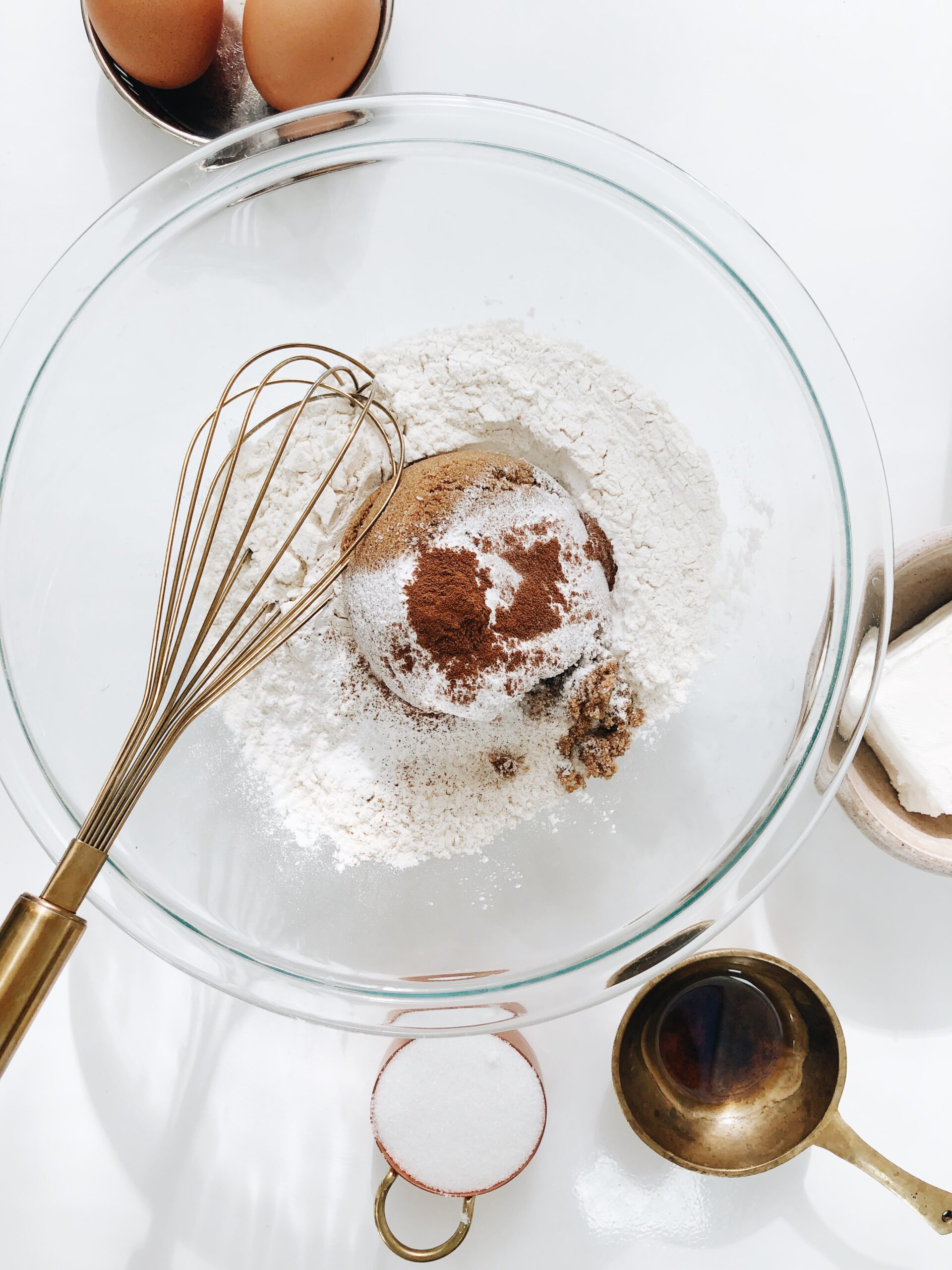 Let's start with the dry ingredients: flour + brown sugar + baking powder + cinnamon + a pinch of salt. Nothing to sweat over.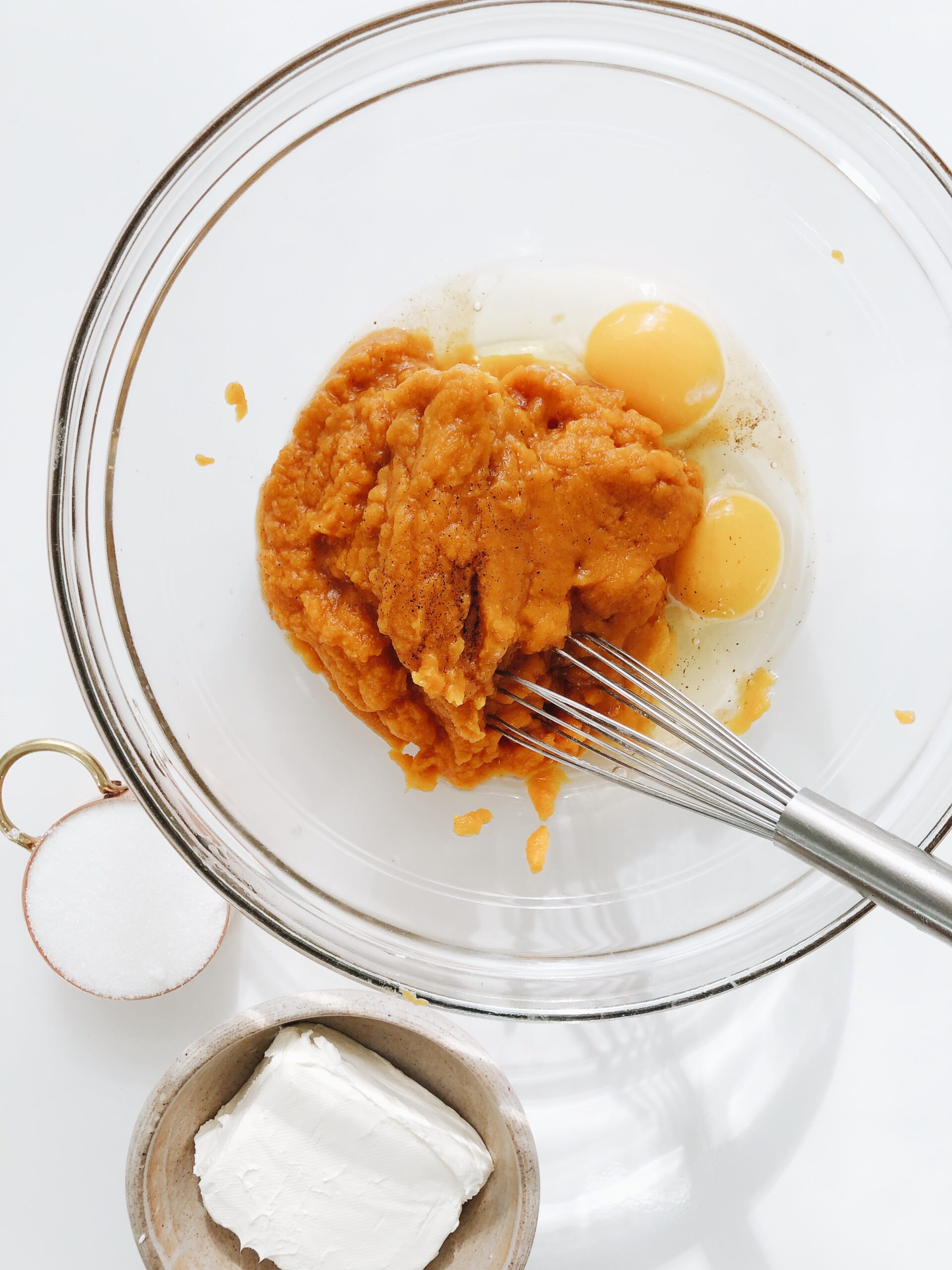 Then the gloopy ingredients: pumpkin (the whole can!) + two eggs + vanilla extract. That sediment that you see on the very top of the pumpkin was in the very bottom of my extract bottle. It's not dirt. You thought it was dirt. It's not.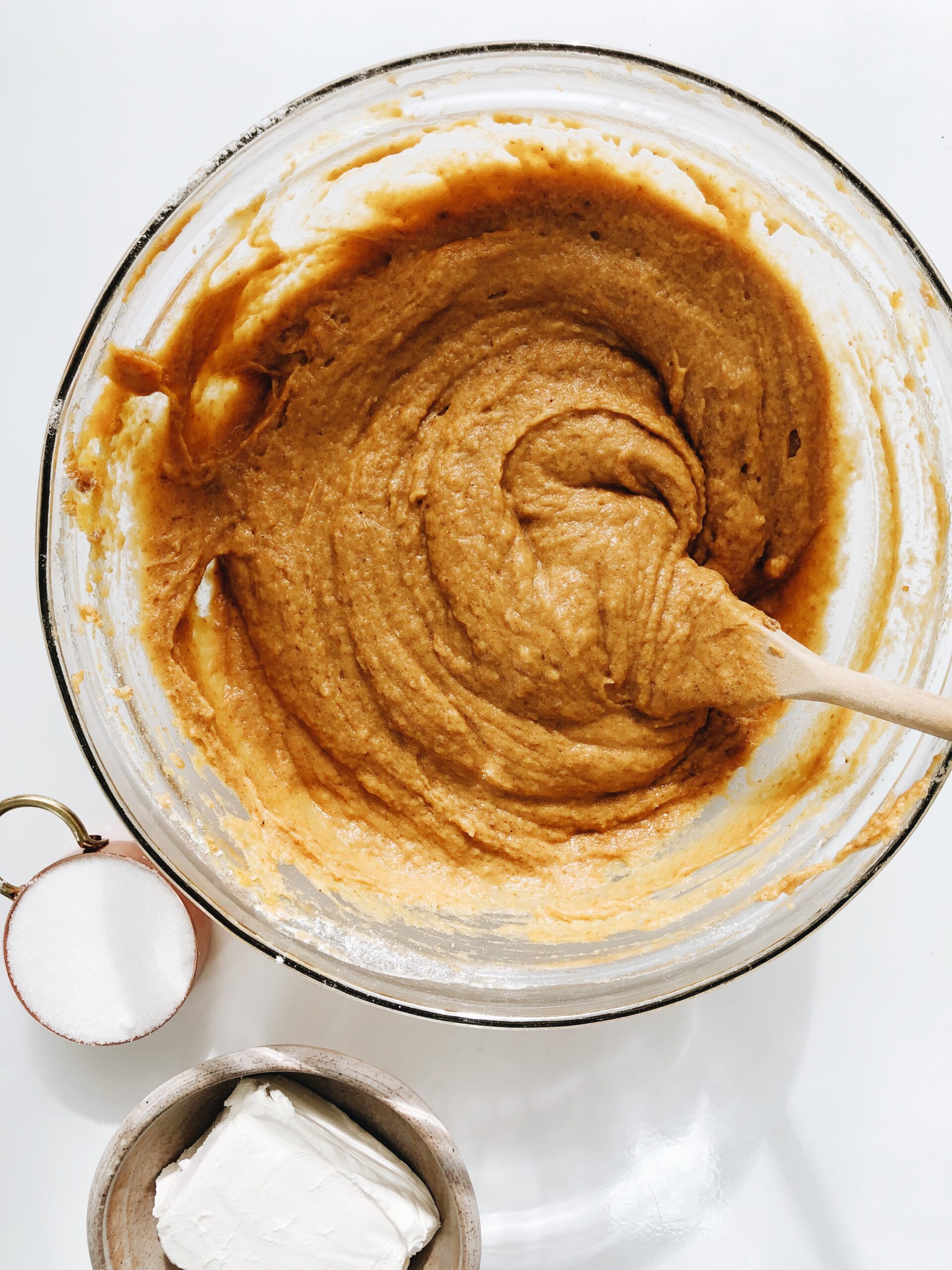 Okay, let's mix it all together! I believe the rule is to add the dry to the wet so that you get all the wet incorporated and nothing left behind in the bowl. Look I don't make the rules, okay?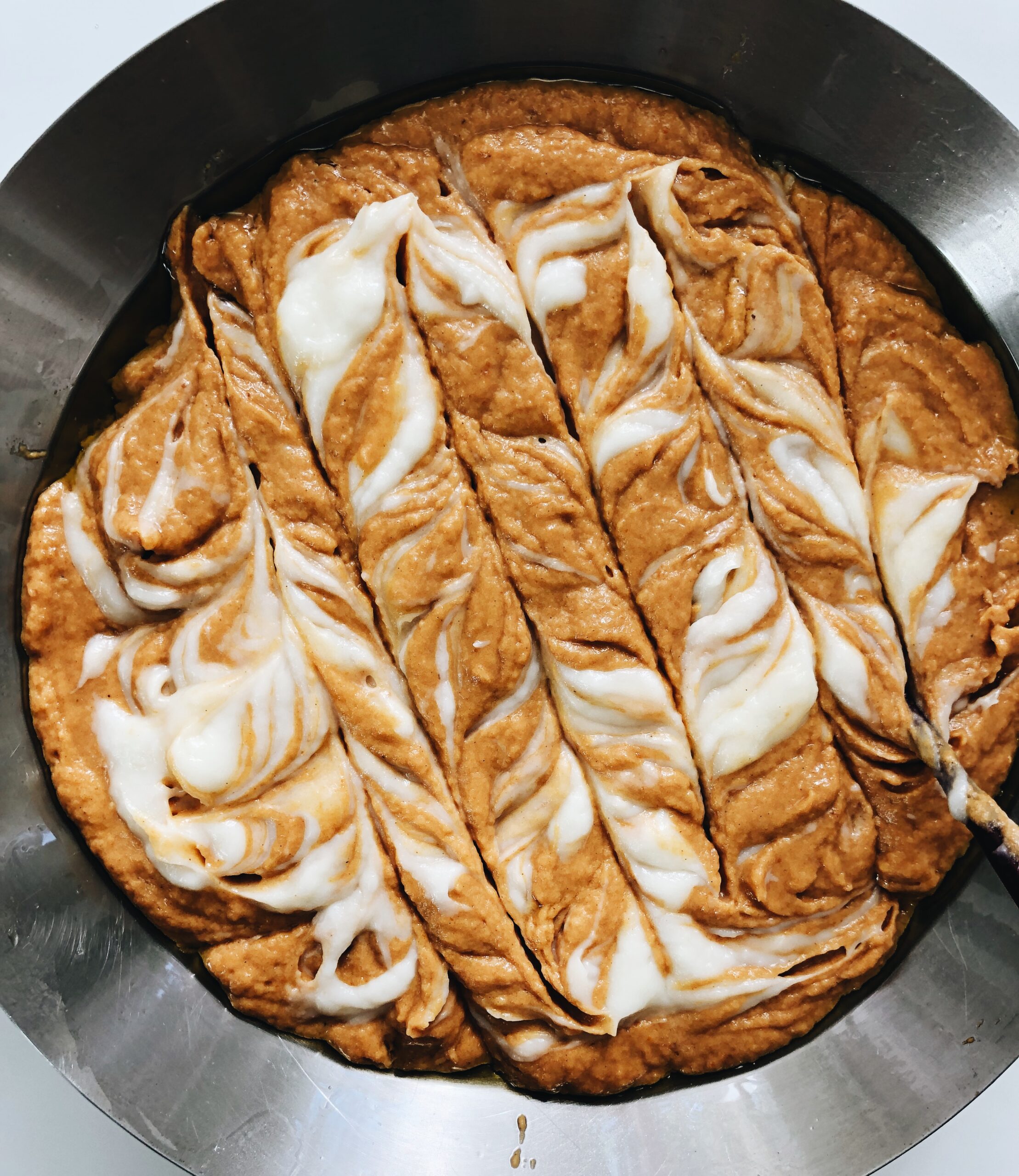 This is what happens next, and you're going to get excited. So I'm CALLING this a skillet cake, because I used an antique French copper skillet thingy. You can use cast iron, enamel, whatever you have. You can even pour this mess into a small casserole dish and Thanksgiving won't be RURNT. (Mom, that's "ruined" in Bev speak.)
Just make sure to swirl or brush in a little butter or oil or spray so that nothing sticks.
Now – the cream cheese swirl. Let's discuss. In a small bowl you'll mix together the softened – oh! Make sure it's softened and definitely room temp and soft. Softened. Softeneded. You'll mix it with the white sugar and vanilla, and whisk together until it's smooth and you want to smear it all over your face. Tempting world we live in.
Then dollop the mix in different places on the cake and use a chopstick to zigzag it here and there, making a pretty design. Yours will be lovely. Mine has issues but I'm still a good person.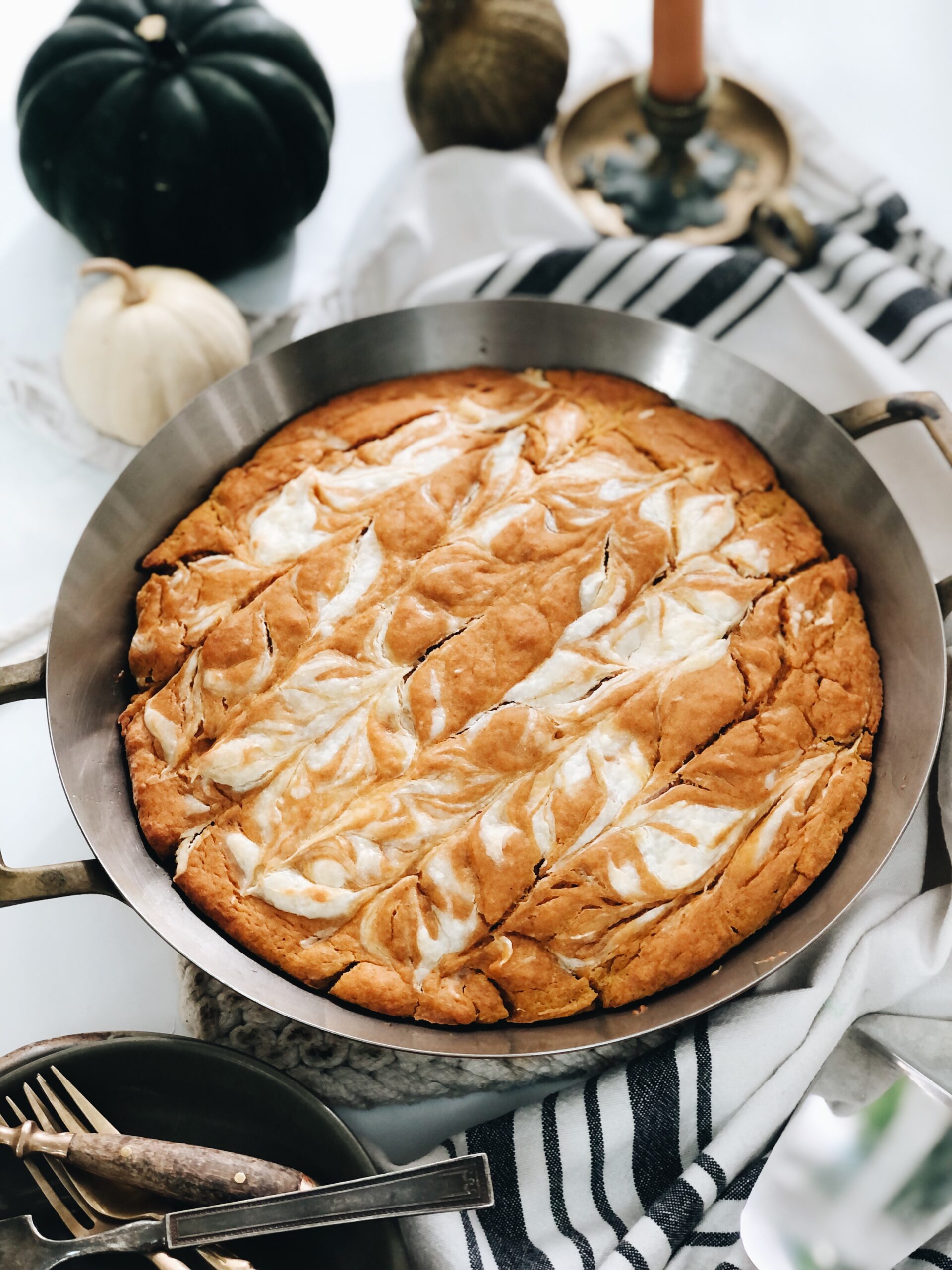 Baked! (said like Sue Perkins from Bake Off.)
What a rustic little cutie. And it's really, really good. But like, it's the cream cheese swirl for me.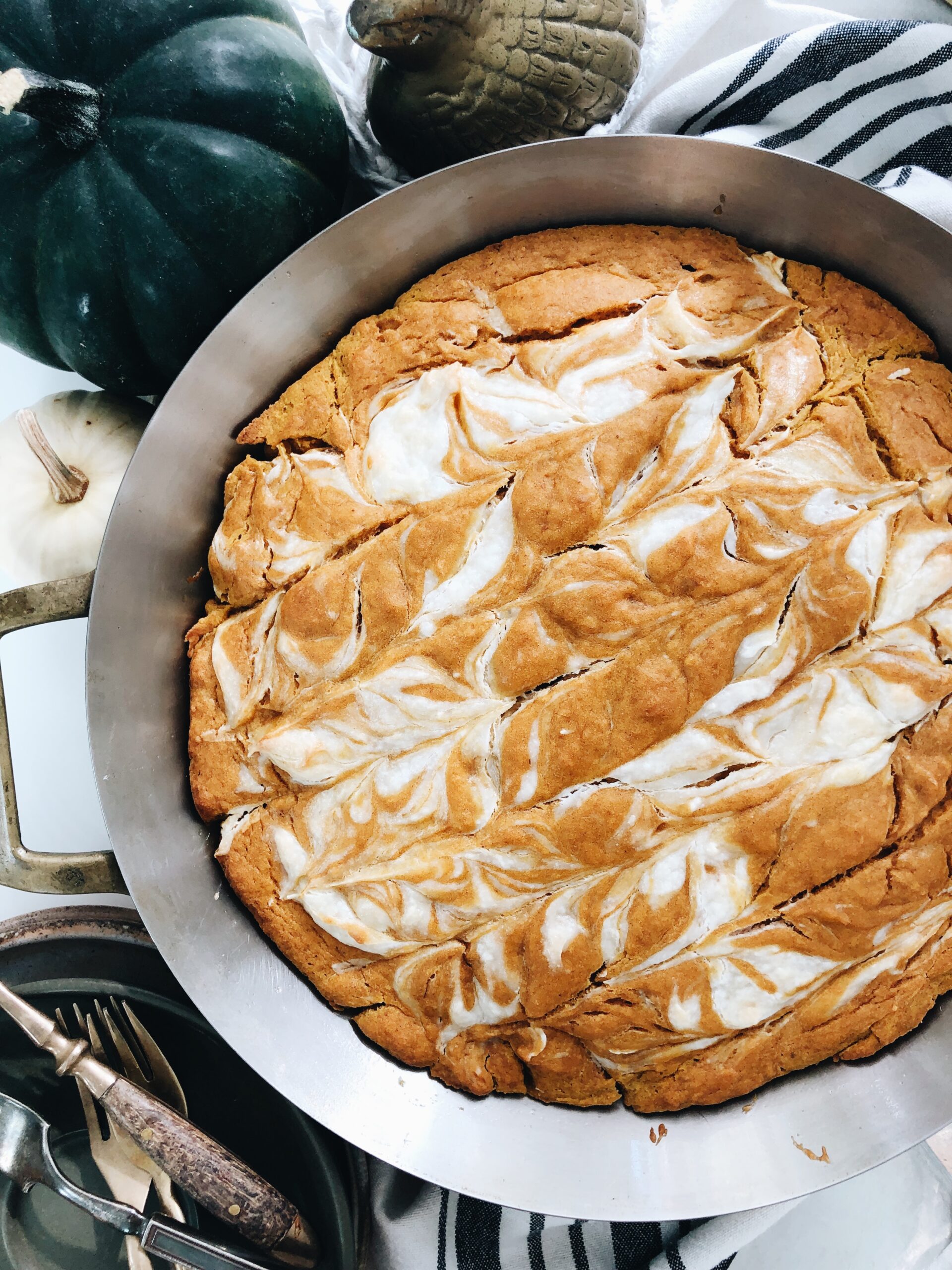 Because it gets all down in there and gives the whole thing a sweet, tangy, creamy surprise and your squealing tendencies will increase by 33%. At least.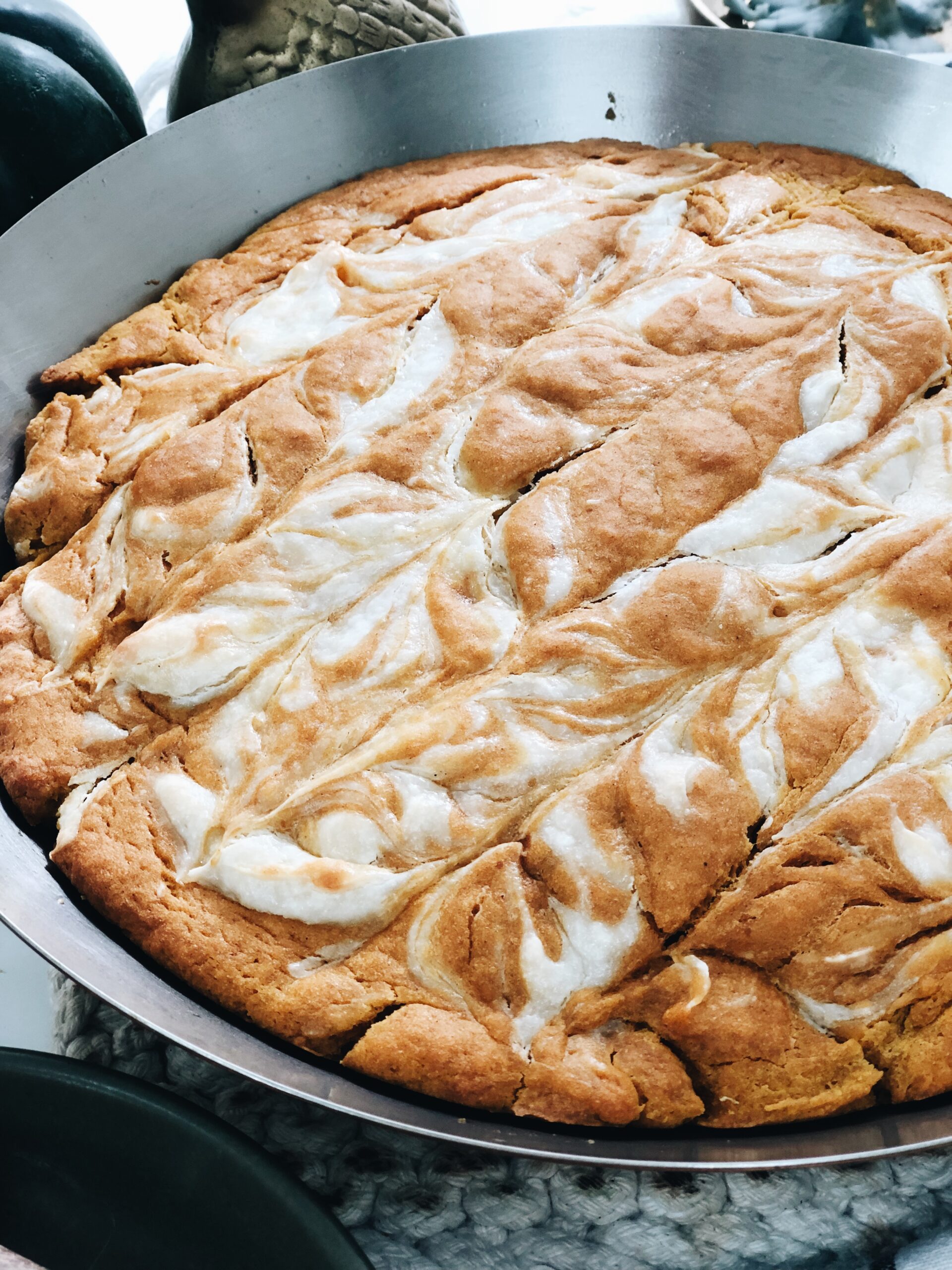 Mine cracked around the sides a little bit but it gives it . . . character? We'll go with that. Character!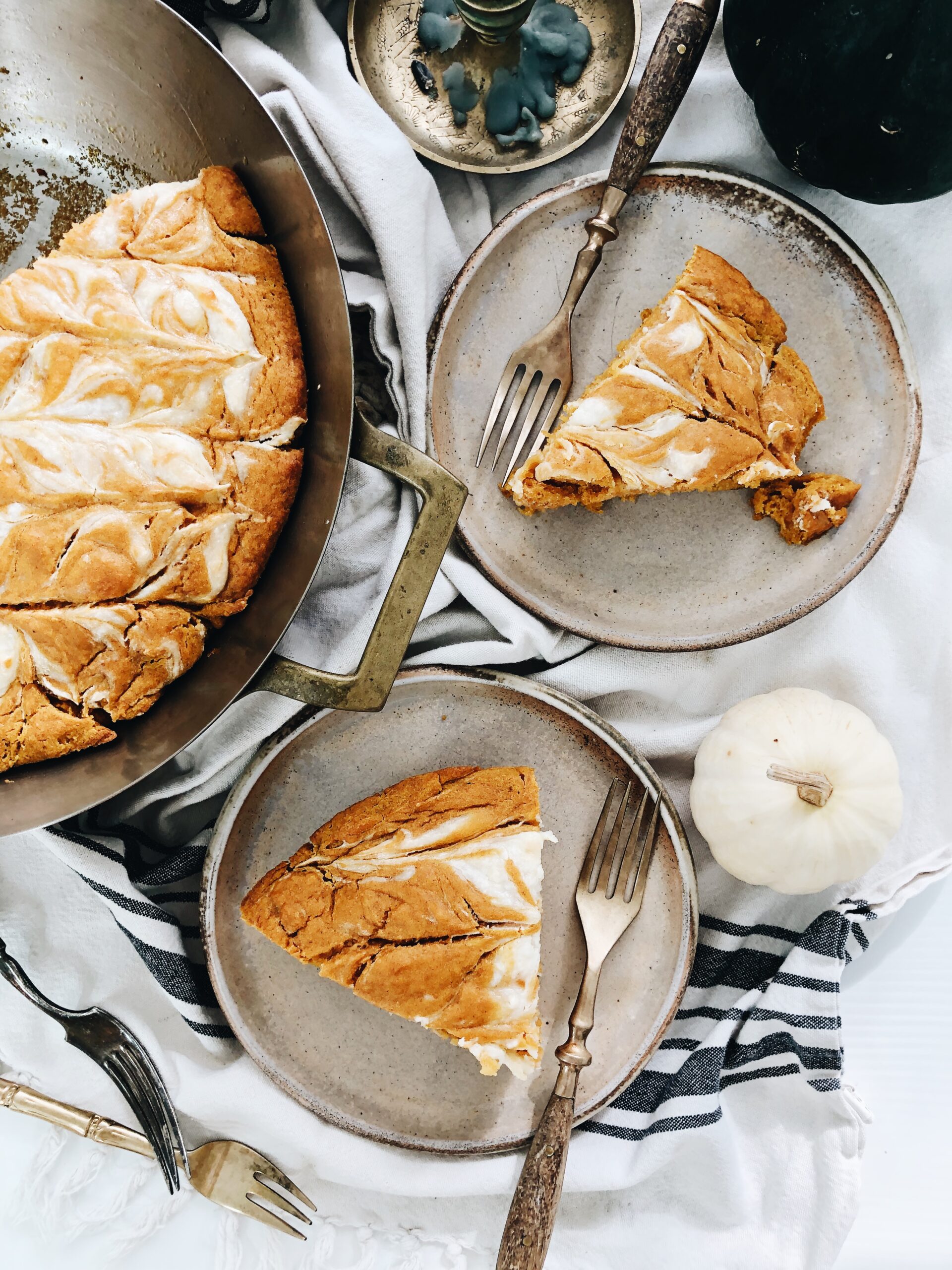 The cake itself isn't overly dense. It definitely has mois – t ur e (I tried) because of the pumpkin pulp. (ew, what? puree!) The cinnamon obviously gives it a festive flavor, without trying too hard. And I'm telling you, that cream cheese is to dah for. Please never skip this. Please always do this. Do this today. Now.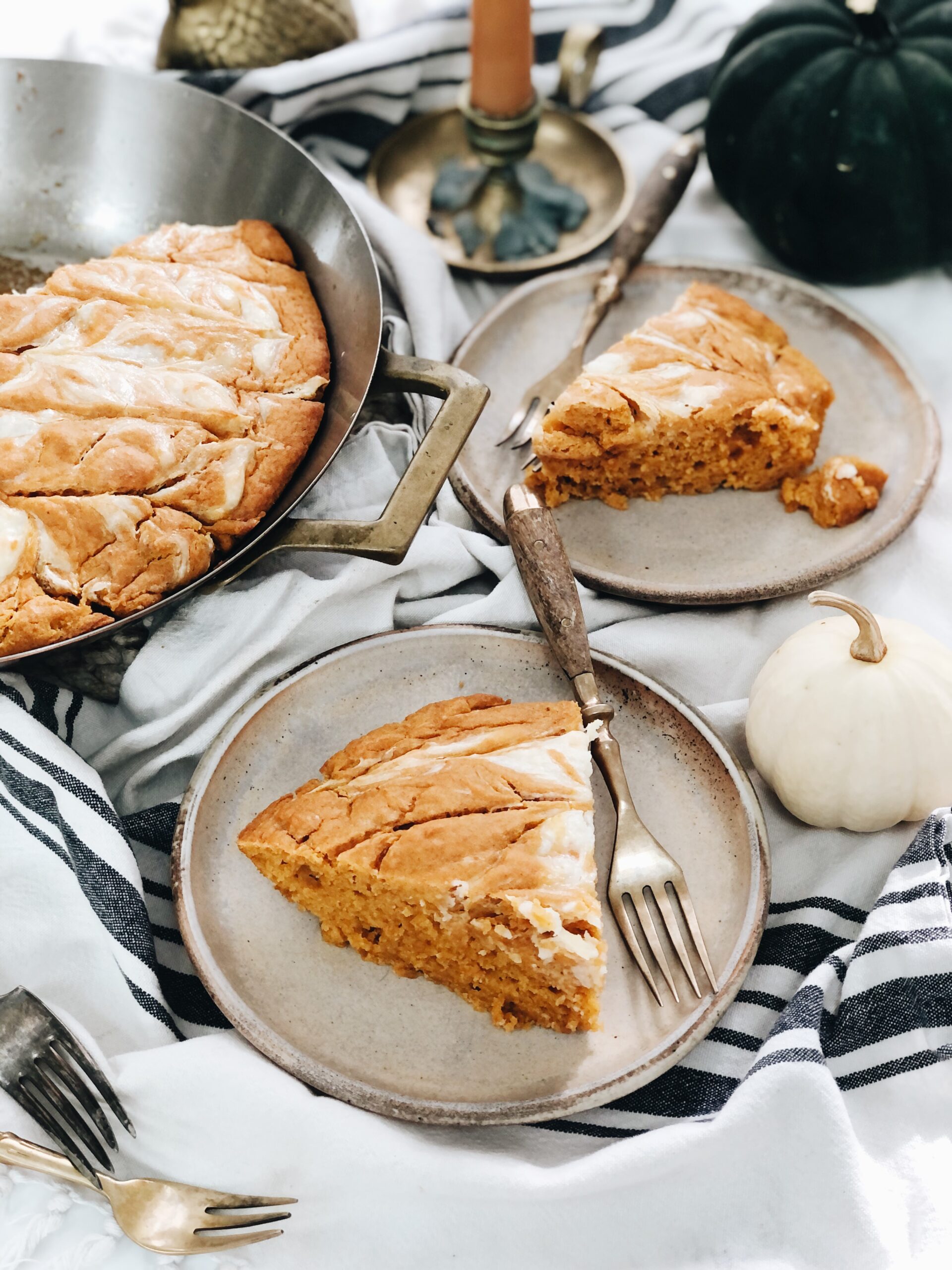 I'd say this works for Thanksgiving breakfast! Alongside a savory casserole. Yes ma'am.
Pumpkin and Cream Cheese Skillet Cake
Ingredients
15 oz can pumpkin
2 eggs
2 tsp vanilla
1 1/2 cup all-purpose flour
2 tsp baking powder
1 cup brown sugar
1/4 tsp ground cinnamon
Pinch of salt
4 oz cream cheese, at room temp
1 tsp vanilla extract
1/4 cup white sugar
Instructions
Preheat your oven to 350.
In a medium mixing bowl, whisk together the flour, baking powder, brown sugar, cinnamon and a pinch of salt.
In another medium mixing bowl, combine the canned pumpkin, eggs and vanilla extract. Stir together until smooth and incorporated.
Add the flour mixture to the pumpkin mixture and stir until completely combined.
In a small mixing bowl, combine the cream cheese, vanilla and sugar. Whisk or stir until smooth. It is DELICIOUS if you need to stick your finger in that. Yep. Told ya.
Lightly grease a cast iron skillet (or honestly any small to medium casserole dish you want to use) and pour the mixture in. Dollop the cream cheese mix in different spots on the mix, and use a chopstick to zigzag across the cake to make a design. Yours will be way prettier than mine, TRUST ME. Get it the way you like it!
Bake for 30 minutes, or until a toothpick comes out clean. Let it rest about five minutes before you dig in.
Serves 6-8!
7.8.1.2
539
https://bevcooks.com/2021/11/pumpkin-cream-cheese-skillet-cake/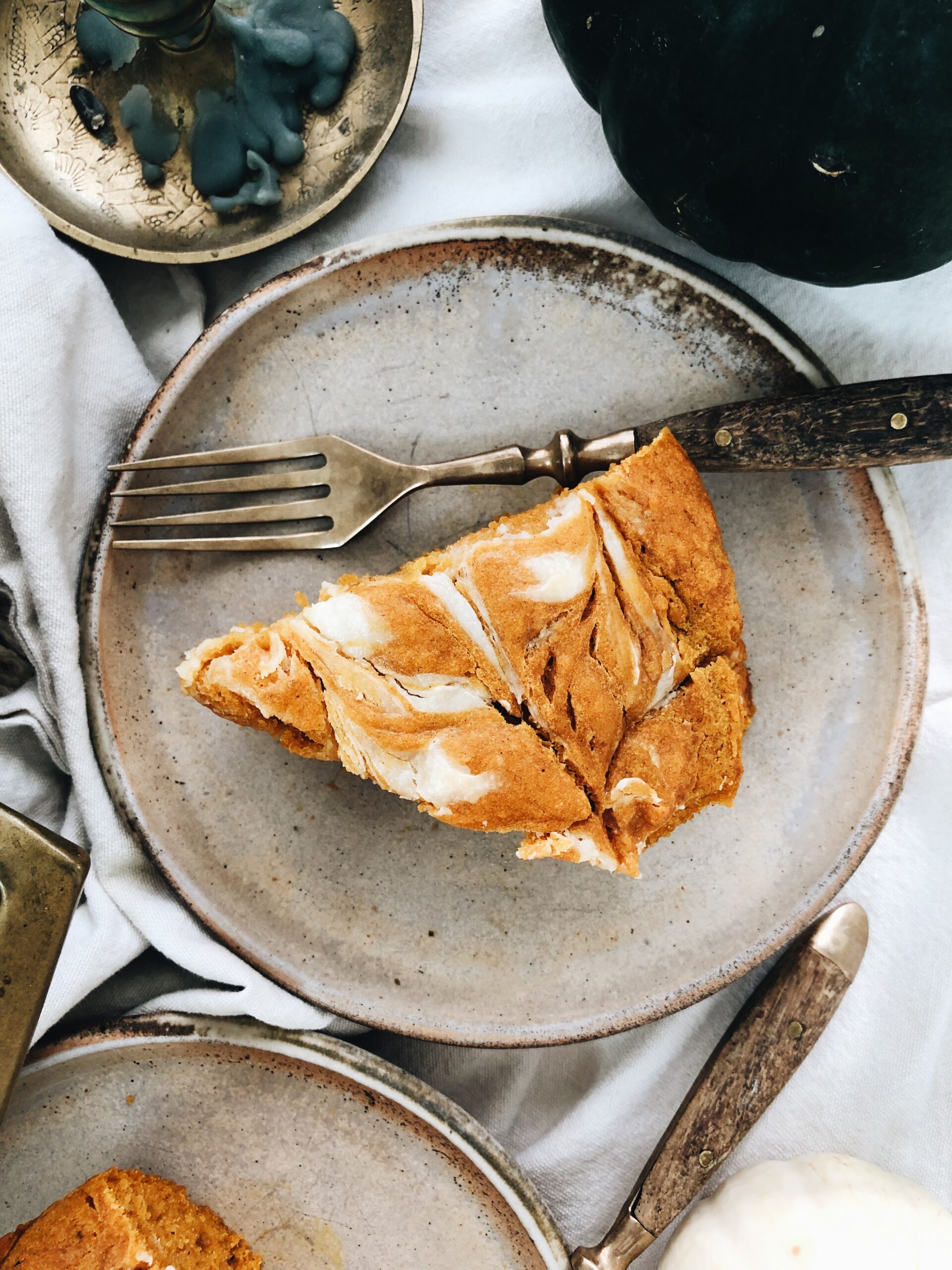 Or you could just make it this weekend and get your face in a festive mood for next week. Look, you fly, little bird.