Hi. Yep. It's November.
And hi. Nope. This isn't an old post. I really am writing about fresh tomatoes and jalapeno peppers from the garden. I really am making fresh salsa, pouring it over my Farrah Fawcett wig in slow motion, in front of a large fan, while wearing an apple red bathing suit.
And I really should just keep these thoughts to myself, shouldn't I?
I know I've discussed my love for tacos with you before. I love them. I had them for lunch AND dinner yesterday. (I DID.)
The Native American translation for "Bev" is actually "wings of the taco eagle flower." (IT IS.)
I'm headed to the DMV today to have my license plate personalized. (I AM.)
So yeah, props to my weird garden for producing the magical golden ingredients that make my daily dream come true. I should probably get a life.
And you guys, I didn't really pour salsa over a Farrah Fawcett wig! HAHA.
…A friend is borrowing it.
Tex-Mex Tilapia Tacos: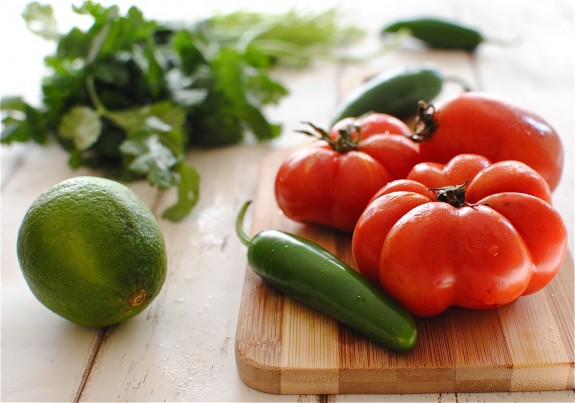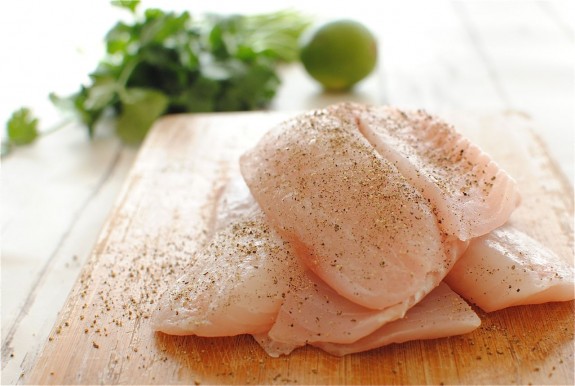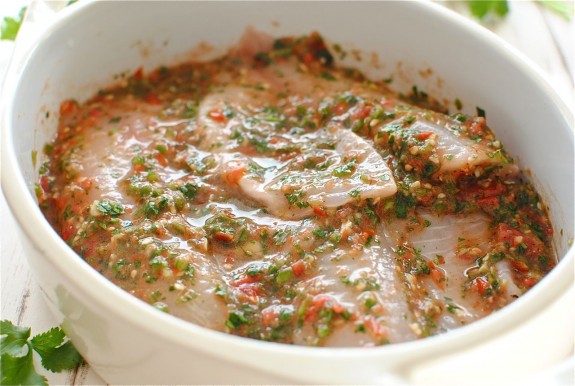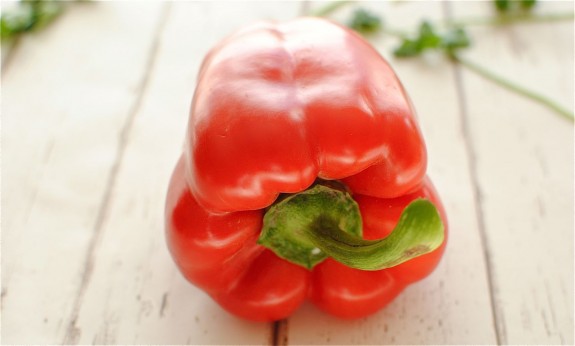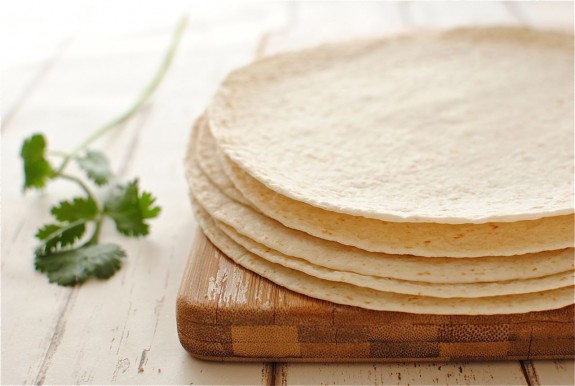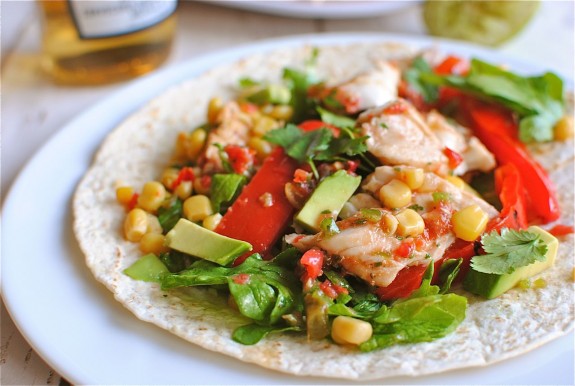 What it took for 4 tacos:
* 3 Roma or small heirloom tomatoes
* 2 jalapeno peppers
* 2 garlic cloves
* 1/2 cups cilantro
* 1 lime
* 1 red bell pepper, sliced
* 3 Tilapia fillets
* 1 (14.5 oz) can Mexican corn, drained and rinsed
* 1 cup arugula (or whatever green you have on hand)
* 1 avocado, diced or sliced
* 4 fat free flour tortillas (or your preferred tort)
* coarse salt and freshly ground pepper
* cooking spray
Give the tomatoes, peppers, garlic and cilantro a rough chop and throw them into a food processor. Blitz until combined and a little runny. I like it runny.
Season the fish with salt and pepper and place in a shallow dish. Pour the salsa marinade over the fish and give it a good spritz of lime. Let sit for about an hour, if you can. Reserve a little salsa for garnish.
Heat grill pan over medium-high and lightly coat with cooking spray. Add the sliced red bell pepper and grill until they start to char, 6 minutes. Remove from pan and set aside.
Add the fish to the pan and grill until the fish starts to brown a tad. Flip and grill until it starts to flake, 6 or 7 minutes total. If it flakes up too much and comes apart, no worries. Remove from pan and set aside.
Cook (or heat up) the corn in a small sauce pan over medium heat while you cook everything else.
Grill your tortillas until you see some good grill marks.
Layer some arugula over each tortilla, followed by the fish, red bell pepper, corn, avocado, more salsa and fresh lime juice.
OLE!
Sorry.