Remember the scene in "Julie and Julia" when Julie is ferociously chopping tomatoes in her teeny Queen's kitchen, while frying the most beautiful slices of rustic bread, and the camera cuts quickly from the bread, to the tomatoes, to the perfectly torn basil, to her arranging the bruschetta, to them inhaling the works of edible art at the table?
Remember almost peeing your pants, pausing on that scene and slamming your face into the TV screen in a ridiculous attempt for flavor osmosis?
Oh that was just me?
Oh.
Well, I'm telling you what, this is the p.e.r.f.e.c.t. time of year to take advantage of this kind of rustic eating. Freshly picked tomatoes from the garden, basil for days, a warm, golden loaf of bread. Yes, and yes. And yes.
I added a simple layer of sautéed spinach to the mix, just to bump up the greens. But you can leave this baby authentic if you like!
Hey, now I don't have to slam my face into anything! Well, nothing flat, hard and liable to leave unsightly nose bruises anyway.
Tomato Bruschetta with Sauteed Spinach: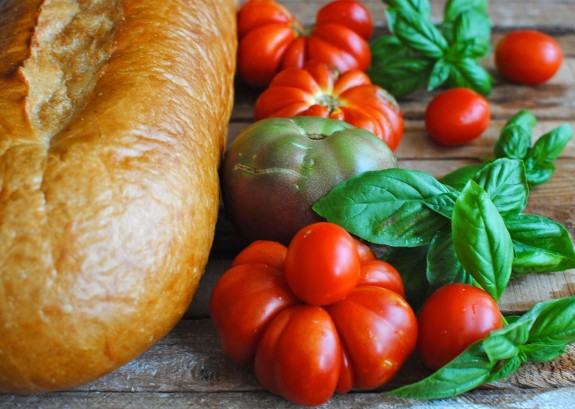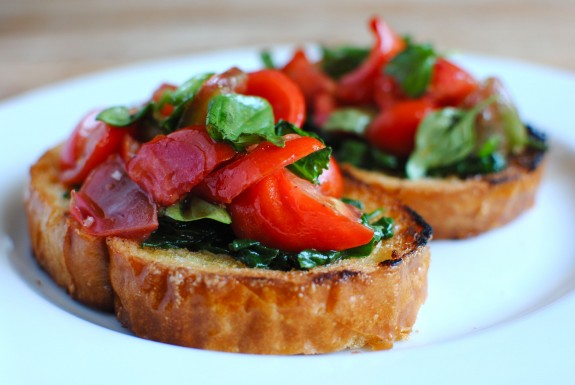 What it took for 2:
* 1 loaf Italian bread, sliced into 1-inch slices
* 4 large tomatoes, seeded and roughly chopped
* 1/2 cup loosely packed fresh basil leaves
* 1 clove garlic, peeled and halved
* 4 Tbs. extra-virgin olive oil, divided
* 2 cups baby spinach
* pinch of coarse salt
* couple of grinds of freshly ground pepper
Heat 1/2 the oil in a medium skillet. Place the bread slices in the skillet and fry (ohhh yes!) until golden brown on both sides, about 4 minutes total. Remove from pan, rub the garlic half against each slice of bread. Set aside.
Toss the spinach into the pan and cook until wilted, 45 seconds. Remove from heat.
In the meantime, toss the diced tomato with the remaining oil, basil, a good pinch of salt and pepper.
Layer a little spinach across each slice and top with tomato basil mixture.
Summer. At its finest.