The other afternoon, Aaron and I were resting on the couch, excruciatingly horrible movie on TV, my new favorite book in my lap and our minds taking a much needed breather. We had just hosted a little dinner party with our friends the night before, so cooking an elaborate dinner was simply out of the question. I glanced over at Aaron and mumbled, "how 'bout Chipotle for dinner?" He glanced back and mumbled, "sure, sounds fine. you want the usual?" Me, "yep, thanks babe."
A few minutes later, he walks in the door with grocery bags in his hands. AND, I did NOT smell Chipotle. Tears welled up, you guys. I asked what on EARTH had he done to our dinner plans and how could we get them back? Then he says this to me, "Okay, so I want to cook. You hoard the kitchen Bev. I never get to do my thing in the kitchen and this is my one, single chance in this life I've been given."
WHAT!? You….I….You never…I always…I….er….You always…WHAT!?
I tried my dang hardest to remain out of the kitchen and out of his way. Then I got on Twitter and that solved that.
You guys, I know they're simple tacos, but dadgumdiggityDO they were tight.
*and he cleaned the kitchen too, whaaaaa!
Simple Beef Tacos: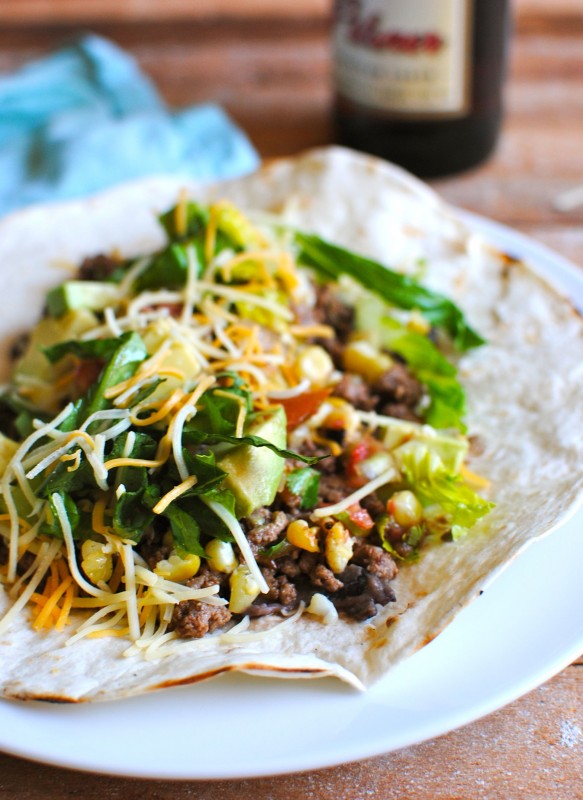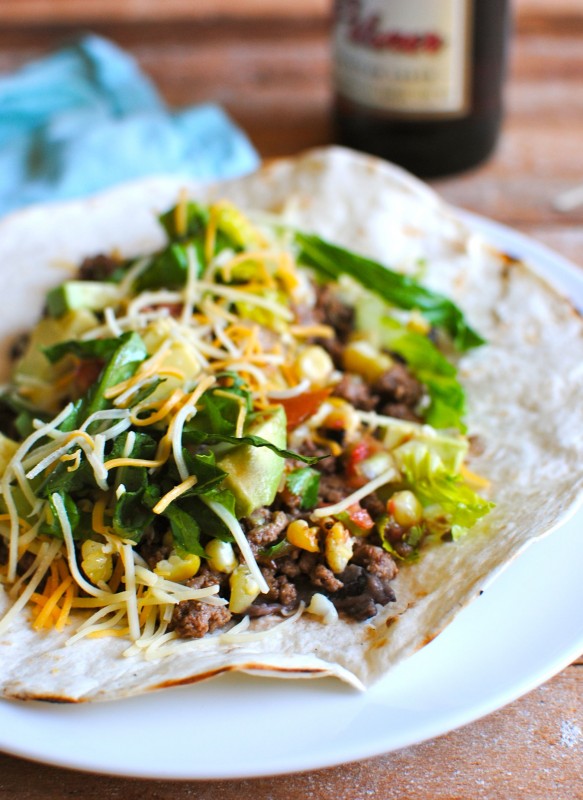 What it took for 4:
* 1 pound lean ground beef
* 4 Tbs. favorite taco seasoning (or a mixture of chili powder, cumin, paprika, cayenne)
* 2 ears corn
* 2 tomatoes, chopped
* 1/2 cup homemade salsa
* 1/2 cup shredded cheese
* 1 avocado, diced
* juice from 1 lime
* 1/2 head romaine lettuce, cut into 1-inch ribbons
* coarse salt and freshly ground pepper
* 8 flour tortillas, grilled
In a medium skillet, start browning your meat. Using a wooden spoon, break it up into crumbles. Add the taco seasoning and a good pinch of salt and pepper.
Grill the ears of corn until nice and charred all over, about 6 minutes. Remove the kernels from the ears and set aside.
I mean it's simple. Top each grilled tortilla with the meat, some corn, a good spoonful of salsa, lettuce ribbons, diced avocado and shredded cheese. Give it a good spritz of lime and shove it into your face.