A couple of weeks ago I was blog surfing while jotting down a quick grocery list when this recipe, by the fabulous cookbook author, Alison Lewis, popped into my reader. A beautiful, simple salmon salad. Nice! So, I skipped out to the store and picked up some canned Alaskan pink salmon, just like she suggested.
Yep, canned salmon. Sick to the max, right?
I'm with you. I was like, "whaaaa" too, but after reading about the benefits of the fully-cooked health goldmine, I decided to dig out my can opener, put on a pretty red dress and tango with it.
Since it was dinnertime, I went a slightly different route with the fish, pairing it with black quinoa, freshly minced cayenne, and velvety spinach. y.o.u. g.u.y.s. o.m.g.
I'll never look at canned salmon the same way again. There might even be puckered lips and a wink involved. Just sayin'.
Alaskan Salmon with Black Quinoa and Spinach: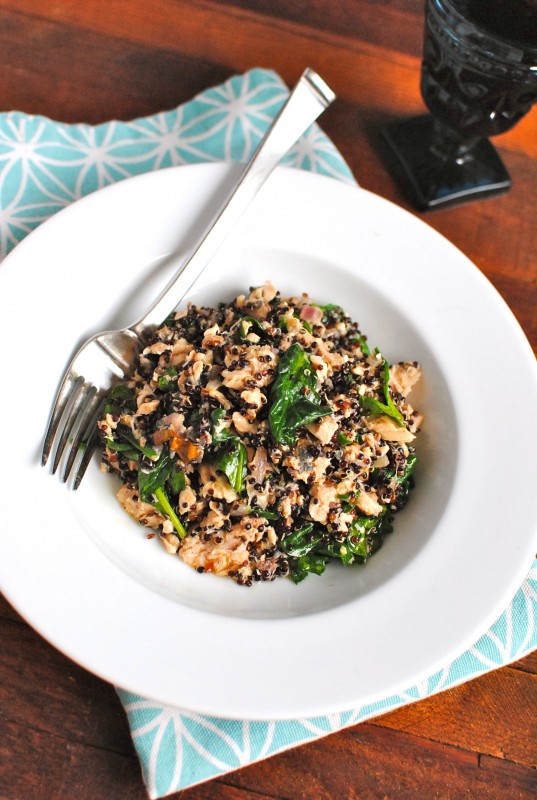 * 1 cup black quinoa
* 1 can Alaskan Pink Salmon, drained
* 1/2 red onion, diced
* 1 cayenne chili, minced
* 4 cups baby spinach
* juice from half a lemon
* 2 Tbs. extra-virgin olive oil
* pinch of coarse salt
* pinch of freshly ground pepper
Cook the quinoa in boiling water until they burst and become little spirals, about 15 minutes. Drain if needed and return to pot.
Heat the oil in a medium skillet over medium-high. Add the onion and cayenne chili, and saute until softened and starting to brown, 6 minutes.
Add onion mixture to the pot with the quinoa, along with the salmon and spinach. Toss to combine. Give a good pinch of salt and pepper to the mix. Spritz with lemon and get all healthy!