I originally called this Murder Pasta and I can't decide if SEO would love it or send me to prison.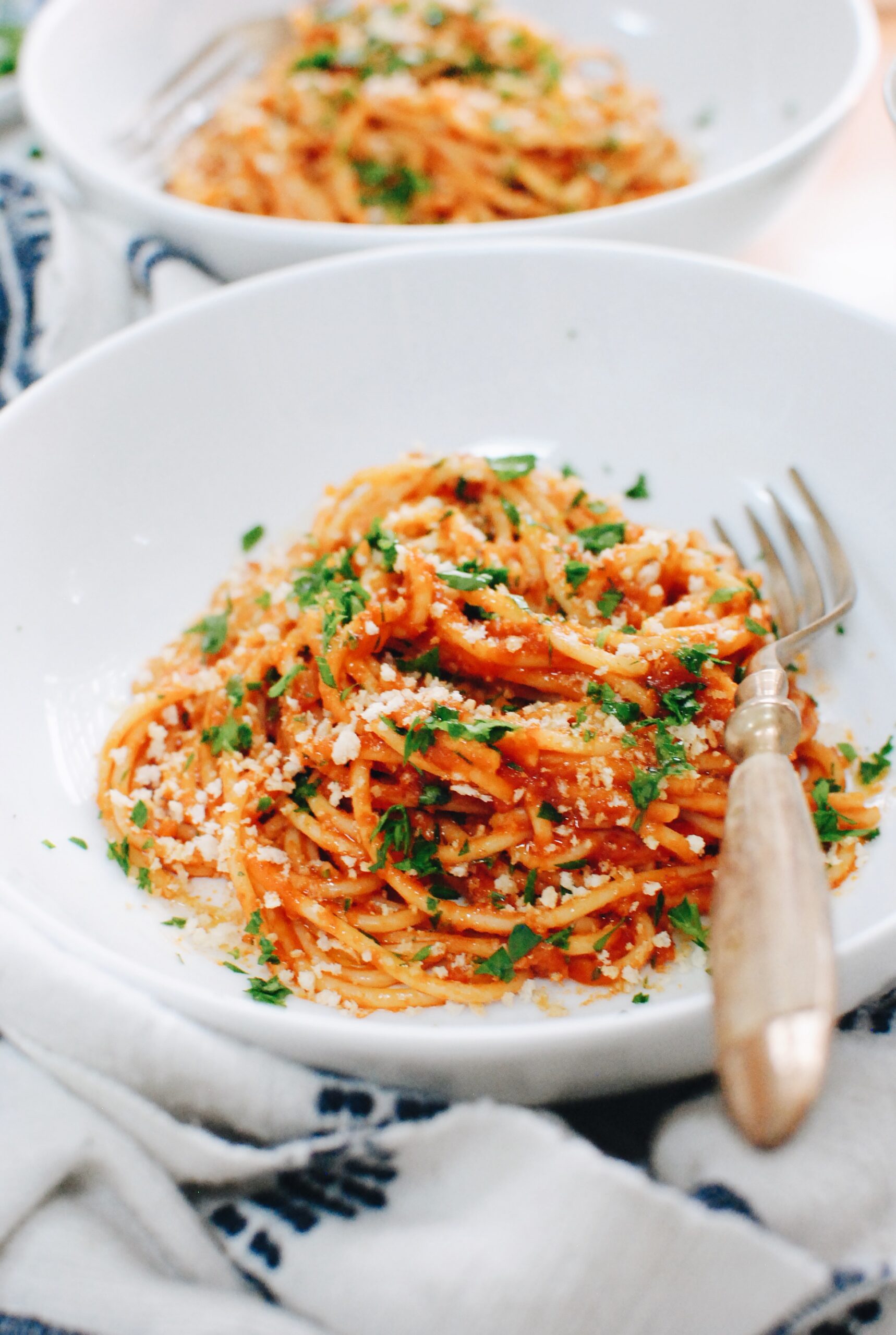 And hey, listen! Don't get weird about the anchovies. They are the IT factor of this recipe. If you don't use them, you're still a good person. If you cut down on them, you're still . . . still a good person. But try it! Use the whole dang tin and watch what happens to you. I dare you.
This is a rich, dense, UMAMI-LOADED ordeal. You can thin it with more pasta water, of course. Get it the way you dig it. It's a total switch-up on pasta night. (<–I exercised massive restraint just now with an exclamation point.)
Let us peepeth! I mean peepeth.
Talk about pantry staple heaven. If you'd rather use chicken stock in place of wine, I mean, it works. Wine's better (duh), but stock's fine. I use thin spaghetti here, but regular or even thick is fine. And angel hair works in a pinch! It's really all about the GORGEOUS sauce. It's rich, thick, salty and deep. You'll obsess! I mean obsess.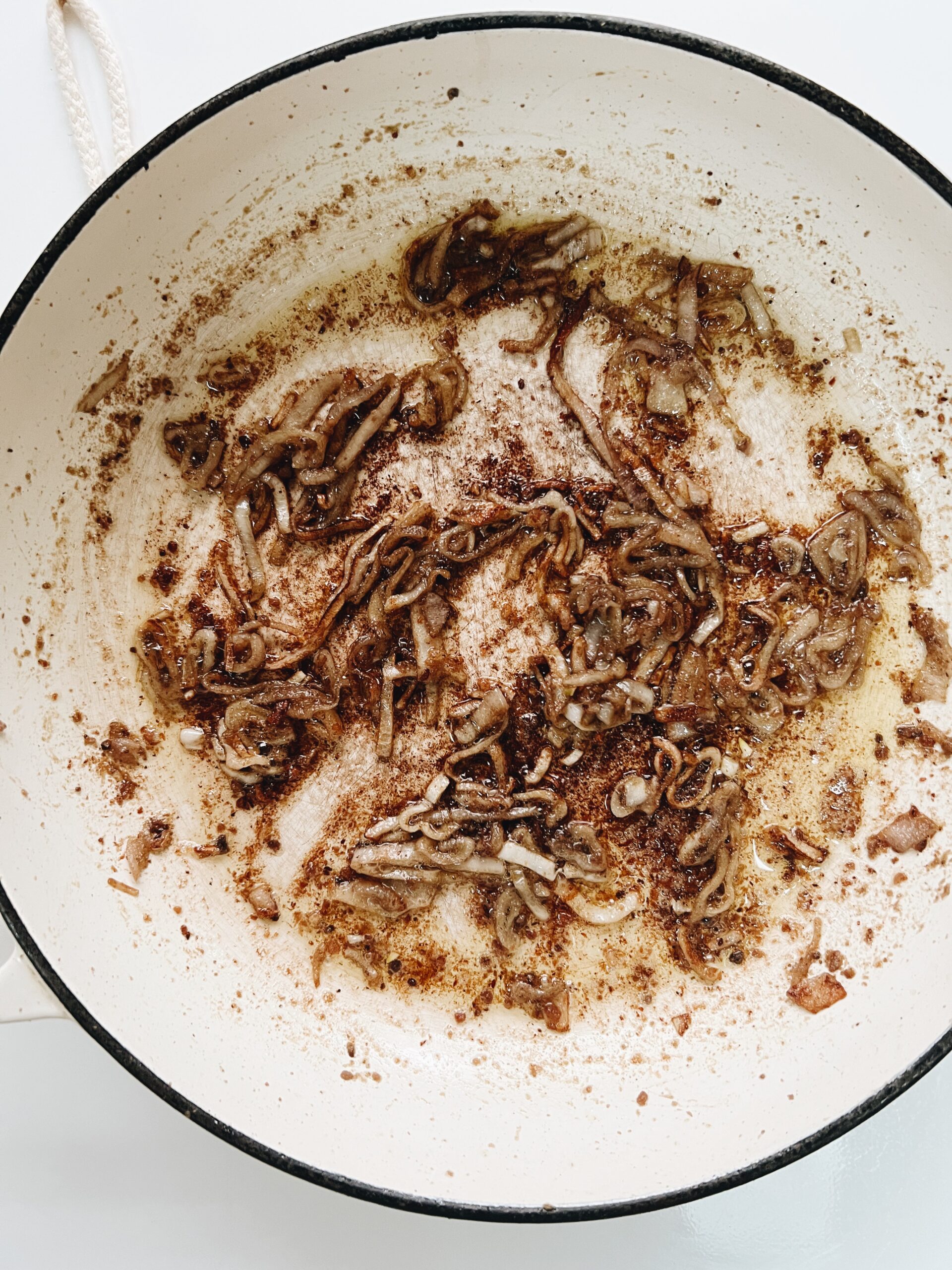 Okay most of this is in the reel. I got distracted with video and forgot to photograph a few steps, but you get the point! I mean point.
We'll sauté the minced anchovies with the shallots and wine and things smell unbelievable. Then we'll add the tomato paste and press it into the pan with everything. It gets thick, dark and rich. Theeeen we'll add the tomato sauce and a little bit of the pasta water. Let it simmer simmer for a few minutes.
Taste it. I mean, it's flavorful enough without a pinch of salt. (at least mine was, I used the whole tin of anchovies) But if you feel like it needs a little pinch, get her done.
Add the pasta to the sauce aaaannndddd……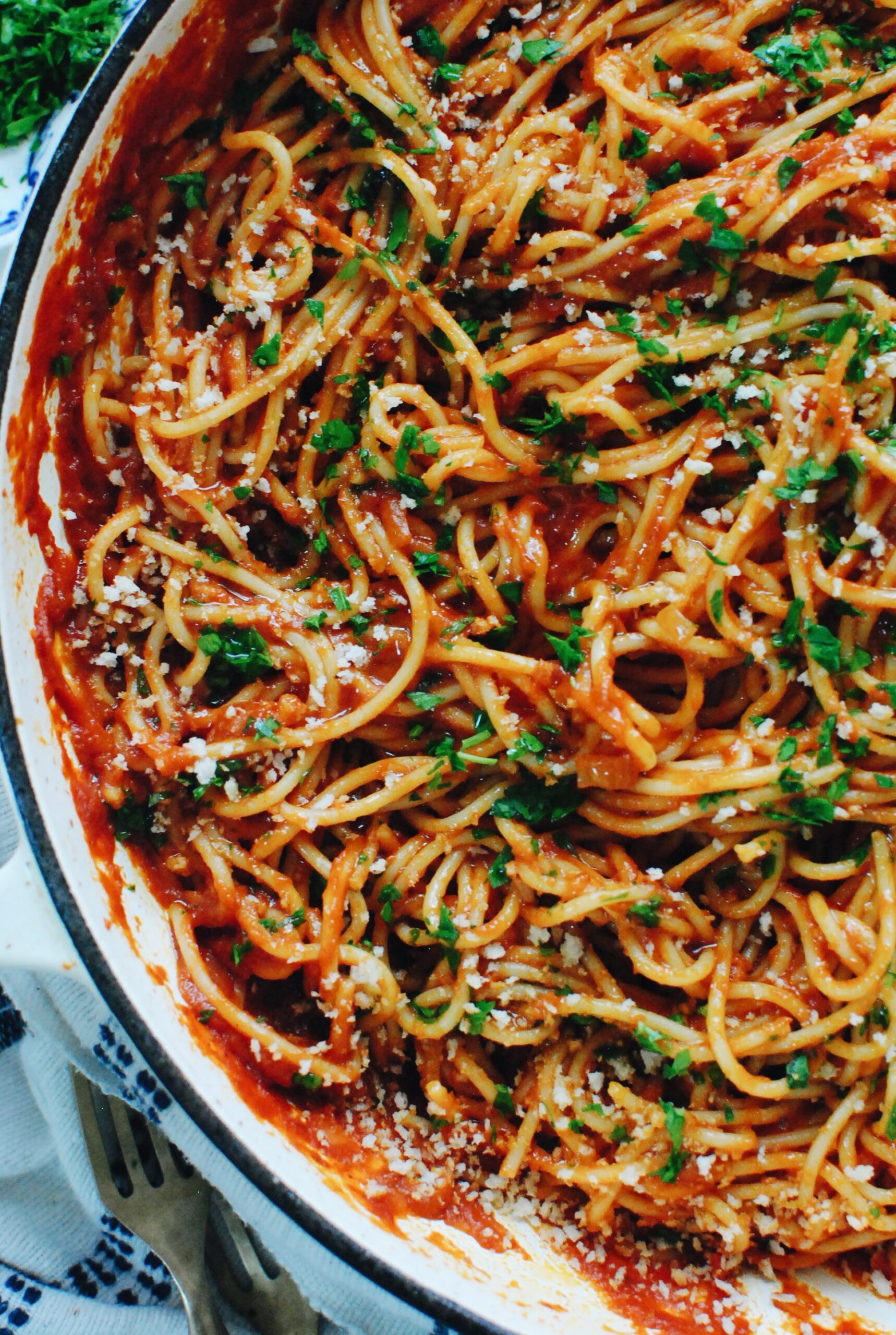 Hello, mama.
You can add more pasta water to thin it. This will all be tweaked right in the moment to get it dialed just right. You will fall apart, it's that delicious.
Also that's toasted panko right on top. So there's a whole element of crunch that will have you weeping.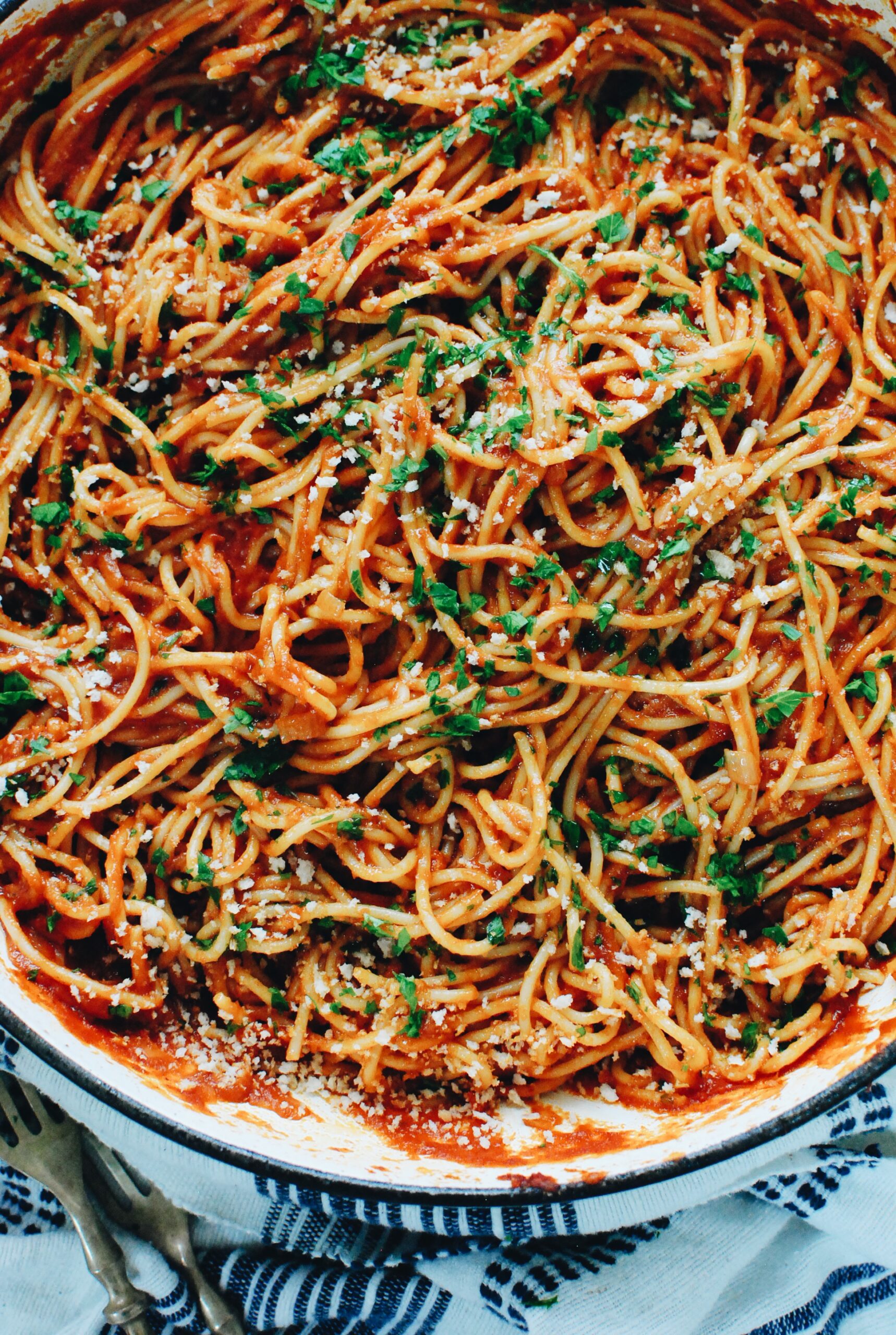 Plenty of parmesan and fresh parsley and good heavens, it's such a vibe.
I also drizzled some olive oil over the whole dish right at the end for a bit of gloss, a bit of earthiness.
What I love about this is its denseness. It has a DEEP flavor that slays. The crunch of the panko. The richness of the tomatoes. The umami of the shallots and anchovies.
See what I mean by Murder Pasta?
No?
Oh.
"Did the kids eat this?" YES! Just don't tell them it's loaded with anchovies. Ya gotta outsmart the little mouths. They loved the rich flavor and didn't push back even a tad.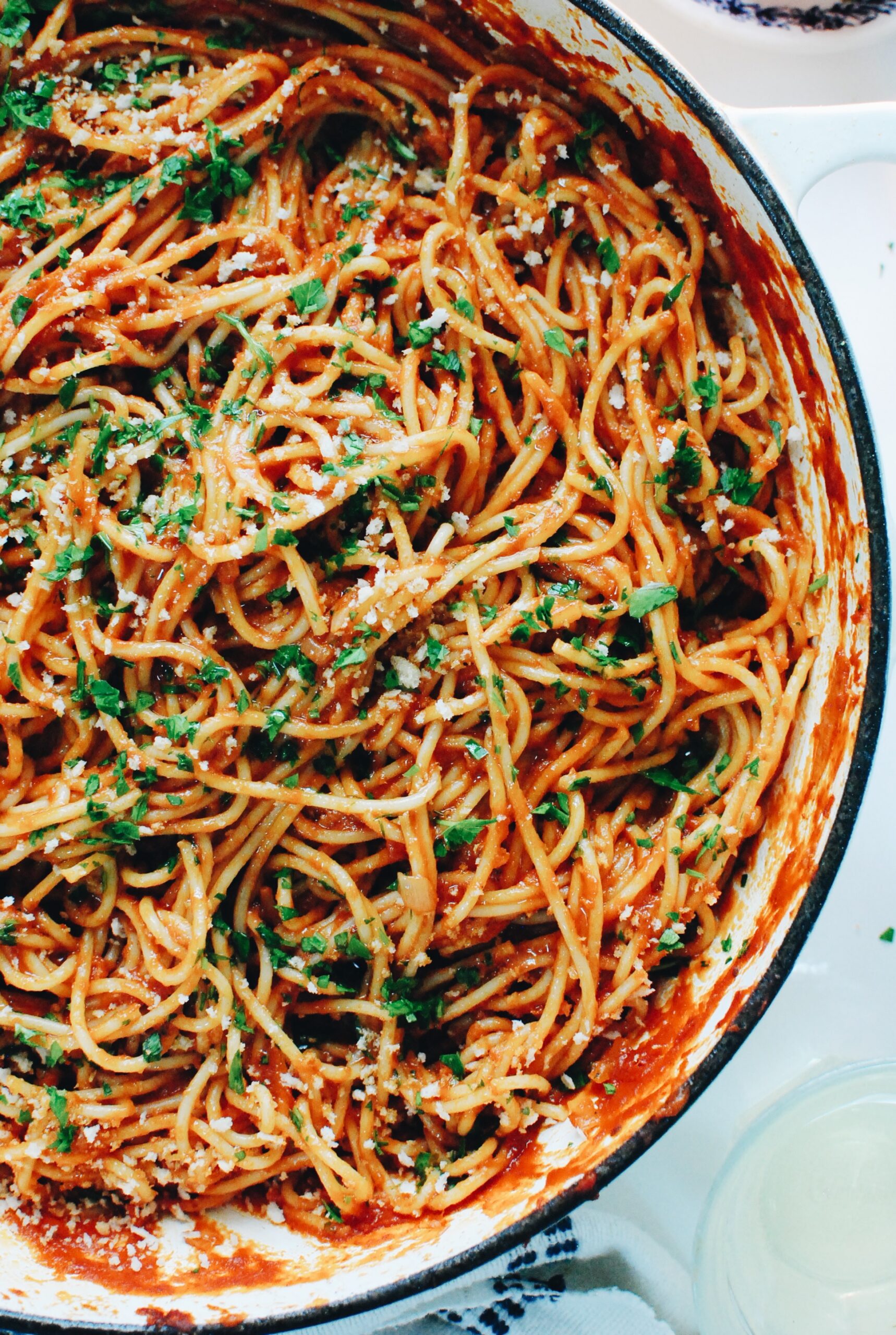 I have a lot of photos in this post. Sorry?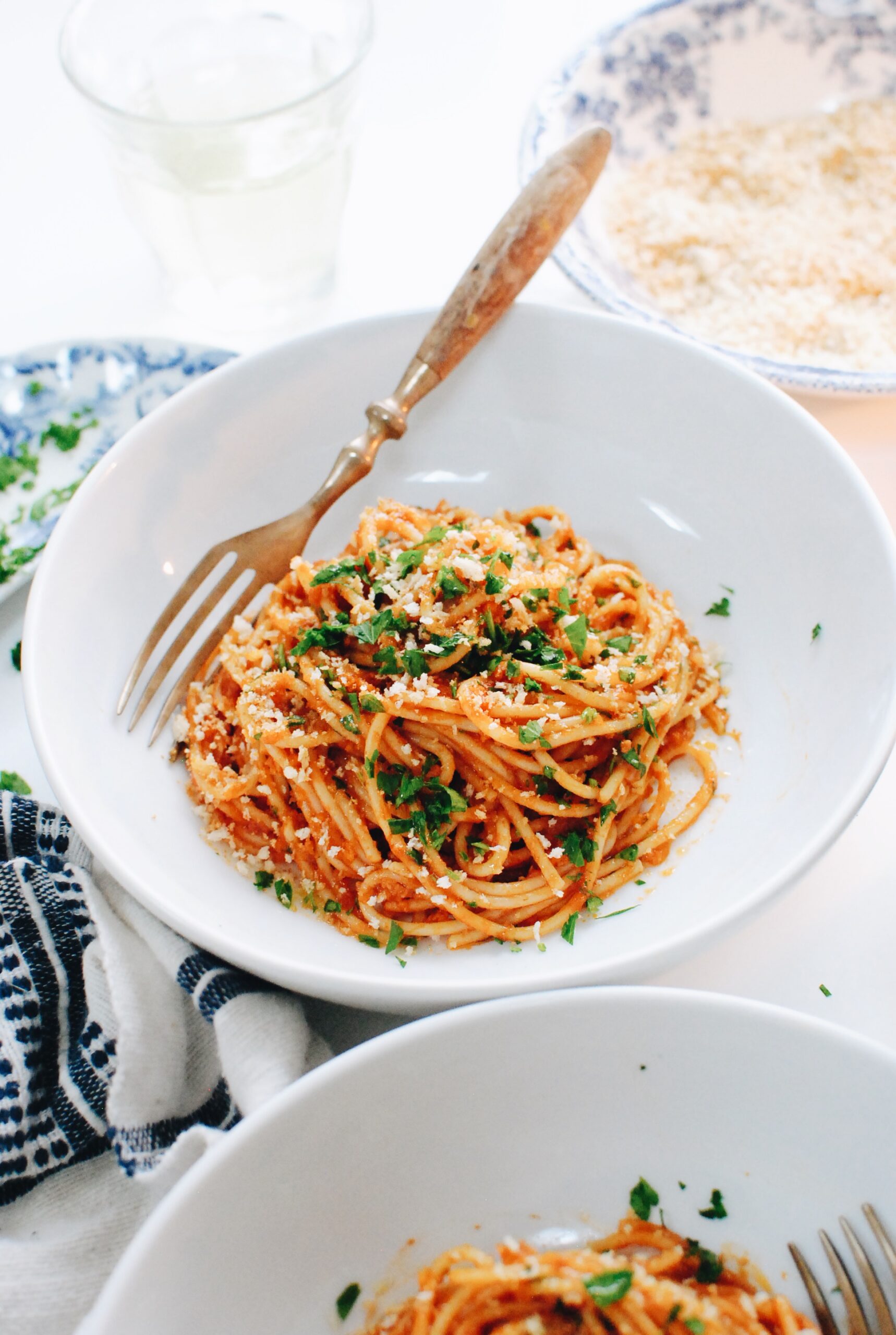 Don't forget the toasted panko. That crunch plus the toastiness is just another layer of heaven happening. And I do mean that in the most heavenly-est way.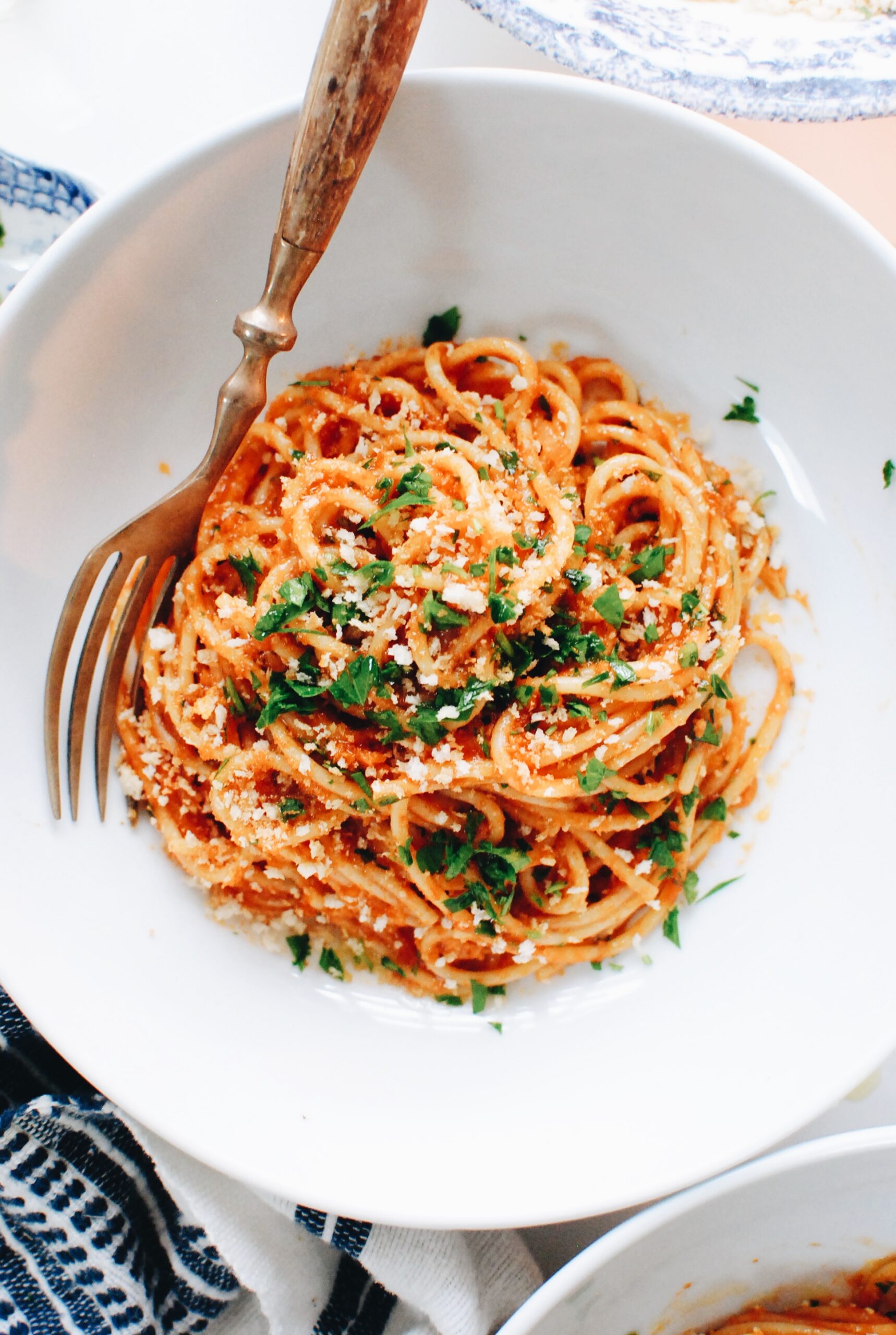 Pasta night just got AMPED.
Ingredients
2 oz tin anchovies, minced
1 medium shallot, thinly sliced
1/2 cup white wine
6 oz can tomato paste
15 oz can tomato sauce
1 pound thin spaghetti (regular is fine, too)
1/2 cup panko, lightly toasted
Fresh parsley and parmesan cheese, for garnish
Instructions
Bring a large pot of salted water to a boil. Cook the pasta according to package directions, until it reaches al dente. Save about a cup of pasta water and drain the rest.
In the meantime, heat a Tbs. of olive oil in a wide skillet over a medium high heat. Add the minced anchovies and sauté them just a bit, until they break down a little. Add the shallots to the pan and sauté about five minutes, until they darken and soften with the anchovies. Add the wine and let it bubble and simmer about a minute. Then add the tomato paste and press it into the pan with a wooden spoon. It will darken and bloom with the anchovies and shallots. Add the tomato sauce with a 1/2 cup of pasta water from the spaghetti (while it's still cooking!) and let this simmer about five minutes. And guess what, it needs no salt! The anchovies have PLENTY. But taste it right here and if that sauce needs a pinch, get all over that.
Using tongs, add the cooked spaghetti from the pot to the sauce, tossing as you go. Add a little pasta water to the sauce to thin if needed. Garnish with plenty of chopped parsley, the toasted panko, parmesan and a drizzle of olive oil to finish! Divine.
Serves four.
7.8.1.2
630
https://bevcooks.com/2023/03/tomato-anchovy-pasta/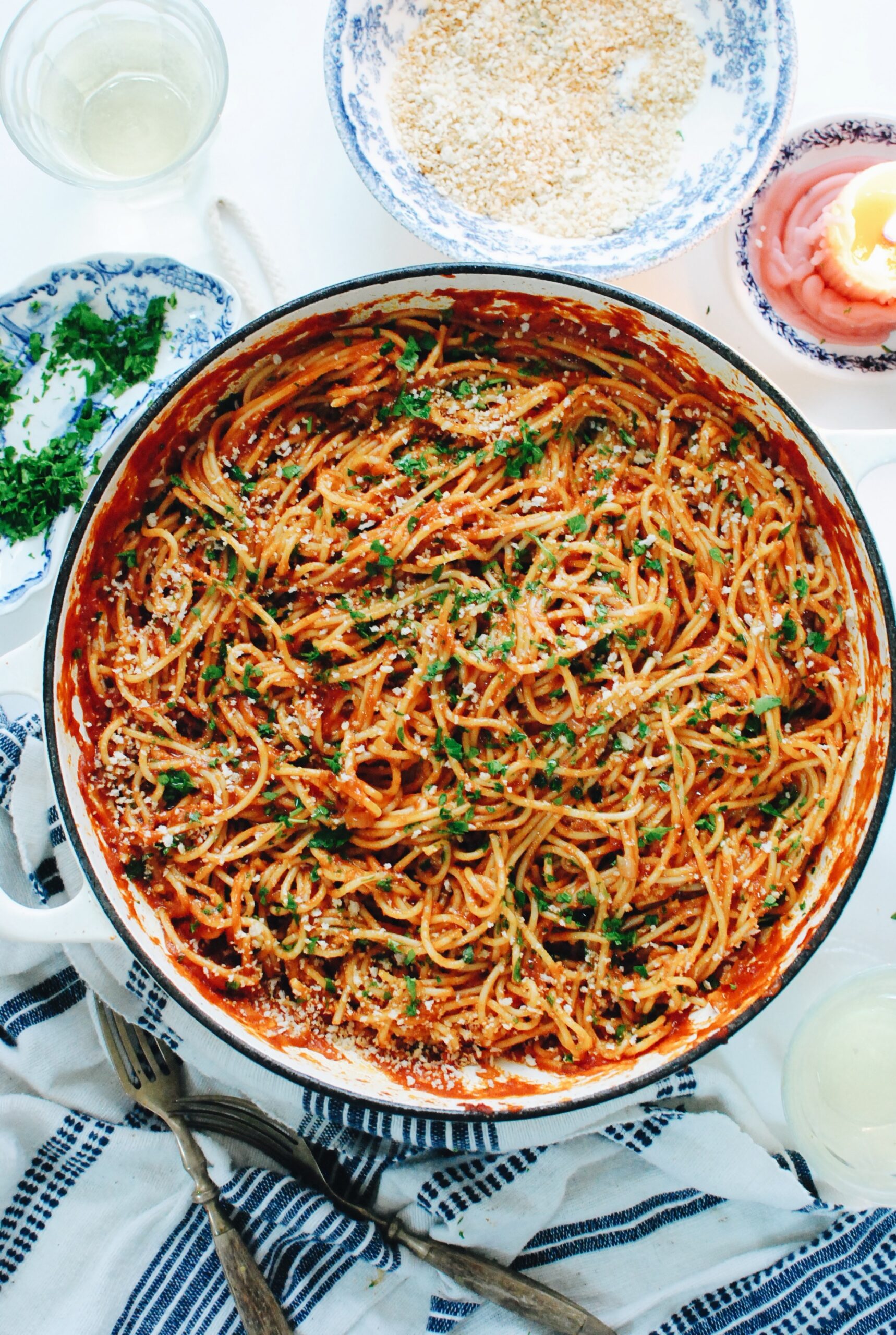 Comes together fast, too! I mean too.