Totally a throw-together meal. And light! Because it's almost spring and I'm feeeeeling it.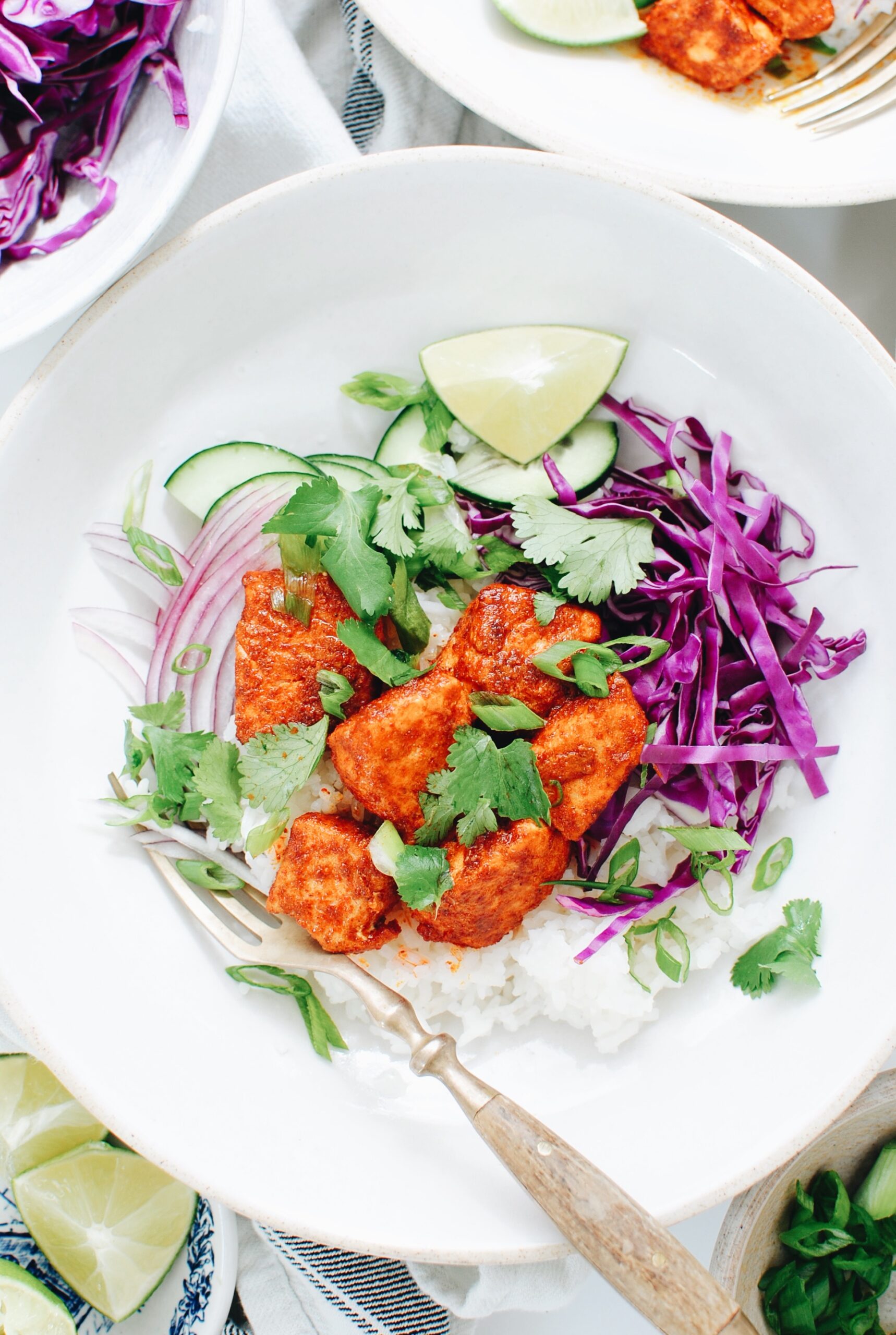 If you don't do enough with salmon and want to start doing more with salmon, consider this your gateway. It's wildly flavorful and embarrassingly easy to get on the table. (and quick, holy moly)
Let us peepeth!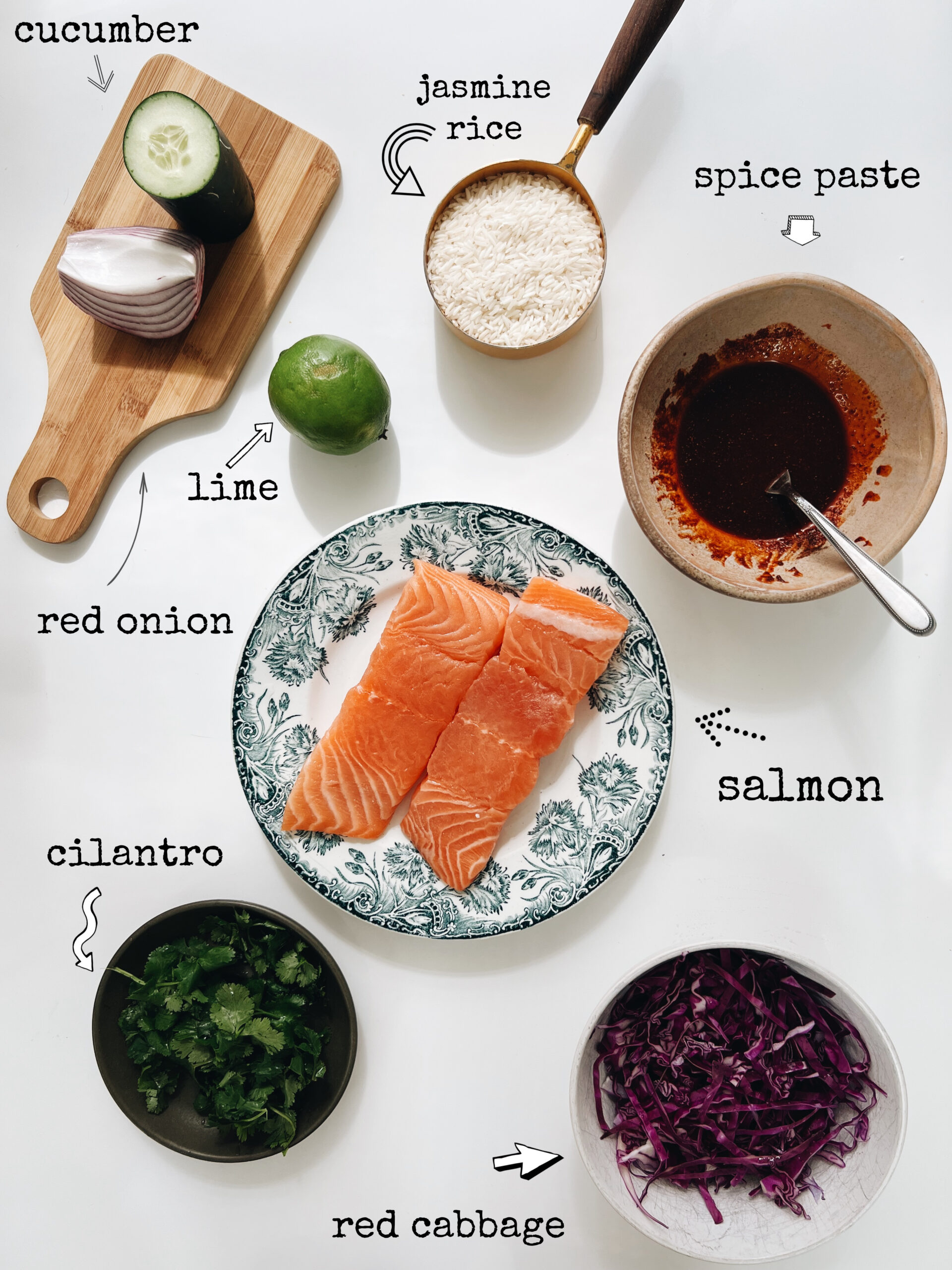 The spice paste is seriously just paprika (that I brought back from Israel), cumin, salt and olive oil. Whisked together to create an unbelievable savory gloss that coats the salmon, almost blackening it. It's unhinged.
And the rest, I went heavy in the crunch department. Cabbage, red onion, cucumber. I also have scallions in this recipe but forgot to include them in the photo. Doh! (<–said like Homer Simpson.)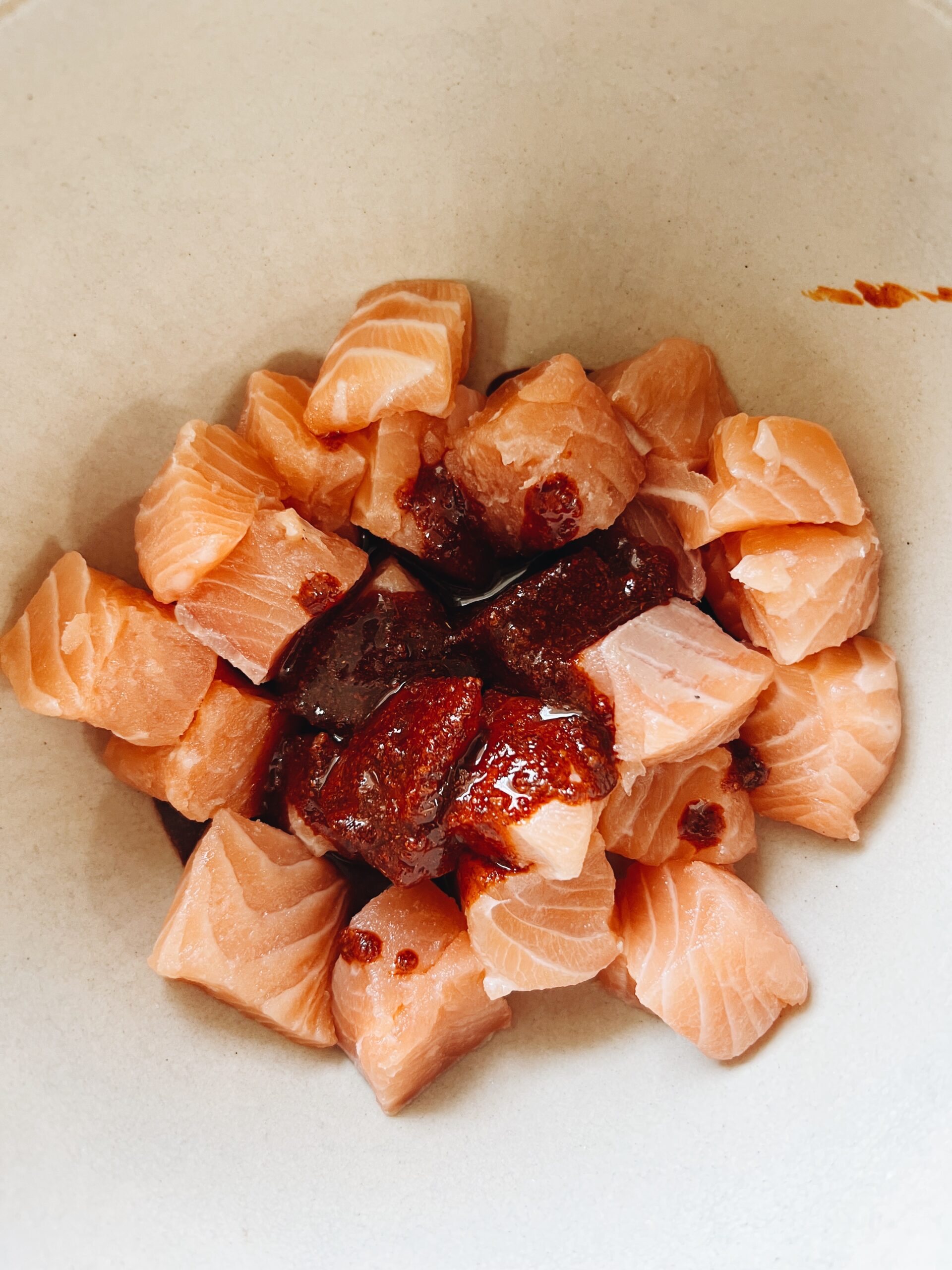 The salmon gets cubed and tossed with the spice mix. It's not SPICY, just spiced. Rich. Seasoned. Deep. Pawfect. You'll see it in the reel!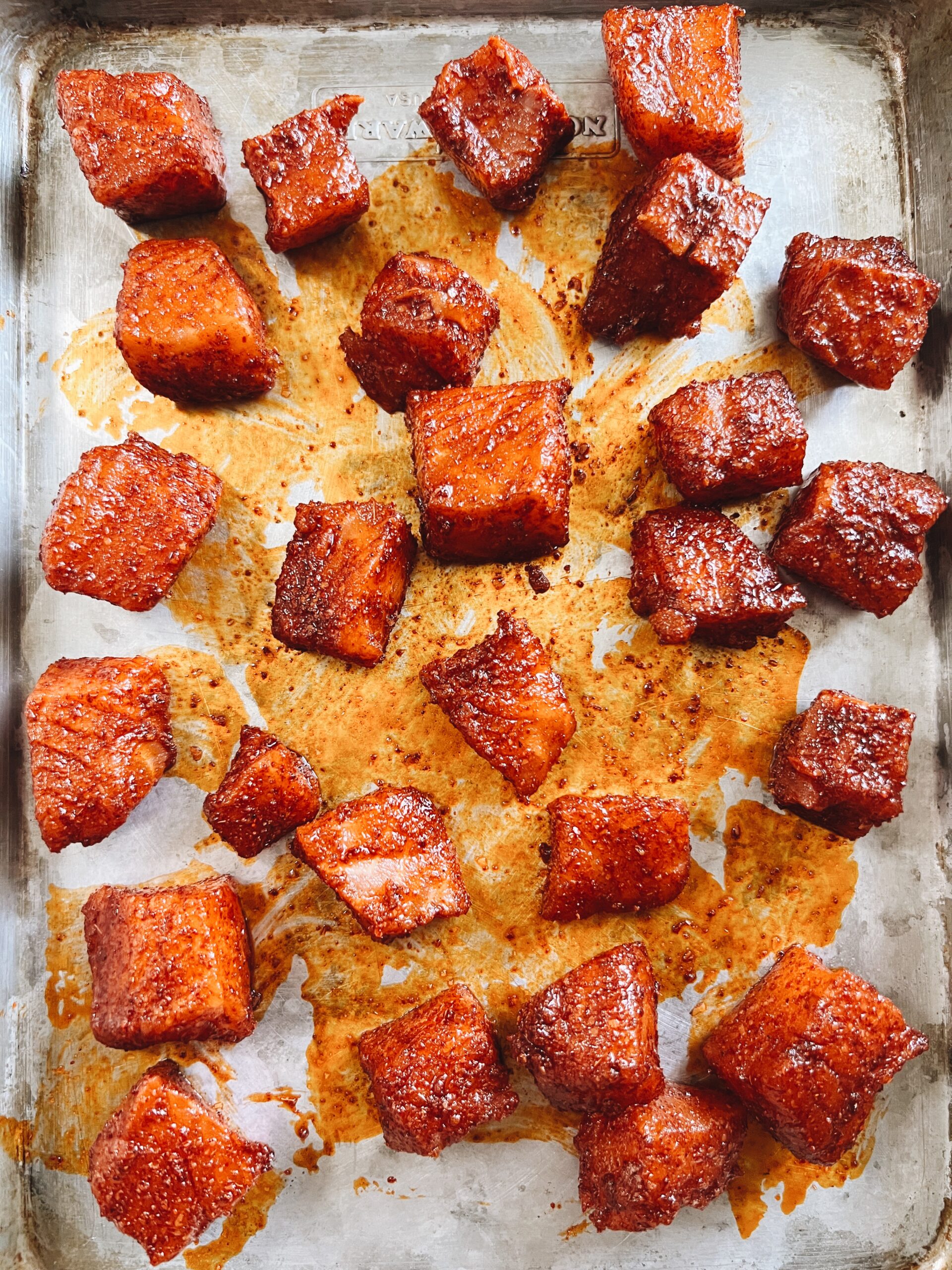 Let's get it on a rimmed baking sheet and into the oven for only ten minutes. Ten minutes!
Your rice will be cooking in the rice cooker while you do this part. See how I take care of you?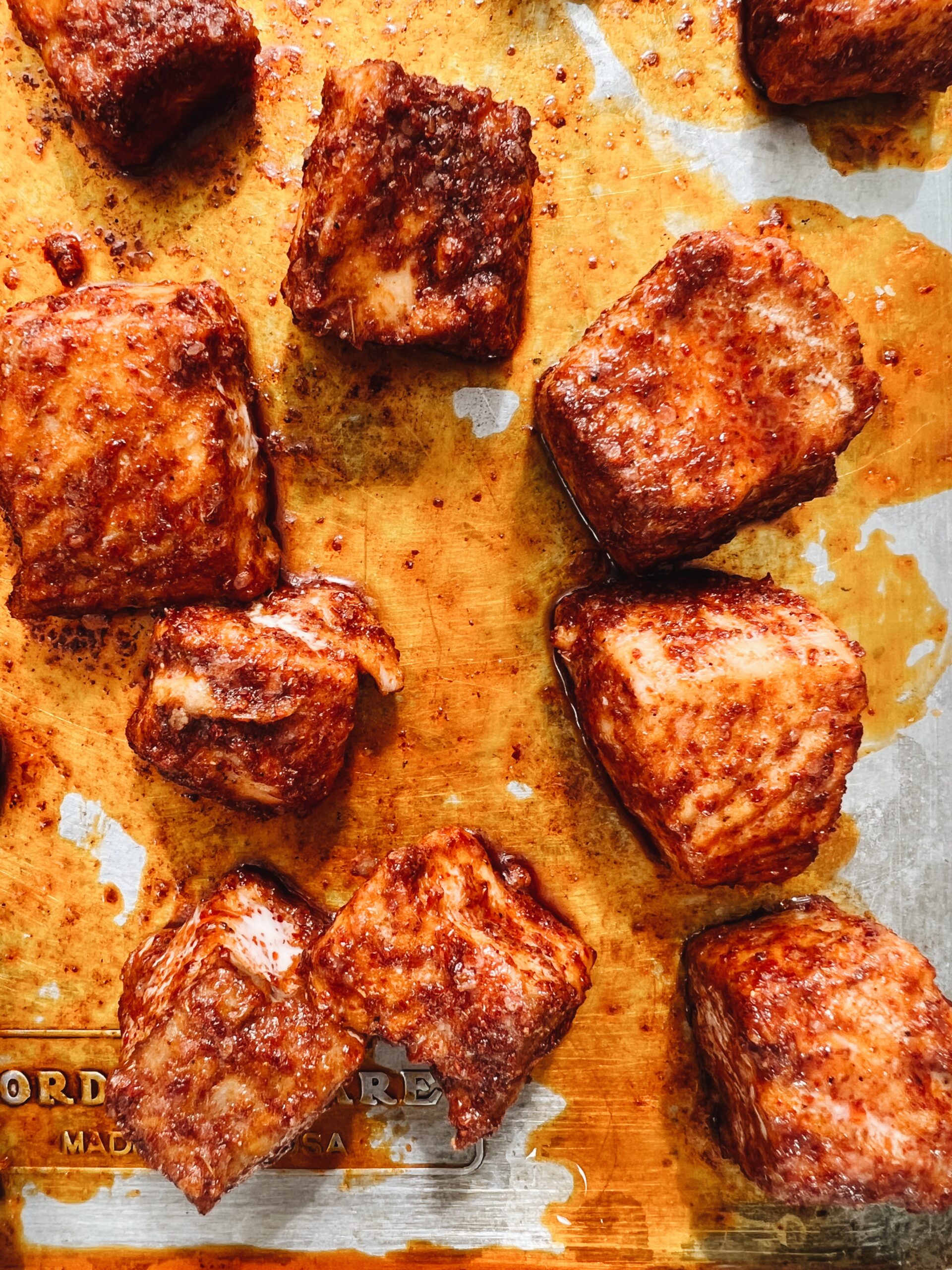 Gooood grief. Flaky and tender. So much going on.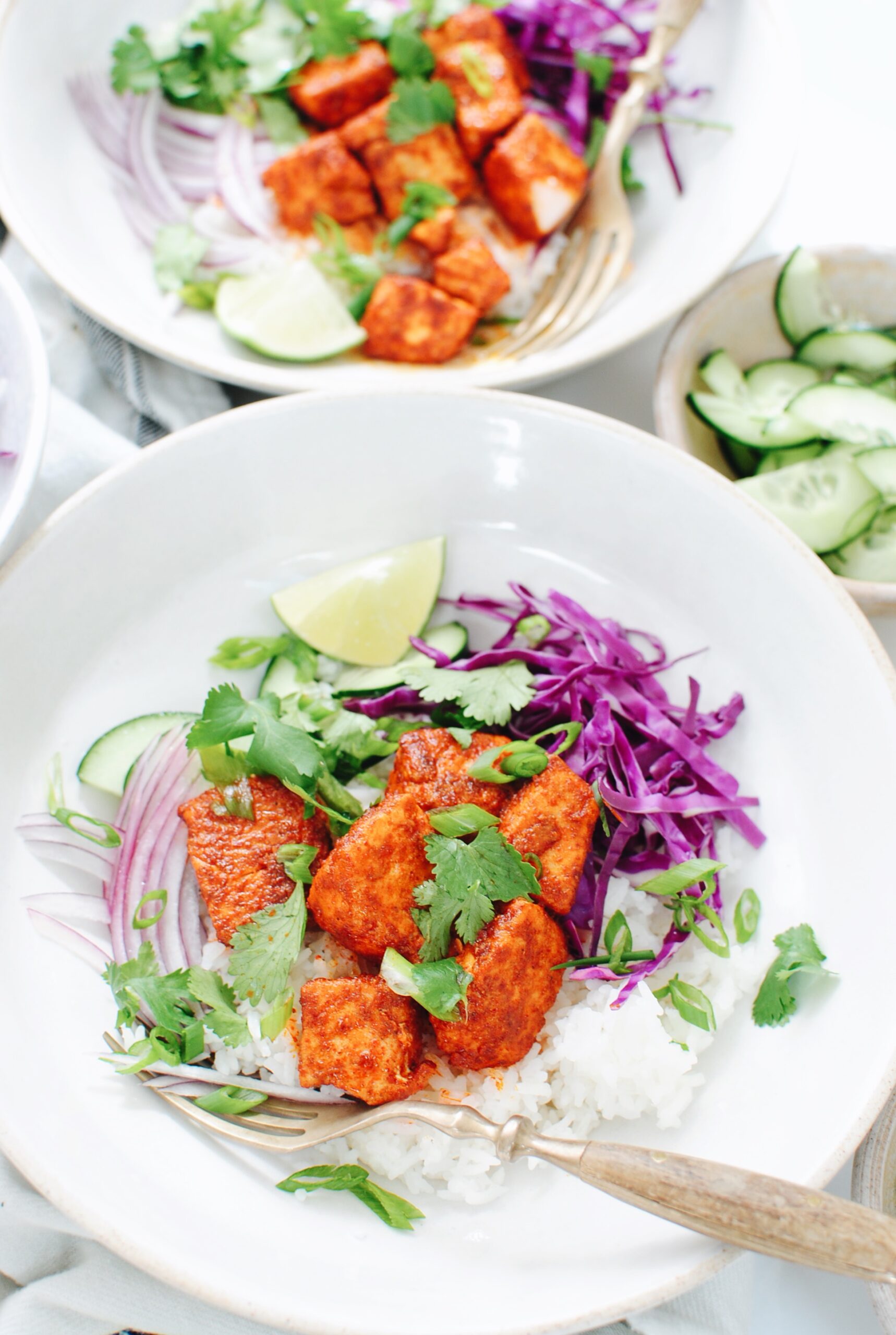 And honestly that's it. Into bowls it goes like this – cooked rice, the salmon, all the crunchy roughage: cabbage, cucumber, red onion, cilantro and scallions. Then pleeeenty of fresh lime juice to squeeze on top. This wakes it all up and that's exactly what we need. Out of hibernation, bruh!
(one of these days I'll stop saying bruh.)
(but not today.)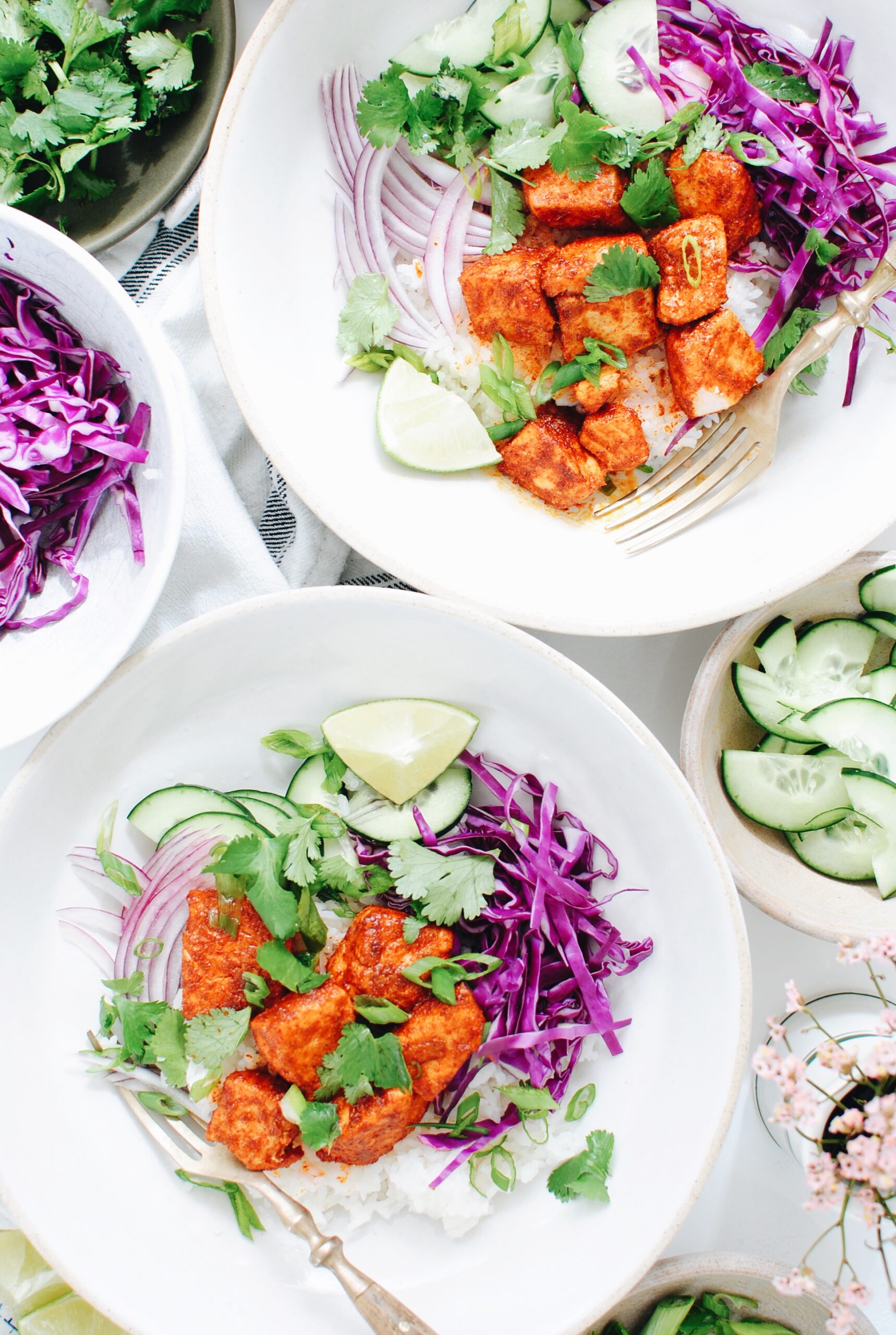 Simple, colorful, so much texture and flavor for weeks. Get in that.
Spiced Salmon and Rice Bowls
Ingredients
1 cup jasmine rice, rinsed
2 (4 oz) salmon fillets, cut into 1 inch chunks
1 Tbs. Paprika
1 Tbs. Cumin
1 tsp salt
2 Tbs extra-virgin olive oil
2 cups thinly shredded purple cabbage
Thinly sliced red onion (as much or as little as you want)
Torn cilantro (about half a cup)
3 scallions, thinly sliced
Half a cucumber, sliced into half moons
1 lime
Instructions
Preheat your oven tot 350.
Placed the rinsed rice into a rice cooker, add two cups of water and stir. Set it and forget it. (Cook this on the stove if that's your thing!)
In a small bowl, combine the paprika, cumin, salt and oil. Mix well and toss with the cubed salmon, stirring to coat. Arrange the salmon on a rimmed baking sheet, and roast for 10 minutes.
That's it! Now we build. Into bowls we'll add the cooked rice, the roasted salmon, sliced cabbage, cucumber and red onion. Garnish with cilantro leave and sliced scallions. Plenty of lime juice to top!
Serve immediately. (Serves 4)
7.8.1.2
629
https://bevcooks.com/2023/03/spiced-salmon-and-rice-bowls/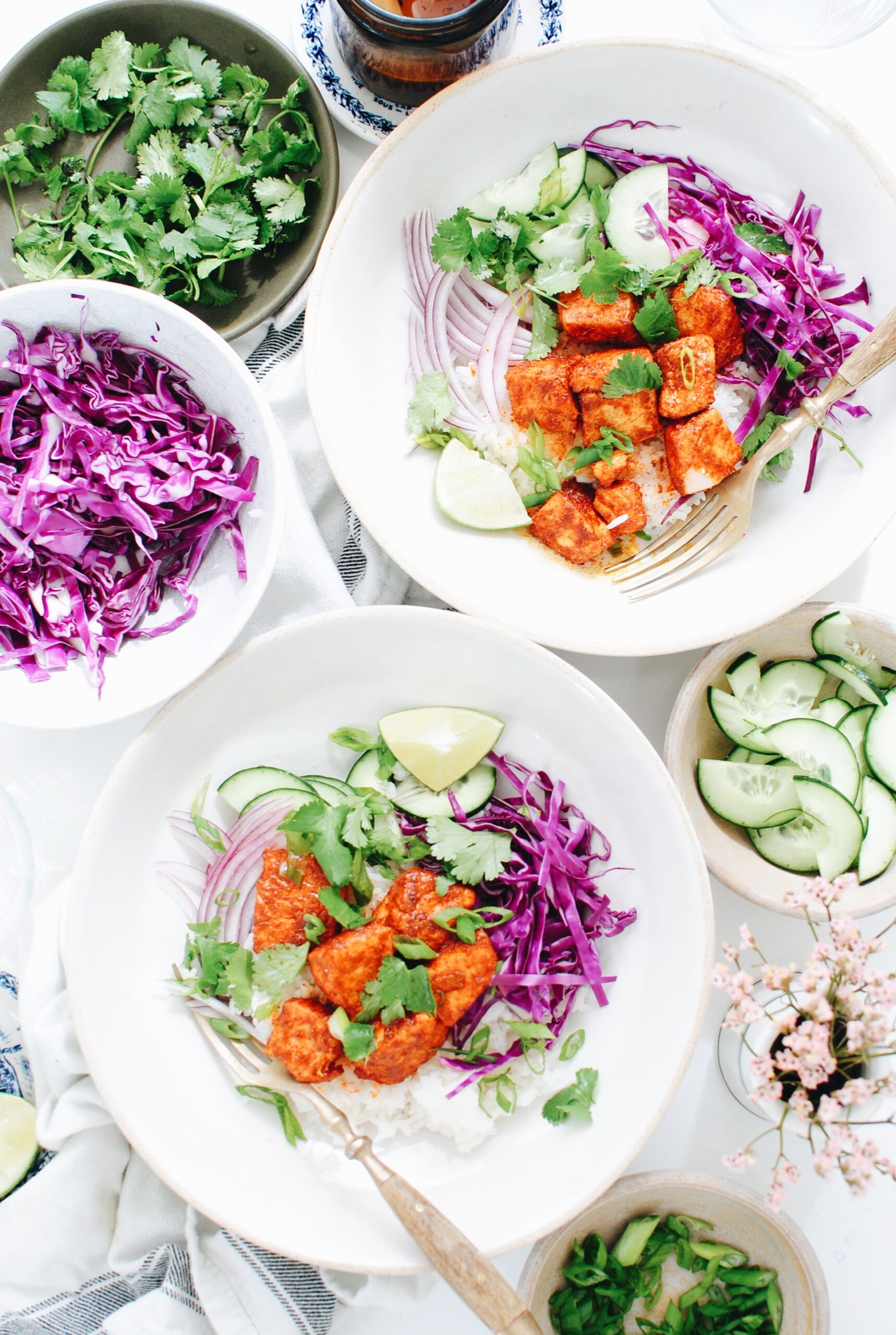 Tonight! This is happening tonight.