Introducing::: My Summer Side Dish Series! (<–should I go ahead and add three more exclamation points? No? Oh.)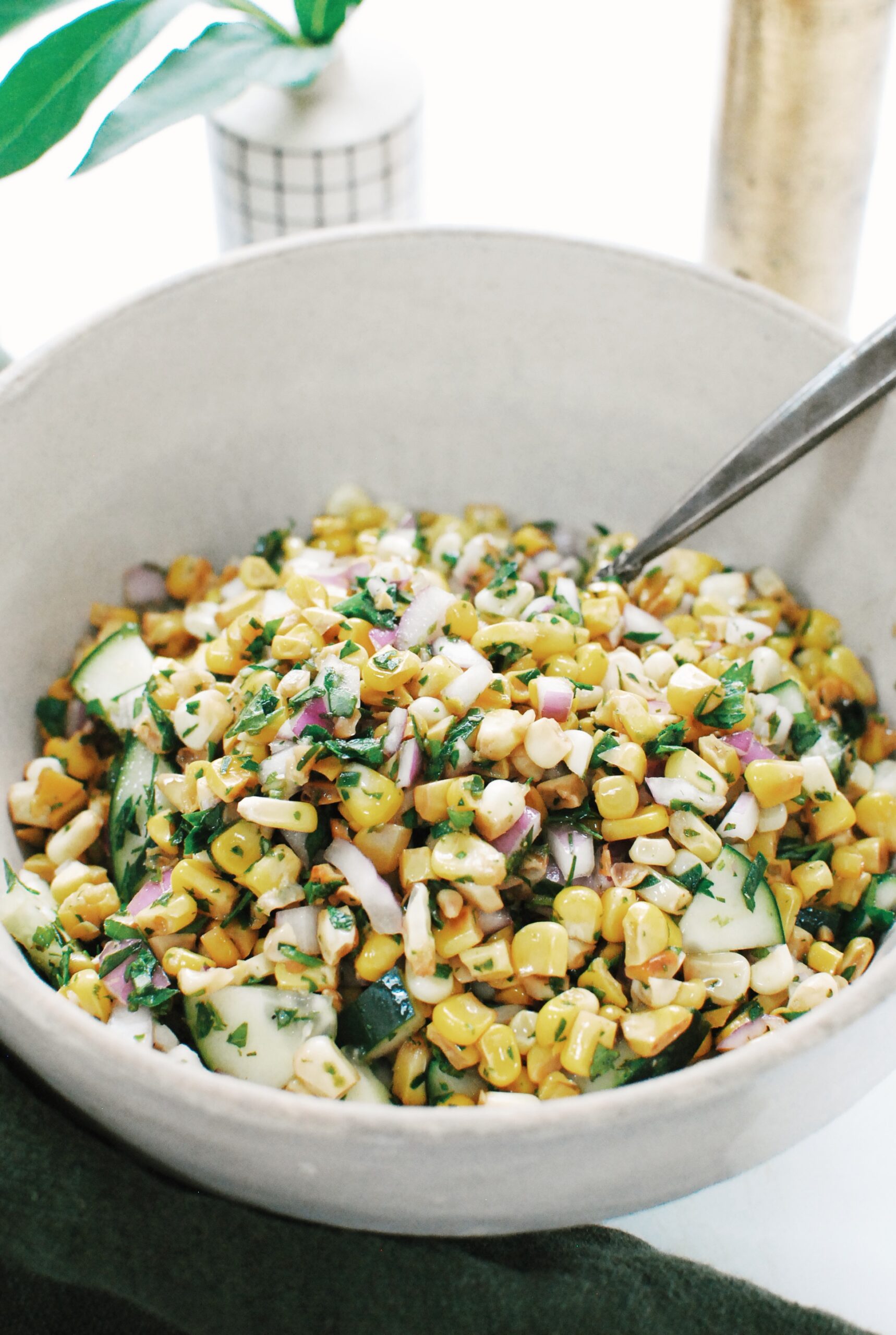 I'm excited for this series as it's all going to be EX-TRE-ME-LY easy for you all summer. Vibrant side dishes that work for any occasion, including spoon feeding yourself in a locked bathroom in the dark.
Hey, no judging here.
Today we're starting with corn! While I already have loads of corn salad on this blog (which I label as SALSA and that works, too), this one is stripped back and glorious. Uses tons of herbs and keeps it classic with red onion and cucumber.
And listen, you can grill the corn, sauté it or boil it. Today we're sautéing, but you fly in the way you desire, okay?
Let us peepeth.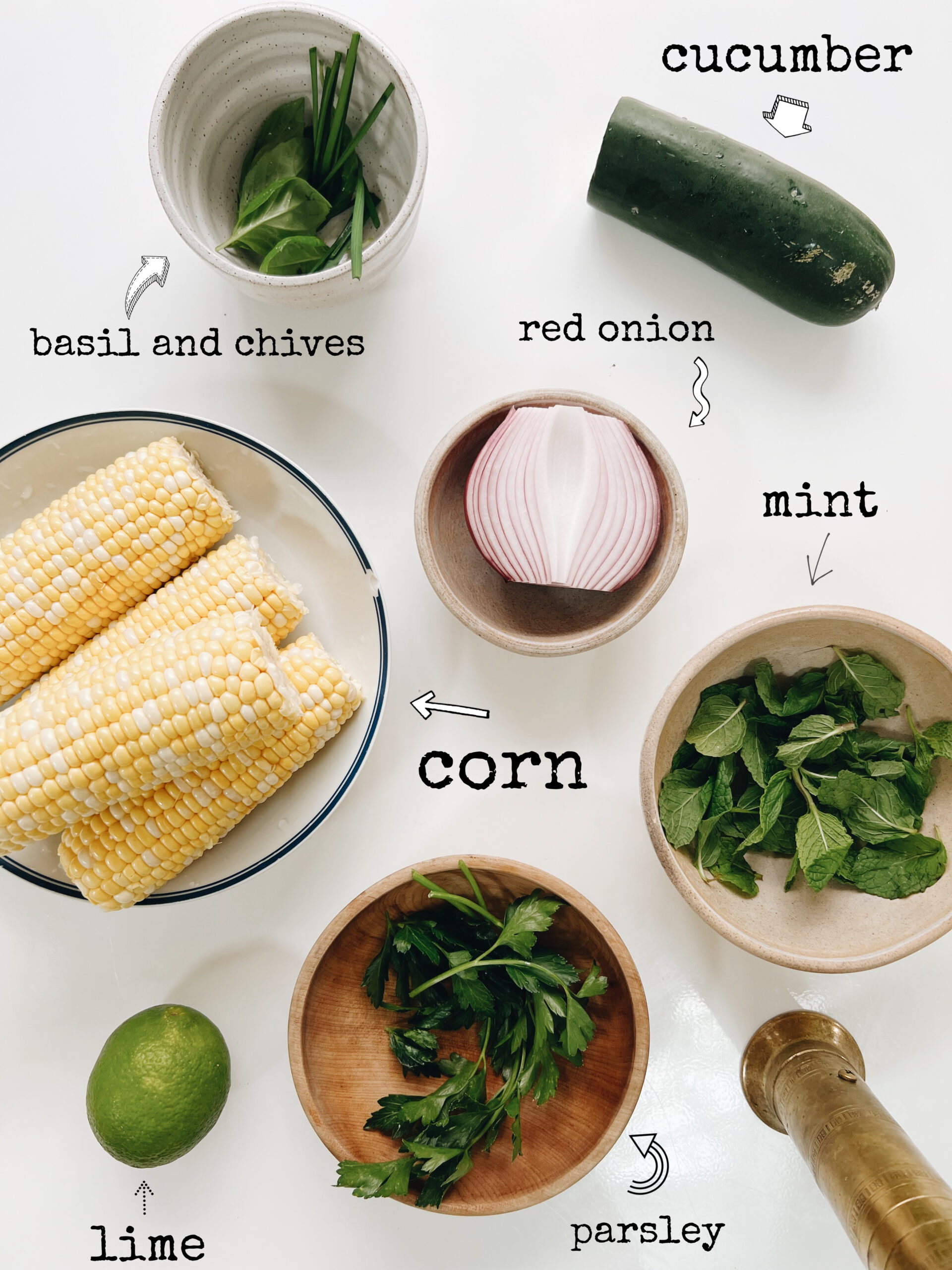 That's it!
In the instructions I call for 1/2 a cup of chopped herbs. That half a cup is AFTER you chop. So grab a bunk ton. I used parsley and mint (heavier on those two) and basil and chives (lighter on those two). If your garden is birthing one heavier than the other (so sorry about the way all of this is coming out), use that and make it work however you please. It's summer! We're winging it.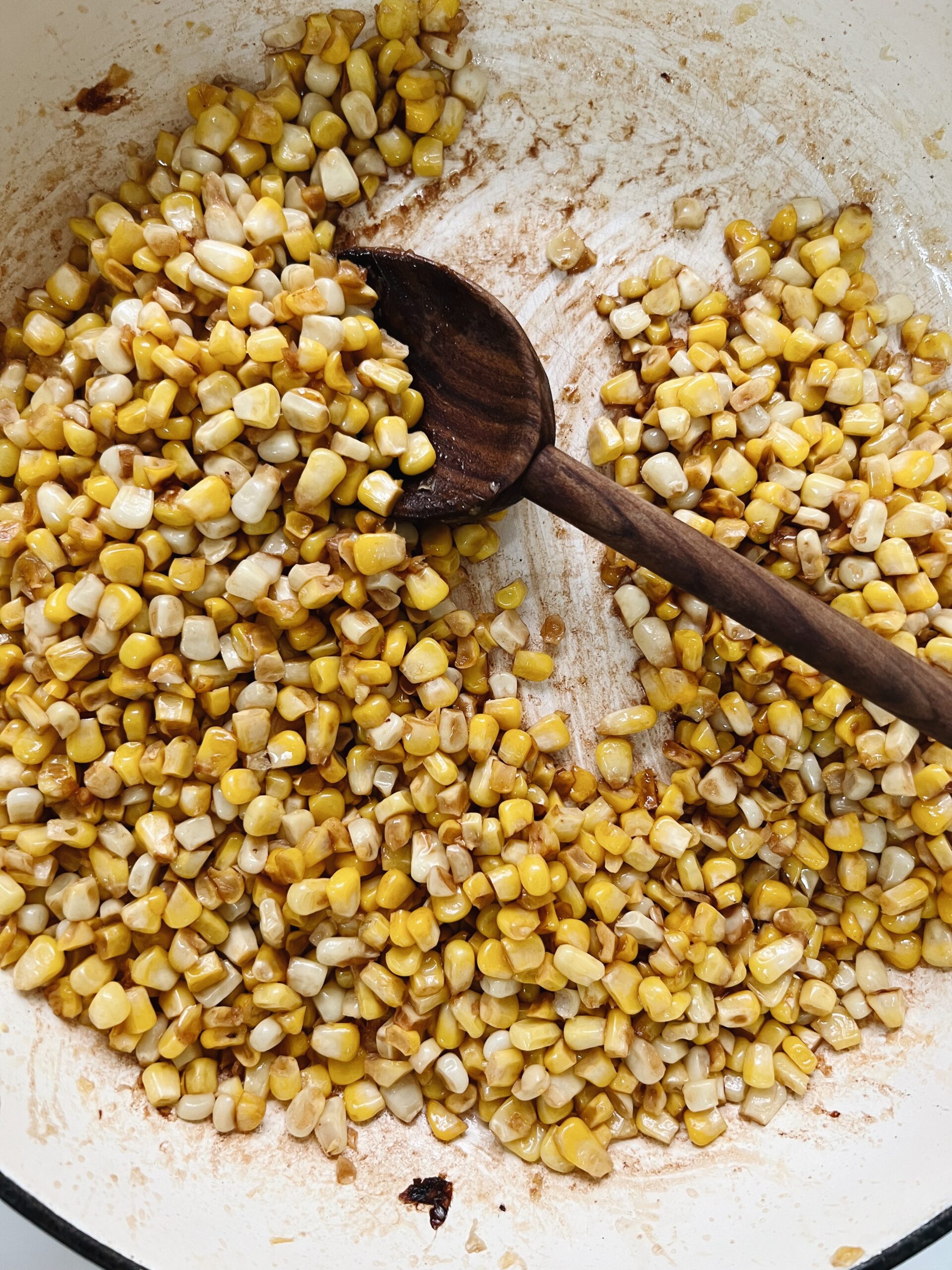 I used a salted butter with the corn and it gave me life. The salty butter + the sweet corn = to die for. Like I said, grill it if y'awnt.
We just want a little color and attitude all over.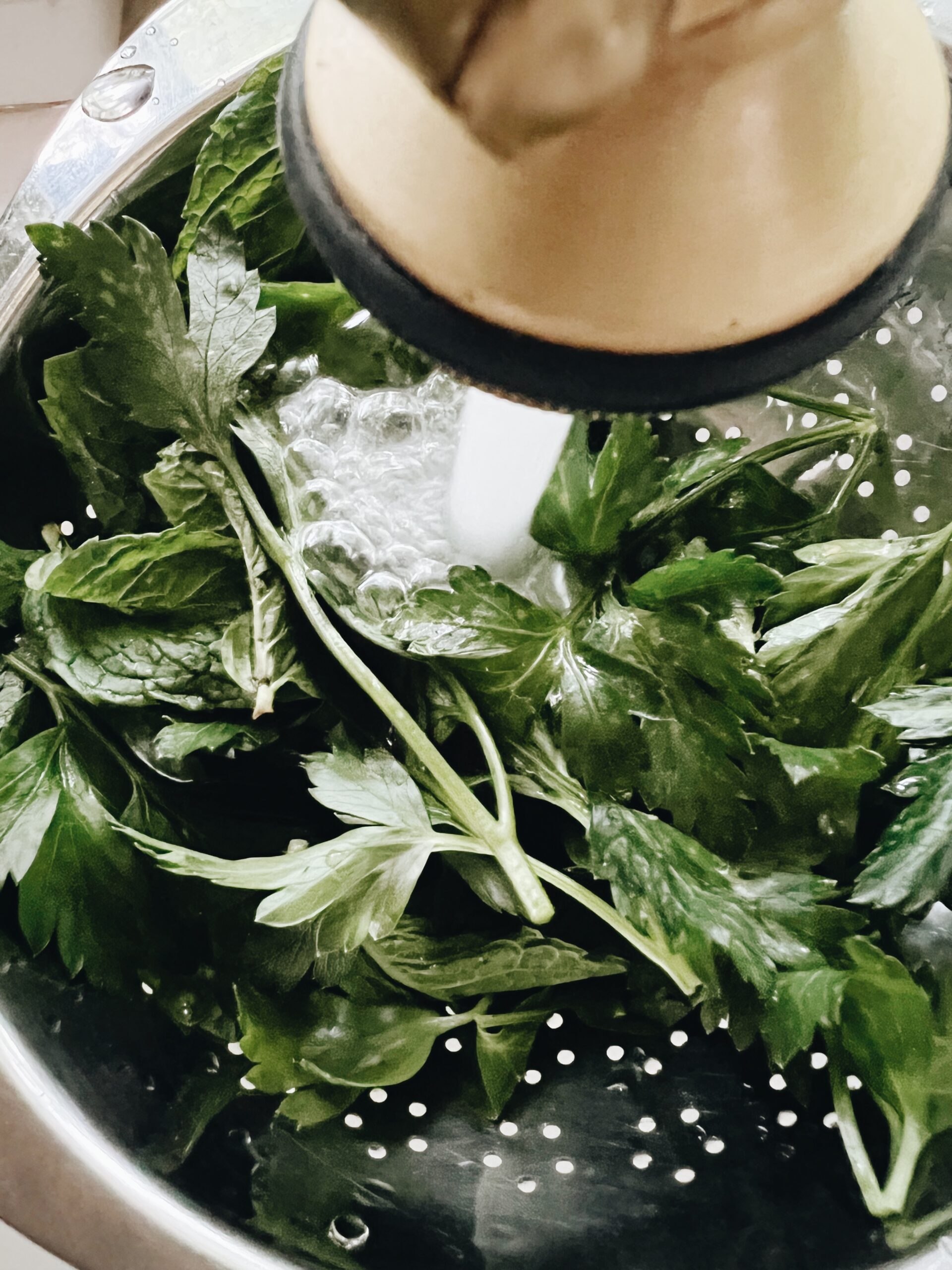 I'm basically including this photo of washed herbs because it soothes my soul. That's all.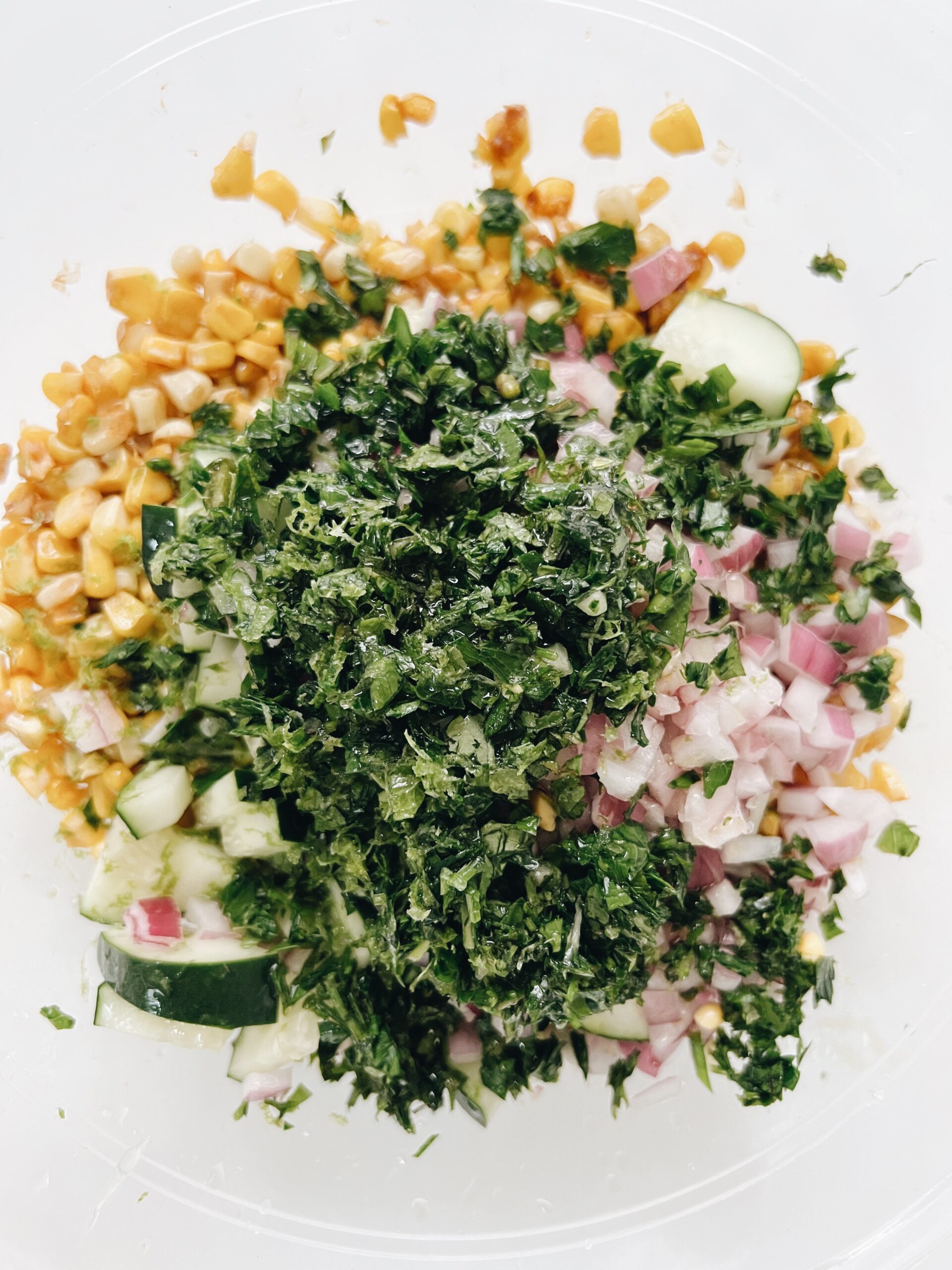 Then we'll combine it all in a large mixing bowl and get after it. The corn, the cucumber, the red onion, all the herbs, the lime zest and juice. Another pinch of salt and werk werk werk.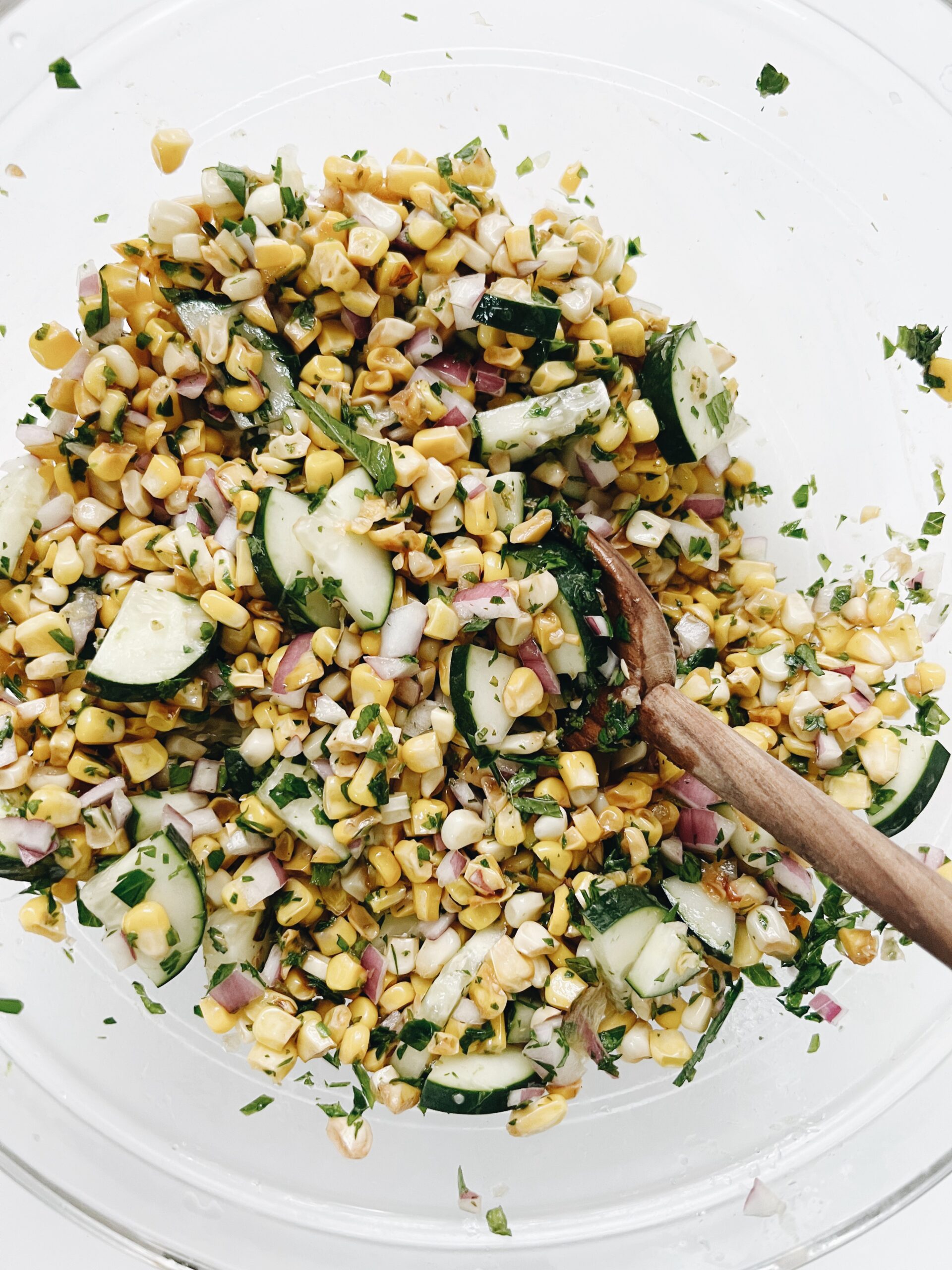 So good. The cucumber: you're more than welcome to cut it down more to match the size of the red onion. I went for simple this time.
You'll taste it at this point and dial it the way you like. I always appreciate a solid drizzle of my best extra-virgin olive oil to finish. Just rounds it all out in that glorious glossy way.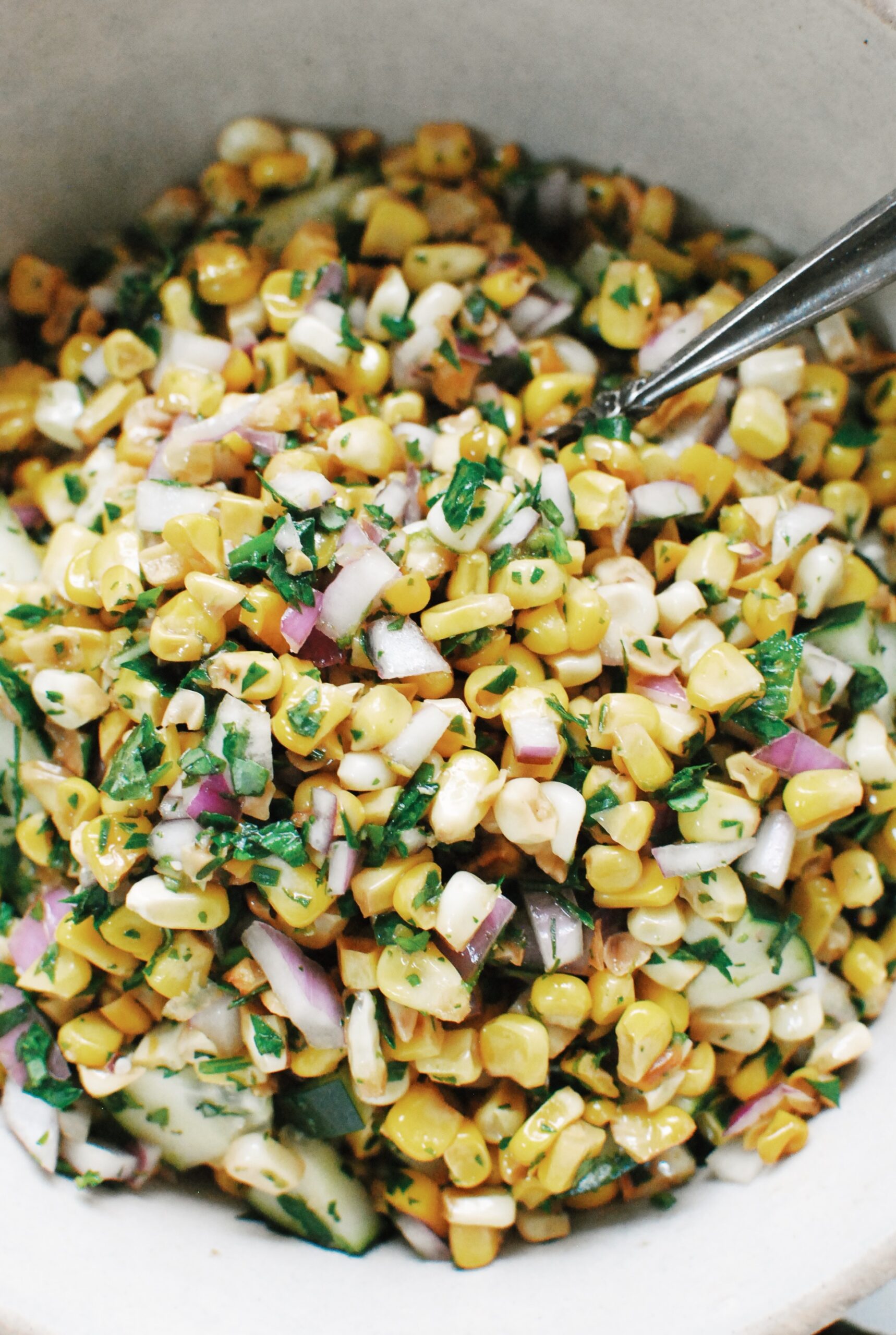 It's delicious.
Sweet, vibrant, a bit savory with the onion and all those herbs. Super fresh with the cucumber. You need nothing else. Except chips if you want to think of this as a salsa.
Or nothing if you're thinking of it as a salad. A side dish. A love trough.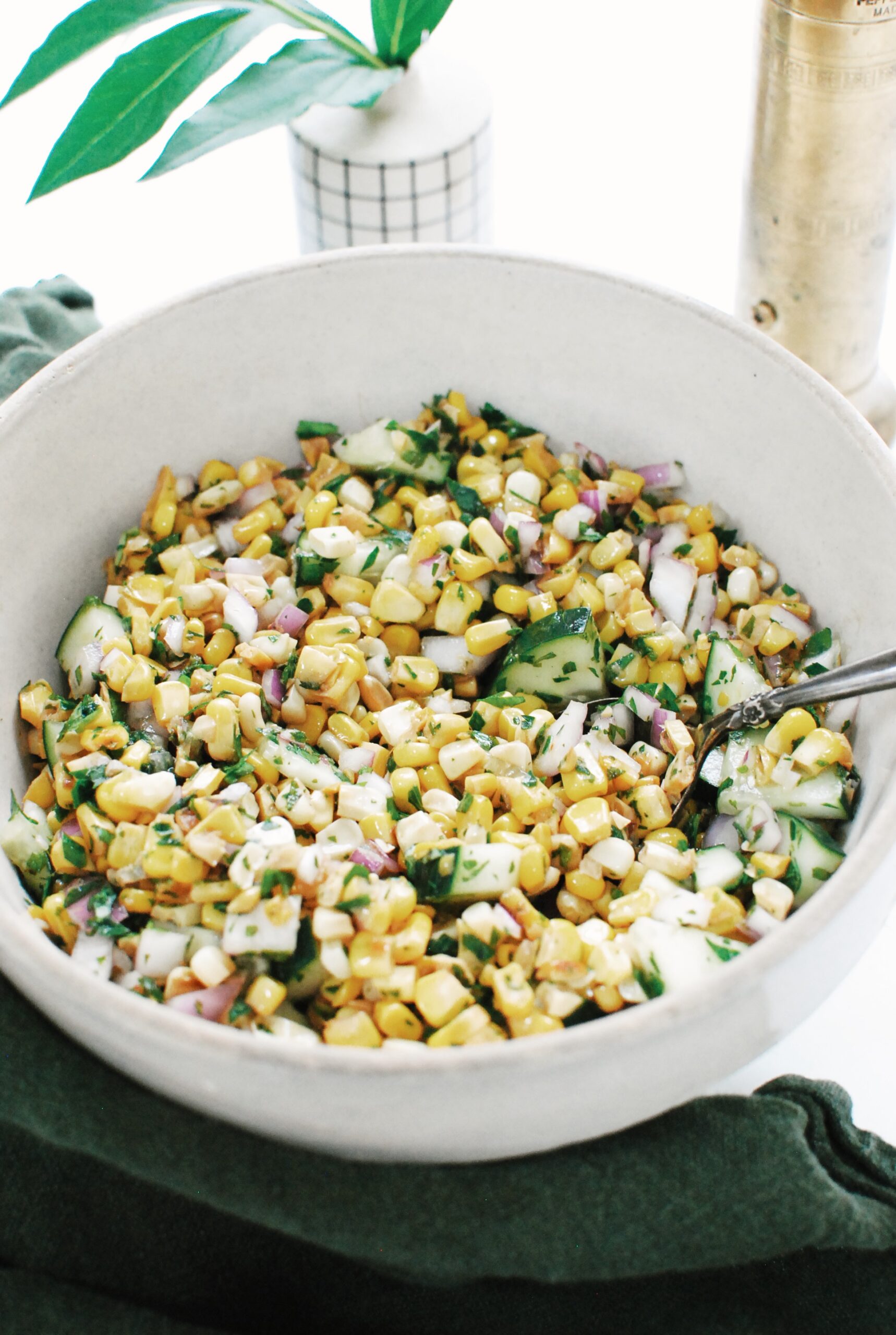 If you do let it sit a while before serving, give it one more taste before it makes its way to the table juuuuuust in case it needs a final touch. Your heart will know.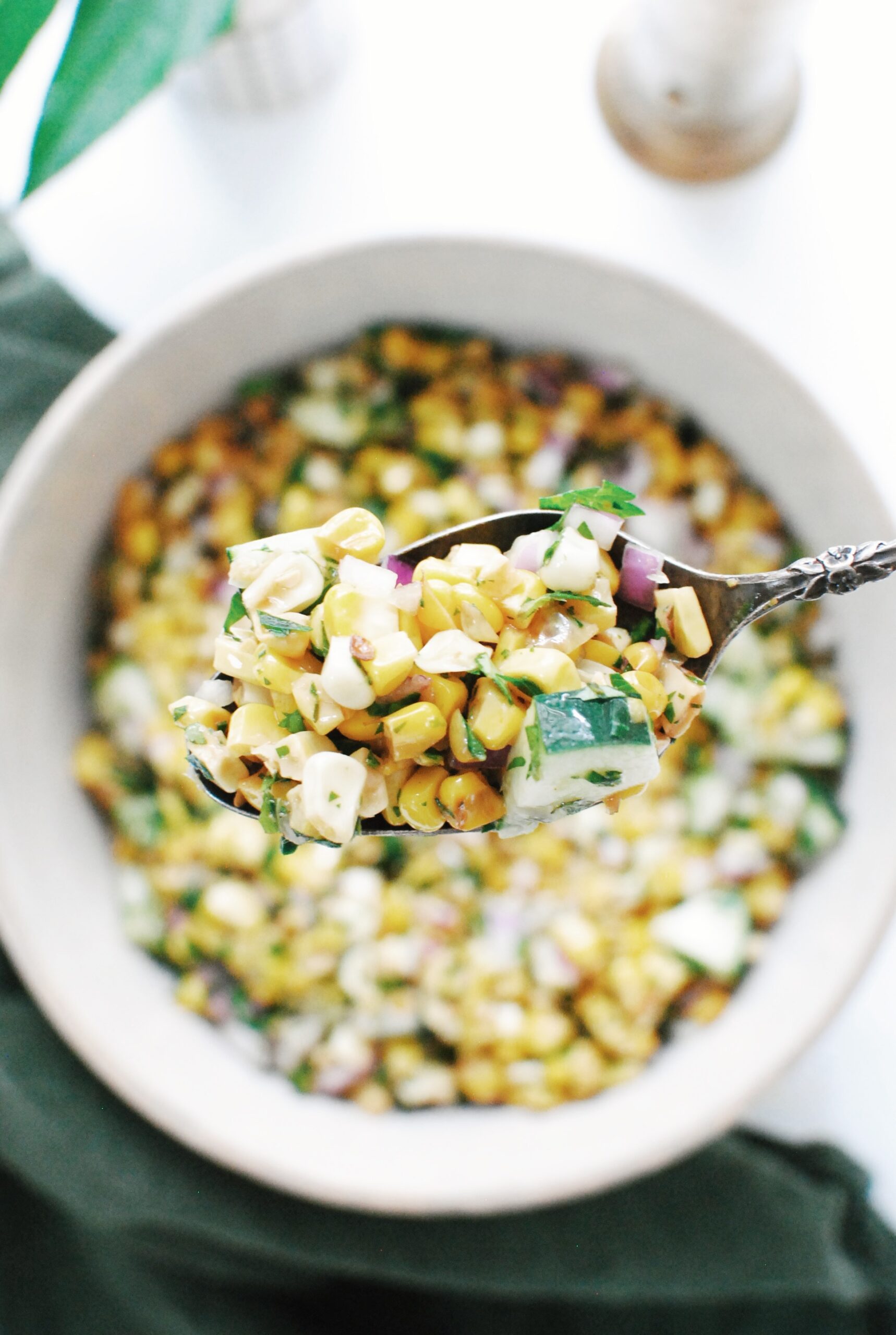 Your go-to corn salad! Just in time for the weekend. Or breakfast.
Summer Corn and Cucumber Salad with Fresh Herbs
Ingredients
4 ears of corn, kernels sliced
2 Tbs. butter
1/2 cucumber, sliced then quartered (you can go even smaller if you want!)
1/4 cup chopped red onion
1/2 cup chopped fresh herbs (I used basil, chives, parsley and mint)
1 lime, zested and juiced
Coarse salt and freshly ground pepper
Good olive oil to finish
Instructions
Melt the butter in a large wide skillet over medium high. Add the corn and sauté with a pinch of salt until tender and darker in color, about five minutes.
In a large mixing bowl, combine the sautéd corn, chopped red onion, cucumber, the chopped herbs, zested lime along with the juice. Give this a pinch of salt and toss to combine. Taste it. Little freshly ground pepper and a drizzle of your best oil and you're set. Get this in the fridge to chill until you need it, or serve it room temp. Anything works!
Serves four - eight, depending on serving size.
7.8.1.2
580
https://bevcooks.com/2022/06/summer-corn-and-cucumber-salad-with-fresh-herbs/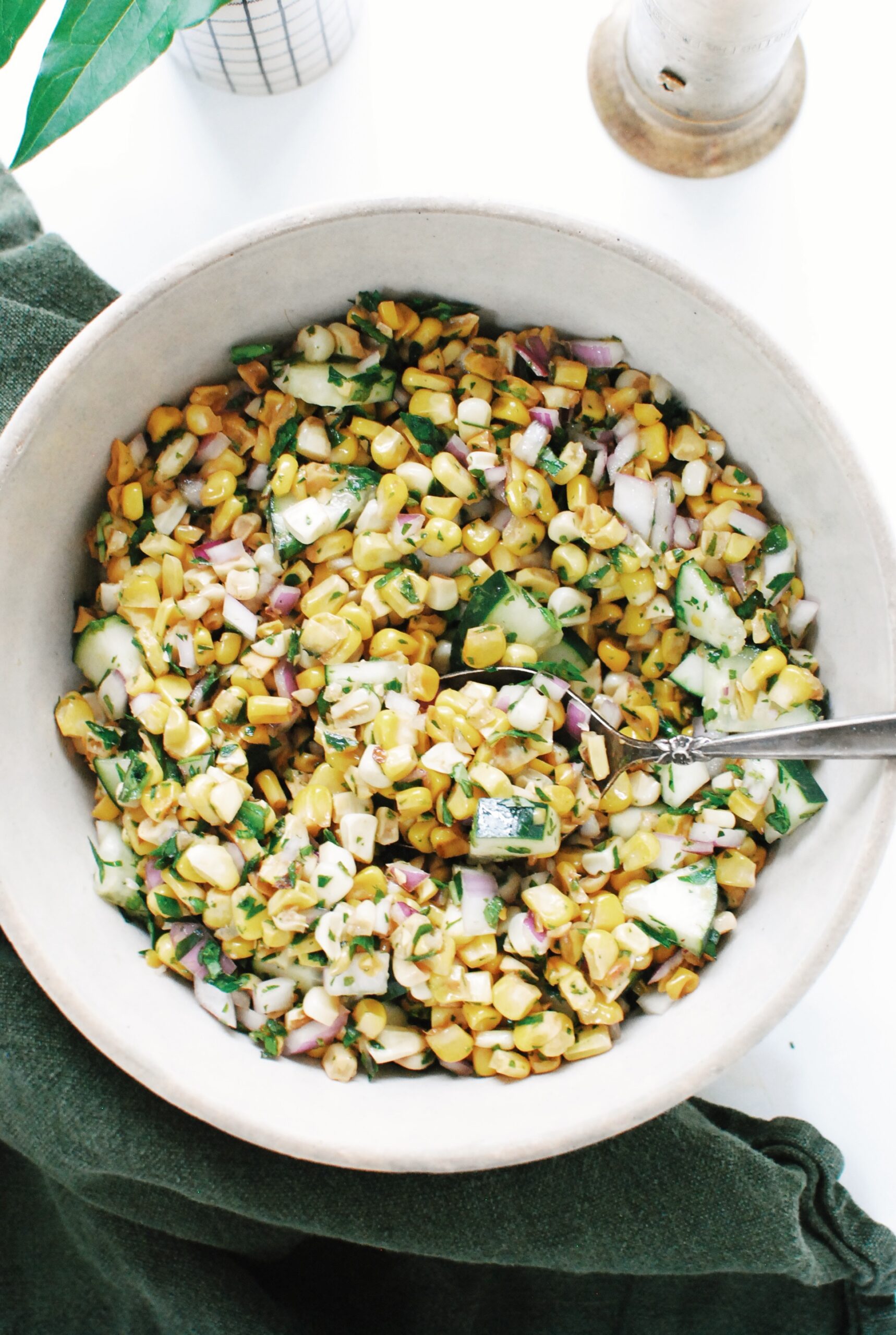 I'm pumped about this series! We talked about in stories but LET ME KNOW what else you'd like see for the next three months. You know I'll be all over it.