Let's make meatballs! But with chicken. And truck loads of fresh parmesan. And our blistered soul.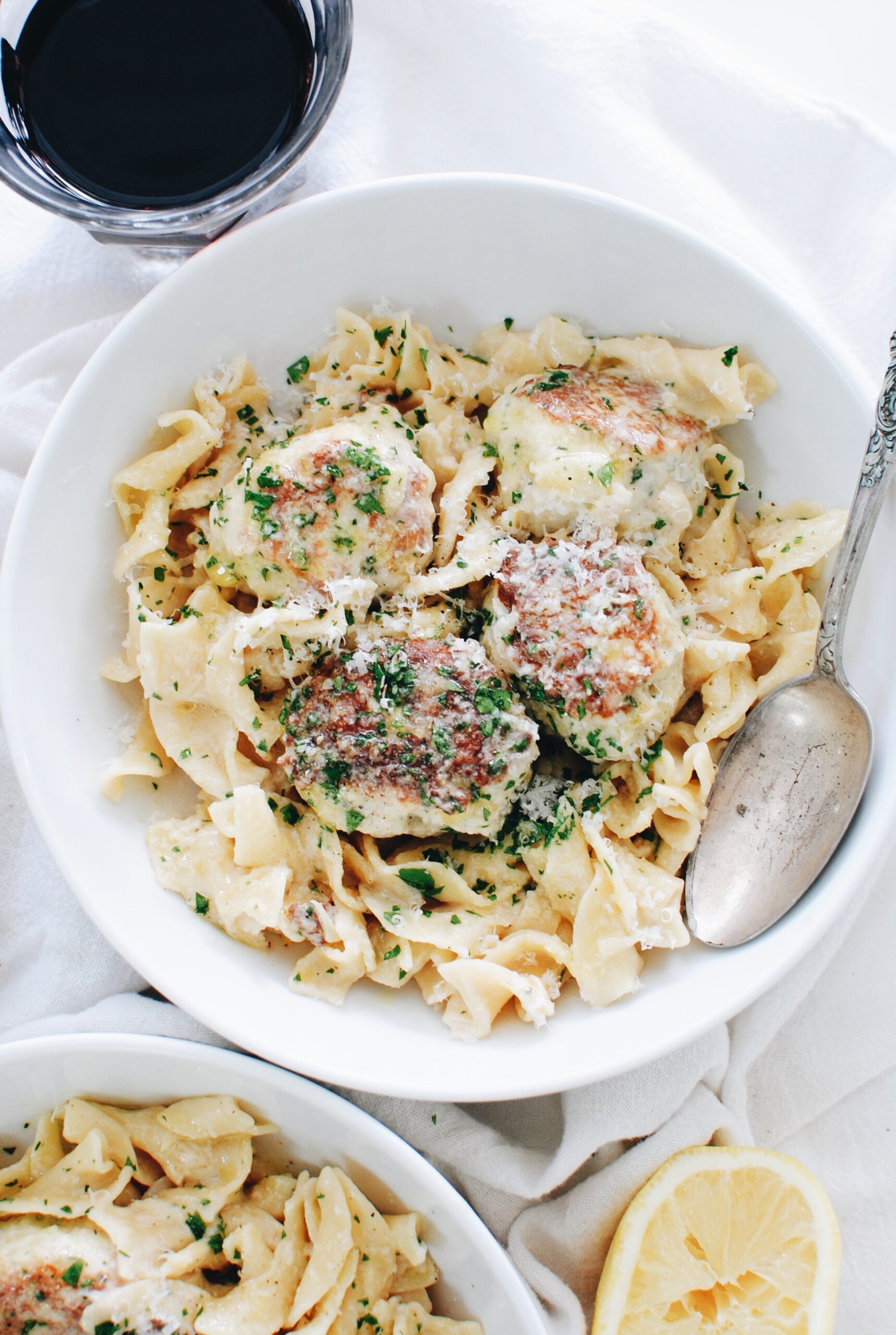 I love this recipe so much because it's nothing but comfort. The meatballs are creamy in their own way because of the milk and cheese and rustic breadcrumbs. Flecked with herbs and enhanced with garlic, it's illegally delish.
And on top of that, the egg noodles get cooked in a creamy, lemony sauce and on blizzardy snow days like today, there's just not much better.
Let us peepeth.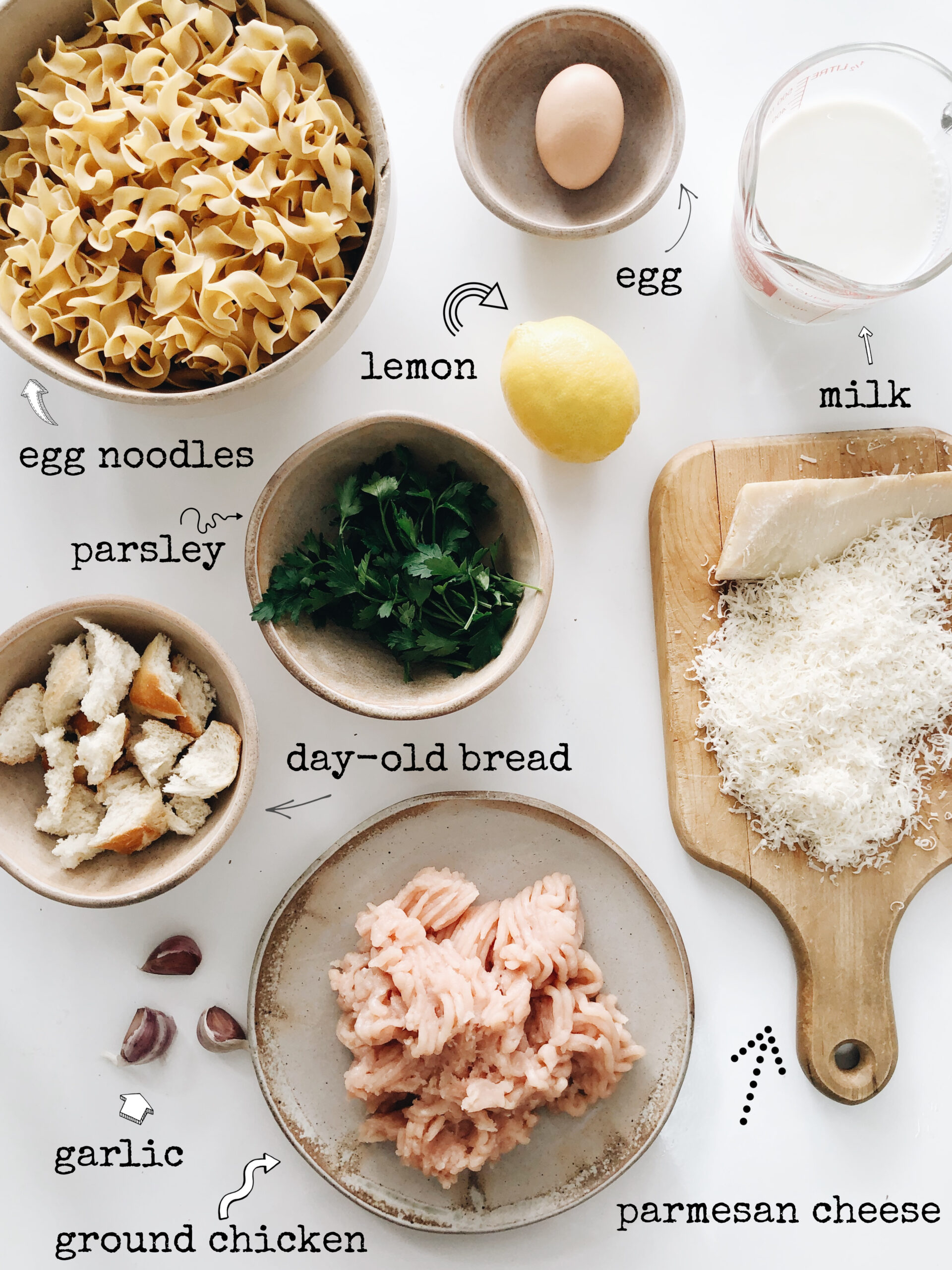 The day-old bread. We need to talk. Remember when I made this party pizza bread? Well I took the tops of the baguettes, tore them into chunks and froze them in a little container until I needed them.
And then I needed them! Thaw them and plop them in a food processor with the parsley and garlic cloves. Give it a few solid pulses, until it's all gravelly. Bread gravel.
We're starting a band called Bread Gravel.
If you have panko or boxed breadcrumbs on hand, you're still a good person.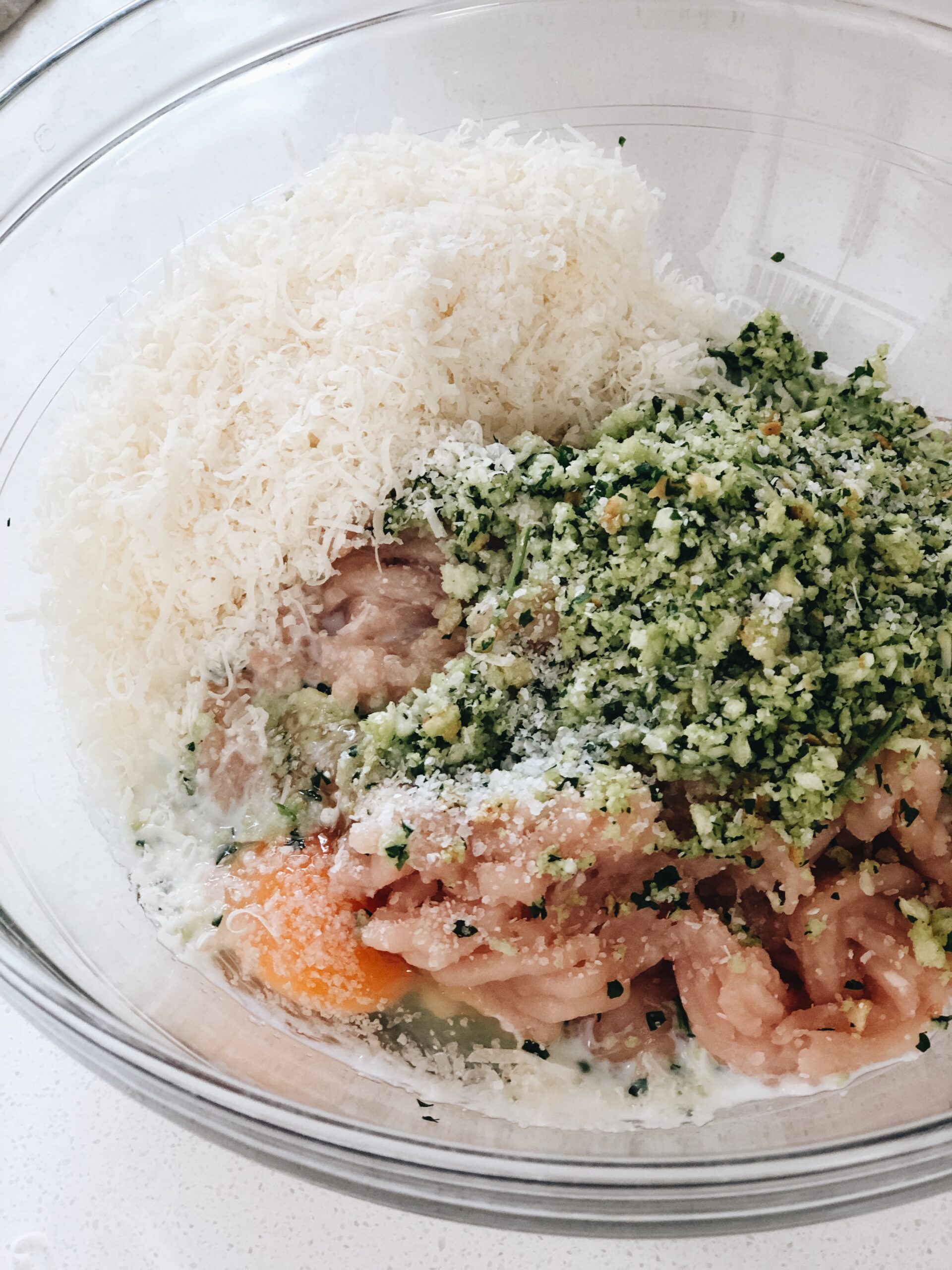 We'll combine the chicken (let it come to room temp so your hands and wrists don't ache and you don't end up rubber chickening yourself all over the kitchen floor in a whiney toddler fit), a full cup of parmesan cheese, an egg, splash of milk, breadcrumb mix and a good pinch of salt. There we go.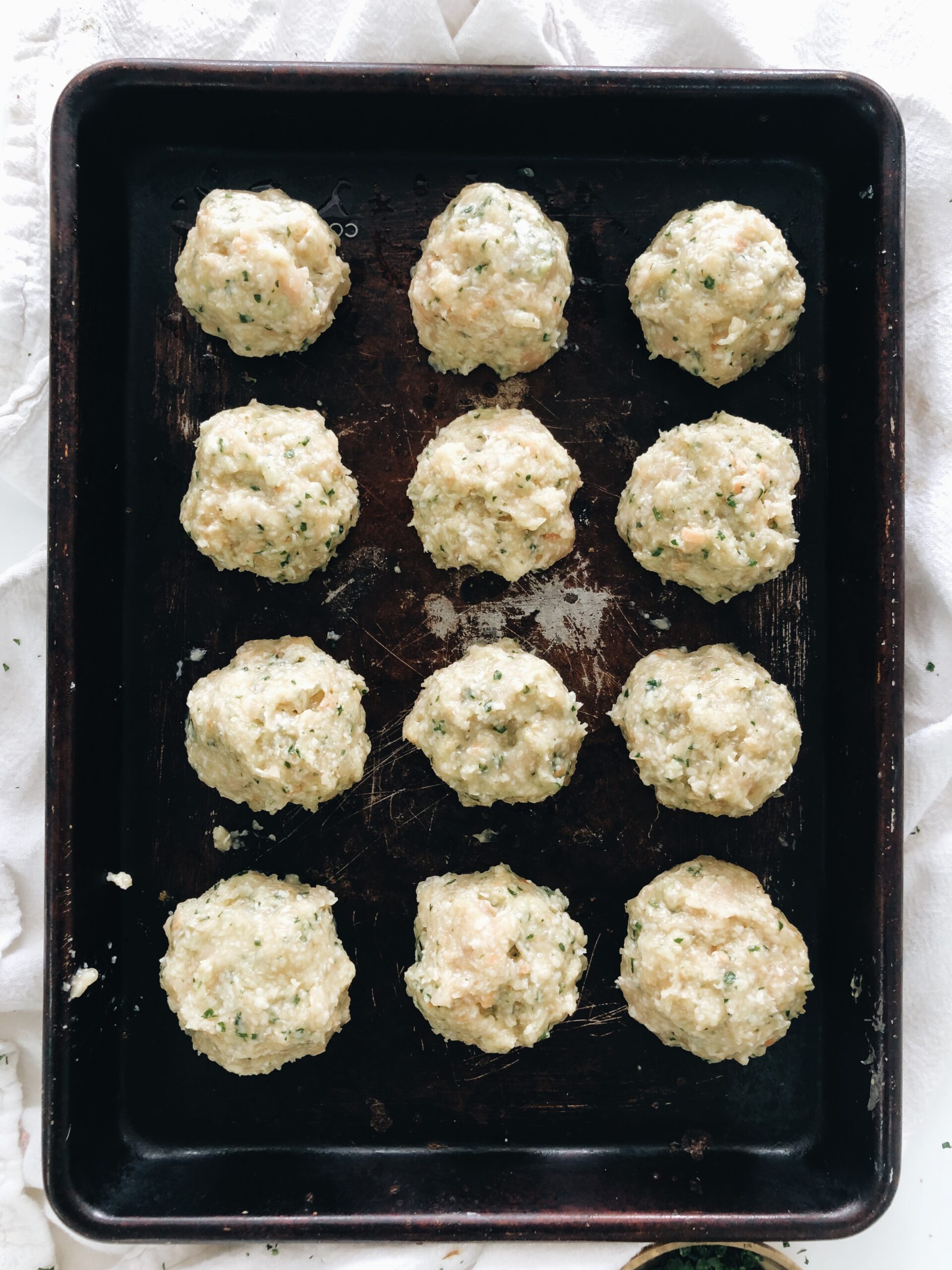 Make some meatballs, bruh.
I lightly covered and stuck these in the fridge for a few hours just to get them to sturdy up a bit. It's not totally necessary, but I think it helps.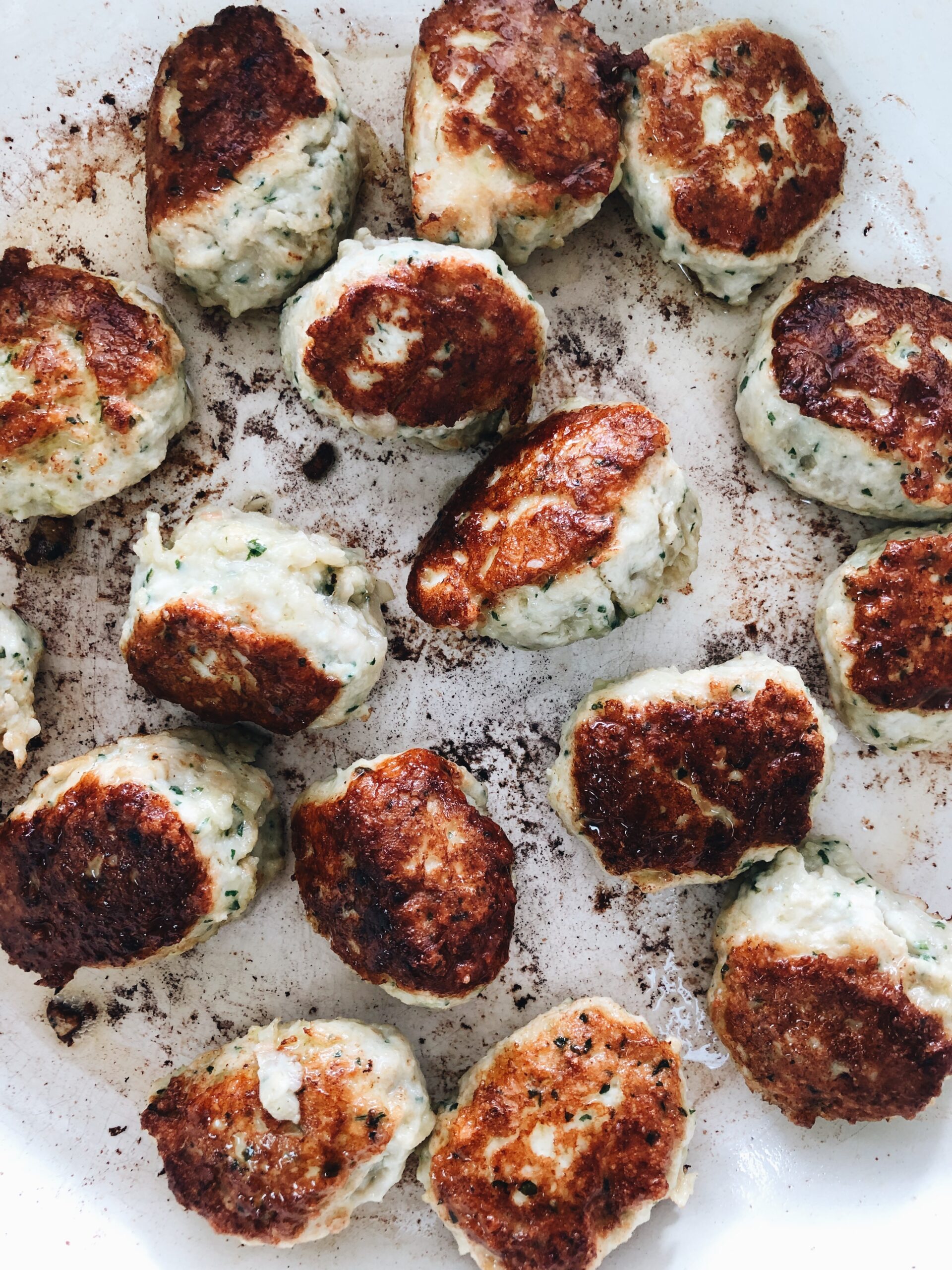 Then we sear! See, all that cheese means some nice, nutty browning all over. That's the key here. That's our party. They won't be all the way cooked through, so let's make a sauce and add our noodles, okay?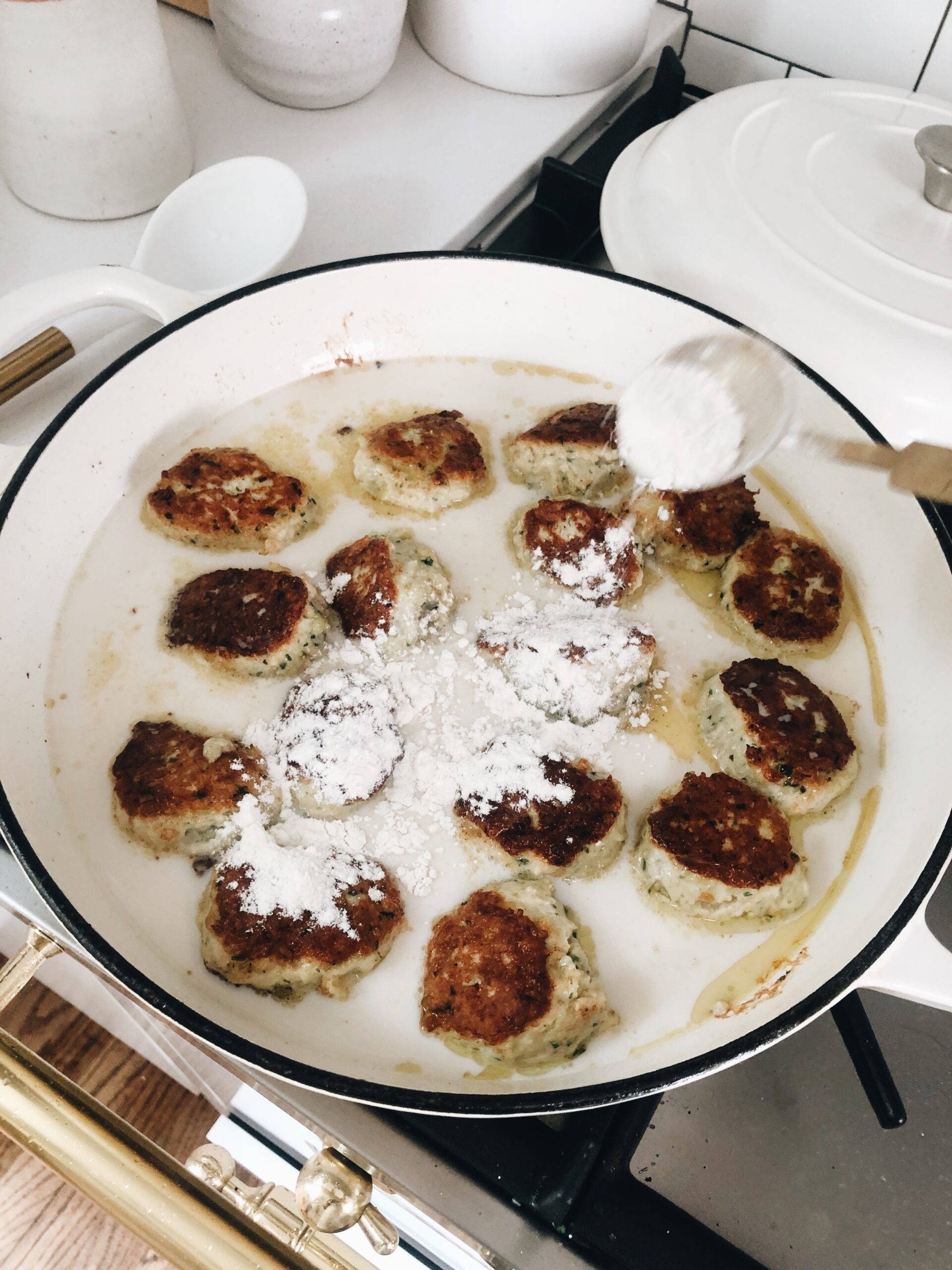 Add the rest of the milk, the chicken stock and a couple tablespoons of flour. This will get the sauce to thicken a little bit, amp up its lusciousness. It's what we want.
Oh! And the lemon juice! Squirt that in, for crying out loud.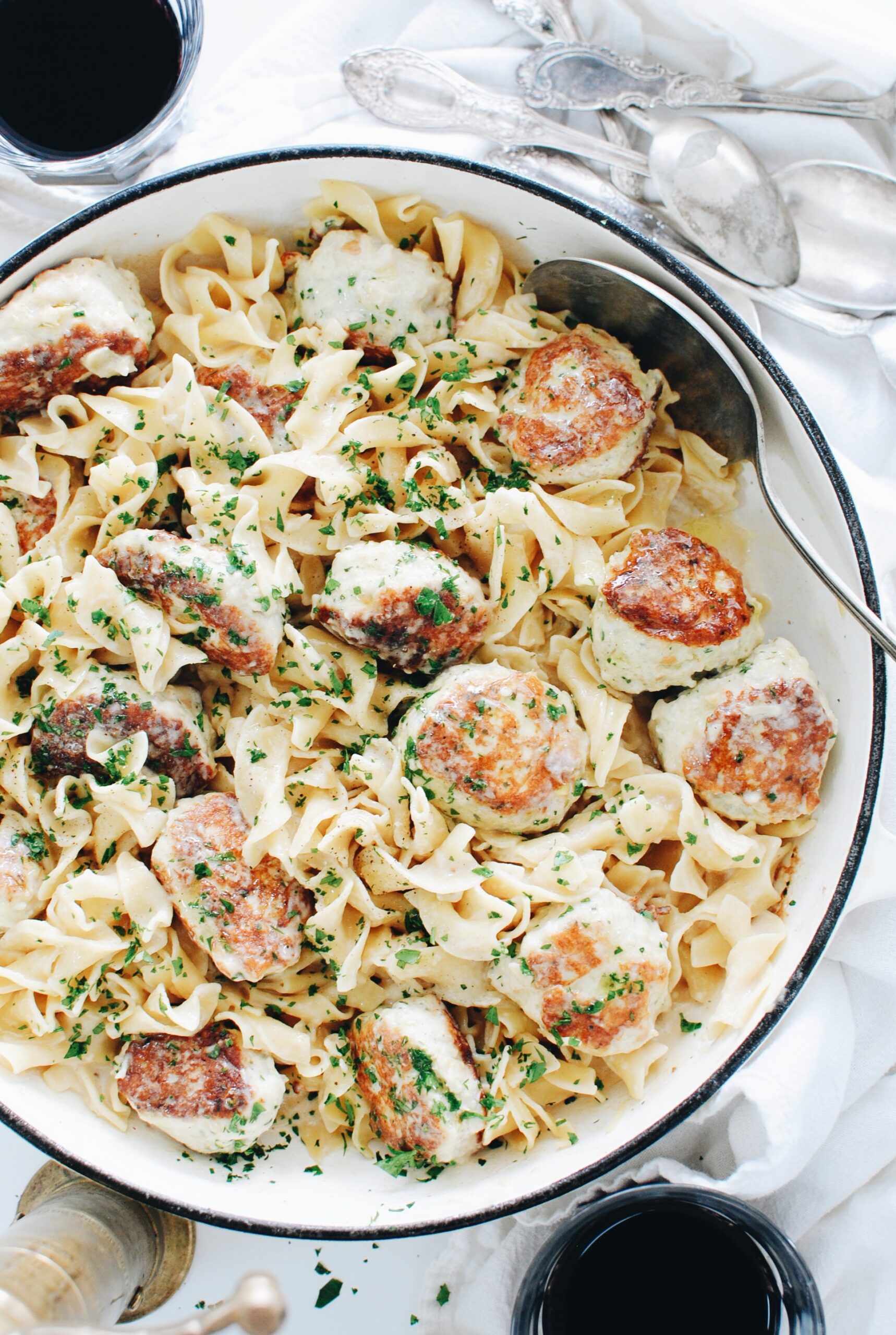 Hiiiiiiiya. We've added some partially cooked egg noodles (they finish in the sauce) and it's really just perfect. Everything comes together in a lovely lemony cream sauce and it's everything needed for a cozy wintery night. I KNOW you feel this.
How can you not feel this.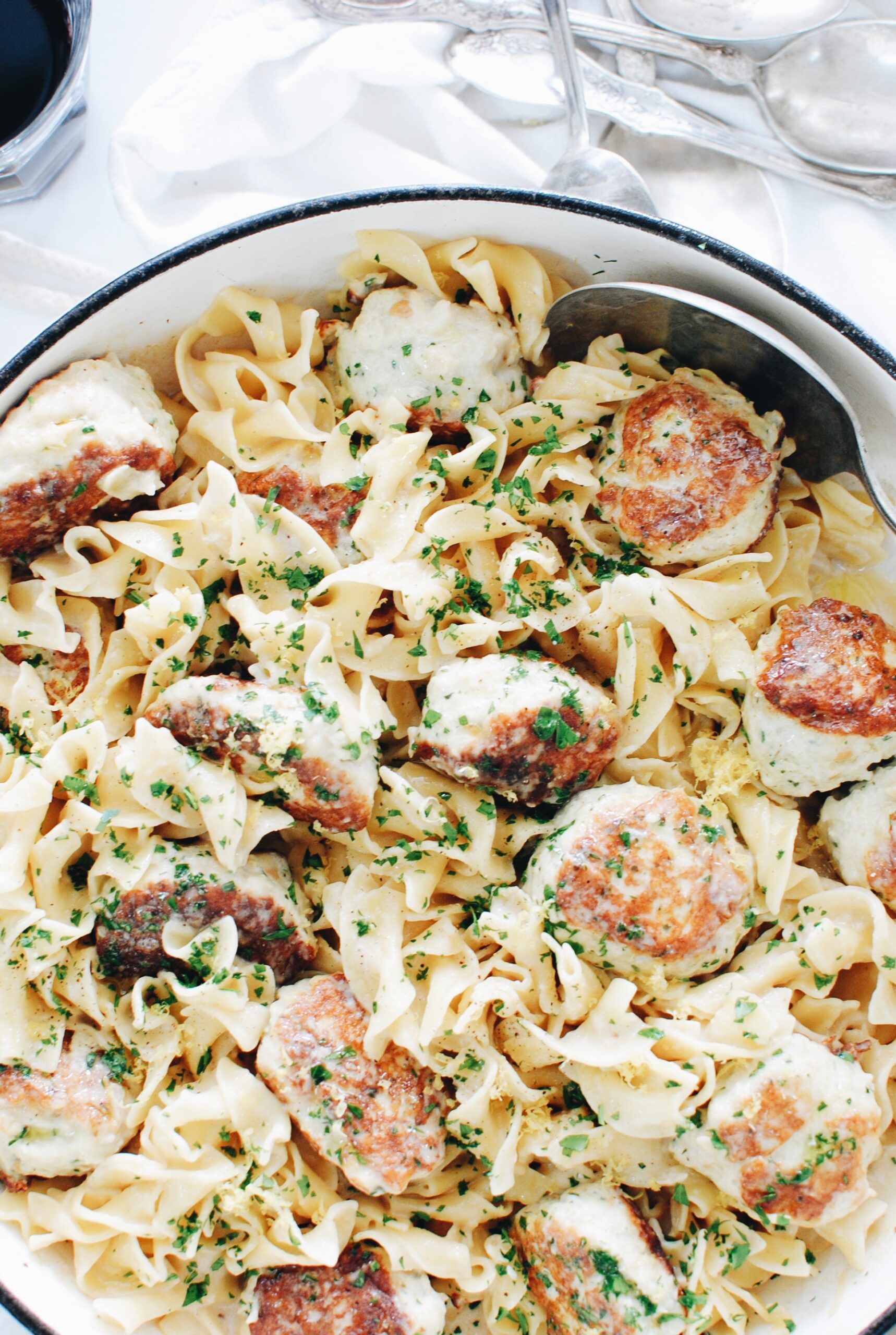 See that lemon zest on top? Here's a tip. Zest it before you squeeze the lemon juice into the sauce, and save it for the very end. You can add it to the sauce if you want, for sure, but it also works nicely as an extra-flavor-layer garnish. A little citrus pop.
Know what I mean, Vern?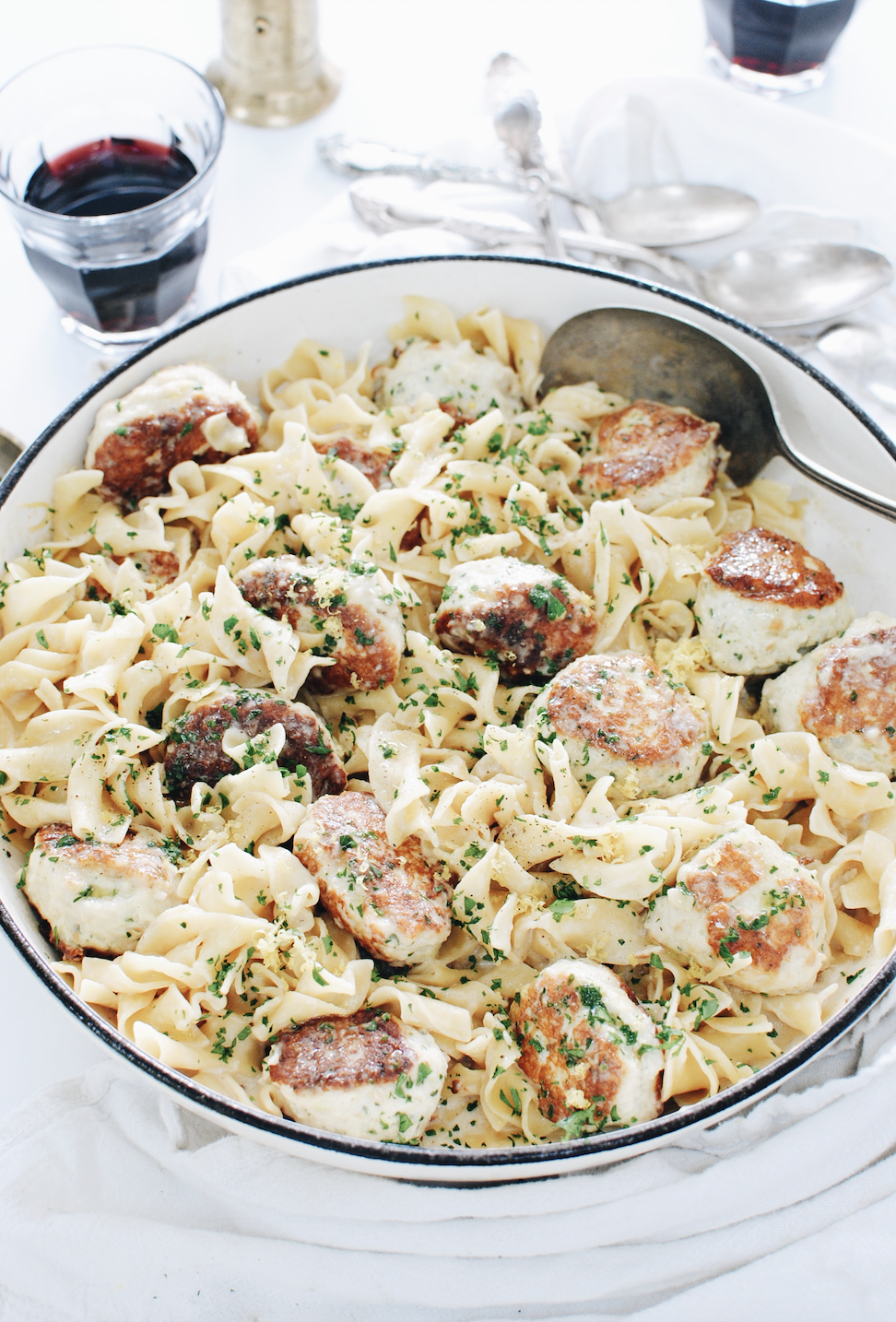 Serve it family style at the table or bowl it up beforehand. Whatever your vibe is.
The chicken meatballs are absolutely scrumptious. Garlicky, herby, cheesy. A fun twist on meatballs!
Like really, how can you NOT FEEL THIS.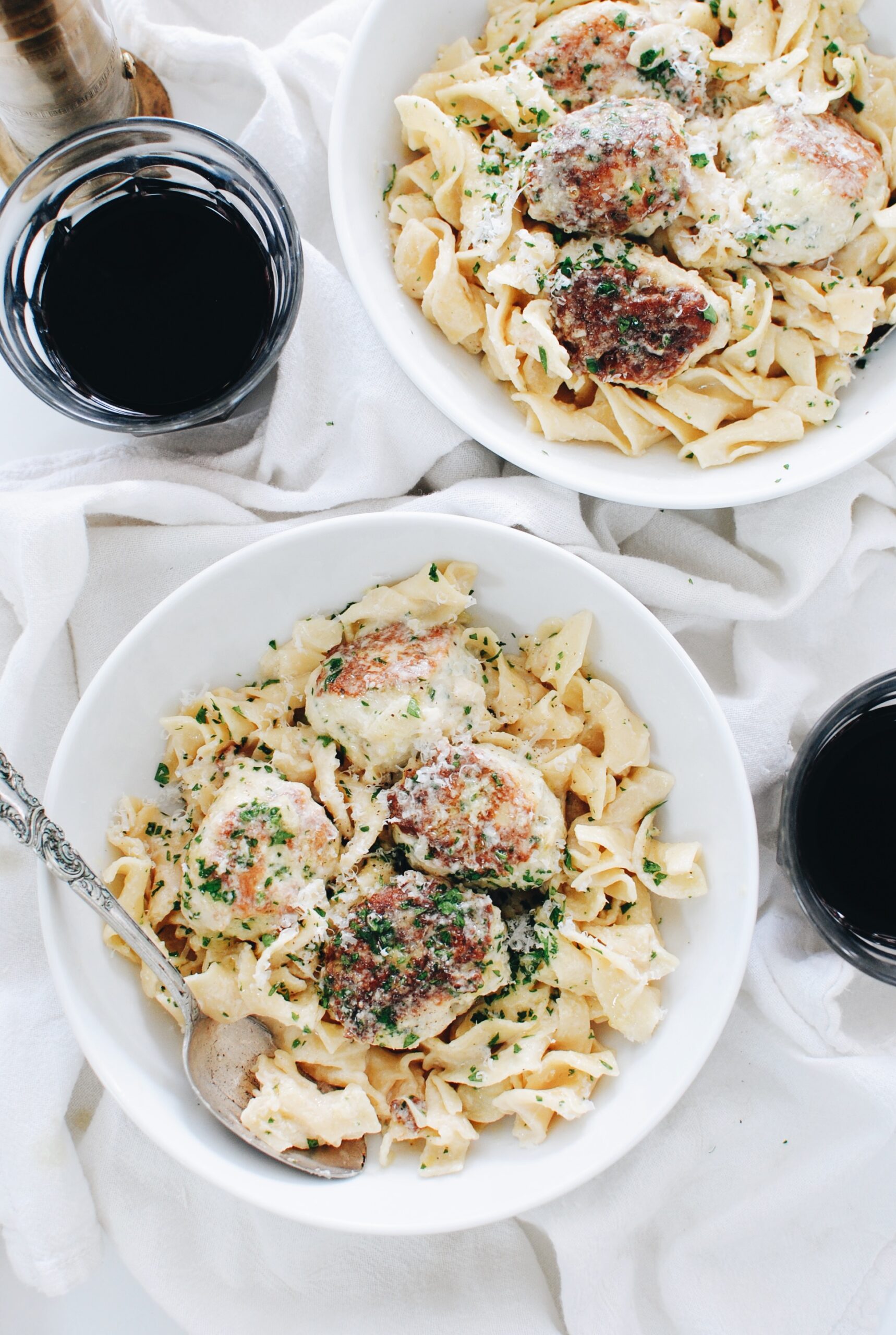 You may now faceplant.
Creamy Parmesan Chicken Meatballs with Pasta
Ingredients
1 pound ground chicken
1 cup freshly grated parmesan
1 cup fresh breadcrumbs (or panko)
1 1/2 cup milk, divided
1 egg
2-3 cloves garlic, minced
1/2 cup parsley, finely chopped
1 cup chicken stock
1 lemon
2 Tbs. flour
12 oz egg noodles
Coarse salt
Instructions
In a large bowl, combine the ground chicken, parmesan, breadcrumbs, 1/4 cup milk, egg, minced garlic and parsley, along with a good pinch of coarse salt. (I actually put the torn bread, garlic and parsley in a mini food processor to get it nice and minced, but do what's easiest for you!) Using your hands, form 1-2 inch meatballs and place them on a rimmed baking sheet. Chill these for at least two hours, if you can.
Bring a large pot of salted water to a boil. Add the egg noodles and cook about three minutes.
In the meantime, heat 2 Tbs. of extra virgin olive oil in a large skillet over medium high. Arrange the meatballs in the pan and sear for two minutes on one, flip and sear another two minutes. They won't be cooked all the way through, we just want a little color.
Add the remaining milk, chicken stock and two Tbs. flour. Gently stir the sauce and give it another pinch of salt. Simmer five minutes and add the lemon juice and cooked egg noodles. They might not be all the way al dente, but they'll finish up in the sauce. It's so good.
Garnish with extra chopped parsley and parmesan and serve immediately!
Serves 4.
7.8.1.2
556
https://bevcooks.com/2022/02/creamy-parmesan-chicken-meatballs-with-egg-noodles/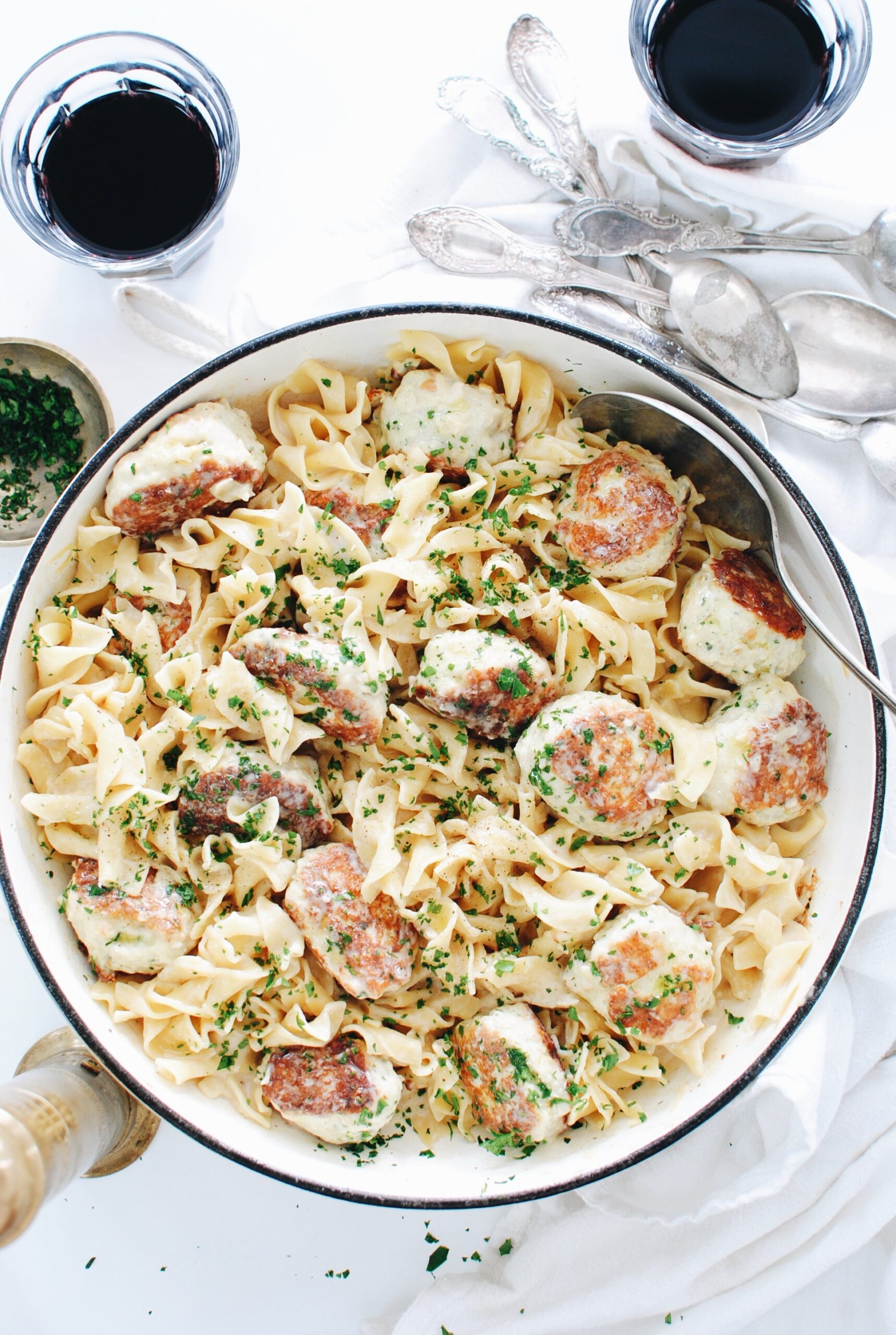 Or torso plant. Again, whatever your vibe is.