She fancy. (not)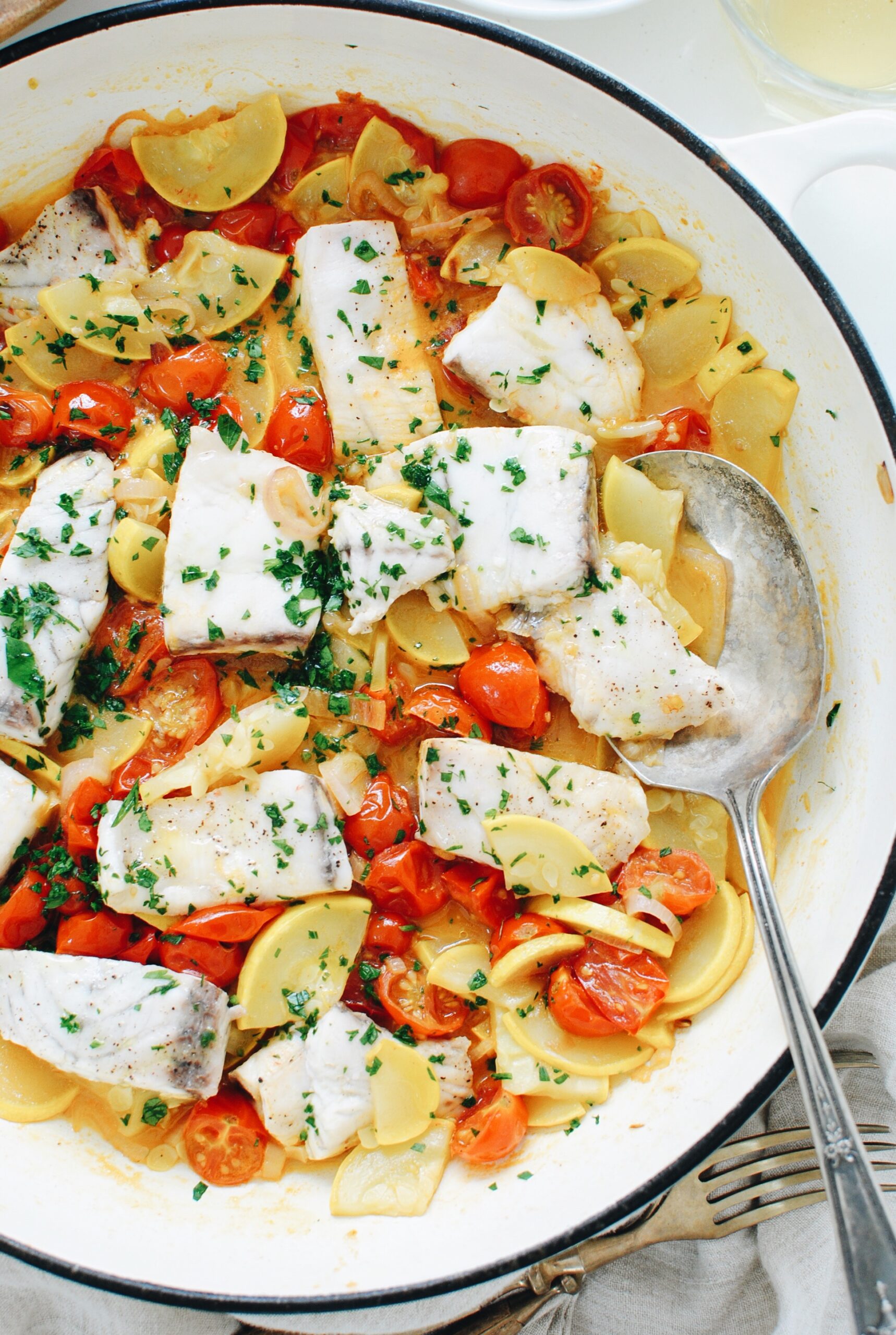 But it looks and sounds fancy, so we're going with it!
Also, it's painfully simple. WEEKNIGHT simple. Less-than-30 simple. Have I convinced you yet?
Maybe if I show you a photo of me picking cherry tomatoes out of our garden. Will that do it?
Let's see.
Hold on.
Here it is.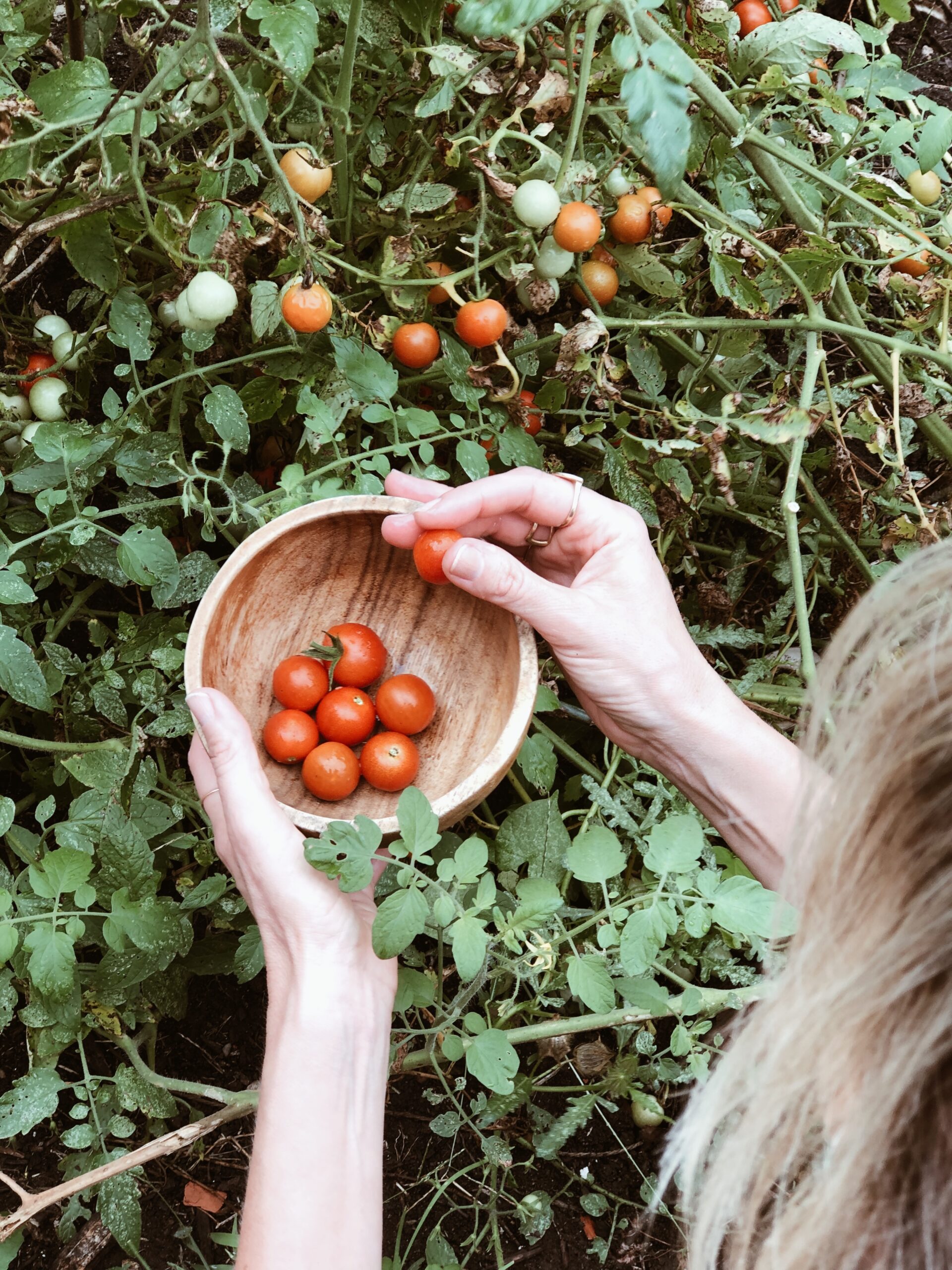 Eh?
Never mind.
Look how simple!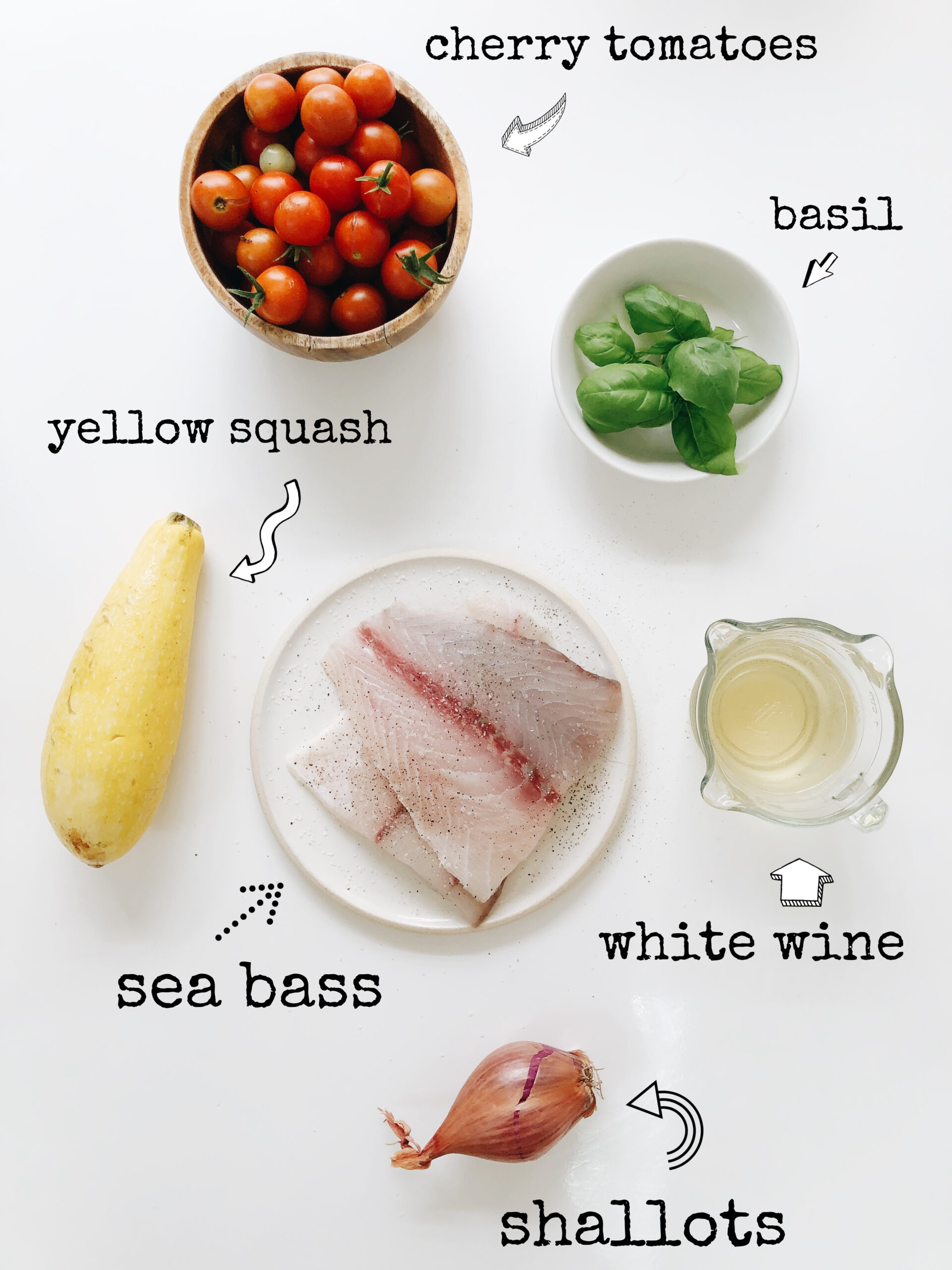 Look, you don't have to use sea bass. I've actually never seen it in our store, and my plan all along was some sort of white fish. Halibut, cod (but worms), even tilapia would be fine. But then I saw the sea bass and a wave of poshness washed over me so I violently grabbed the bag. Yes it was frozen, don't come @ me.
Onions work, if you don't like shallots. But dude, try to like a shallot. They're mild, lovely and oh, so delicious.
The wine – go dry, and buy something you'd drink. Don't evah evah EVAH buy cooking wine. Cardinal sin. Even if it's a cheaper wine, buy dry and something yummy. (not a chardonnay – go sauv blanc!)
And the yellow squash is perfect but a nice zucchini works!
See how simple?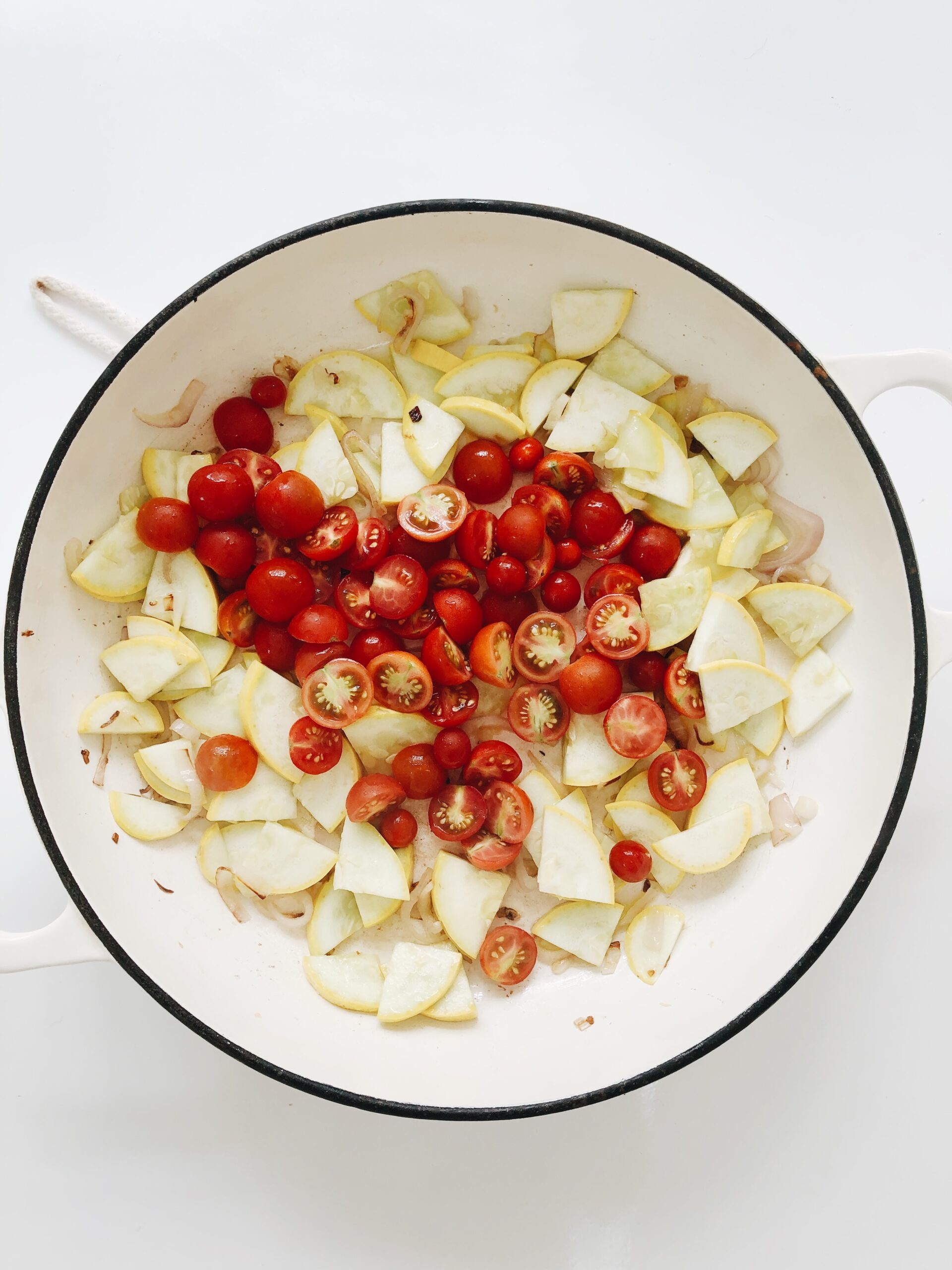 Let's start with sautéing our shallots. Just sliced up and in a glug or two of extra-virgin olive oil. If you want to take it over the top, add a pat of butter. 'Atta goil.
And then just throw in the halved tomatoes and sliced squash. We just want these to dance around the pan a couple of minutes and get to know each other before we simmer it all in wine.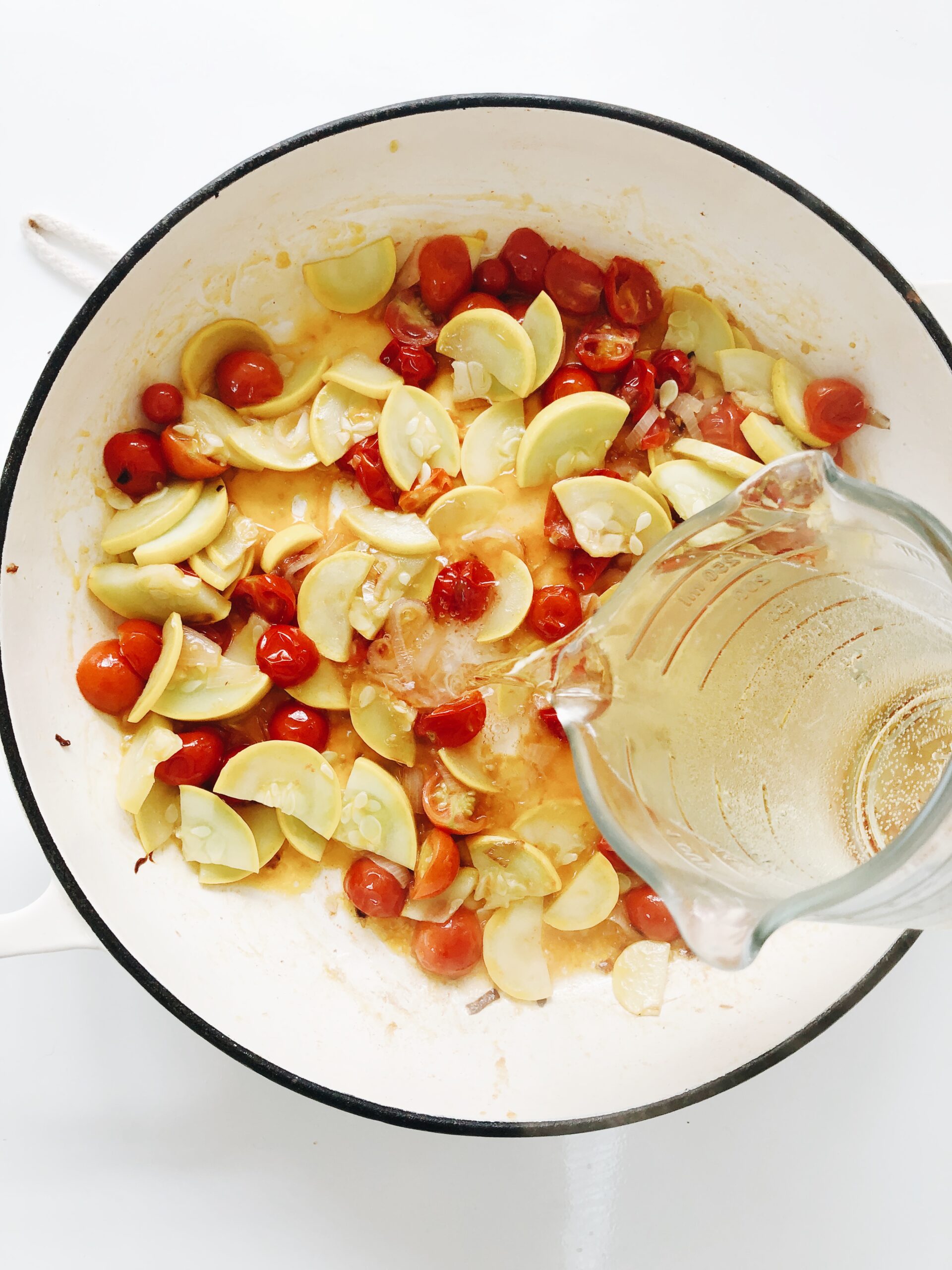 "Simmer it all in wine." A life motto? I think so.
Once you add the wine, throw that lid on and let this bubble and simmer 3-5 minutes. The veggies will soften even more and the flavors are already face-punch worthy.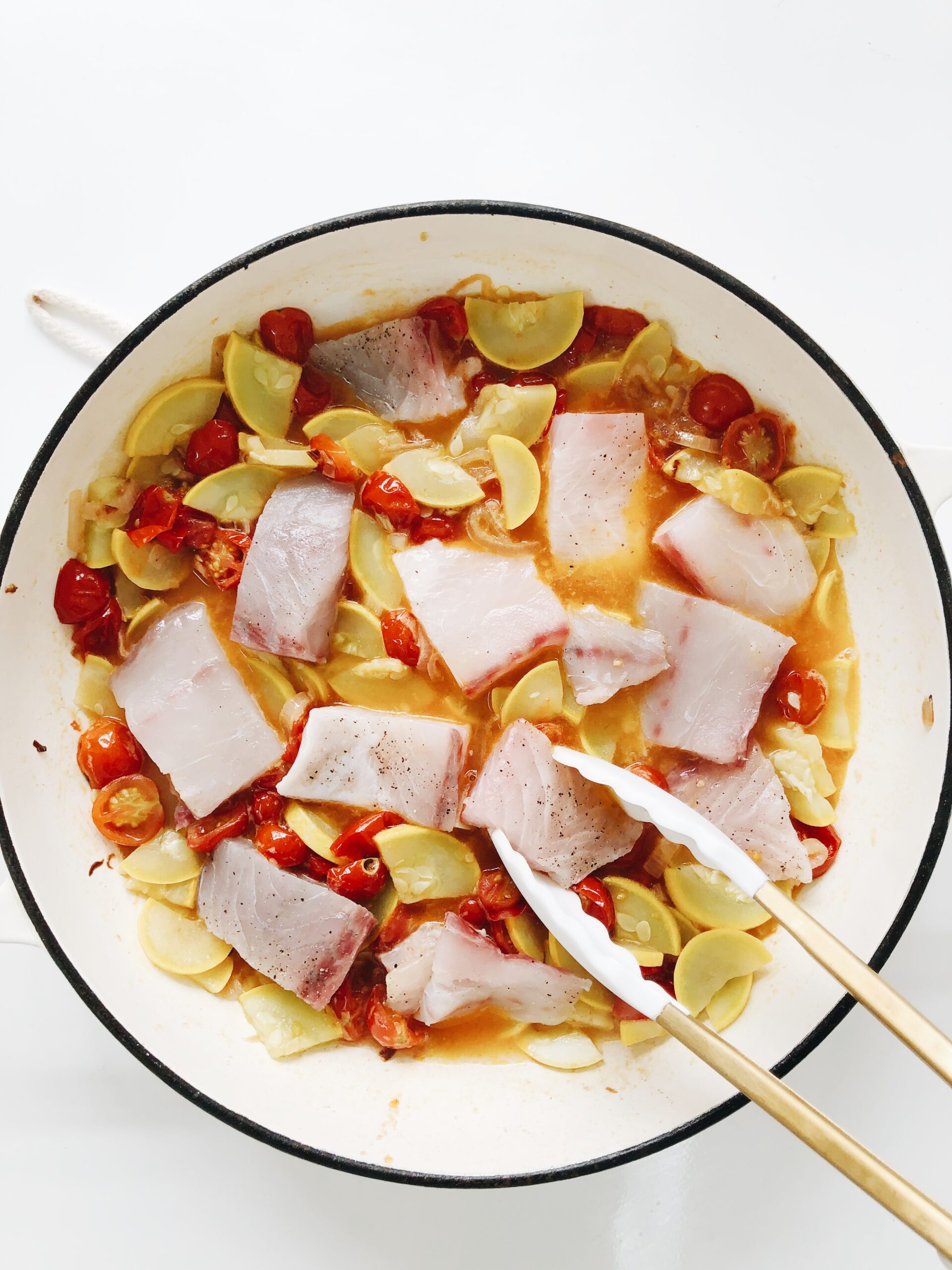 Theeeen we'll nestle our white fish in here and there, season with a little salt and peppa, throw the lid back on and simmer on a medium heat for five more minutes. This is when it all comes together, dawlin'.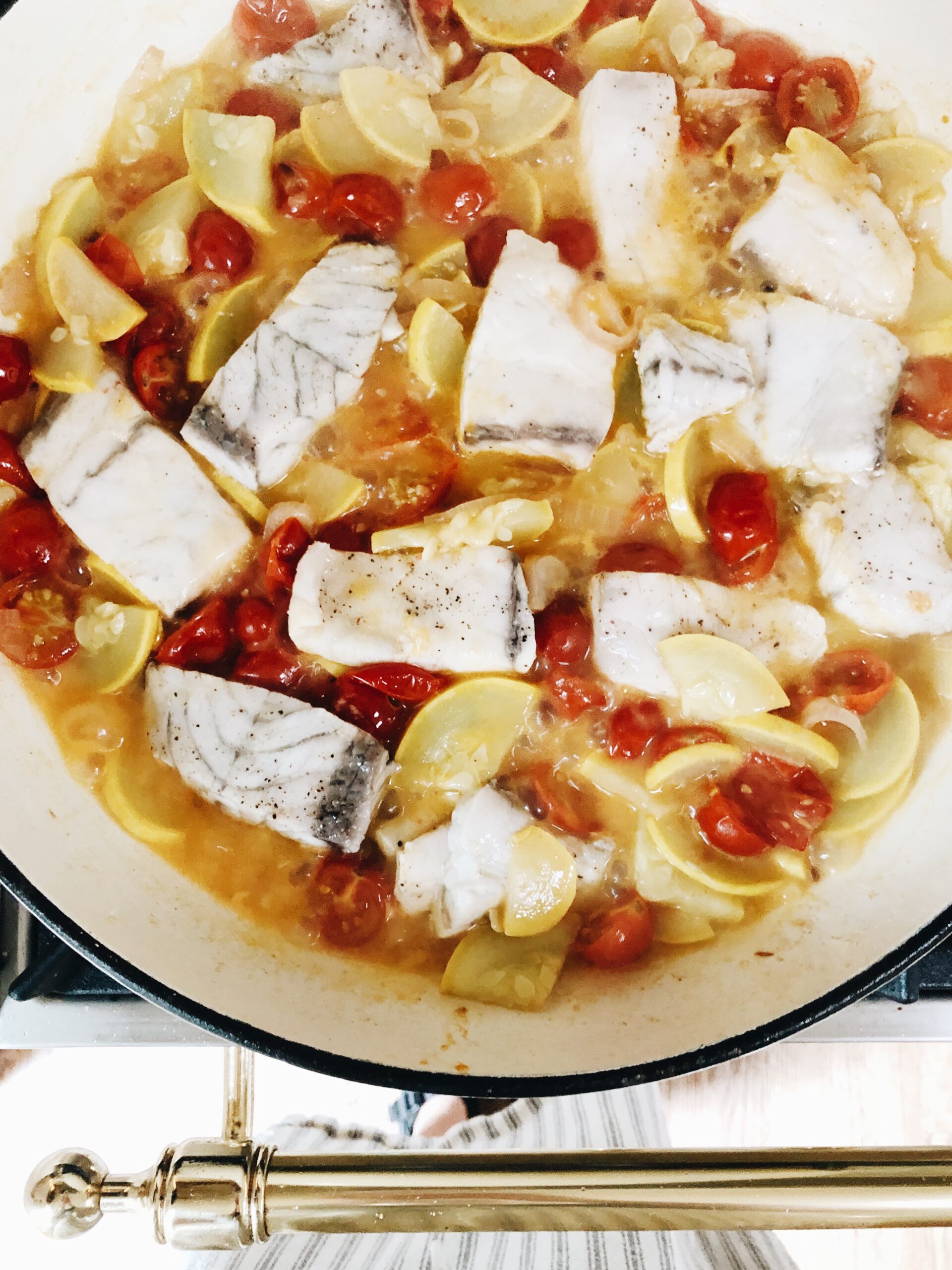 Bubble bubble. The fish gets flaky, the veggies have softened in that beautiful wine flavor, and we're about to inhale with all with toasted crusty bread.
OH! I forgot to tell you the whole inspo for this! We watched that show on HBO – Stanley Tucci: Searching for Italy and OH MY GAAAAAH. What a luscious and captivating show. He travels all over Italy and breaks down the food in the different regions. I learned so much! And this simple simple wine-braised fish wasn't a feature necessarily, but in the quick shots between this and that. And it stuck out and I was like OKAY we're making something like that. Watch the show. It will give you a serious case of wanderlust, on top of being undoubtedly hungry.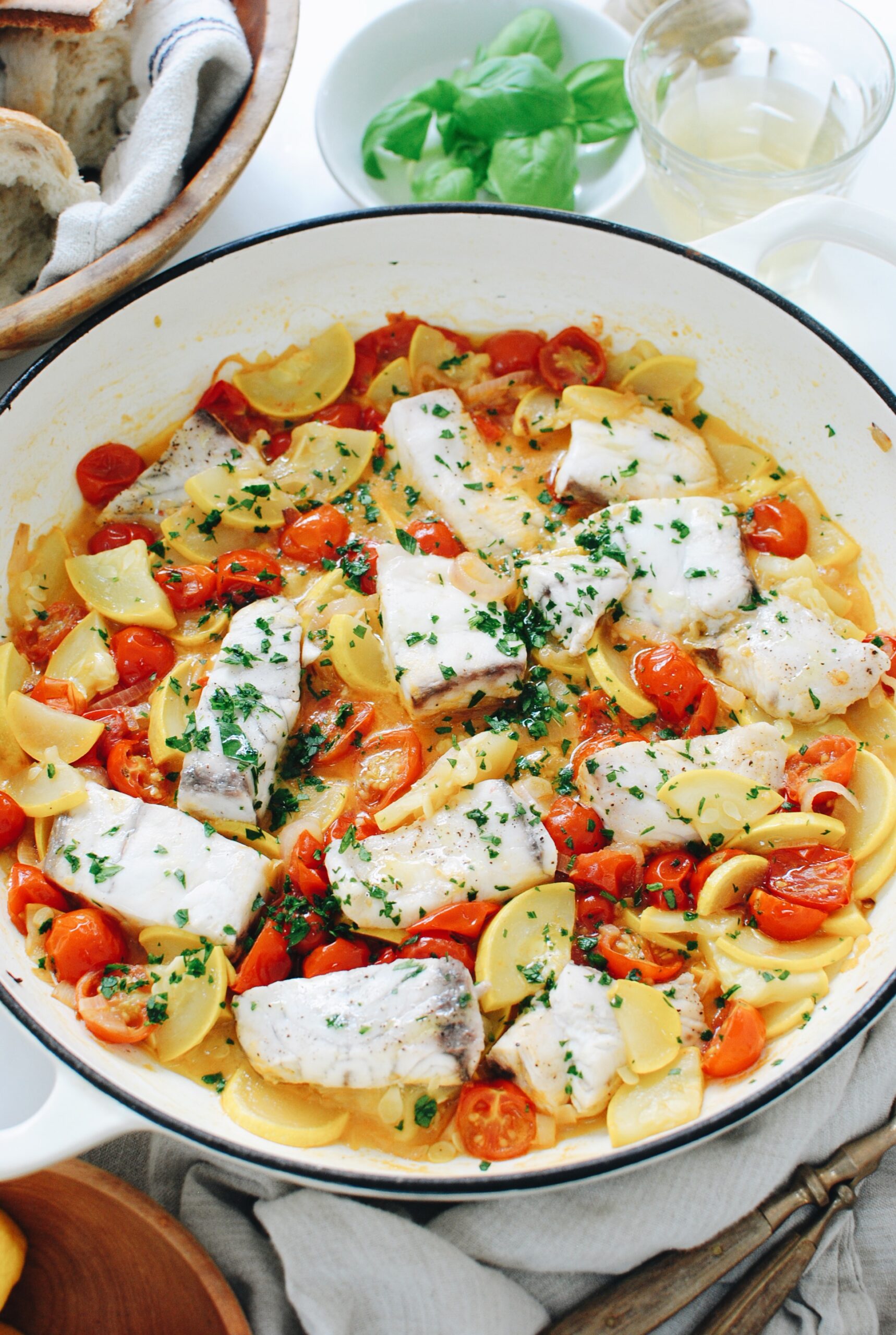 And that's it, really.
Really!
Sprinkle your chopped herbs on top. Squeeze with fresh lemon. Dunk your crusty bread in the wine juices. It is absolute heaven.
So rustic, but refined at the same time. So homey, but feels like something you'd order out.
And you can say "wine-braised fish" and you're automatically cooler.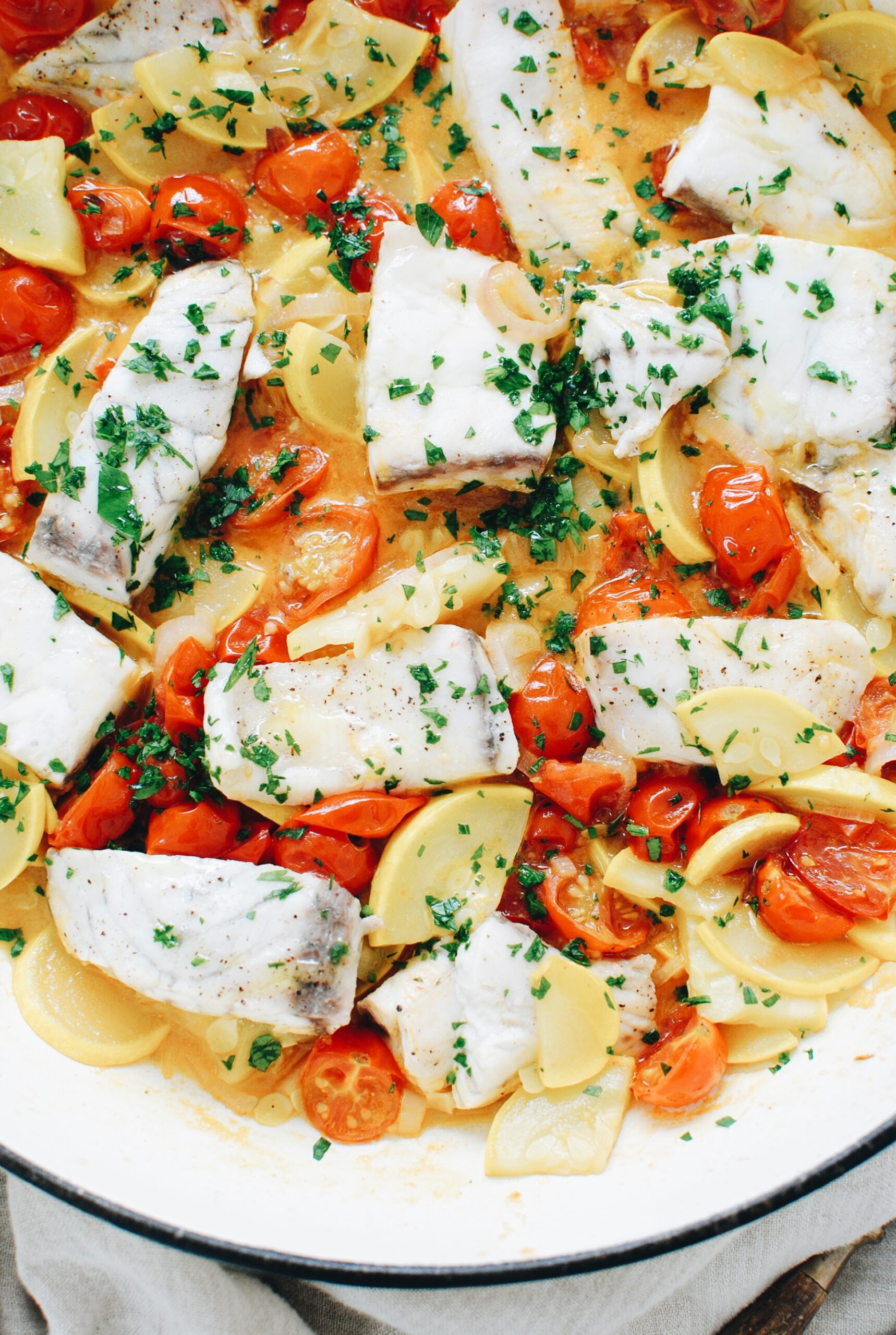 While the veggies are tender and have broken down in the sauce, they still hold up! The squash has that slight toothy bite that makes your heart sing.
The tomato acidity balances out the mild fish and will give you giddy pants.
The shallots add that aromatic undertone that makes the whole ding dang thing shine.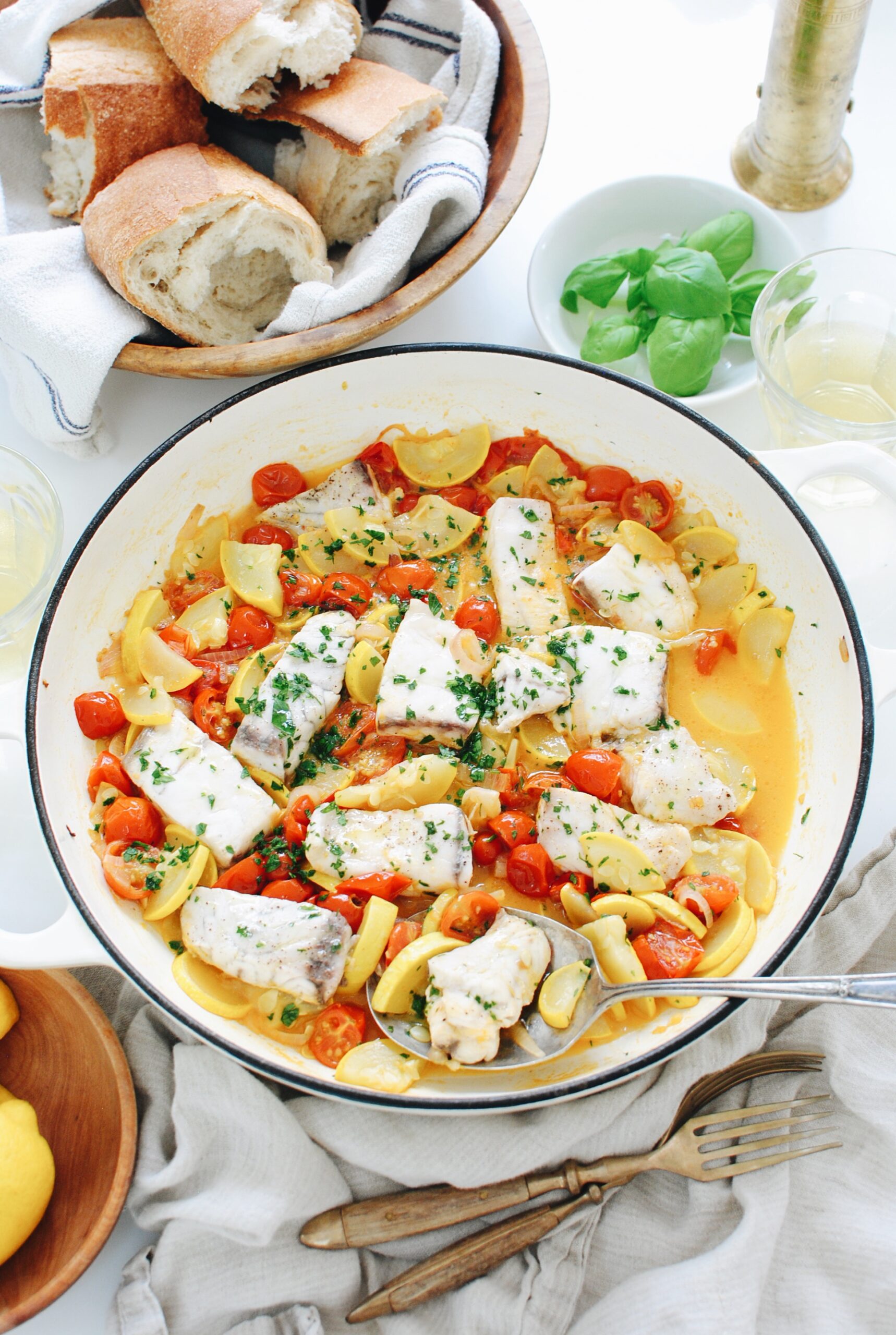 How could you NOT want to make this?
You can't.
You will.
And you'll be so happy.
This weekend?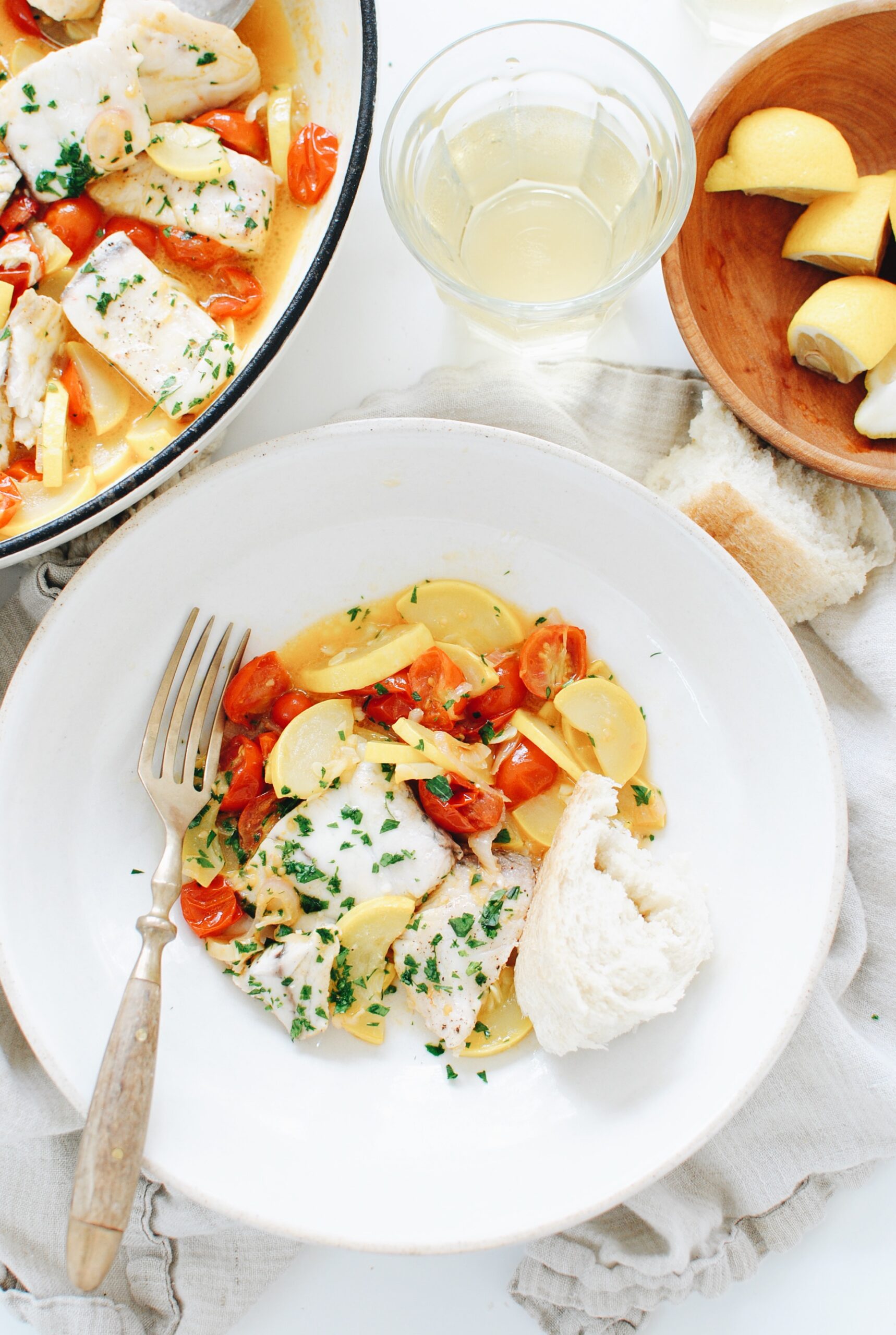 I think so.
Wine-Braised Sea Bass with Tomatoes and Squash
Ingredients
1-2 Tbs. extra-virgin olive oil, plus more to drizzle
1/3 cup sliced shallot
1 1/2 cup cherry tomatoes, halved
1 medium yellow squash, sliced and halved
3/4 cup dry white wine (a wine you would drink!)
2 (6 oz) fillets sea bass, cut into 2-inch chunks
1 lemon, for squirting
Basil or parsley, (minced) for garnish
Coarse salt
Crusty bread
Instructions
Heat the olive oil in a large skillet over medium high. Add the shallots and sauté about two minutes, until translucent. Add the squash and tomatoes, season with salt and sauté another five minutes, until the veggies start to soften.
Add the wine to the pan, cover and simmer for three minutes. Remove the lid, nestle the fish in with the veggies and wine and season with a pinch of salt. Put the lid back on and simmer on a medium heat for five minutes.
Off the heat, add the chopped herbs, a few squeezes of lemon juice, another pinch of salt if it needs, and a good drizzle of your best olive oil.
Serve with toasted crusty bread!
Serves 4.
7.8.1.2
521
https://bevcooks.com/2021/09/wine-braised-sea-bass-with-tomatoes-and-squash/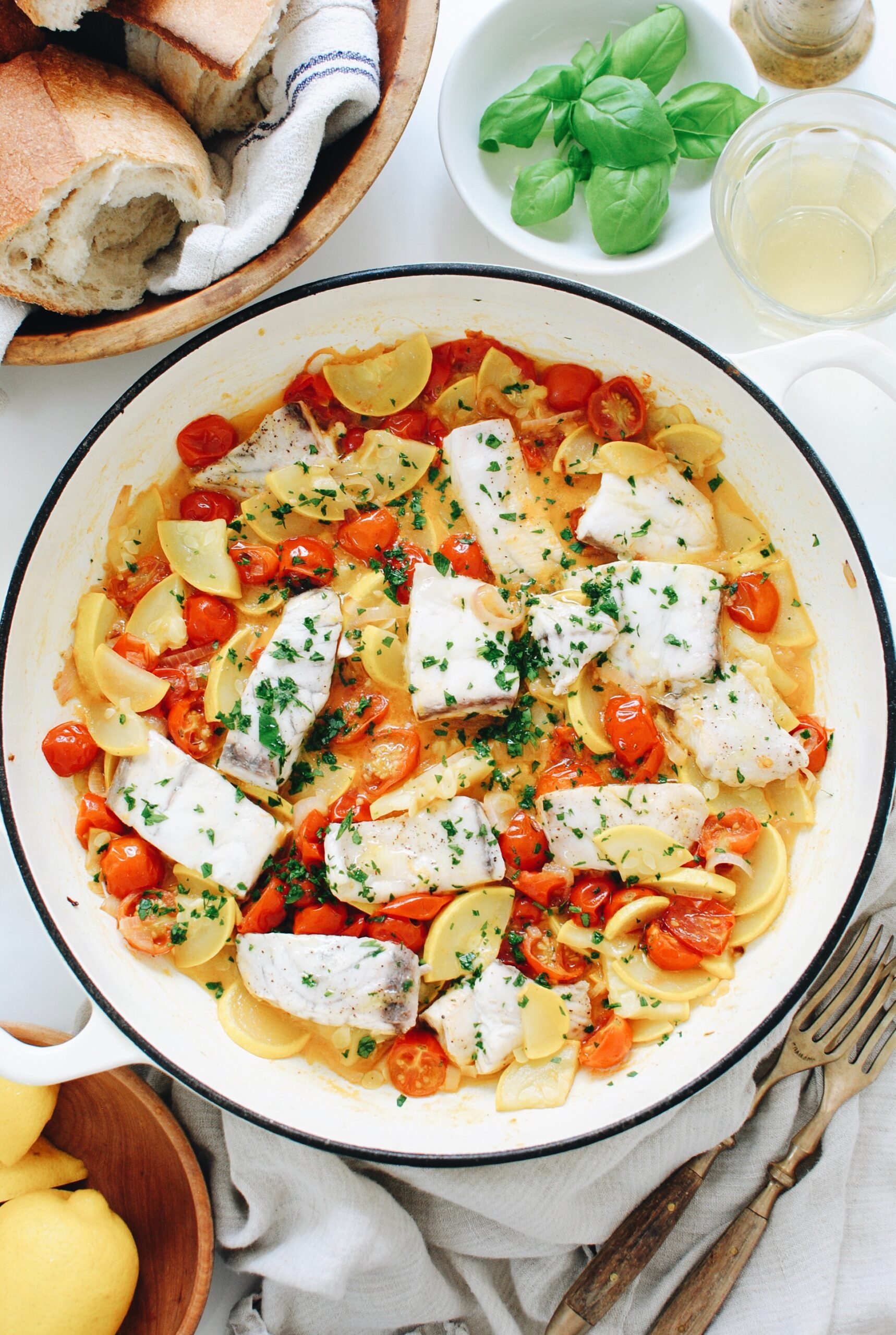 (Pro tip: serve with a soft cheese on the side and watch your life turn upside down.)