This gets real. This gets very real.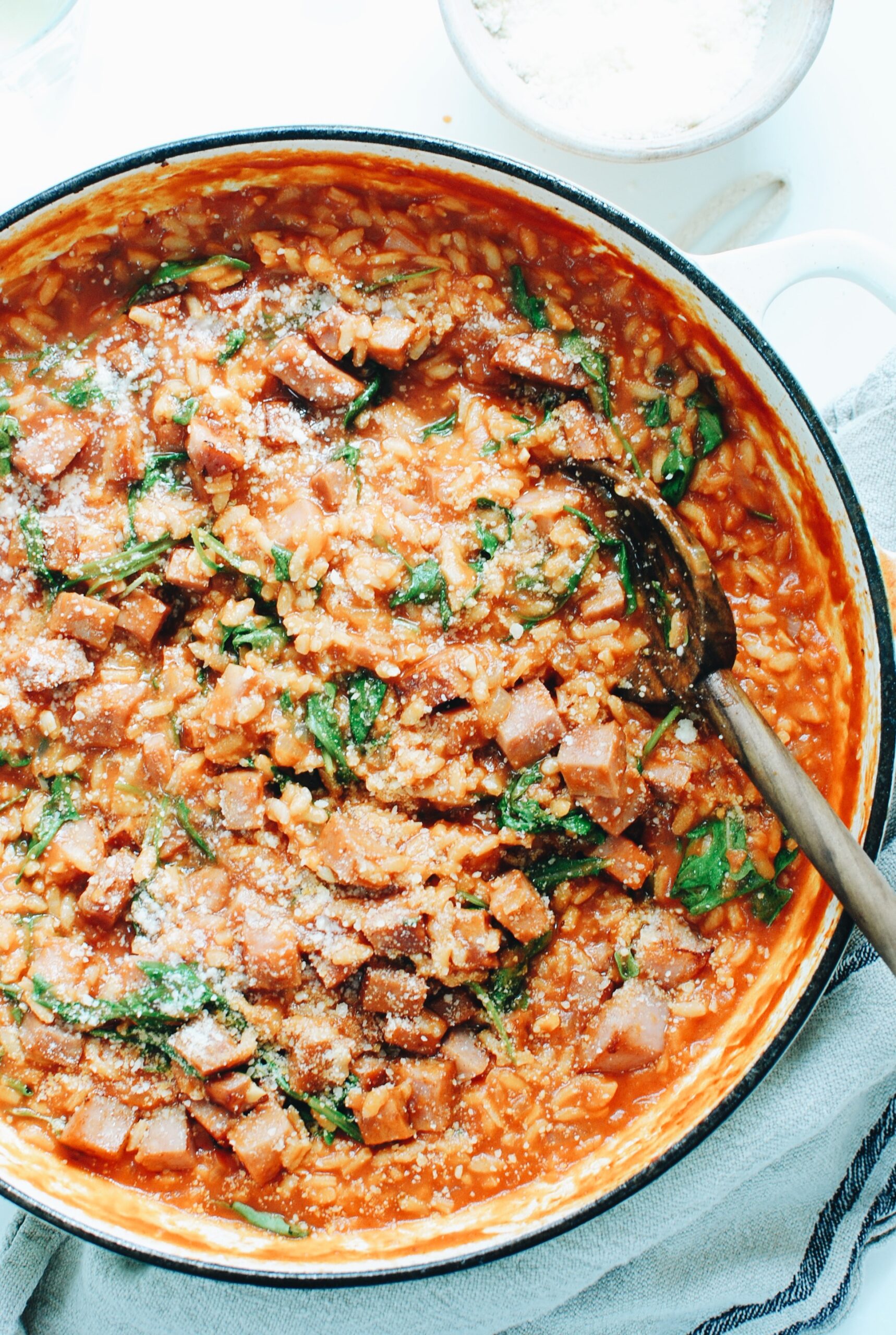 Next time you see thick cubed ham in a vacuum-packed thingy, get it. It's right next to the Canadian bacon. Because we're about to make the hardiest risotto ya ever did know.
But also we're sliding in velvety arugula so it's basically vegan! Just kidding. Don't come at me.
However, let us peepeth.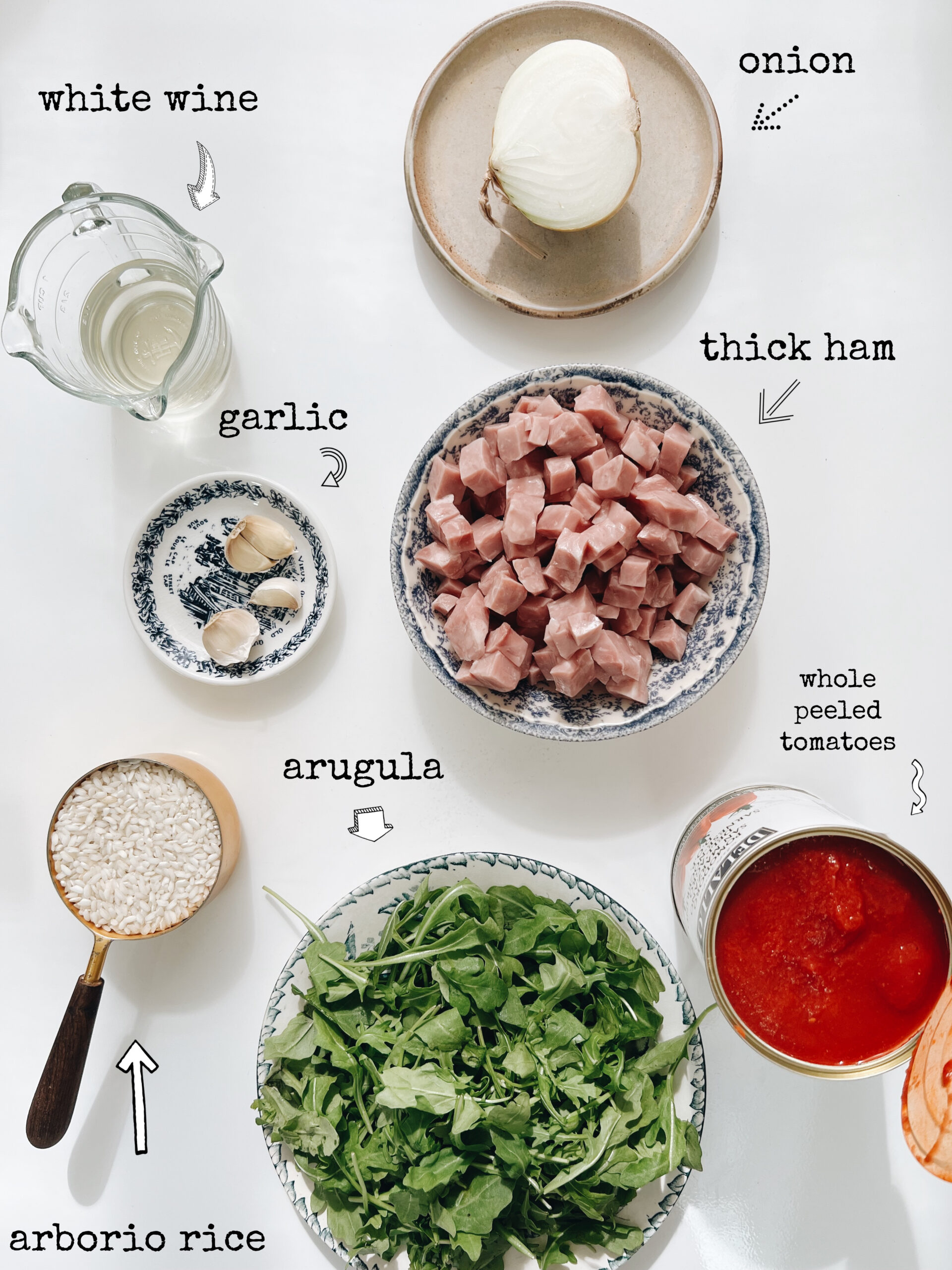 You know I love risotto, but this one has so much depth you just may scream. Everything is pretty standard, but the added thick ham just takes it all to an 11. (name that movie)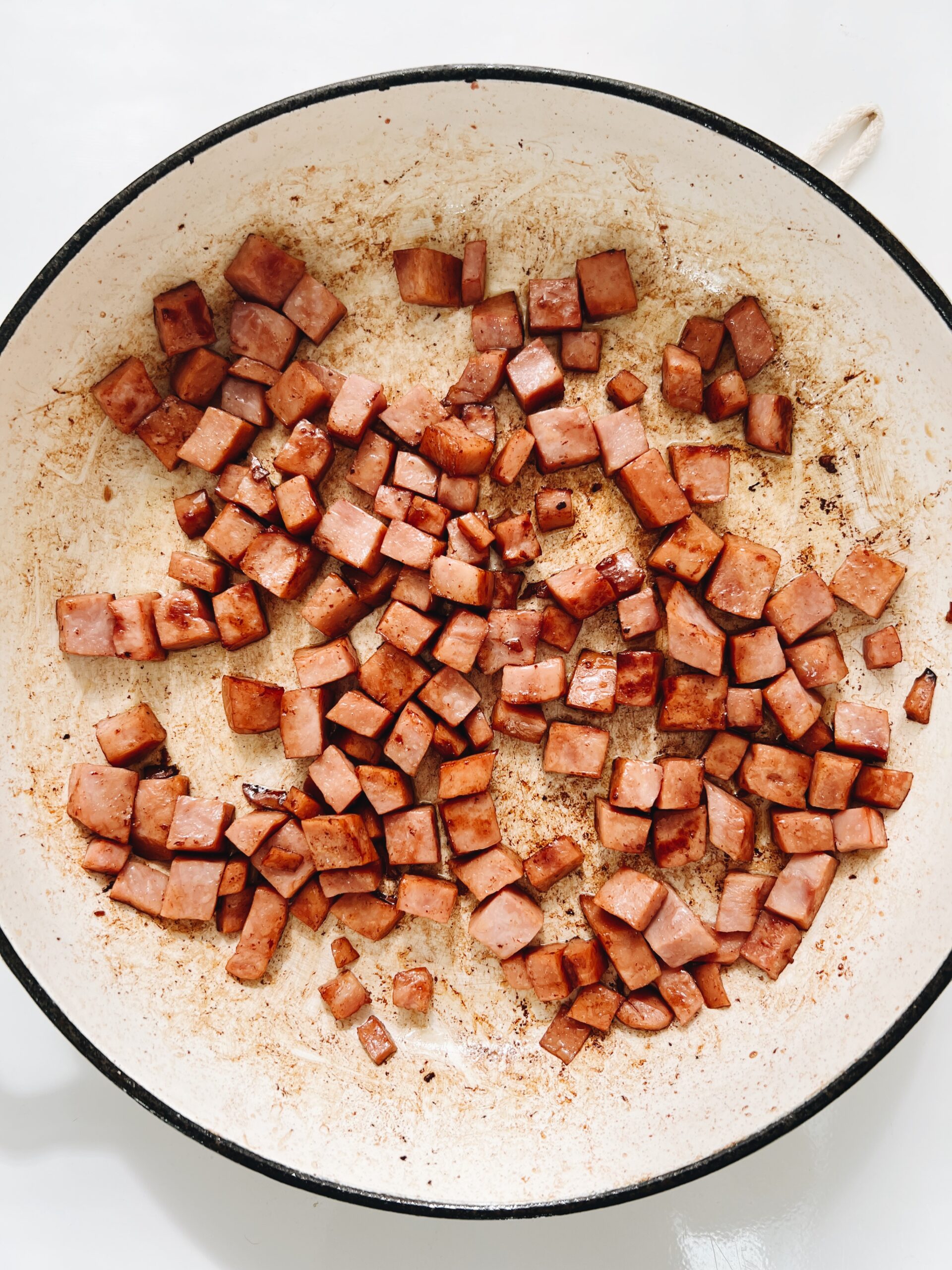 It's already cubed, so let's sear it. Both sides, all over, some good color. Just a few minutes. Get her done.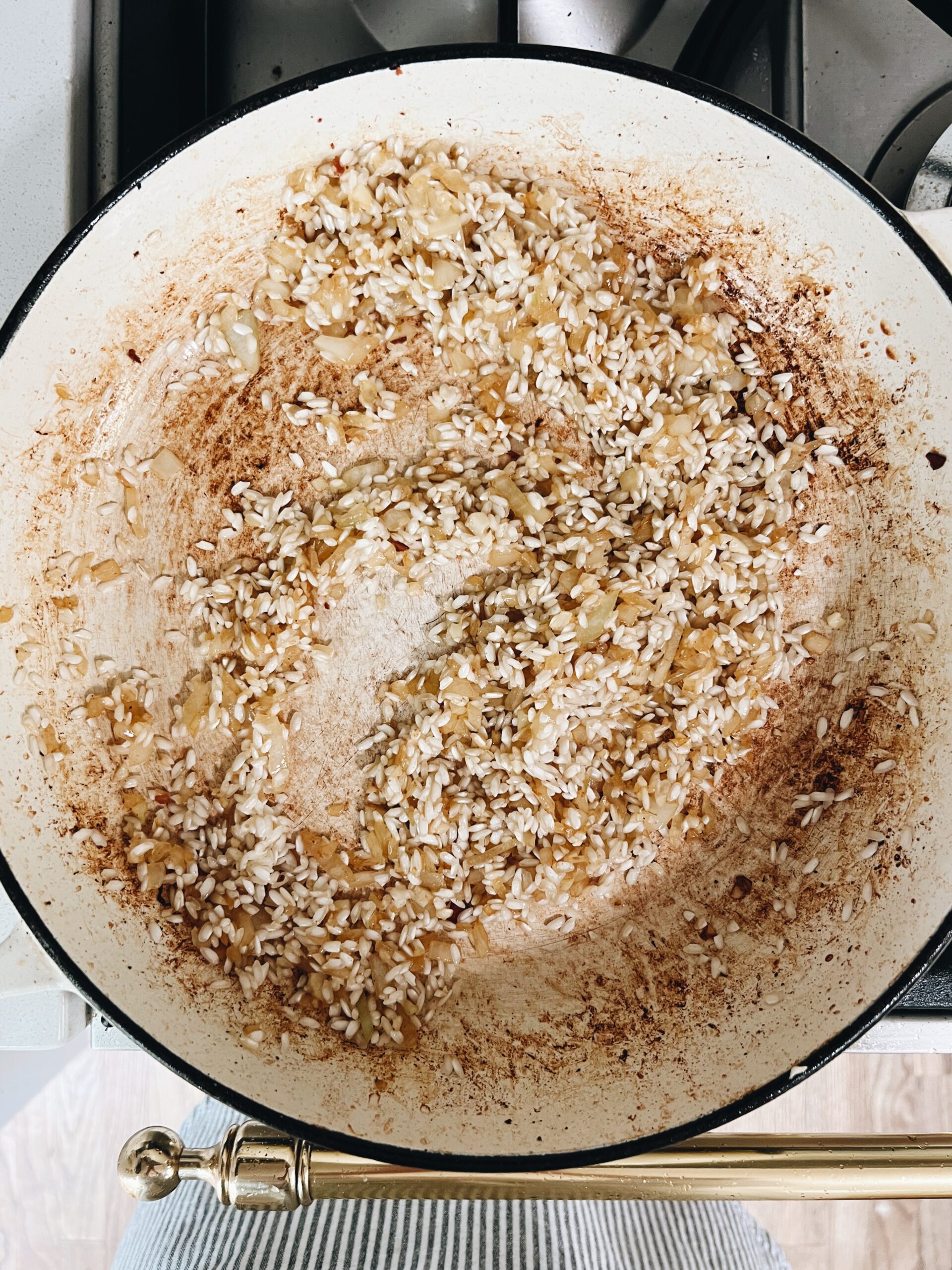 Next we'll do like any risotto (move the ham out!) and start with sautéed onions, garlic and Arborio rice. You'll get the aromatics nice and sautéed and the rice coated and toasted. Then add the wine! Let it bubble up and burn off. Takes just a few seconds.
I should also mention that if your tomatoes are whole-peeled, go ahead and whiz them in a food processor until smoooooth operator.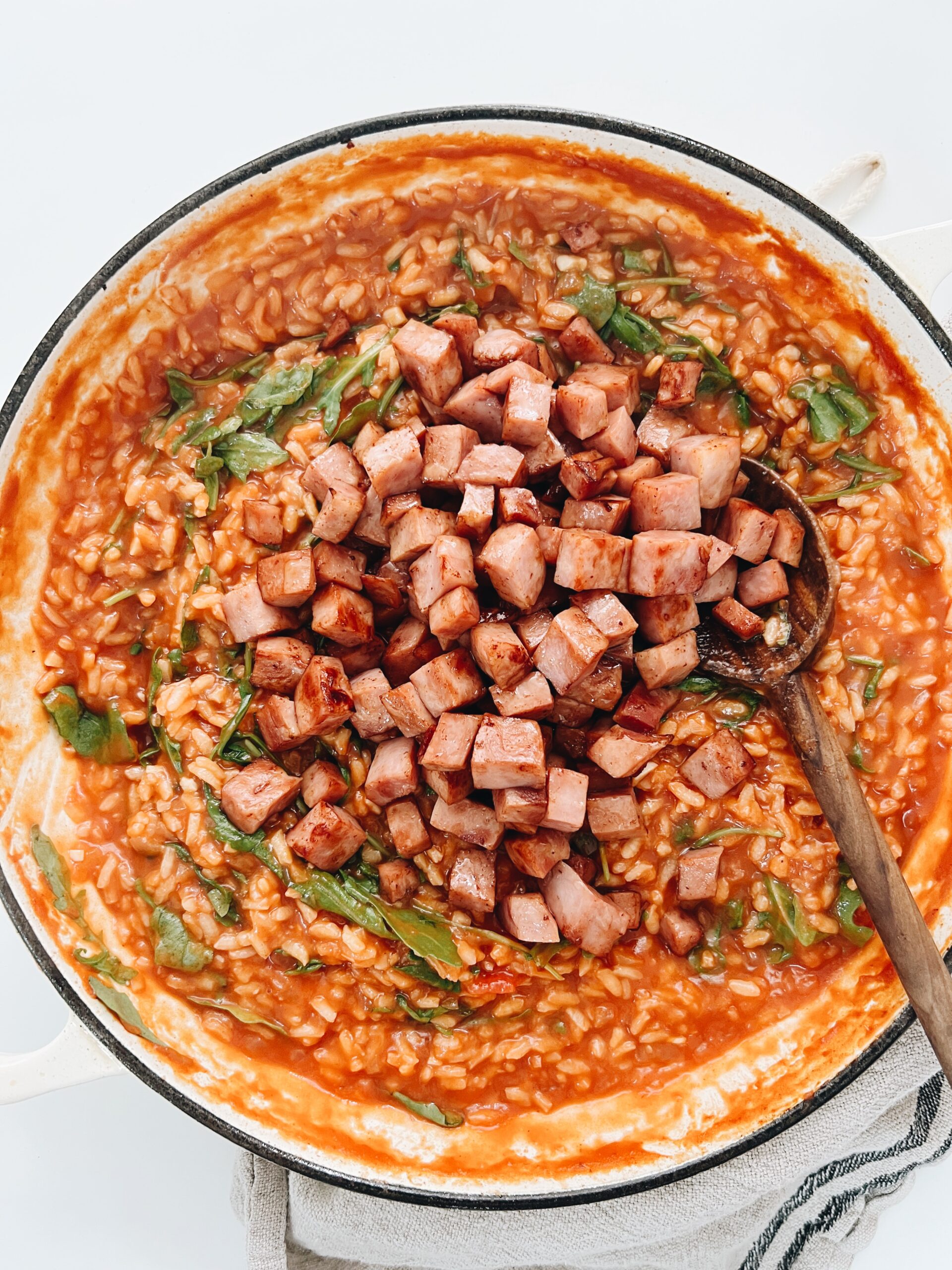 Okay, a lot of time has passed. And these two photos are out of order but I'm not changing them. You'll be ladling over the stock and tomato mix, a half cup at a time and stirring stirring stirring slowly until the rice has absorbed all the liquid. It takes about 30 minutes, so pony up with a book or catch up on a podcast. This is your time.
Then you'll add the arugula, let it wilt. Add the ham, stir it in. So so good.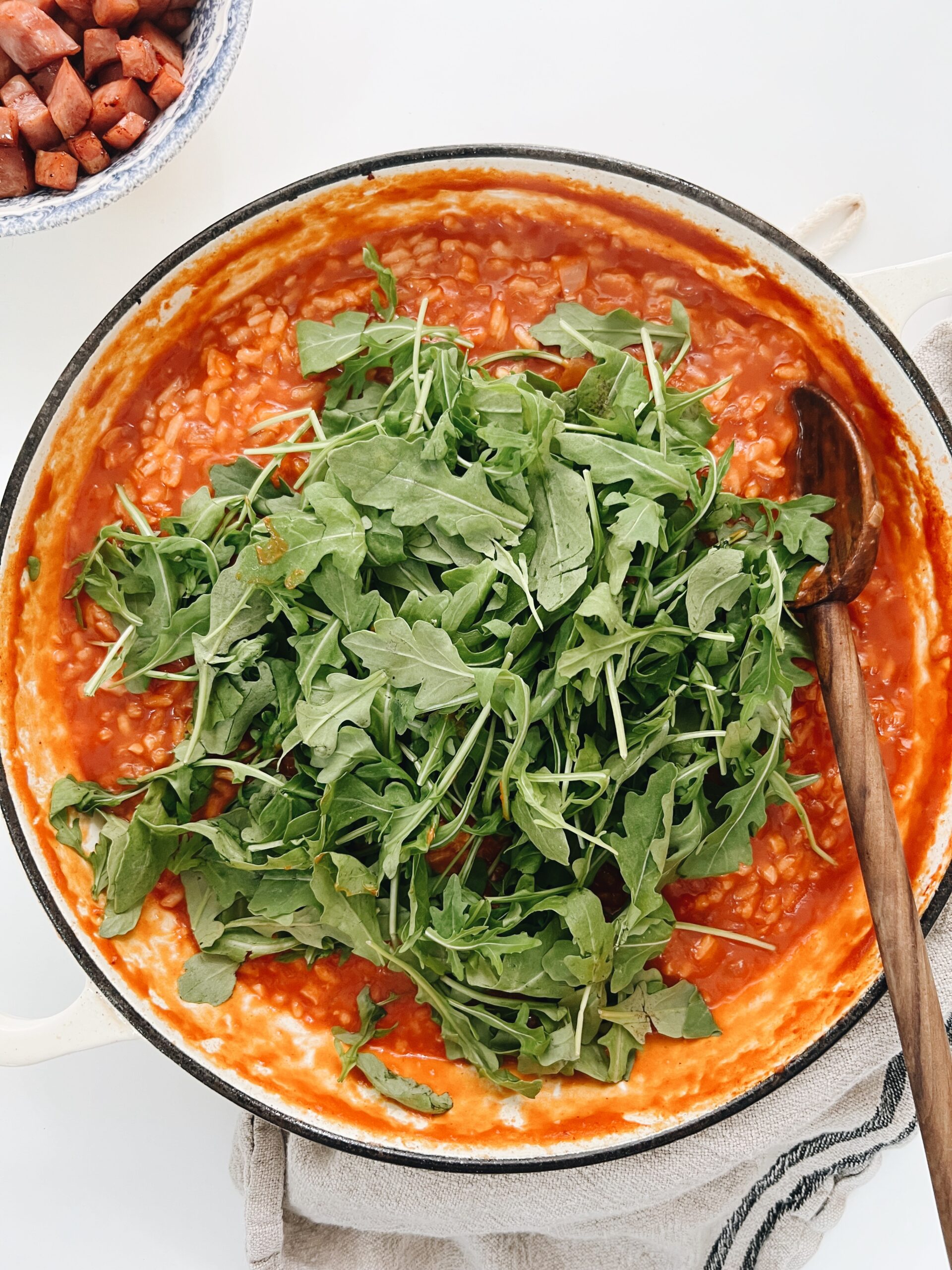 Here's the arugula photo. Told you I wasn't going to change it.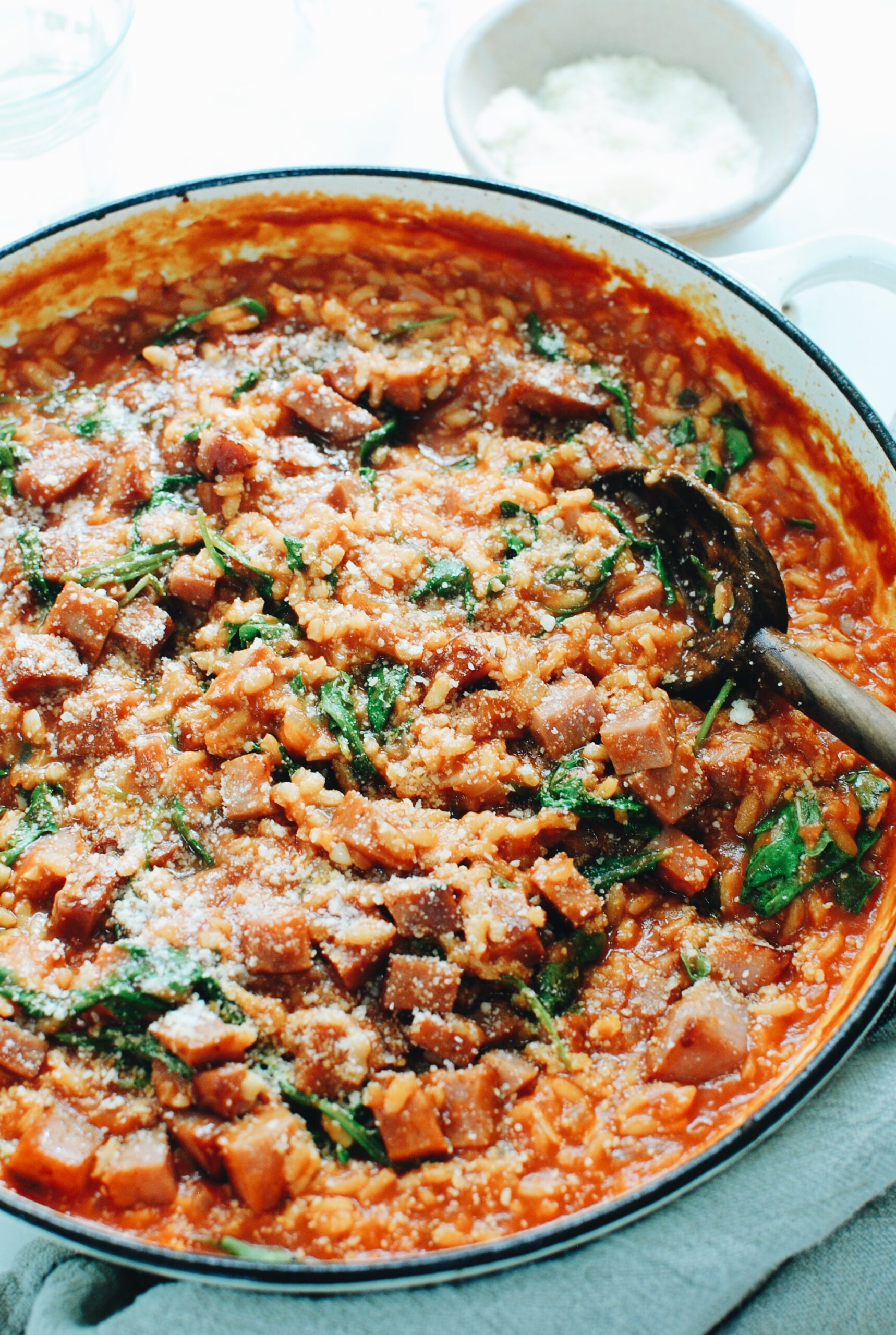 Uuuuuuugh, this is so flavorful and so hardy (hearty?) and so extremely comforting. The tomatoes are rich but vibrant. The ham adds that savory depth. The arugula adds a peppery quality. It's all just beyond exquisite for your mouths.
You cannot tell me you don't want to crawl right in.
And oh! Toss in a Tbs. or two of some butter right at the end. You've tasted and salted the whole, so it's all dialed. Look at you.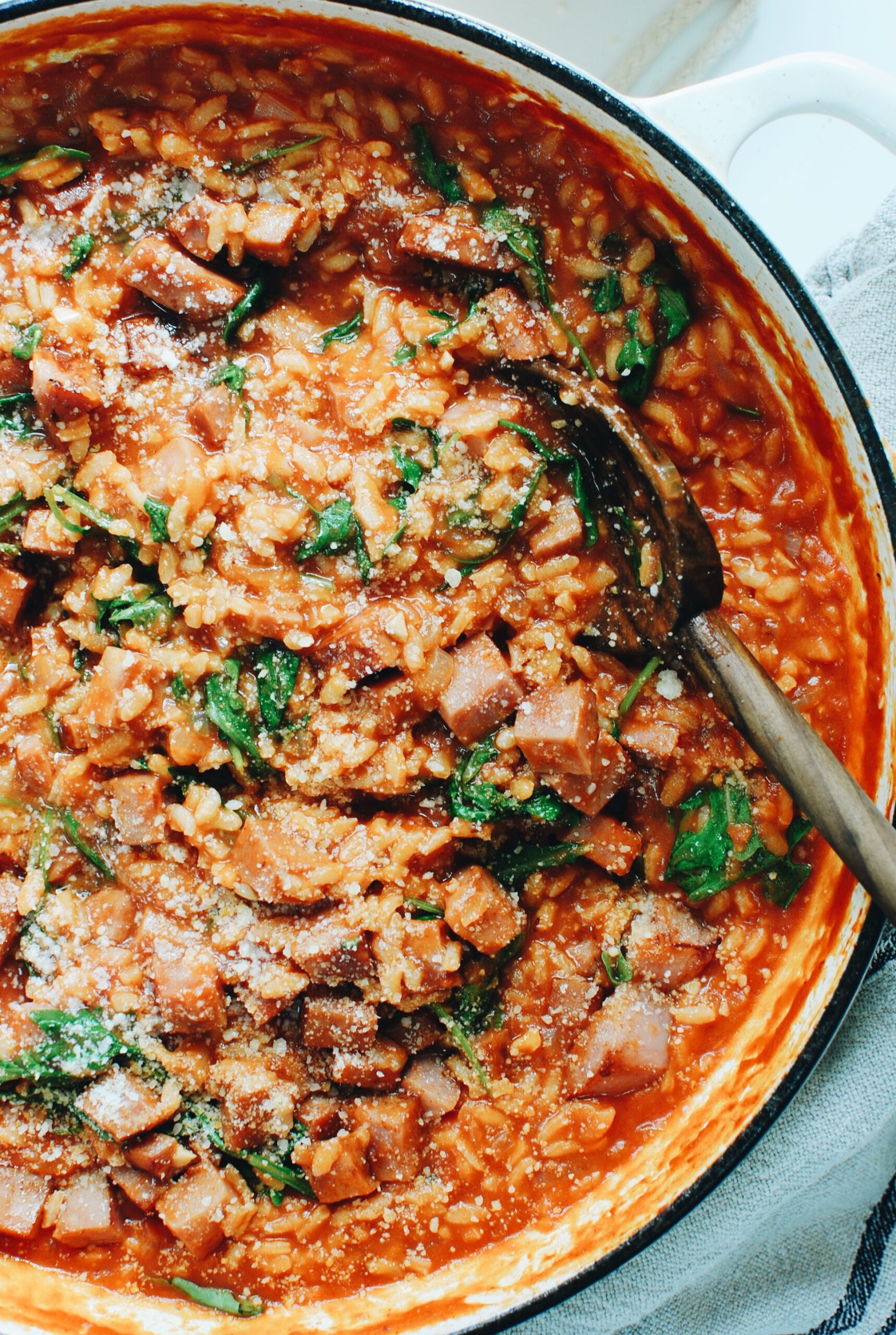 And of course tons of parmesan to garnish. This is what our souls need.
Easy enough for weeknights, refined enough for a small crowd.
You'll love it.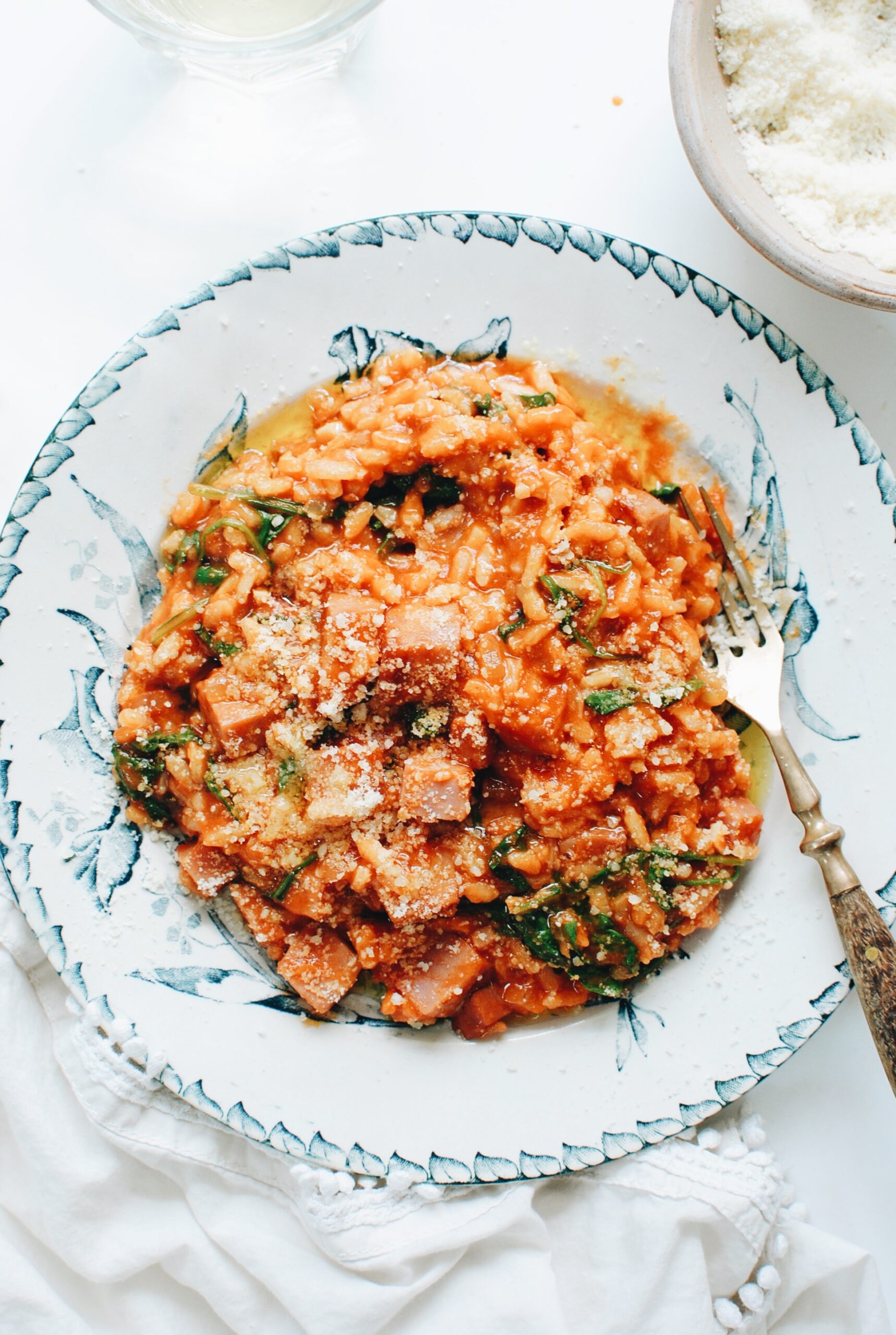 I meaaaaaaan.
Risotto with Tomatoes, Ham and Arugula
Ingredients
16 oz thick cubed ham
1/2 white onion, diced
4 cloves garlic, minced
3 Tbs. Extra-virgin olive oil
1 cup arborio rice
1/3 cup white wine
Quart chicken stock
28 oz whole peeled San Marzano tomatoes
4 cups arugula
2 Tbs. Butter
Parmesan to garnish
Coarse salt
Instructions
Pulse the whole-peeled tomatoes in a food processor until smooth. Pour them into a medium soup pot and add the chicken stock to combine. Simmer this on a low heat, we'll need it in a bit!
Heat 2 Tbs. Extra-virgin olive oil in a wide skillet over a medium-high heat. Add the cubed ham and sear on all sides until nice and charred, about five minutes. Transfer to a plate.
To the skillet, add another drizzle of oil and the diced white onion. Sauté the onions for a few minutes with a pinch of salt, until they start to sweat and take on a little color. Add the minced garlic and sauté another 30 seconds, until wildly fragrant. Add the cup of arborio rice to the skillet and toast with the onions and garlic for less than a minute, to fully coat. Add the white wine and let it bubble up. Give it all another pinch of salt.
At this point, we're going to ladle the tomatoes and stock into the rice over the course of 20-30 minutes, a half cup at a time, letting the rice slowly absorb the liquid. You may not use all the liquid, but it's there if we need it. After about 20 minutes of slowly stirring, the rice should be plump and tender. Go another five to ten if not. Just ladle in, let it get creamy and good. Off the heat add the butter and stir it in. Add the arugula to wilt, and ham to complete it all. Stir it all to coat. Give it a taste. Need another pinch of salt? Get on it.
Garnish with plenty of parmesan cheese and serve immediately!
Serves 4.
7.8.1.2
611
https://bevcooks.com/2022/11/risotto-with-tomatoes-ham-and-arugula/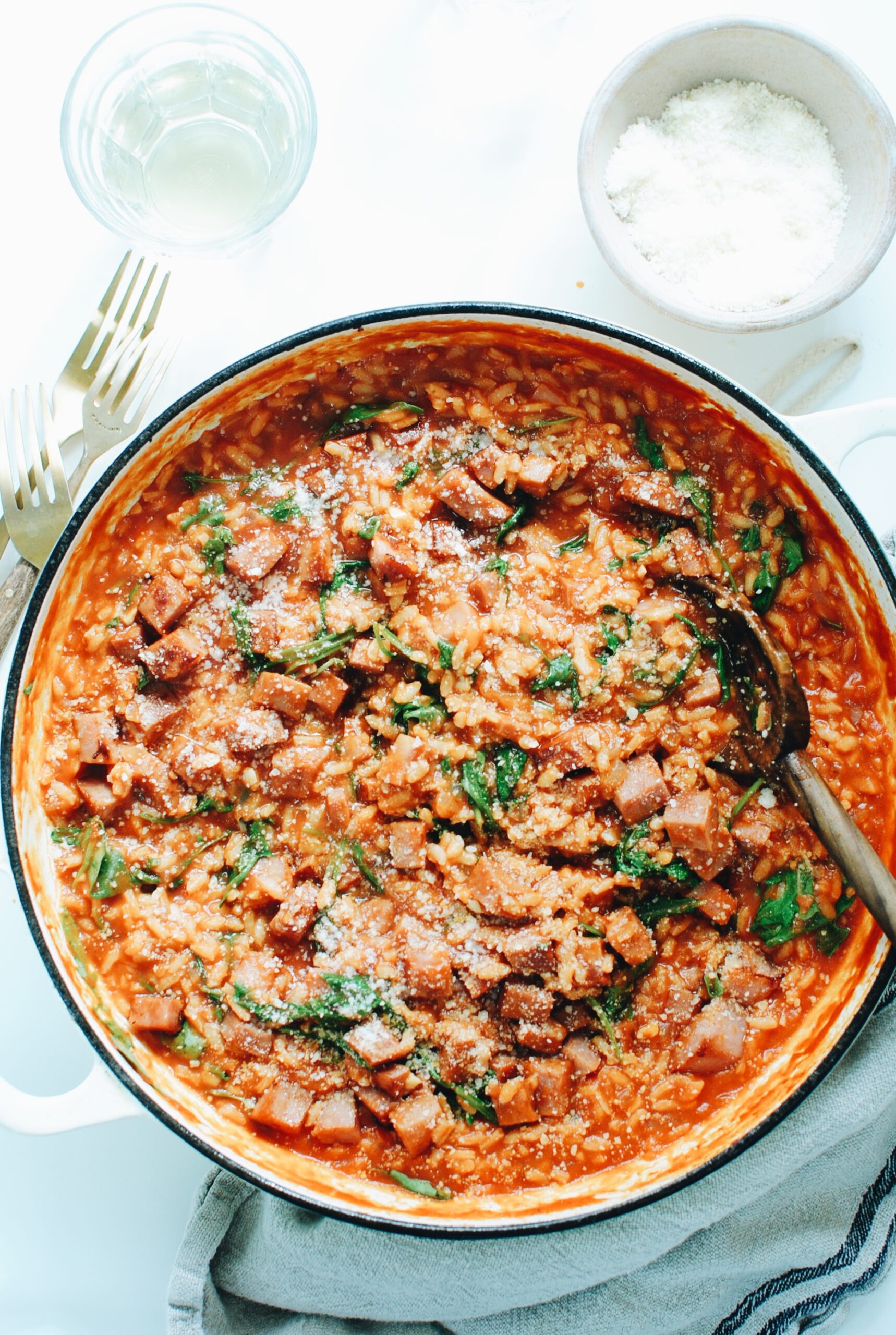 This weekend calleth.