It's all the good things, really.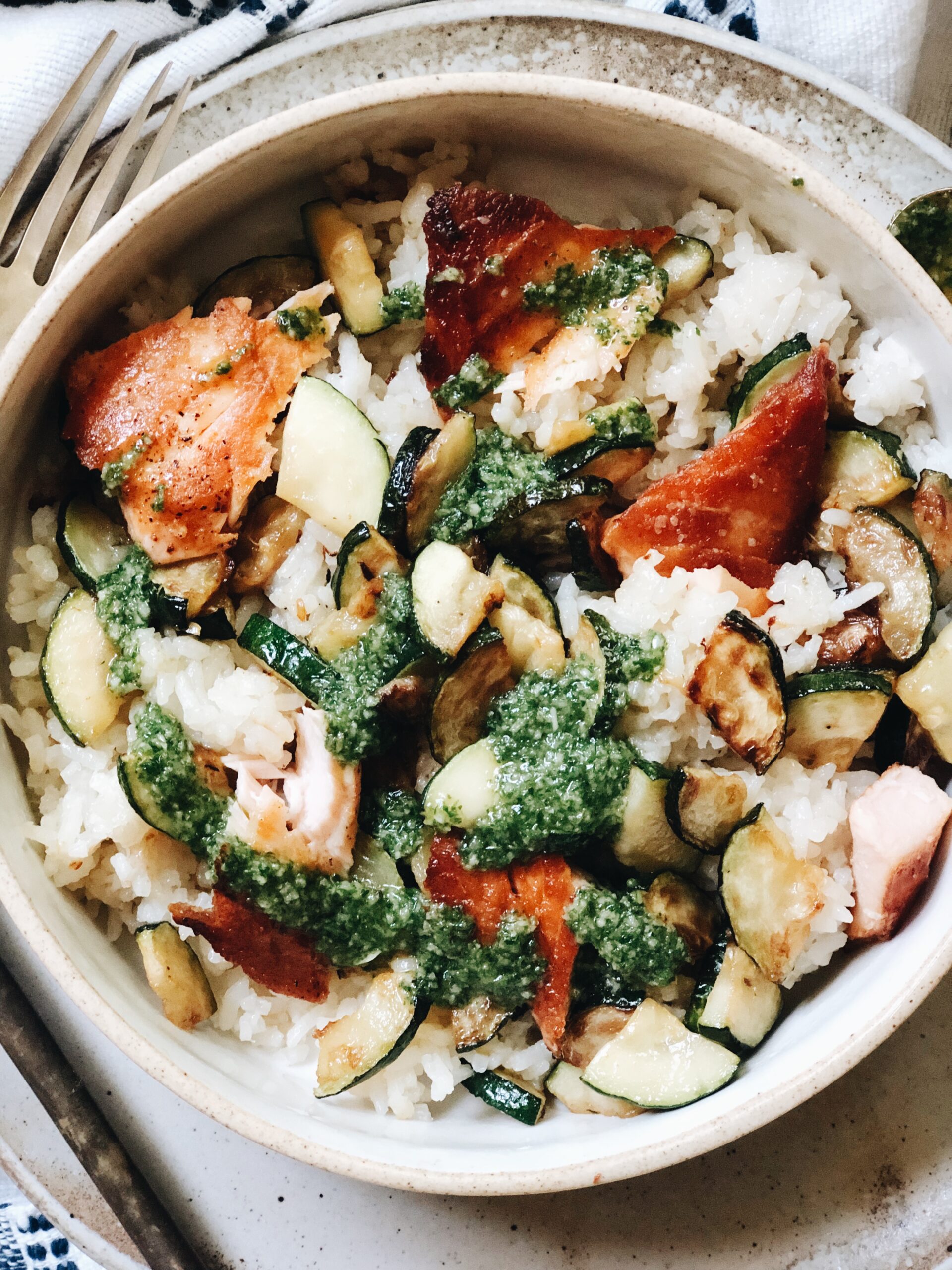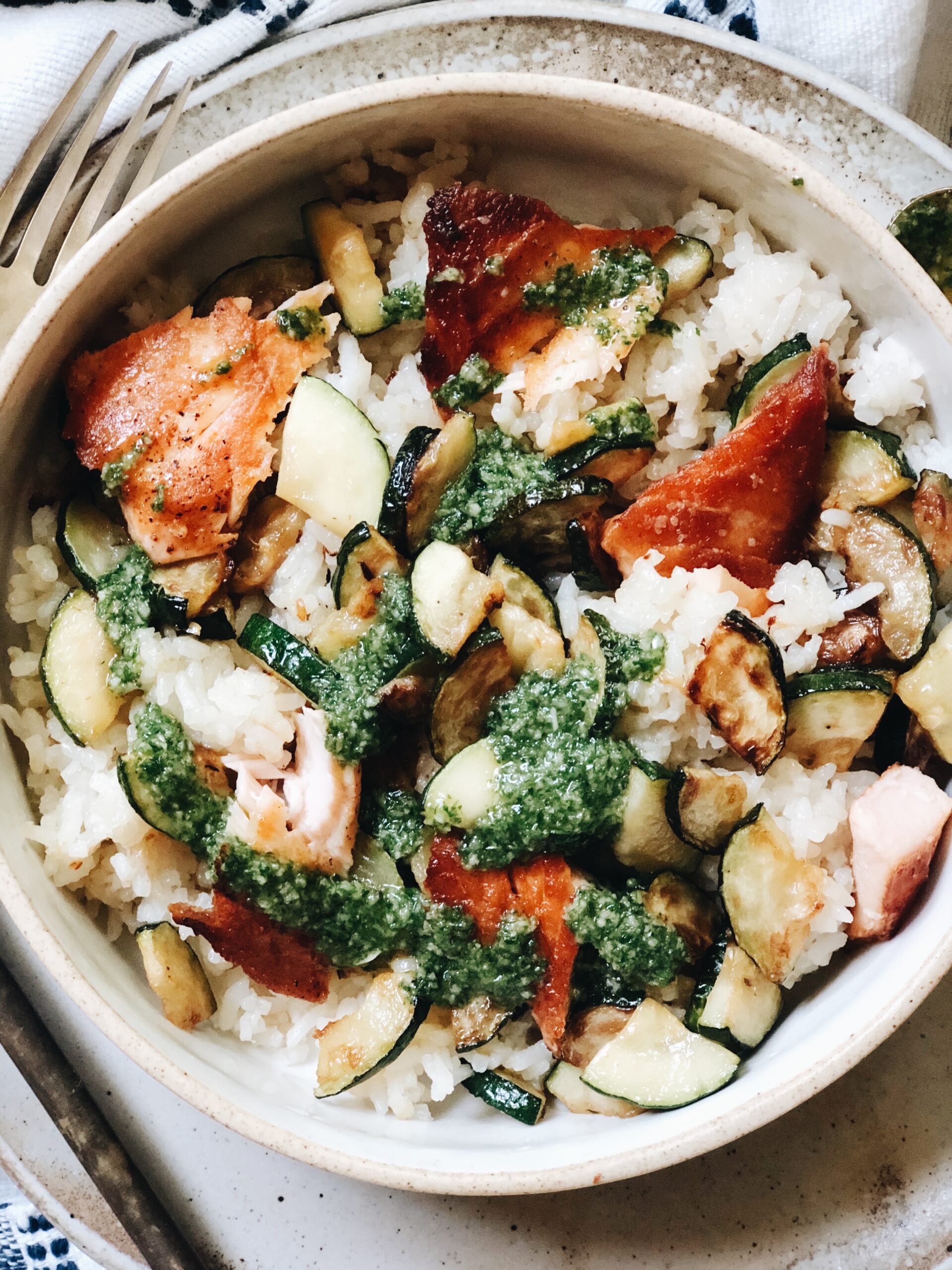 Have I told you about my favorite way to make rice? I WANT to say I have. I know I've shown you the method during a Food Network video at one point, but I can't remember if I have in here.
WAIT, I have! Well, I'm doing it again. But this time it's slightly different. Just like my hair.
Let us peepeth.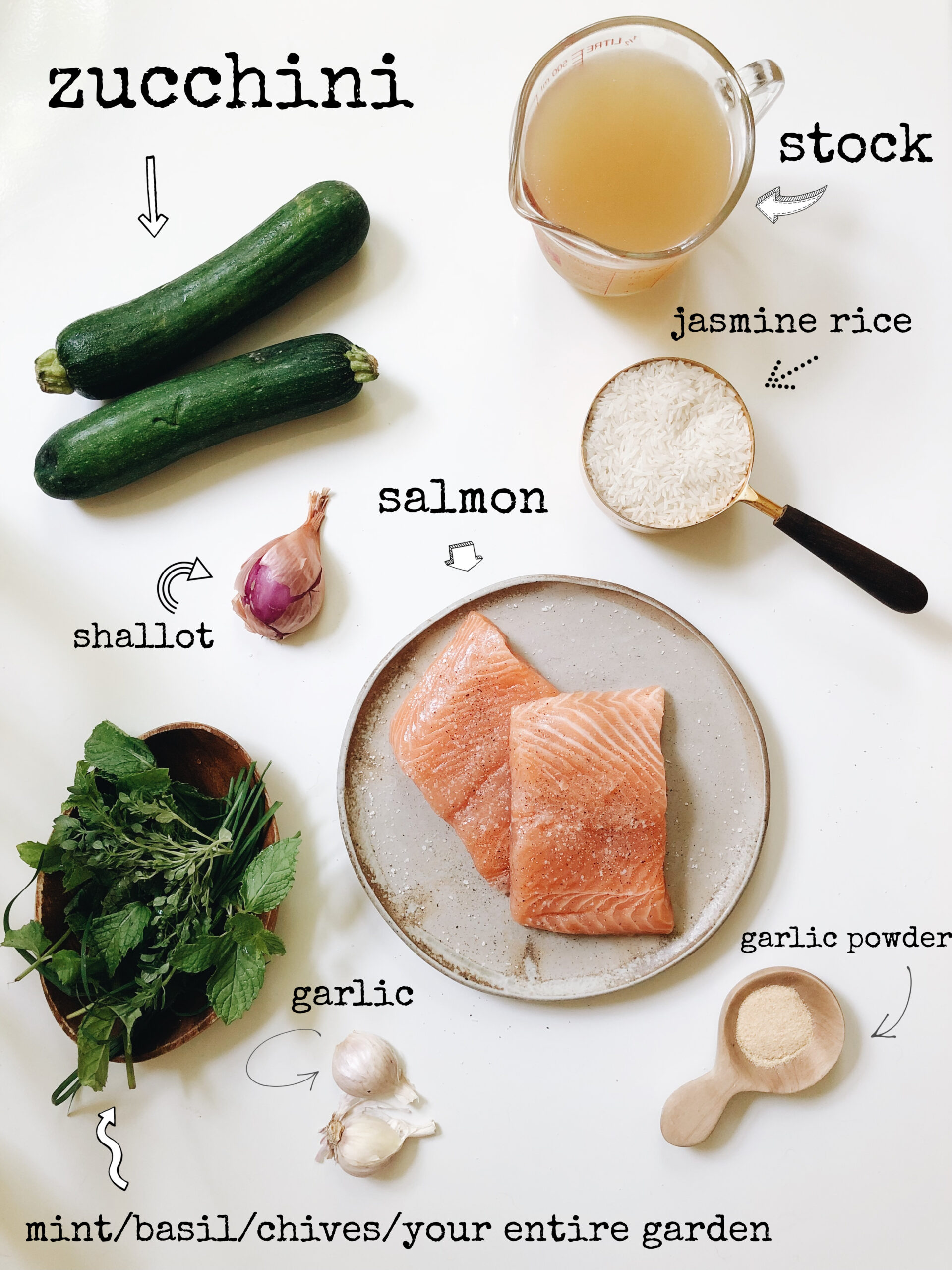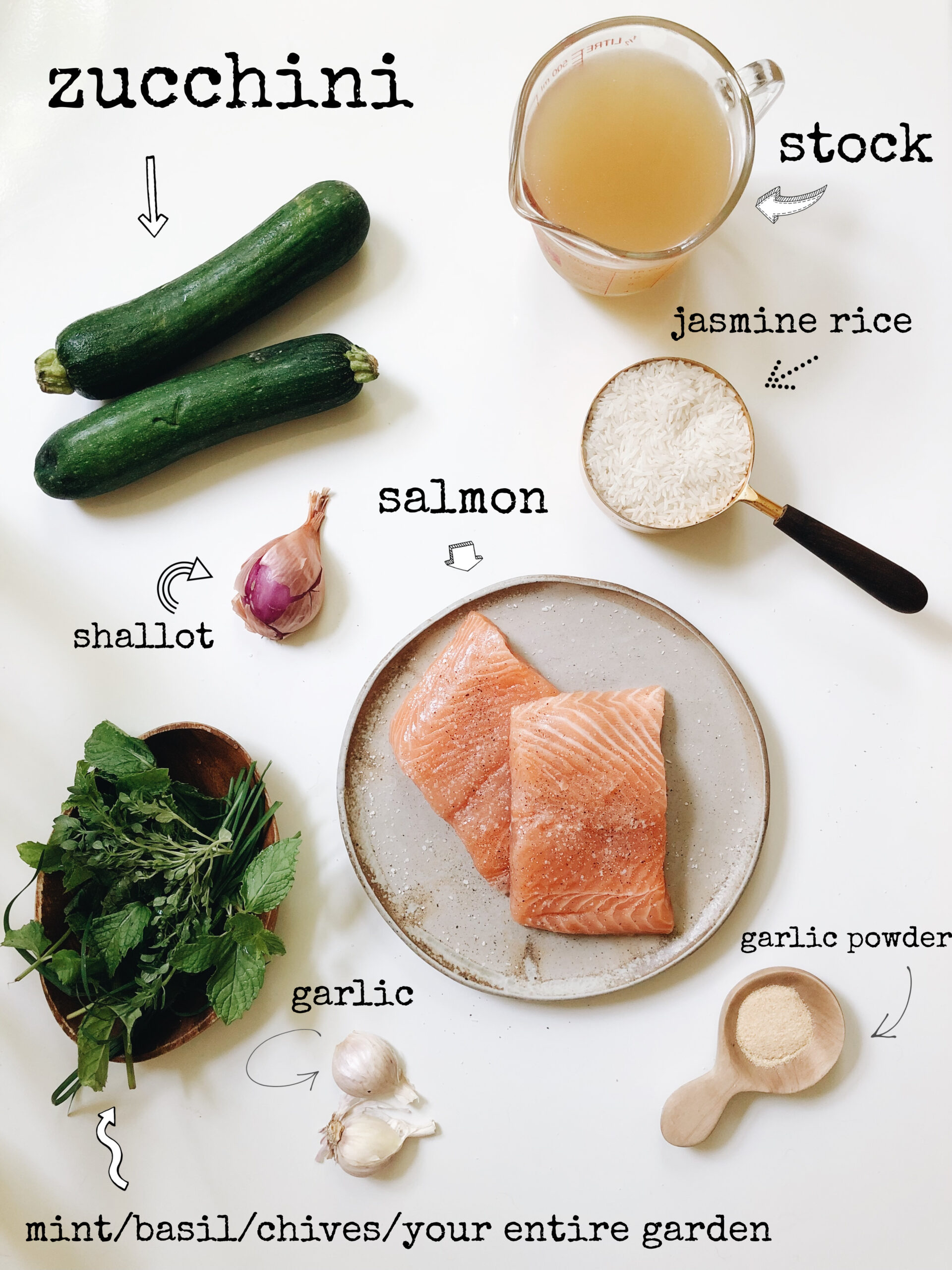 You know zucchini is totally in season right now, so jump on this recipe before September hits and they're all moldy and shriveled and smell of death and regret. Yes we're still talking about zucchini, why do you ask?
It's honestly shallot rice + seared fish + sautéed zucchini + a garden drizzle. How can you not get giddy already?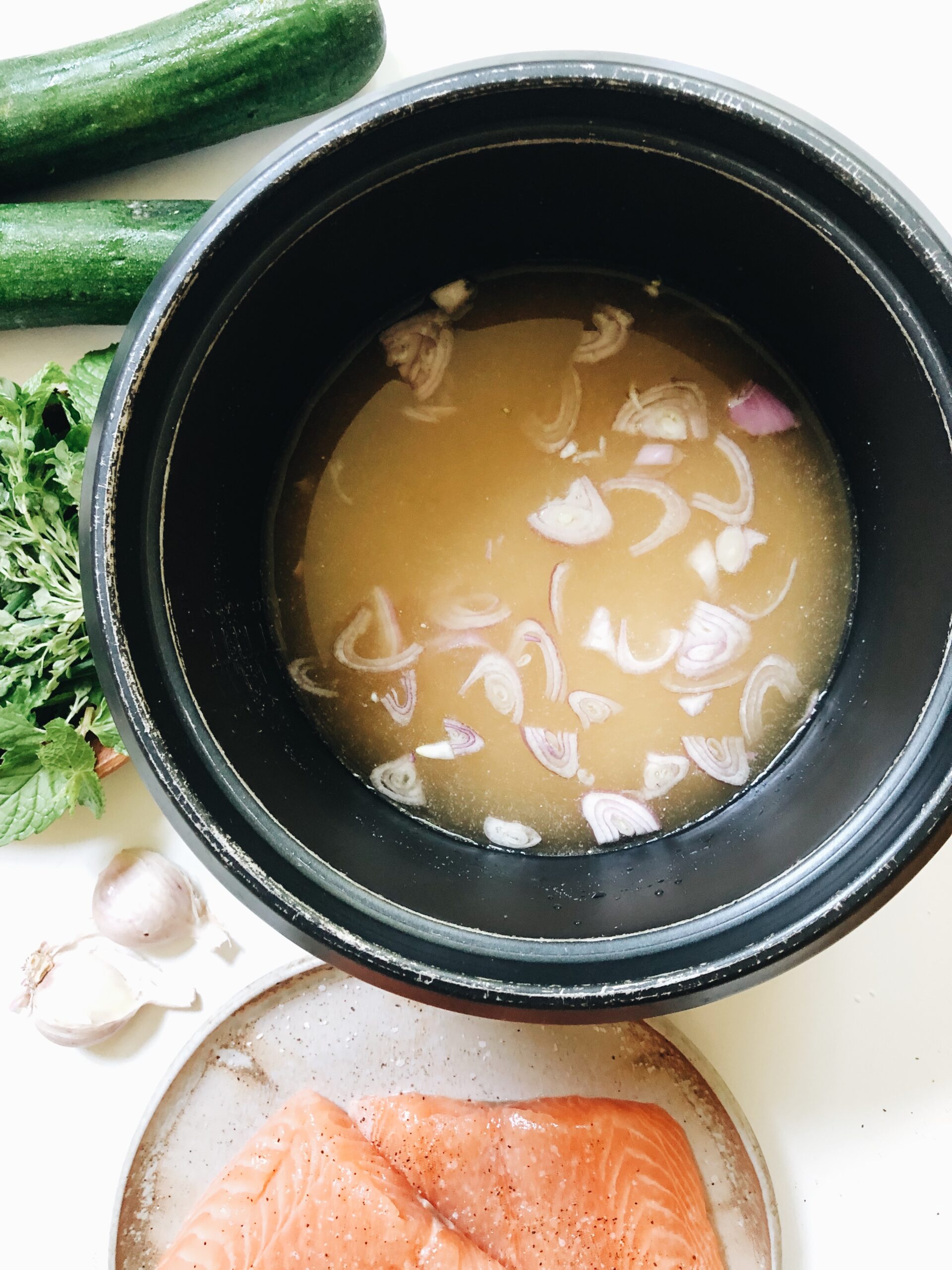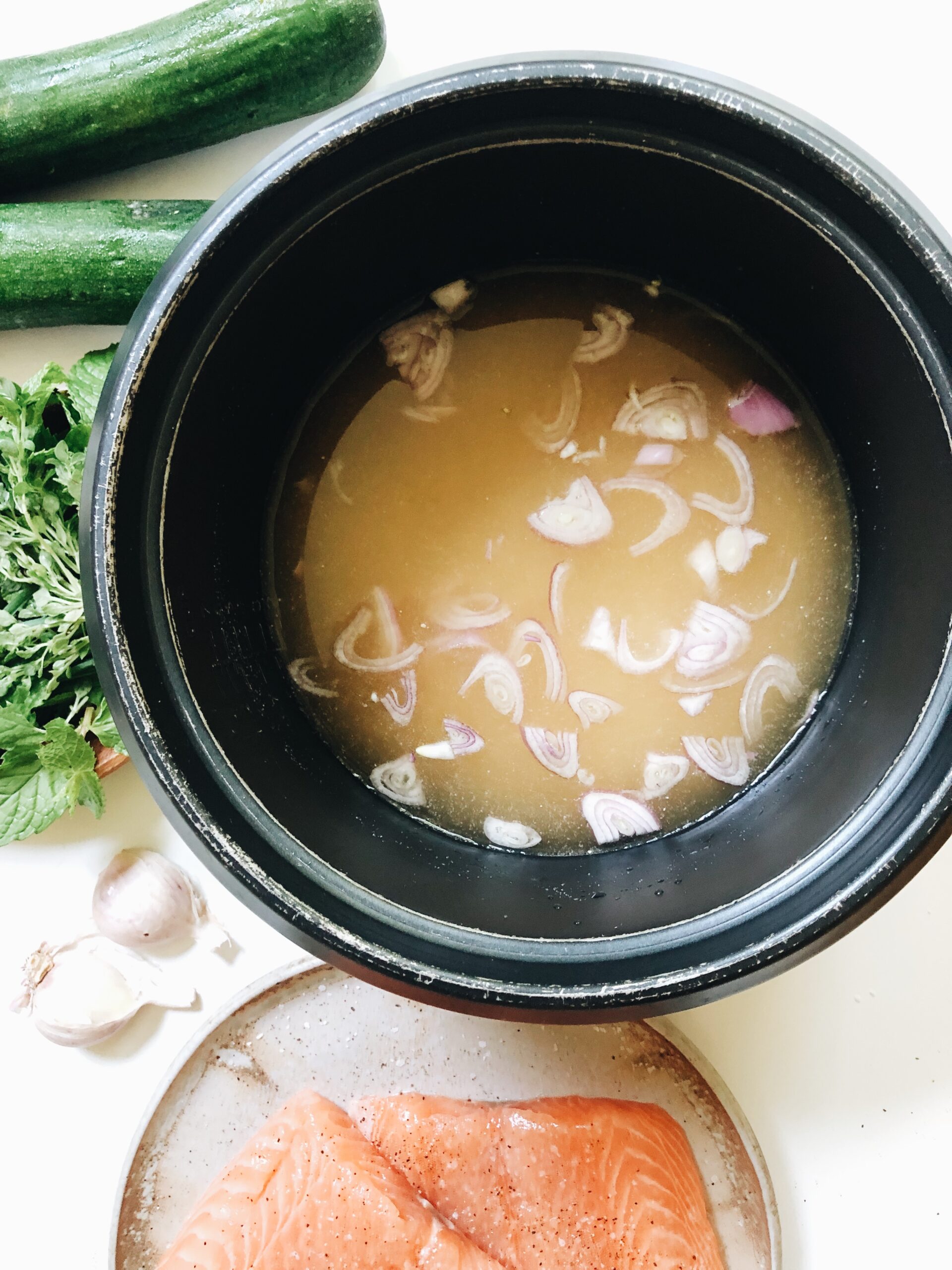 So here's the rice. CHICKEN STOCK is going to be the key to this. Instead of water, you cook it in stock! And dude, talk about flavor infusion. It gives the rice this ultra homey essence to it. The stock, make it happen.
And then the other trick? Shallot! This time I thinly sliced it and violently threw it in with some salt and garlic powder. And all was well. Extremely well.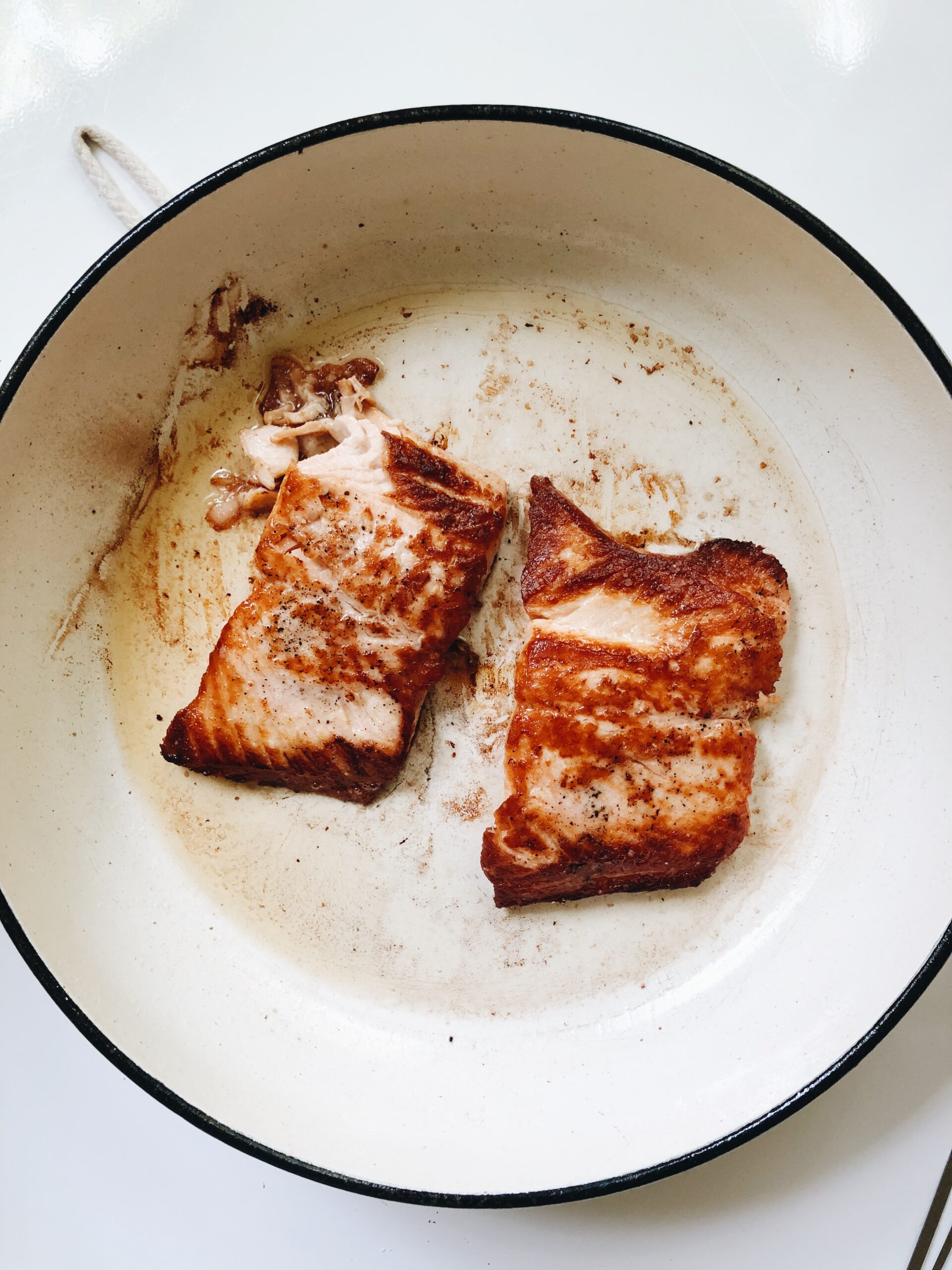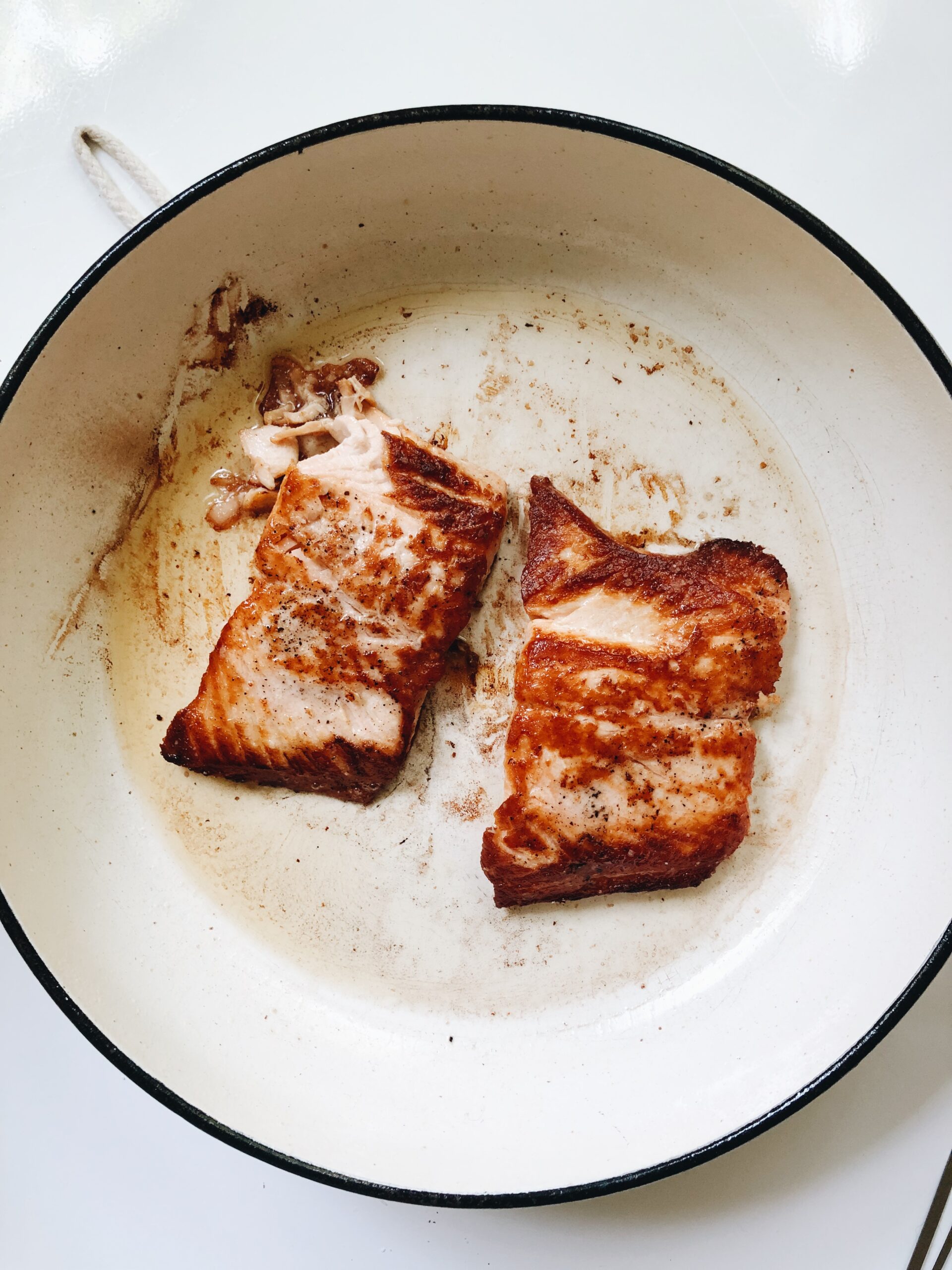 While the rice cooks (you know I use a rice cooker, but you can stovetop this ish if y'awnt.), sear your salmon! I kept it VERY simple. Salt and pepper in some hot oil. Get both sides nice and seared, and if some breaks away in the top left corner, you're still a good person.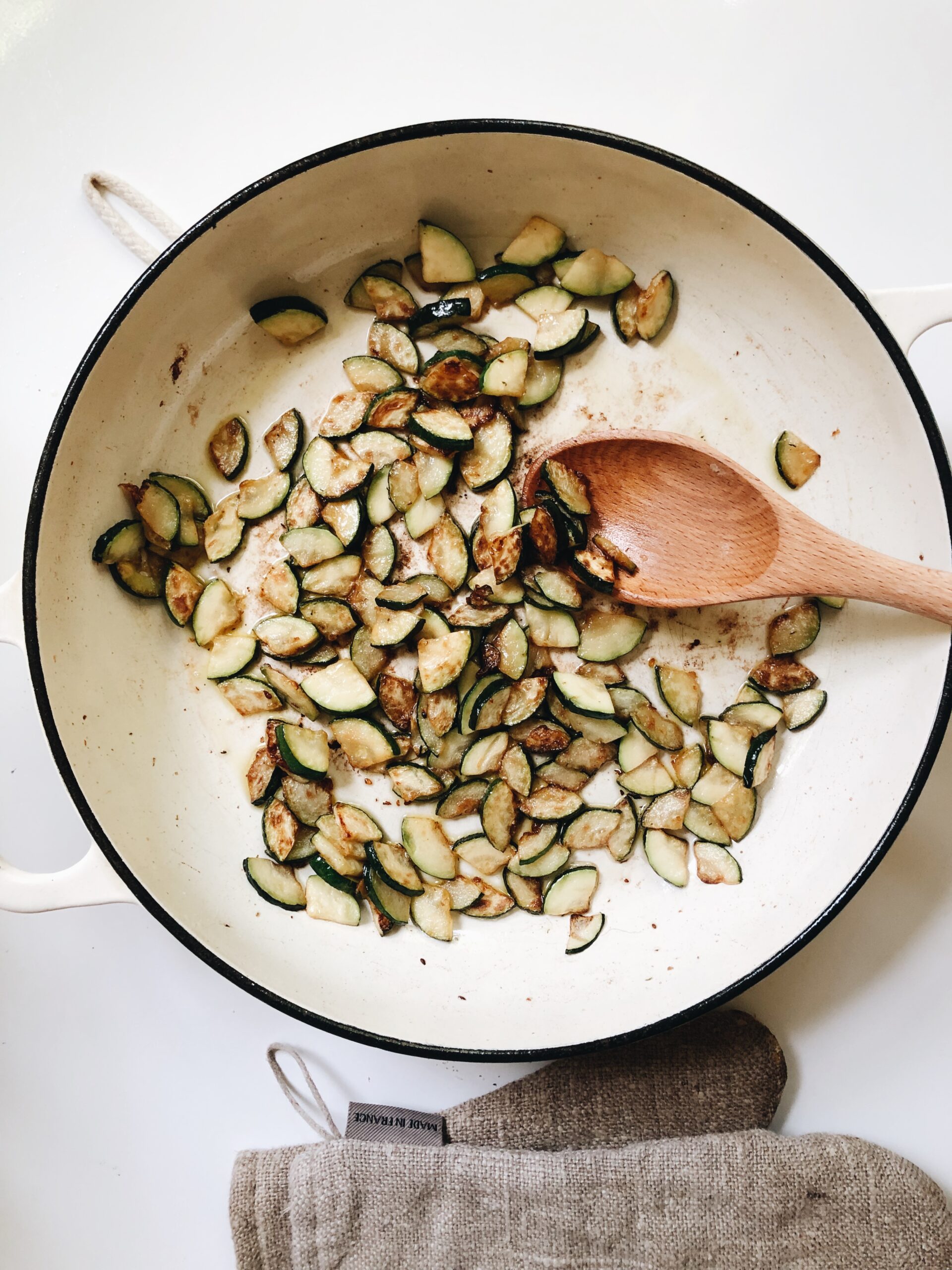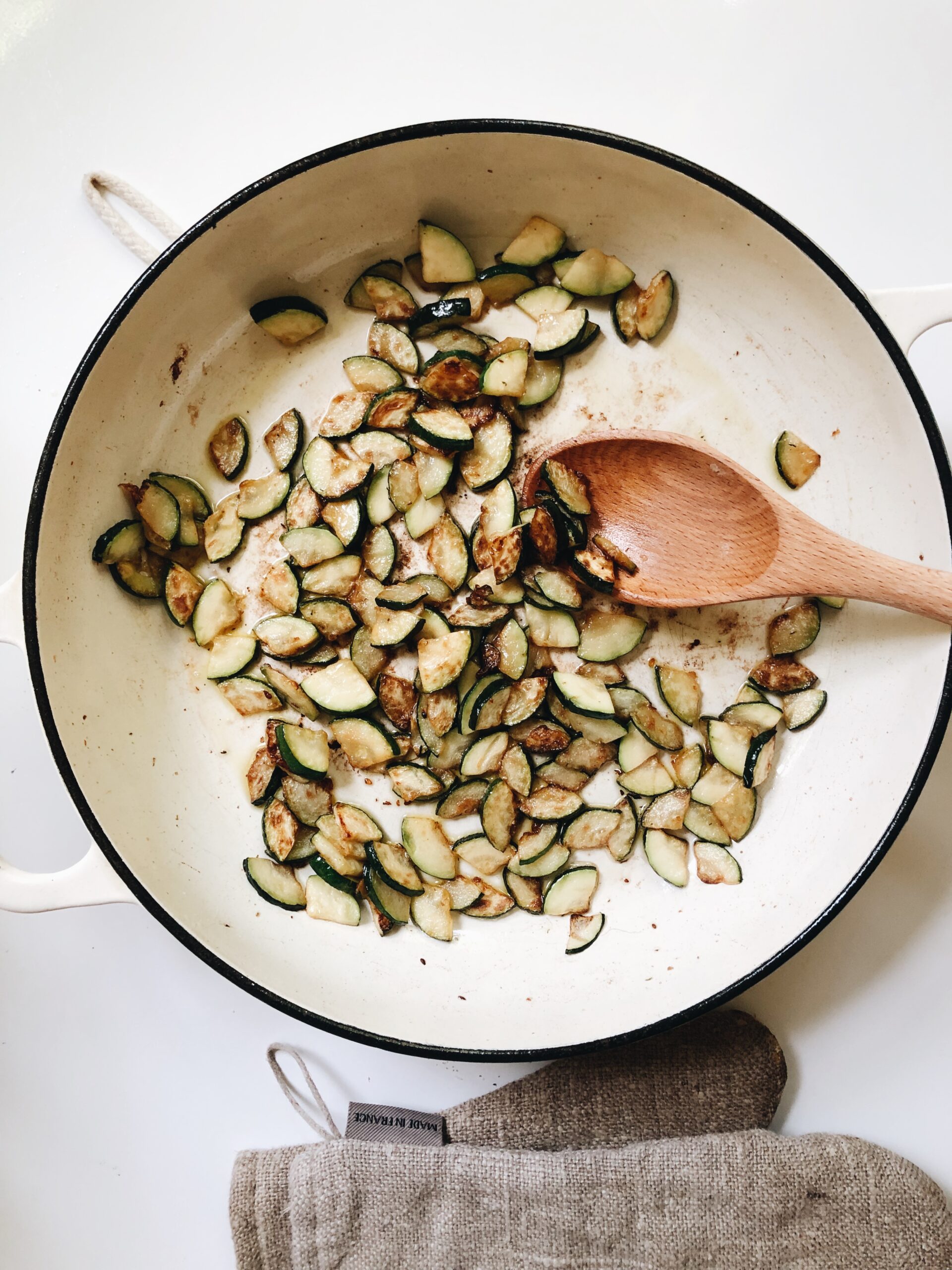 After you've moved the salmon out to rest, sauté your zucchini. I cut it down like this to keep the bites all relatively the same size, but if circles or half moons give you giddy pants, by all means, little bird. Just get some nice coloring on it. You know the zucc drill, bruh.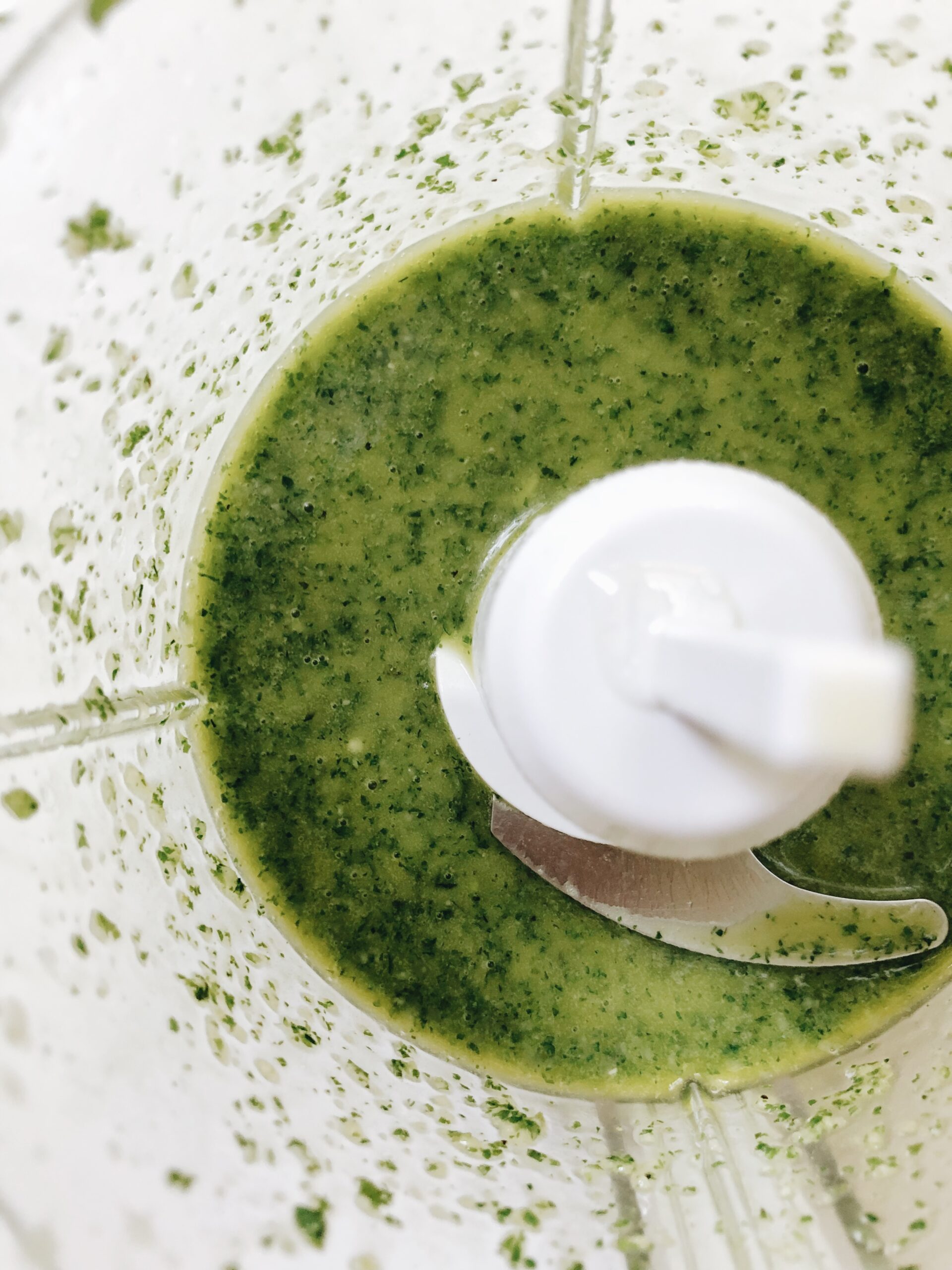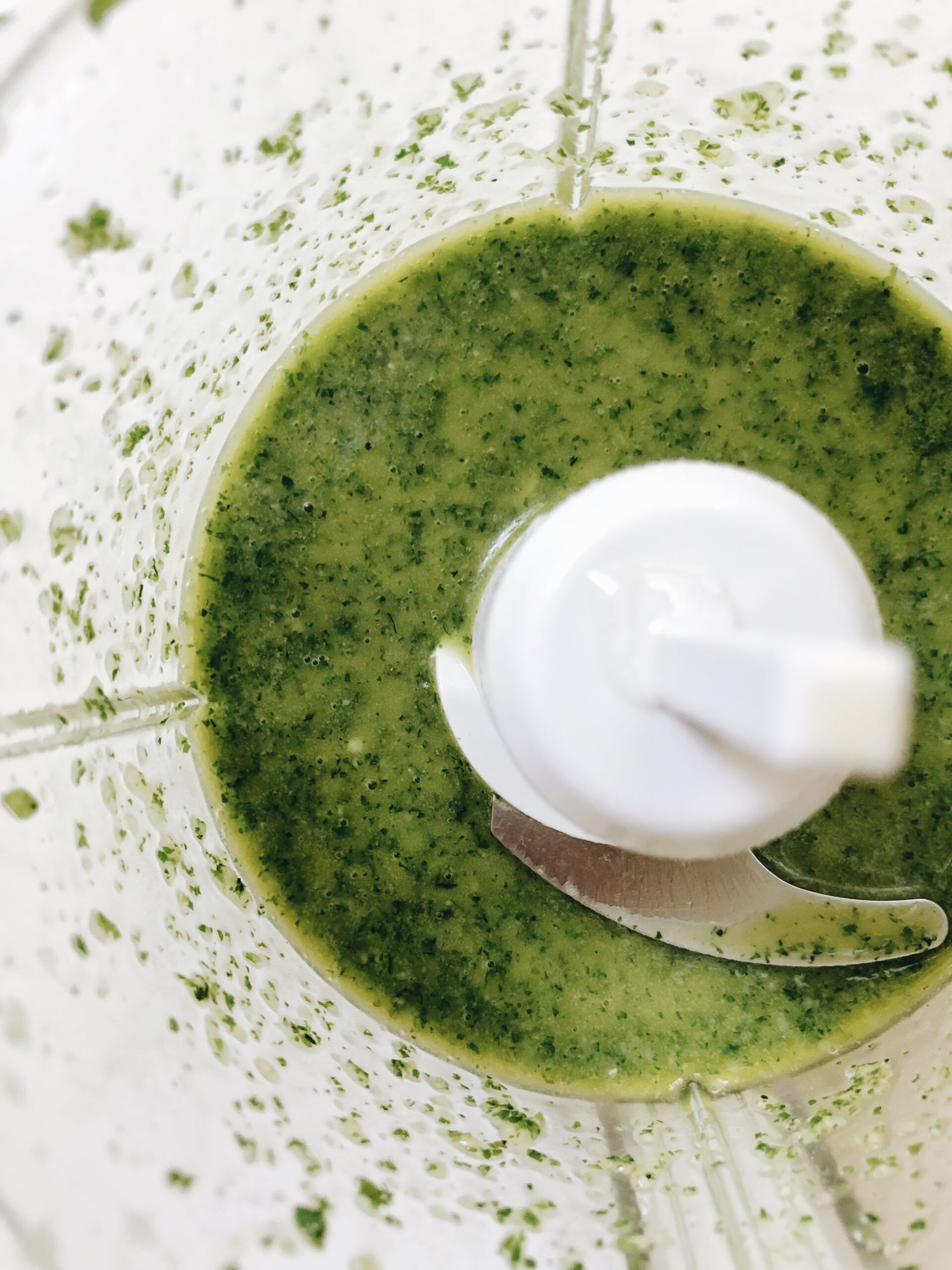 So for the sauce! I guess it could be something of a chimichurri. Although there's no vinegar in it. I kept it simple with parsley, basil and chives from my garden. Threw a couple of garlic cloves in, with a good glug of extra-virgin olive oil. And salt of course. I even added a splash of water to thin it eeeeever so slightly. You can just whiz it up and get it to a consistency you dig. Extra runny? Gloopy to the max? This is your life.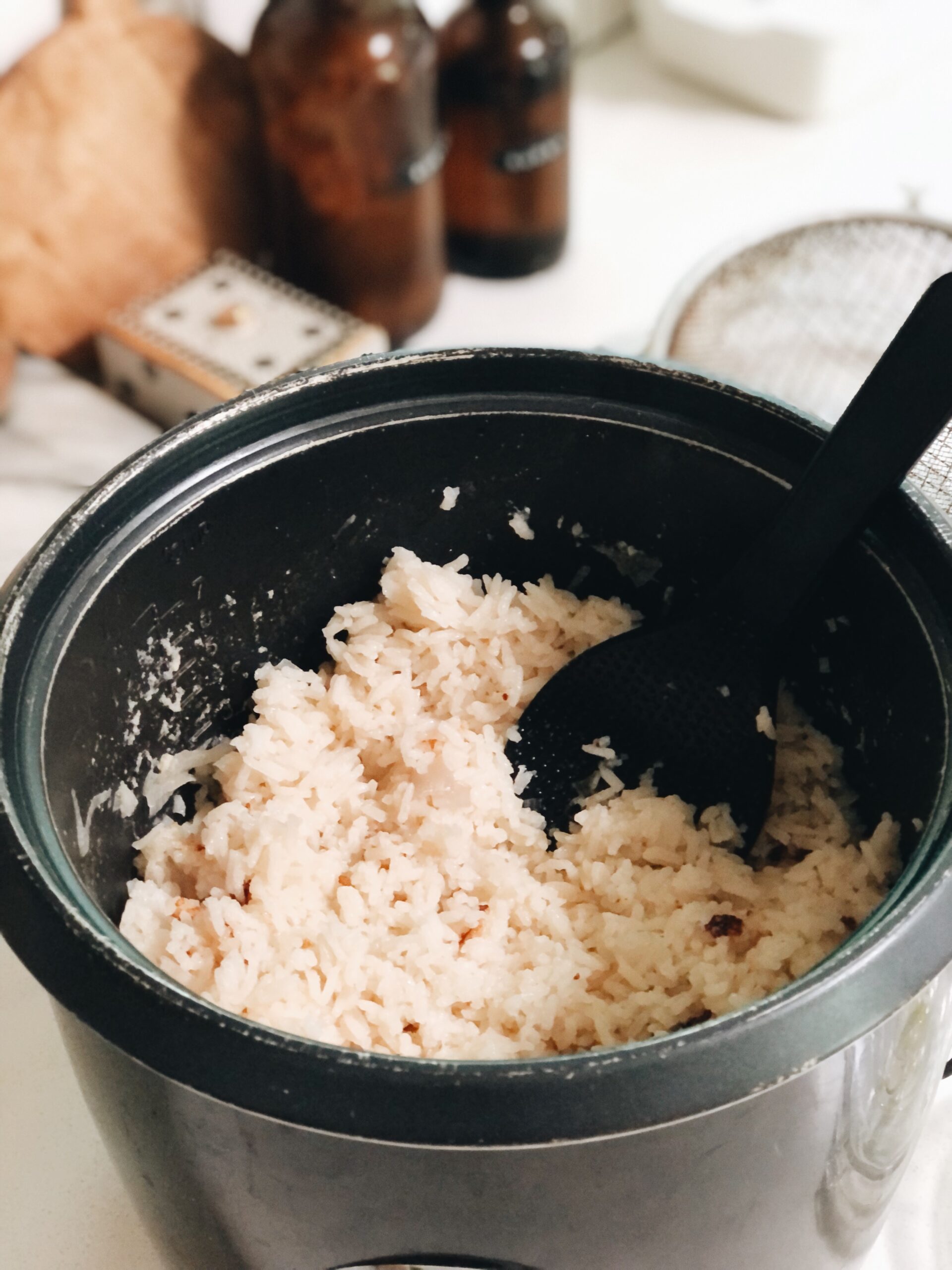 Okay, the rice is perfect. When you stir it up it will have some browning on the underside which is all flavor, man. Taste it. SEE? THIS IS WHAT I SAID.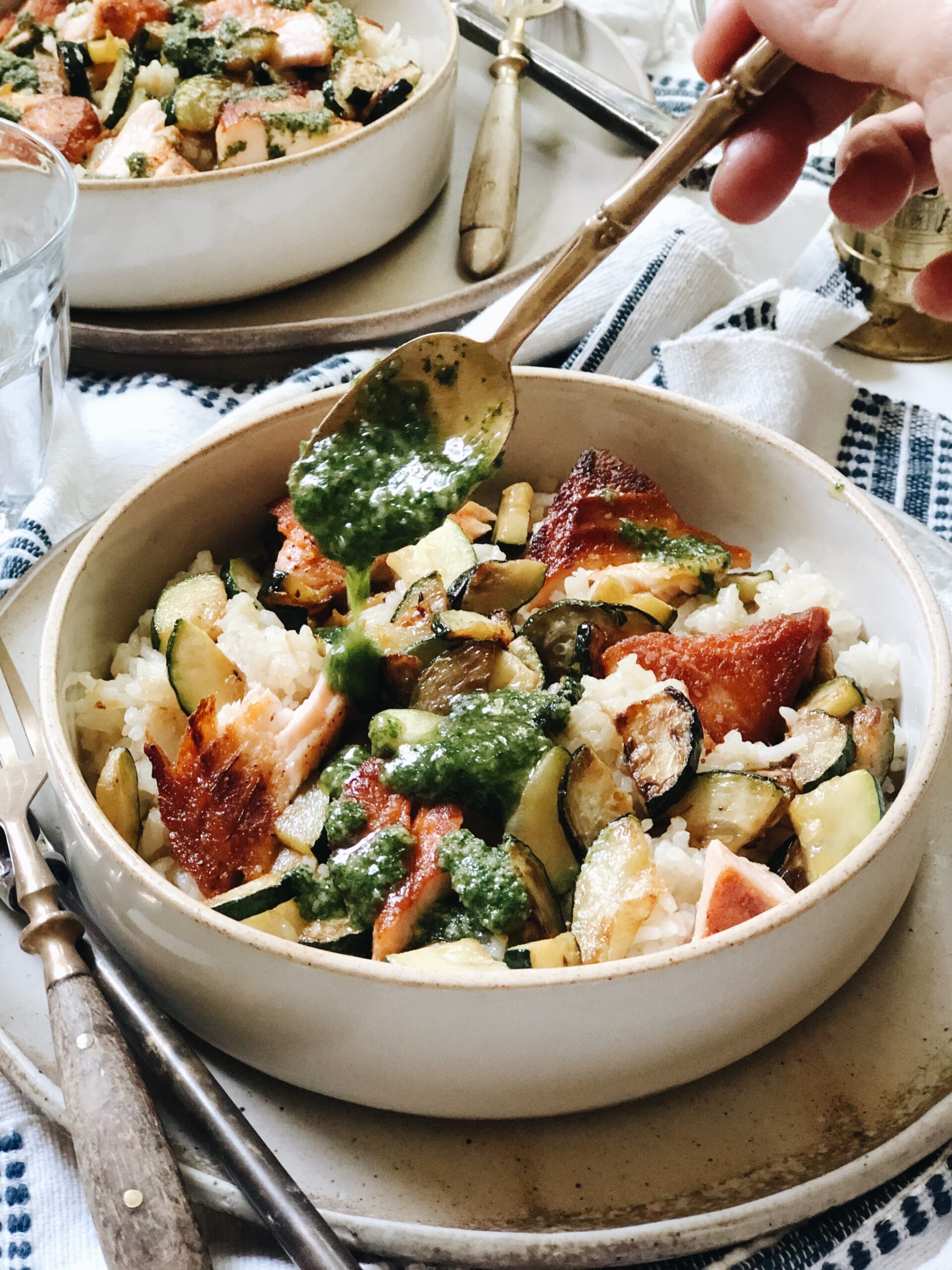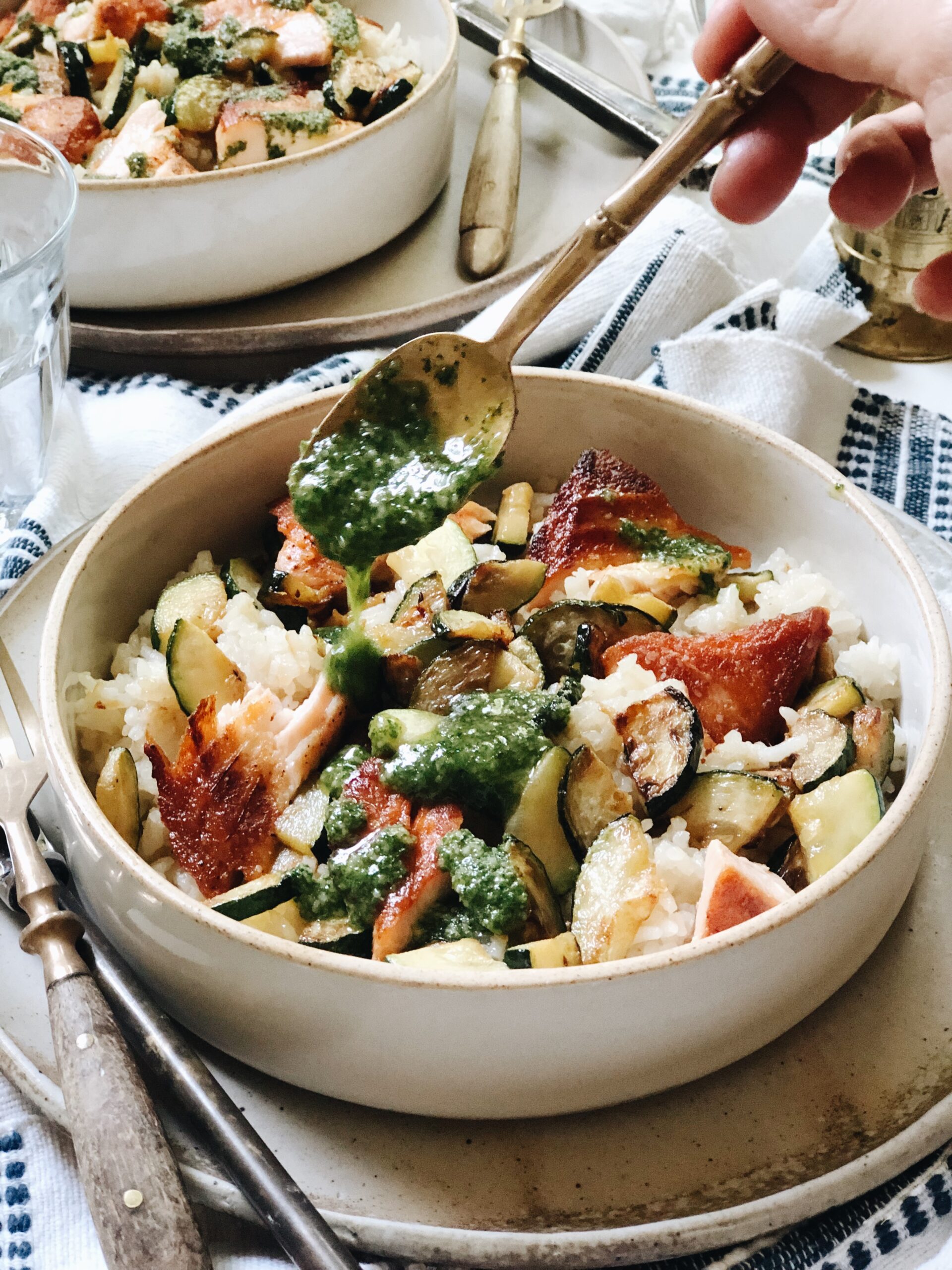 Then we just put it together. The rice, the sautéed zucchini, the seared and lightly flaked salmon, the bright green garden sauce. And I'm telling you, once you sort of stir all that together and get a little of this, a little of that, you'll FLIP. It's a rustic but vibrant summer meal right on your tongue.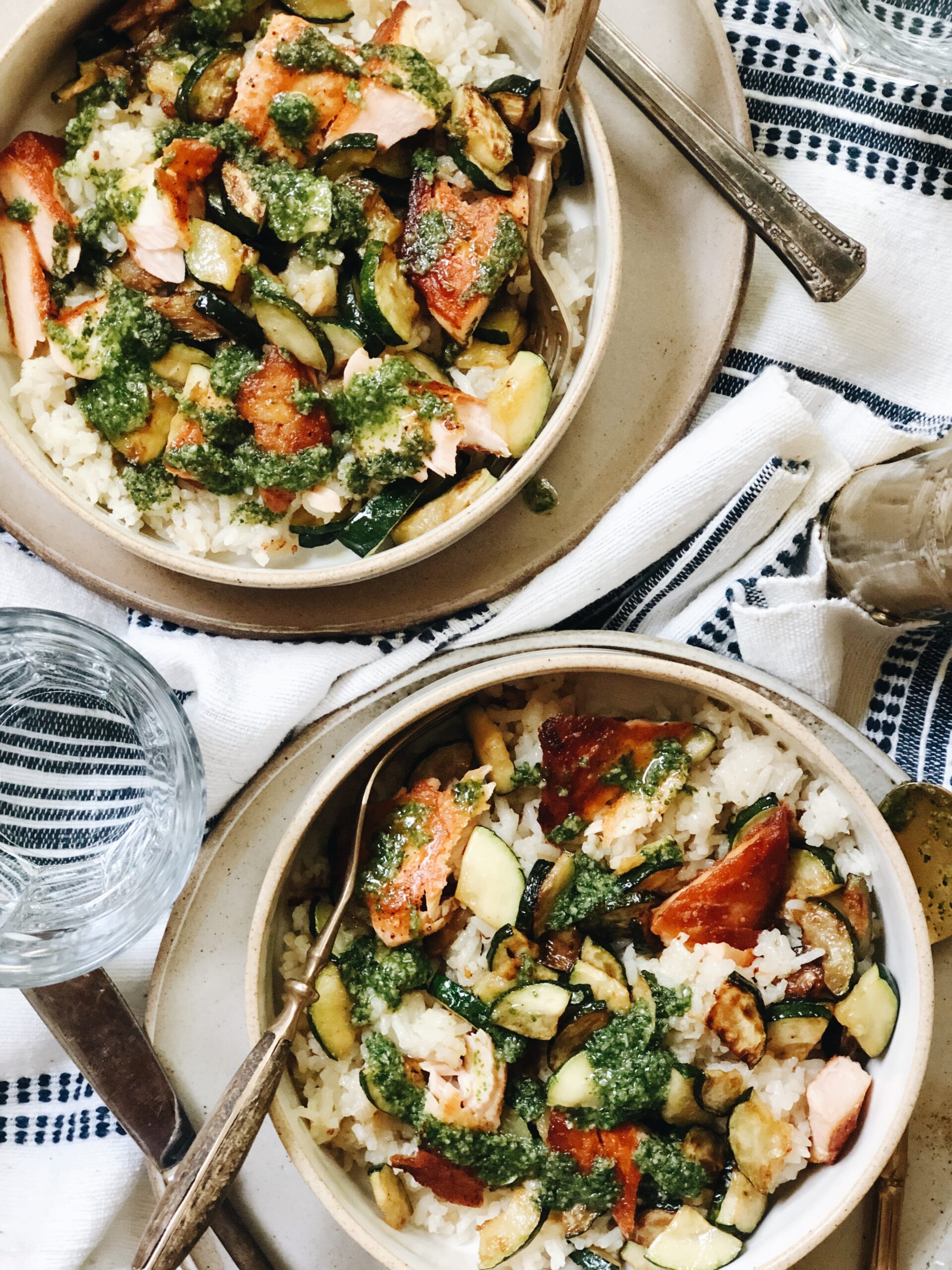 And that's EXACTLY why I dig it so much. It checks all the boxes. Homey. Comforting. Light, Super fresh. Seasonal without being all pretentious about itself. Know what I mean, Vern?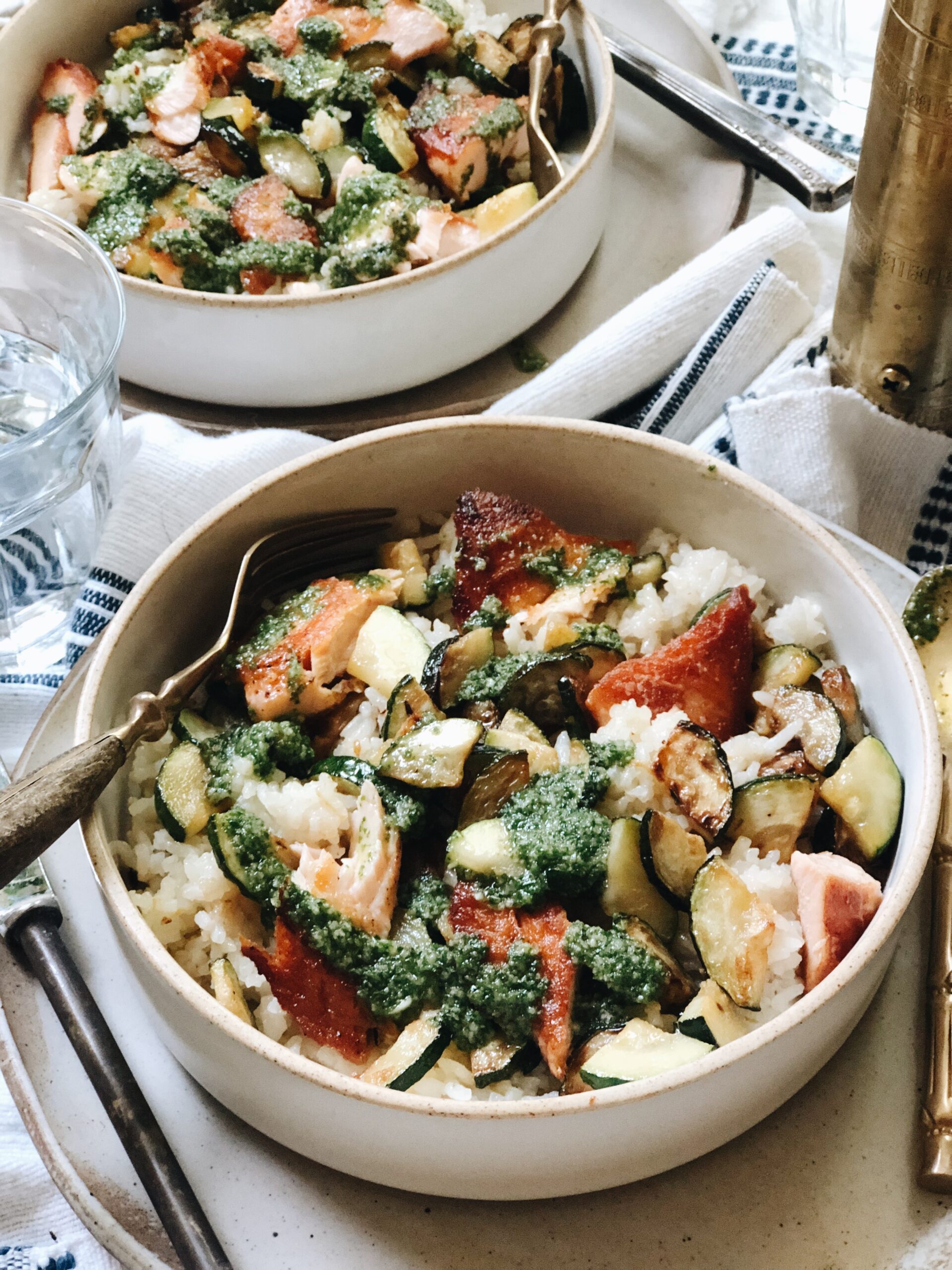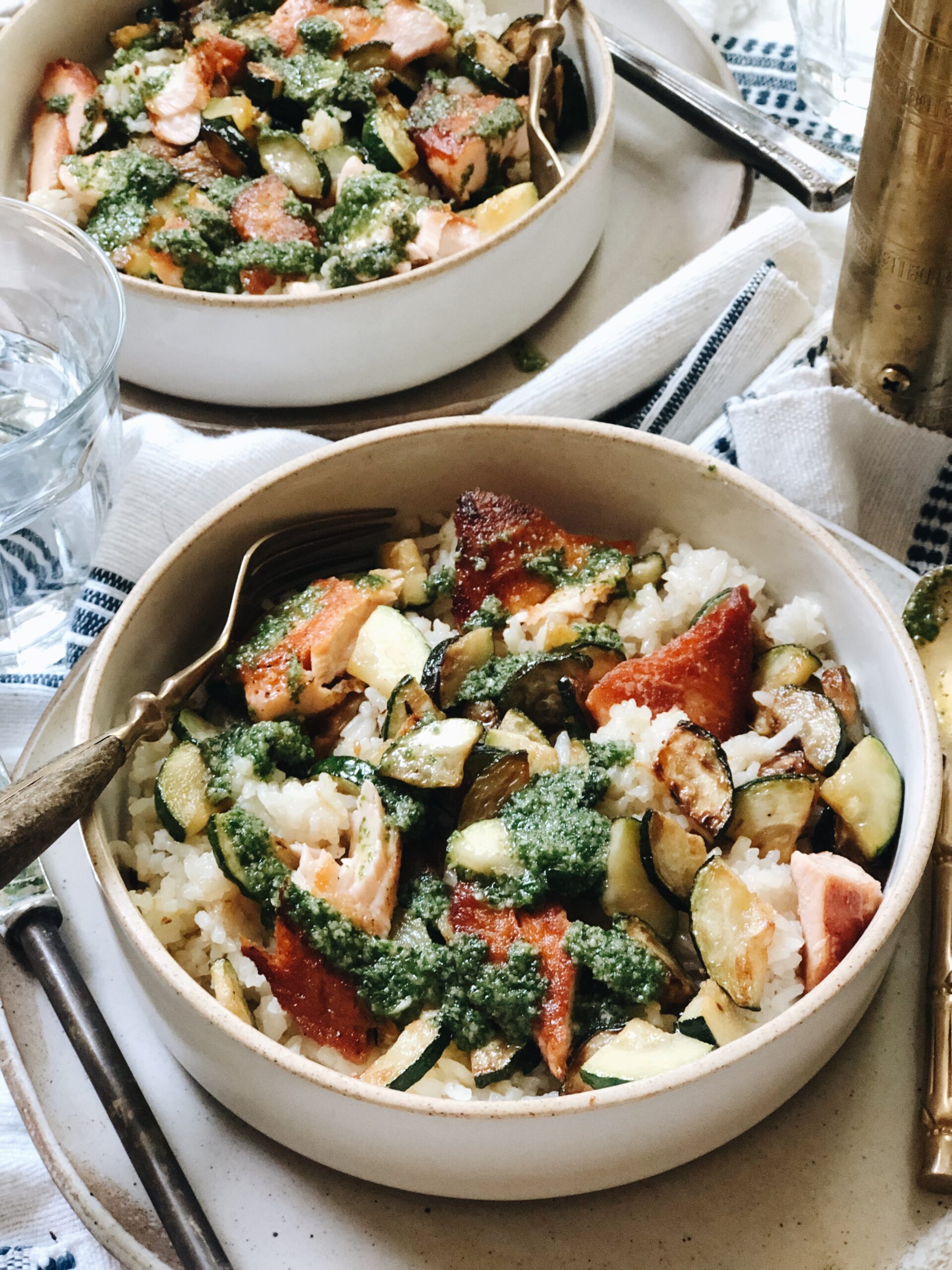 And the thing is, it's not overly laborious. We do most of the hands-on business while the rice cooks. So it all comes together in like, 45 minutes tops. TOPS.
It's so delicious, you guys. All layered with attitude but fresh with flavor – freaking yum. Add it to your rotation as soon as you can because I might end up losing my mind if you don't.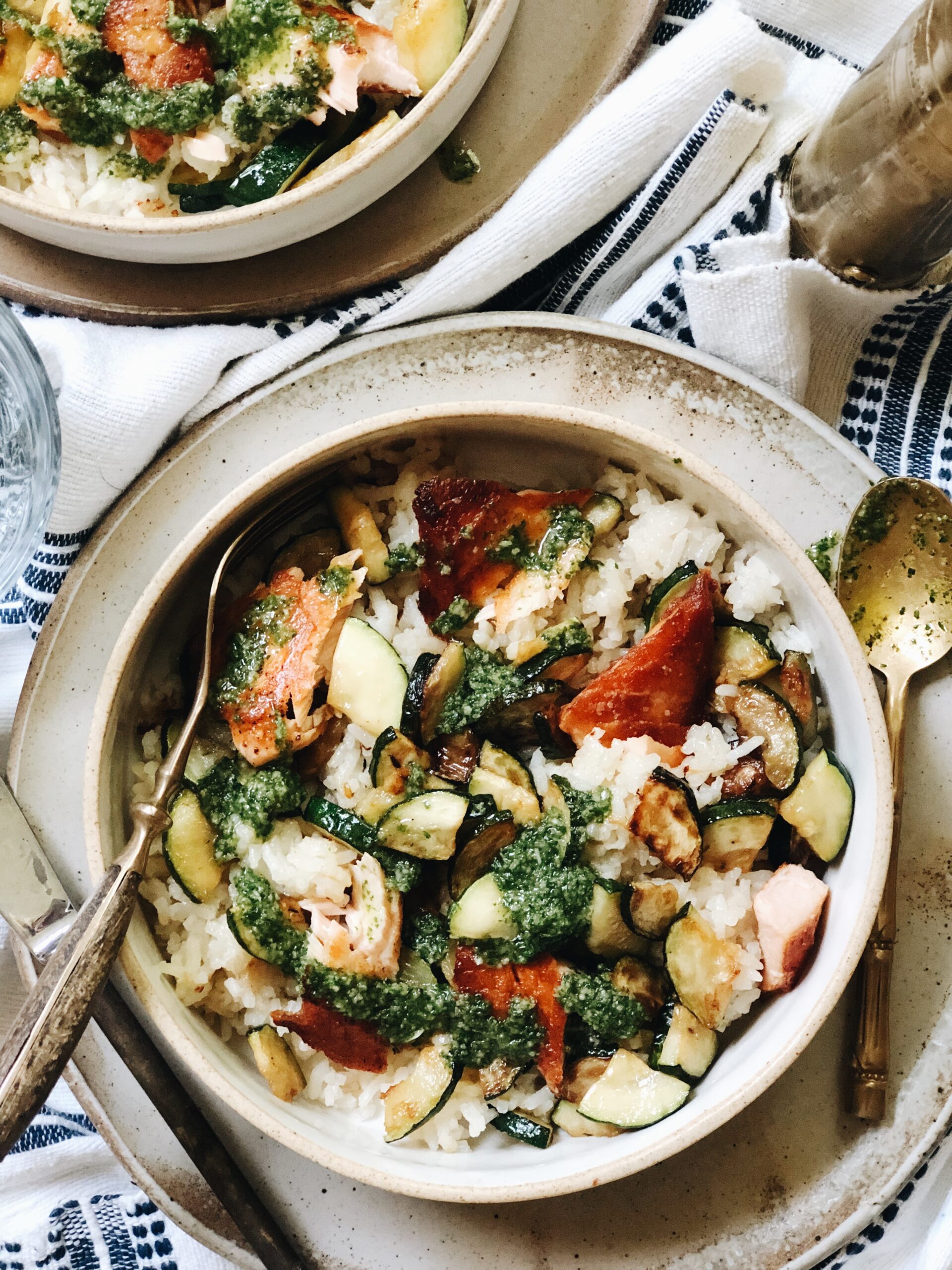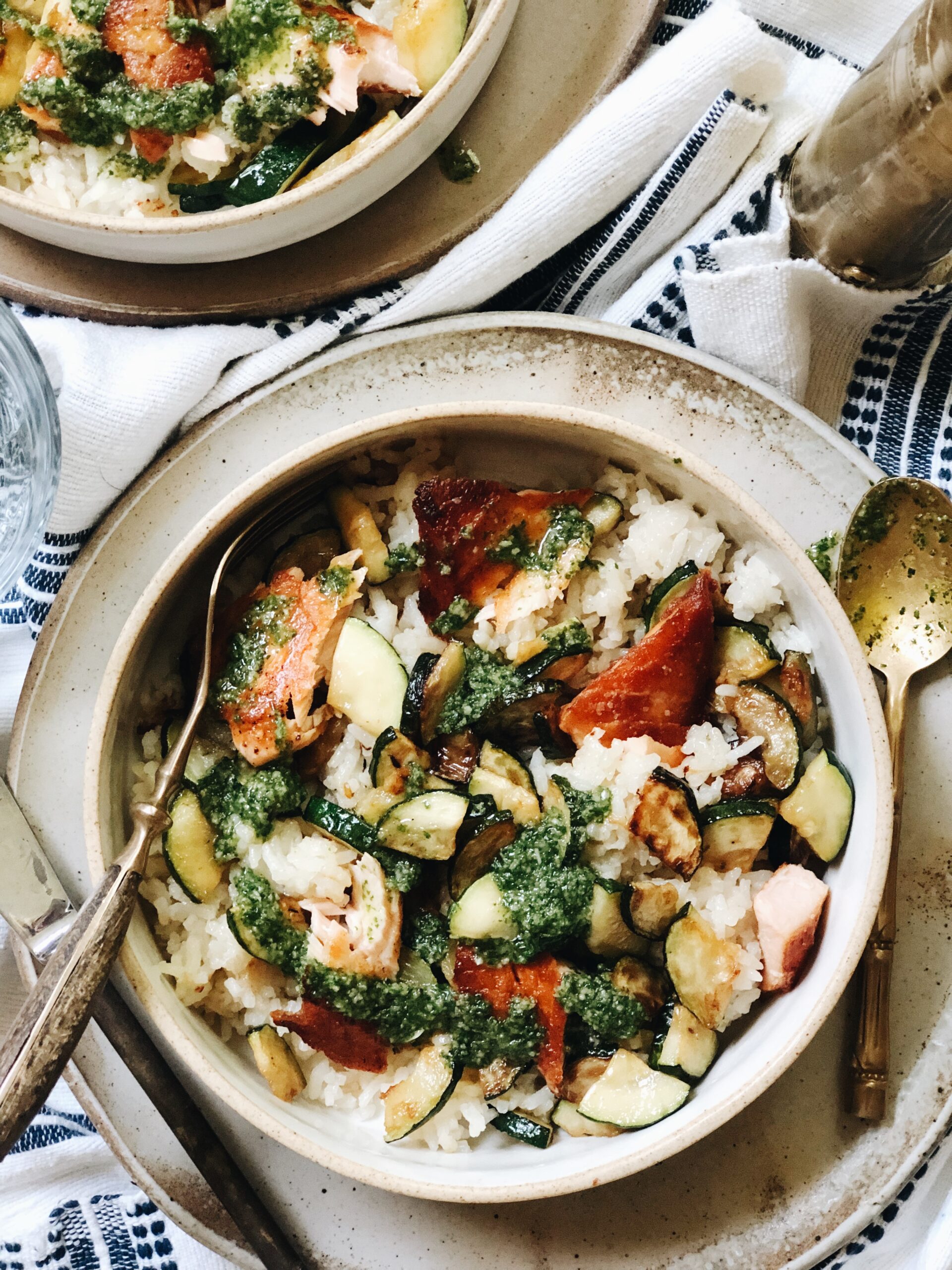 As in, tonight!
Seared Salmon and Zucchini over Shallot Rice with an Herb Drizzle
Ingredients
1 cup jasmine rice, rinsed
2 cups chicken stock
1 Tbs. thinly sliced shallot
1 tsp garlic powder
2 (4 oz) salmon fillets (or more if your kids dig it)
2 medium zucchini, sliced
Around a cup of mixed herbs (parsley, basil and chives)
4-5 Tbs. extra-virgin olive oil, plus more for cooking
2 cloves garlic
Coarse salt
Instructions
In a rice cooker (or on the stove) add the rinsed rice, stock, sliced shallot, garlic powder and a pinch of salt. Set it and forget it.
While the rice cooks, heat 2 Tbs. extra-virgin olive oil in a large skillet. Season the salmon with salt and pepper, and sear in the pan for about four minutes per side on a medium high heat. You want some nice sear marks. Now move the salmon out to rest and get the zucchini in. Add a couple of Tbs. of oil (or butter!) if needed. Sauté the zucchini for about five to eight minutes, getting some good browning all over.
In the meantime, place the herbs, garlic, and a pinch of salt in a small food processor. With the motor running, add the oil in a thin stream. Thin it out with a splash of water if needed.
Now you build! The rice, the flaked salmon, sautéed zucchini, topped with the vibrant herb drizzle. Divine.
Serve immediately!
Serves four.
7.8.1.2
516
https://bevcooks.com/2021/07/seared-salmon-and-zucchini-over-shallot-rice-with-an-herb-drizzle/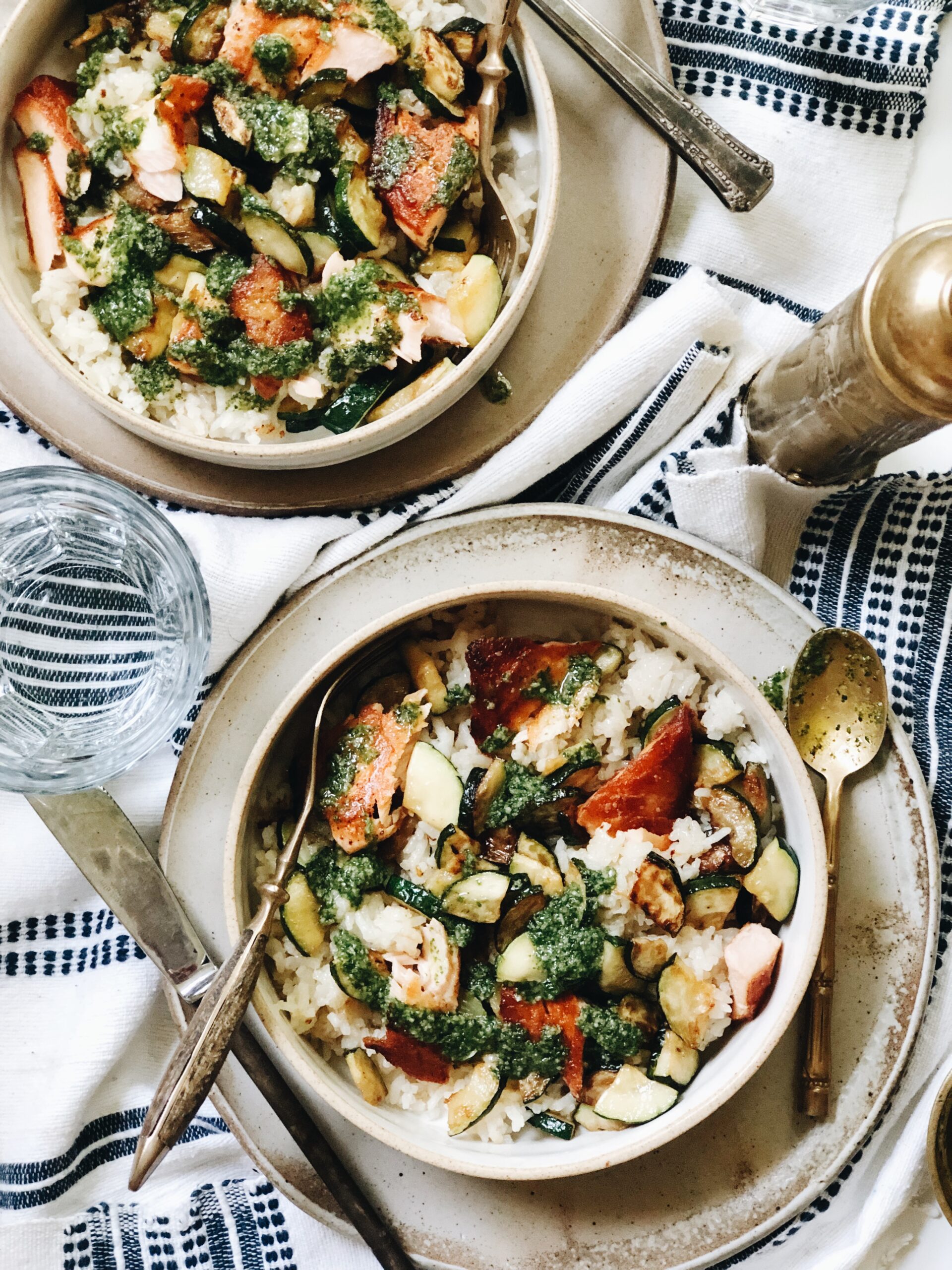 Honey, yes.