Yeah so this is about to change your weeknights. Like when it's time to eat. You knew that. Right.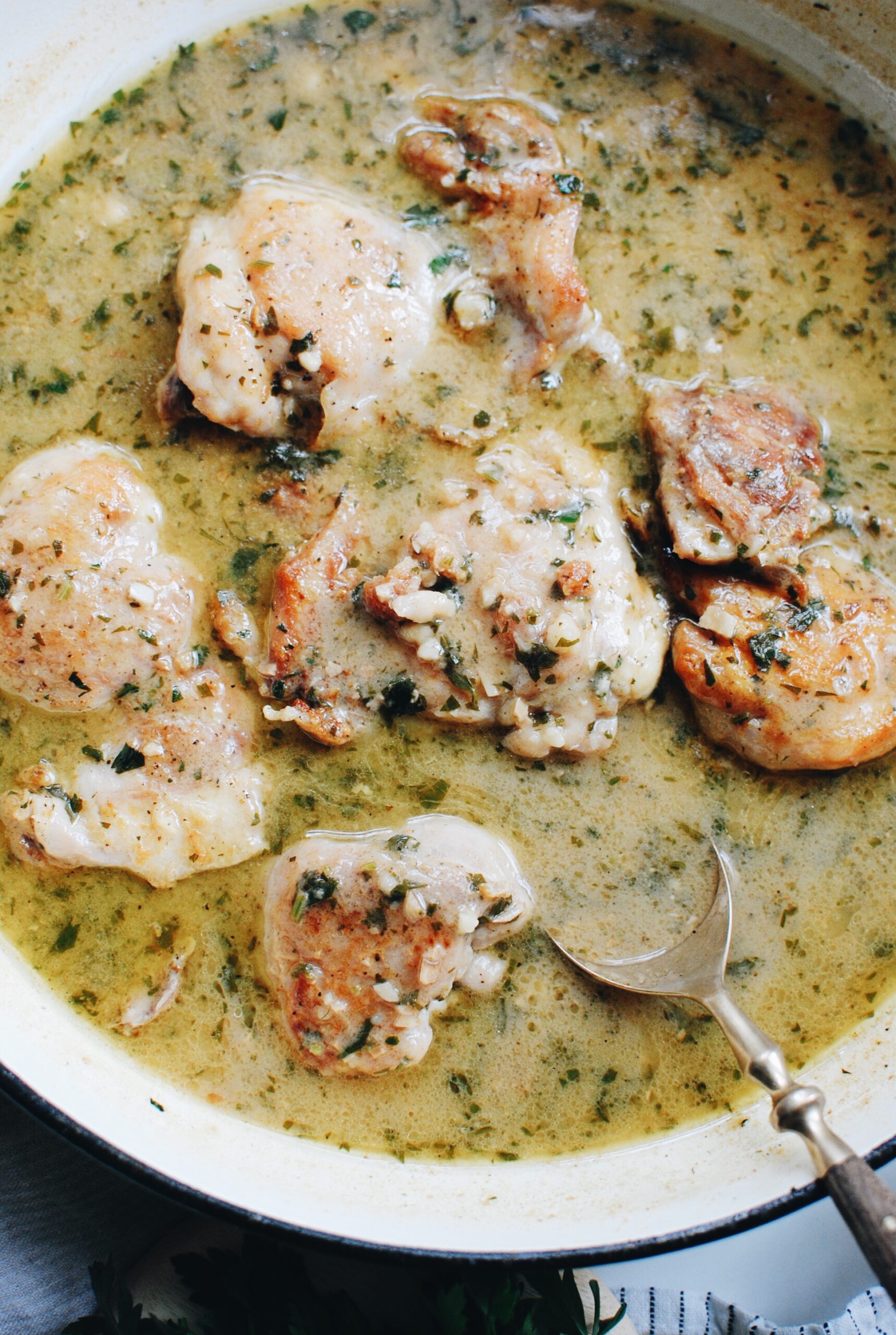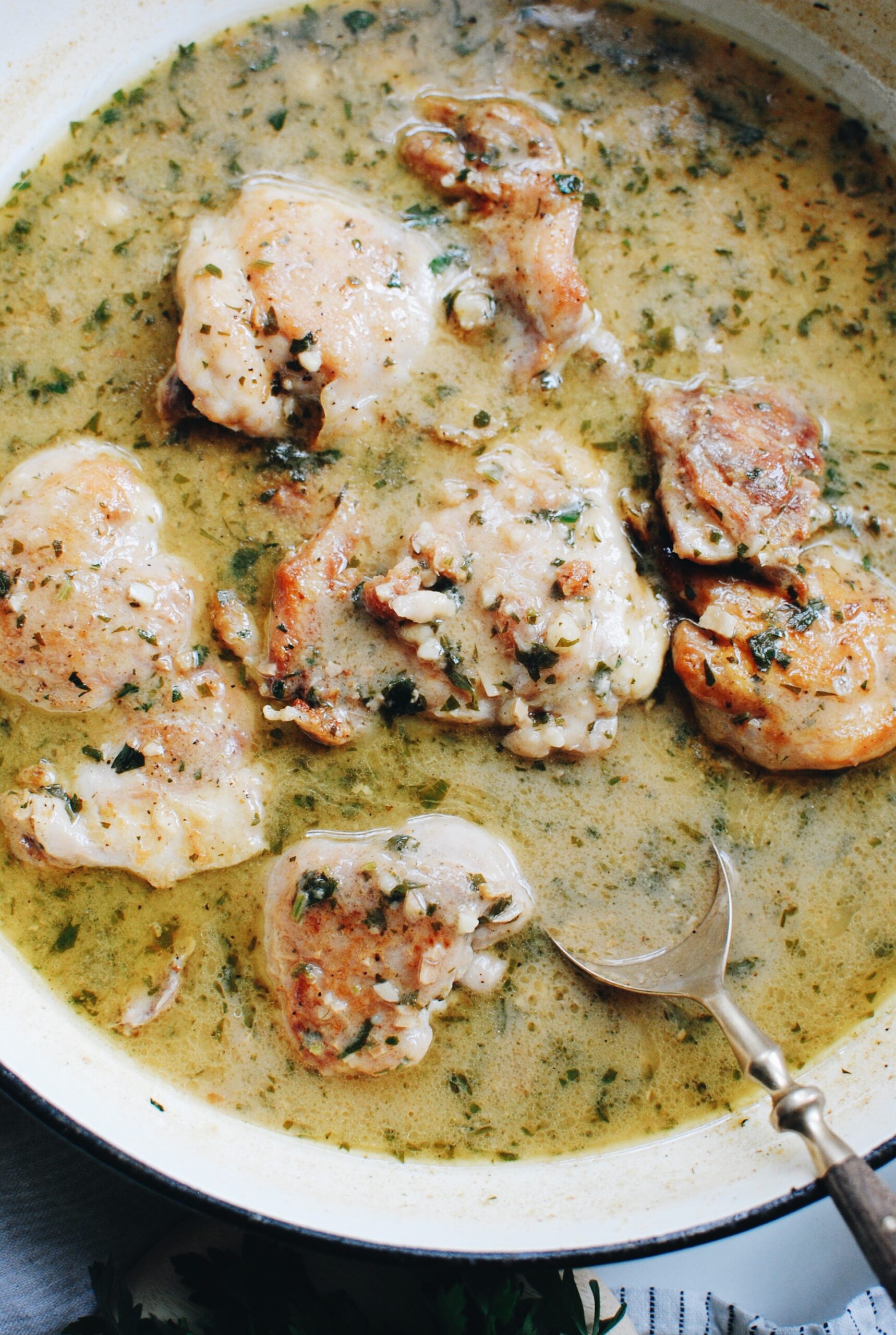 Not only are we looking at seared chicken thighs (for the love go with thighs) bathed in a lemony parsley sauce (think piccata, sans capers), but what we're about to do to the rice will have your eyes bugged out, your stomach clenched with yearning, and you furiously raiding your pantry to ensure you can make this today and right now and yesterday and for the rest of time.
But I'm not dramatic about it or anything.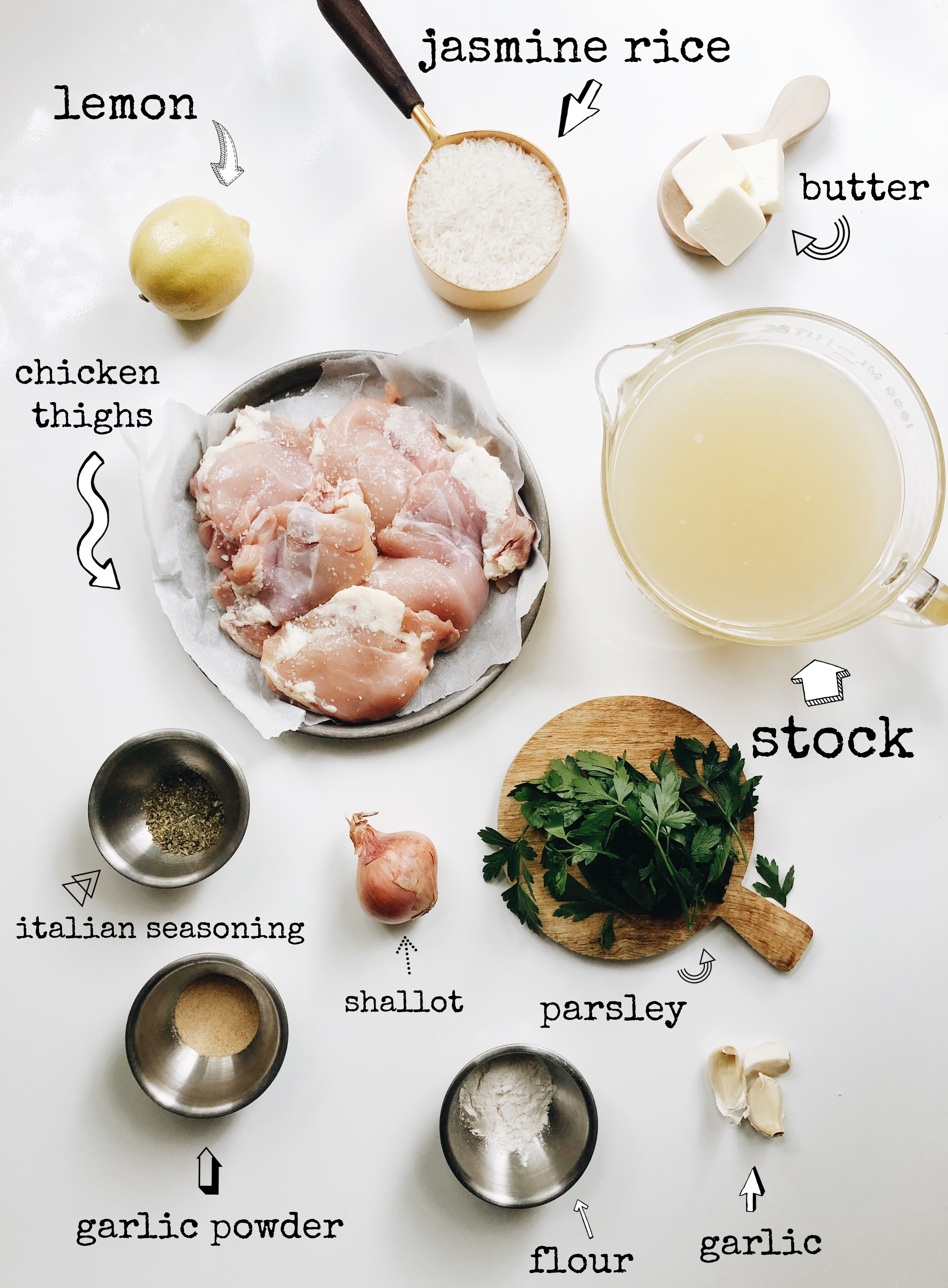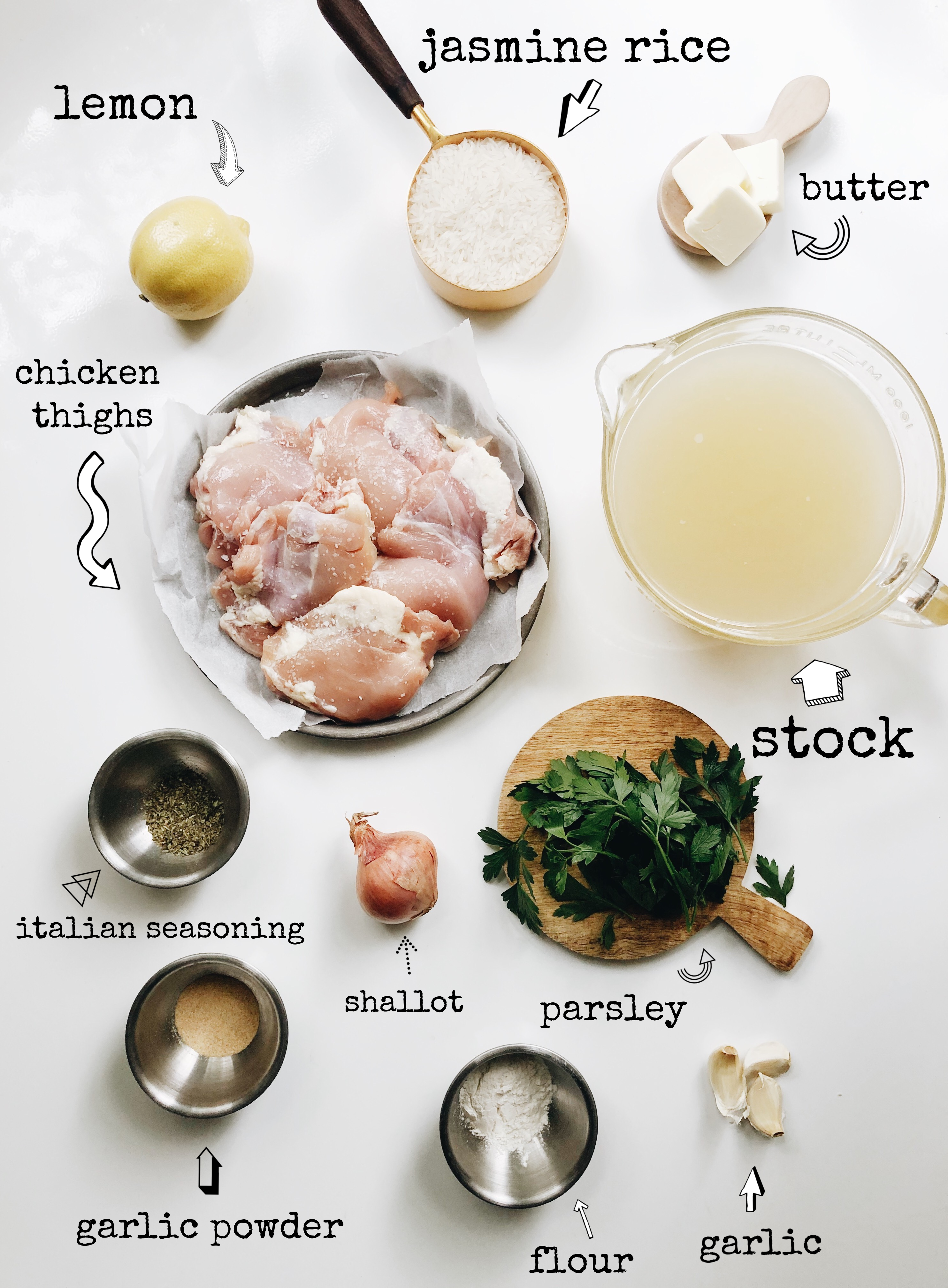 Simple, classic and straightforward. We've been down this road before, but let's take a slight left turn and flip it up a bit. Because watch.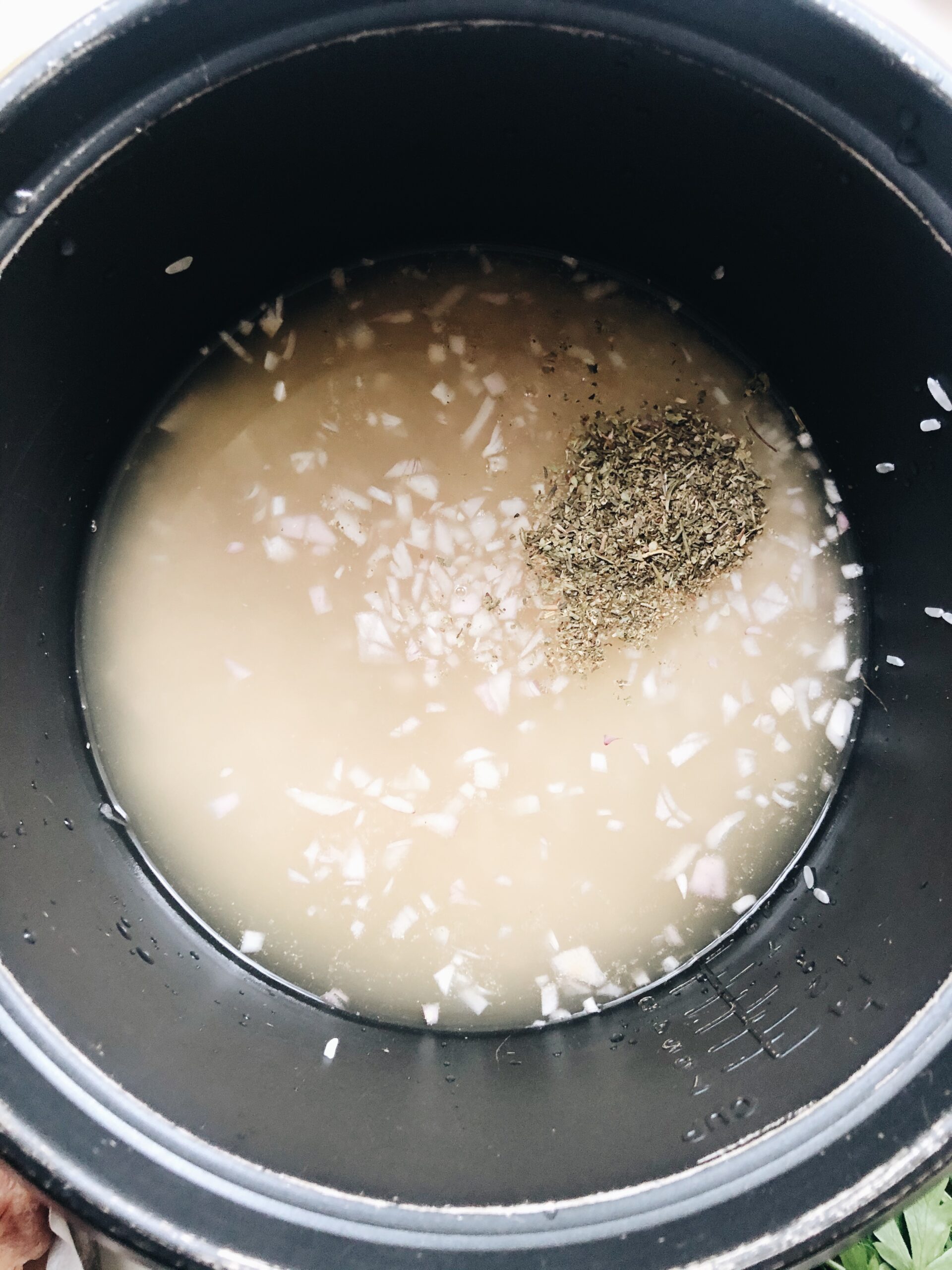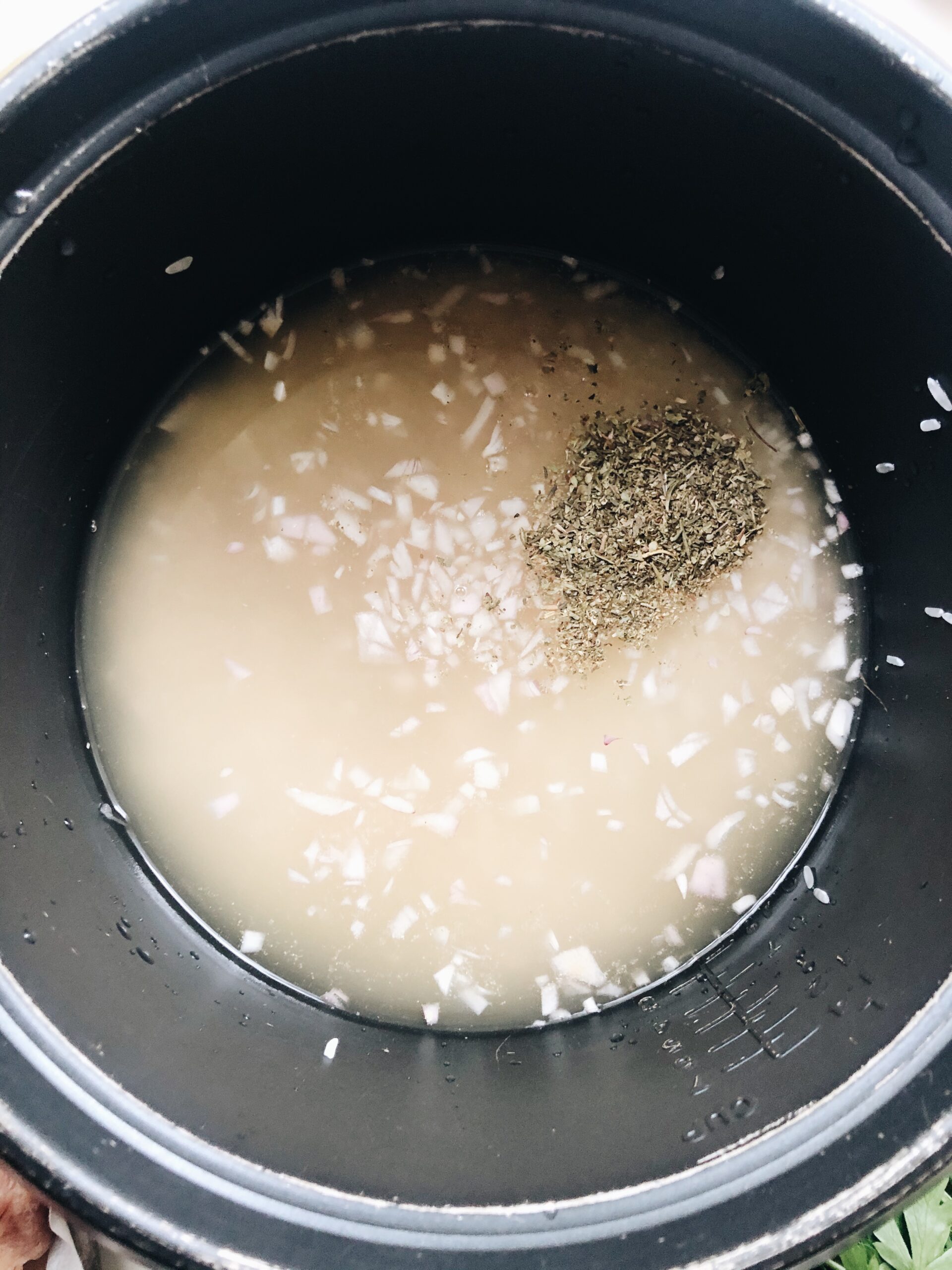 The rice, dear heavenly day, the rice.
You're like, "It's rice, Bev. Simmer down." (<—ba domp)
YES BUT, you know those awful little glorious rice boxes that come with the seasoning that you used to eat in the '90s, and you wanted to hate it because it tasted like chemicals, but you kind of liked it for five minutes and then went back to hating it? I knew we understood each other.
Well, no more of that because we're swapping in chicken stock for the water, a chopped shallot for essence (you know me and essence), some garlic powder and Italian seasoning for extra oomph. And salt. Season that rice with salt.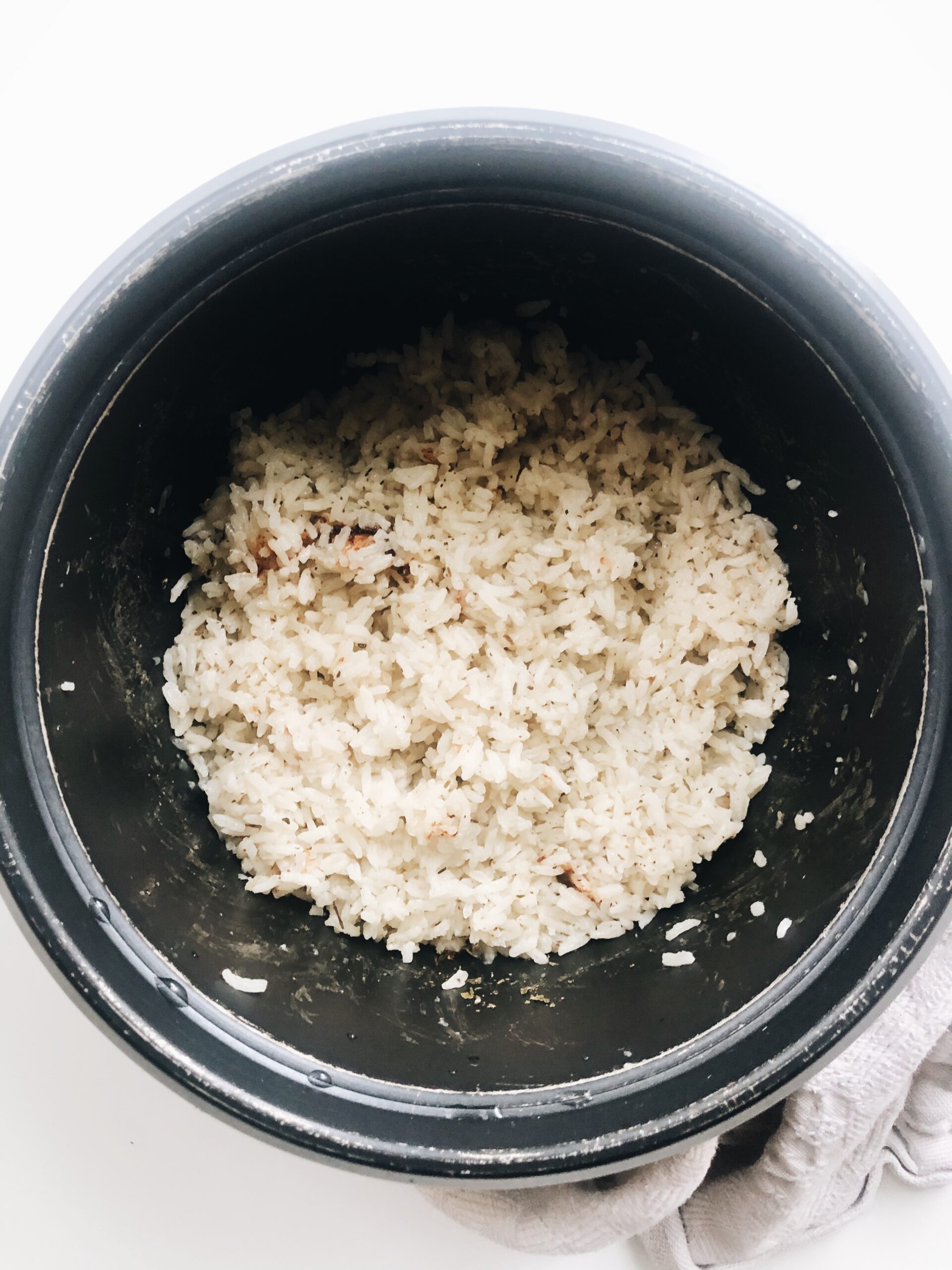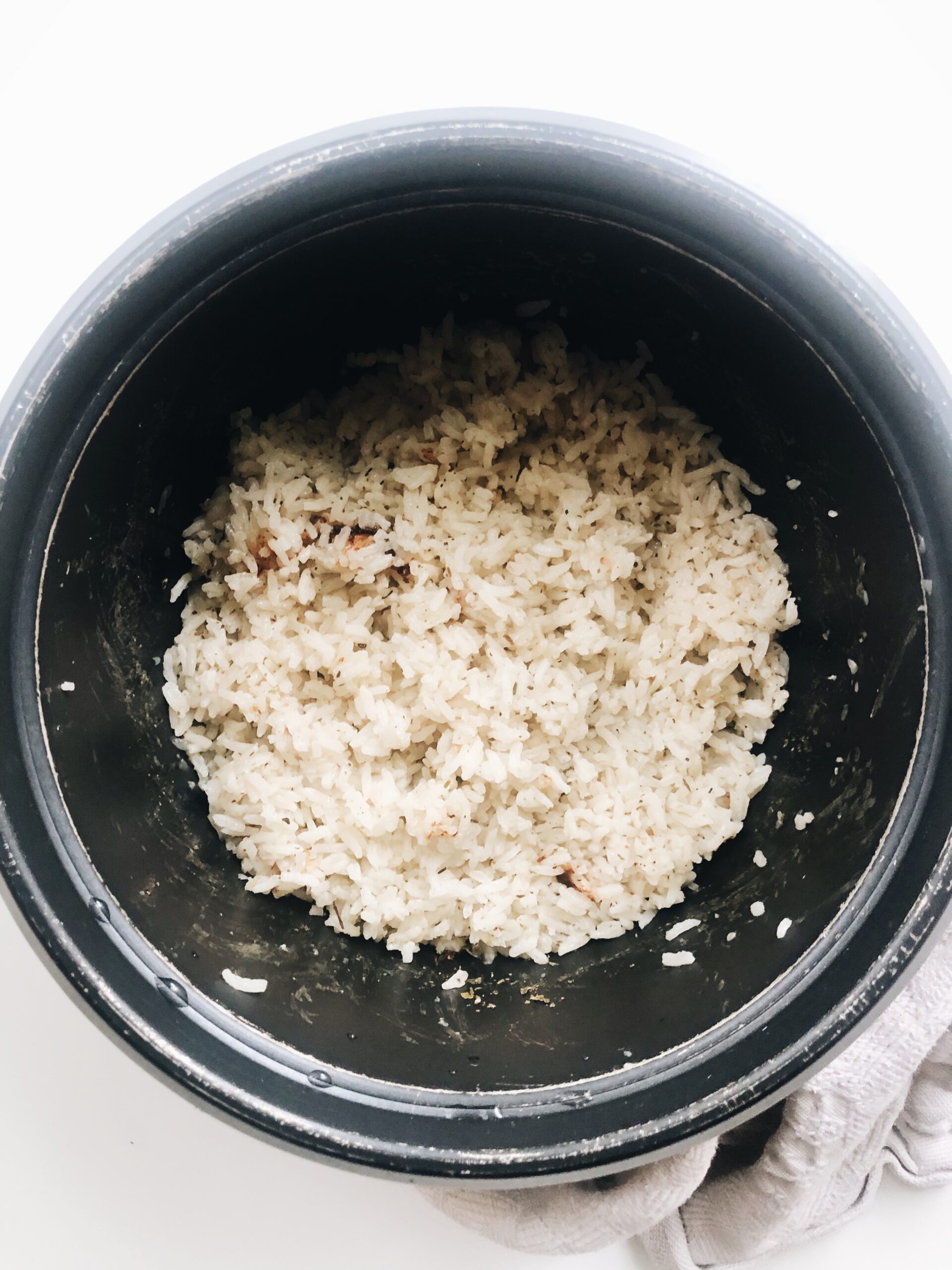 Okay, it is such serious business here I'm not even going to try to stay calm. There are some little browned spots here and there (all the flavor). The stock has infuuuuuused the rice with such cozy intensity, along with the shallot and seasoning. You'll never do rice the boring way again. Never. You're changed. Right now.
"THIS HOUSE IS CLEAN."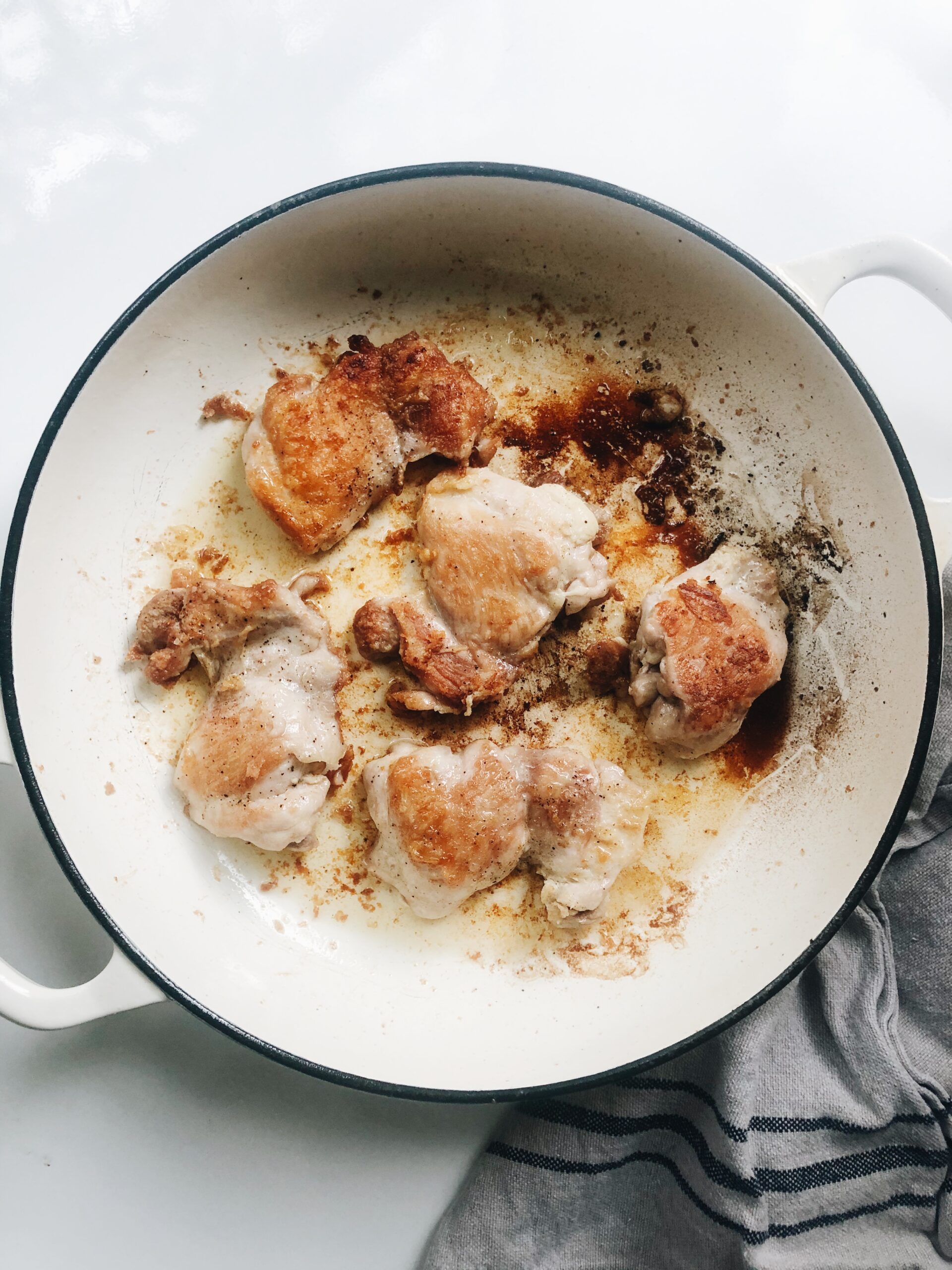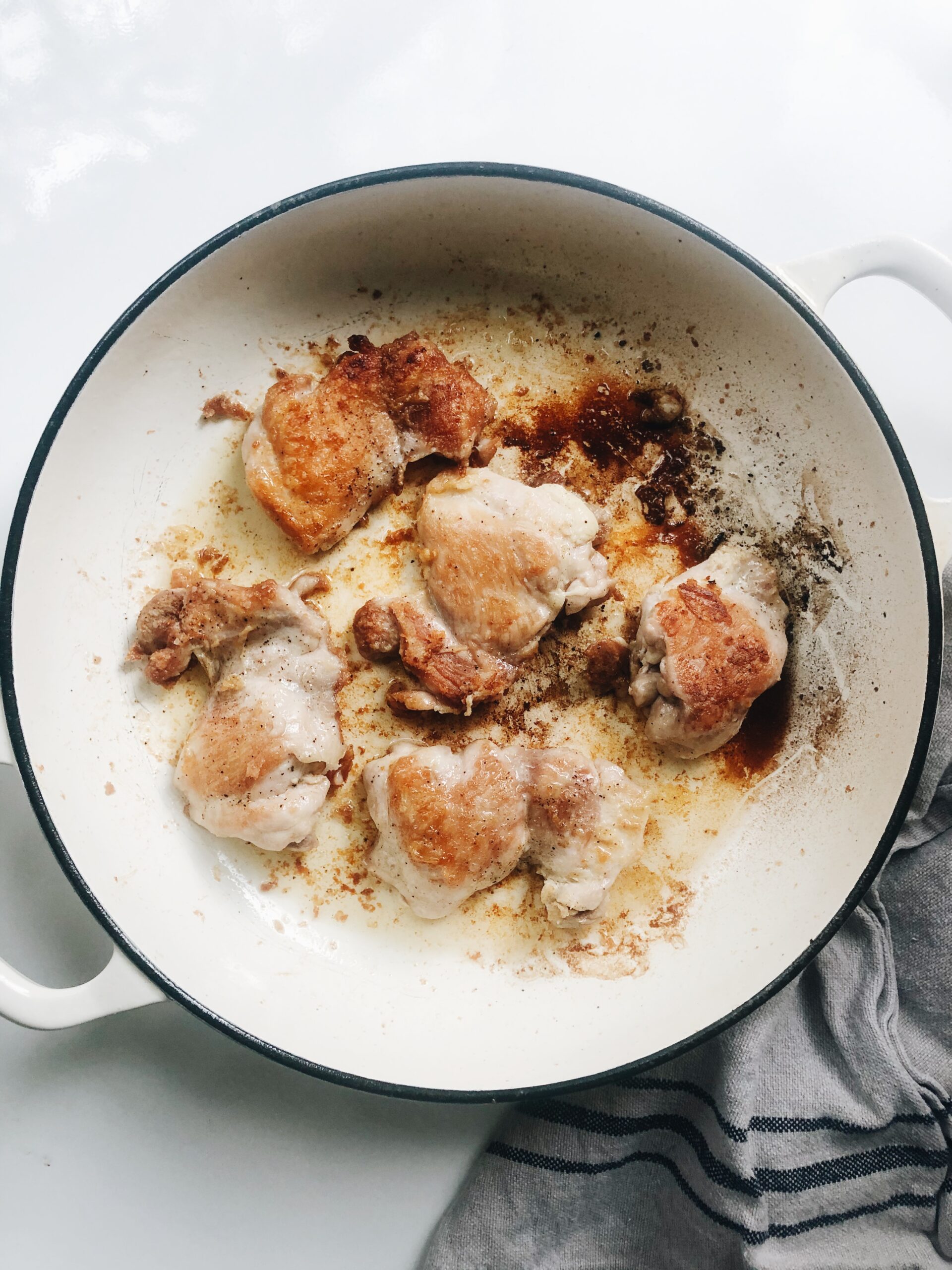 But we're not finished.
Sear those chicken thighs all nice like. Both sides, get it browned. 'Atta goil.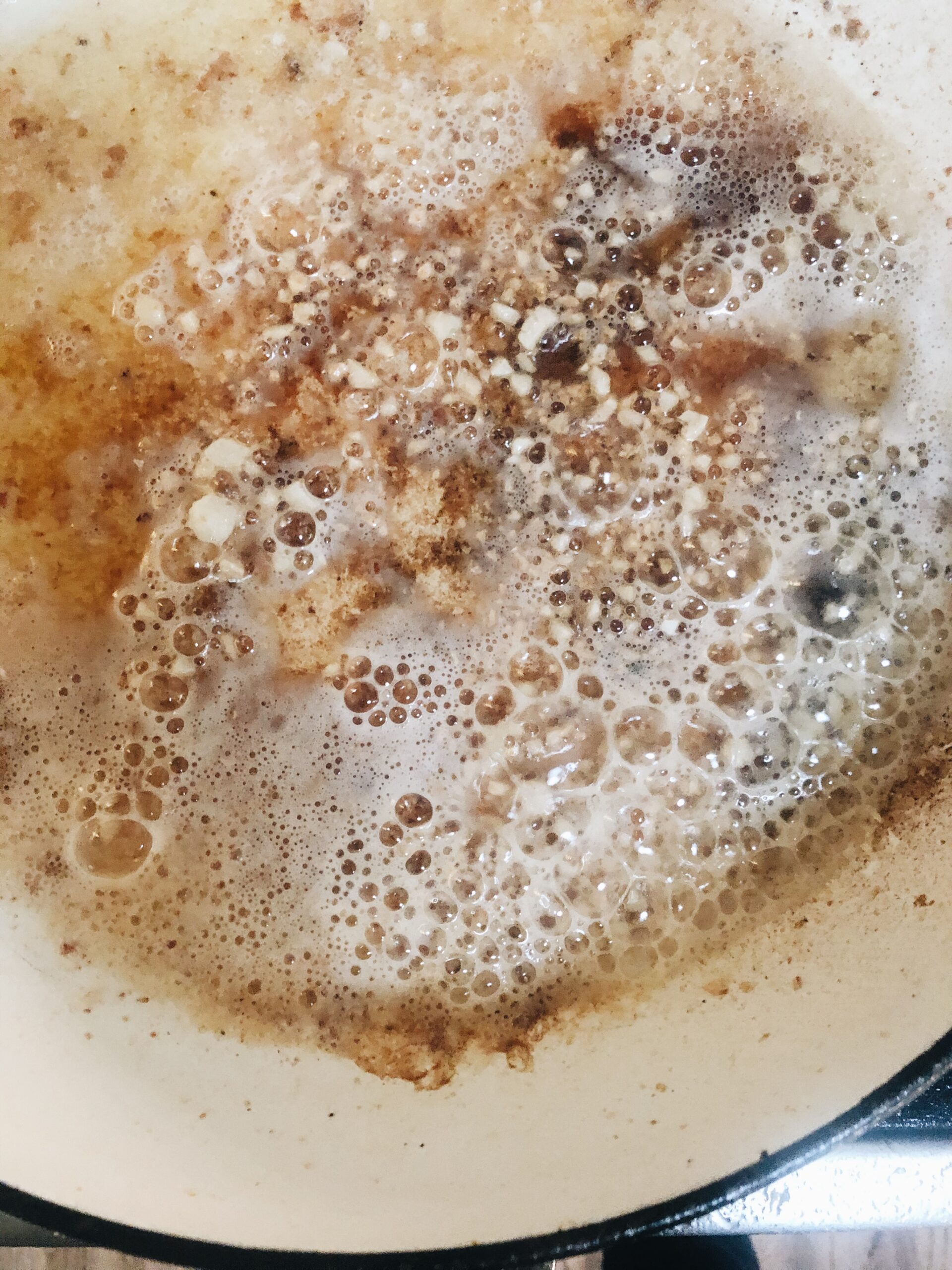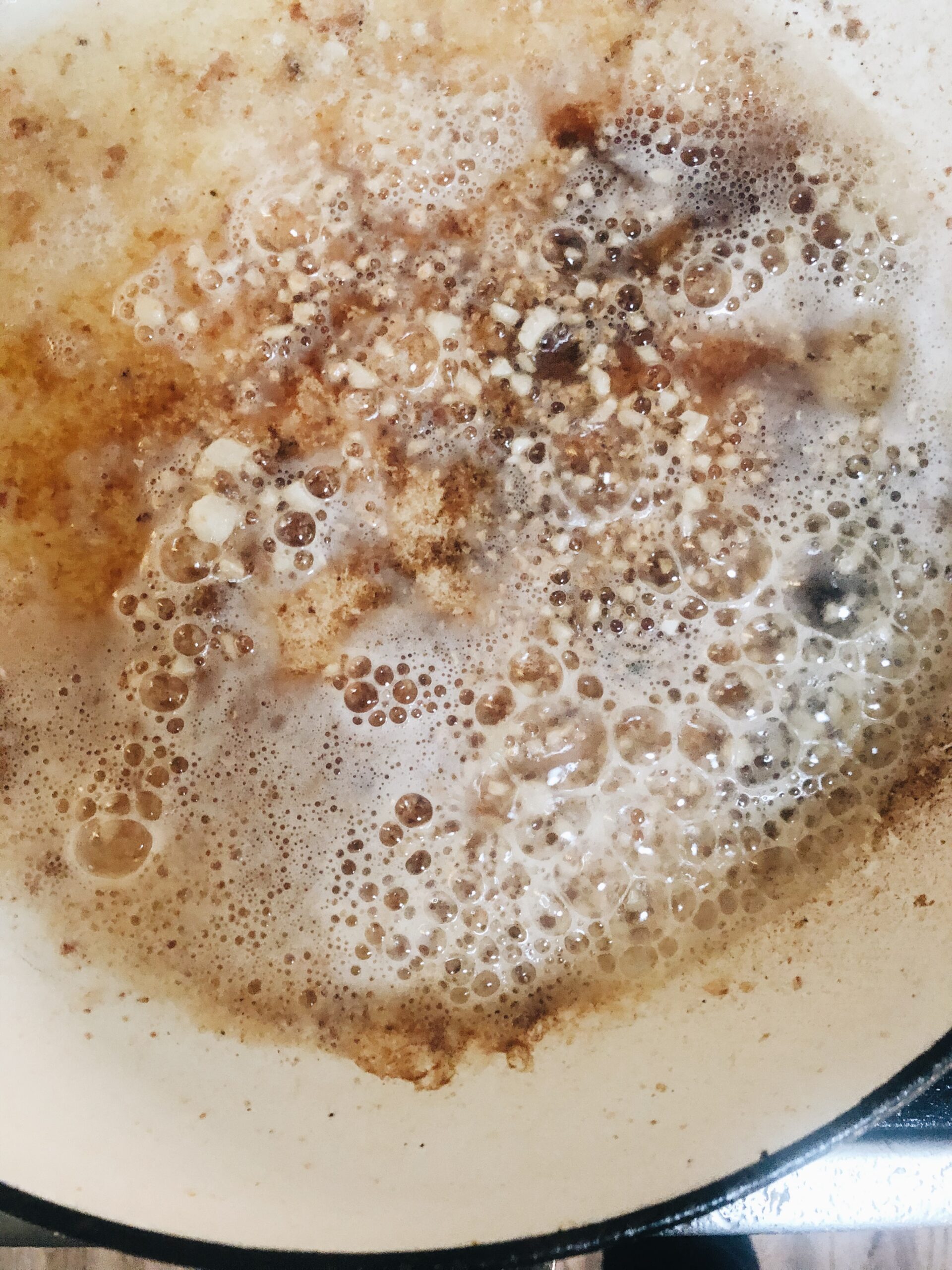 Get that chicken out, then let's make our sauce. It's super simple, so don't freak out.
Melt the butter, get it all foamy, then sprinkle in the flour. It will thicken quickly as you whisk, so add a splash of stock, and let that bubble up. Add the garlic and sauté for about 30 seconds. The fragrance should punch you square in the face.
Now add the rest of the stock, the zest and juice from the lemon, and the chopped parsley. Just whisk or stir it around for about five minutes on a medium heat. It may reduce a tad. It doesn't really need to. We're about to spoon it over the chicken and rice here in a minute so if it's thin that's completely fine. No stress, no overthinking. Just simmer it.
Then can you nestle that chicken back in for just a couple minutes and do this to it and call it Frank.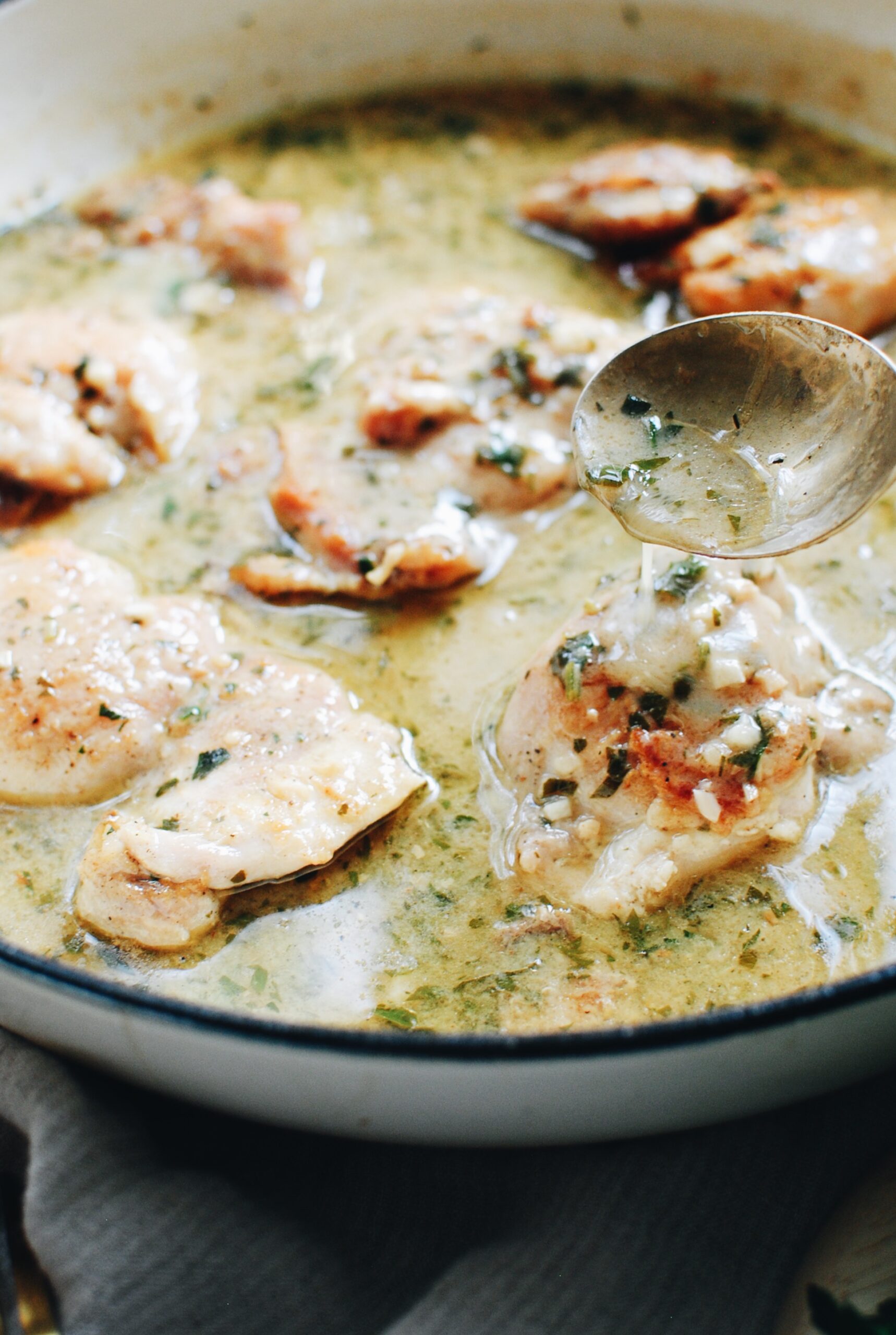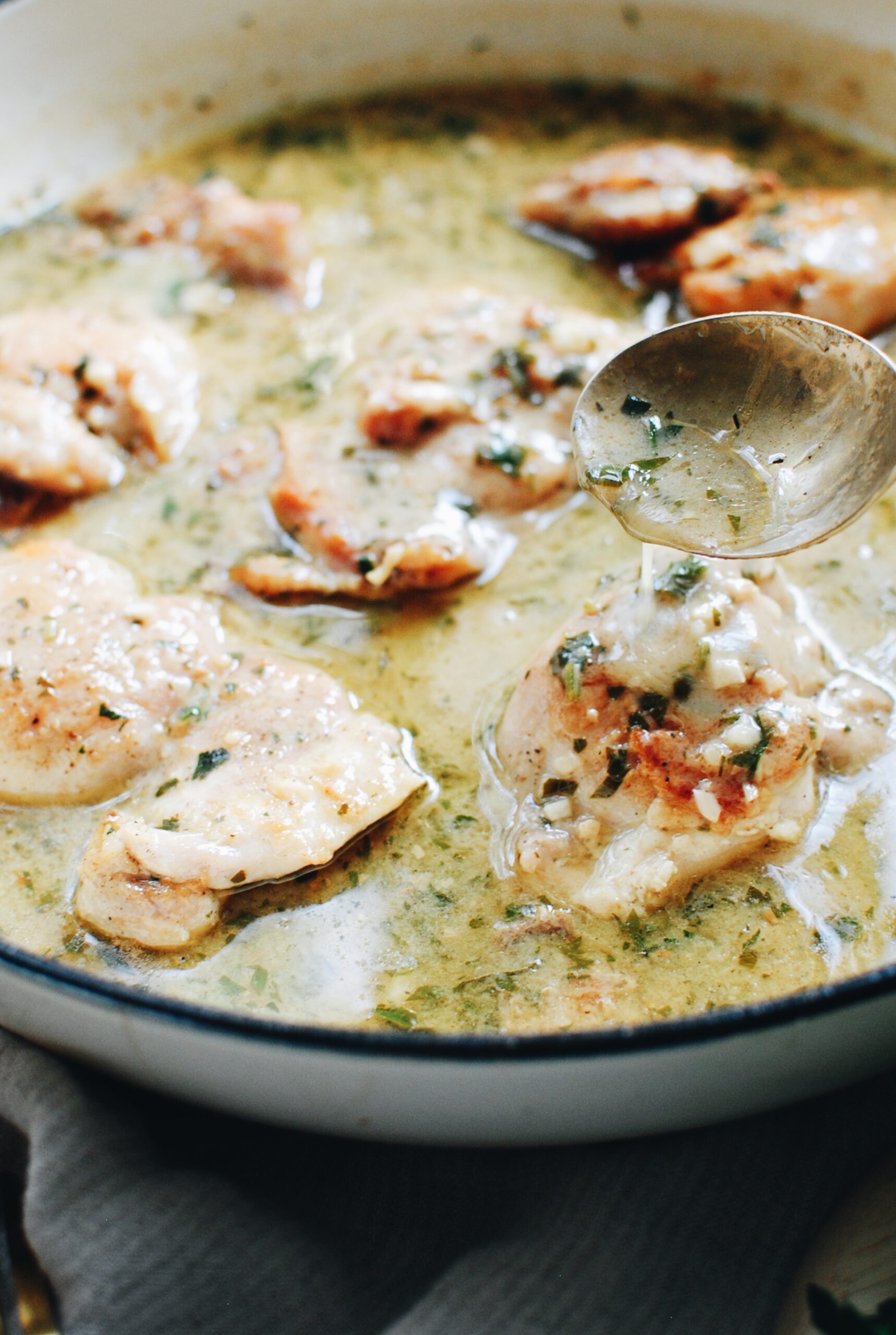 Uh huh, yep.
No, you can lean in to look. It's fine. No one's judging. Here's a towel.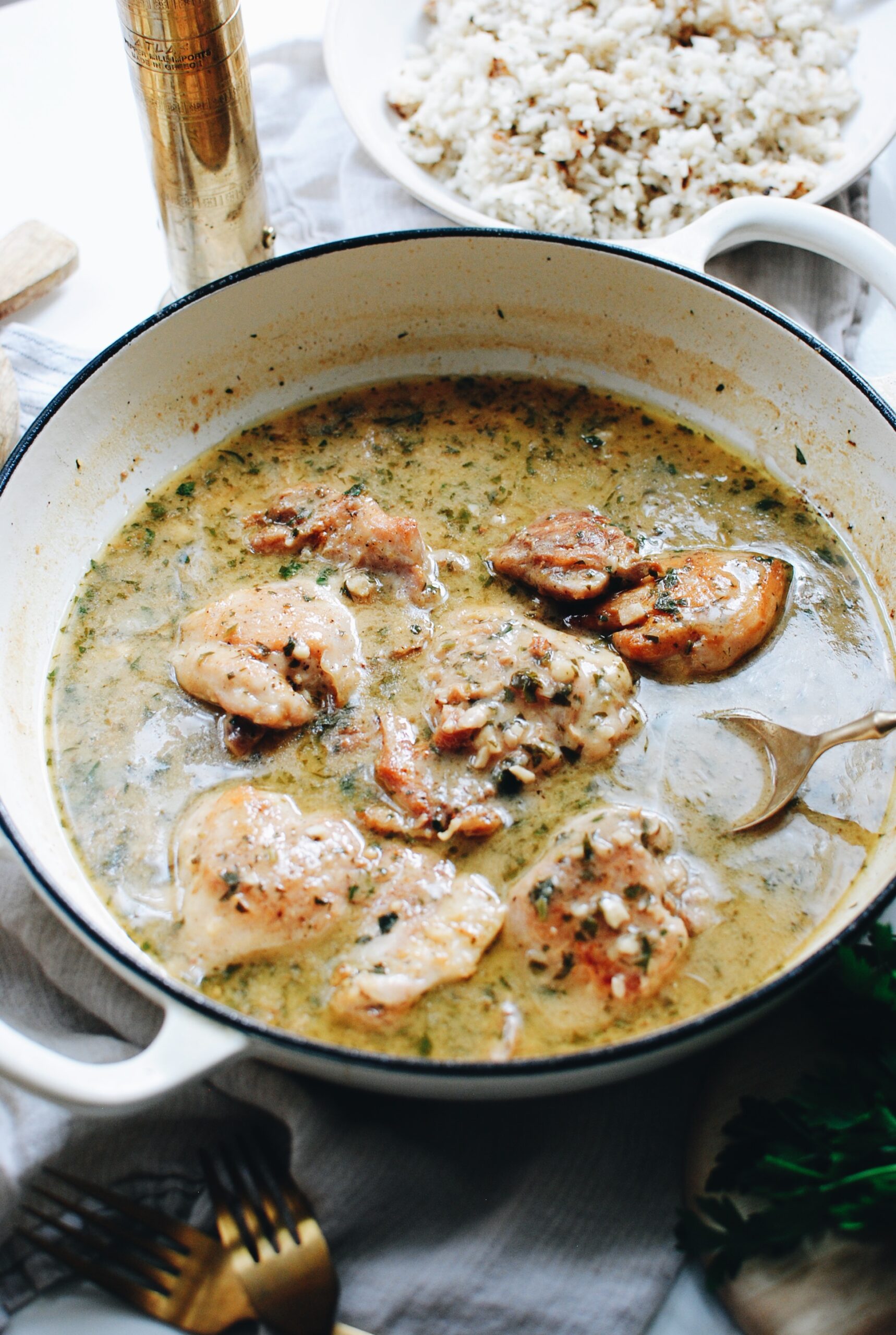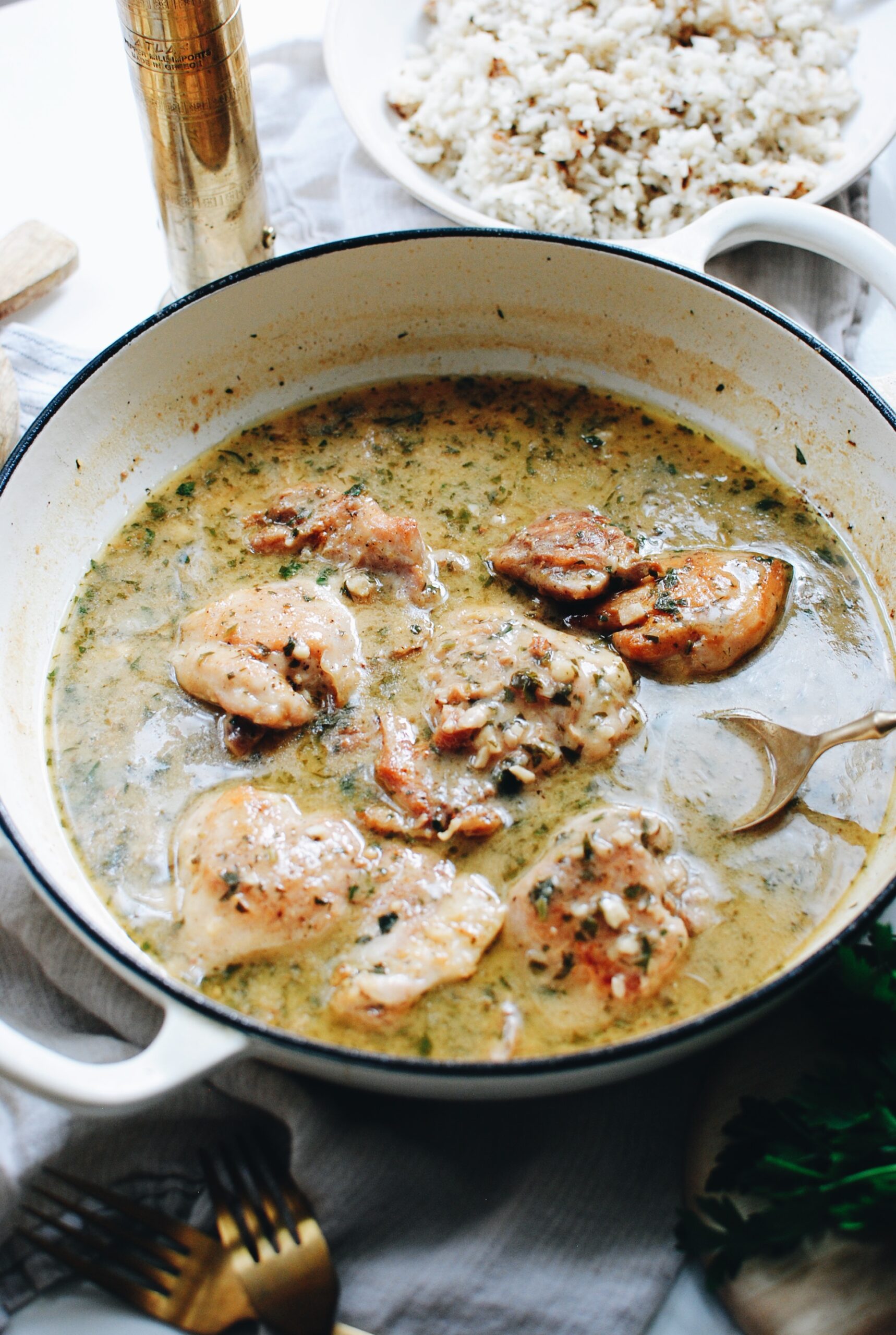 Remember the rice? See it back there? See the little browning? All that is a delicious mouth punch that you're about to embark on.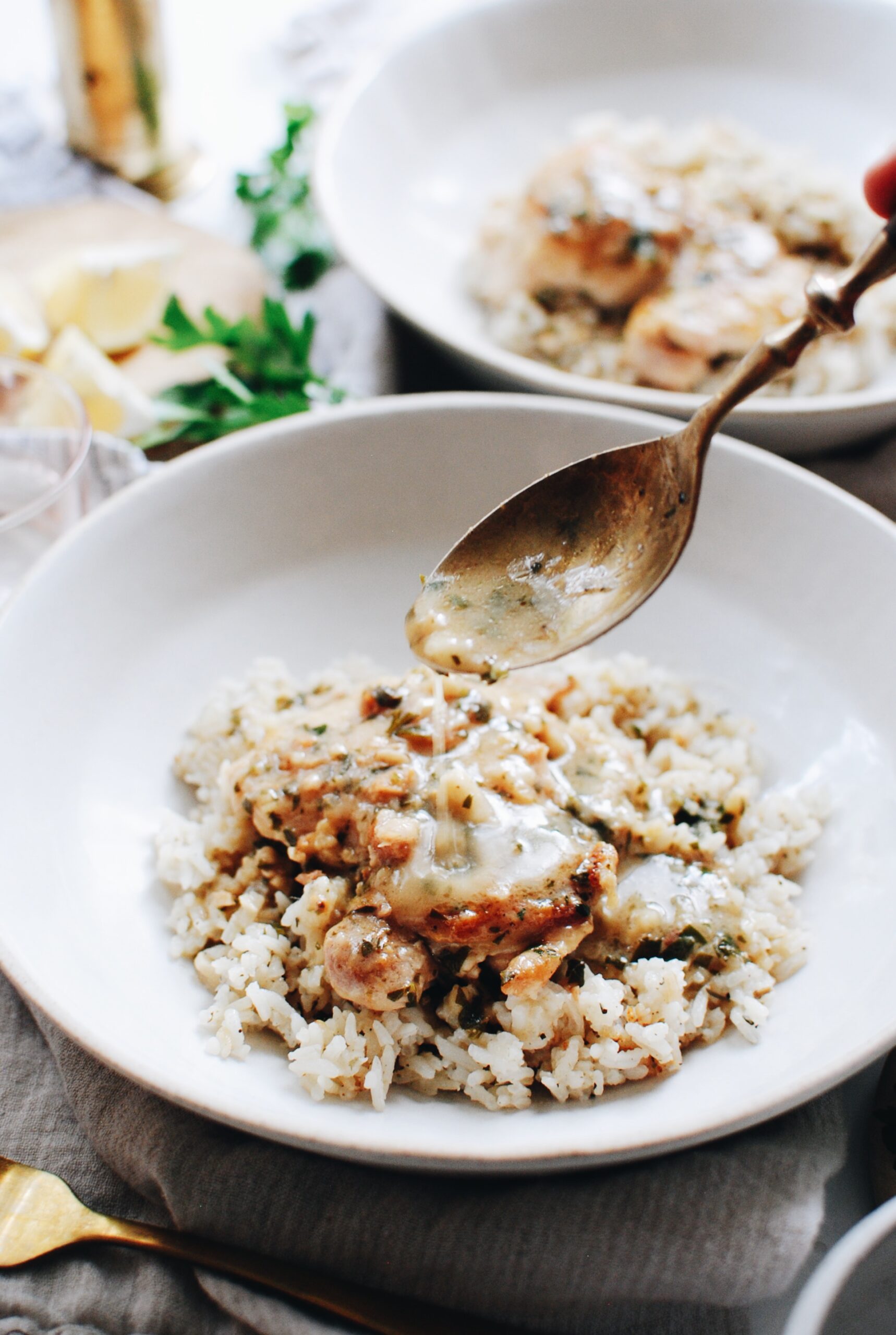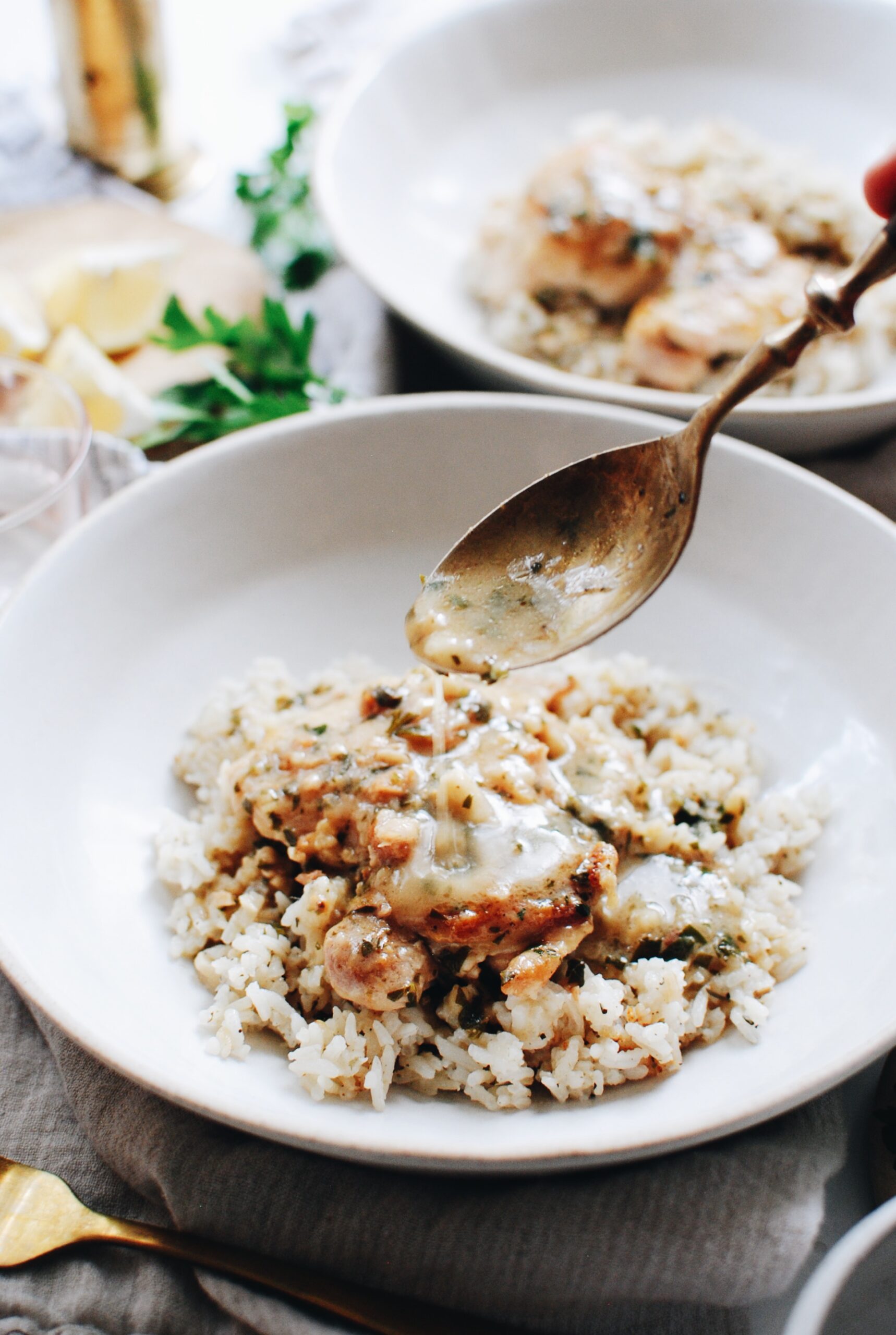 Hello, all the lovers of the world unite.
Flavor on the bottom, flavor in the middle, flavor being poured over and drenching it all in flavorflavorflavor.
It's like chicken and gravy but not. It's a little more sophisticated, lil' more refined. Lil' more HOLD MEH.
And simple! Start the rice and work the chicken at the same time and it comes together in about 30 minutes. Praise be.
The flavors are comforting and classic with a hit of brightness with the lemon. It will wake your soul up and send you soaring into goodness. Swearsies.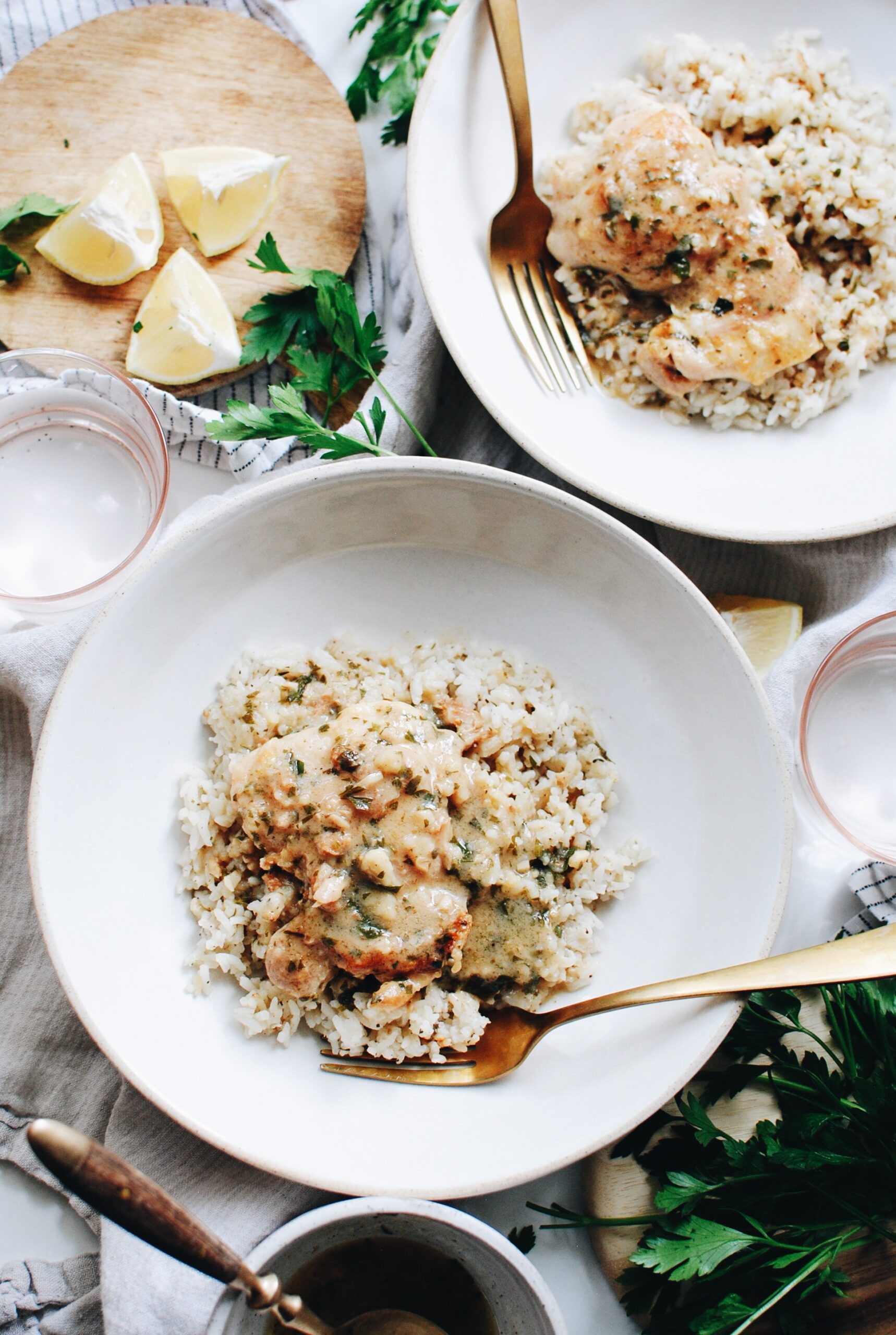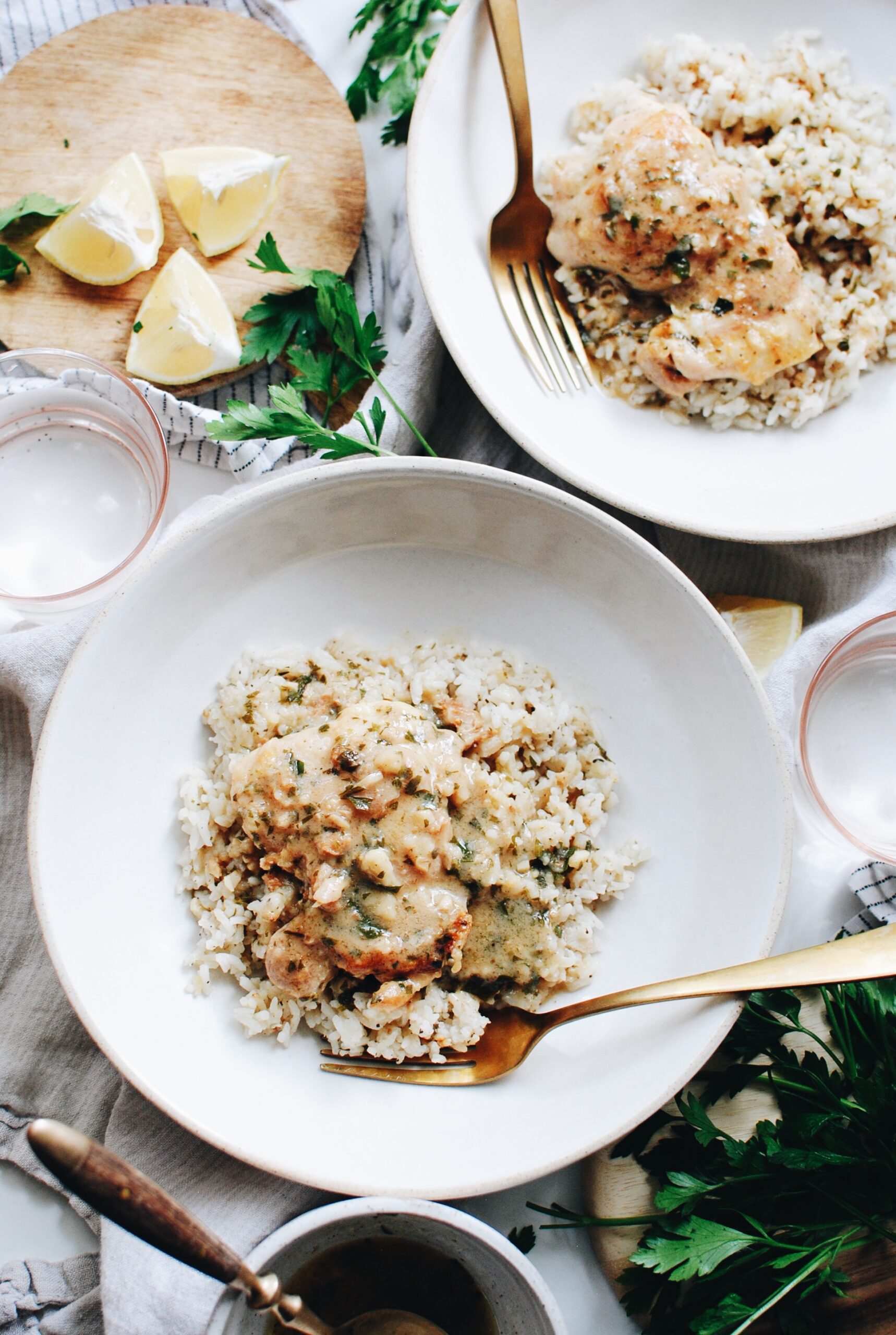 Maybe add more sauce.
Seared Chicken with Seasoned Rice in a Lemon Parsley Sauce
Ingredients
1 1/2 pounds boneless, skinless chicken thighs (5 thighs)
2 Tbs. extra-virgin olive oil
4 cups chicken stock, divided
1 cup Jasmine rice, rinsed
1 shallot, minced
1 tsp garlic powder
1 tsp Italian seasoning
3 Tbs. butter
1 Tbs. flour
3 garlic cloves, minced
1 lemon, zested and juiced
1/4 cup chopped parsley
Salt and pepper
Instructions
In a rice cooker, add the rinsed rice, 2 cups chicken stock, minced shallot, garlic powder, Italian seasoning and a pinch of salt. Stir it together, set it and forget it. (You can do this stove top, too!)
While the rice cooks, heat 2 Tbs. extra-virgin olive oil in a wide skillet over a medium high heat. Season the chicken with salt and pepper and sear for six minutes per side. You want some good browning on both sides. If you need to flip for another two minutes per side, go ahead. Move the chicken out of the pan and set aside. Now for the sauce!
Melt the butter in the pan until it starts to foam. Add the flour and whisk it until it thickens, just a few seconds. Add the garlic, a Tbs. of stock and whisk/simmer it for about 30 seconds, until fragrant. Add the remaining stock, lemon zest and juice, and minced parsley. Let this simmer anywhere from five to 10 minutes. Nestle the chicken back in the sauce and spoon the juices over the chicken, letting it all fall in love.
Serve the chicken over the rice, spooning as much of the lemon parsley sauce over it as you can possibly handle.
Serve immediately!
Serves 4.
7.8.1.2
464
https://bevcooks.com/2020/11/seared-chicken-with-seasoned-rice-in-a-lemon-parsley-sauce/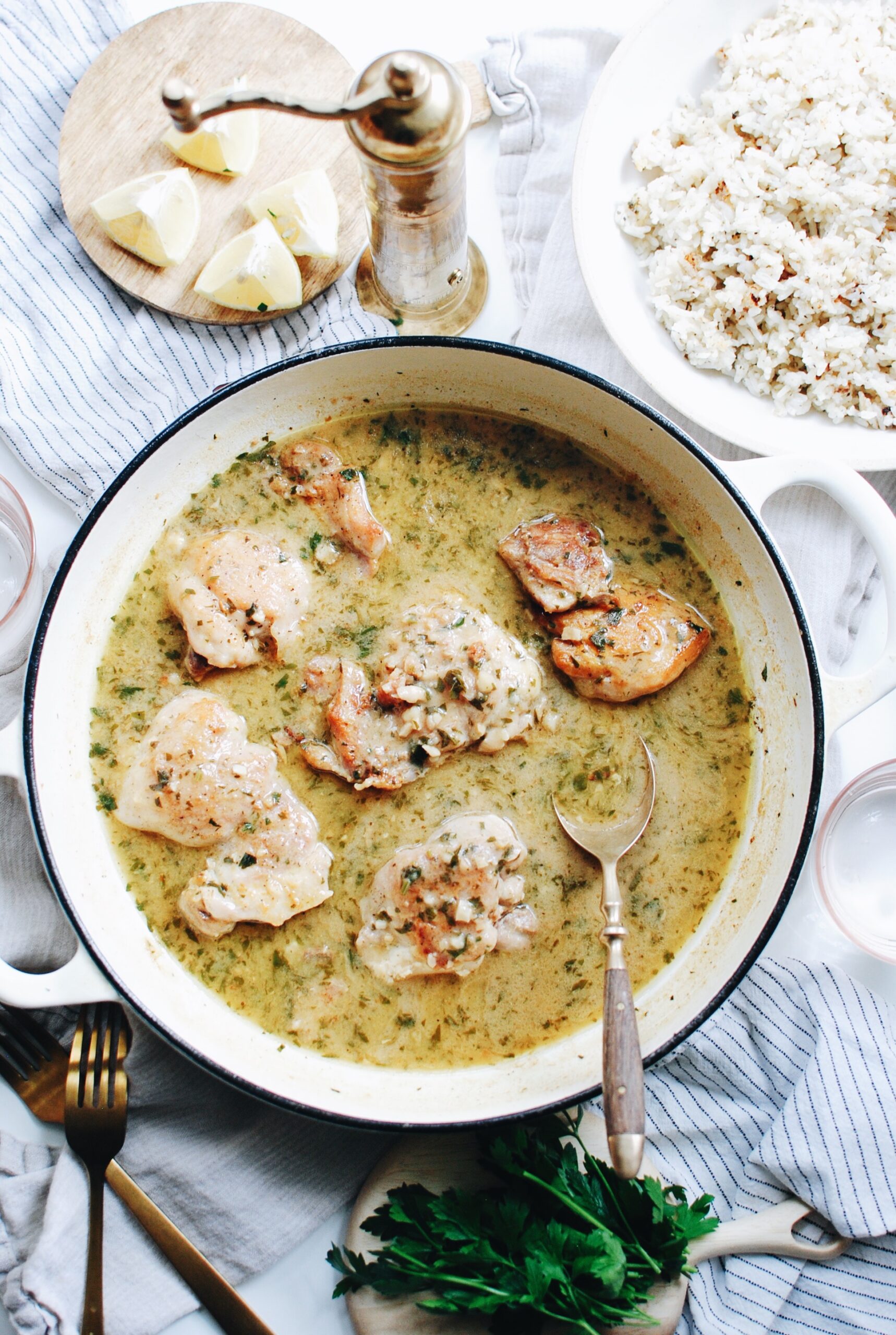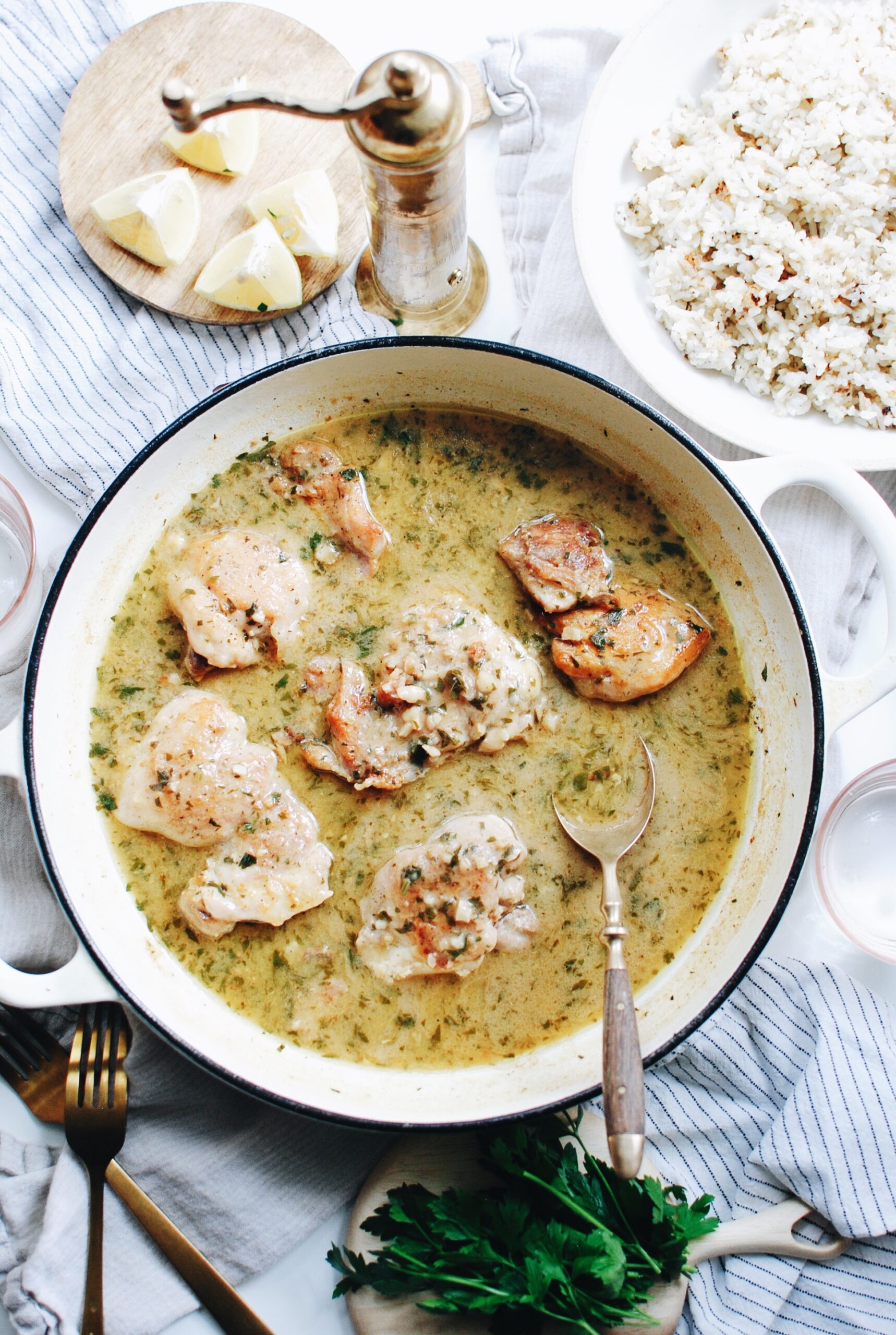 Wait, are you putting on your swimming suit right now? Because me, too.