Vegetarian! And one pan, baybuh.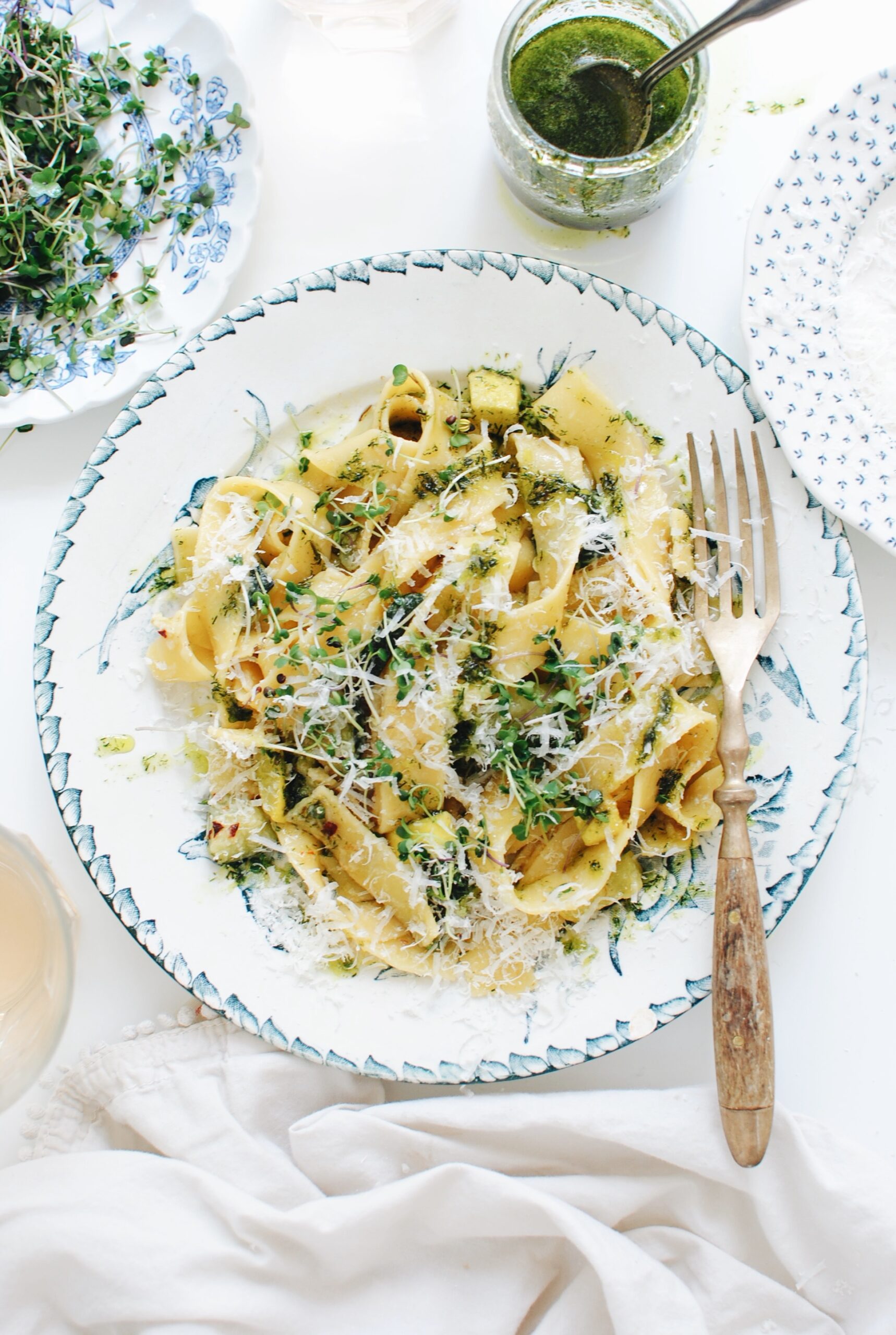 Okay I say vegetarian. It is if you sub in veggie stock for chicken stock. So no coming at me today, okay?
This is really a tweak-your-own kind of situation. We have pasta, we have vegetables, we have aromatics, we have stock and cheese and garnishes. If I say "we have happy bellies" would you block me for life?
And yes, this is the second recipe I've used the onion oil in. I SWEAR I'll get you the recipe this summer. I used it as a finishing oil, so in its place just grab your best extra-virgin olive oil. You're still a good person.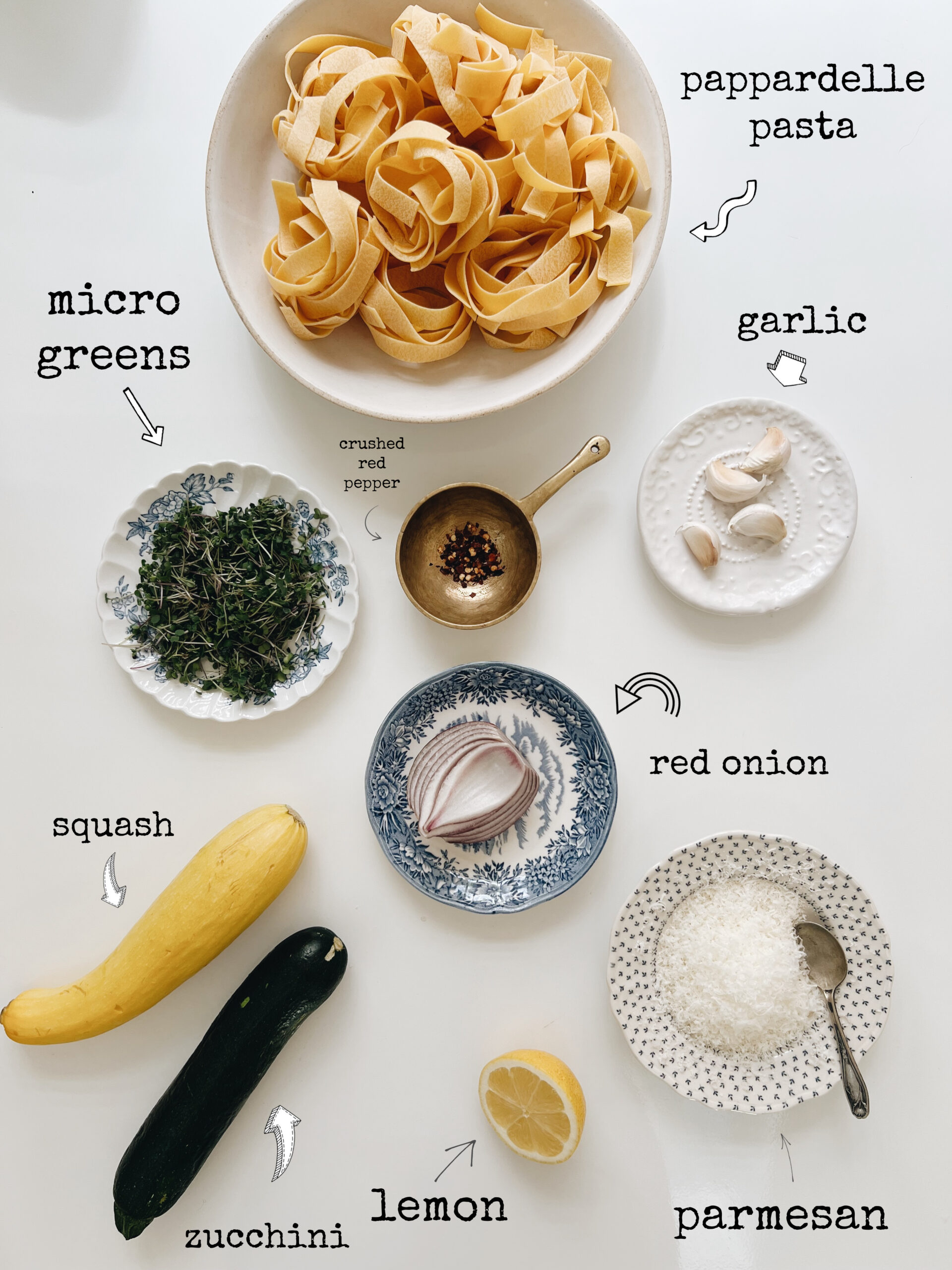 The pappardelle – I used DeLallo, but anything you find is all good.
The veggies – I went with zucchini and squash! Always a solid choice.
The crushed red pepper and mico greens are optional, but I find those little enhancers to be what makes the world go round. In other words, don't skimp or I'll come after you!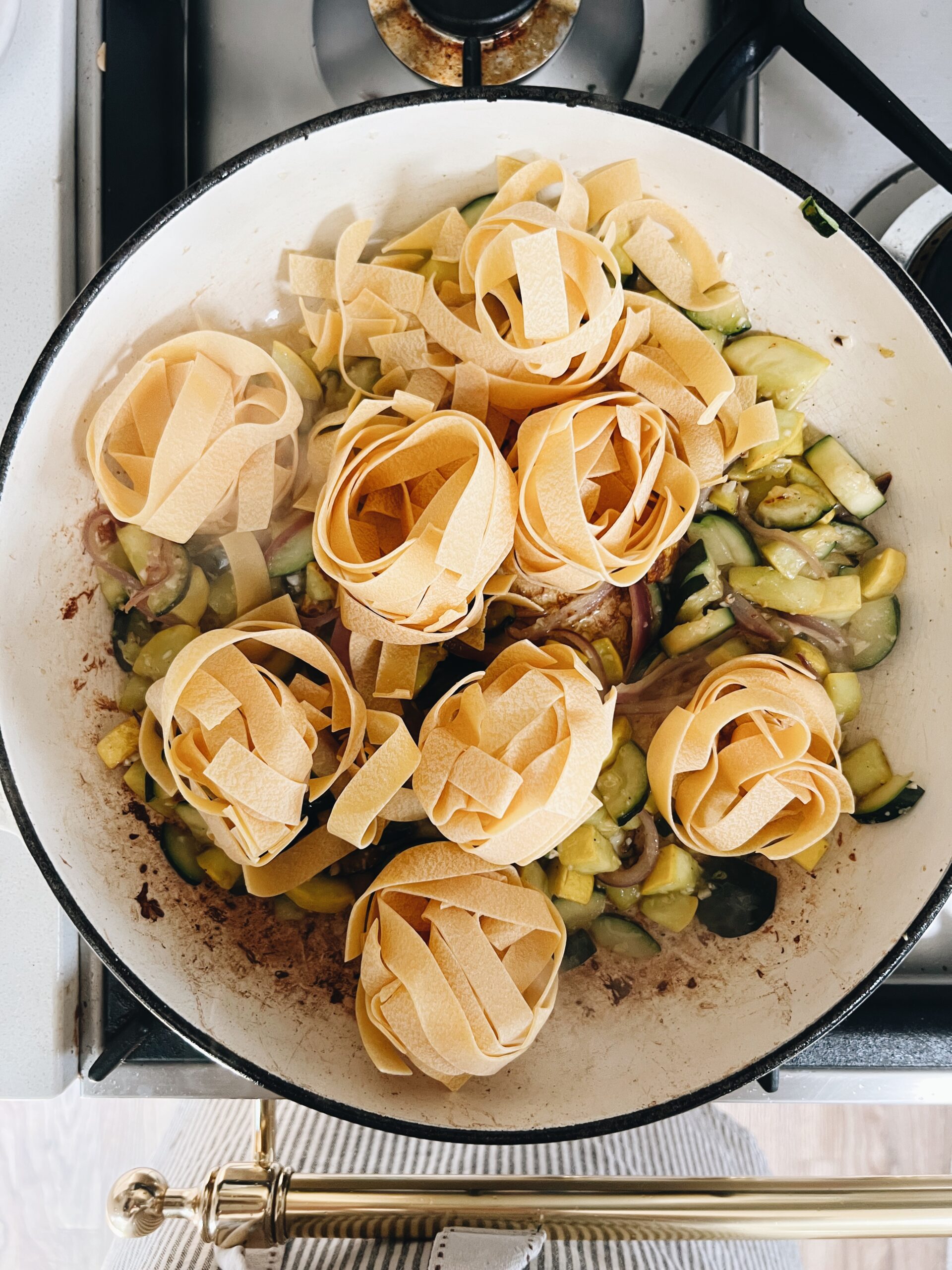 It's a simple situation here. We'll sauté the onions with the sliced zucchini and squash for a little bit until they begin to get tender and take on a bit of color. Then the garlic goes in. Bloom that for a minute until the whole dish is so fragrant it gives you whiplash.
In goes the pasta! Mine are nests, but straight or folded pasta works just as well. Bro, even egg noodles will work.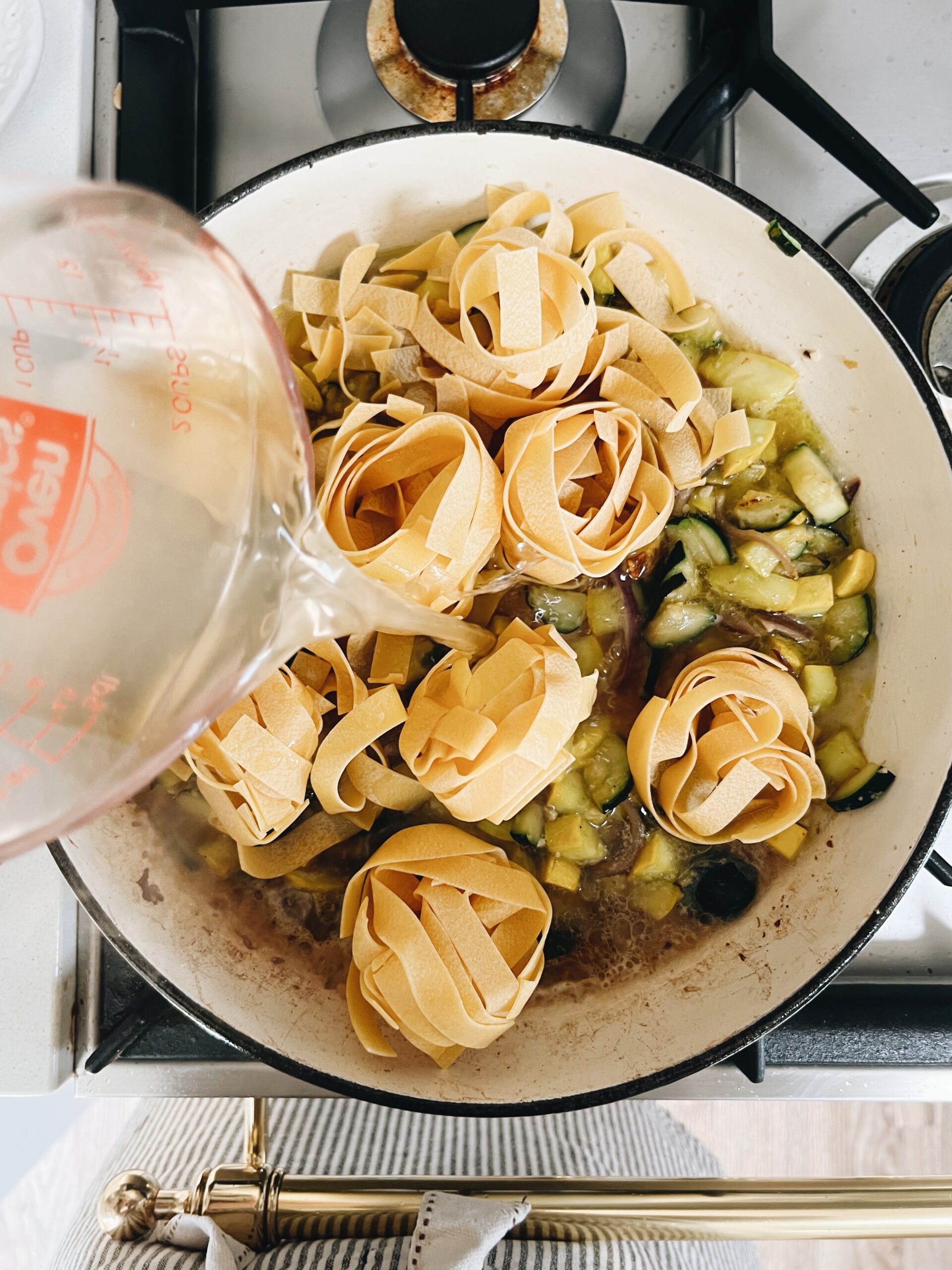 Once the pasta is in, pour in three cups of chicken stock. Use your tongs to sort of loosen the pasta until it's covered in the stock. Then reduce the heat a bit, throw the lid on, violently set a timer for two minutes. Once that goes off, stir it all around to make sure nothing is sticking.
Okay now do that again. Another two minutes. Another stir. It doesn't take long at all for this to go down. Once the pasta is tender and has absorbed most of the liquid, let's get it off the heat. You've salted the veggies, but let's add some lemon juice and taste it. What do we need here? More salt?
The crushed red pepper, for sure. (if you like a kick in the face) The parm for nuttiness! The micro greens for that perfect bitter bite. Look at you.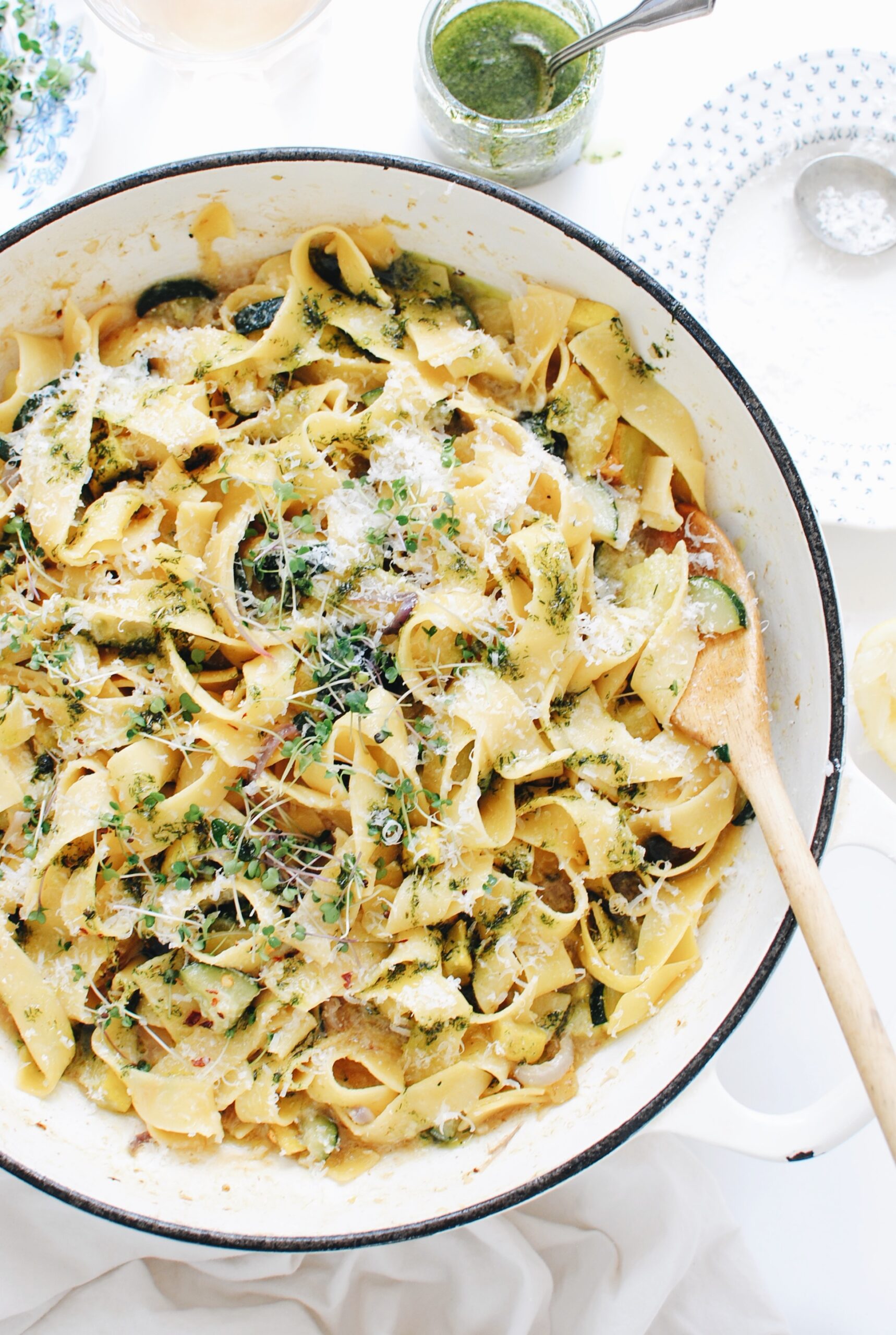 And a good drizzle of your best oil. I know I always say this, but it just takes the dish completely over the top.
It's SO, SO GOOD.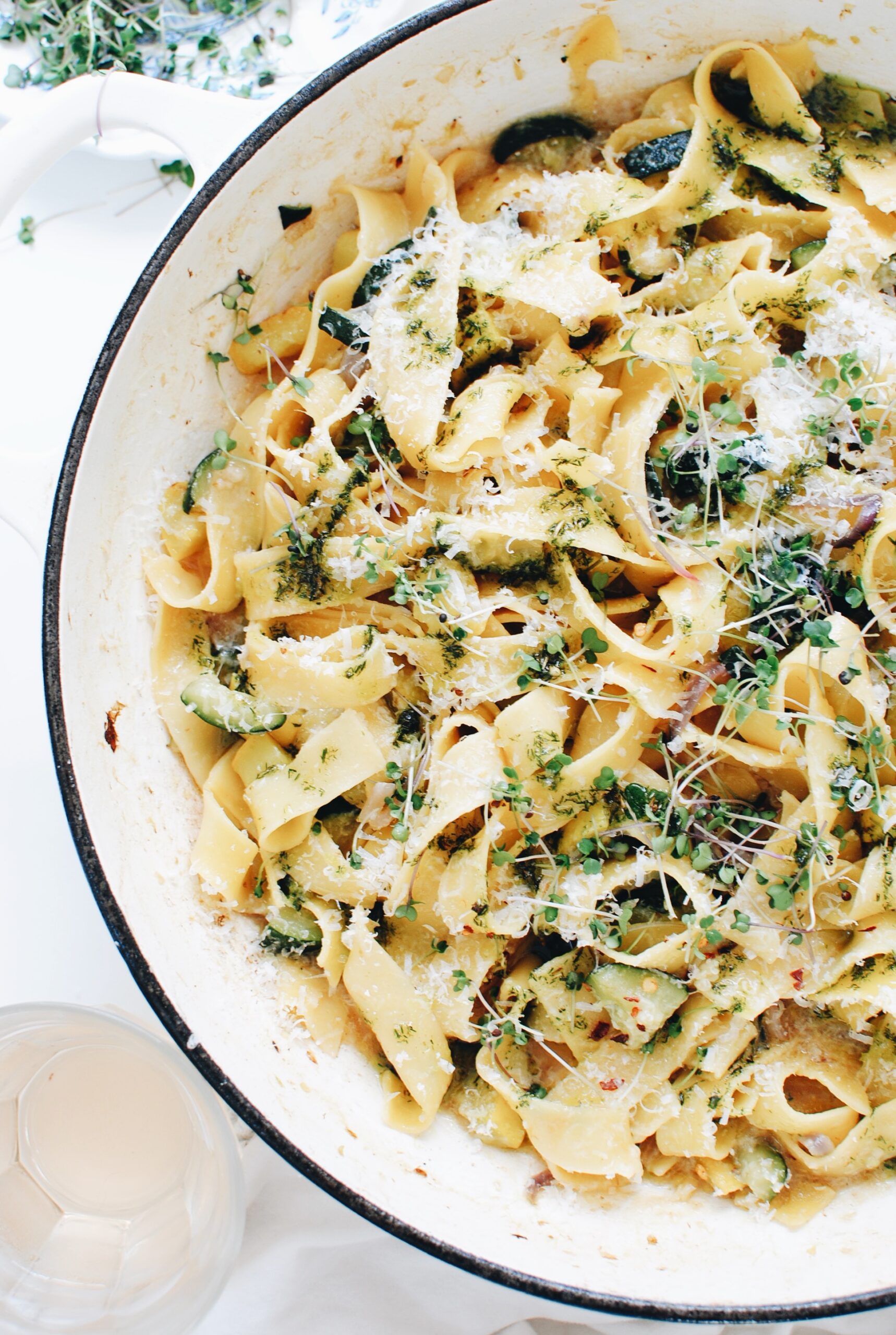 Silky and vibrant and earthy and luscious and ONE PAAAAAN. You remember that, right? One pan. Skillet. Whatever.
Comes together in about thirty so you have zero excuses not to whip this up today or right now.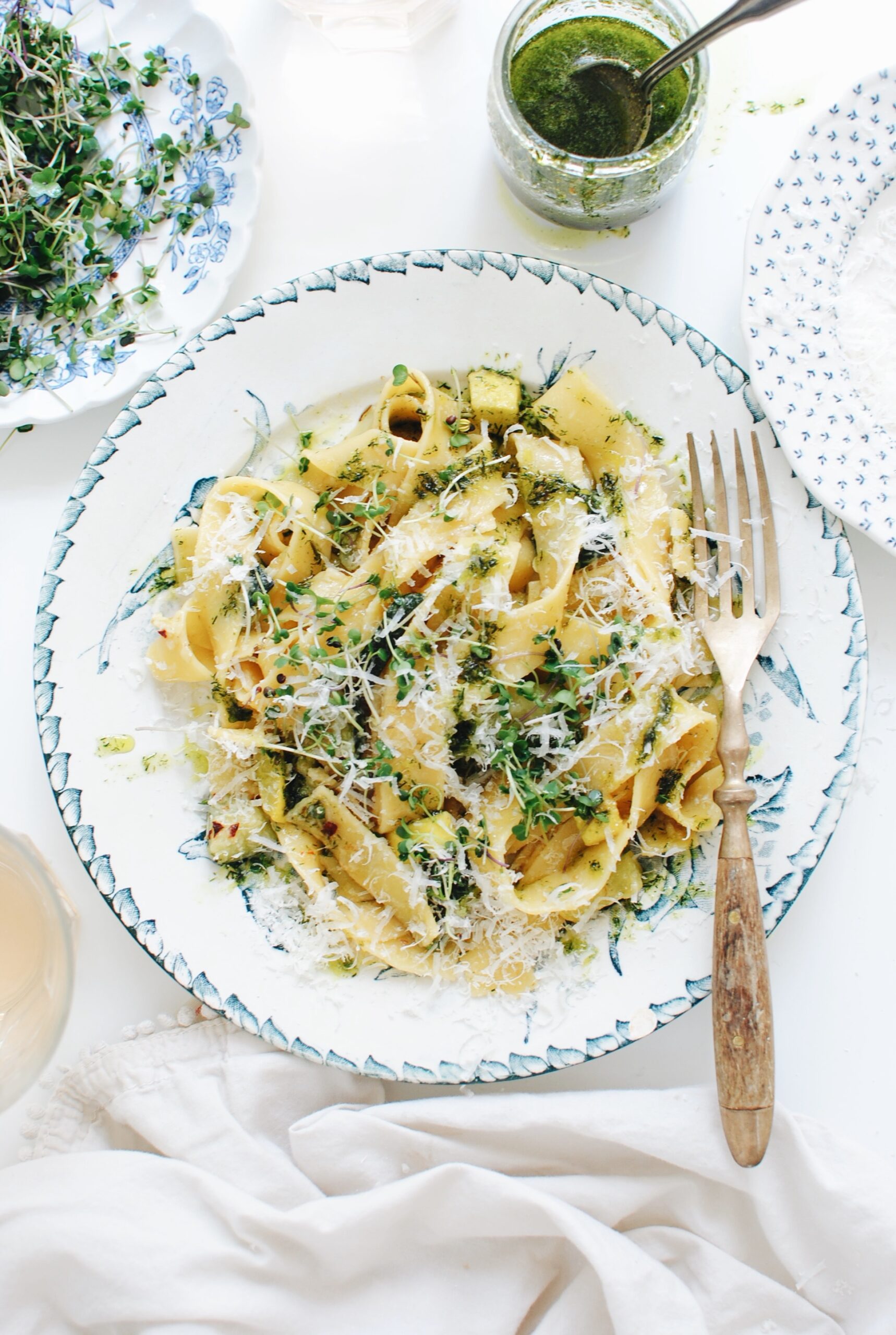 Maybe a crisp sauvignon blanc with it? Duh.
Pappardelle with Veggies and Herbs
Ingredients
1/3 cup sliced red onion
4 garlic cloves, minced
1 zucchini, sliced
1 squash, sliced
2-3 Tbs. Extra-virgin olive oil
12 oz pappardelle pasta (roughly)
3 cups chicken stock
Juice from half a lemon
A pinch of crushed red pepper
Parmesan cheese, for garnish
Micro greens, for garnish
A good extra drizzle of olive oil
Coarse salt
Instructions
In a large wide skillet, heat the oil over medium high. Add the onion and sauté for a minute. Add the sliced squashes along with a good pinch of salt; sauté about five minutes, until they start to get tender and take on some color. Add the garlic and sauté another minute.
Now add the pasta and the chicken stock. Turn the heat down a bit and stir until the pasta is covered and starting to get tender. Put the lid on and set a timer for two minutes. Check and stir to make sure there's no sticking. Lid back on, another two minutes. Lid off, stir stir. Keep going for another couple of two-minute increments until the pasta is al dente and has absorbed the stock.
Off the heat, add the lemon juice. Give it a good toss. Garnish with parmesan, crushed red pepper flakes, another pinch of salt if needed, the micro greens, and a good drizzle of your best oil.
Serve immediately!
Serves four.
7.8.1.2
638
https://bevcooks.com/2023/05/pappardelle-with-veggies-and-herbs/
Hello, lover.