Leeks! We're playing with leeks. Today we're going to play with some leeks. Leeks.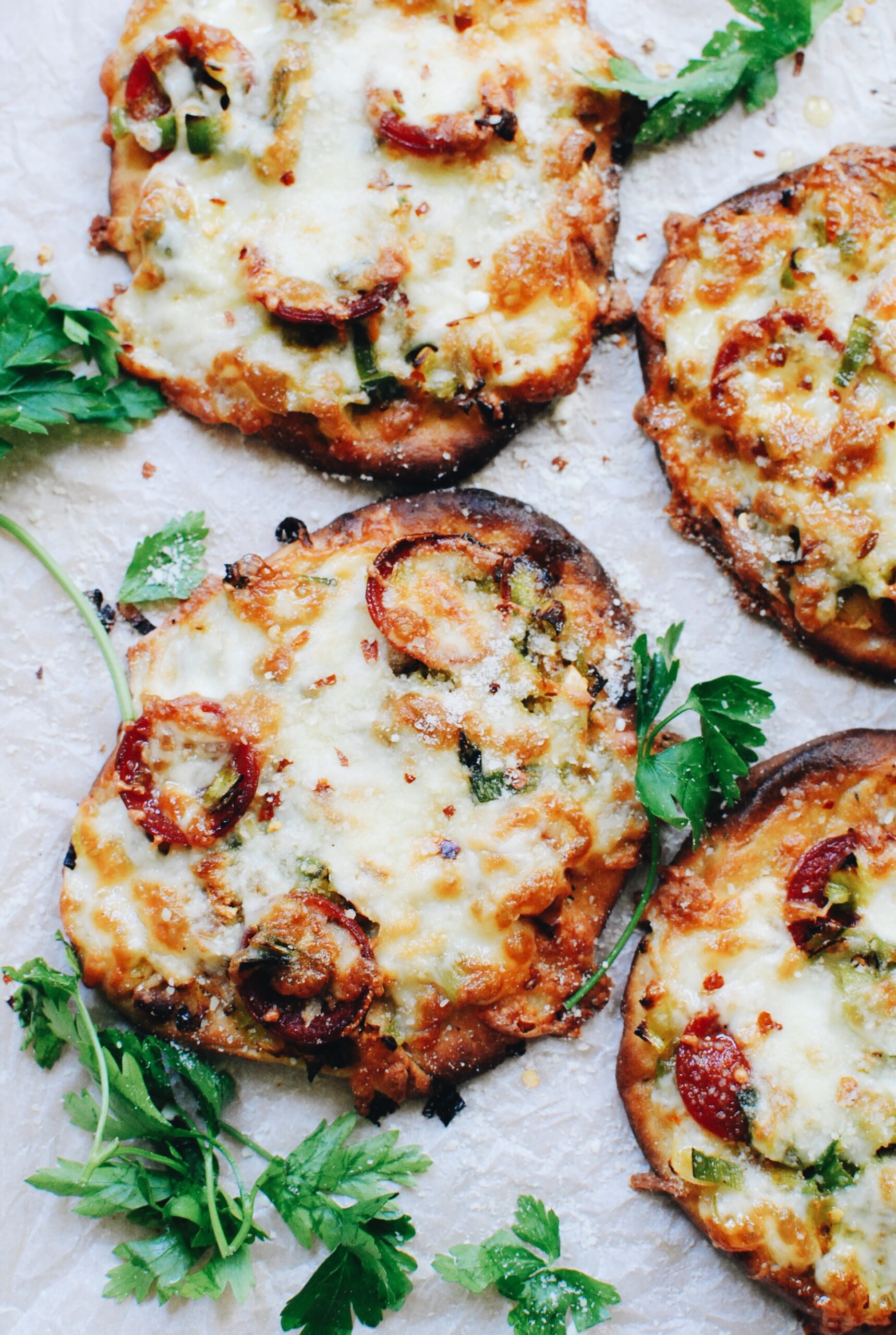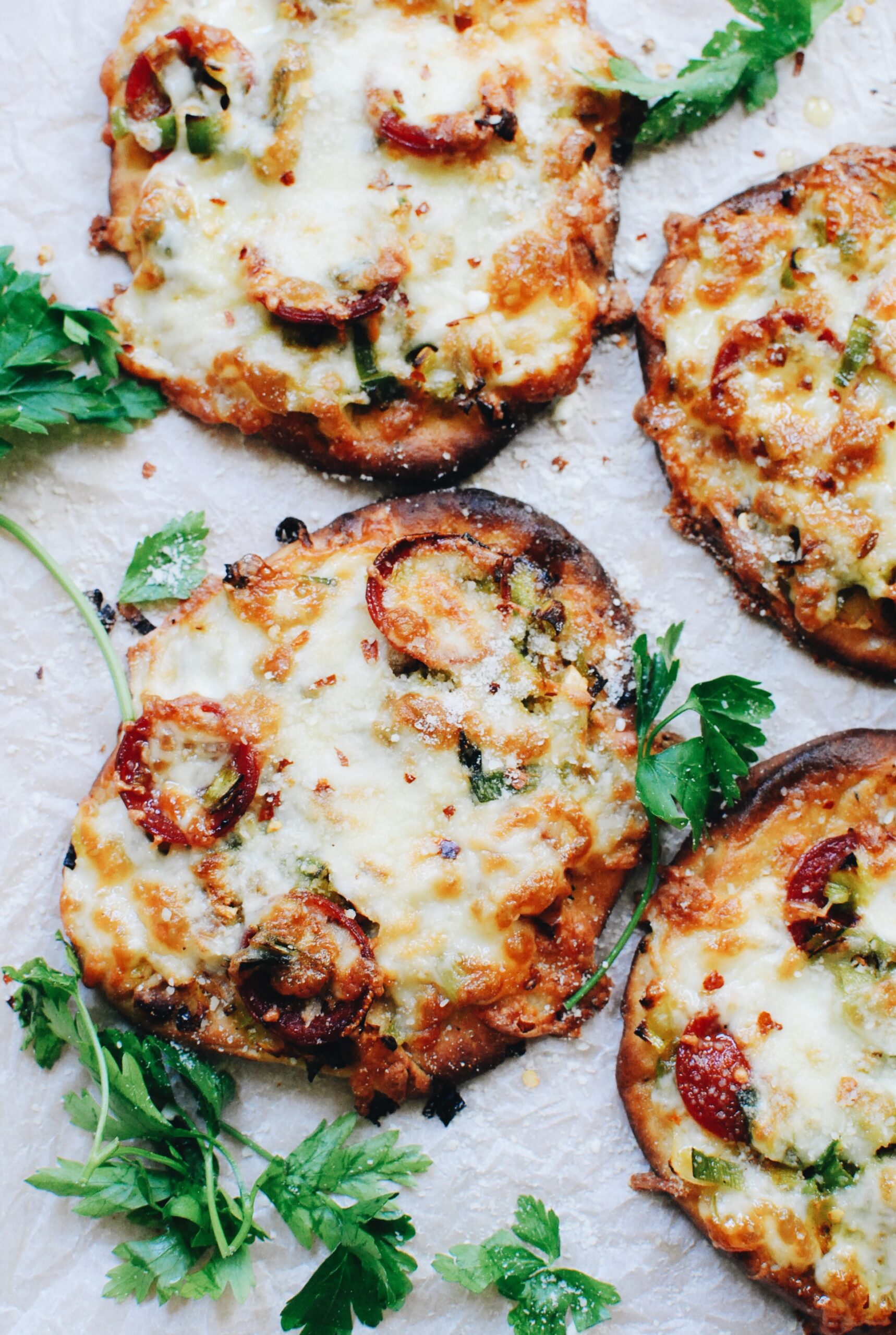 But on pizza so you can breathe now.
Aaron bought these mini naans with zero plans (that makes me certifiably loony), and I was like, "What are you gonna do with these?" And he said, "Oh I dunno!"
….okay?
They sat. And sat. And sat for like three entire D A Y S. And I was having 35 cardiac arrests each passing day because I'm a huge planner and needed to know the exact fate of this bread. After deafening silence from him, I gave them purpose. With these! With LEEKS. And pepperoni.
Wait, did you seriously already leave?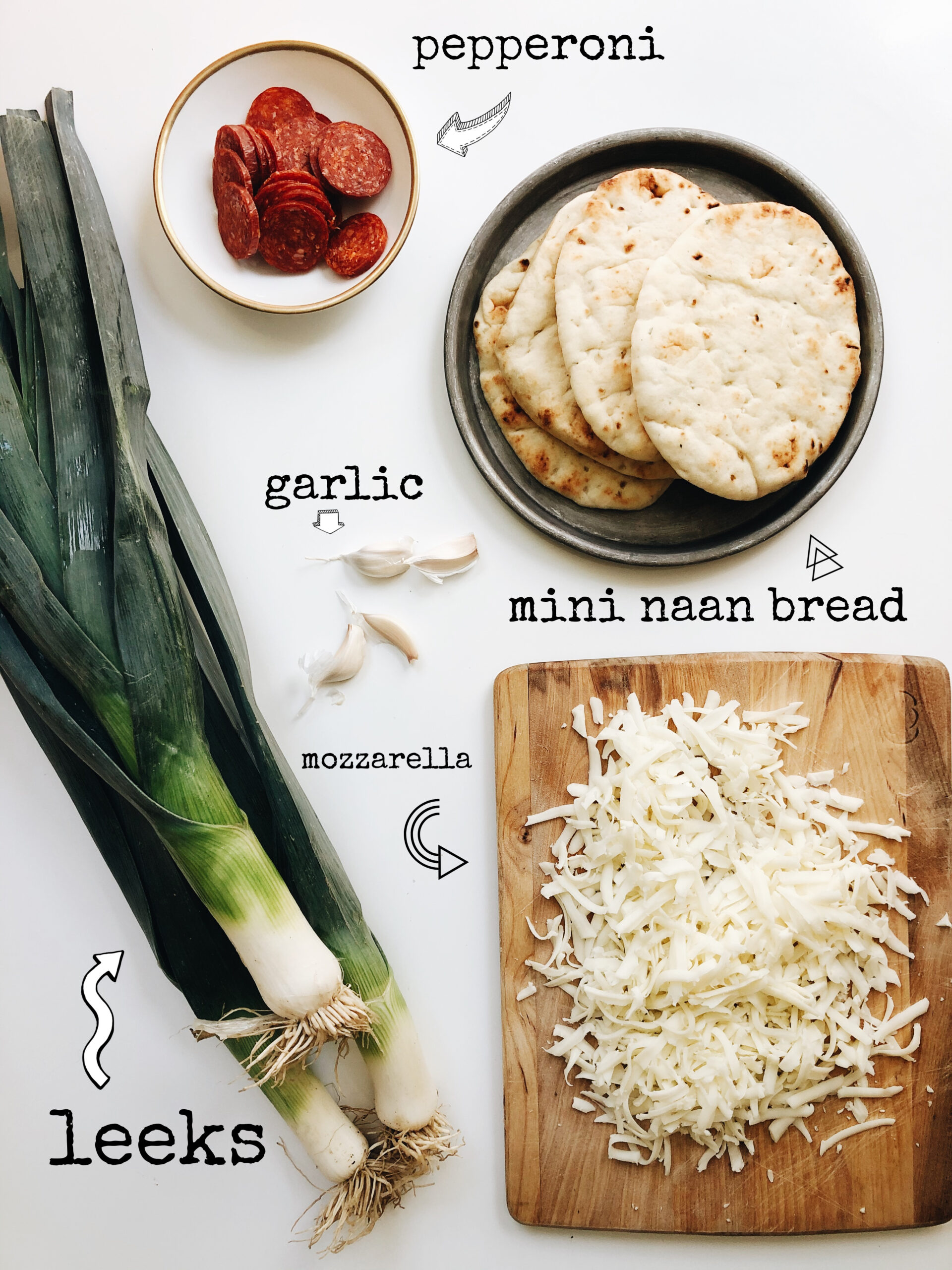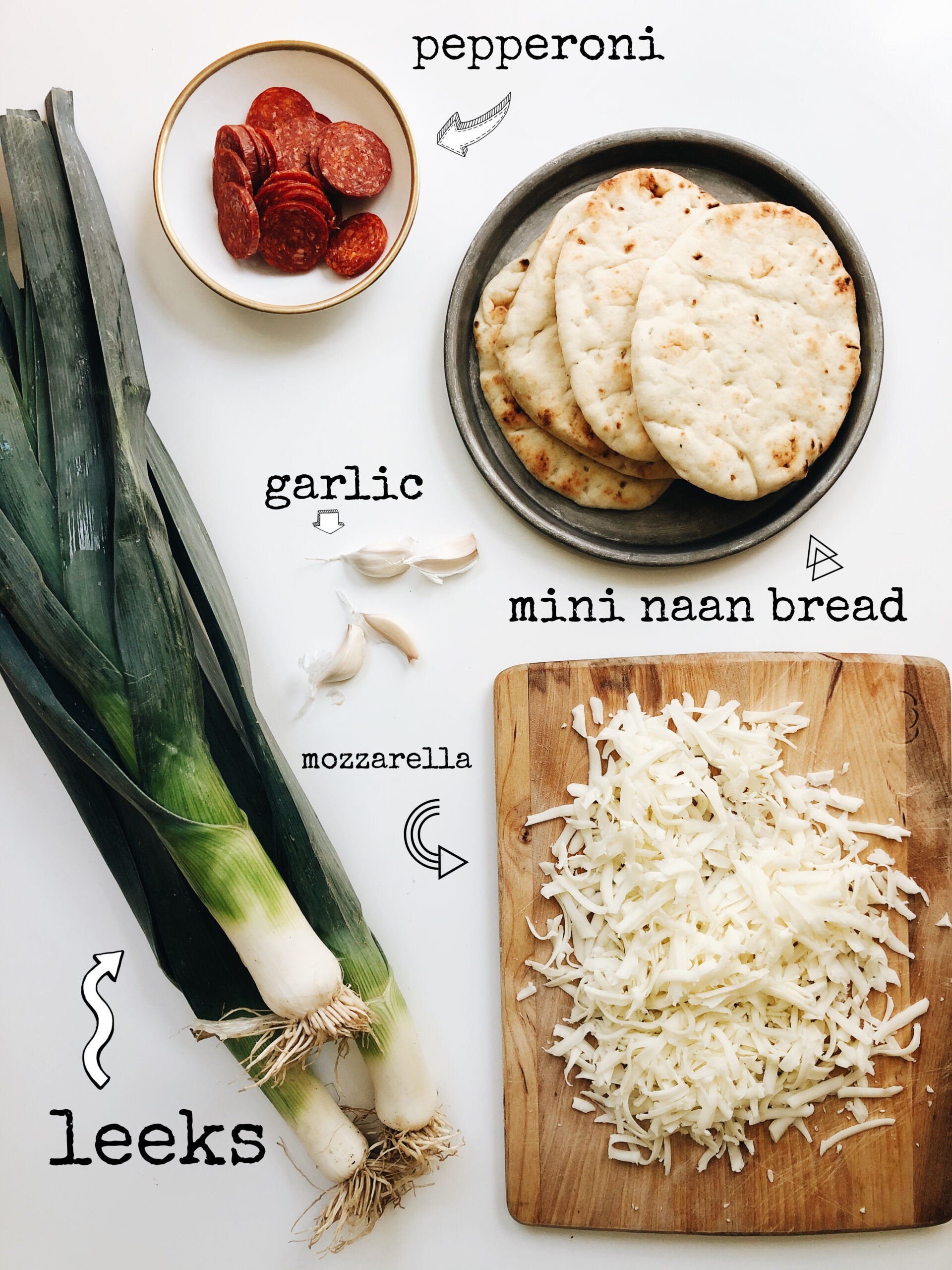 You can see how simple this is. Five ingredients, plus some oil. Which I'm betting you have.
And see, this is what I envision for you and your life. Because they're mini, you could serve them as an appetizer! Which was my plan and then ate two whole entire pizzas.
We'll be okay.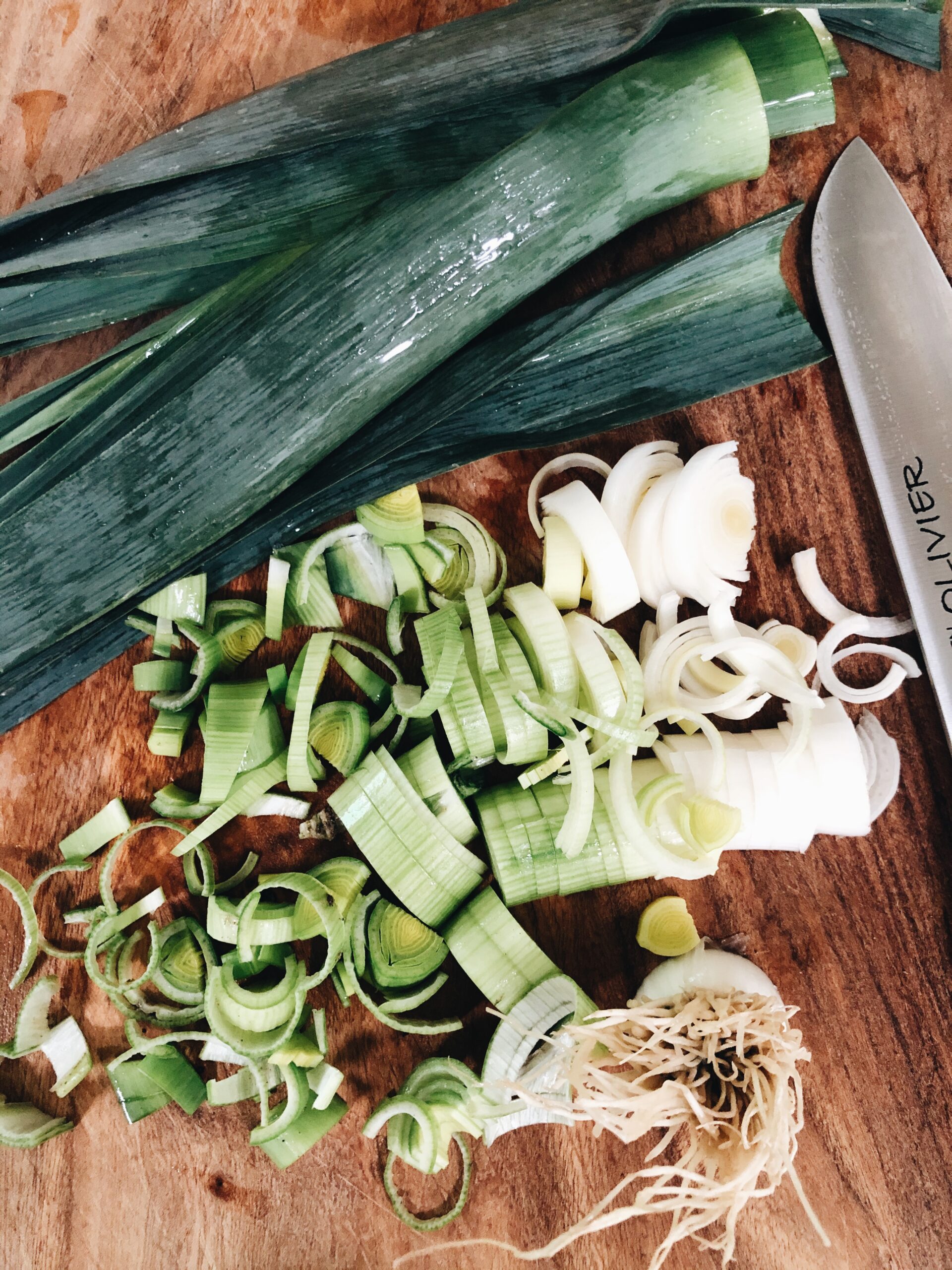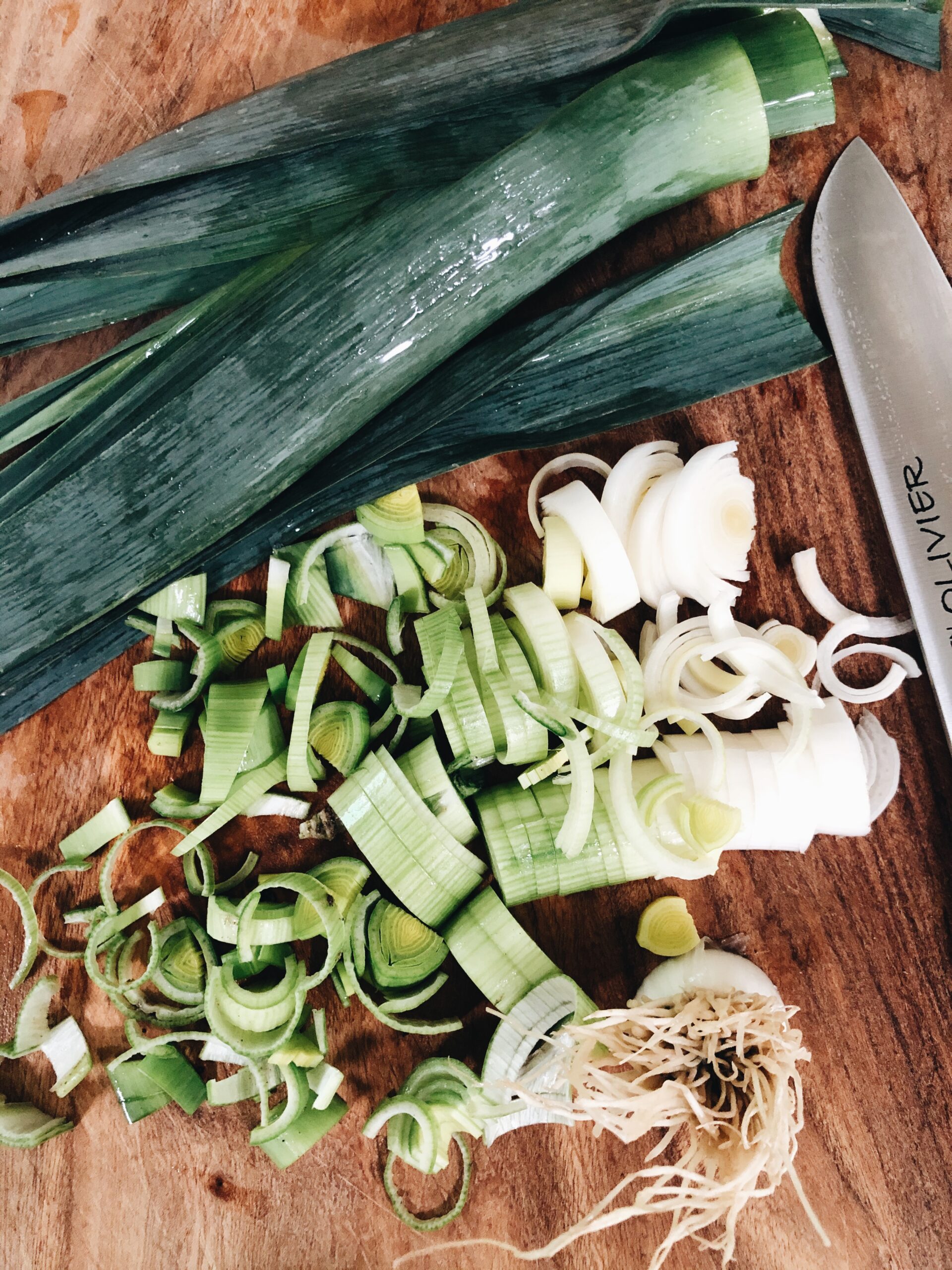 Leeks! They're mild. Very mild. They're in the onion family, and you'll be able to tell once you taste them. But unlike onions, they have this sweet depth and work wonders in adding flavor to really anything.
This is what you do with them. Which I'm sure you already know, so just ignore me. Except don't, because I feel like we have a good thing going.
Where was I?
Oh! Leeks. Cut the dark green stems off, as well as the hairy roots. Then you'll slice 'em down the center, so that they fan out like tall skinny books. THEN place them cut side down and thinly slice into half moons. Like zee above.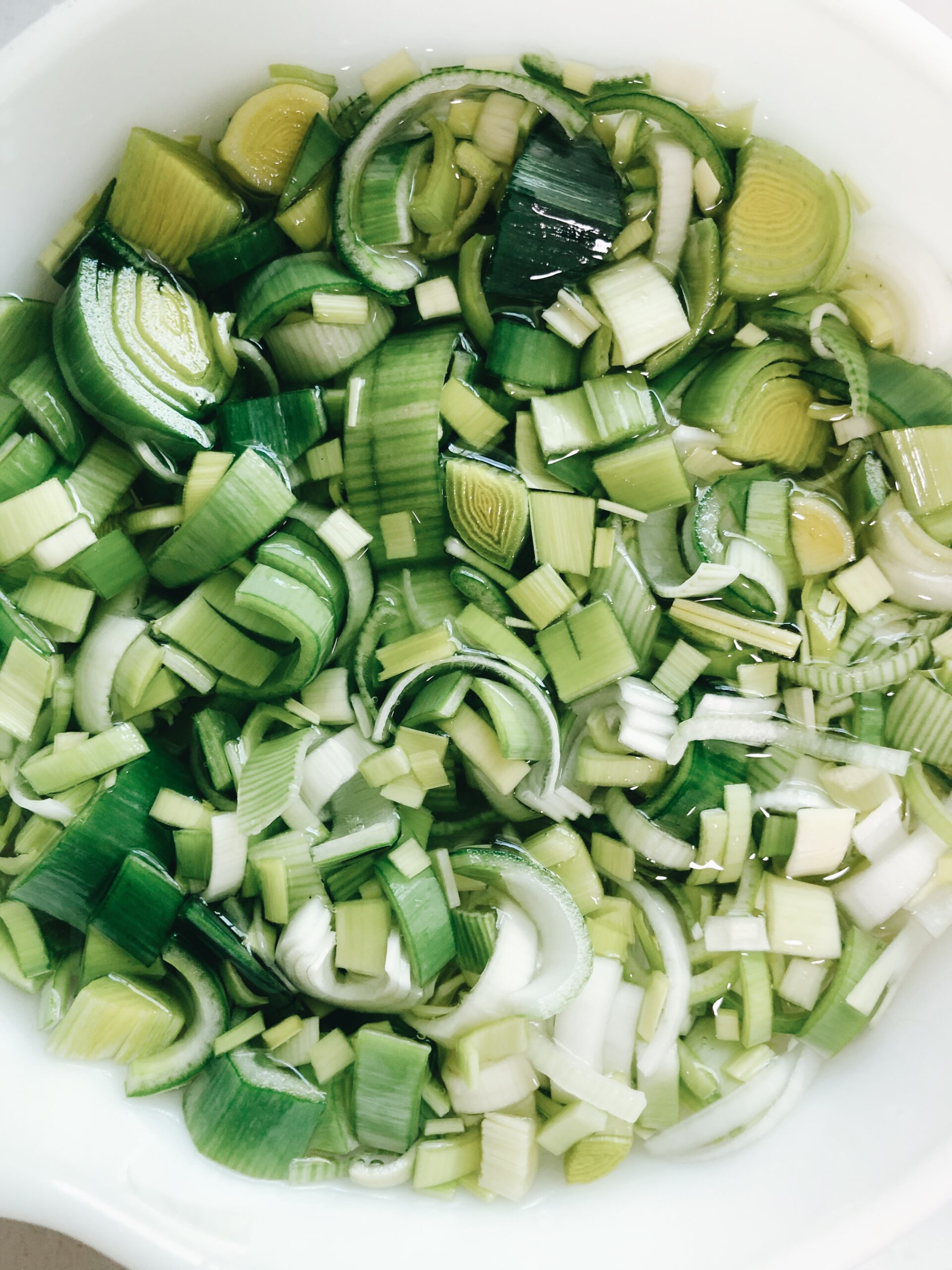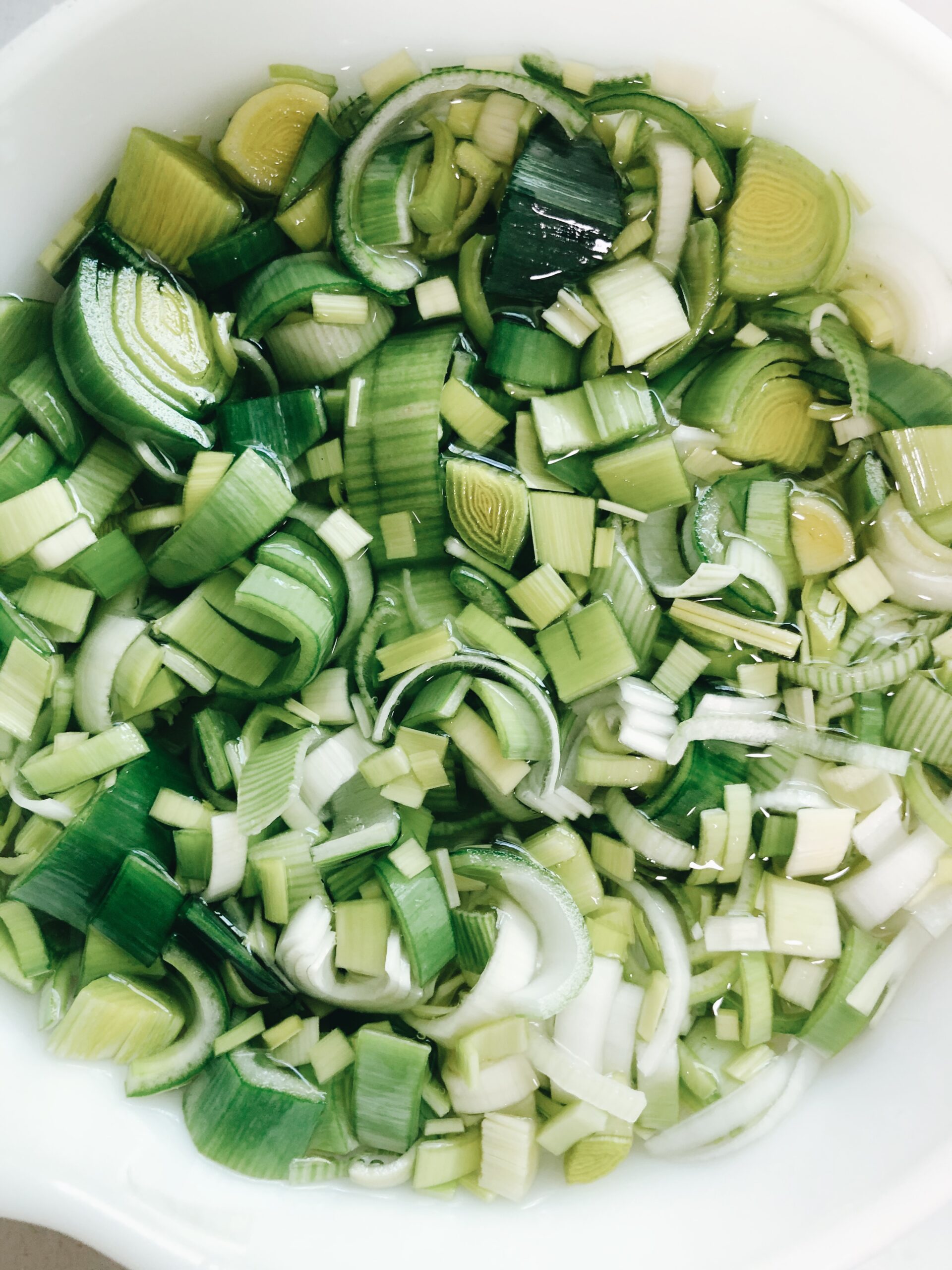 They do need to be cleaned, so dump them into a bowl with water and wiggle them with your fingers until you're either soothed or uncomfortable. Then run them under water to get rid of the last bit of dirt.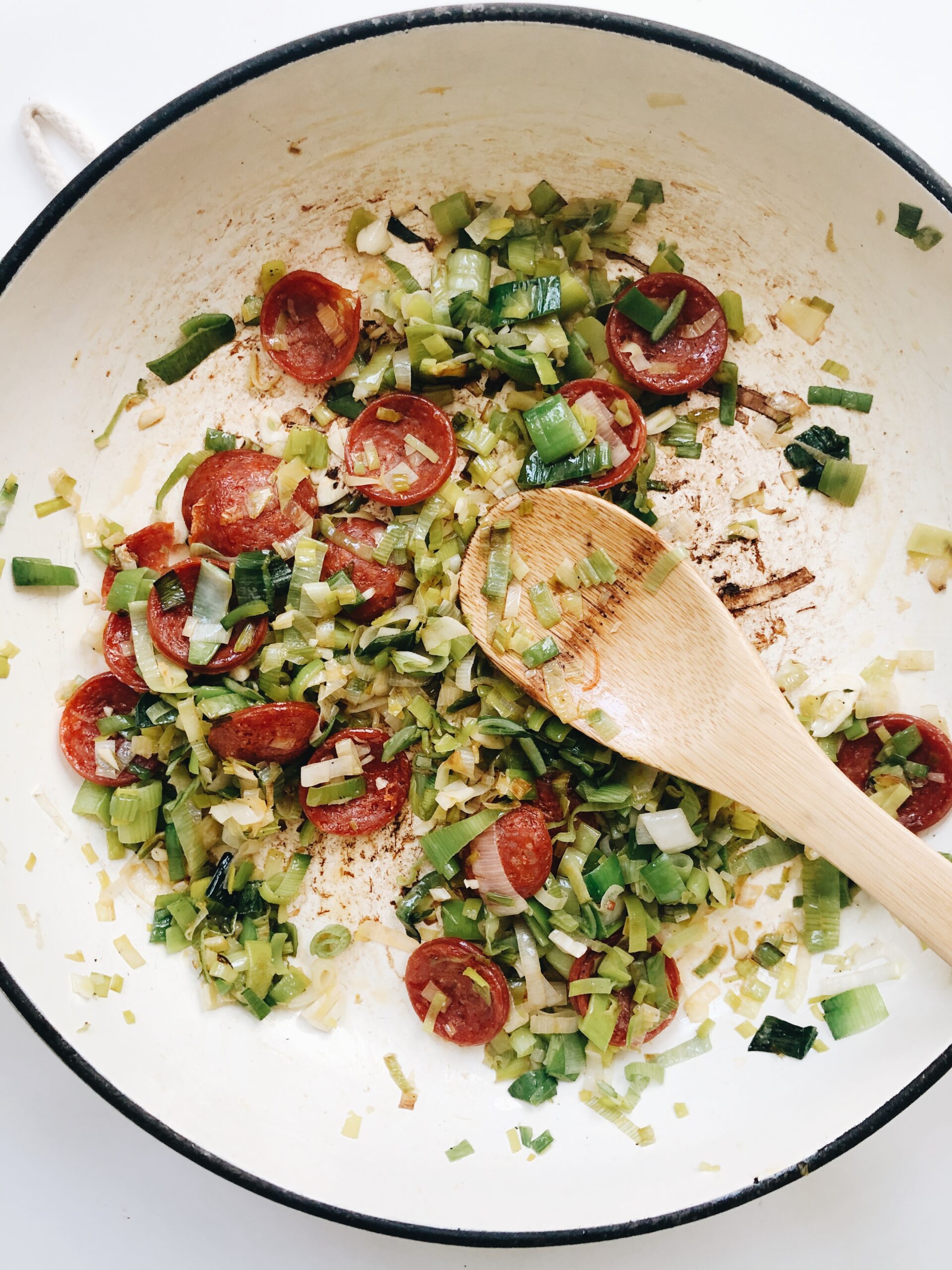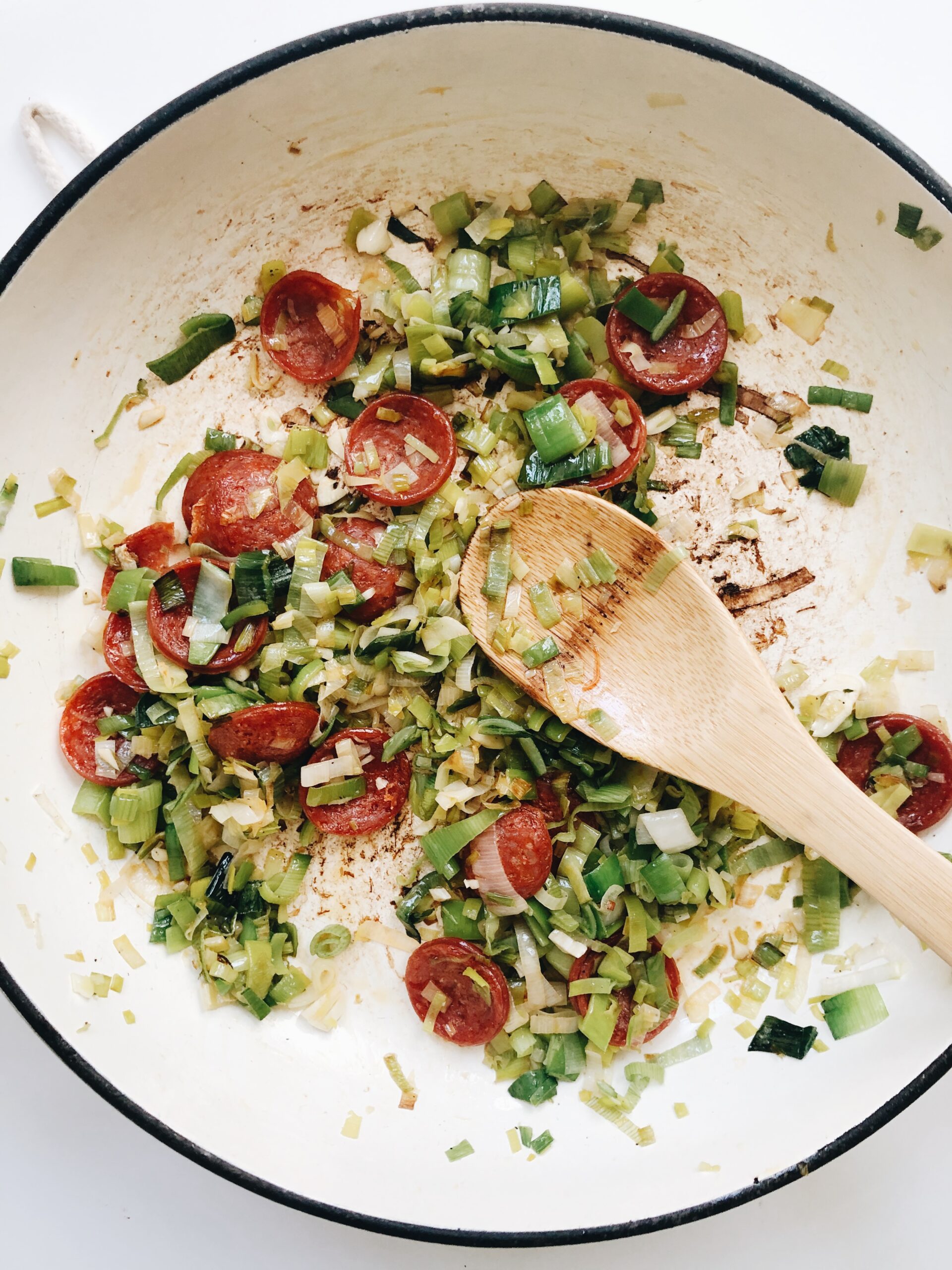 Then we sauté! Bit of oil, some garlic, salt and pepper. You just want the leeks tender, a little browned and fragrant. You'll also add sliced pepperoni and get those nice and crispy and curly. Taste that. Who could ever imagine these two together? ME. That is who. Whom. Who.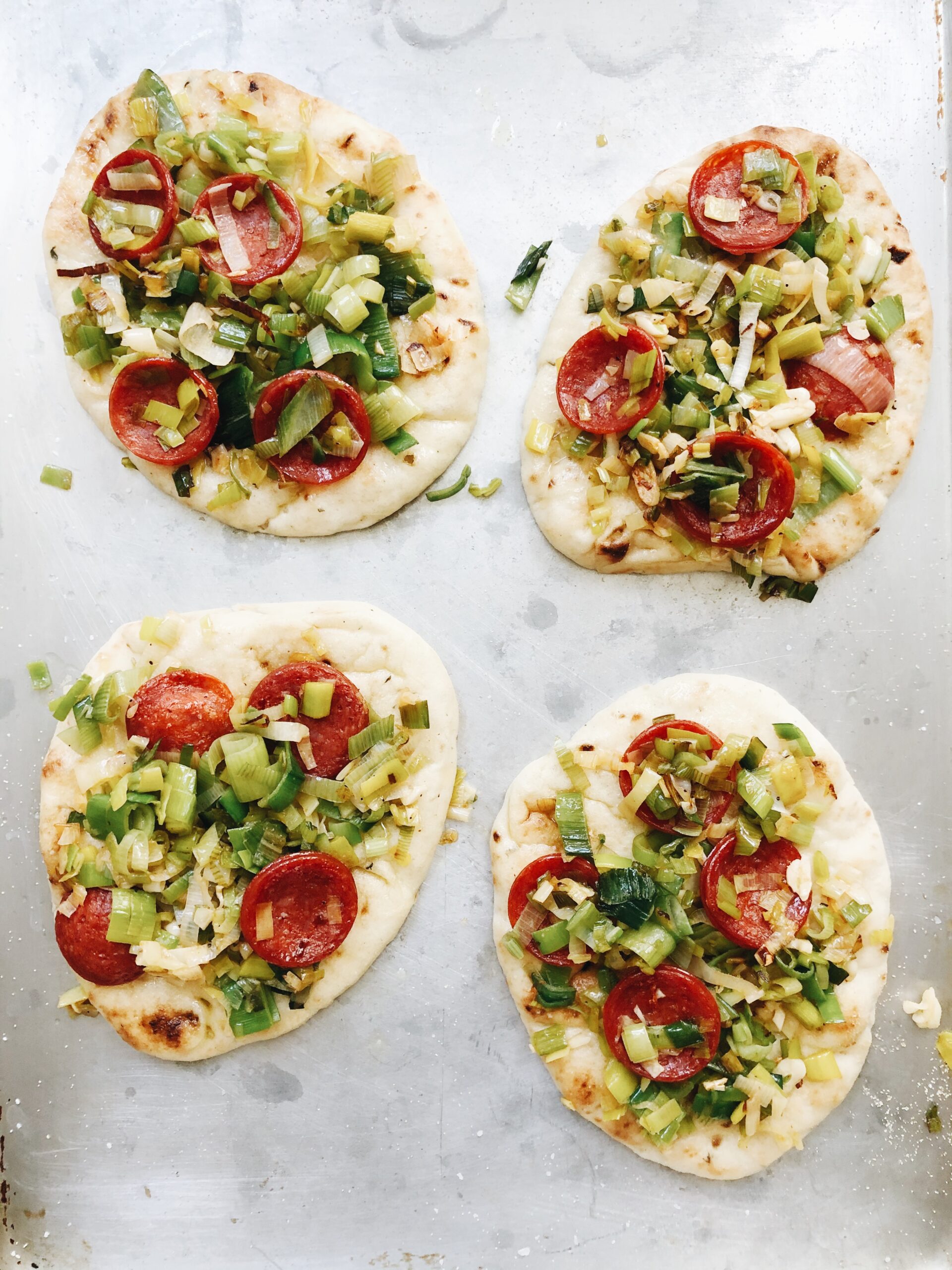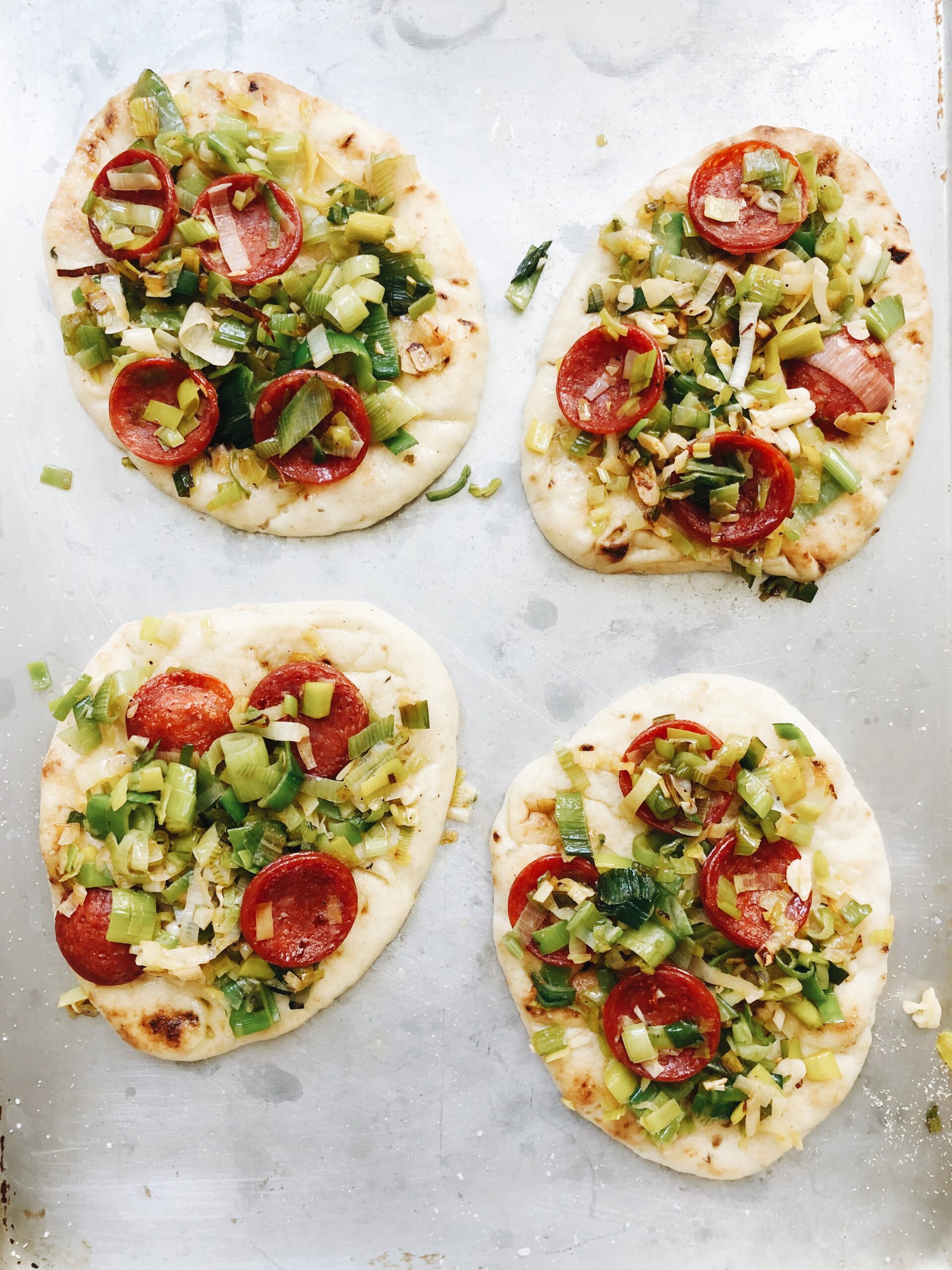 Brush your naan with a little oil and a sprinkle of salt. Then just evenly divide the sautéed leeks and 'roni over each one. Easy enough?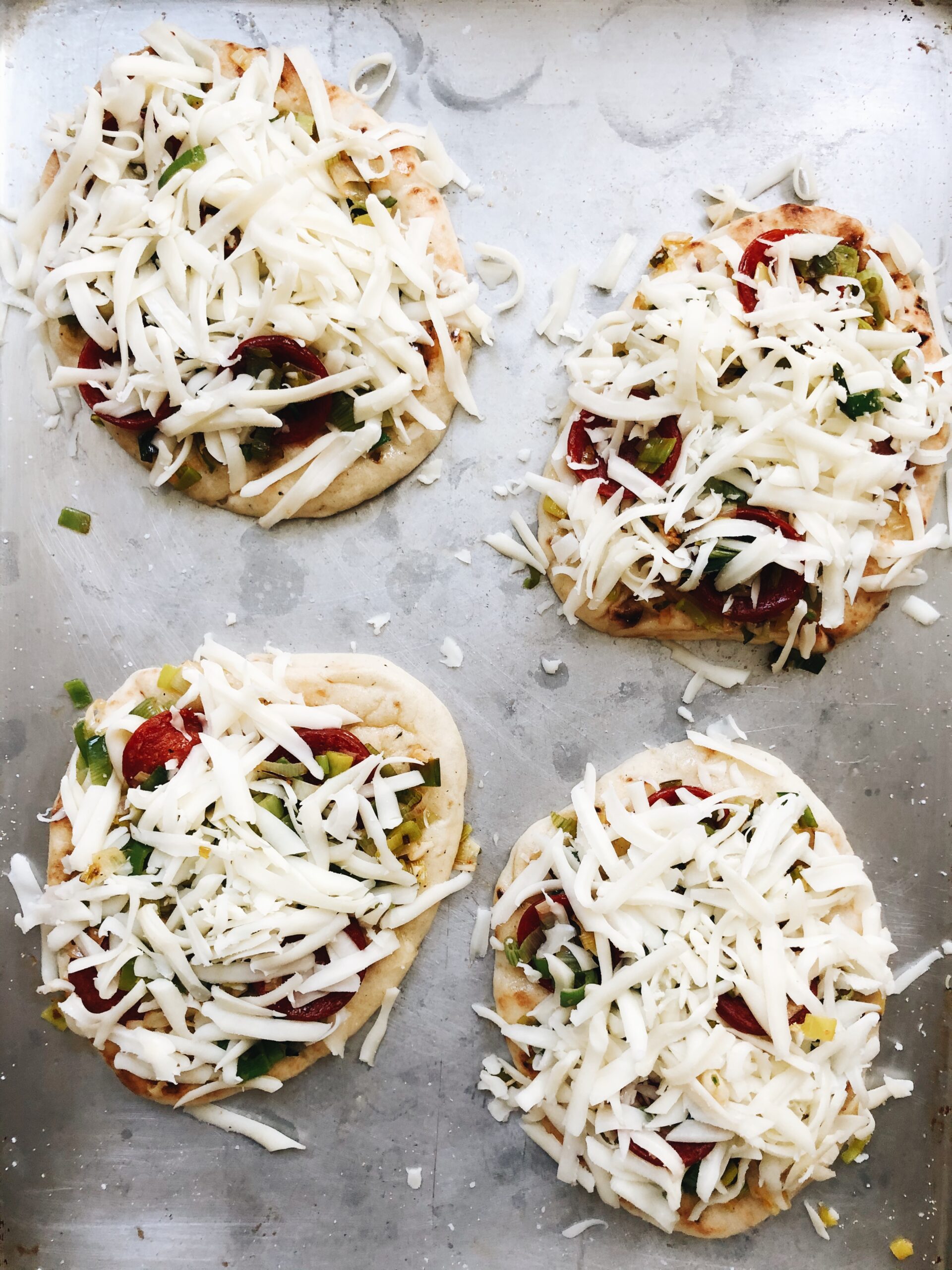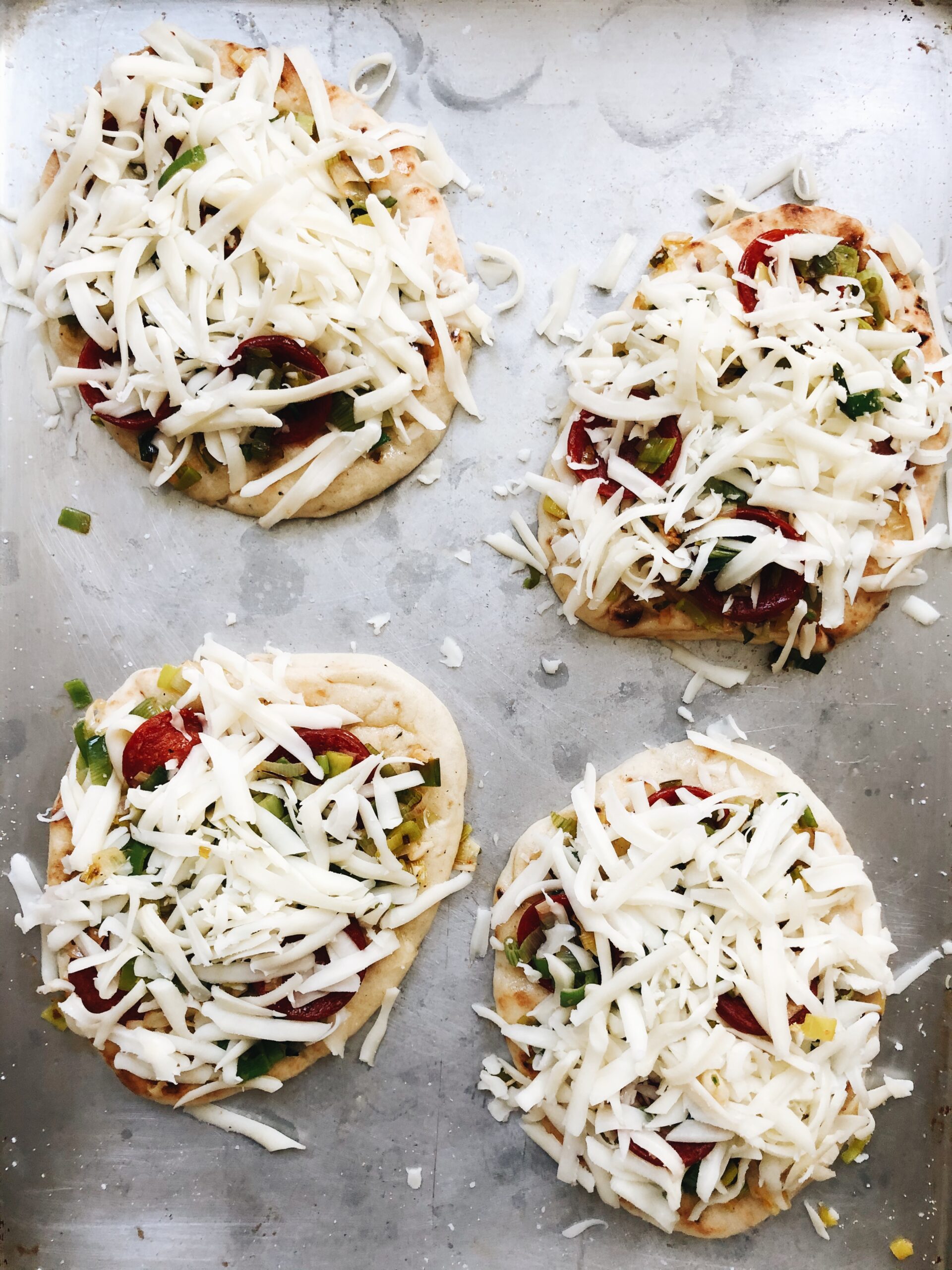 Now add your cheese. A lot of it, a little of it, a little a lot of it. You know this game.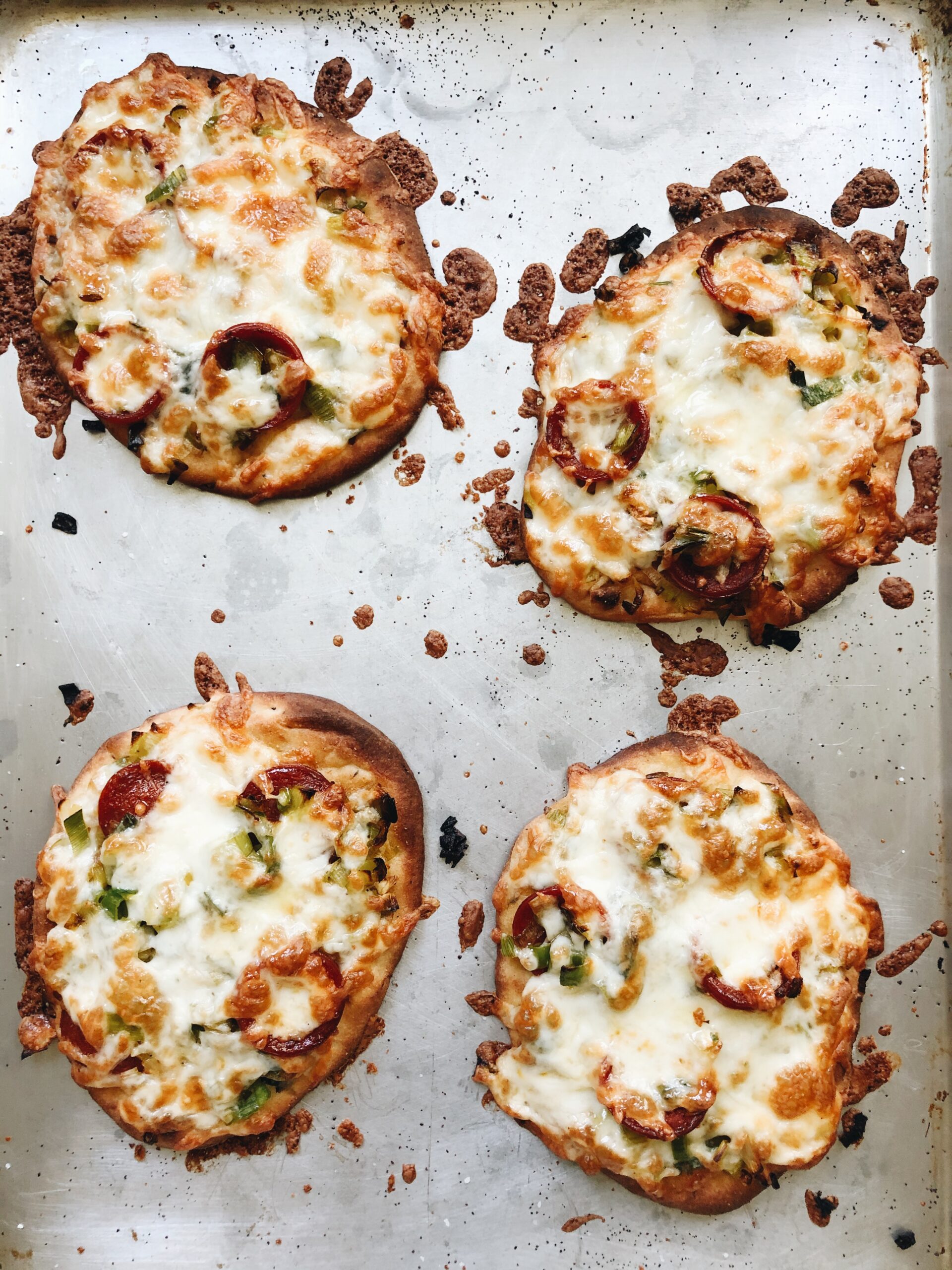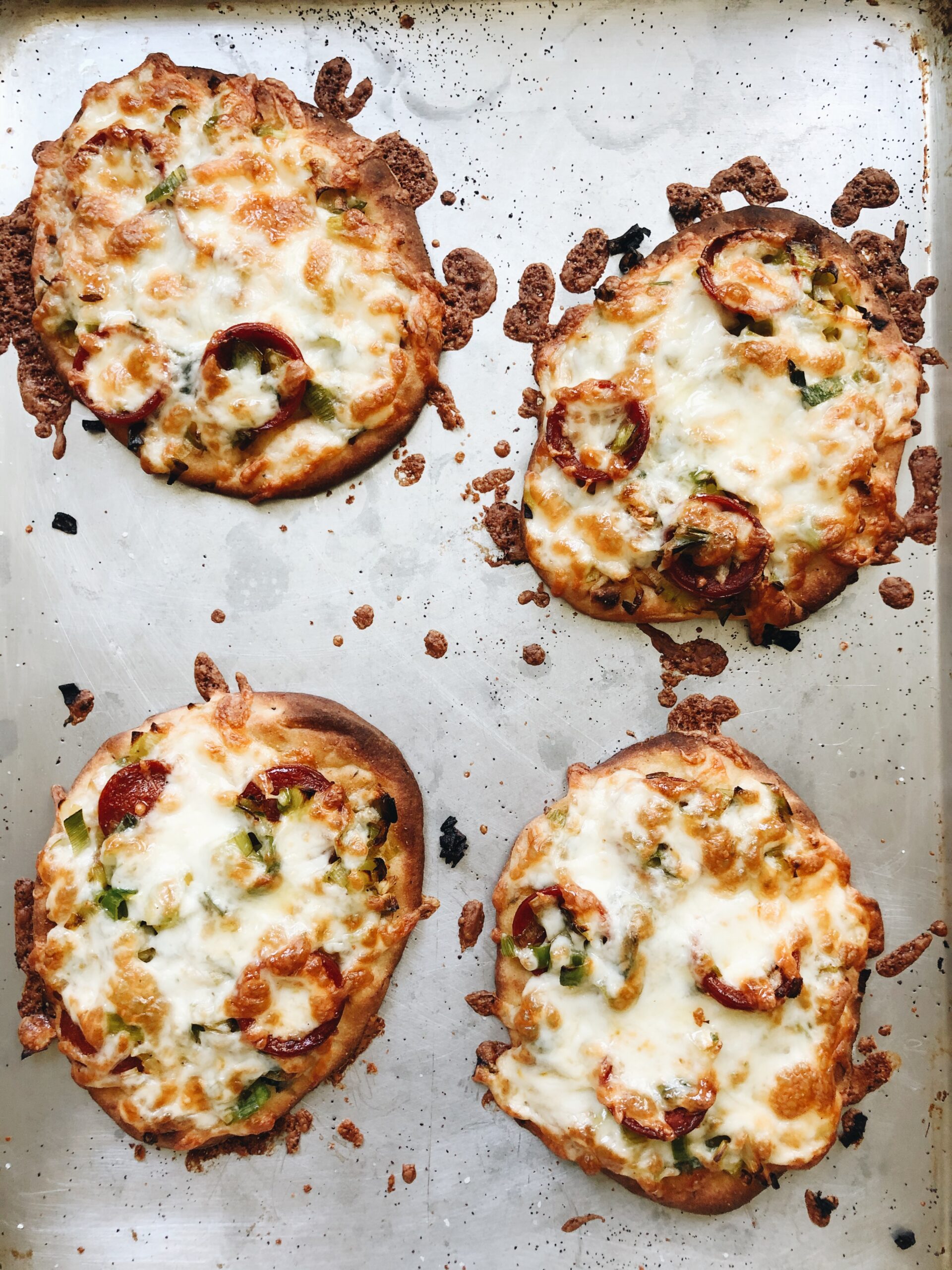 Baked! 20 minutes, 30. Whatever it takes to get it to the way you like your cheese. I need it browned in places and bubbling up. WELL DONE as some say. Which I'm good with.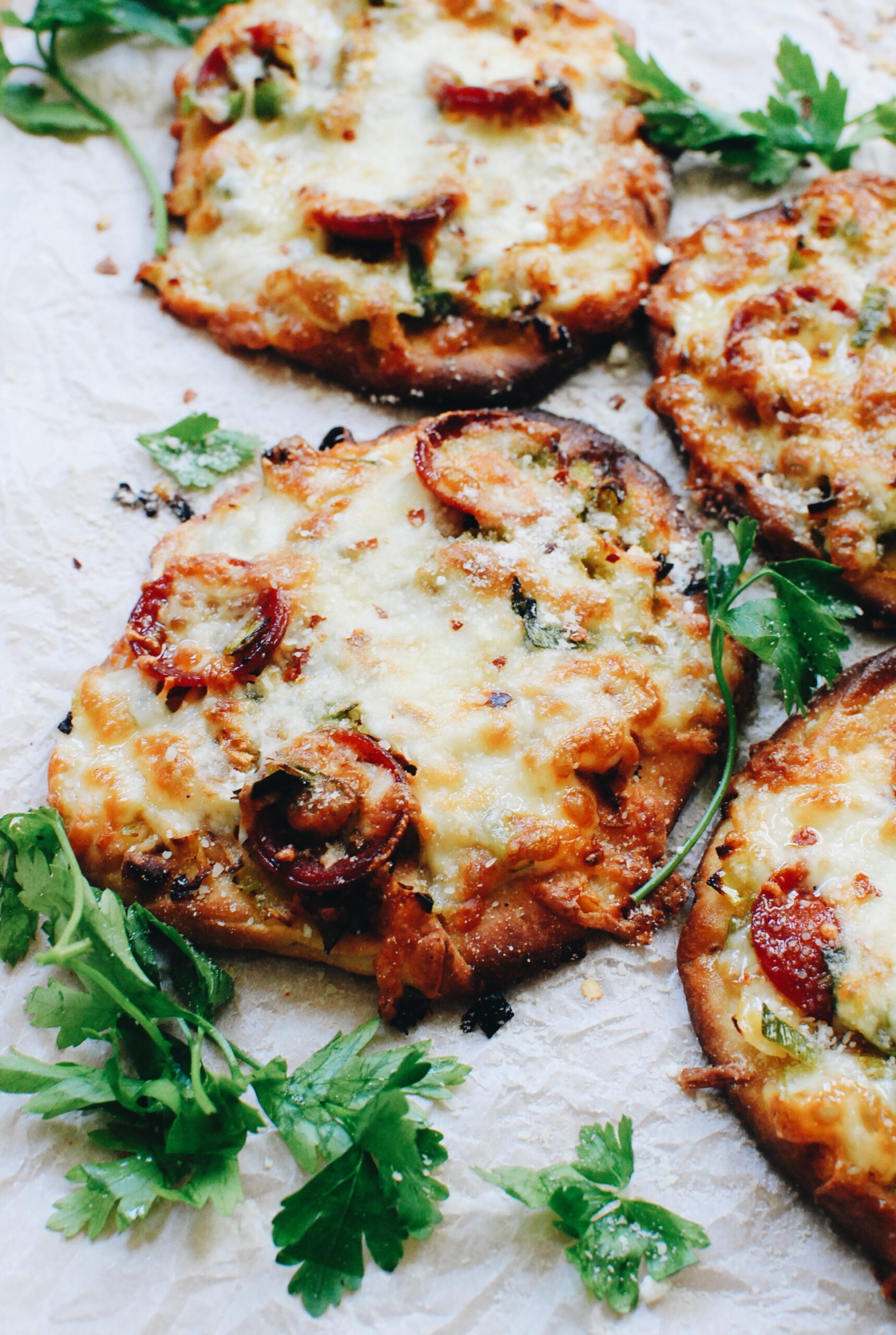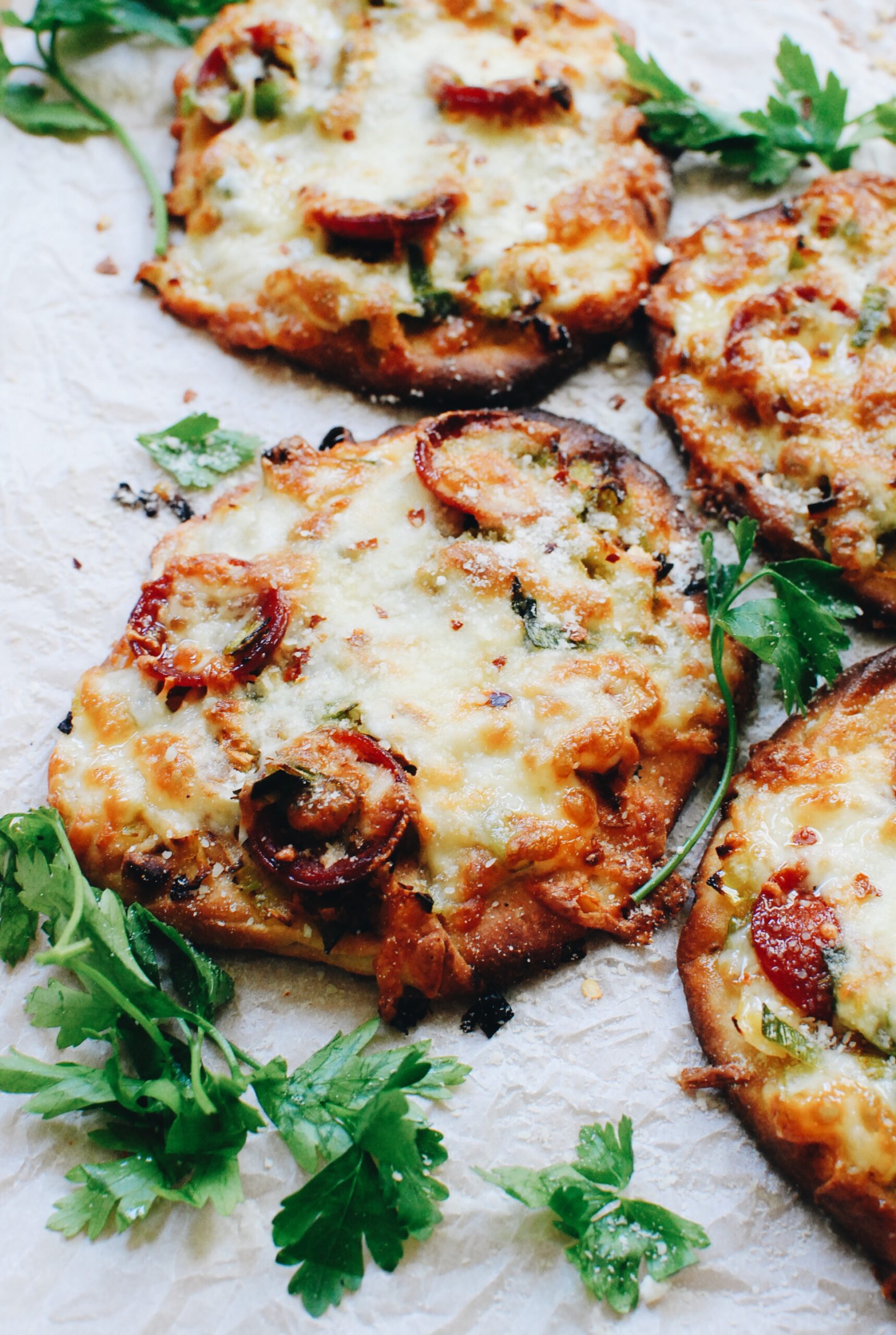 And then you just garnish with some parmesan cheese and a scattering of fresh, vibrant parsley and you're set. It's so simple. And I love that crispy bottom that the naan gets. Nothing flips. Nothing flops. It's sturdy and yummy and LEEKS! You remember the leeks, right?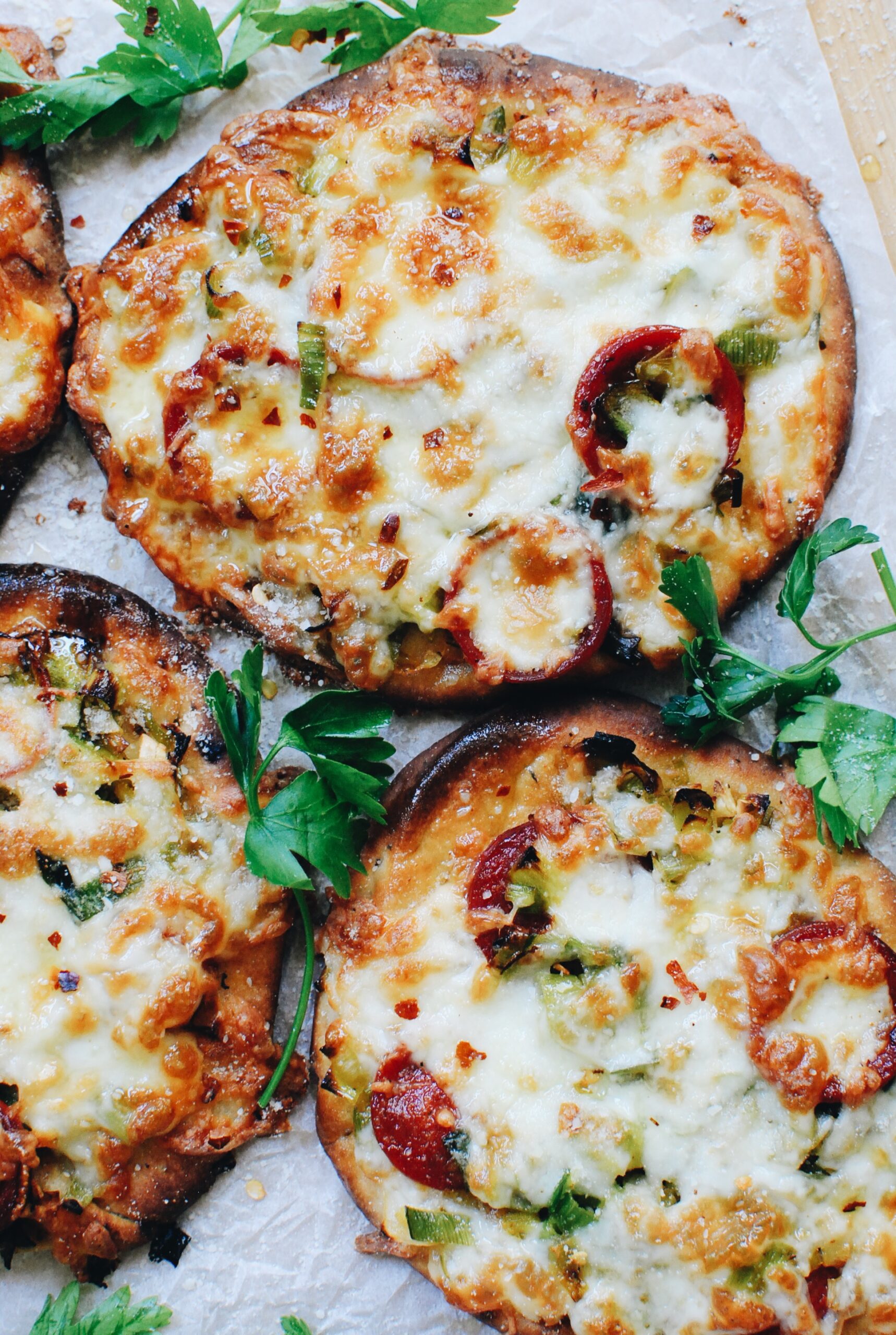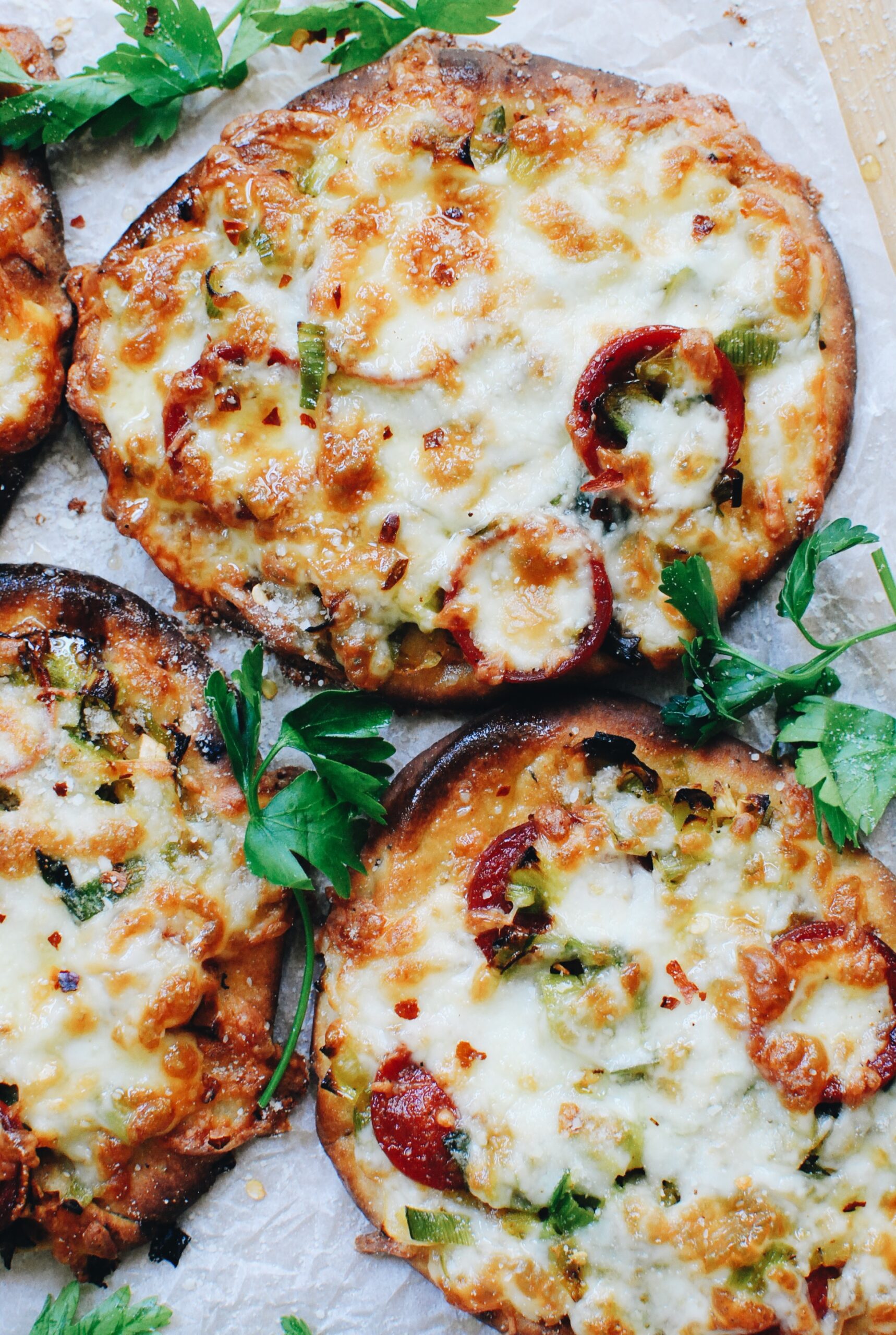 I will say, the pepperoni is a log I had from DeLallo (it's SO good), but pre-sliced works just fine, too. Grab whatever makes you giddy.
These make a great lunch, a quick party appetizer, even the perfect nibble dinner if you throw together a garlicky green salad. Make them! You'll obsess over the leeks and pepperoni marriage. You really will.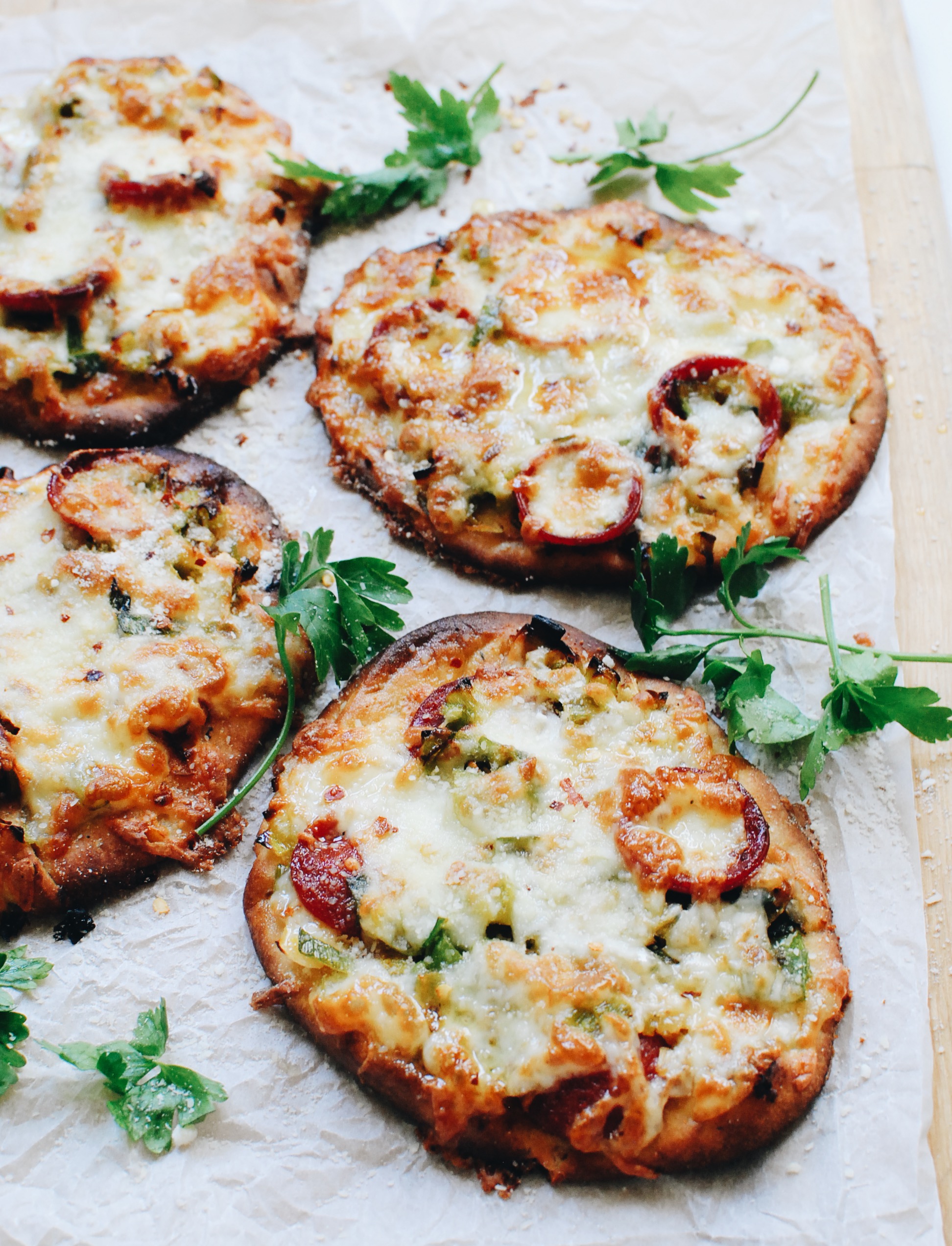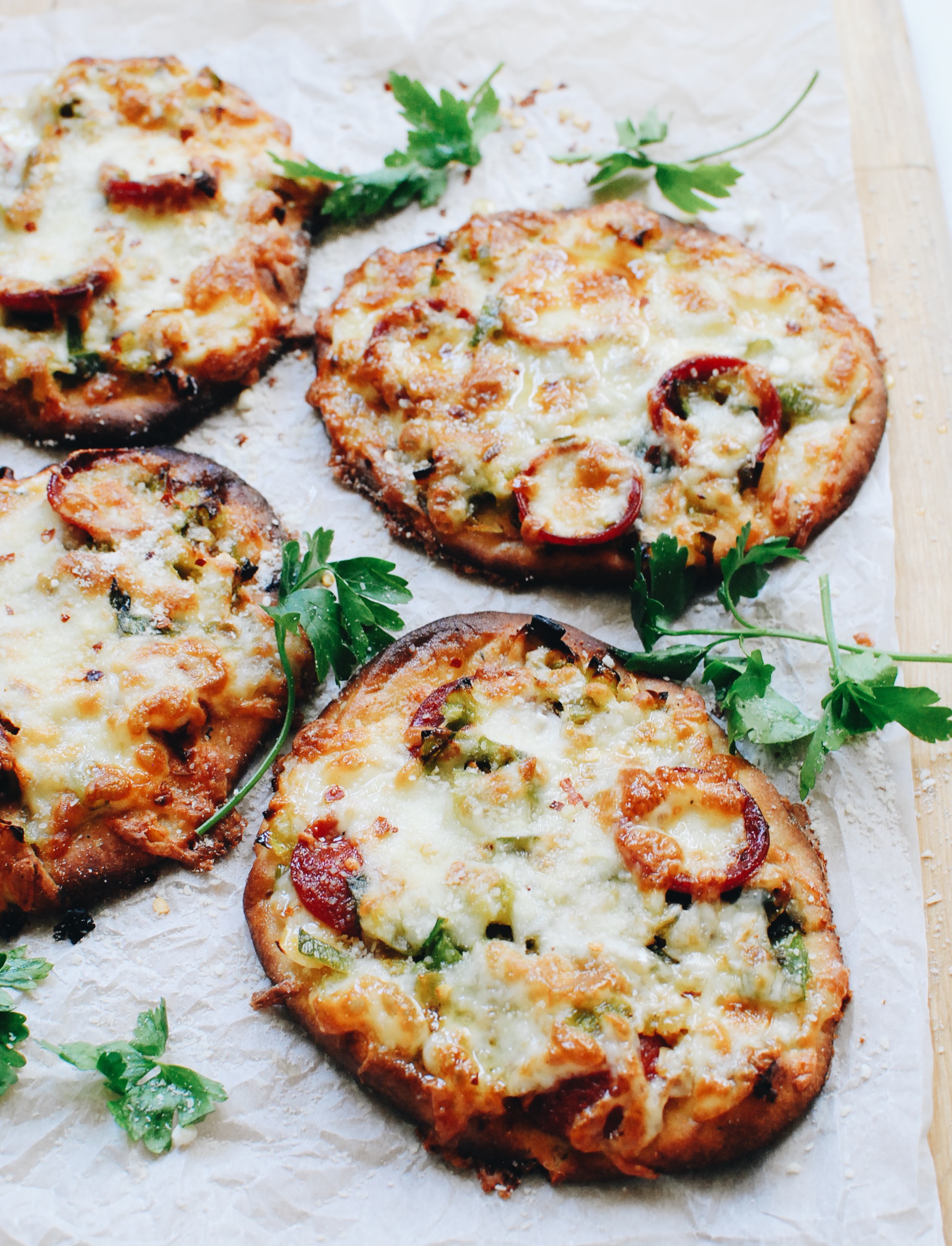 Are you into leeks now? (don't answer that)
Mini Leek and Pepperoni Naan Pizzas
Ingredients
4 mini naan breads
4 cloves garlic, minced
3 medium leeks
1/2 cup thinly sliced pepperoni
8 oz mozzarella, grated (you might not use the entire thing but that's okay. Baggie the rest.)
Coarse salt and freshly ground pepper
Instructions
Preheat your oven to 400.
Let's prep the leeks. Slice the dark green stems off, along with the roots. Then take your knife and slice each leek lengthwise. Place the leeks cut side down and thinly slice them into tiny half moons. Place the sliced leeks in a bowl of water and let them sit about five minutes, wigging them with your fingers. Dump the (dirty!) water and rinse the leeks once more, until completely clean.
Heat two-three Tbs. extra-virgin olive oil in a medium pan over medium heat. Add the leeks with a pink of salt and sauté for five or six minutes, until they soften and start to get a little color on them. Add the garlic and pepperoni and keep sautéing another five, until the pepperoni curls slightly, and the whole thing is fragrant. Taste it. You might need a little more salt, but the pepperoni is salty, so just taste it and tweak if you need.
Place the naan on a rimmed baking sheet and brush a little oil over each one. Evenly divide the leeks and pepperoni over each "crust" and sprinkle each with the cheese. See how simple that was? Bake roughy 20-30 minutes, or until the cheese is melted and starting to brown and bubble in places.
Let them cool a couple of minutes (yeah right), slice and serve!
Makes four mini naan pizzas.
7.8.1.2
500
https://bevcooks.com/2021/05/mini-leek-and-pepperoni-naan-pizzas/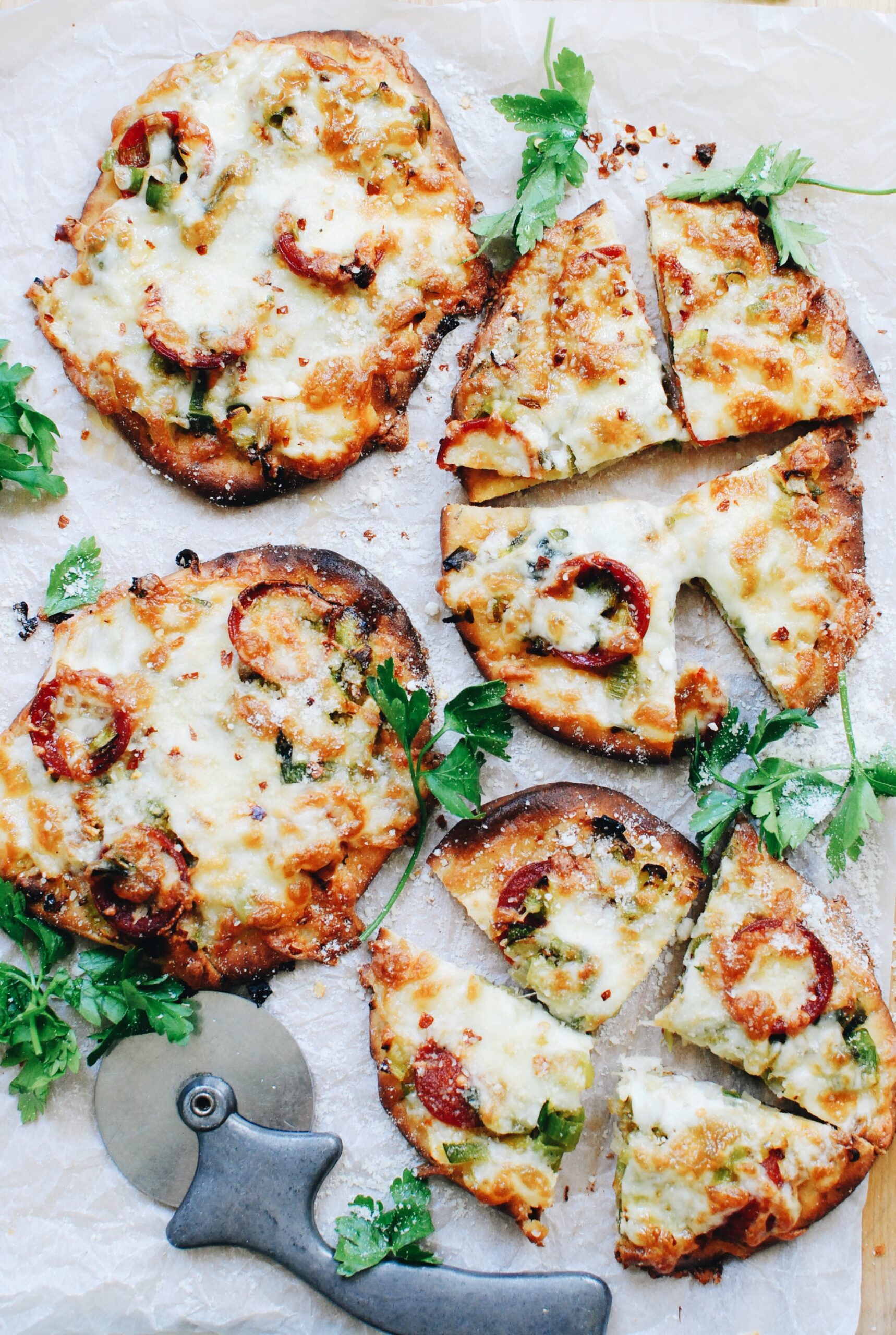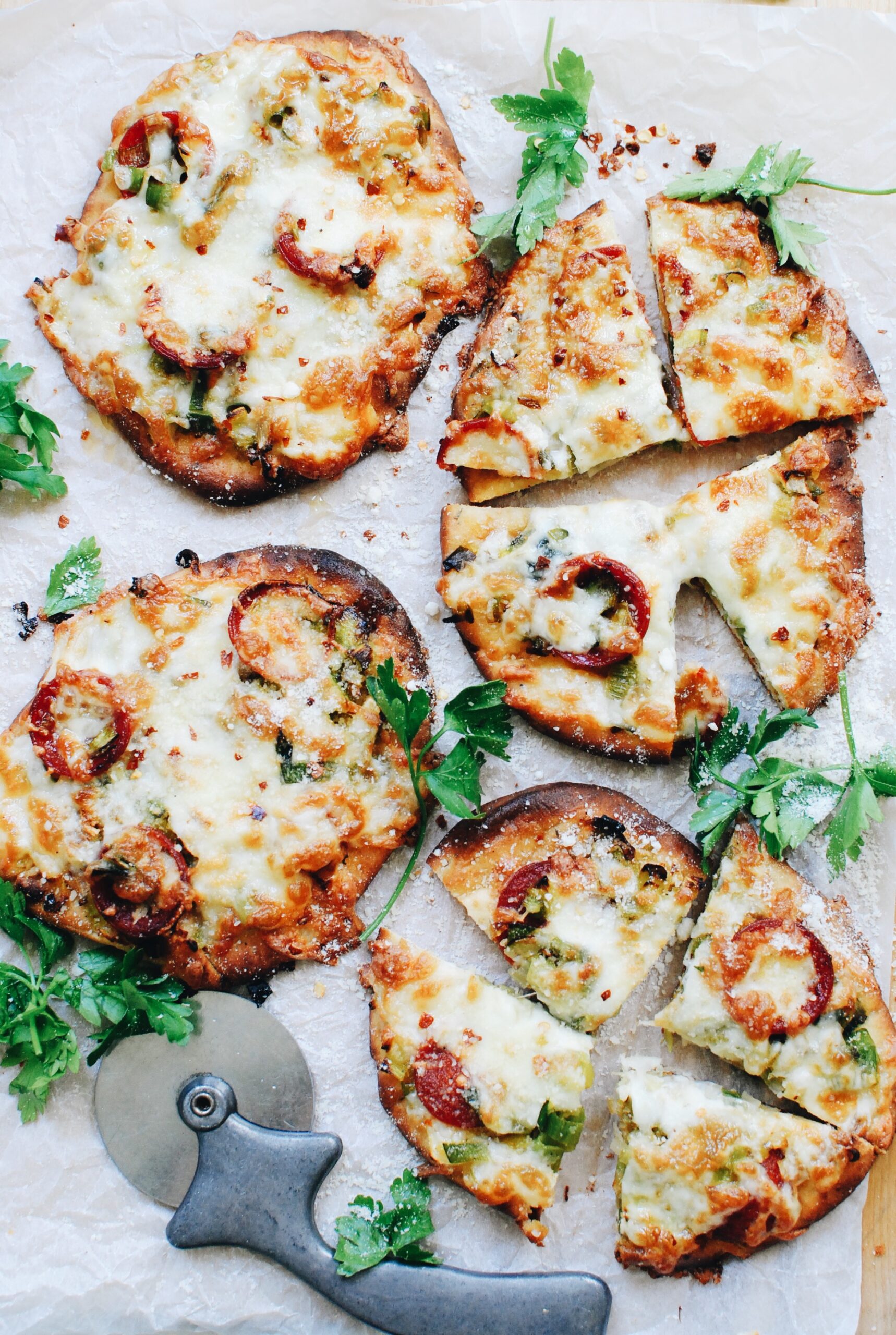 Like, honestly.