Okay, head up. Pencil down. Eyes right here. You ready for this? Oh, oh bay-buh.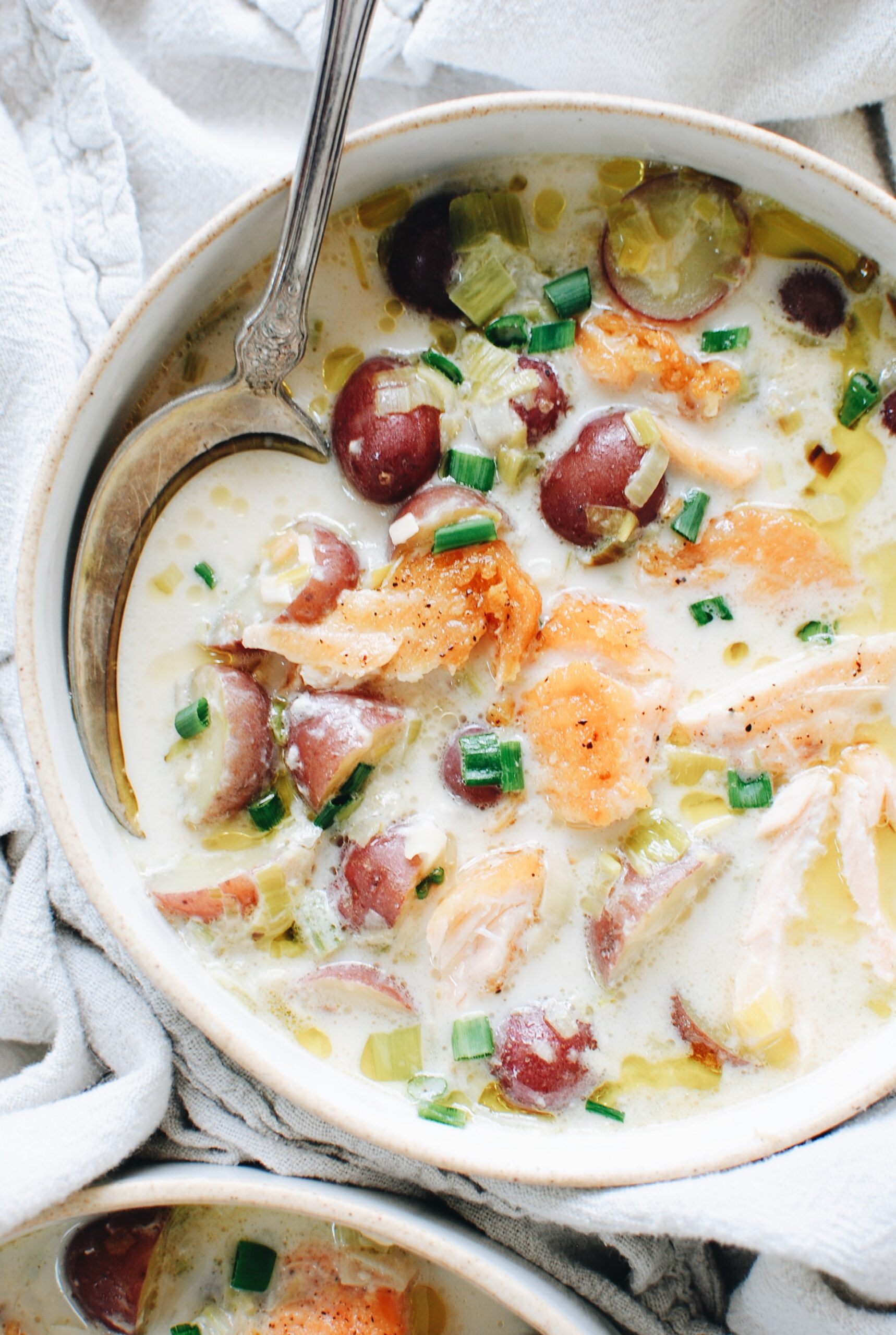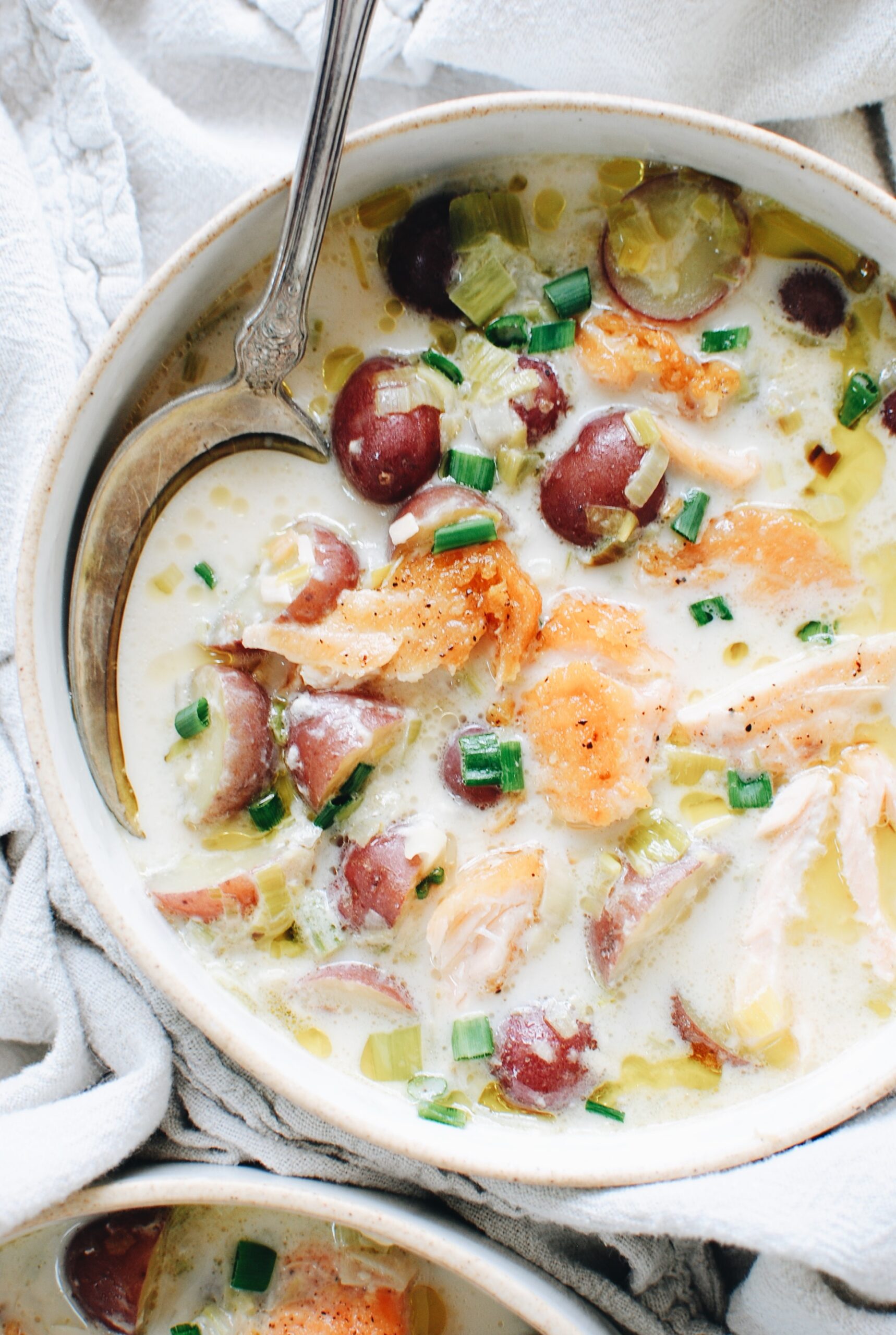 It's a dreamy, creamy lemony spring soup with flaked salmon, tender red potatoes and sautéed aromatic leeks. Which I feel like is obvious, given that they're in a soup. But still. You needed the imagery.
This is an embarrassing cinch to pull together, and the springy flavors are so delicate with just a touch of richness, you will scream.
Let us peepeth.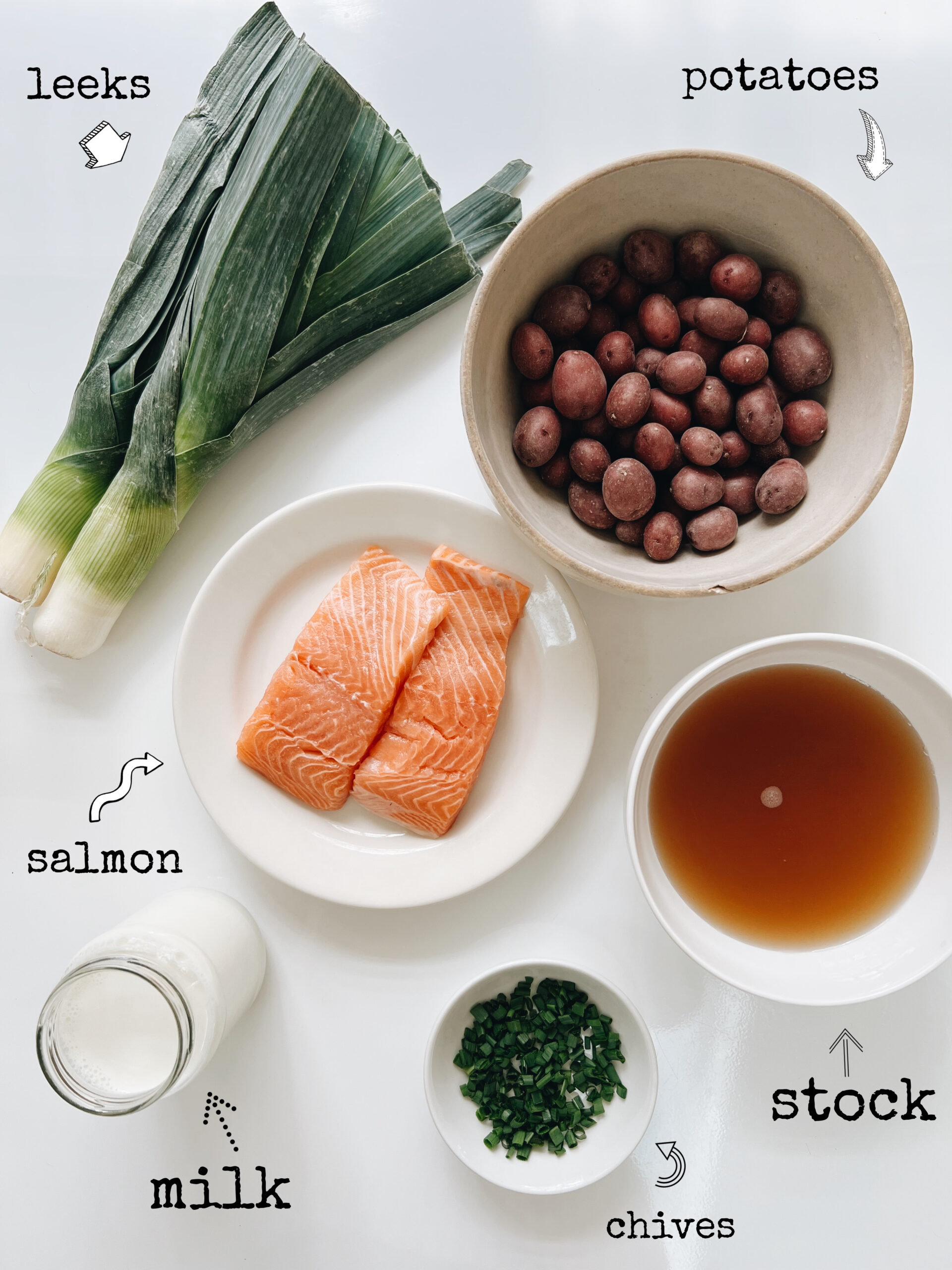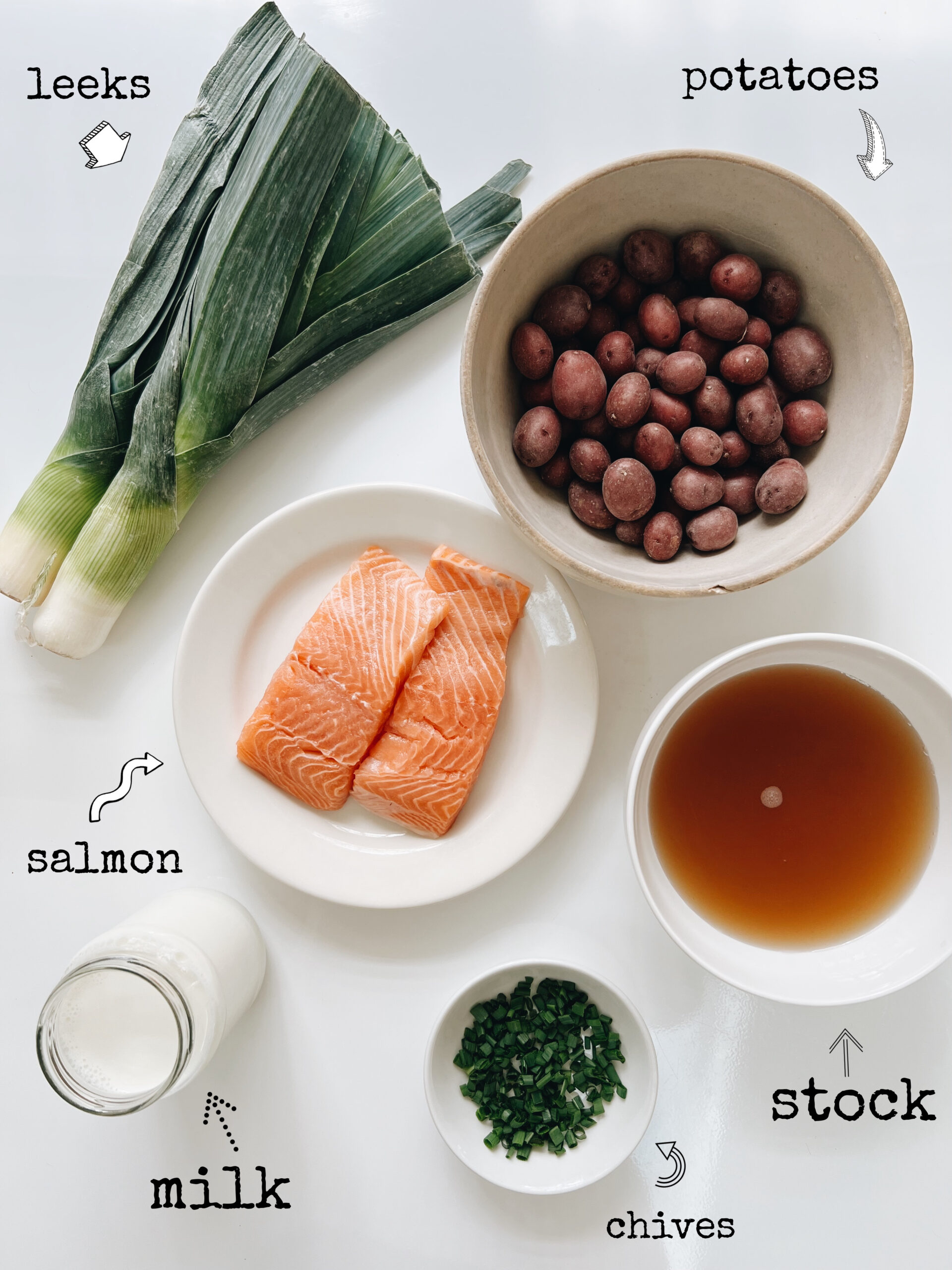 Just a few ingredients, which is the way we do it.
The milk is actually just 2%, but if you'd prefer to devil it up with half & half or full-on cream, then pave the way for the rest of us, please. I'll follow dutifully.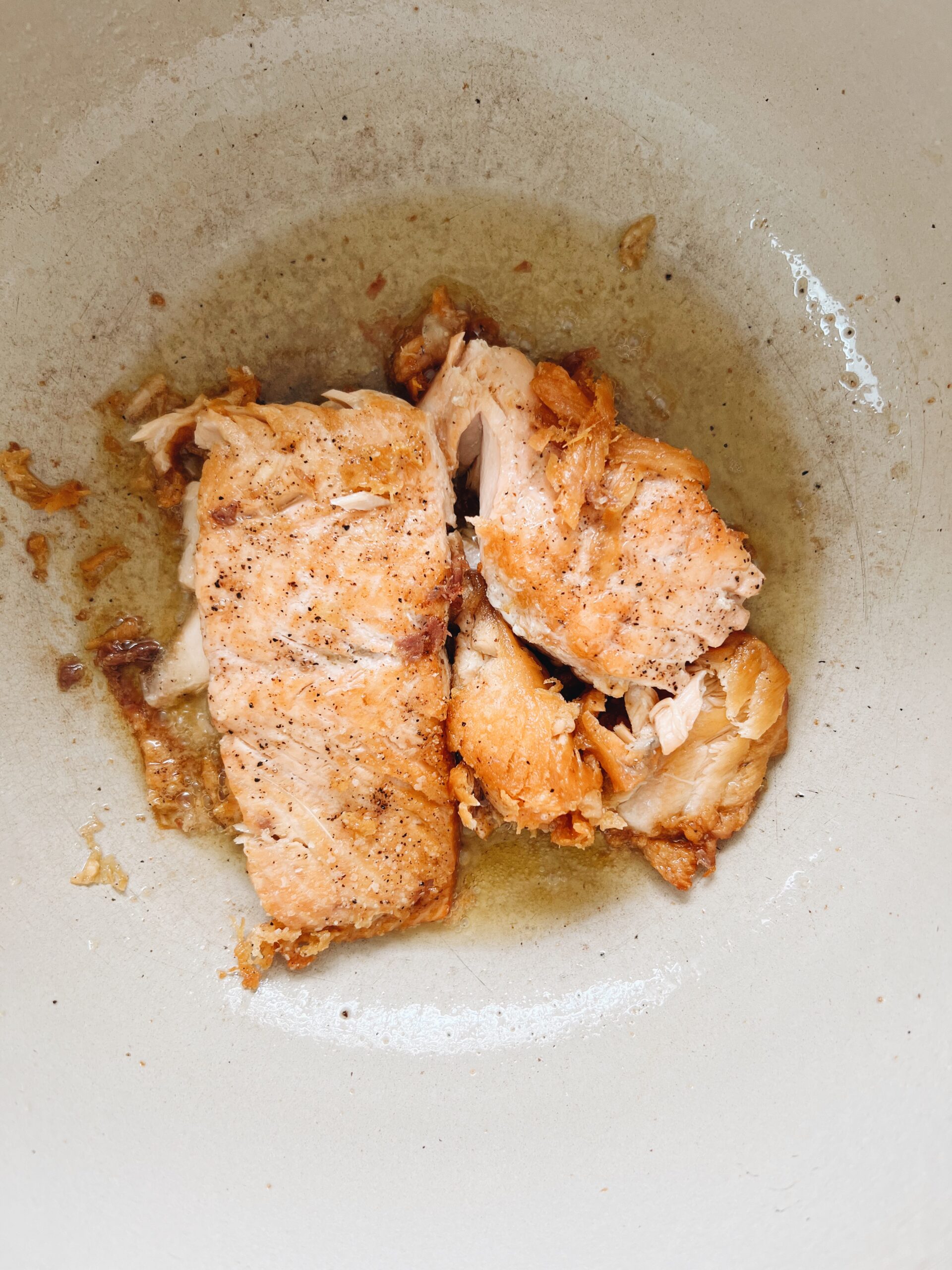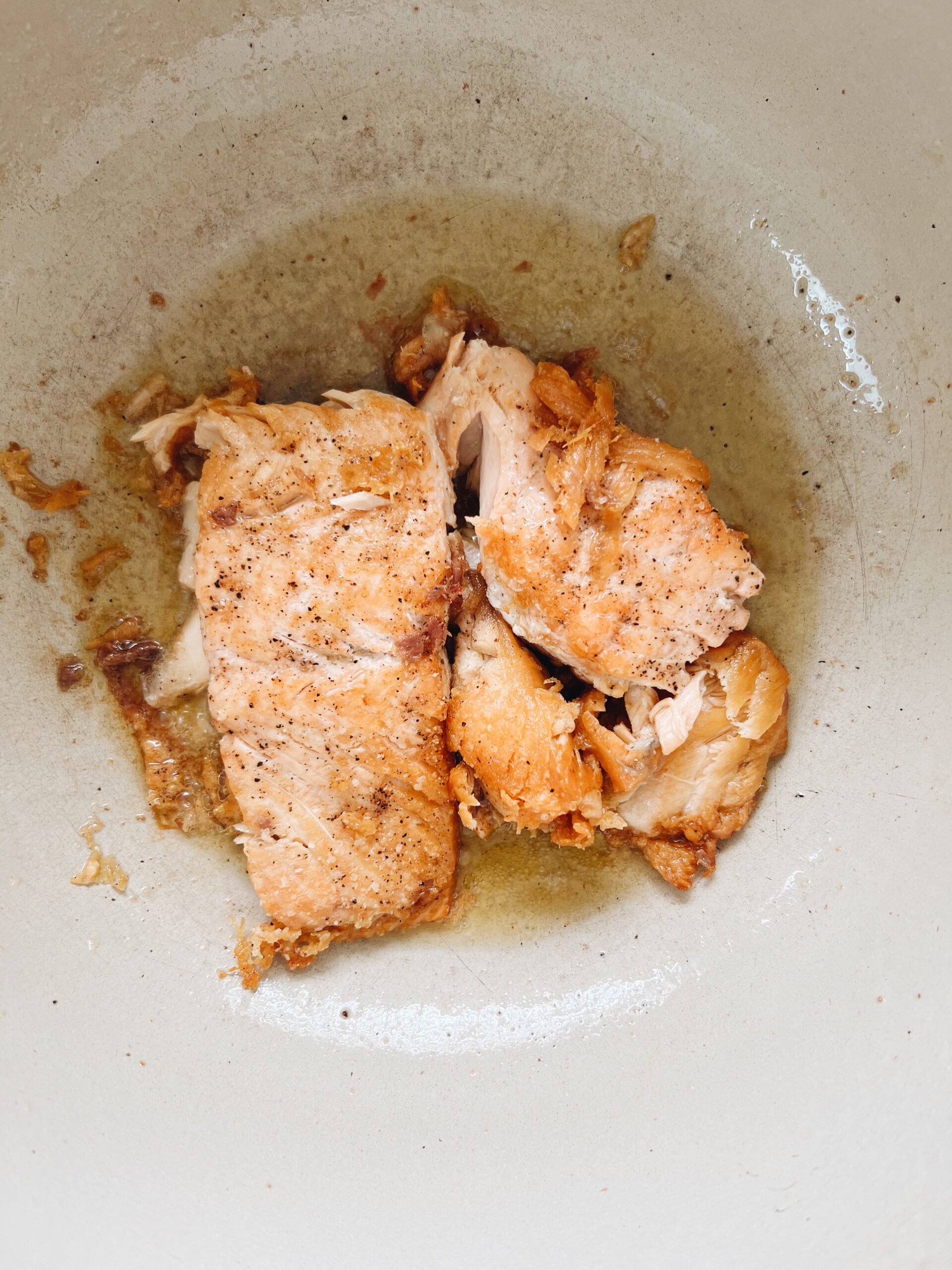 I know this looks botched, but I'm still a good person. We'll sear our salmon in a pot for four minutes a side. When I tried to flip the salmon it was stuck. Which happens. Thing is, we're flaking it over the soup in the end, so a bit of breakage in the pot isn't such a horrible thing.
Stop looking at me like that.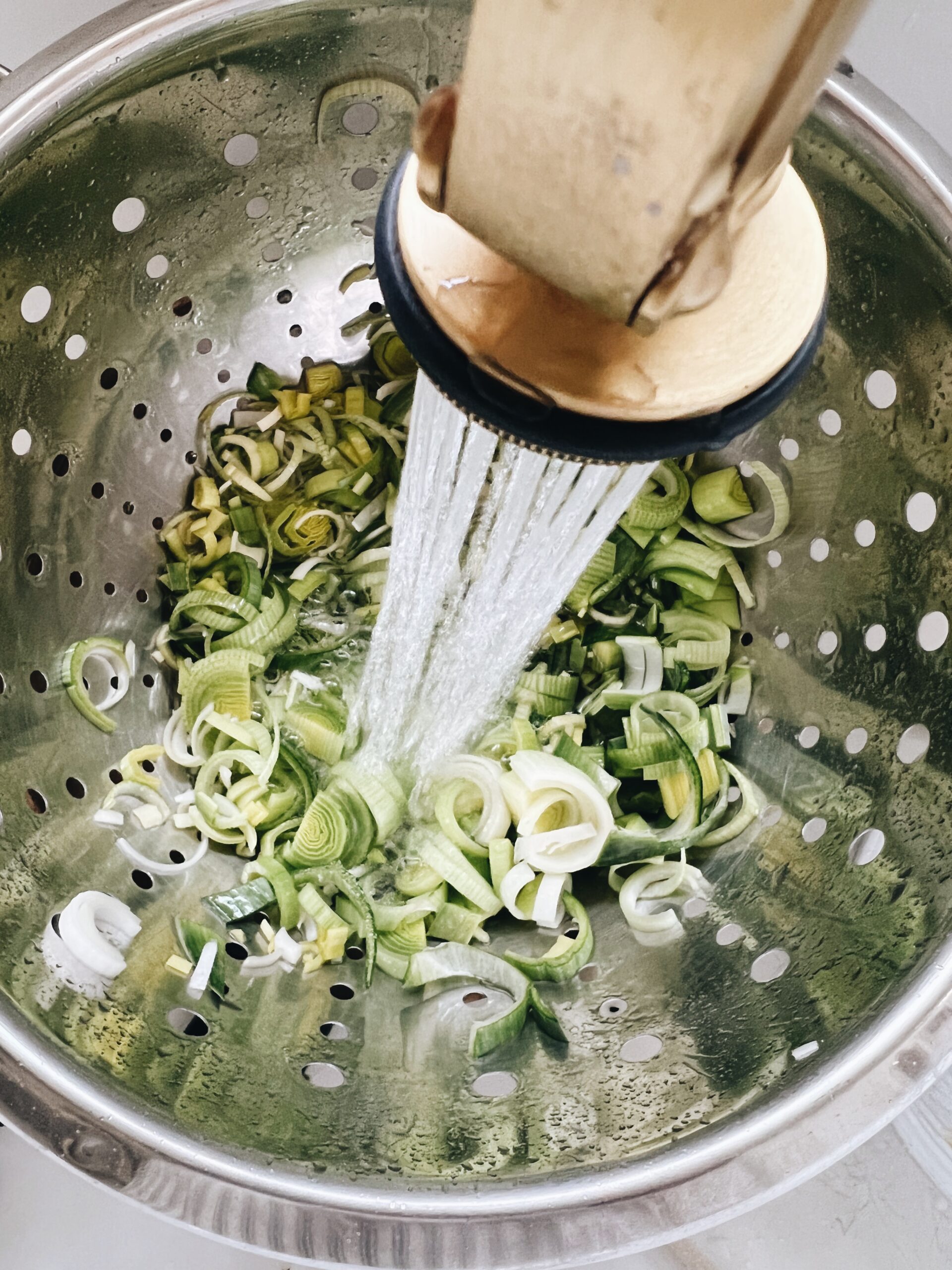 The leeks! You know how leeks are, you reaaaaally have to get them clean. We'll lop the woody greens off and slice the leeks down the center lengthwise. Get them cut-side down on your board and slice into rings. Half rings. Ya know. Then let's rinse them well under the tap. I even put them in a bowl with water to sit for five minutes, then another rinse under the water. So fresh and so clean clean.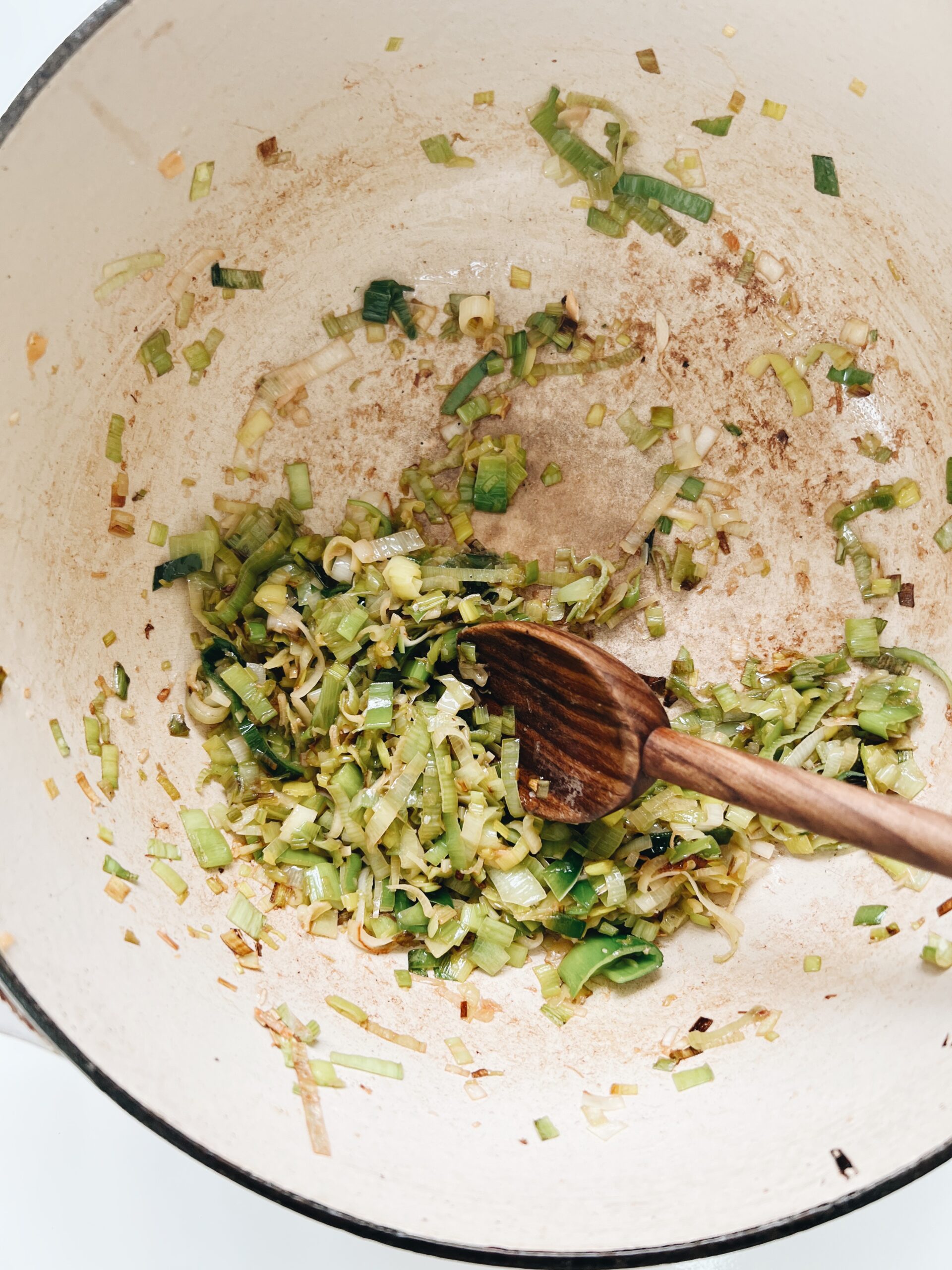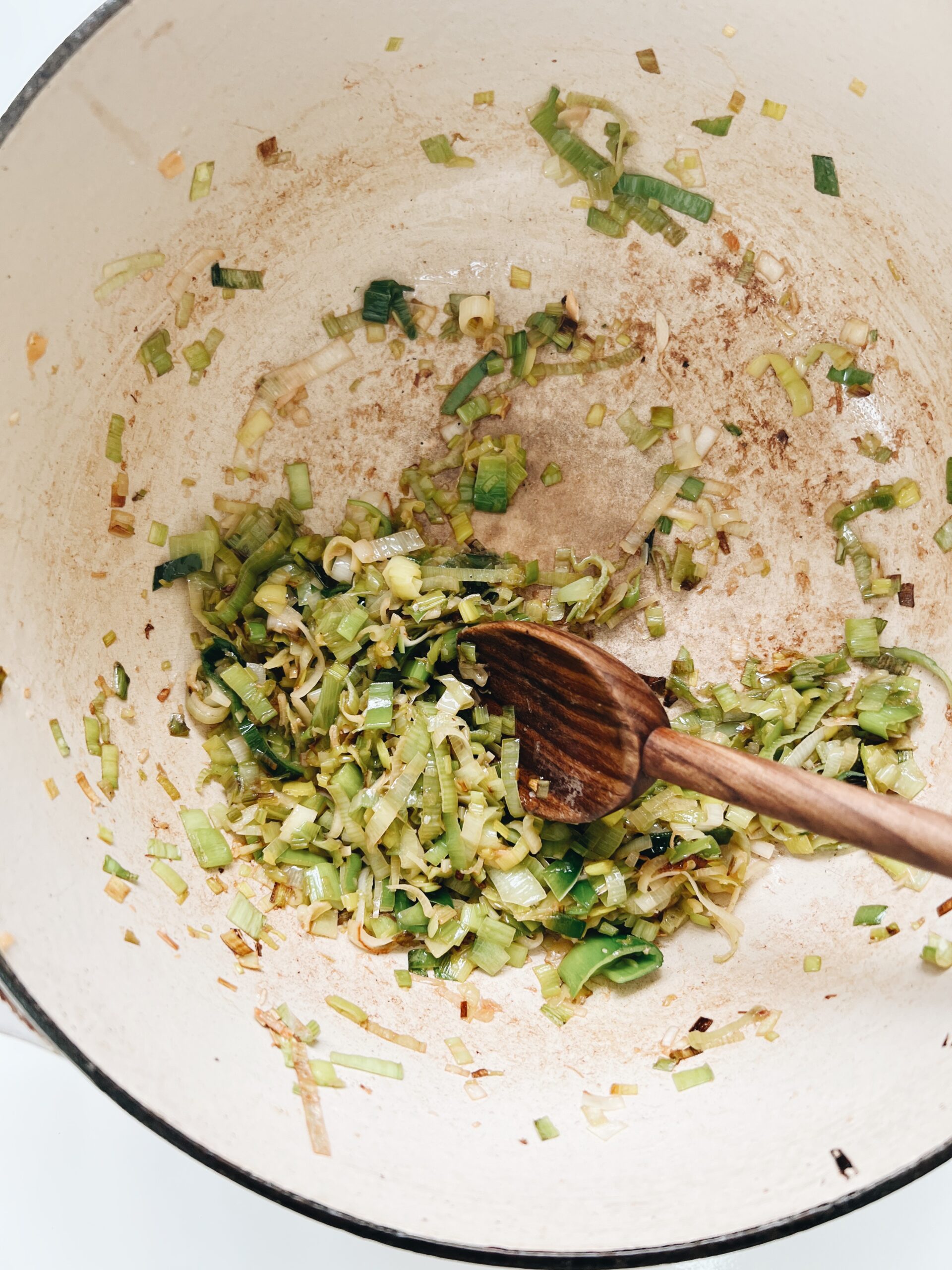 Then we'll sauté them in the pan with another drizzle of oil. I looooove sautéed leeks. They're mild, but still pack an aromatic punch right where you want it. And that's the way we like it.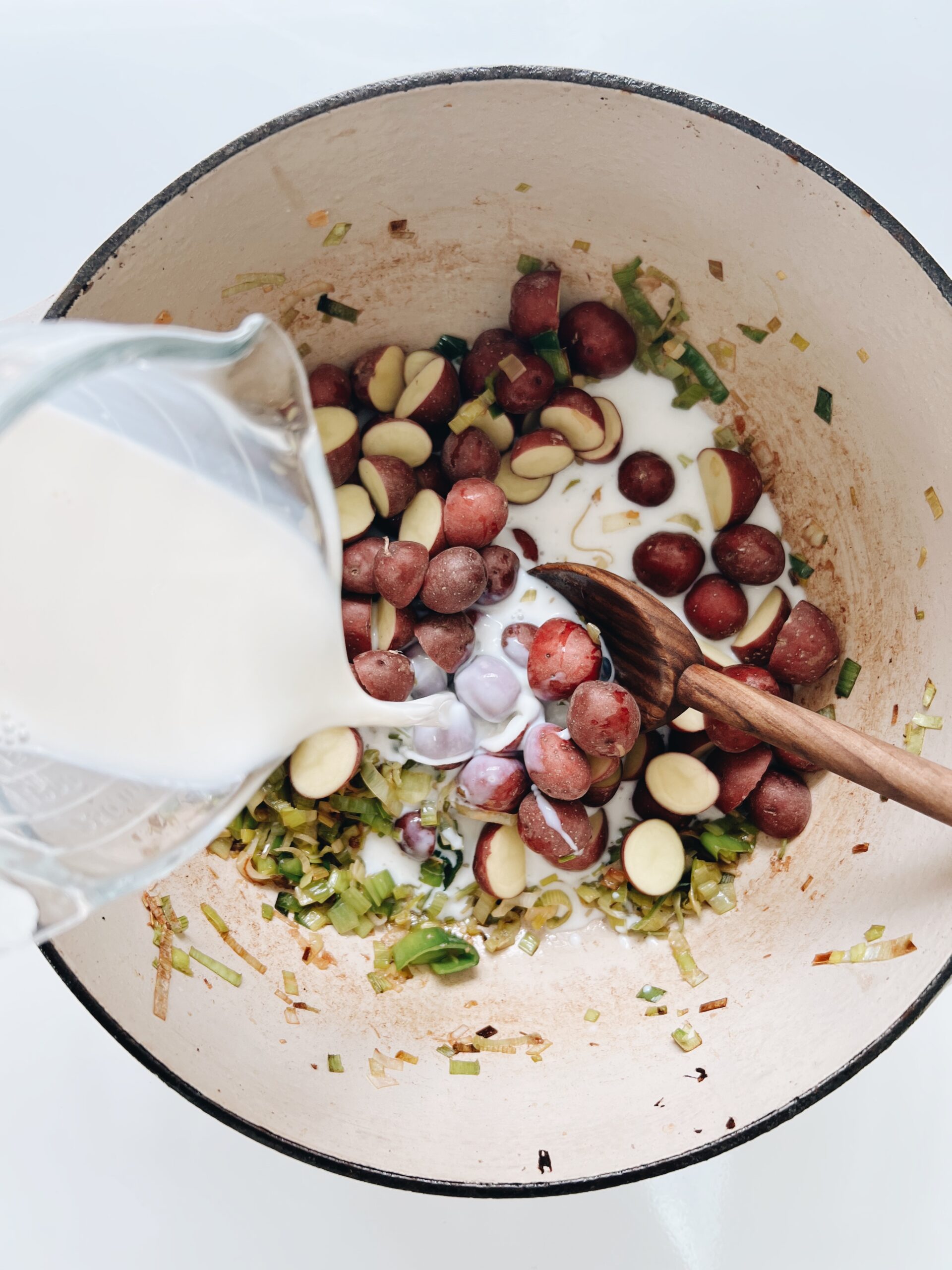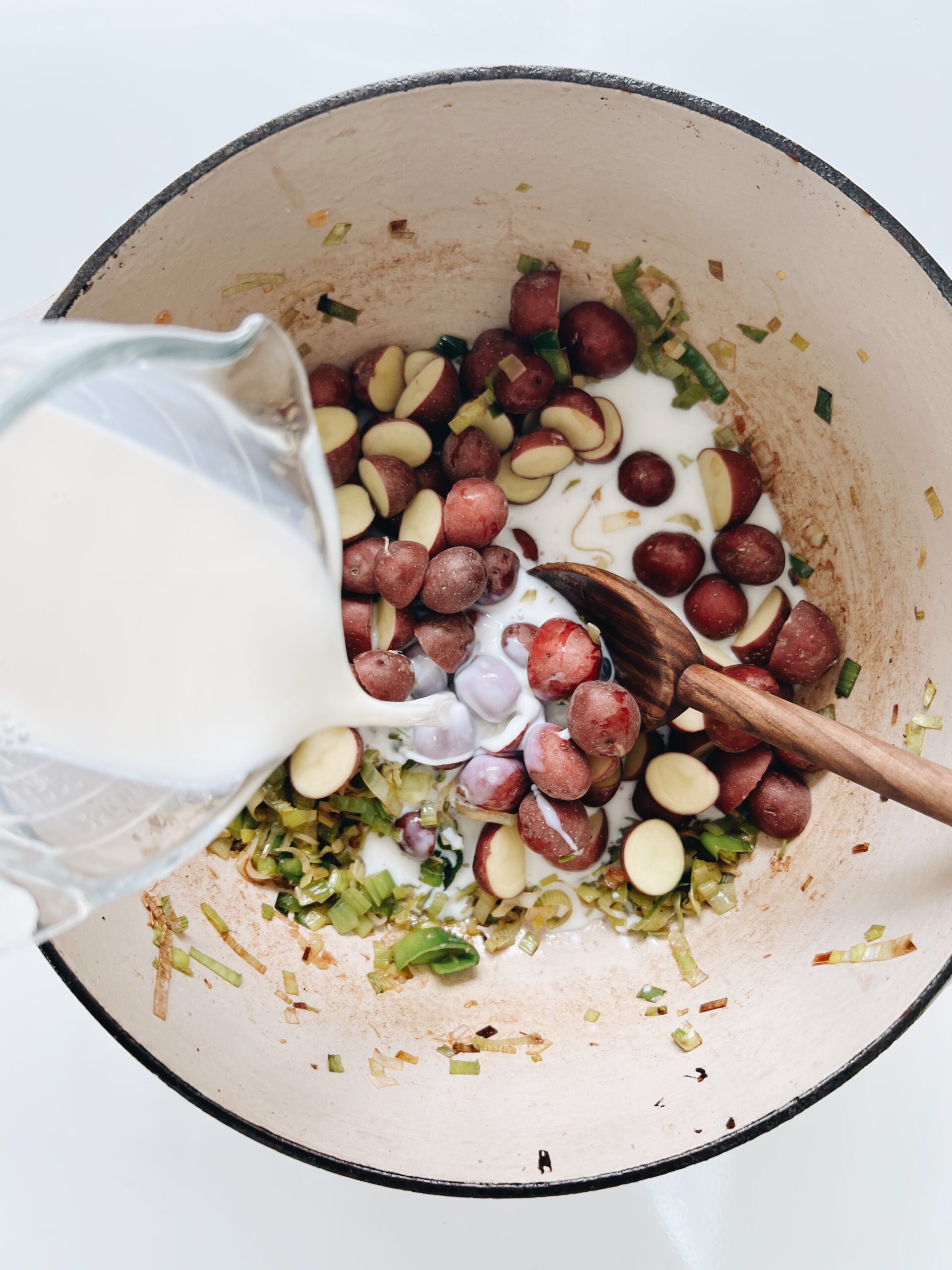 Then let's add some halved potatoes, the milk and stock, a gooood pinch of salt, and let that simmer for about twenty minutes, or until the potatoes have gorgeously softened. We can also ignore that run-on sentence for the sake of getting through today.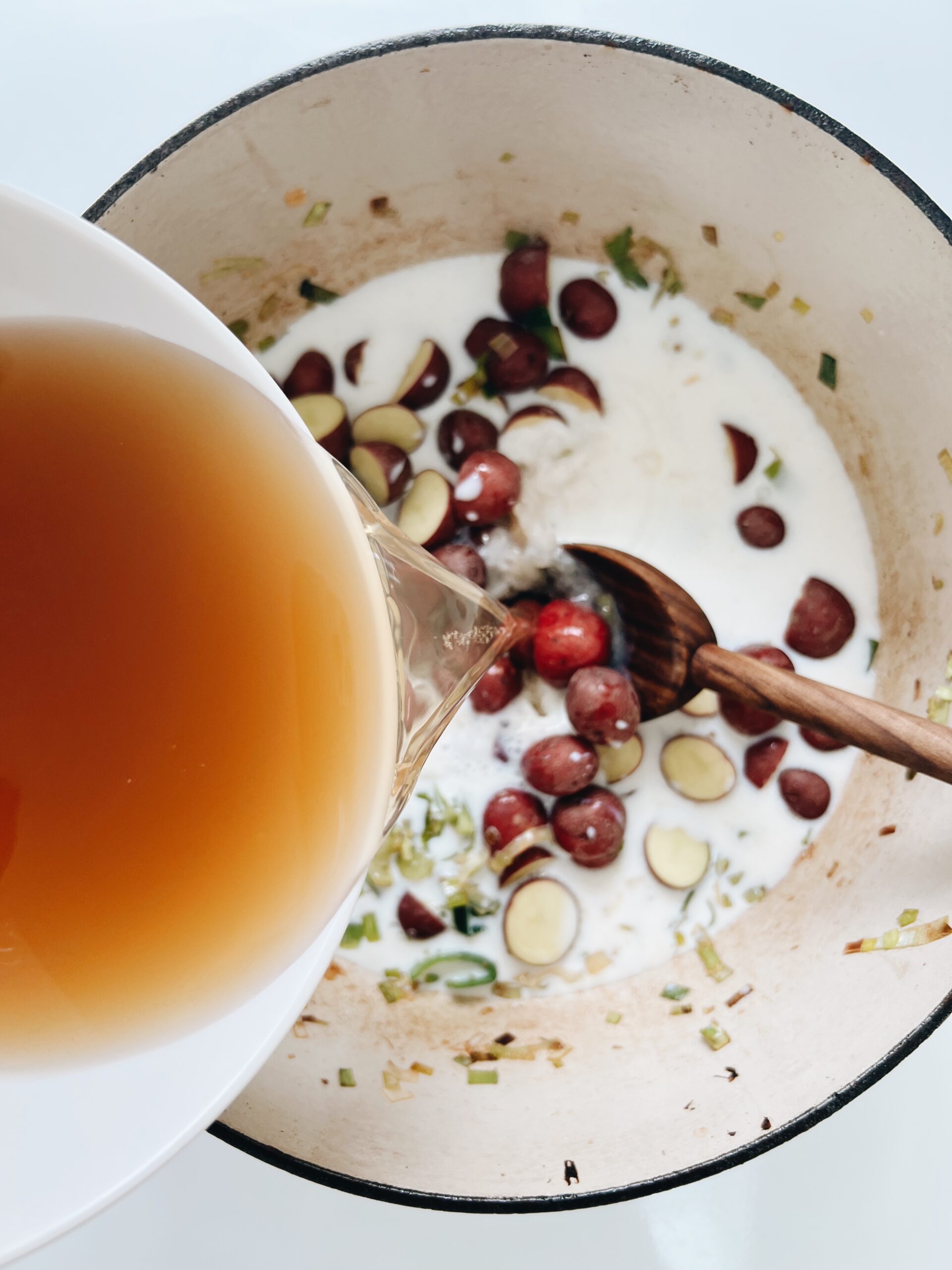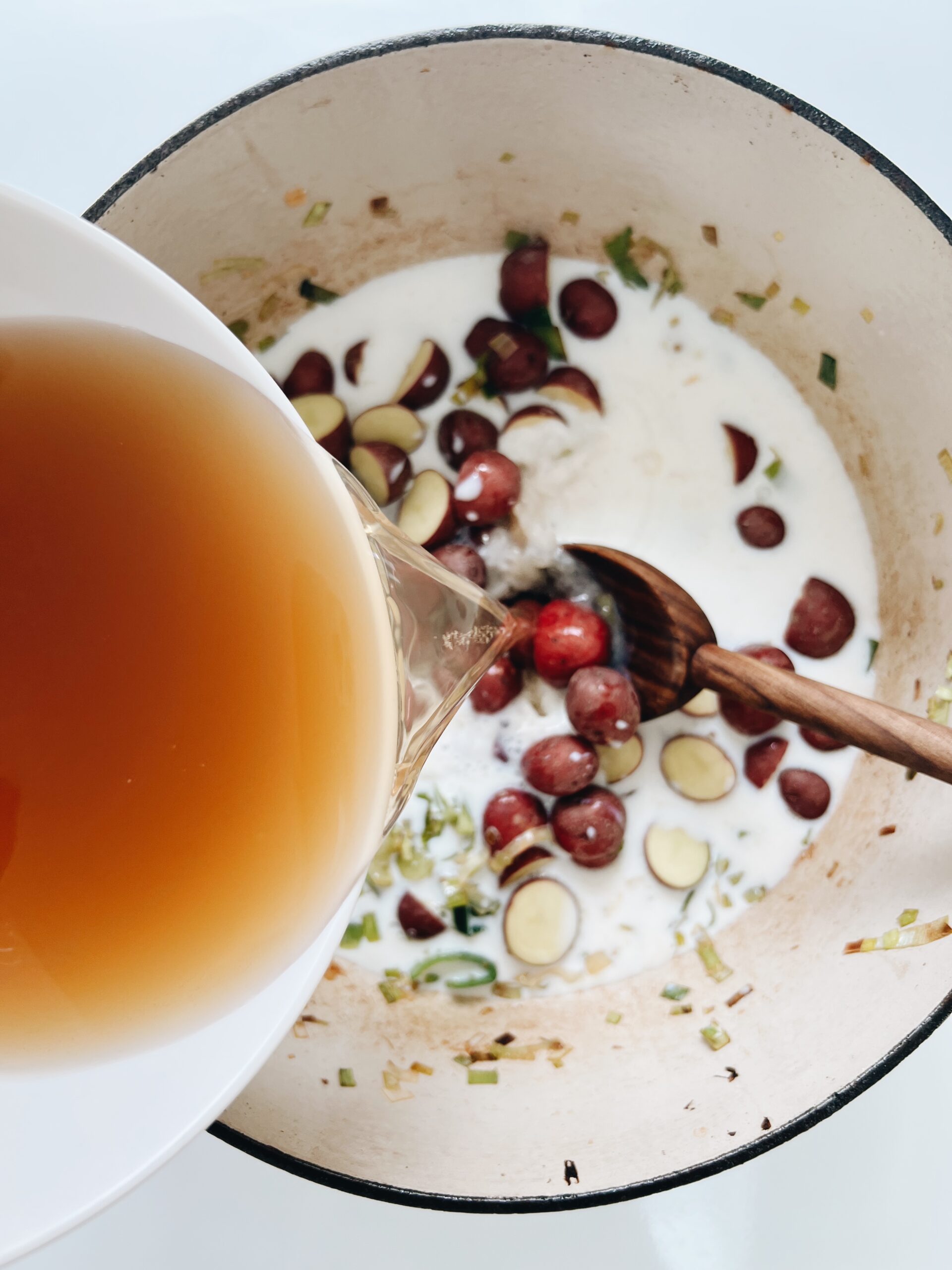 Oh! Here's the stock. So that photo was the milk photo, and this is the chicken stock photo.
And you know what, if you have some seafood stock just batting its eyes at you, use it! That would be so, so good here.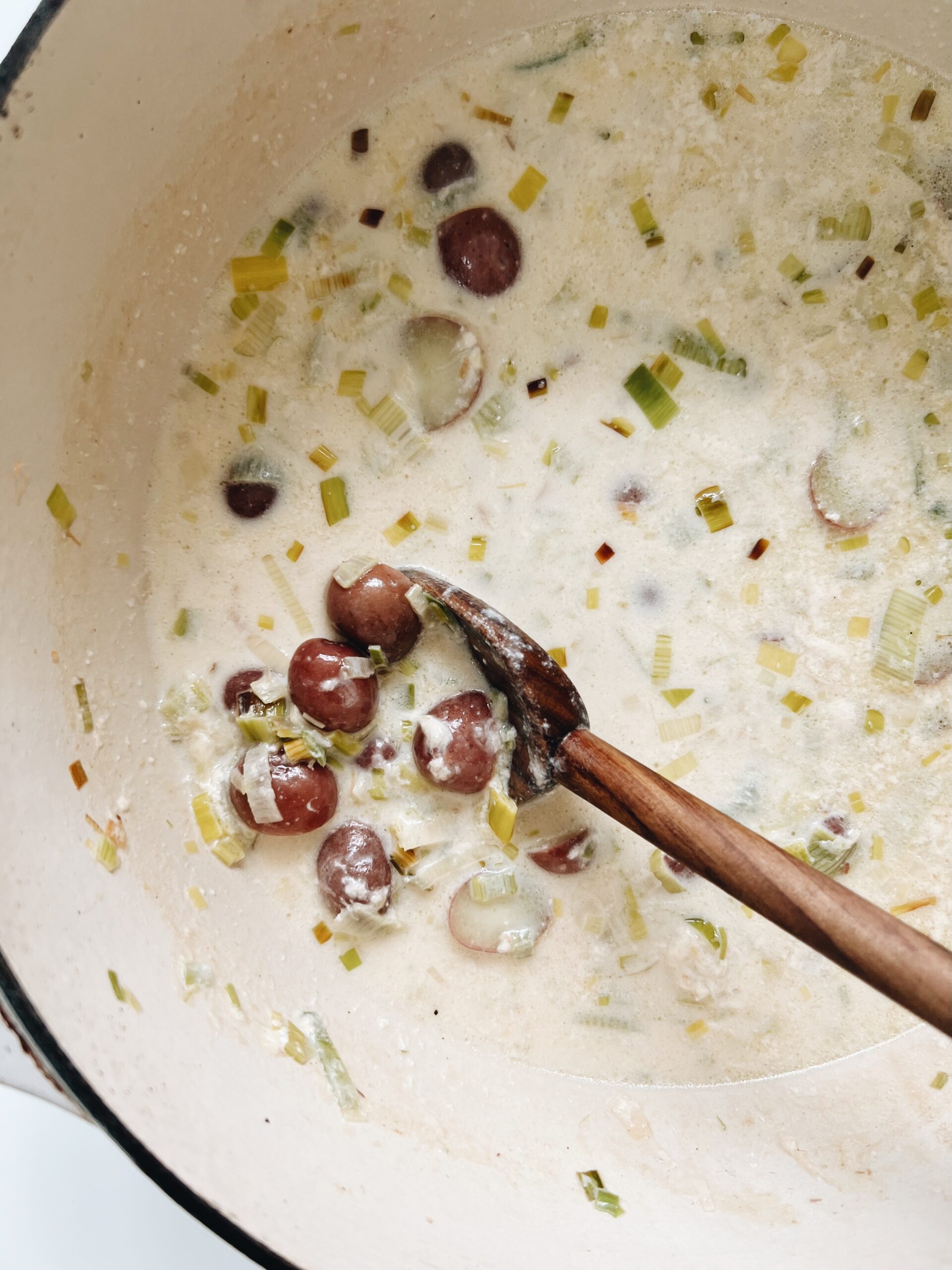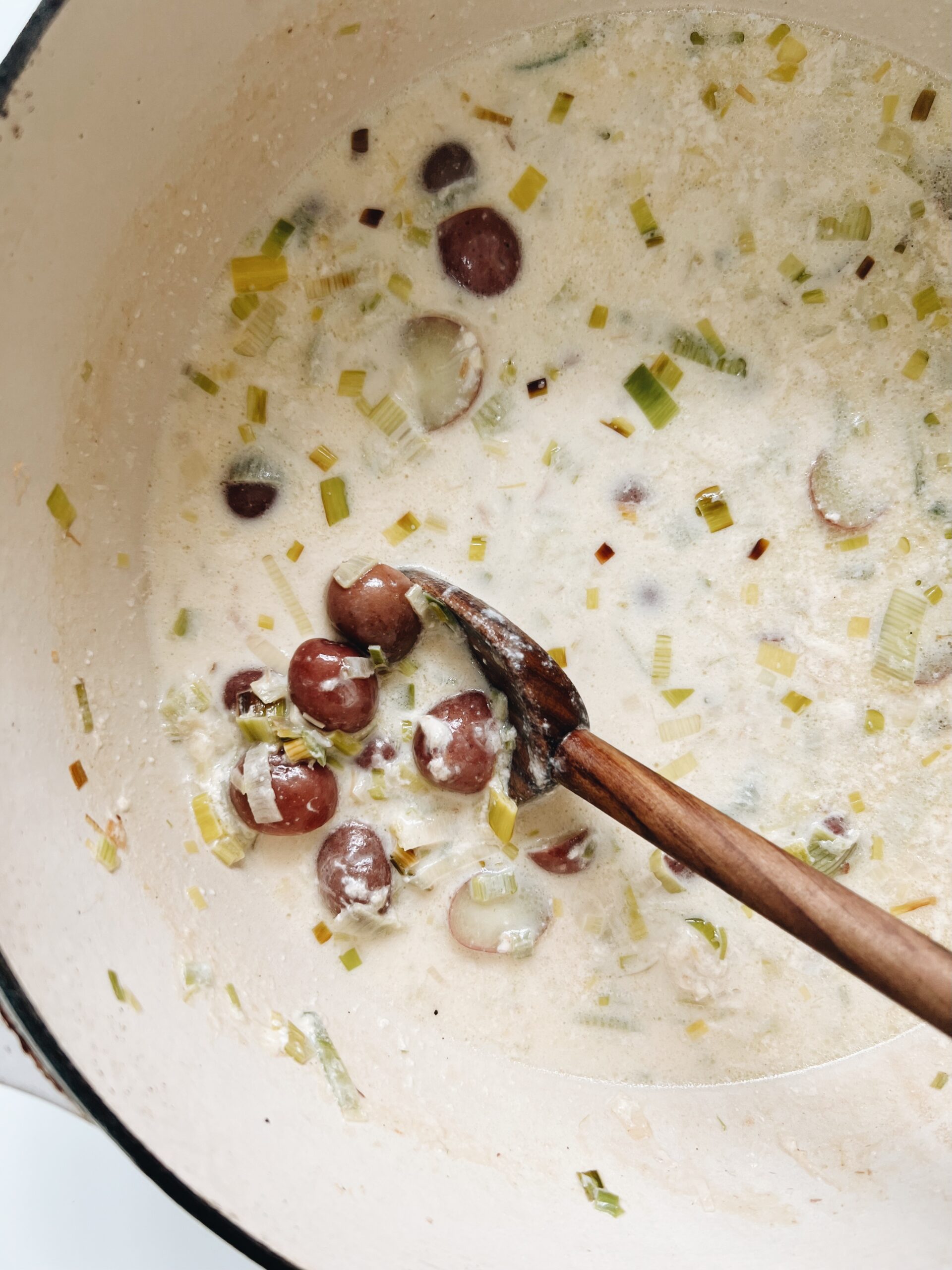 We only added four cups of liquid, did you notice? So it's not going to be overly thin and take forever to get through. The flavors are delicate but dense. THAT'S what only four cups of liquid does. Rejoice rejoice.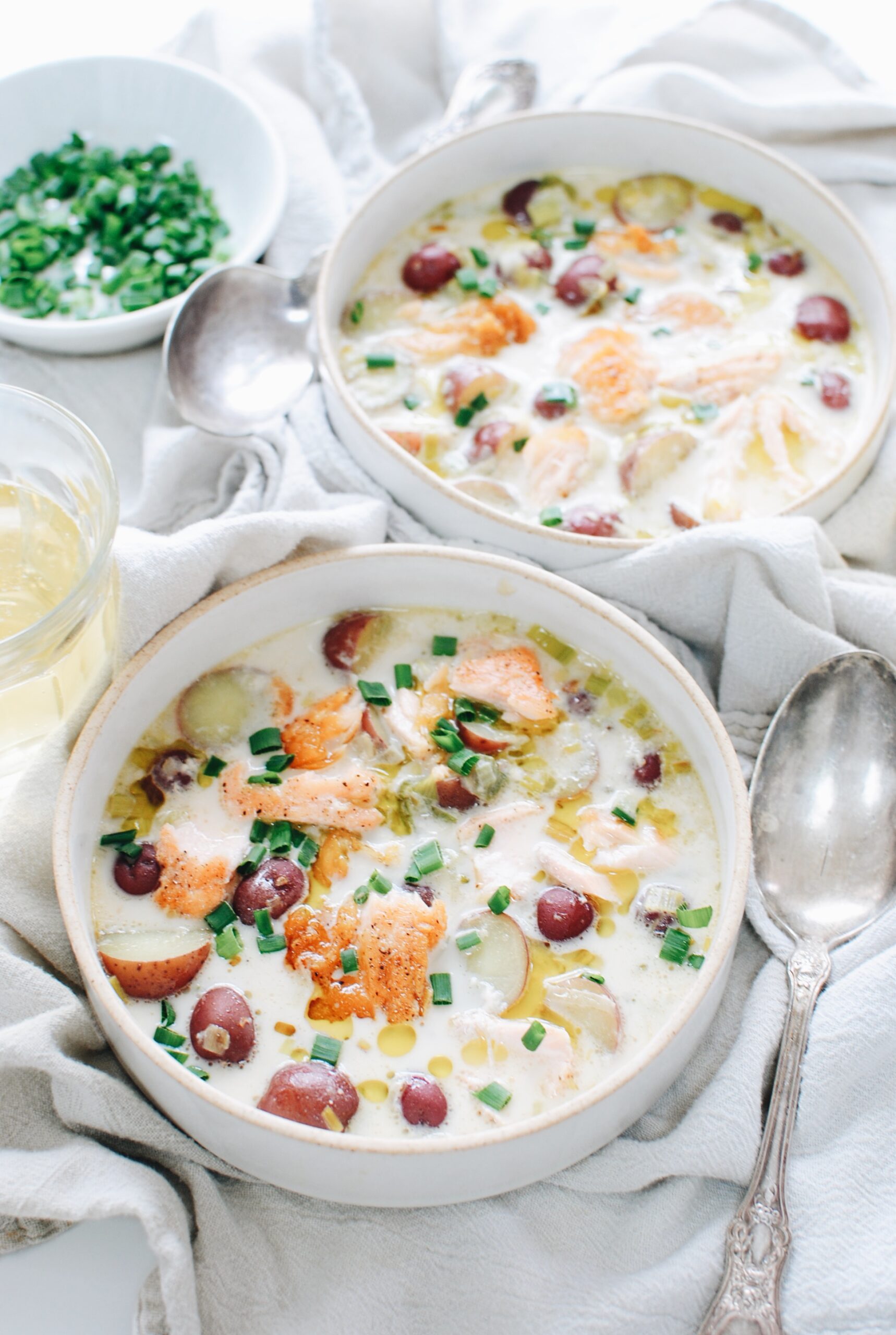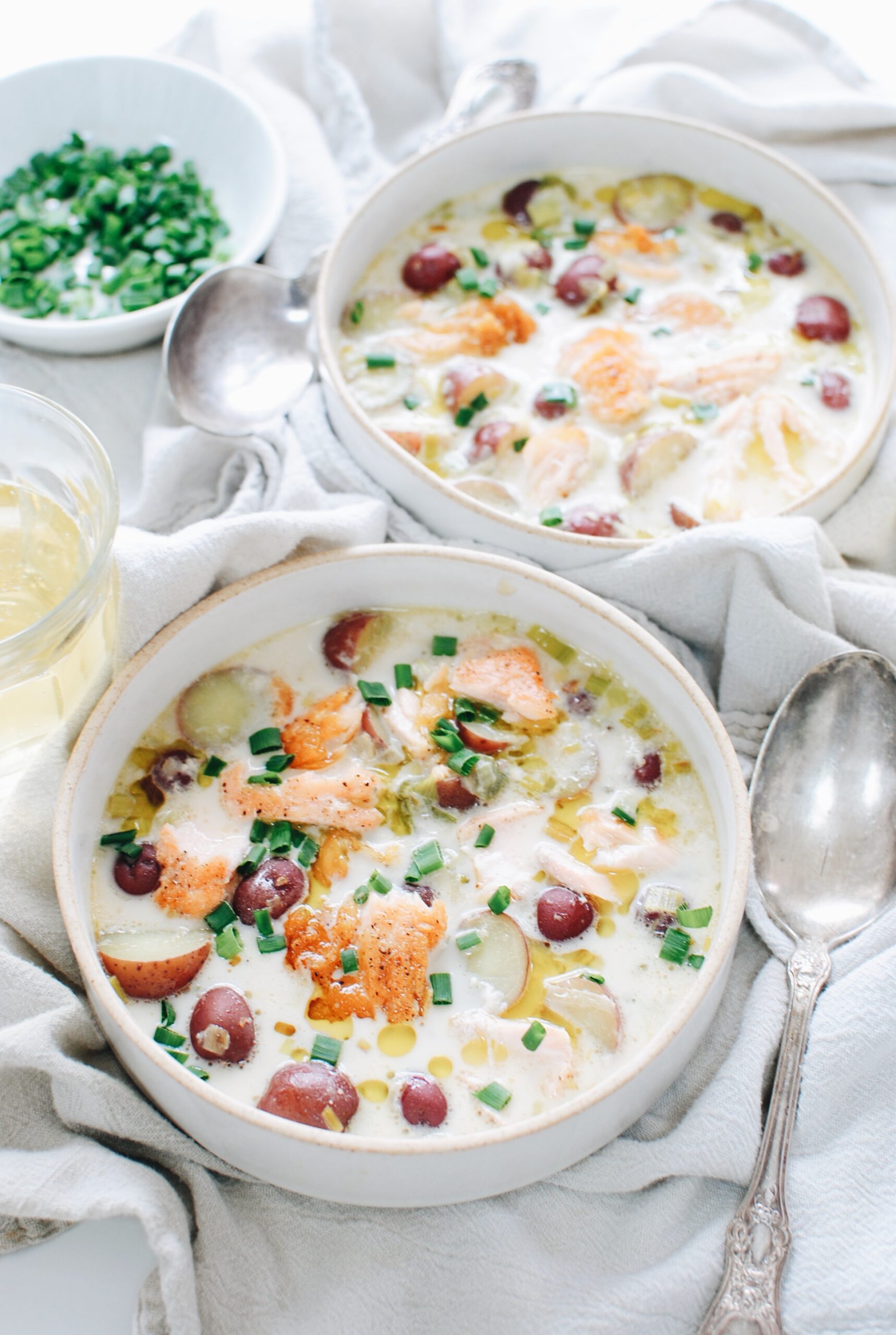 Then we'll ladle up, flake the salmon on top and garnish with freshly snipped chives. Oh! And lemon juice. We've added the juice of a whole lemon and it is beautifully vibrant in this. Wakes it up, ya know. WAKE UP! – said like Julie Andrews.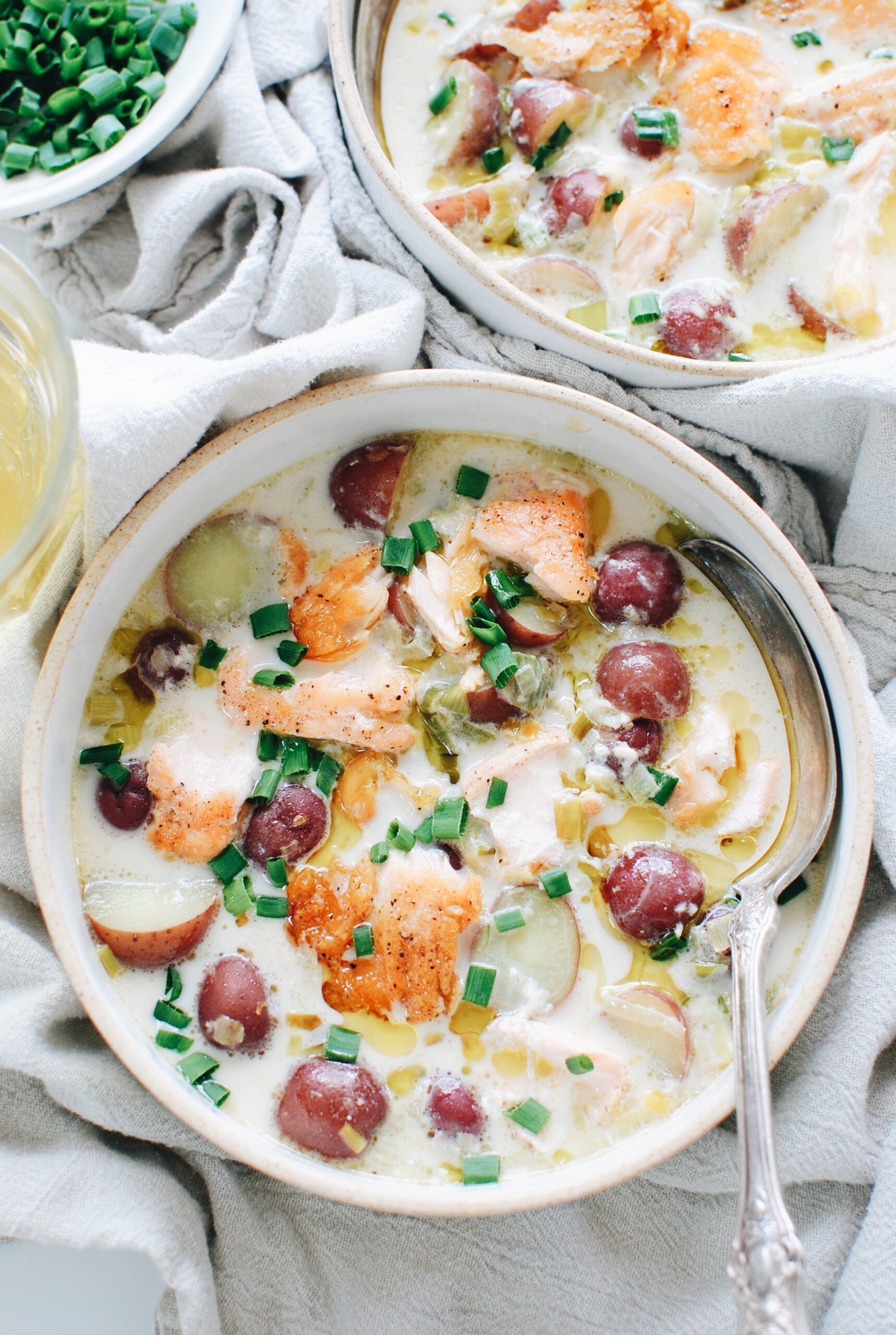 A spring stunner, I tell you. Get in that.
Salmon, Leek and Potato Chowder
Ingredients
2 (4 oz) salmon fillets
2 Tbs. extra-virgin olive oil
2 leeks, green ends trimmed
1 pound baby red potatoes, halved or quartered
2 cups milk
2 cups chicken stock
1 lemon, juiced
Snipped chives, for garnish
Coarse salt and freshly ground pepper
Instructions
Slice the leeks down the center lengthwise. Cut-side down on the cutting board, slice them into thin half moons. Place them in a large colander, rinse them off well, then place in a bowl filled with water. Let the dirt and grit break from the leeks for about five minutes, then give them another rinse. Obviously you can do this as early as you want to save a few minutes.
Heat the oil in a dutch oven or medium pot over medium high. Add the salmon to the pot and season with salt and pepper. Let this sear for four minutes, flip and sear another three to four minutes, until flaky and cooked through. It's okay if they break up in the pot, as we'll be flaking them in the soup later on. Remove the salmon from the pot and let rest.
Add the leeks to the pan along with another drizzle of oil if needed. Season with salt and sauté about five minutes, until they start to take on some color and become fragrant.
Add the potatoes to the pot, along with the milk and stock. Give it a stir and another pinch of salt. Bring to a simmer and cook until the potatoes have softened, about twenty minutes. Squeeze the lemon juice in and give it another taste. One more pinch of salt? Get her done. (Sorry)
Ladle the soup into bowls and flake the salmon right on top. Garnish with chives and serve immediately!
Serves four.
7.8.1.2
567
https://bevcooks.com/2022/04/salmon-leek-and-potato-chowder/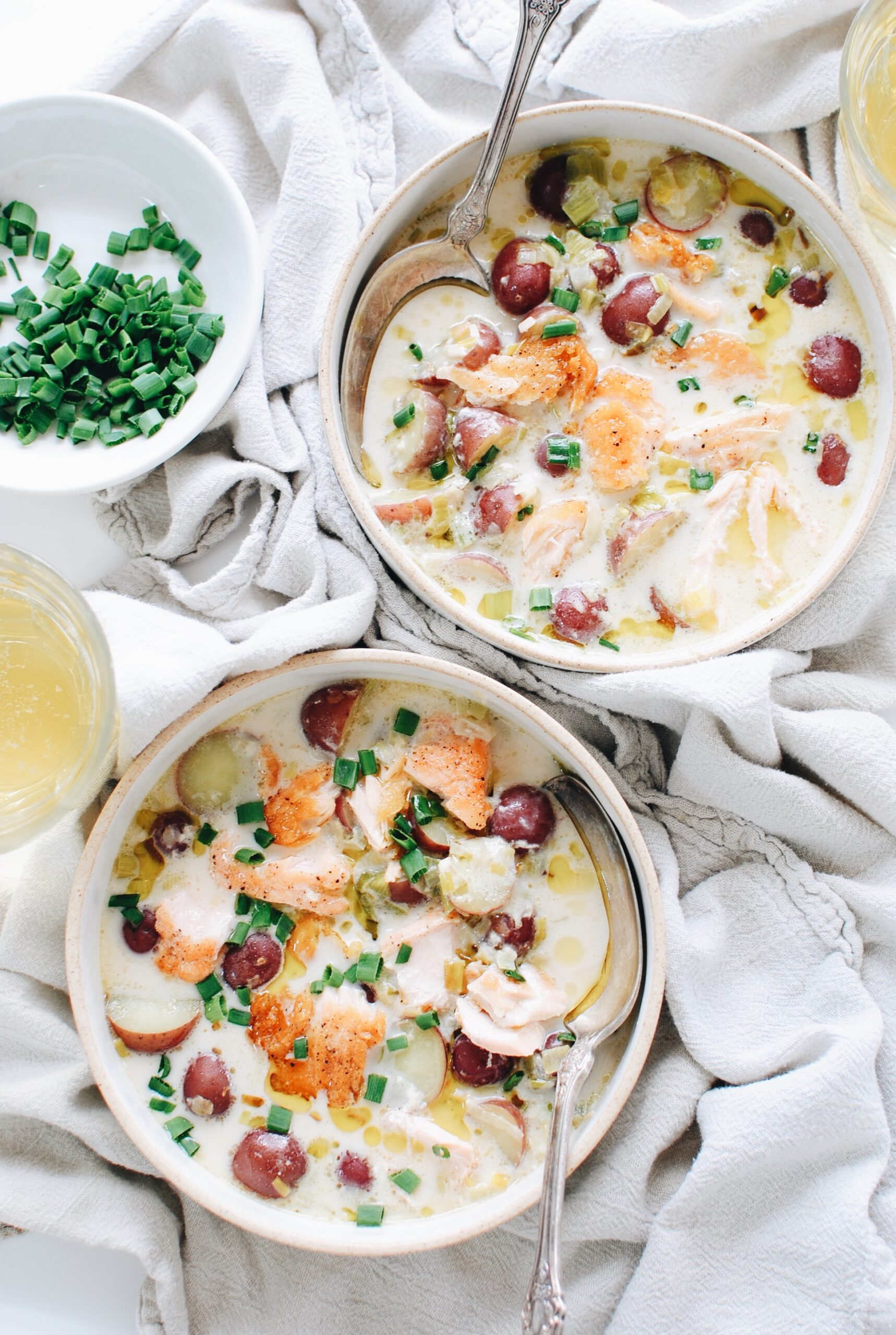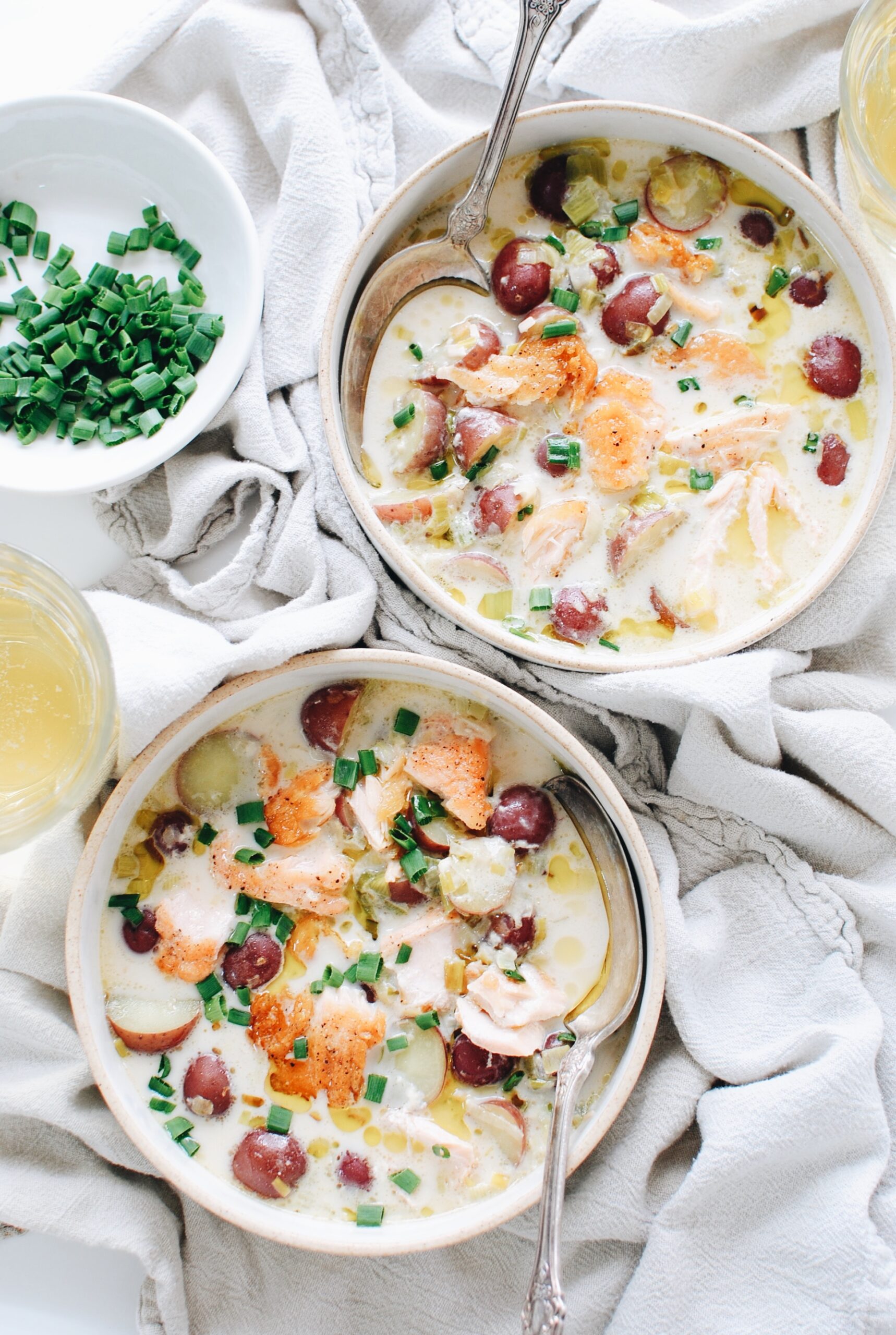 Oh, this would be the most divine Easter Sunday soup! Maybe rearrange your menu? Rearrange your menu.