Okay thiiiiiiiiis.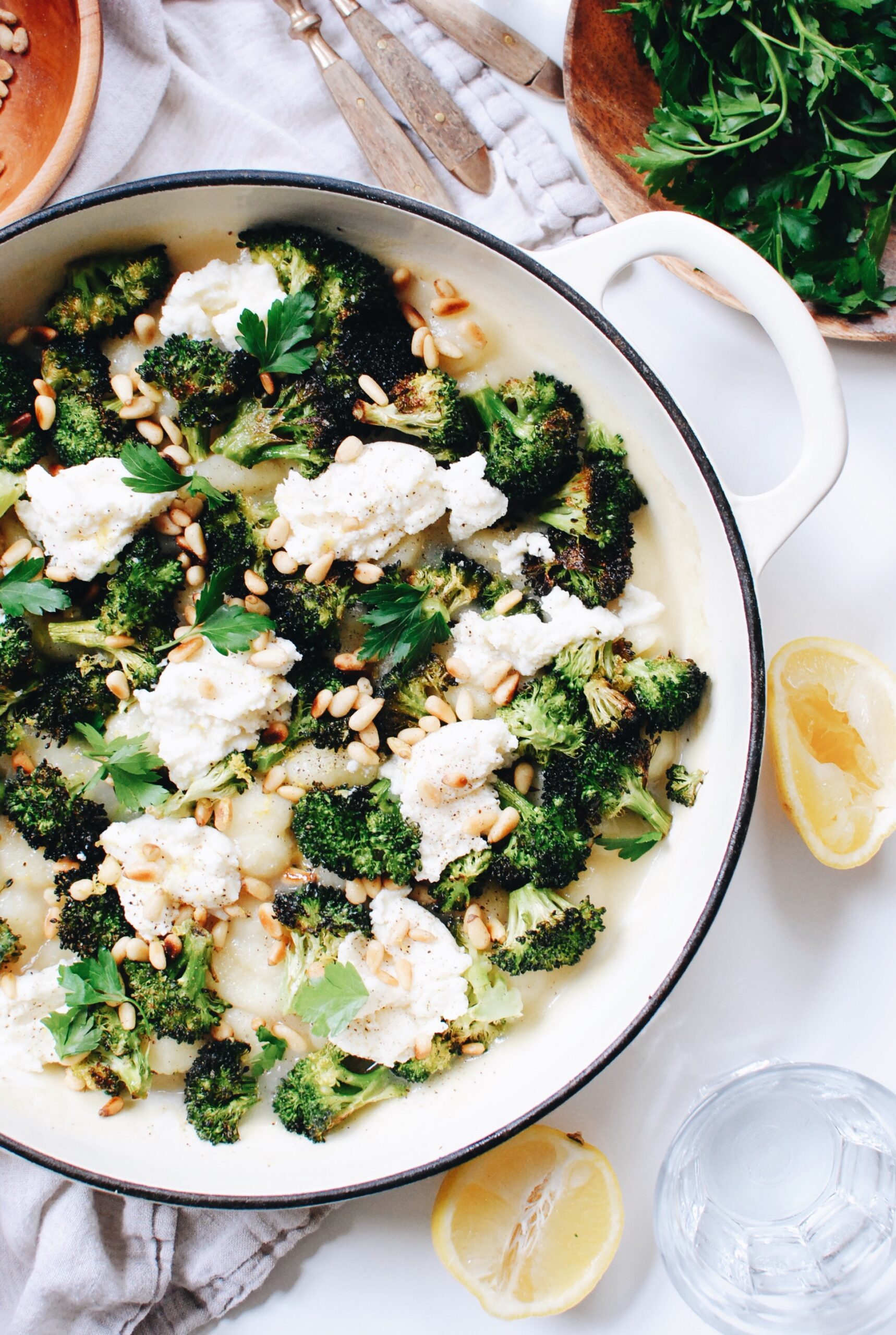 Is there a squeal emoji? I don't think I've ever seen a squeal emoji. I can't imagine how one would create a squeal emoji, but if there is one, we're inserting about 47 right here and now.
BECAUSE: outside of the sheet pan we use to roast the broccoli, it's one pan!
Wait, we do use a smaller skillet to toast the pine nuts, so I suppose we're now at three pans. It's a three-pan meal! Never mind.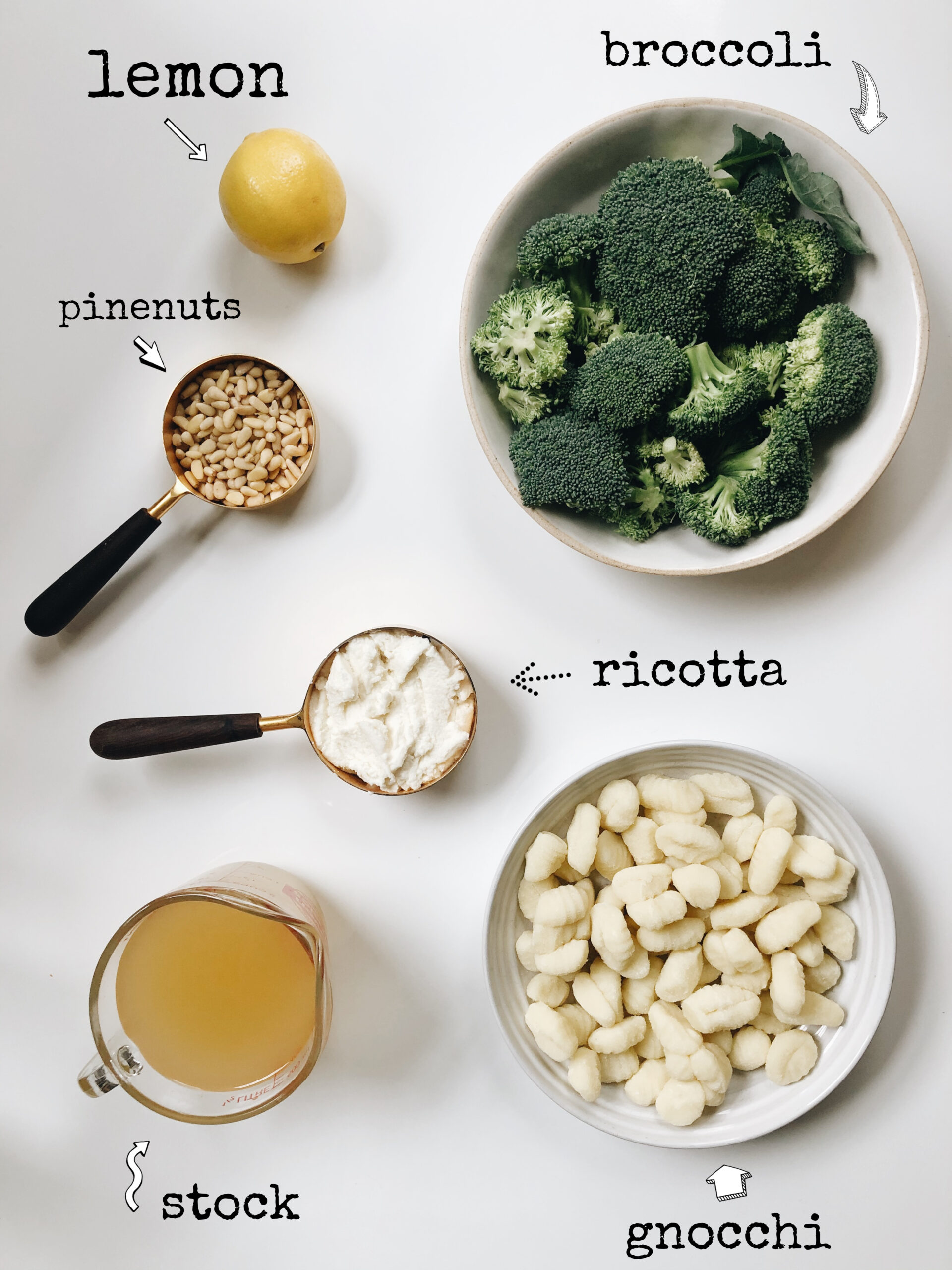 Also, just six ingredients. (If you don't count the parsley I violently threw on last second.) So it's excruciatingly simple and creamy and lemony and earthy. It has everything. Don't try and argue with this.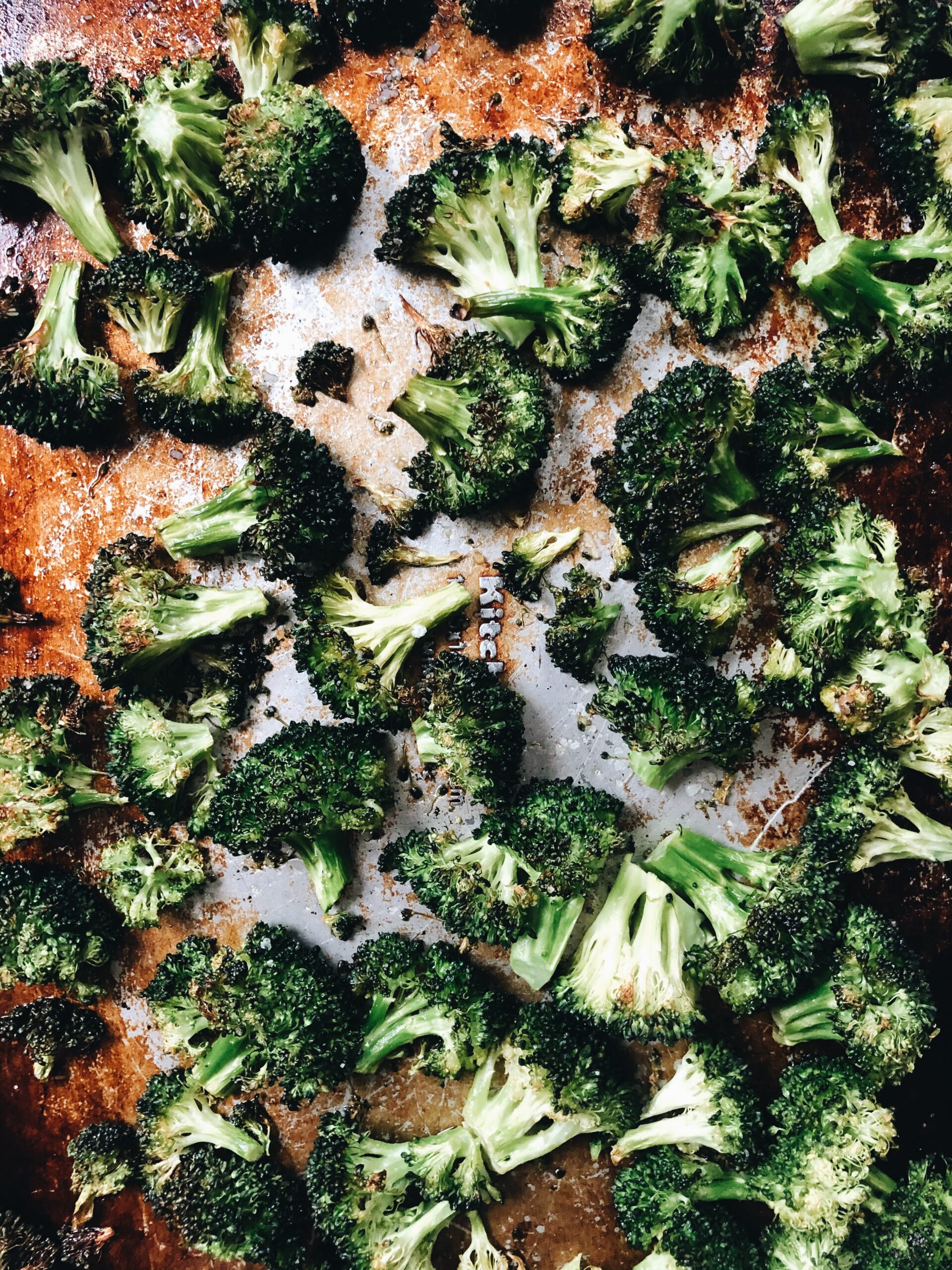 So this is what we're going to do. We're going to roast the broccoli. Because we're going places, you see. We mean business and we want a crispiness to that veggie. Plus there's this flavor that's hidden in broccoli and only comes out when roasted. It's somewhere between oh my word and come to mama.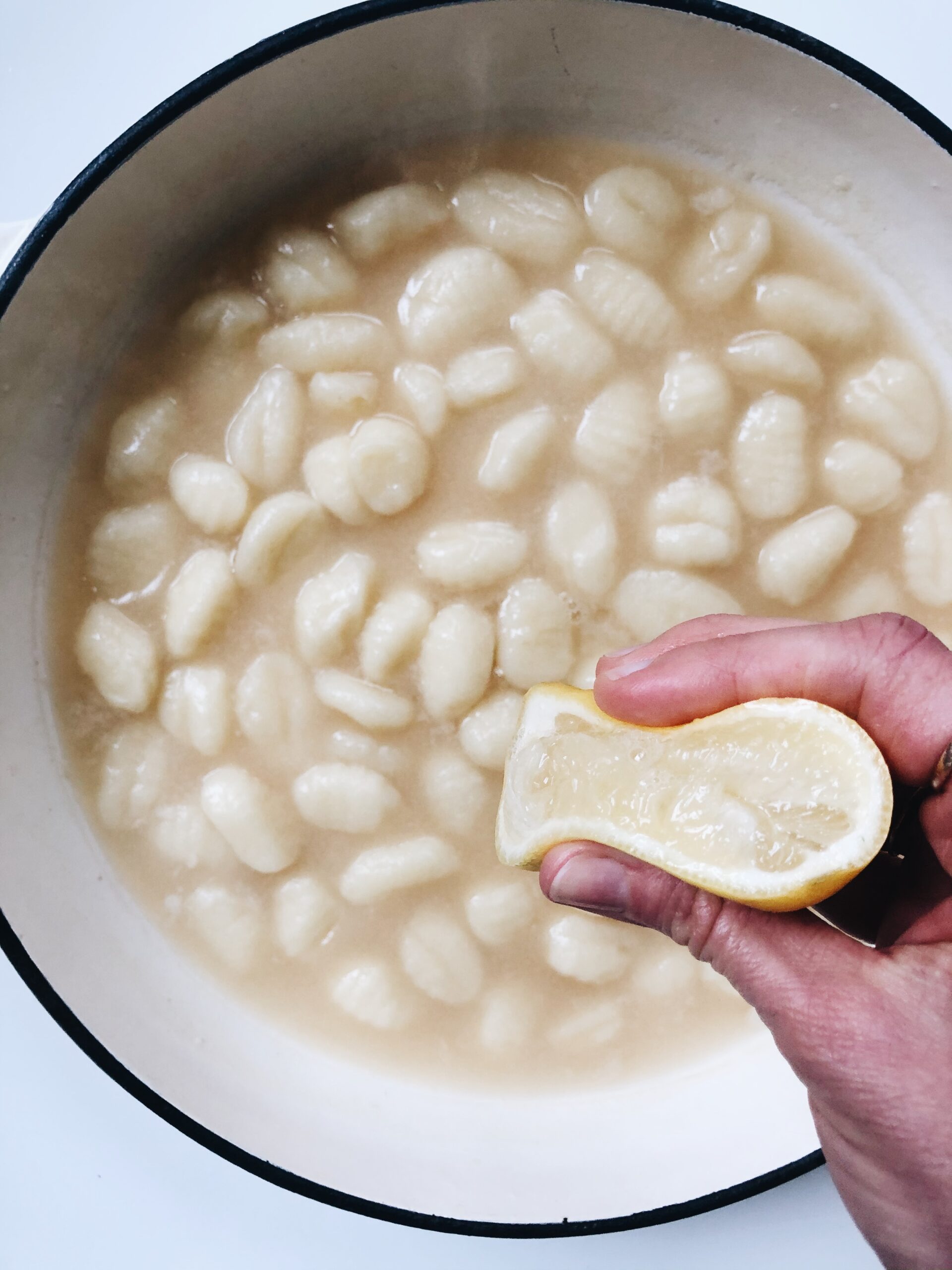 And check this out. We don't need to boil the gnocchi in water. We're gonna just simmer it in chicken stock with lemon because you know it takes half a second for the gnocchi to cook and plump and become tender and toothy. Plus what happens is the stock soaks up the starches from the gnocchi and becomes . . . you guessed it – saucy! It thickens up like magic and works brilliantly with the "toppings."
Which we need to discuss.
(also, my hand is having self esteem issues in that photo.)
Pine nuts! These are pricey little boogers, so don't take your eagle eye off them. Lightly lightly toast them in a little pan over a flame until you get some char marks here and there. They're delicate, toasty, rich, almost creamy. It's weird how a nut can be creamy, right? This is definitely a creamy nut. And I'm at odds with how that sounds.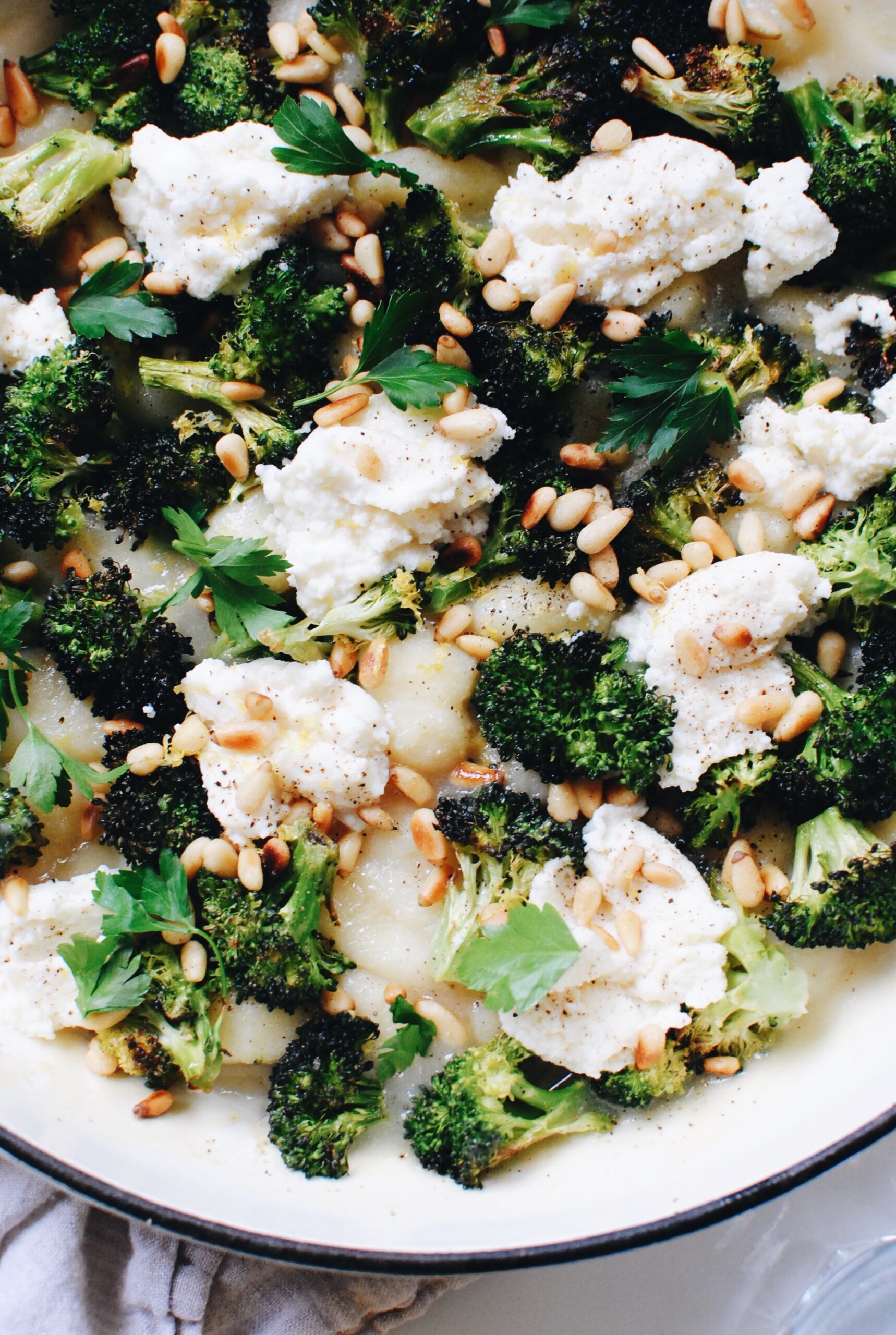 And honey, this is it. Right there in the gnocchi skillet you'll add the roasted broccoli, a few dollops of creamy ricotta (really on the creamy thing right now, bev), and a sprinkling of toasted pine nuts! And a good healthy squirt of lemon juice right over everything. Don't skimp. It wakes it all up. You know how I am.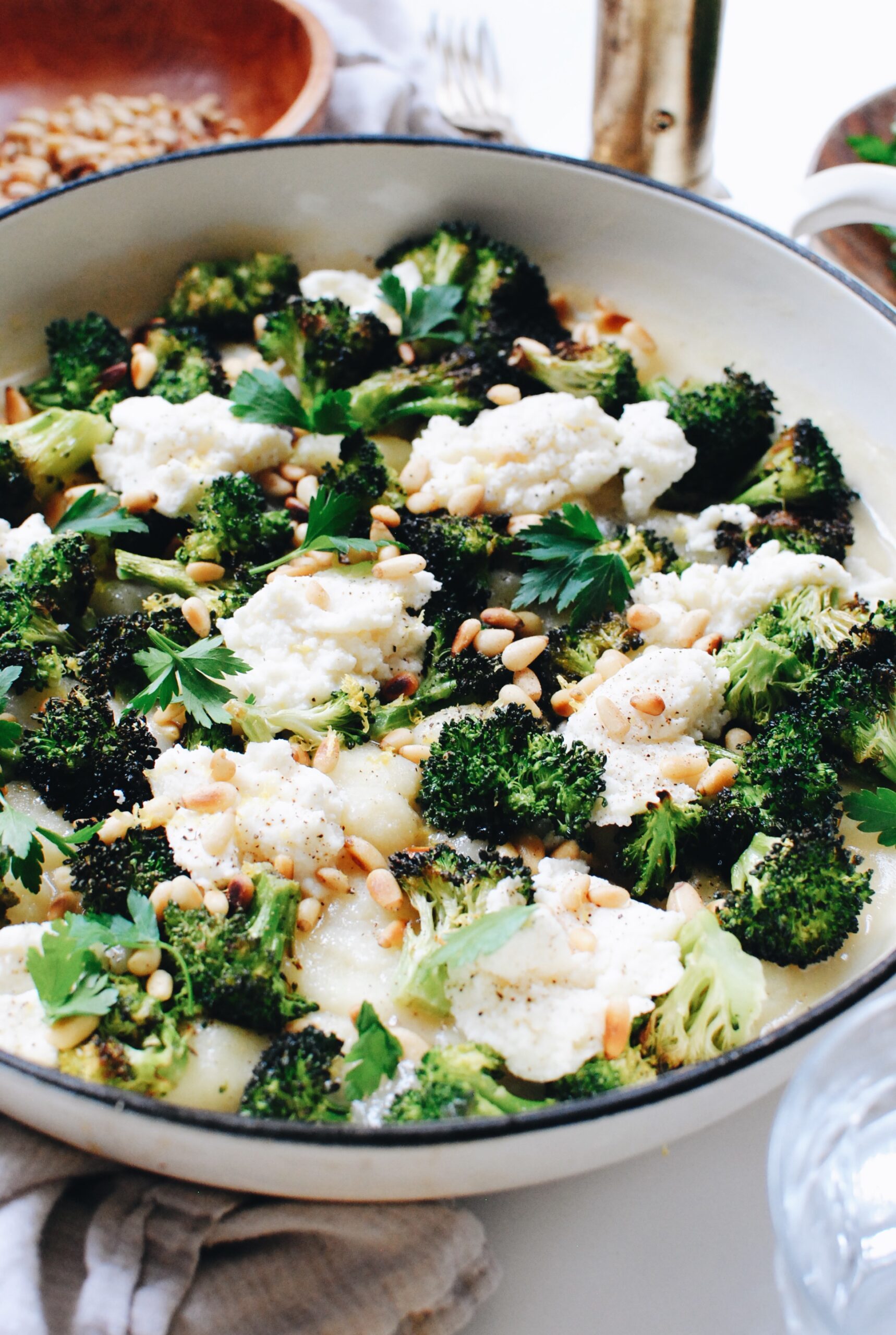 Pro-tip: whole milk ricotta is divine. Other level flavor. But if you get the part skim you're still a good person.
Don't forget that parsley, man!
I love how this dinner is a) vegetarian (I suppose if you use veggie stock), if you need to skip a meaty meal, b) luscious but still has a bit of nutrition up in your face, and c) insanely simple. And quick! You can do all of this at the same time and it's yours in 30. Look at what a hero you are.
Go ahead and jot these ingredients down because Friday is here quicker than you think.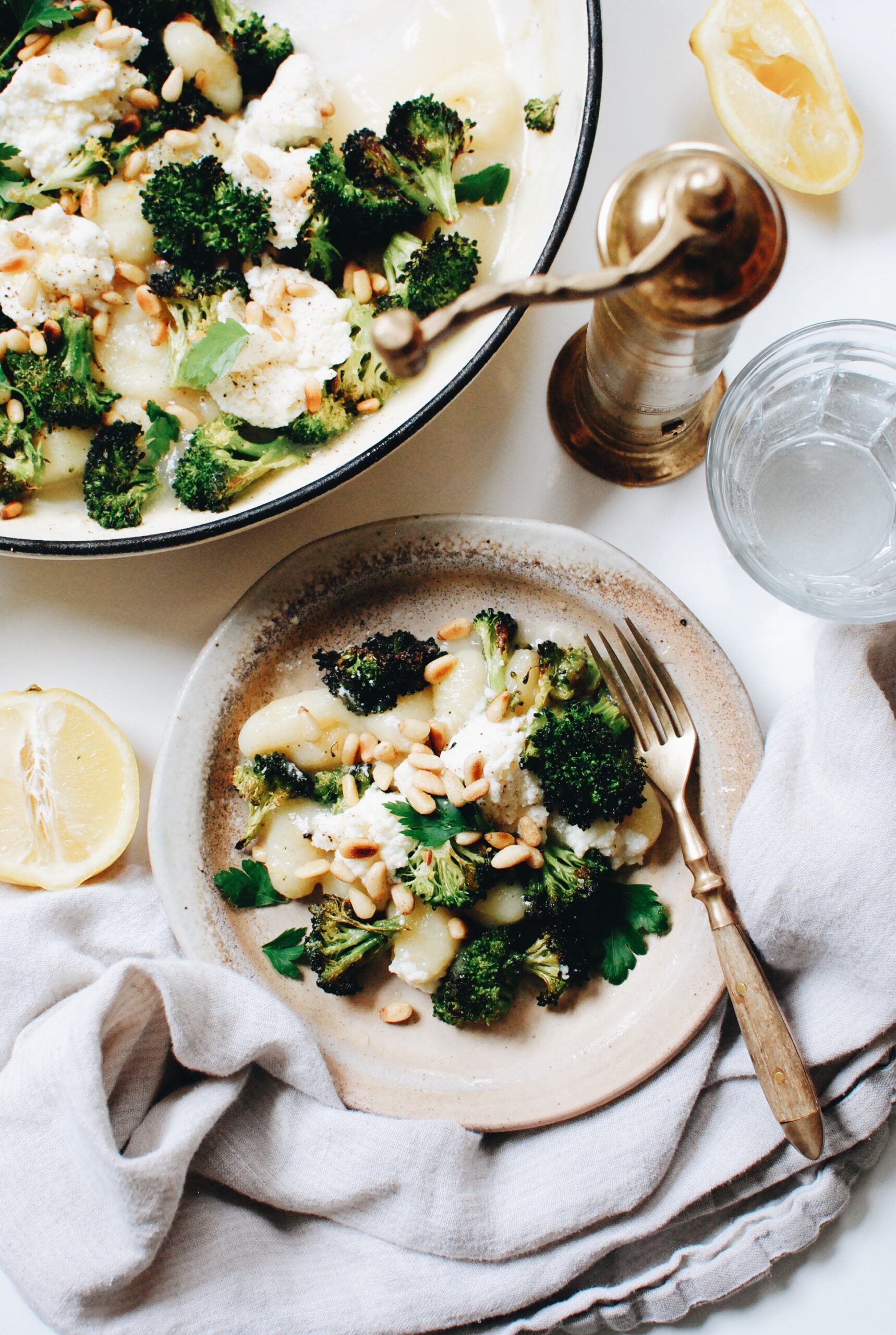 Or tonight.
Skillet Gnocchi with Roasted Broccoli and Ricotta
Ingredients
12 oz broccoli, but into small florets
2 Tbs. extra-virgin olive oil
1 pound dried gnocchi
2 cups chicken (or veggie) stock
1/3 cup pine nuts, lightly toasted
1 cup ricotta cheese
1 lemon
Parsley, for garnish
Coarse salt and freshly ground pepper
Instructions
Preheat your oven to 350.
Arrange the florets on a large baking sheet, drizzle with a Tbs. or two of extra-virgin olive oil, and season with a pinch of salt. Toss with your fingers and roast for 30 minutes, or until browned and crispy in places.
In the meantime, add the stock and gnocchi to a wide skillet. Simmer on medium for about five minutes, until the gnocchi is tender and toothy. Doesn't take long at all. Season with a pinch of salt and squeeze half a lemon in.
Add the roasted broccoli to the skillet, along with a few dollops of the ricotta cheese (room temp is ideal), a sprinkling of the toasted pine nuts, a scattering of fresh parsley, a good grind of black pepper and another squeeze of lemon juice. Done!
Serves four.
7.8.1.2
493
https://bevcooks.com/2021/04/skillet-gnocchi-with-roasted-broccoli-and-ricotta/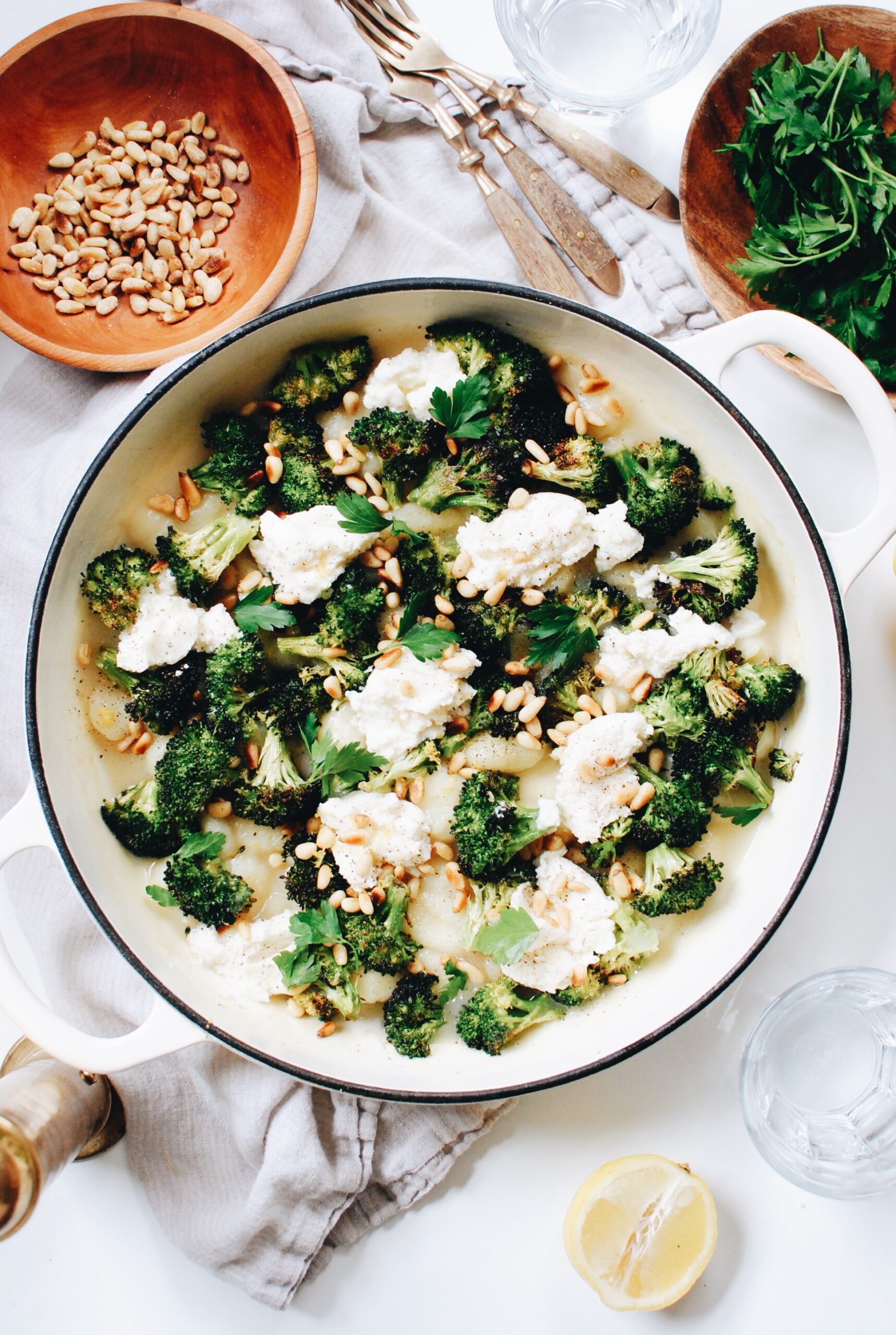 Are we still saying "yas queen" because I might need to.