Also known as: OMG.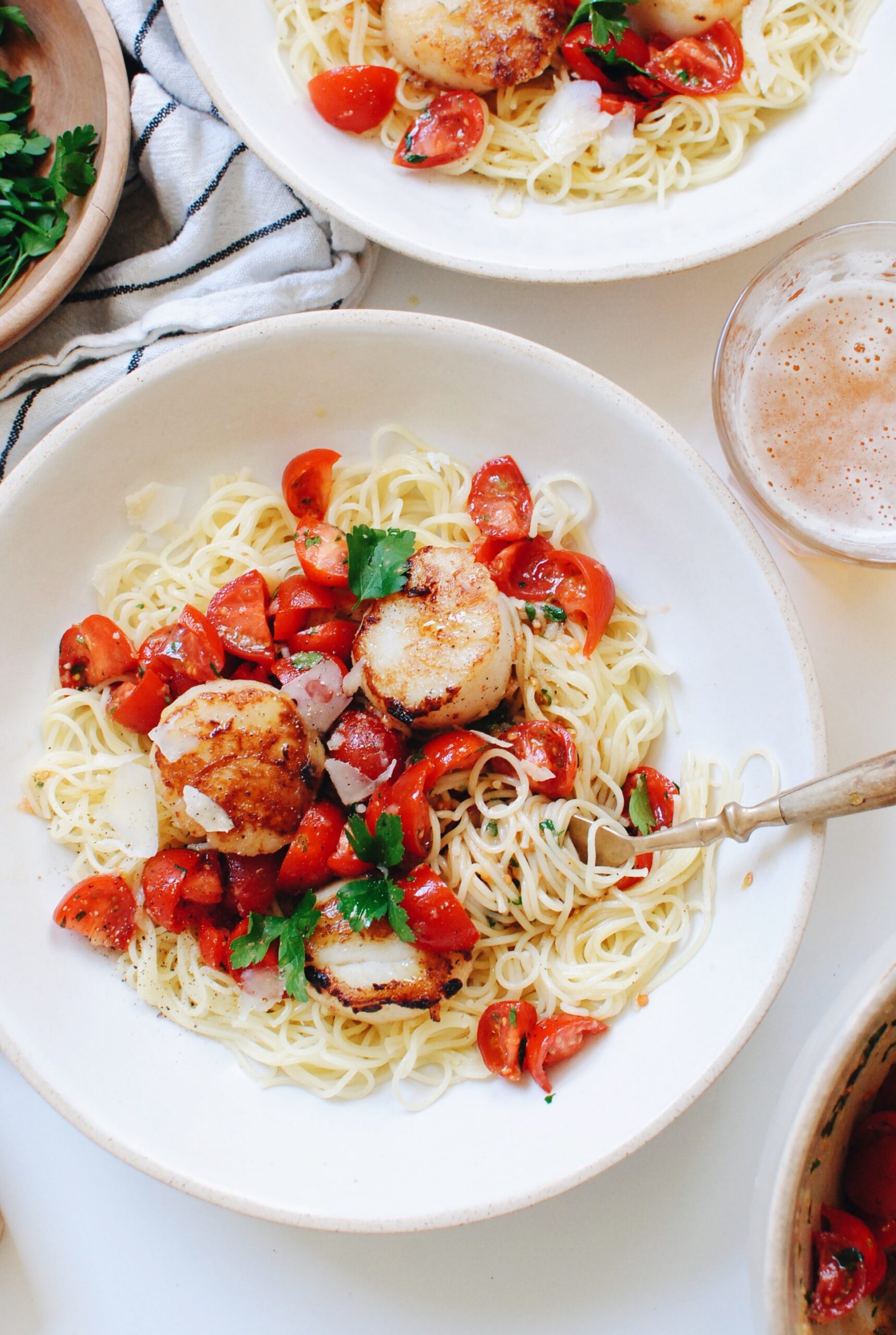 This is going to be one of those dinners that quickly finds its place in heavy rotation on your table and in your face, and do you wanna know why?
Well I'mon' tell you.
Three reasons:
Marinated tomatoes. That's the first one. You know my year-round obsession with quartering cherry or grape tomatoes and letting them sit at room temp for H O U R S with grated garlic, minced parsley, a good oil and a pinch of salt. It's nothing but acidic heaven.
The second reason, scallops seared in butter. I feel like that's a duh.
And the third reason, is DeLallo's new Capellini Angel Hair Nest Pasta. I have multiple spin-off reasons why I love this package o' pasta so much. First of all, it's about 9 oz of angel hair. You know how sometimes (all the time) when you make a full pound of angel hair, it somehow births 18 times more pasta than you anticipated and/or needed. This is like, the perfect amount of pasta.
I'll get to the other reasons here in a second, because I need you to see this next photo first.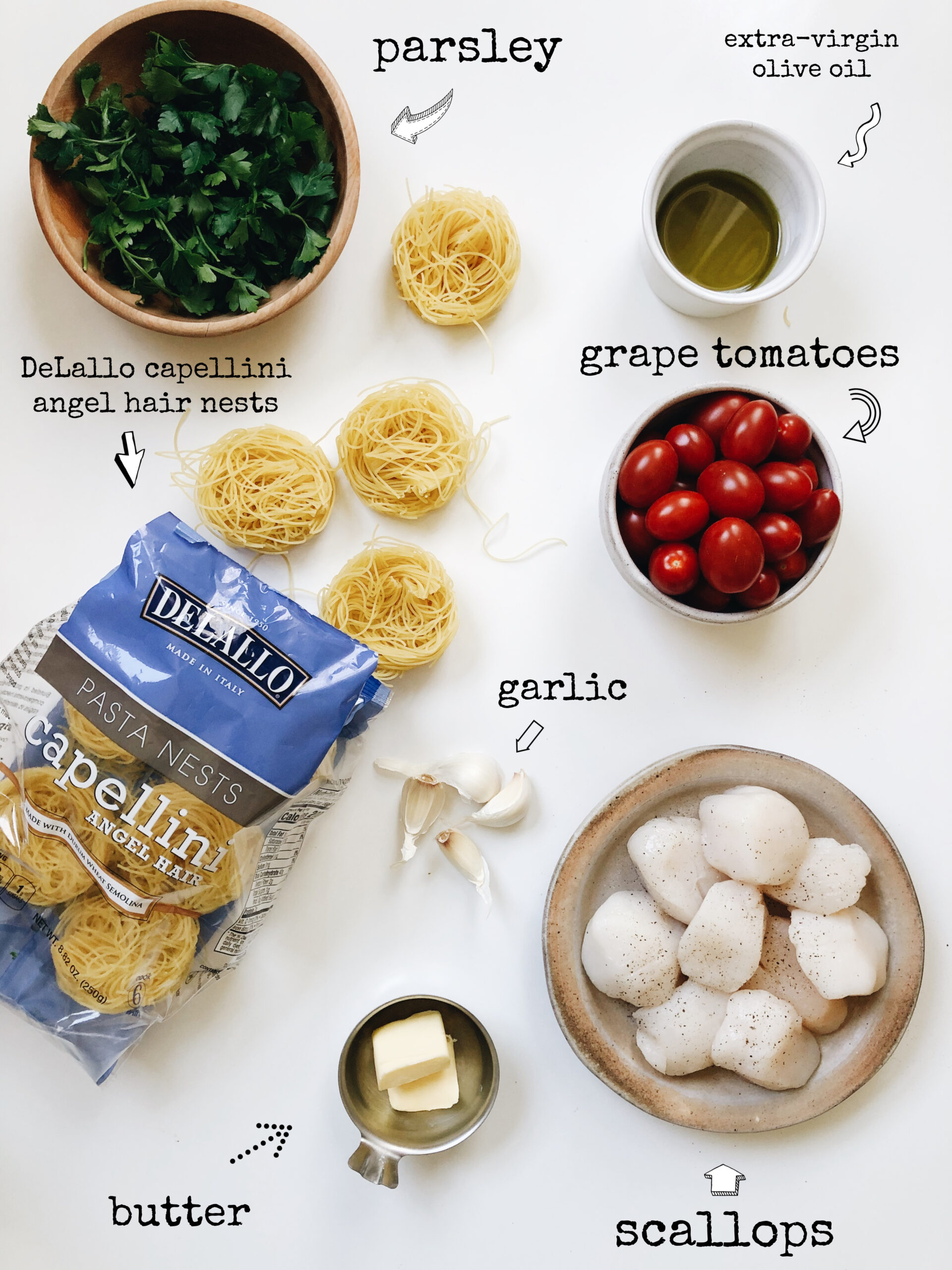 Simple! And on top of that, it's already a cuddly looking meal. Yet super springy. I mean, NESTS are on the packaging, for crying out loud. How can you not buy something that says nests? Not possible.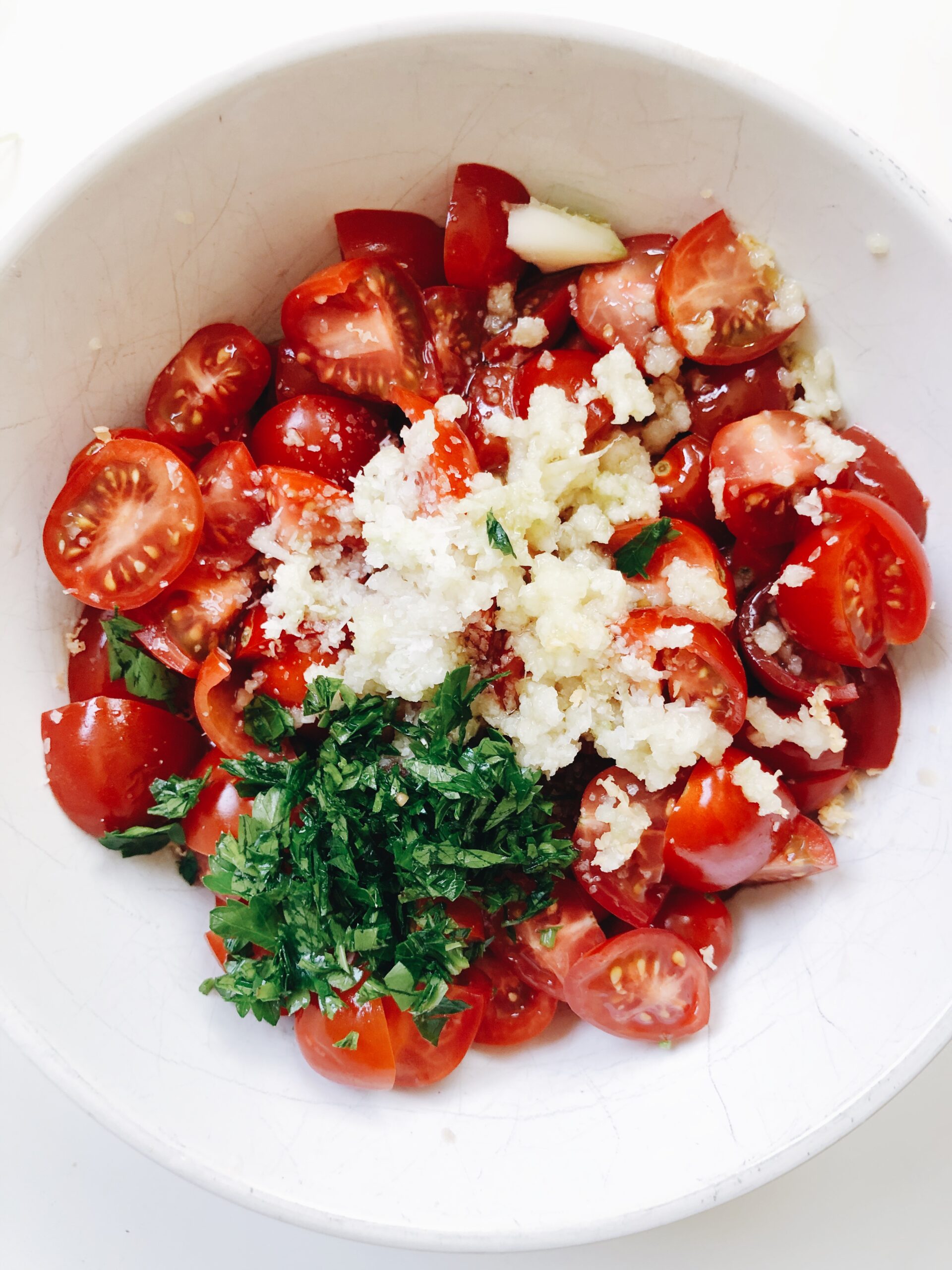 Look at these tomatoes. Listen, you can do anything with them. Spoon them over the entire world and it works. I try and let mine sit on the counter for at least three hours. The juices in the tomatoes will relax and release over time, and the grated garlic infuses the oil, and the parsley adds that nice earthiness and it's all you'll ever need.
Except watch.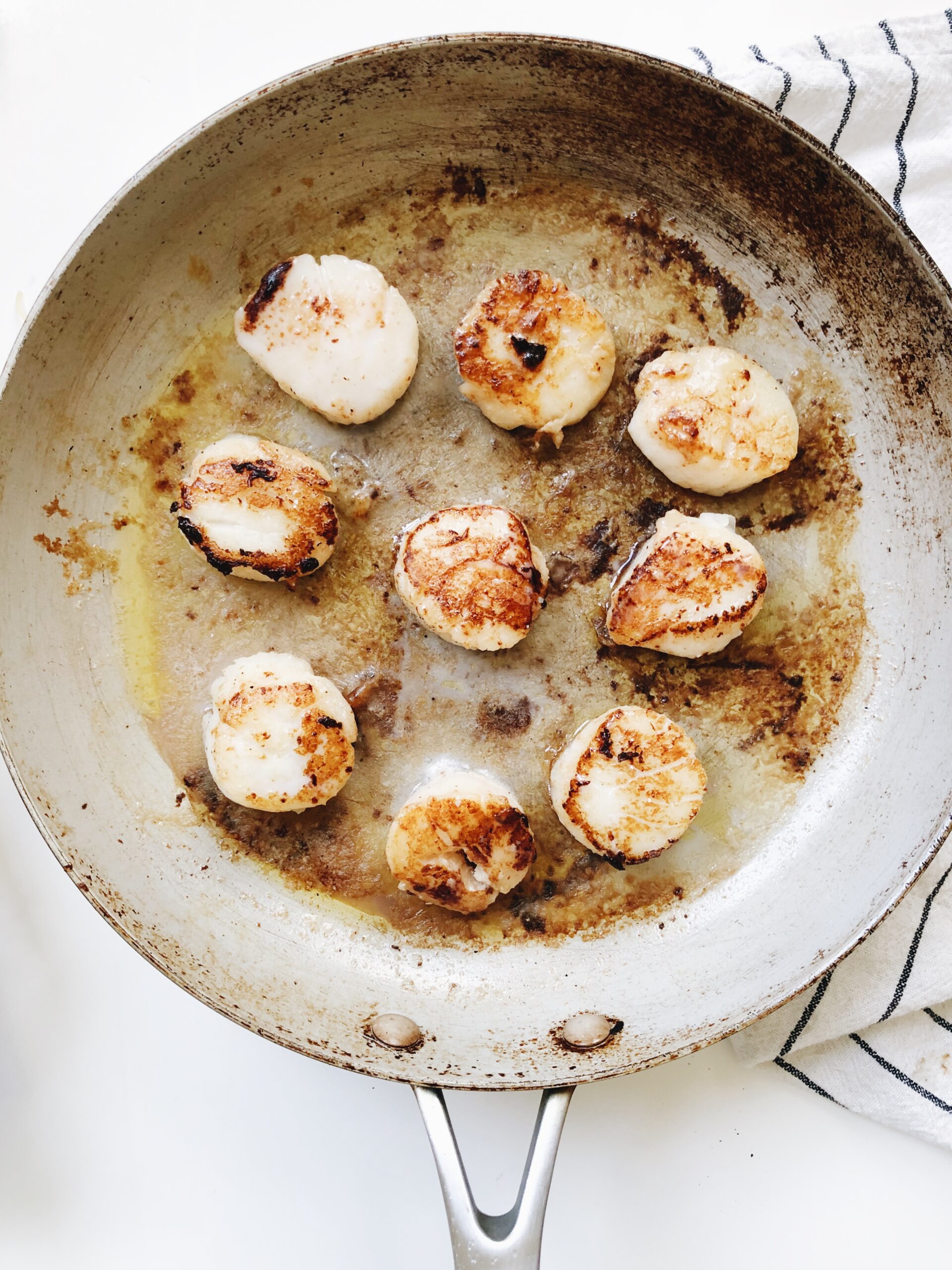 Hi, scallops. Get the big ones! Dry scallops, they're called. Don't buy the frozen bags with the teeny tiny duds. No good, man. Get the ones with heft, at the counter. And you know what, ask to smell them. They should smell like the breeze on top of the ocean. They. are. divine.
Pat them dry and sear them in butter if you know what's good for you.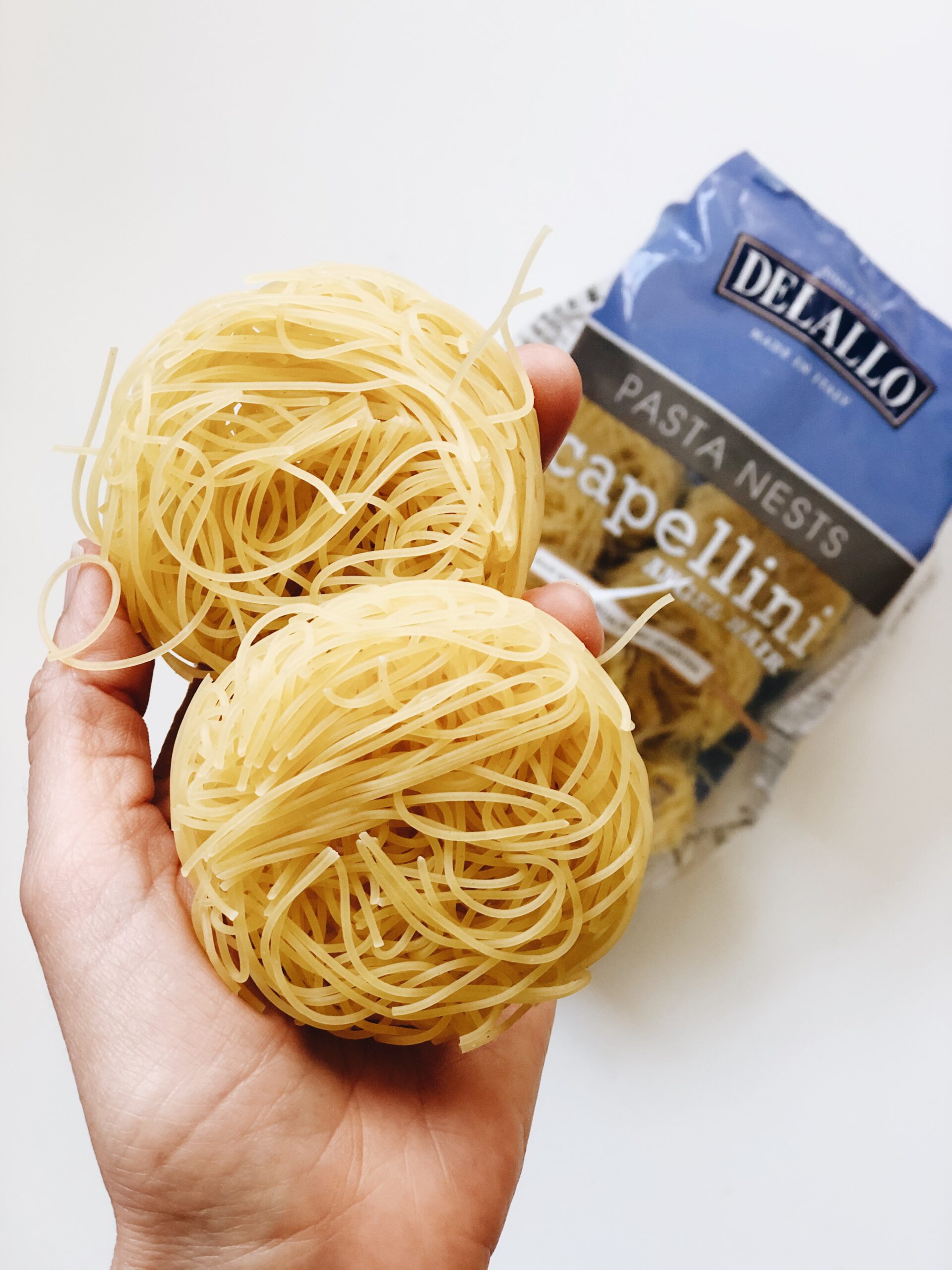 Okay, these nesties. There's a springiness to them that other angel hair brands do not have. I don't know how DeLallo does it, but the durum wheat semolina adds such a nice subtle toasty flavor, and the pasta cooks into a bouncy, lovely heap of happy. It's just amazing. And look at those little nest shapes. You can't not.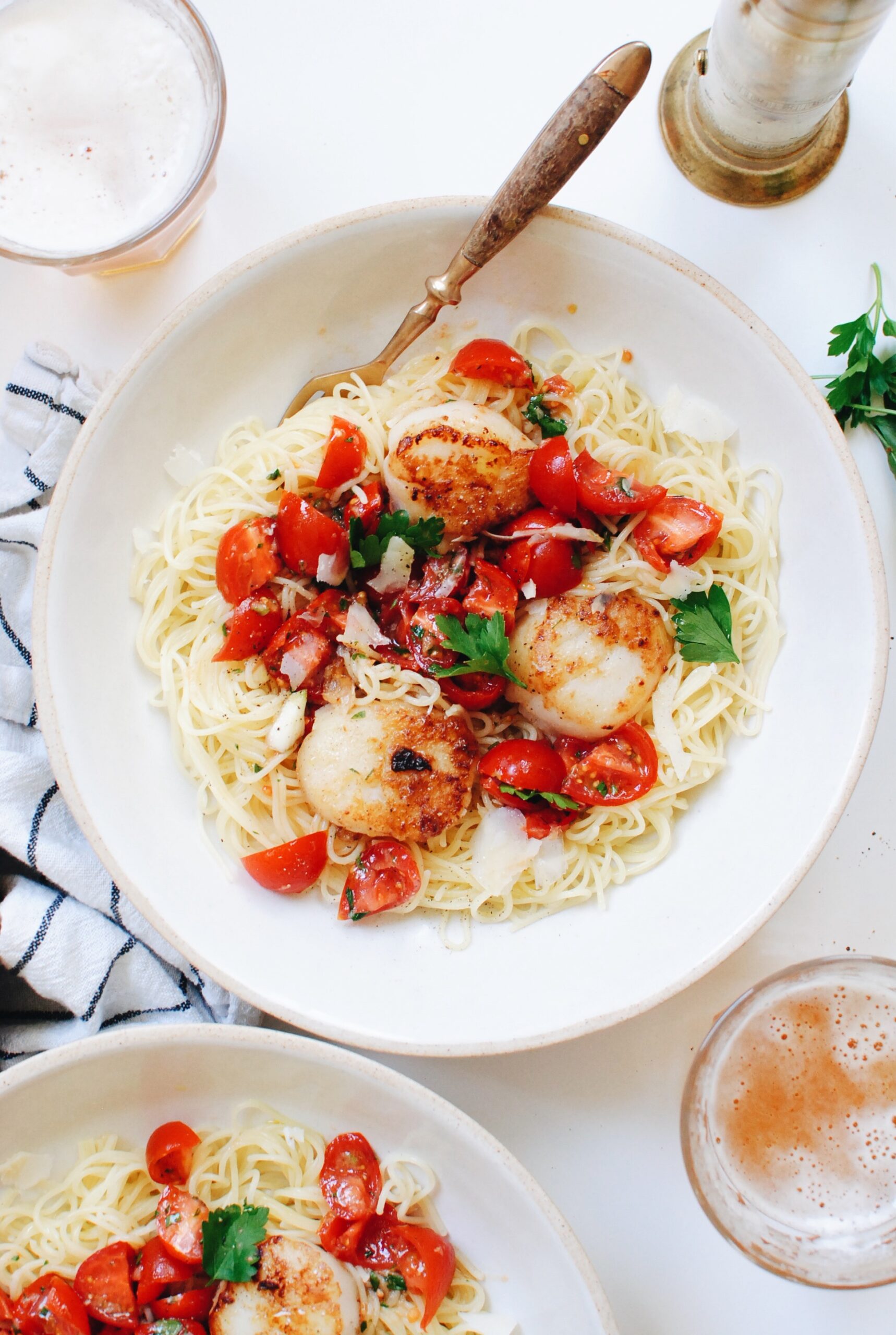 Um, there are no words. Except for all the ones I'm about to type out to you.
I looove dinners that have something beautifully acidic on top of something else rich with butter. And that is this. Those spooned-over tomatoes on top of the buttery scallops and the angel hair pasta that's already drinking in the garlicky juices from the tomatoes – RIDIC. DELISH. YOU WILL SOB. NOT EVEN SORRY TO YELL.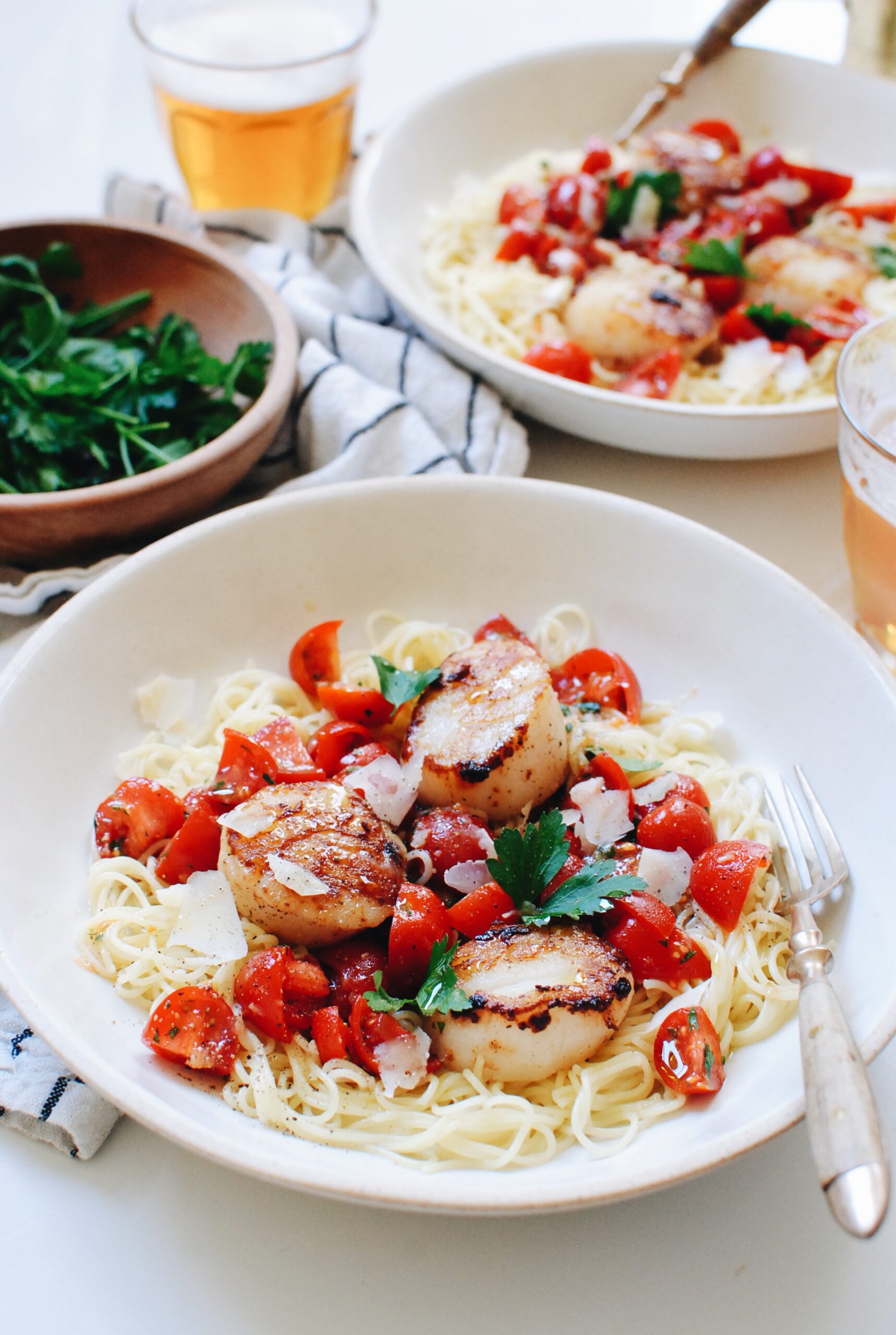 It's all so fresh, too. A cool crisp tomato topping paired with the warmth of the skillet scallops and cooked pasta (oh! save some starchy pasta water to help avoid sticking and create that silky sauce), and it's a texture/flavor marriage like nothing else.
I beg you to make this. DeLallo's nests will be an angel hair game changer for your weeknight dinners, and the whole thing together will slay your mouth face to the floor and back.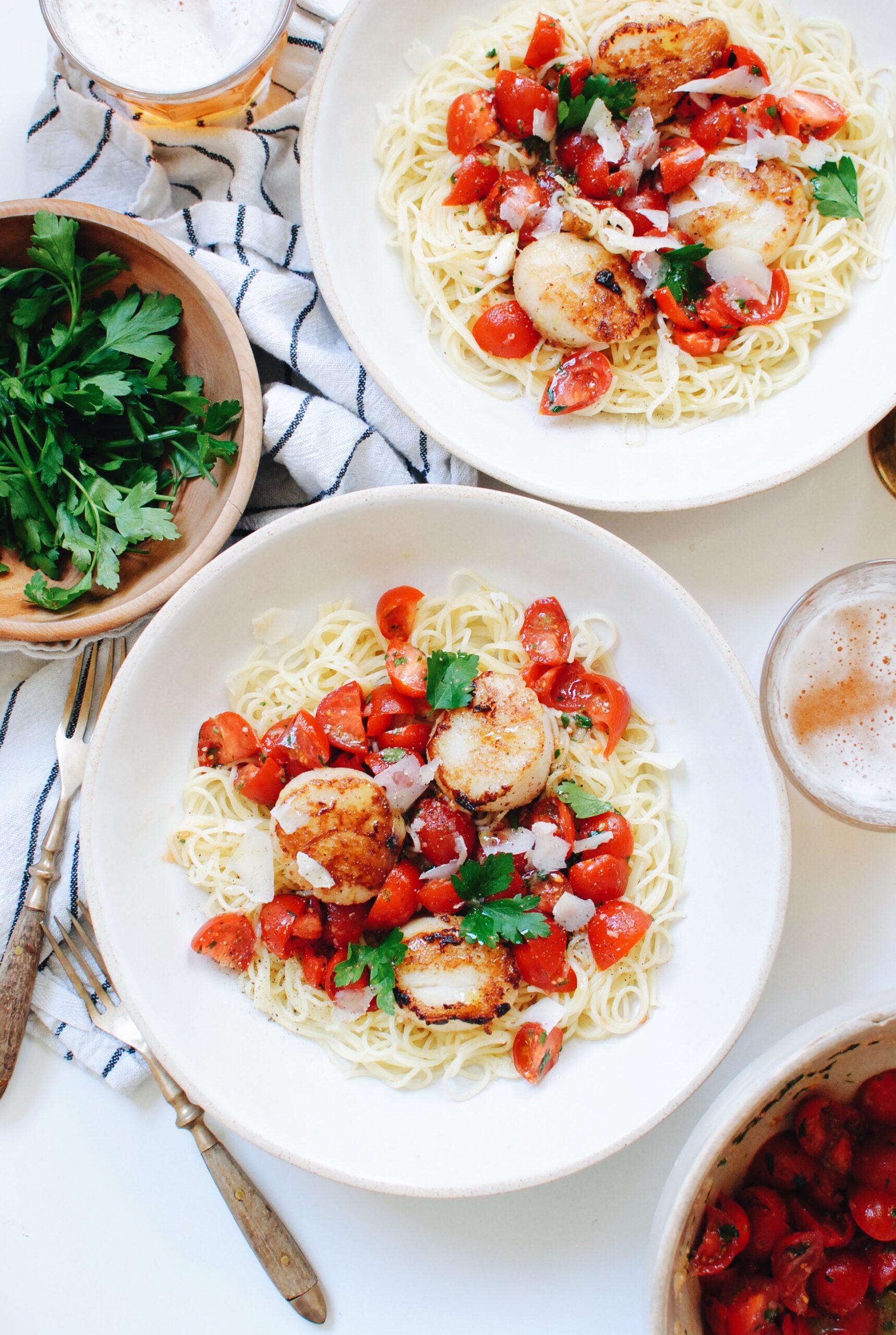 Tonight? Well yeah!
Angel Hair with Marinated Tomatoes and Seared Scallops
Ingredients
1 (8.82 oz) bag DeLallo Capellini Angel Hair Nest Pasta
1 pint cherry or grape tomatoes, quartered
4 cloves garlic, grated or minced
1/3 cup chopped parsley
3 Tbs. DeLallo extra-virgin olive oil
2 Tbs. butter
1 1/2 pound scallops (9 in all)
Coarse salt
Instructions
In a medium bowl, combine the tomatoes, garlic, parsley, oil and a pinch of salt. Stir together and let it marinate at room temp for at least an hour. All day is great if you have the time.
Heat the butter in a medium skillet over medium high. Add the scallops to the pan and sear for two minutes. Give them a little pinch of salt. Turn them gently and sear another minute, until you see browning on both sides.
In the meantime, boil the pasta until it reaches al dente, according to the package directions. Save about a cup of pasta water and drain the rest.
Put the angel hair back in the pot and swirl it with a few Tbs. starchy pasta water.
Serve the pasta draped with marinated tomatoes and a few buttery scallops. Extra parsley and parmesan for garnish? Absolutely.
Serves four!
7.8.1.2
489
https://bevcooks.com/2021/04/angel-hair-pasta-with-marinated-tomatoes-and-seared-scallops/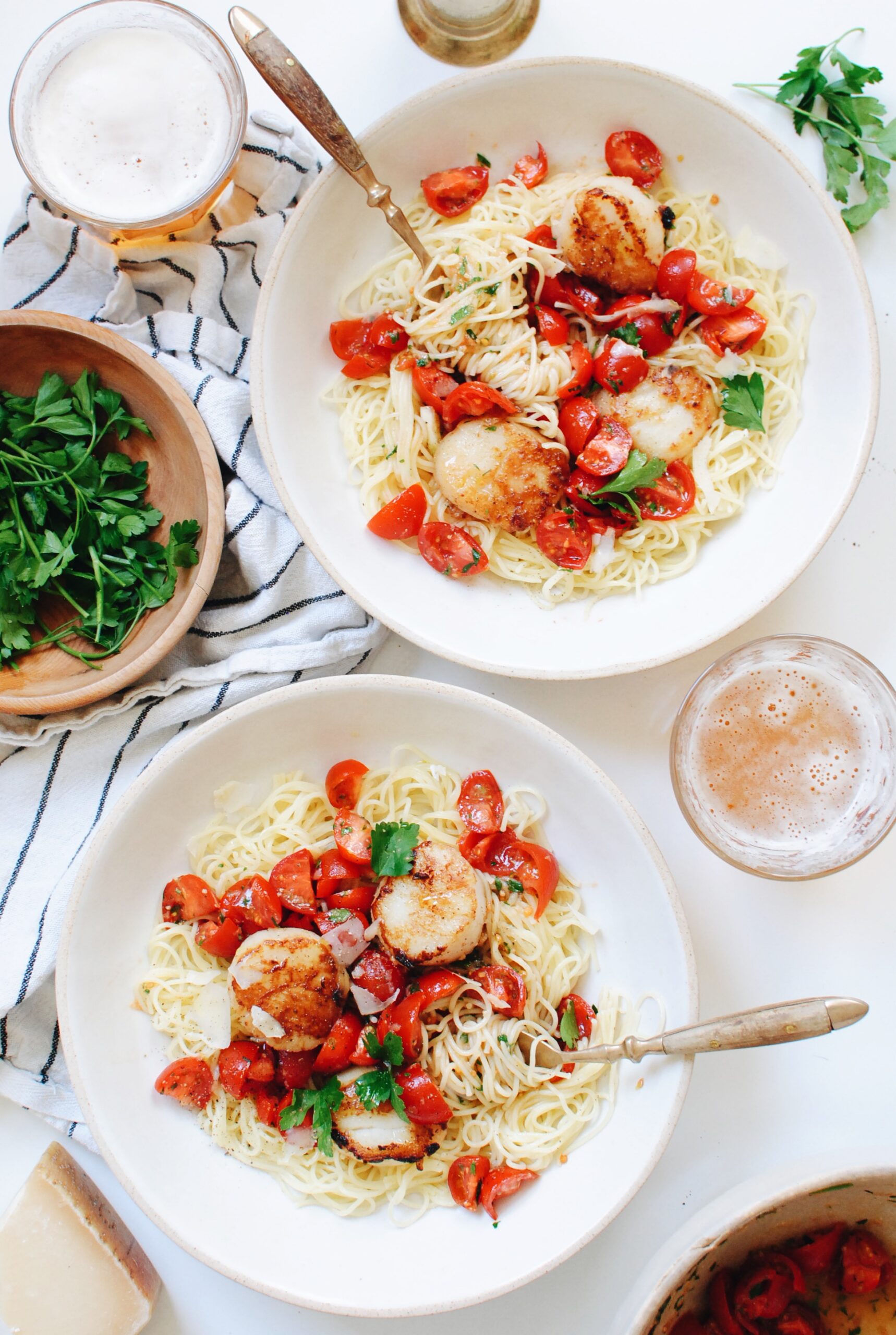 Heavy rotation just made some room.