Are you seeing that? Are you feeling that?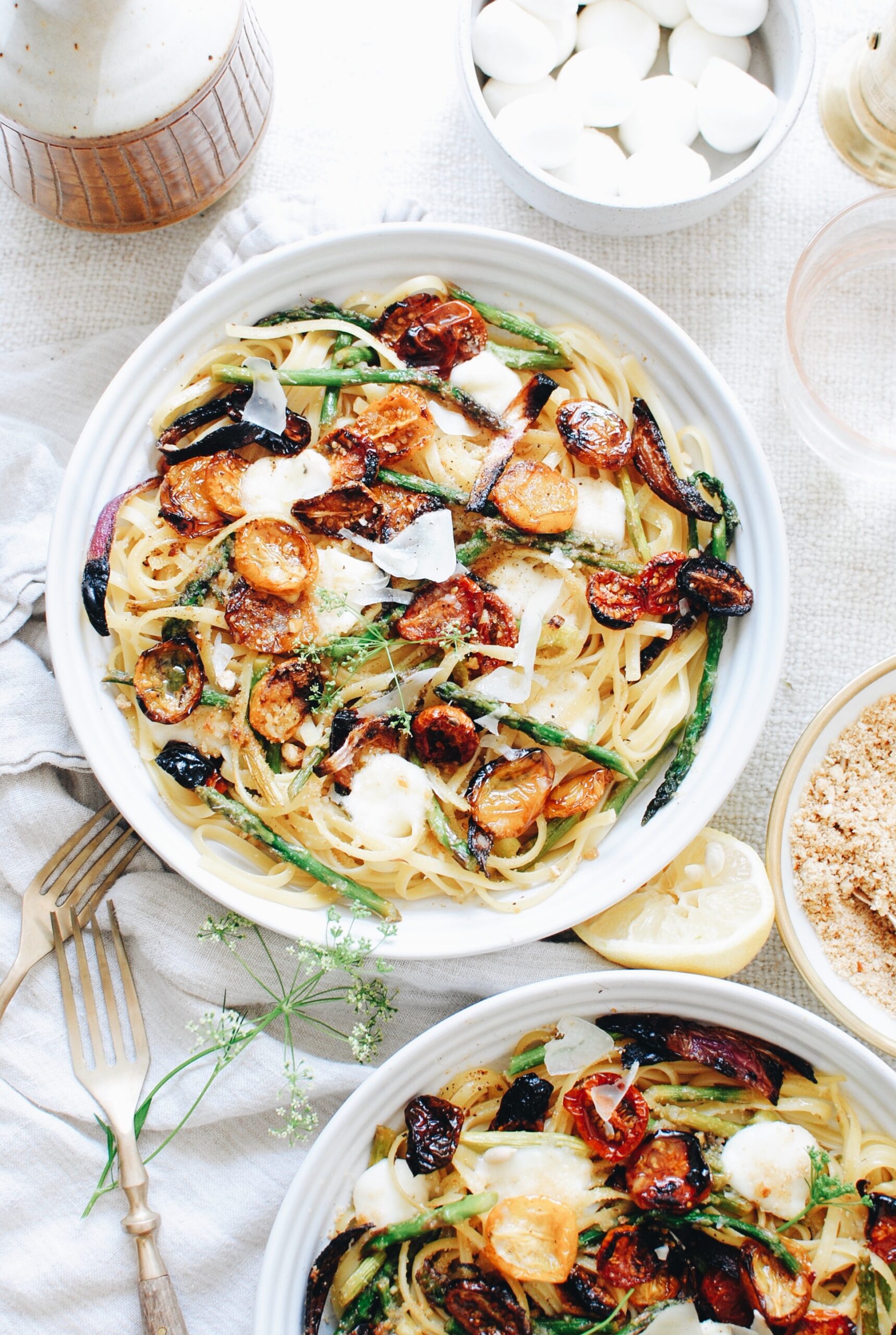 You can't not with roasted tomatoes. And onions! Those are roasted, too.
I swear, roasted tomatoes don't even have to be in season for this meal to shiiiiiine like the top of the Chrysler building. (<–name that movie.)
And then we're adding asparagus and lil' mozzarella balls and breadcrumbs for crying out loud. You'll need to sit.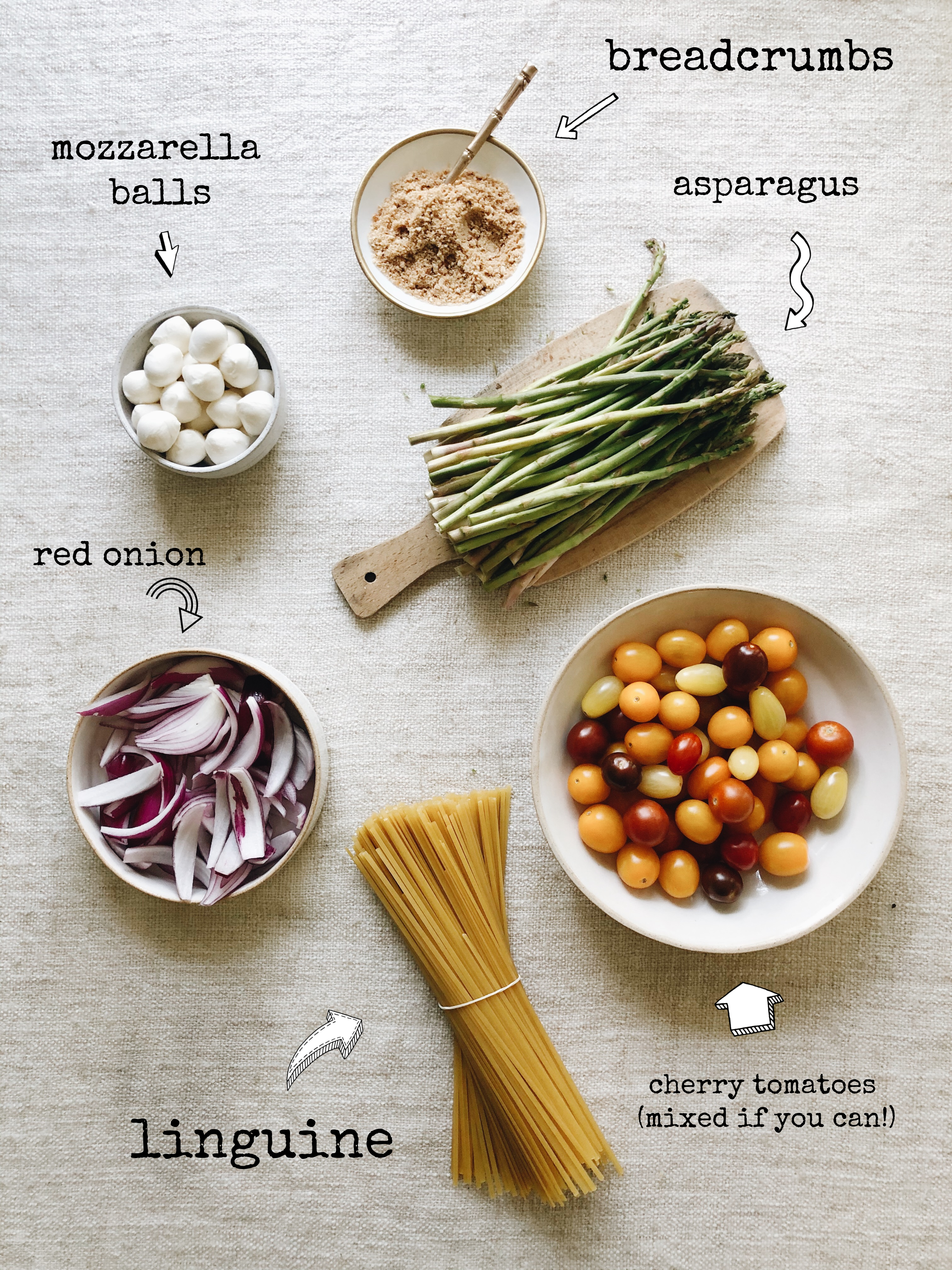 Well a) look at those tomatoes. My grocery store has these mixed cherry tomatoes in a package, but honestly whatever your store has is FINE. You could even buy a little thing of goldens, and a little thing of cherries and call it. (not CHERRIES, but cherry tomatoes. Just in case you think I need more coffee. Which I do.)
B) I'm not sure I have a b. I'll come up with one. Oh! Got it – this makes a perfect end-of-summer meal with any bumper crop of tomatoes you may have in your garden. There's my b, b. Ha!
Never mind.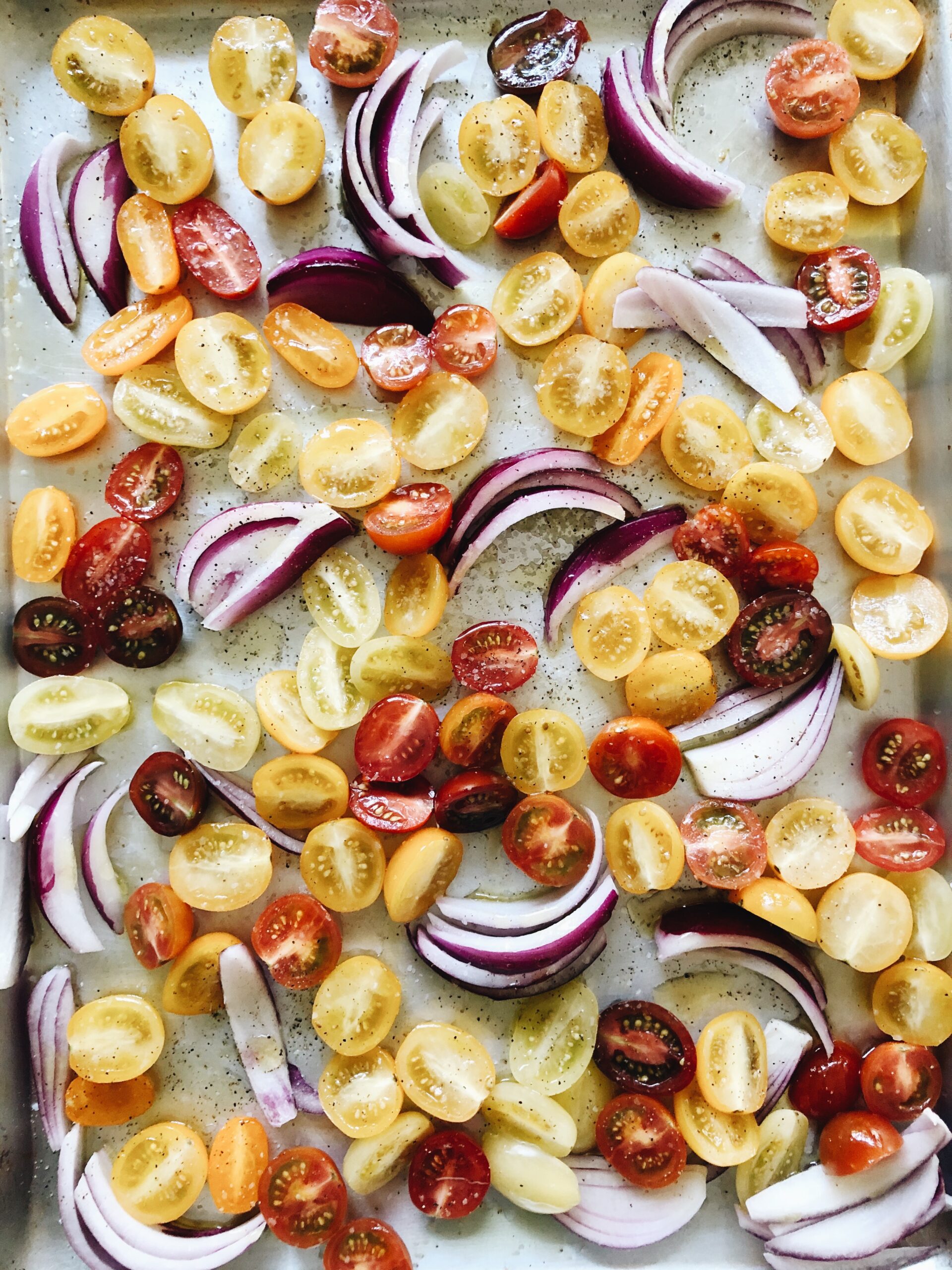 Half 'em, slice that onion and violently throw them on a baking sheet. Drizzle with a few Tbs. of oil. You need a good amount here, so don't get shy. And make sure those onion slices are thick. Thicker than mine, I'll say. Some of mine BURNT (You have to hear my voice say that. I'm not just the idiot misspelling burned, okay?) in the roasting but that's on me. Not you. You look good today!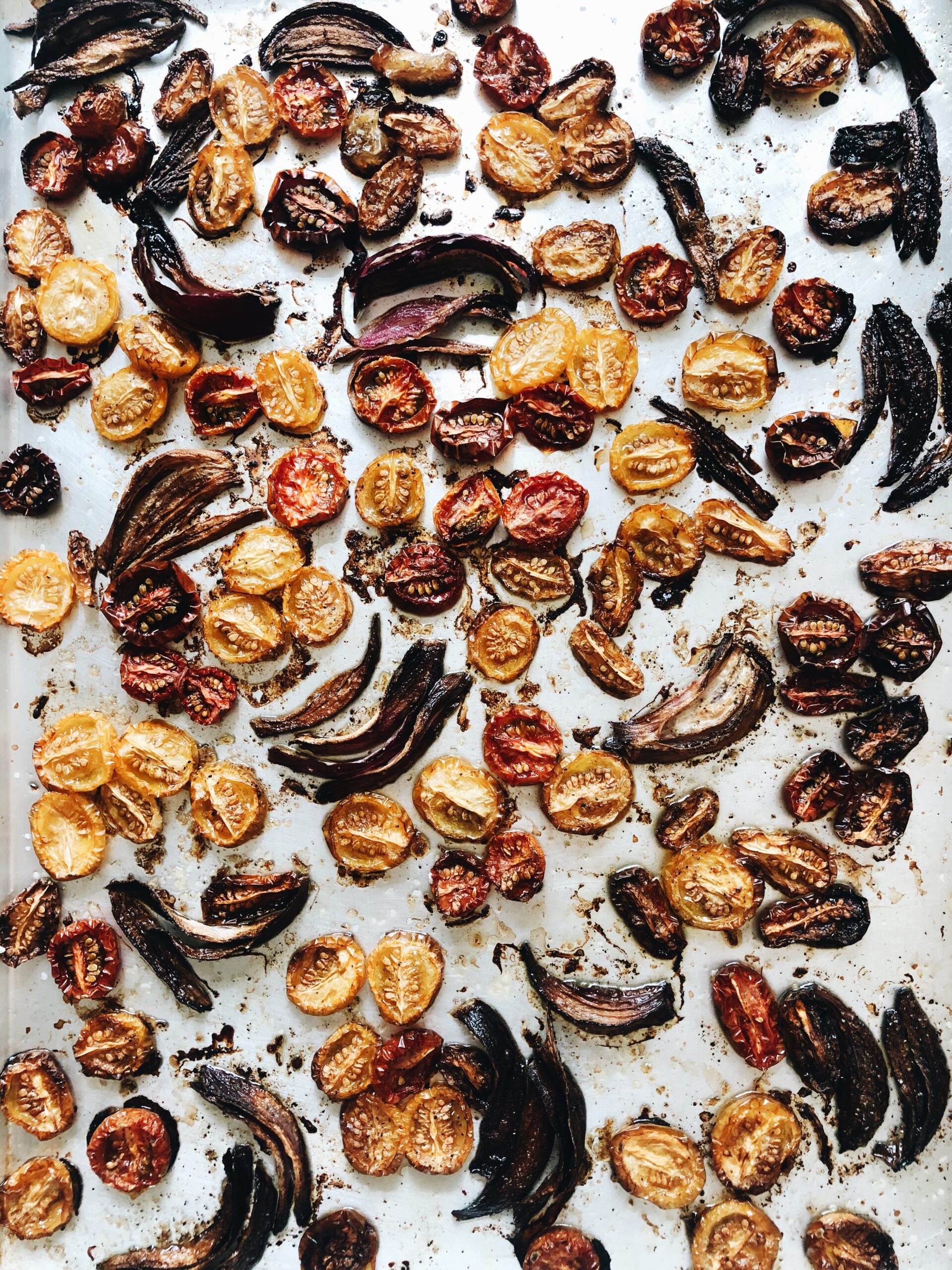 Two hours, baby. They'll shrivel, they'll darken, they'll oooooooze umami and you'll want to pet them and call them Frank.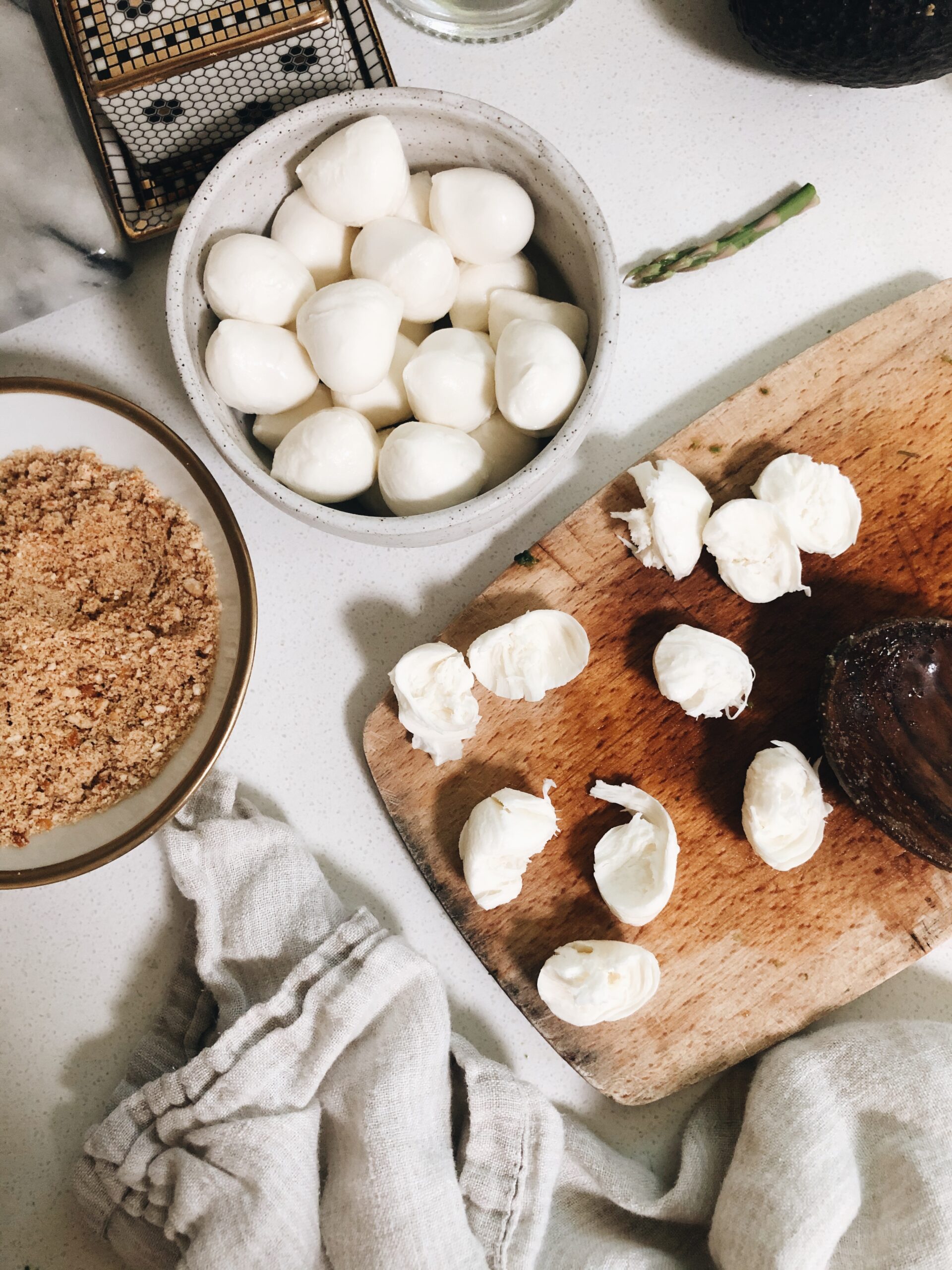 In the meantime you'll hunt down that little carton of mozzarella balls in your fridge. Some call these bocconcini. Some call them ciliegine. I call them getinmyface. Tear them in half with your fingers and nosh on a few while those tomatoes roast. It's totally okay, we're in a pandemic.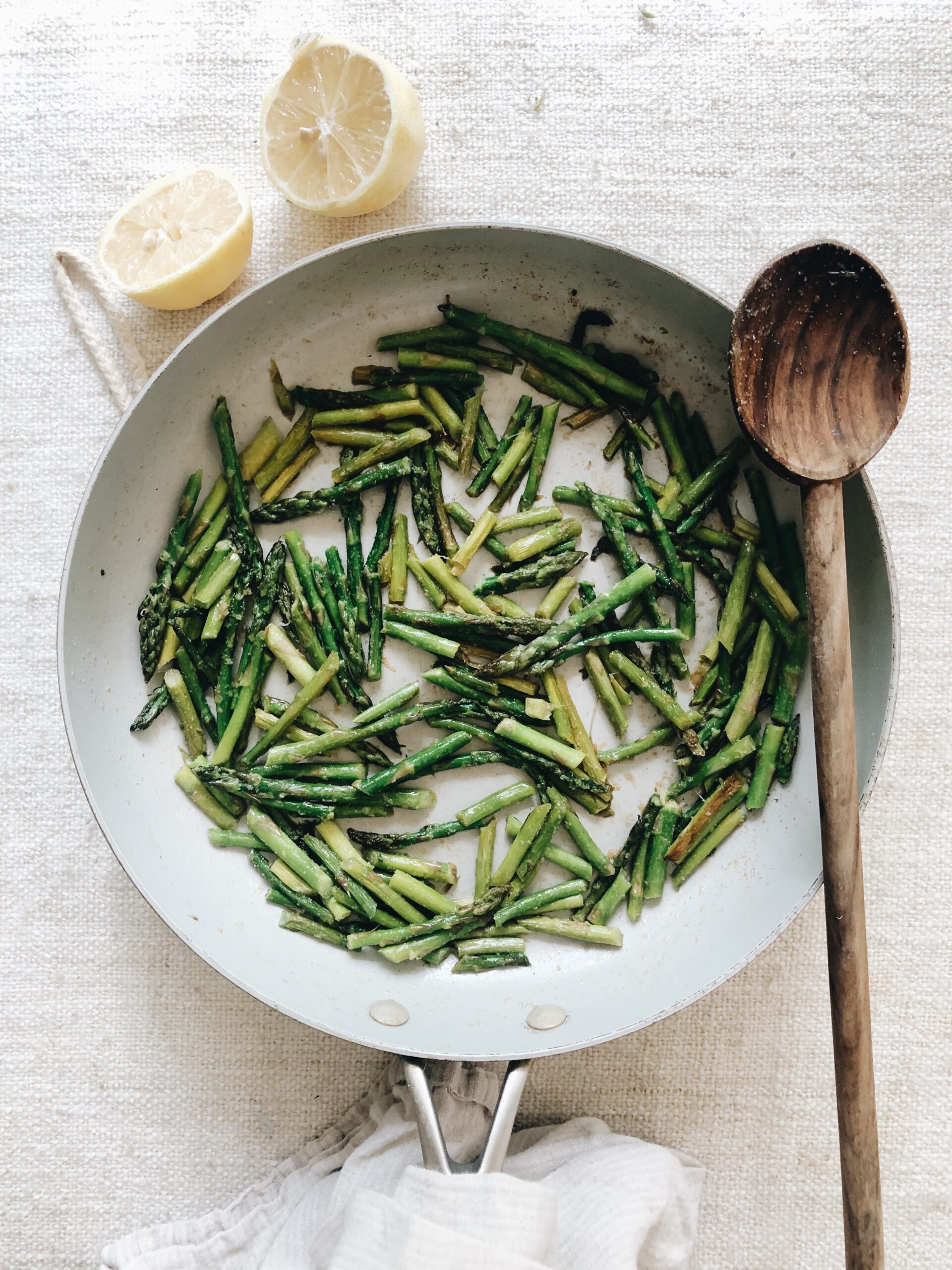 Also, sear your asparagus. Trim the stems and discard those, cut the spears into 2-inch pieces and sauté in a little oil with some lemon zest and juice. And salt. And your heart love. So good.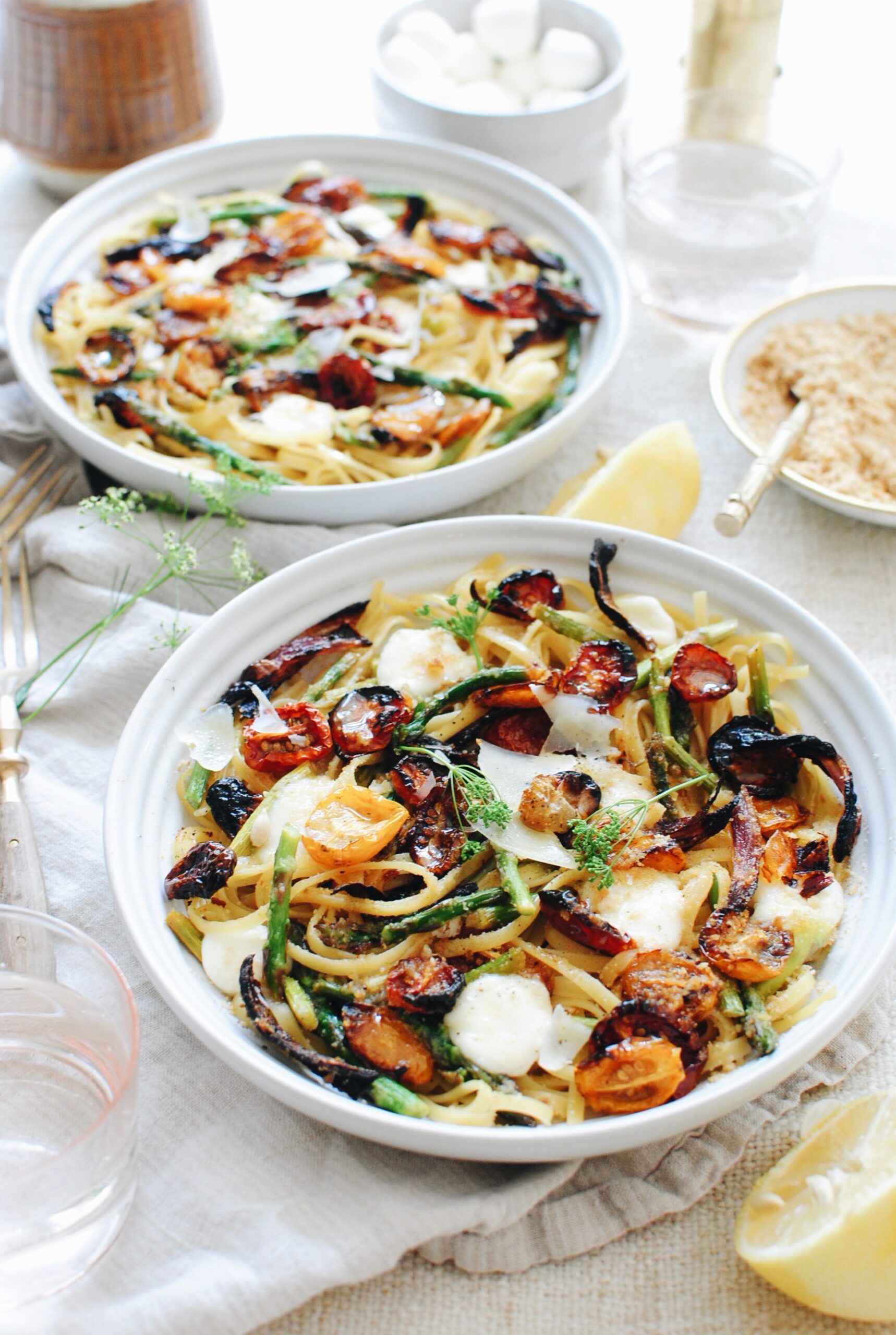 Honestly that's it!
WAIT, no it's not.
You've boiled the linguine (or whatever pasta you have taking up space in the pantry), but before you top it with all the goodness, nestle that torn mozzarella over the pasta with a small dusting of breadcrumbs and throw it under the broiler for a second. You just want the cheese to melt a little and the breadcrumbs to lightly toast. This is completely optional, but also kind of supreme, so.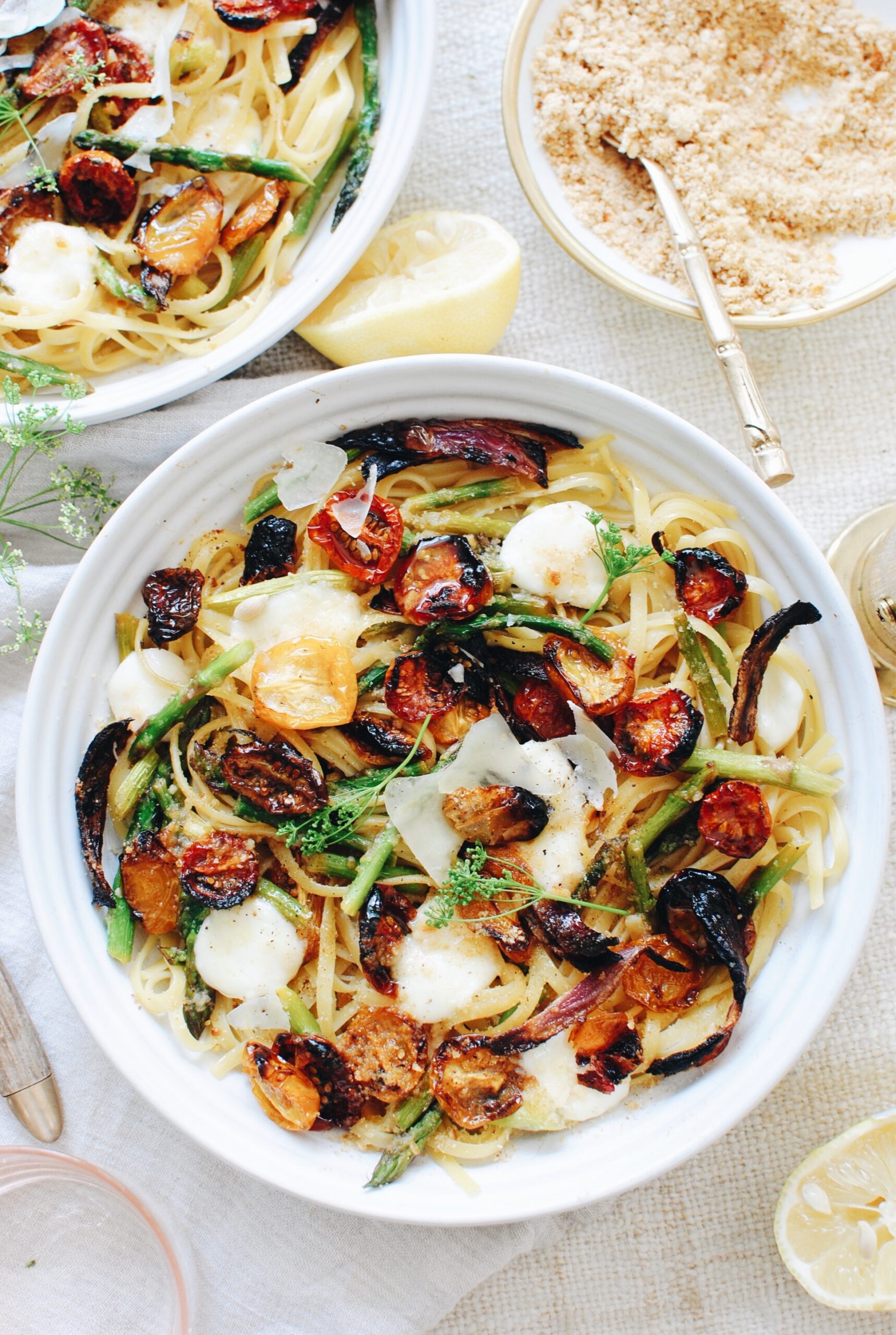 The tangy roasted tomatoes, the aromatic onions, the earthy asparagus, all over silky linguine (because you've saved a little pasta water for a thin sauce) and the melty cheese and toasted breadcrumbs. Too much. Outstanding. Flavor for days. And remember the oil that's on that tomato sheet pan, do NOT get rid of that. Add it all. This helps elevate the sauce and flavor at the same time, girl.
That plus another herculean squeeze of lemon juice because we know better.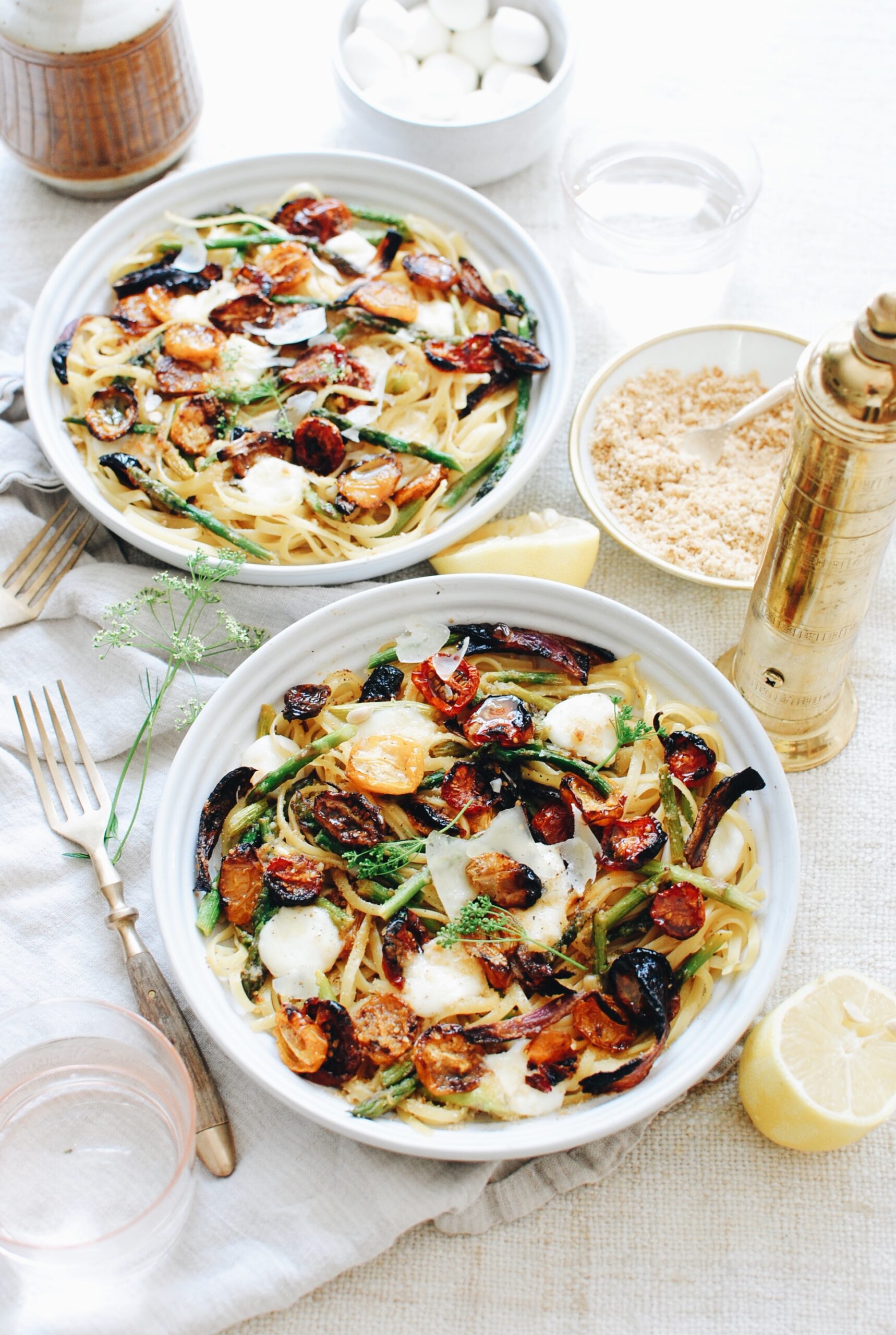 Sunday night dinner right here.
Linguine with Roasted Tomatoes and Asparagus
Ingredients
1 pound linguine
22 oz mixed cherry tomatoes, halved
1/2 large red onion, thickly sliced
3-5 Tbs. extra-virgin olive oil
1 bunch asparagus, ends trimmed and stalks cut into 2-inch pieces
1 (8 oz) package mozzarella balls (ciliegine or bocconcini), torn in half (you might not use the whole package - start with a handful)
1/2 cup breadcrumbs (I used pretzel breadcrumbs but anything works)
1 lemon
Coarse salt
Parsley and parmesan for garnish, if desired
Instructions
Preheat your oven to 300.
Place the tomato halves and onion slices on a large rimmed baking sheet. Drizzle about 4 Tbs. of olive oil and season well with coarse salt. Roast for two hours, until everything is gorgeous, shriveled, darkened and perfectly roasted. Your home smells INCREDIBLE right now.
In the meantime, bring a medium skillet to a medium high heat with a Tbs. of oil in it. Add the asparagus, season with a pinch of salt and sear about three minutes, until it pops in color and softens to a crisp tender. Add the little lemon zest in, along with juice from half the lemon.
Also in the meantime, bring a large pot of salted water to a boil. Cook the linguine according to package directions, until it reaches al dente. Reserve a cup of pasta water to the side, draining the rest.
Add the pasta water little by little back to the pasta, so that it doesn't stick together. Serve the linguine topped with the torn mozzarella balls and breadcrumbs, and slide your plates under the broiler. (You'll place the plates on a baking sheet for ease!) Once the cheese melts a little, just a few seconds, bring it out of the oven and add the tomatoes, onions and asparagus.
Grate parmesan over the top, if desired, and any garnish you love!
Serves 4.
7.8.1.2
452
https://bevcooks.com/2020/09/linguine-with-roasted-tomatoes-and-asparagus/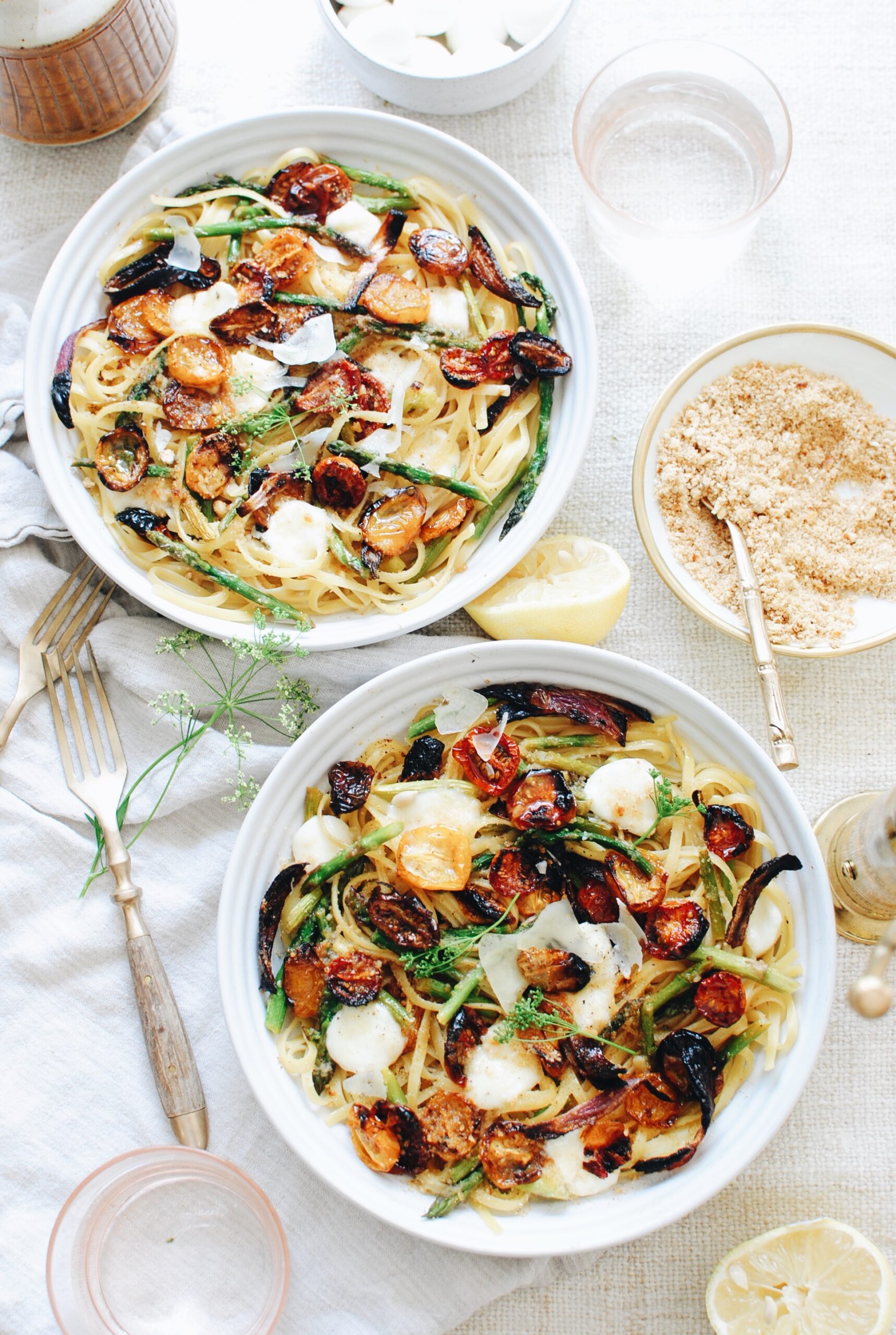 Look at us eating our vegetarian rainbow!