You're like, "Wait what are blistered cannellini beans and are you allowed to say that on a food blog?" Maybe.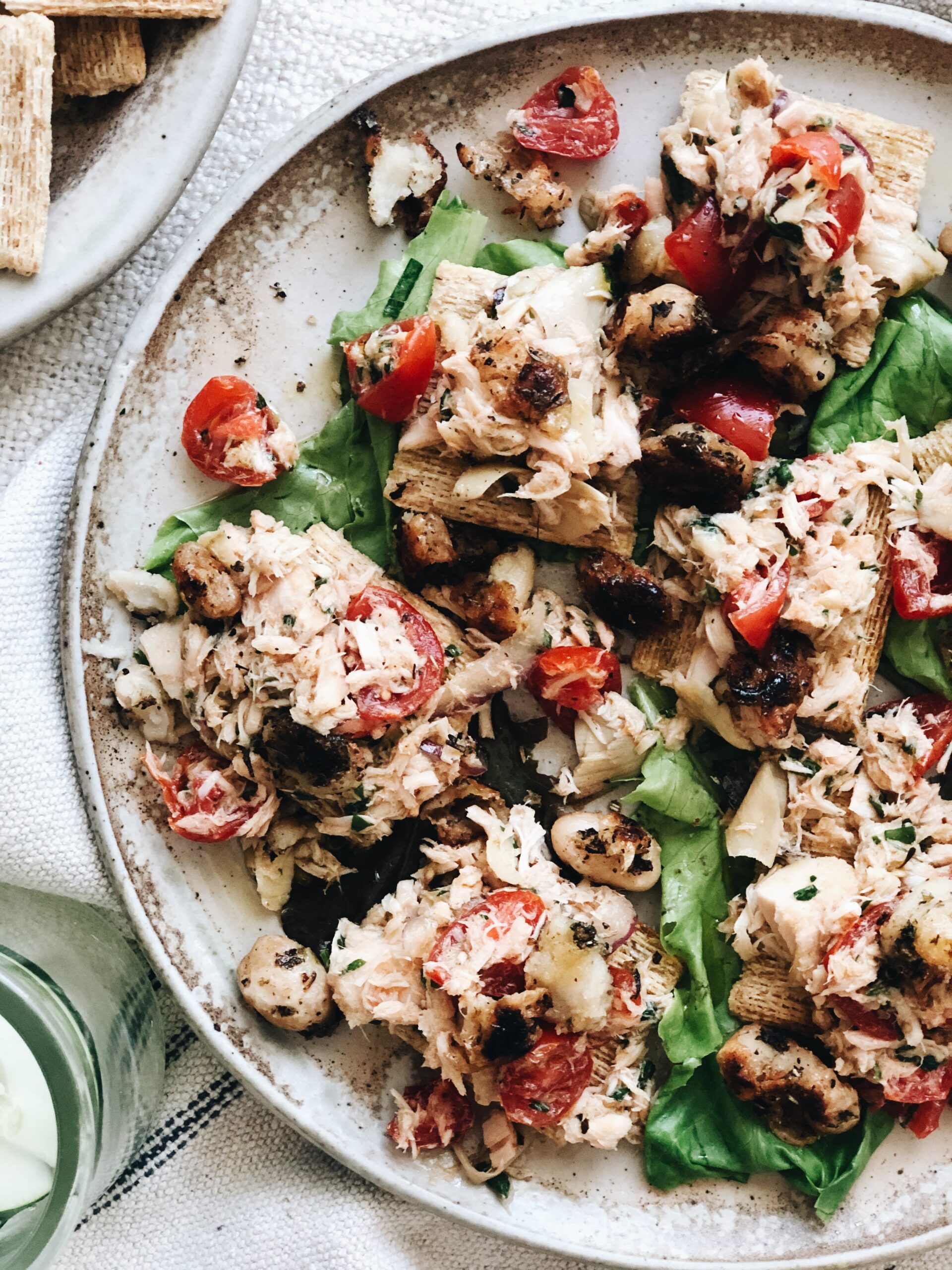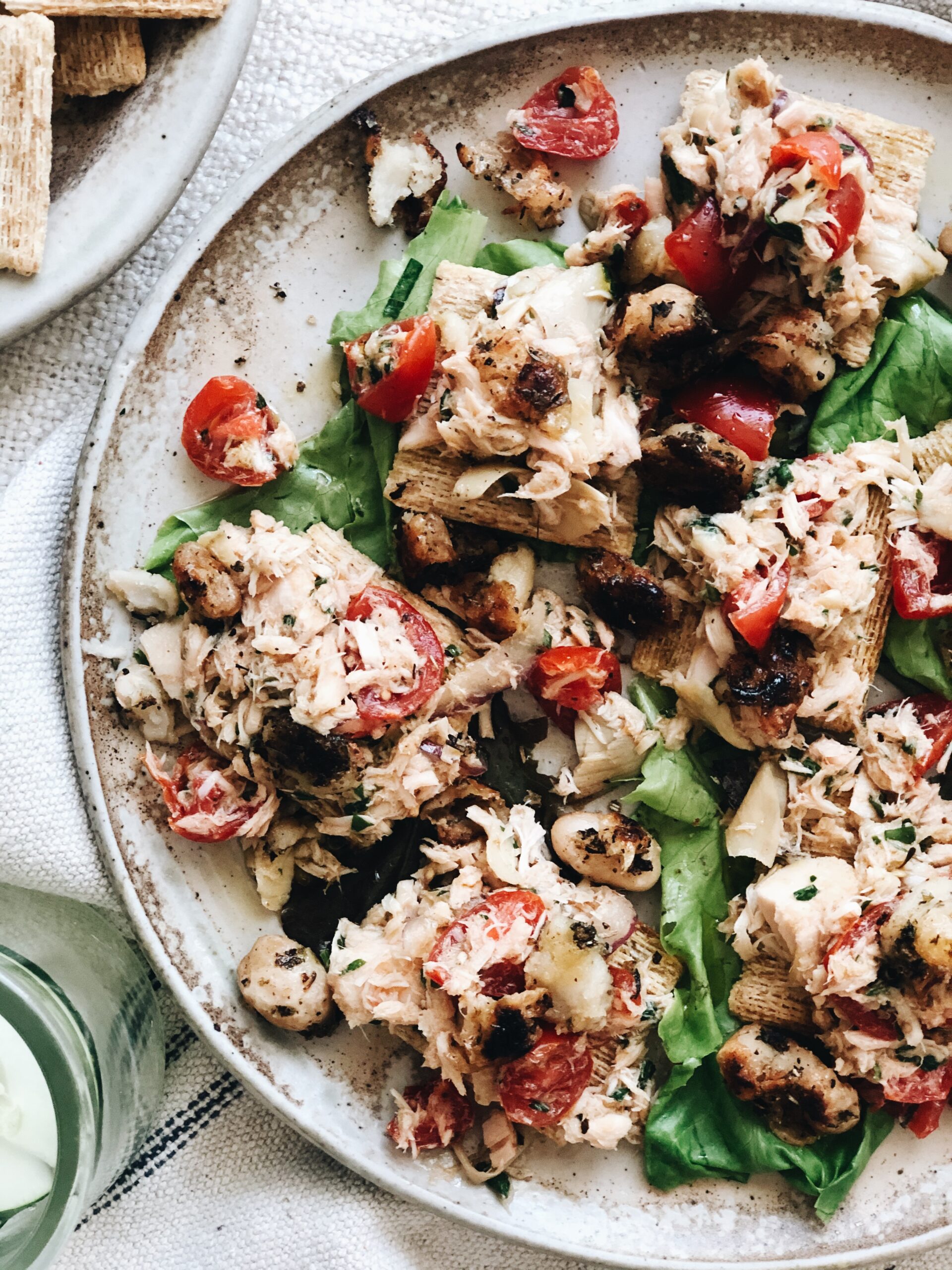 So it's tuna salad. But I put my thing down, flipped it and reversed it and came up with this zippy, fresh Italian version that has so much crazy flavor you'll not remember what day it is. (It's Tuesday. Wait, is it?)
And listen, if you're a tuna salad purist, you're still a good person. But this version has an added layer of OMG that I need you to hark me on, okay?
Let's look.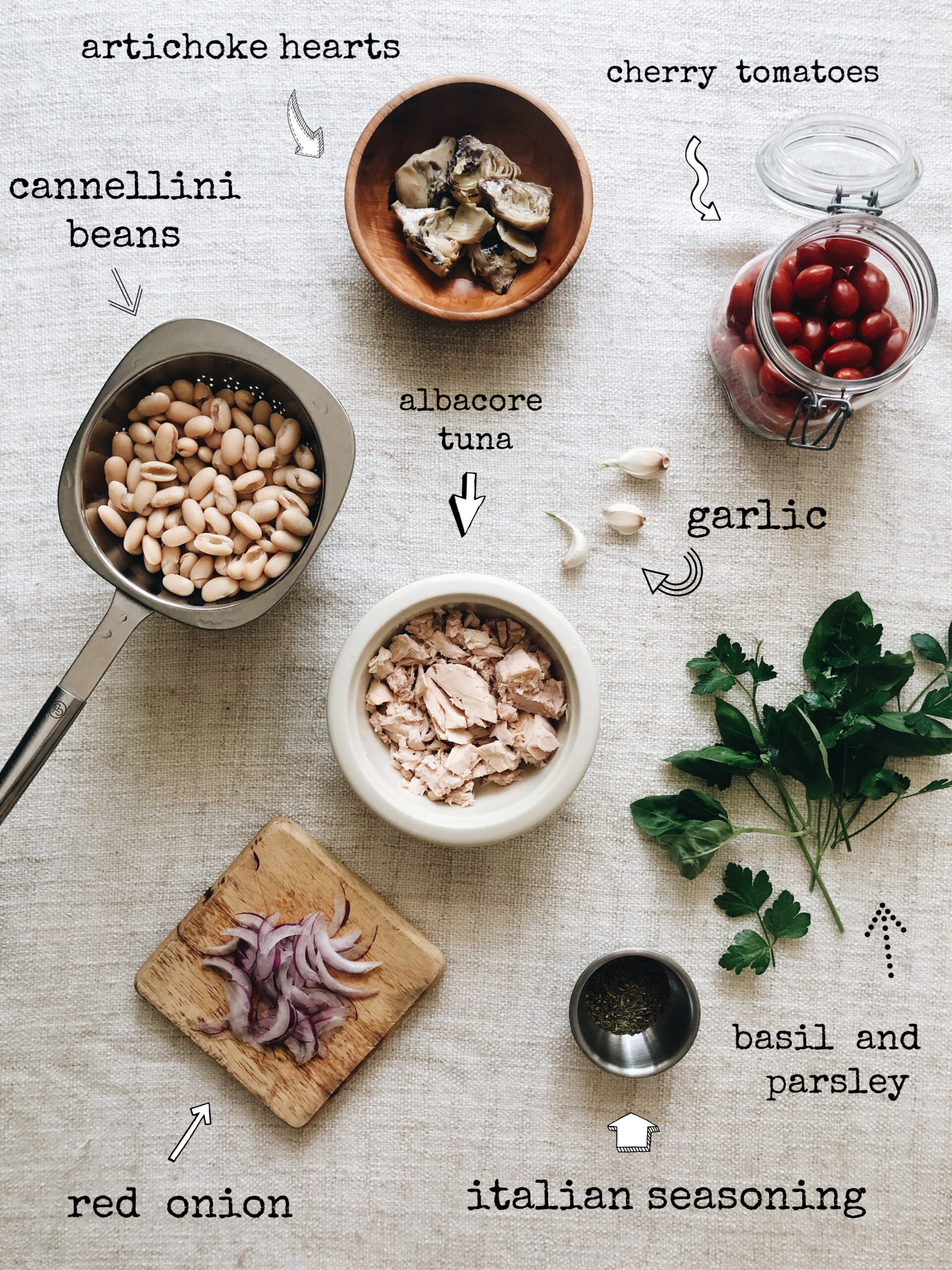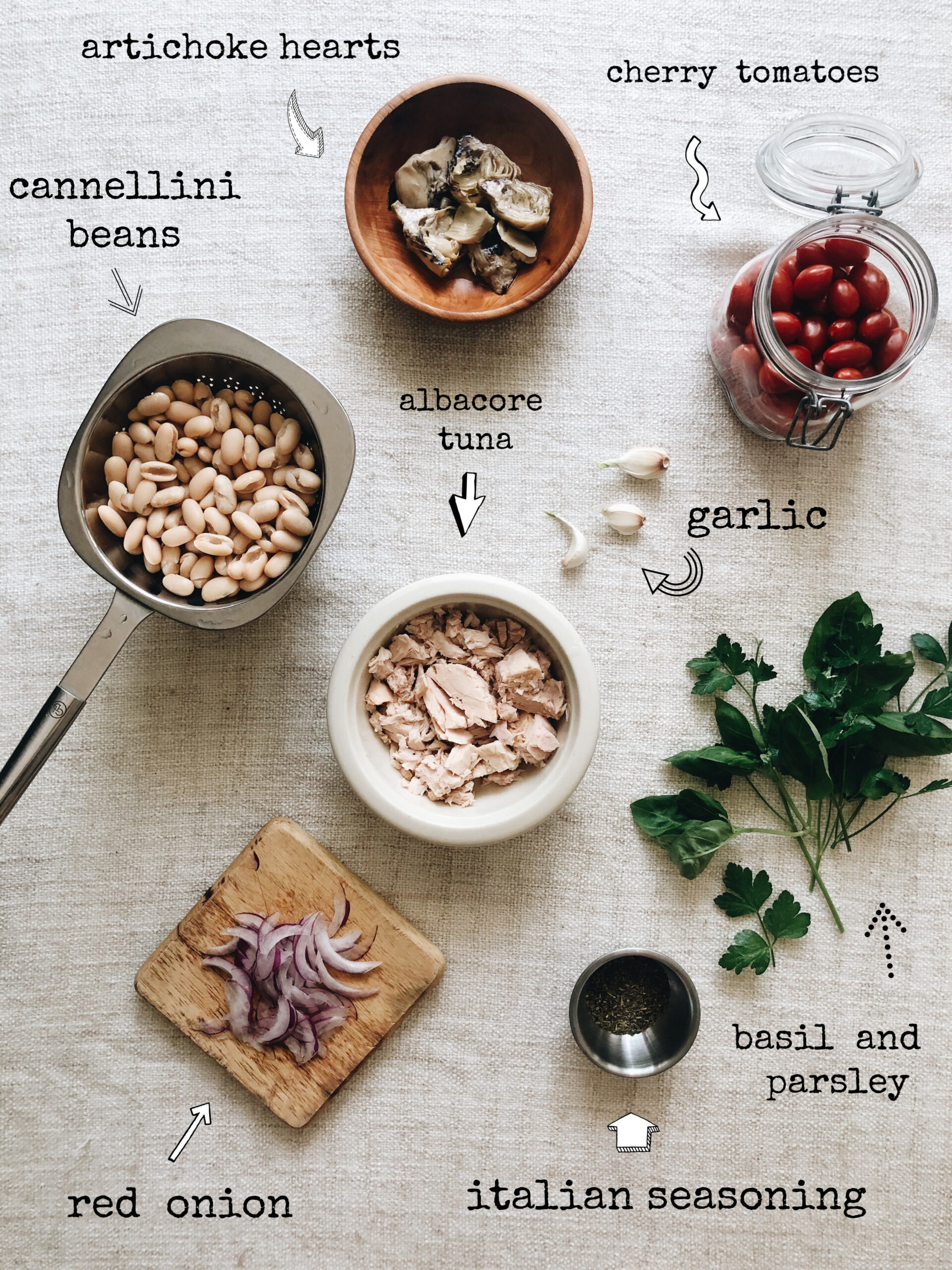 Two cans of tuna + all the good. I'd list off everything here again but you can read, so.
Not included in this photo is oil, but we'll use it in a minute, geez back off.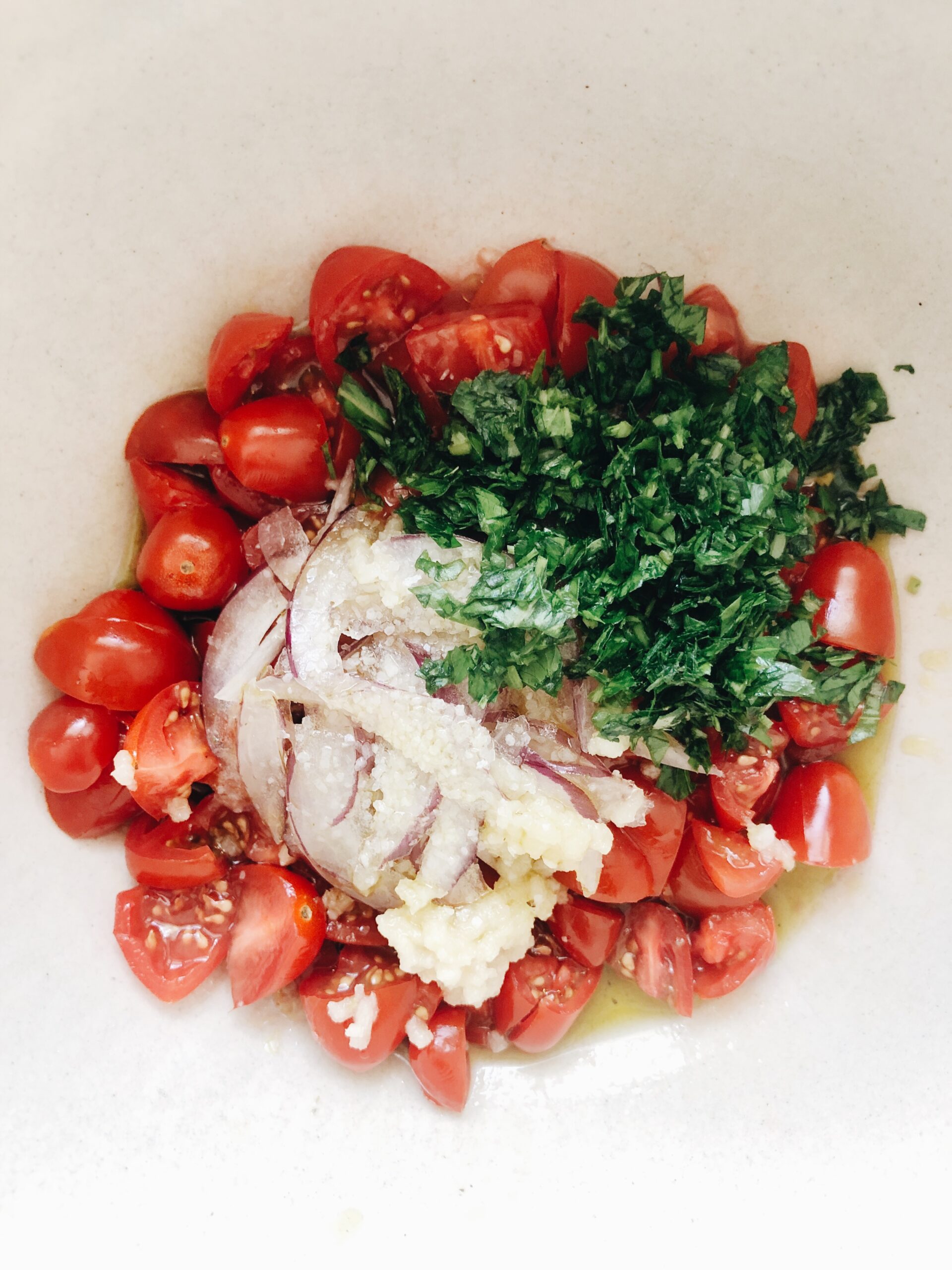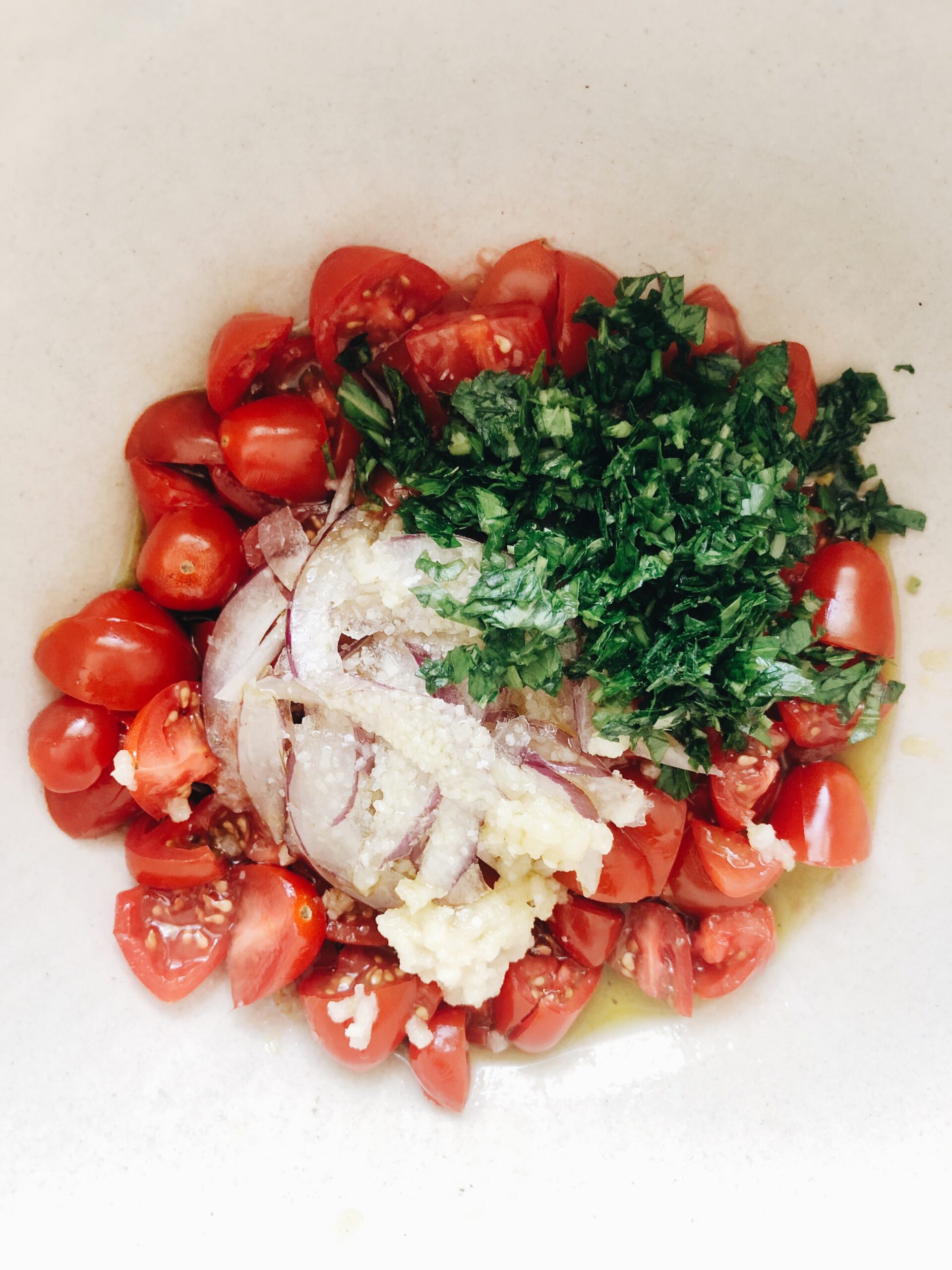 We'll marinate tomatoes! You know how I love my marinated tomatoes. I do this all the freaking time and spoon them over errrthang. For this I amped it up just tad though – it's just cherry tomatoes (quartered) + grated garlic + red onion + chopped parsley and basil + drizzle of AWL + pinch of salt. The end. Let it sit while you make the rest.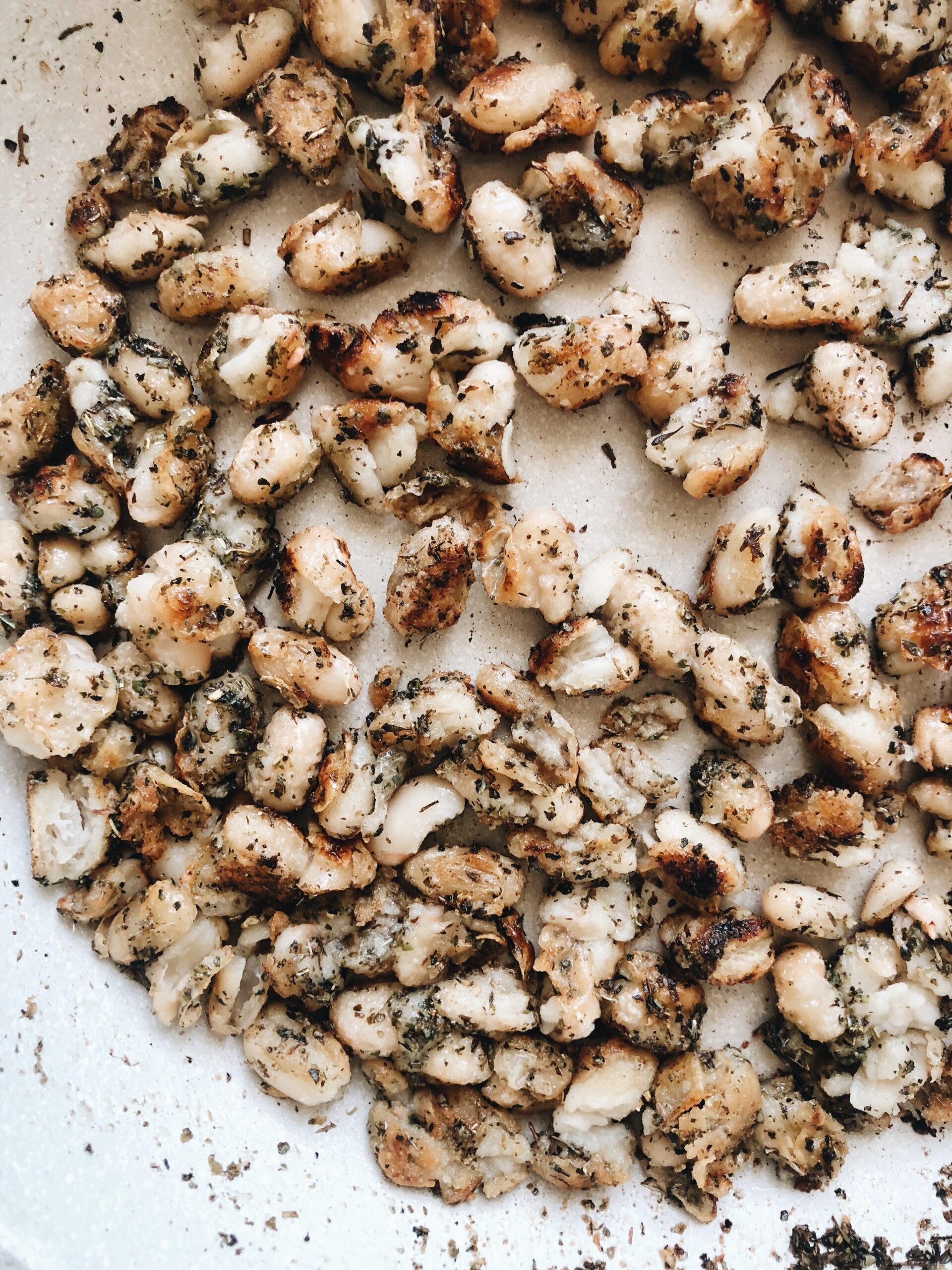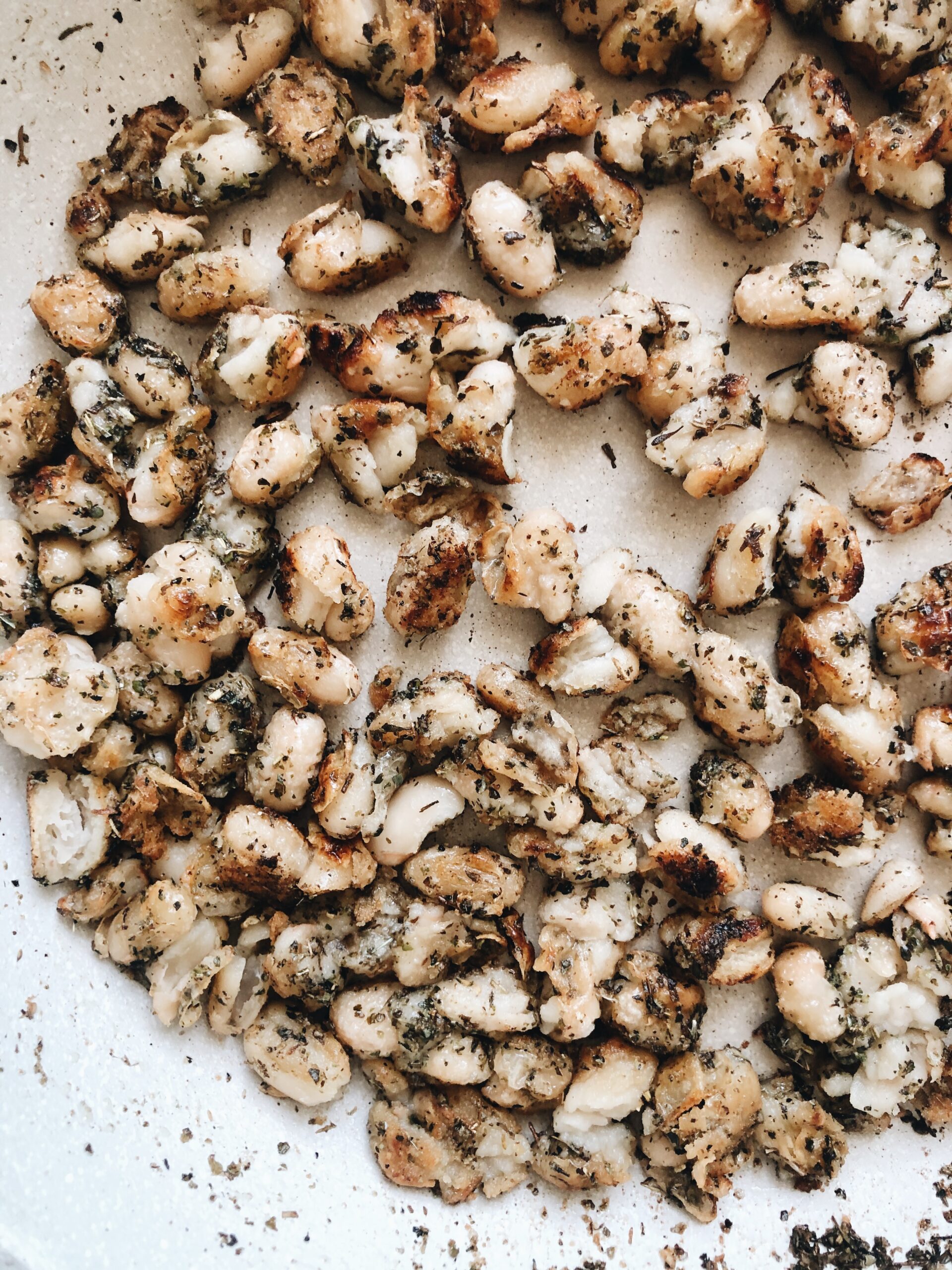 Okay, hon – this is blistered cannellini beans. I had originally planned to throw these in the oven and roast, but the temps were whippin' their devil tail around and it was hot as a muther, so I didn't mess with the oven and went the skillet route.
What you do toss the beans with oil and dried Italian seasoning (plus a tiny pinch of salt) and you let the beans SIT STILL in a skillet for like three mintues. Then shake the pan to turn the beans and go another three or so, until they crisp up in the oil and char here and there. Blistered. See? We blistered. And we're excited about it.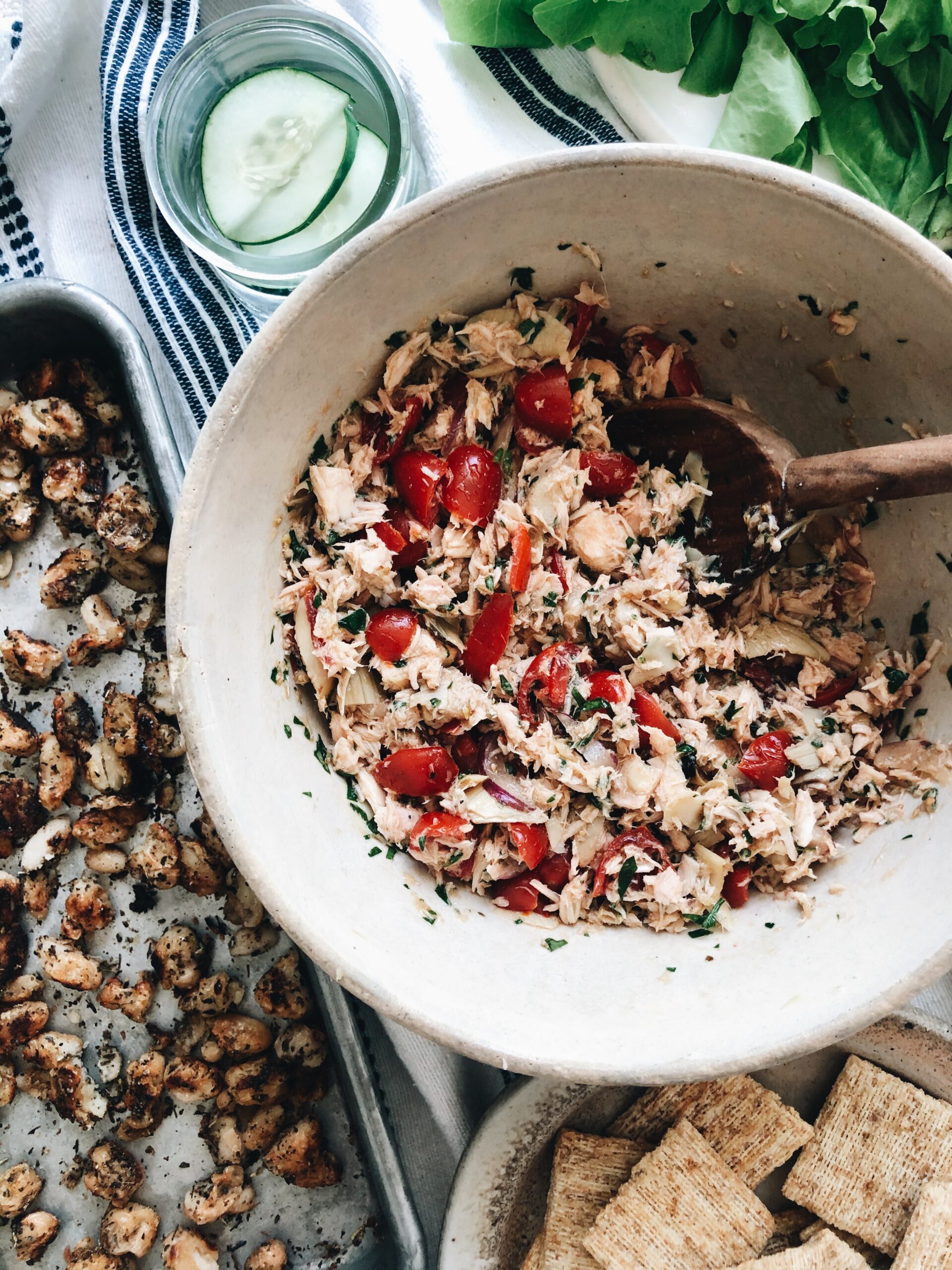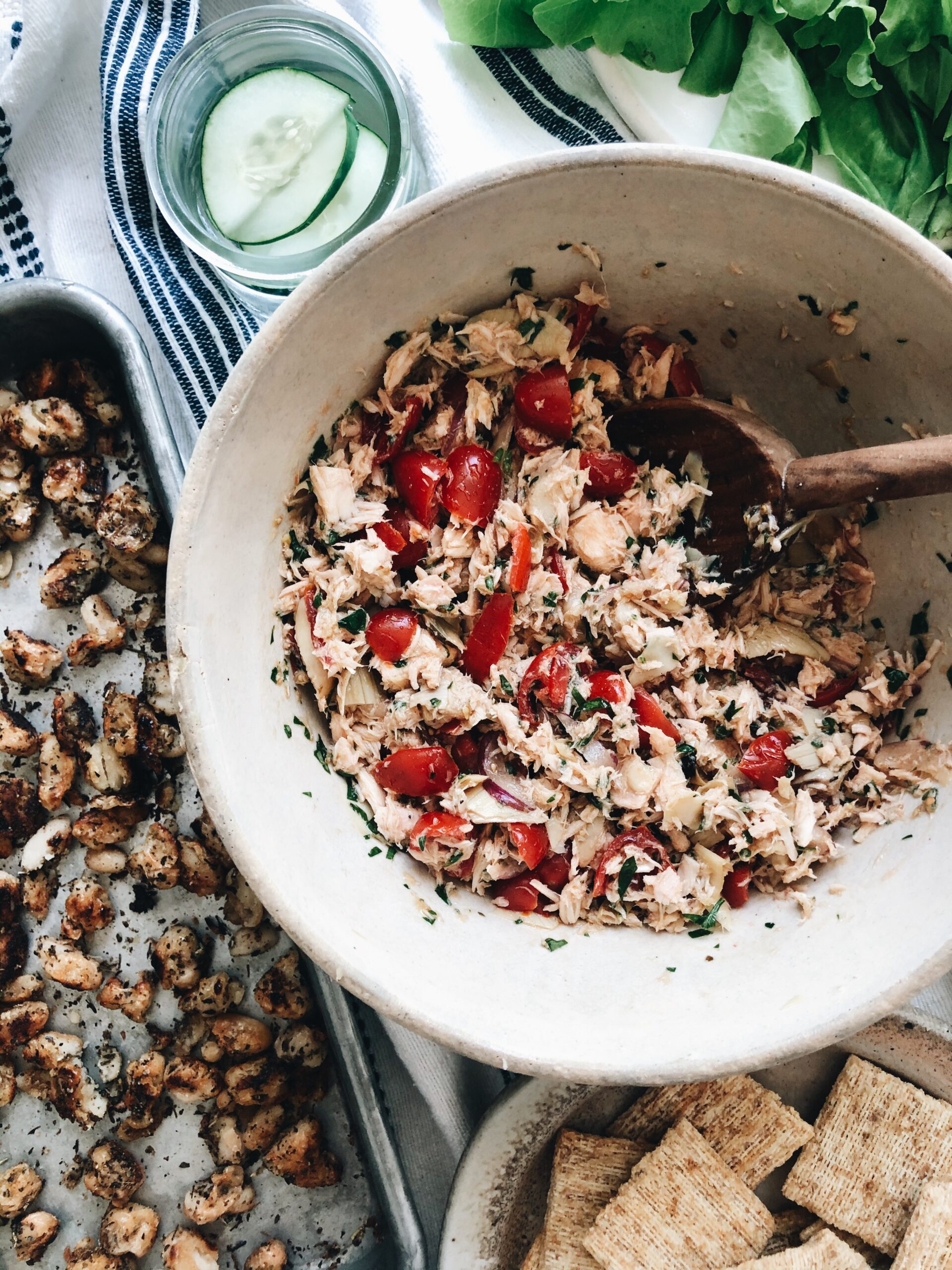 What you DON'T want to do is add the beans to the rest of the salad and mix. They're still creamy on the inside, you see, so we'll sprAnkle them on in the end as a nice creamy/crunchy topping.
But the tuna salad – so yeah, in a bowl you'll mix the two cans of tuna + the artichoke hearts (they'll sort of flake up in the mixing, ya know) + our marinated tomatoes. That's it. Once you get it all mixed together (like so like that – as Tab would say) go ahead and taste it. Need anything? Are you feeling maybe a tiny drizzle of oil? What about a pinch of salt? What's it need, sis? Nothing? Sweet.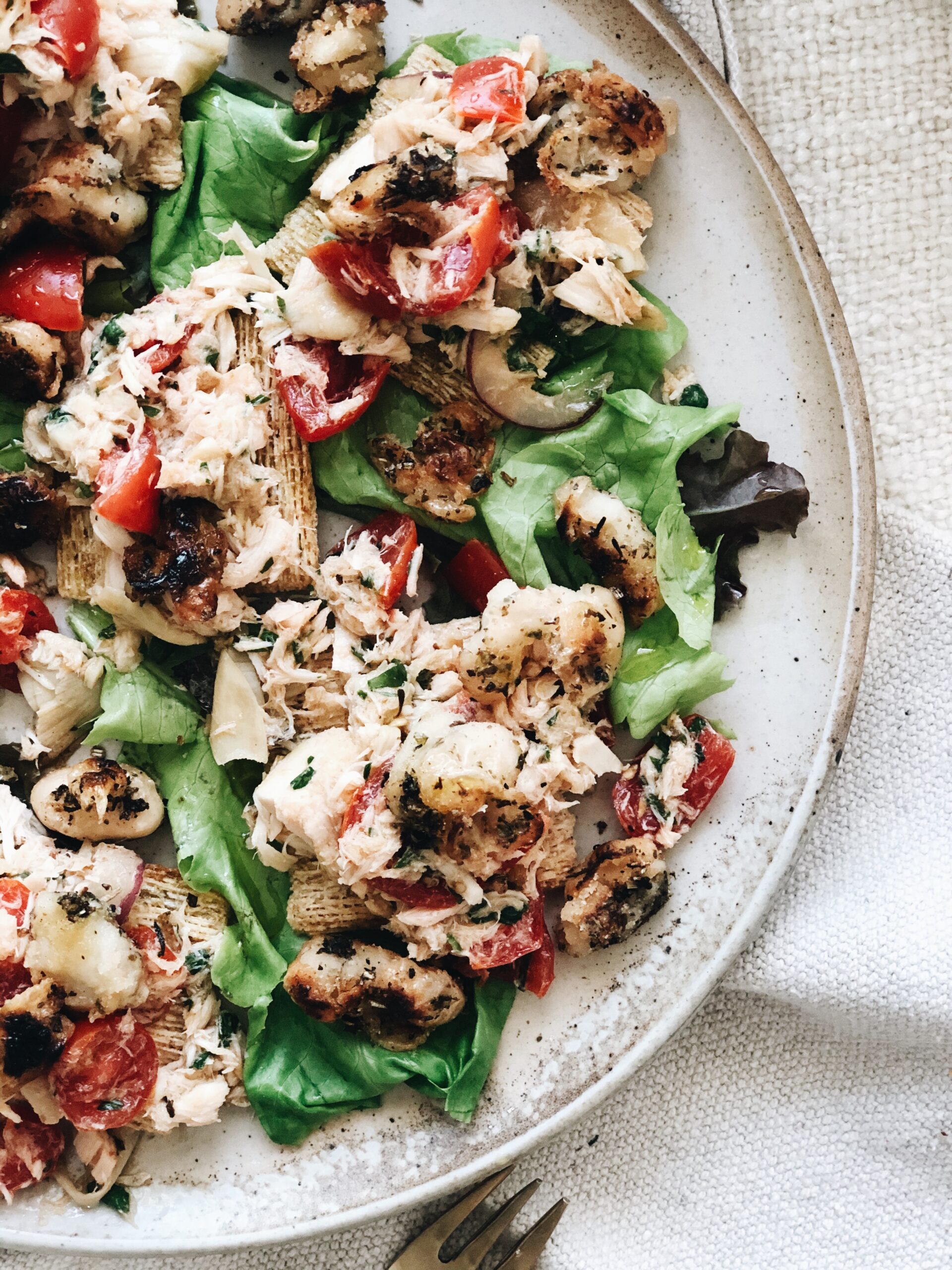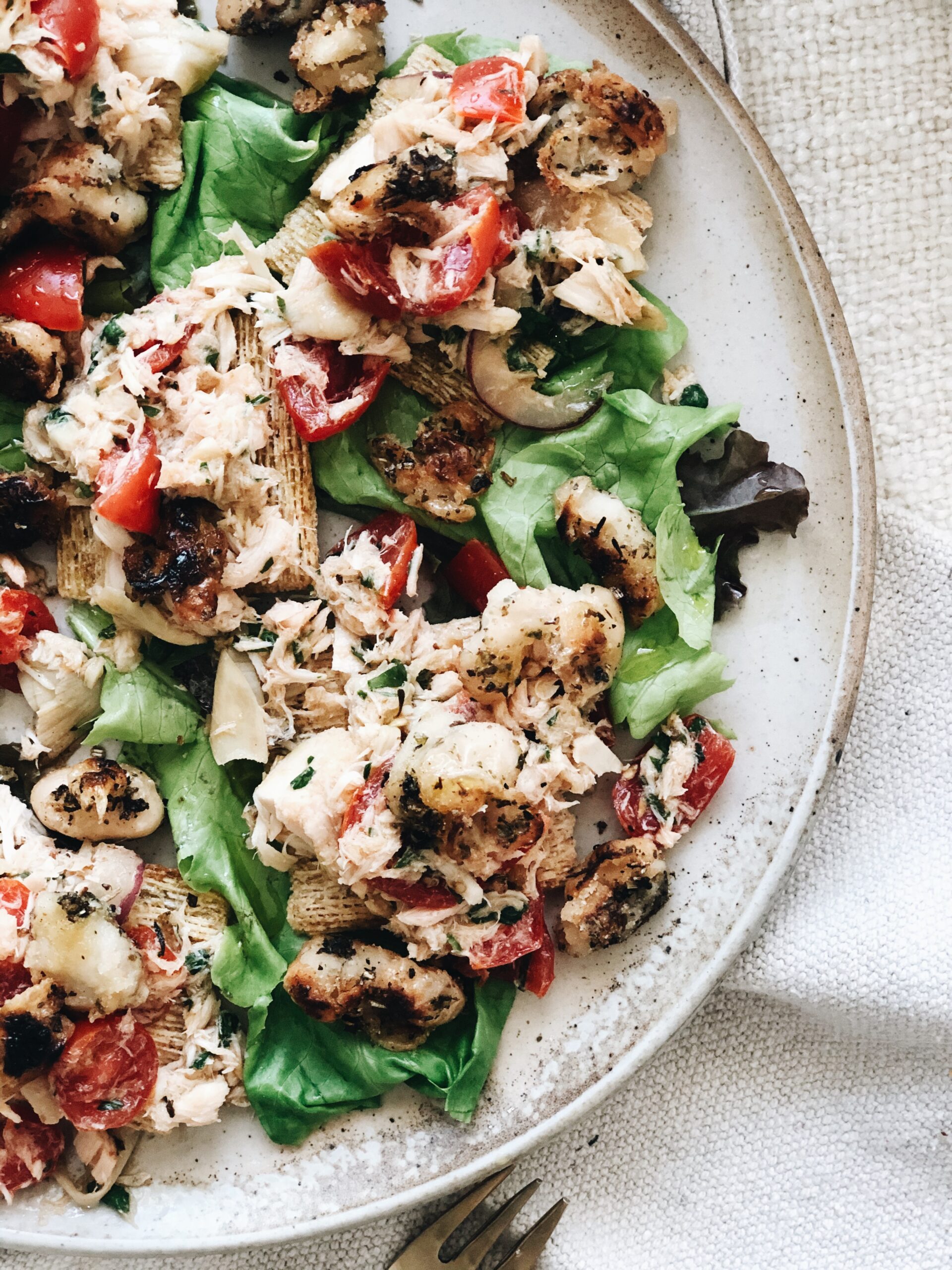 Voila!
Triscuits and lettuce leaves – that's what my raging inner soul fairies demanded of me. Spoon it over toasted crusty bread, scoop it into romaine boats or just eat it with a shovel. Fly, little bird.
Those Italian seasoned blistered cannellini beans are something ELSE, you guys. They add so much texture that you didn't know you needed until this very moment.
It's honestly one of those, "Ohhhh I'll have just one bite," situations.
JOKES.
LIES.
FOOOOOOLS.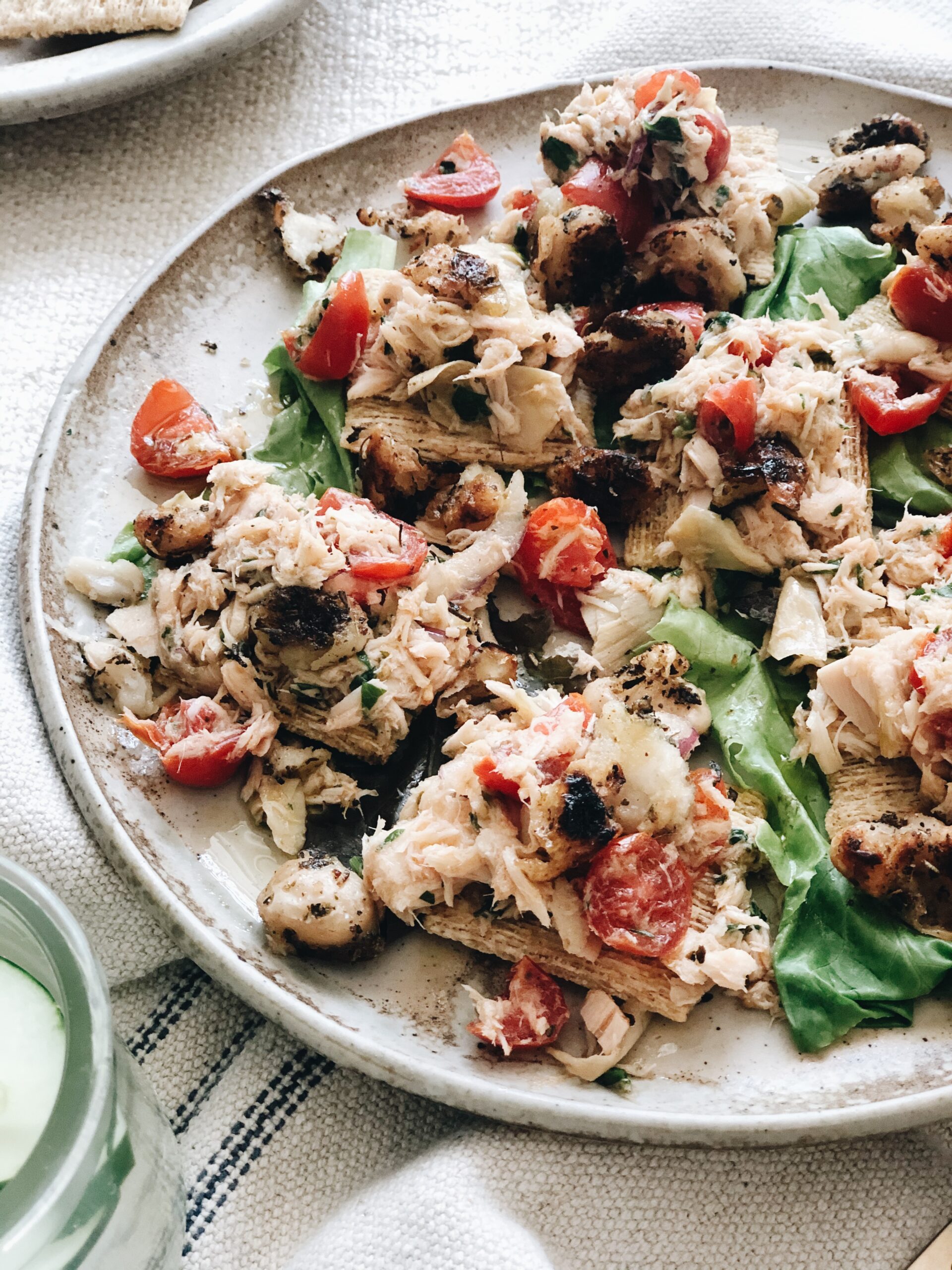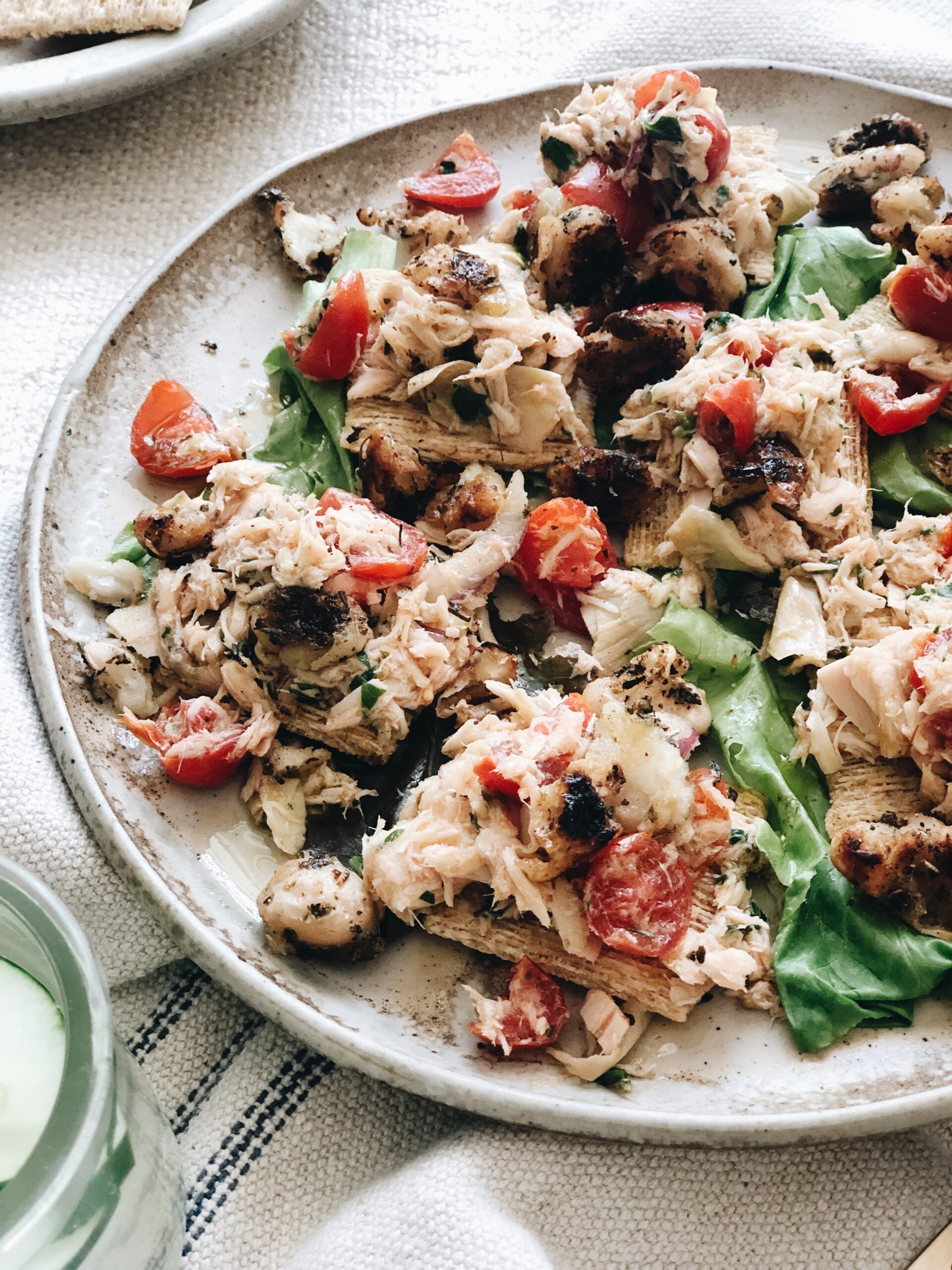 There is so much punch in this mess you will not even be able to take it.
I feel like it would be a perfect mid-day snack for your 4th if you're hanging with your trust bubble. Which is exactly what we're doing.
Zingy, bright, snacky, but substantial. Get in that.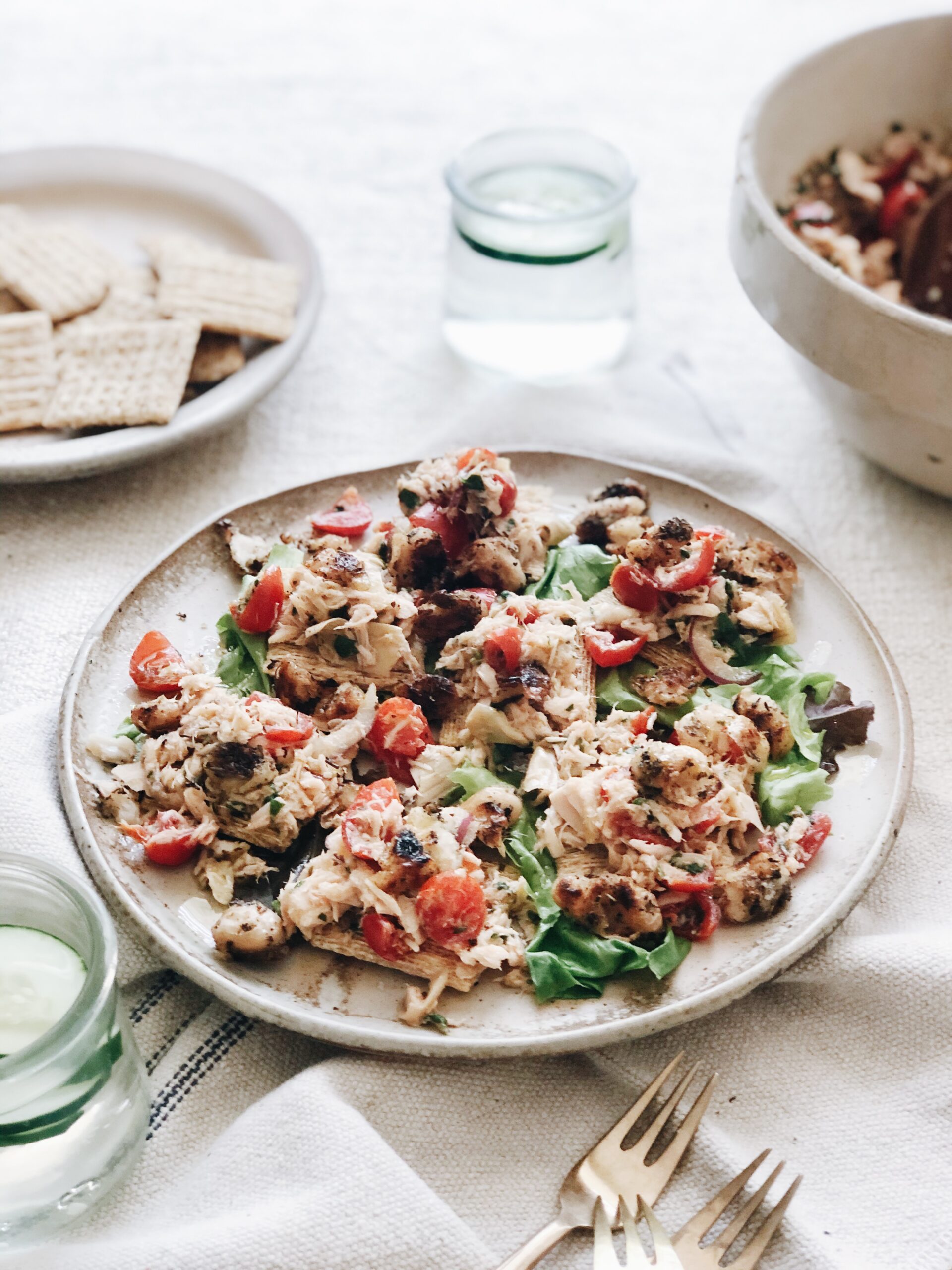 Hashtag blistered cannellini beans.
Italian Tuna Salad with Blistered Cannellini Beans
Ingredients
2 (5 oz) cans albacore tuna, drained
1 (15.5 oz) can cannellini beans, drained and rinsed
1 Tbs. dried Italian seasoning
1 cup cherry tomatoes, quartered
2 Tbs. extra-virgin olive oil, plus more for cooking
3 cloves garlic, grated or minced
1/4 cup thinly sliced red onion
A handful of basil and parsley, finely chopped
5 artichoke hearts
Coarse salt
Crackers, lettuce leaves, crusty bread - anything you want to serve it with!
Instructions
In a small bowl, combine the tomatoes, 2 Tbs. oil, garlic, red onion, chopped herbs and a pinch of salt. Stir together and let this sit while you make the rest.
In a medium skillet over medium high heat, add 1 Tbs. oil, the cannellini beans and the Italian seasoning, Toss together to coat the beans, then let them sit untouched in that hot skillet for three minutes. Lightly shake the pan to turn the beans, then let them sit another three minutes, letting the beans blister and char in places. They're getting crunchy and this is living the good life, you see. Pour the beans onto a plate and them cool. As they cool they'll crisp up even more. Yes, ma'am.
In a bigger bowl, combine the tuna, artichoke hearts and marinated tomatoes. Toss together and taste that. Need anything? Pinch of salt? Give it a little sprinkle.
Serve the Italian tuna salad with crackers, lettuce leaves, toasted bread, anything you want! Just remember to spoon those blistered beans over the top, if you know what's good for ya.
Serves about 4!
7.8.1.2
434
https://bevcooks.com/2020/06/italian-tuna-salad-with-blistered-cannellini-beans/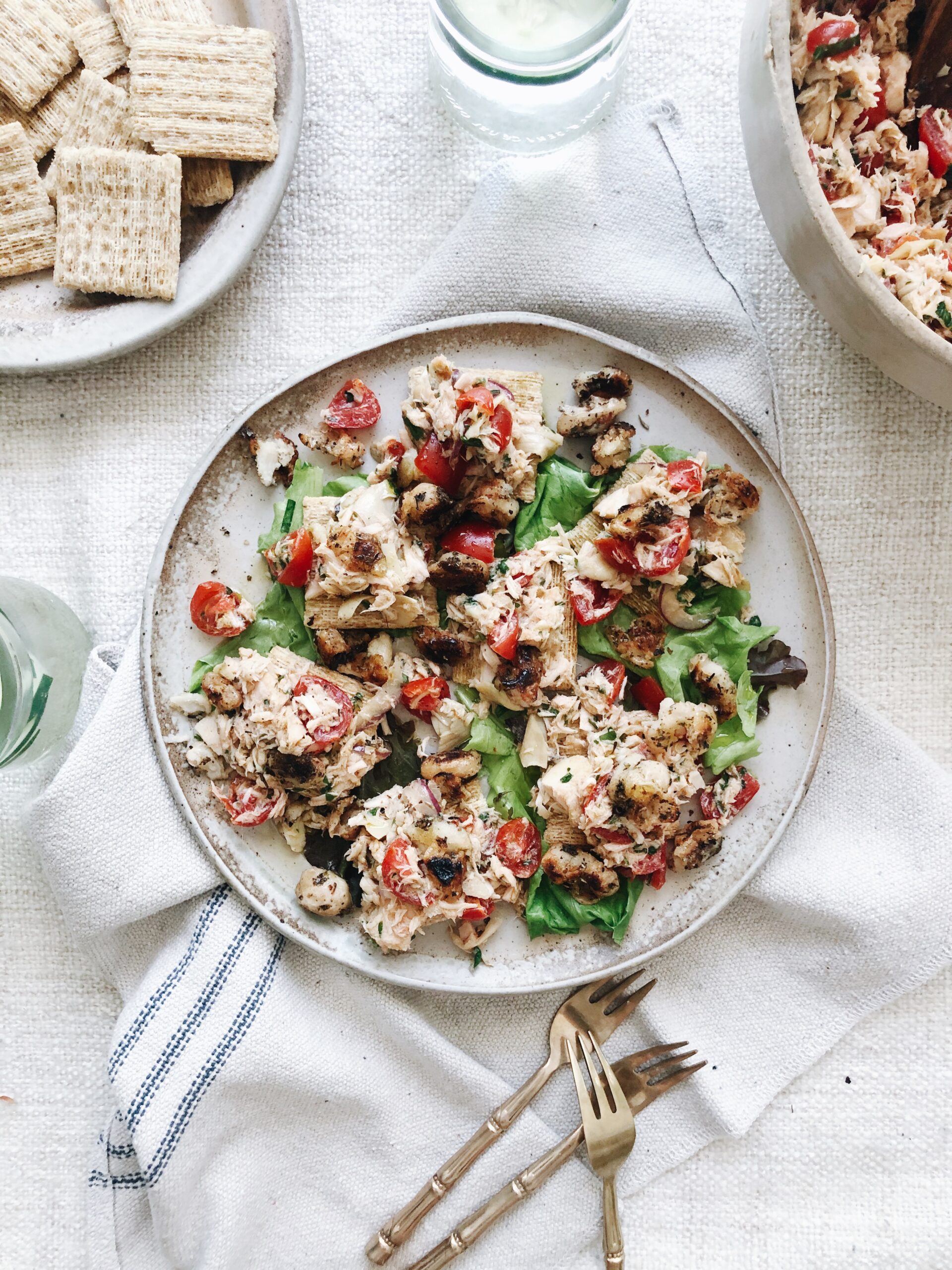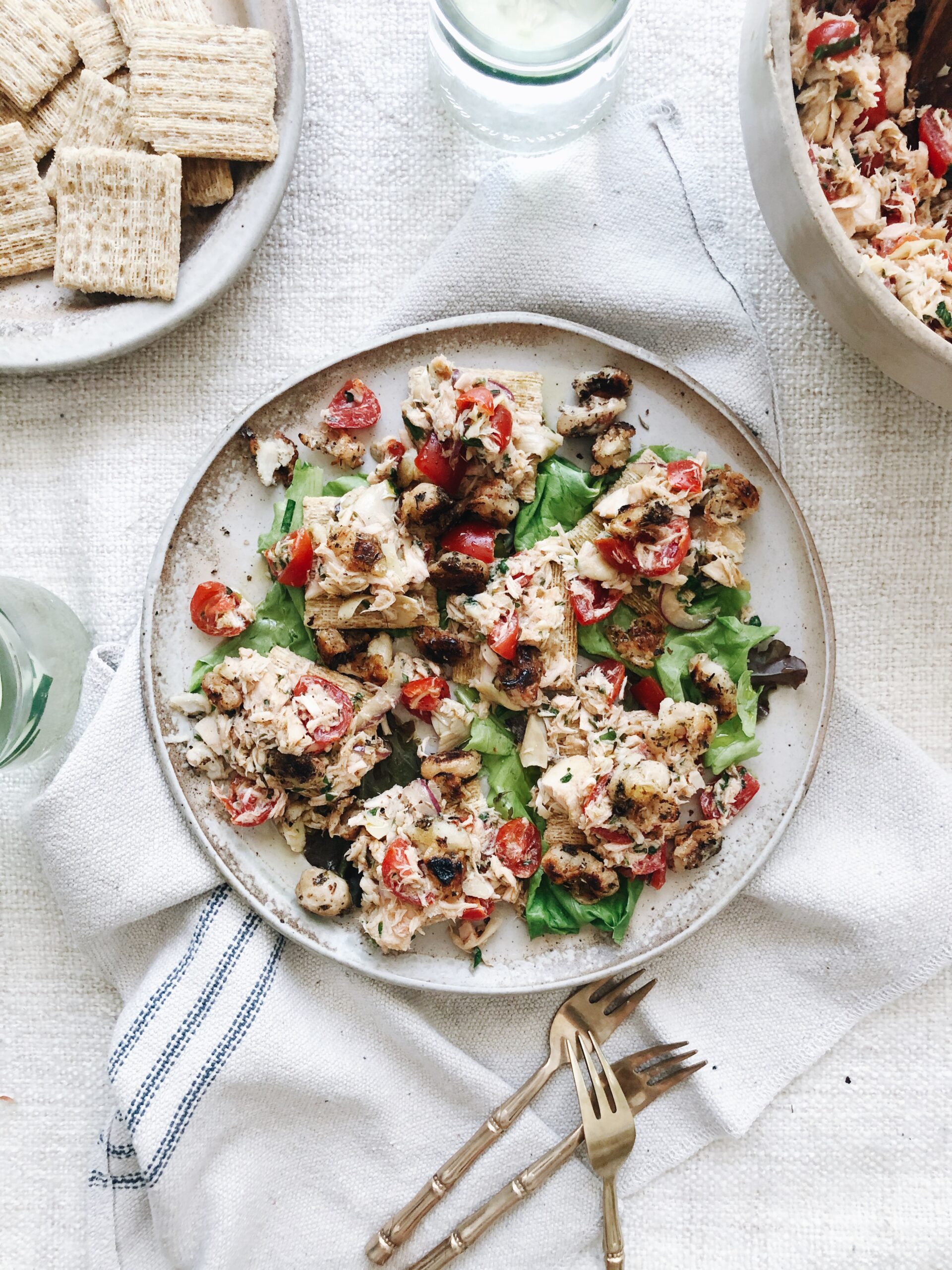 Yeah this plate lasted about four minutes tops.