Can we just call this the official Mother's Day meal right now? 'Cuz Imma 'bout to. I just did.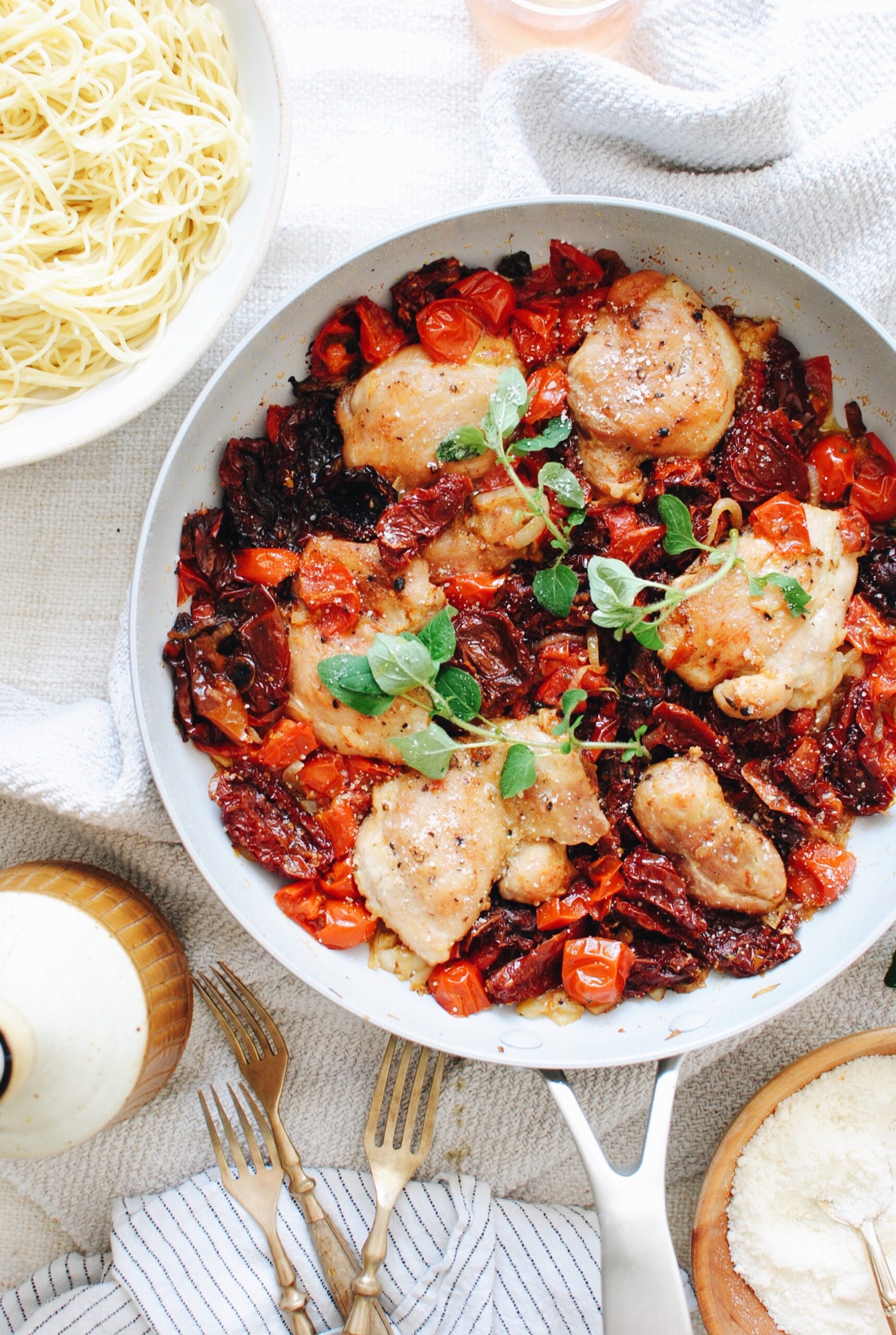 And yes, you're seeing both sun-dried tomatoes and grape tomatoes because I'm a raging rebel like that.
Okay AND, this is a one-pan meal, besides the angel hair pasta. But this is where you can Willy Nilly with it. Leave the pasta out and go full-on crusty bread if your soul fairies demandeth. The main magic here is the chicken meets tomato Promised Land.
Oh, and that beautiful pan? (I know how you people are.) Why yes it is GreenPan. And I've got a promo code. Get excited.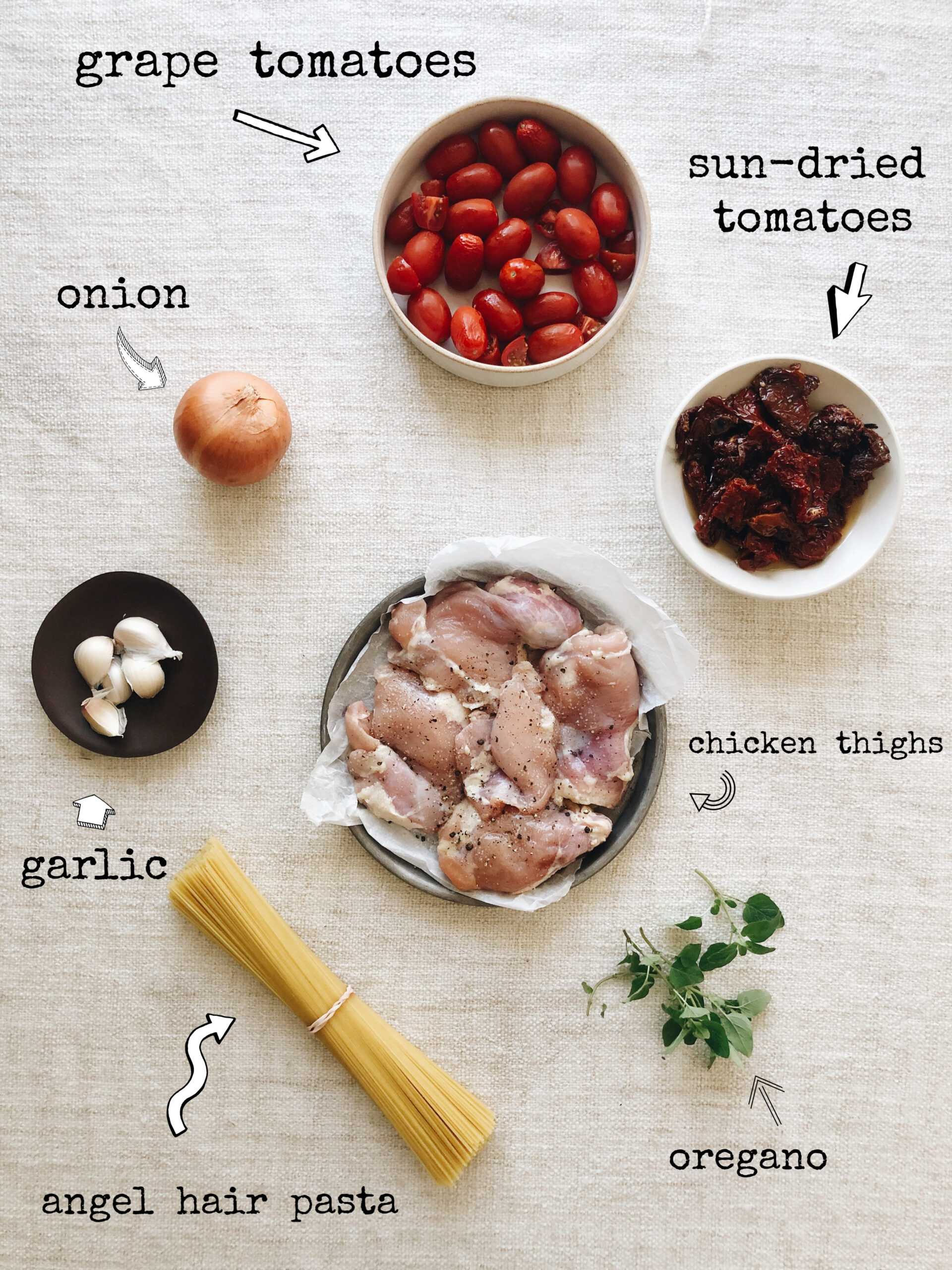 Here's our cast of characters. A bit on the pantry side, with some garden glee thrown in. (Not that my tomatoes are even doing anything yet, but the oregano is back with a vengeance, and I'm here for it. )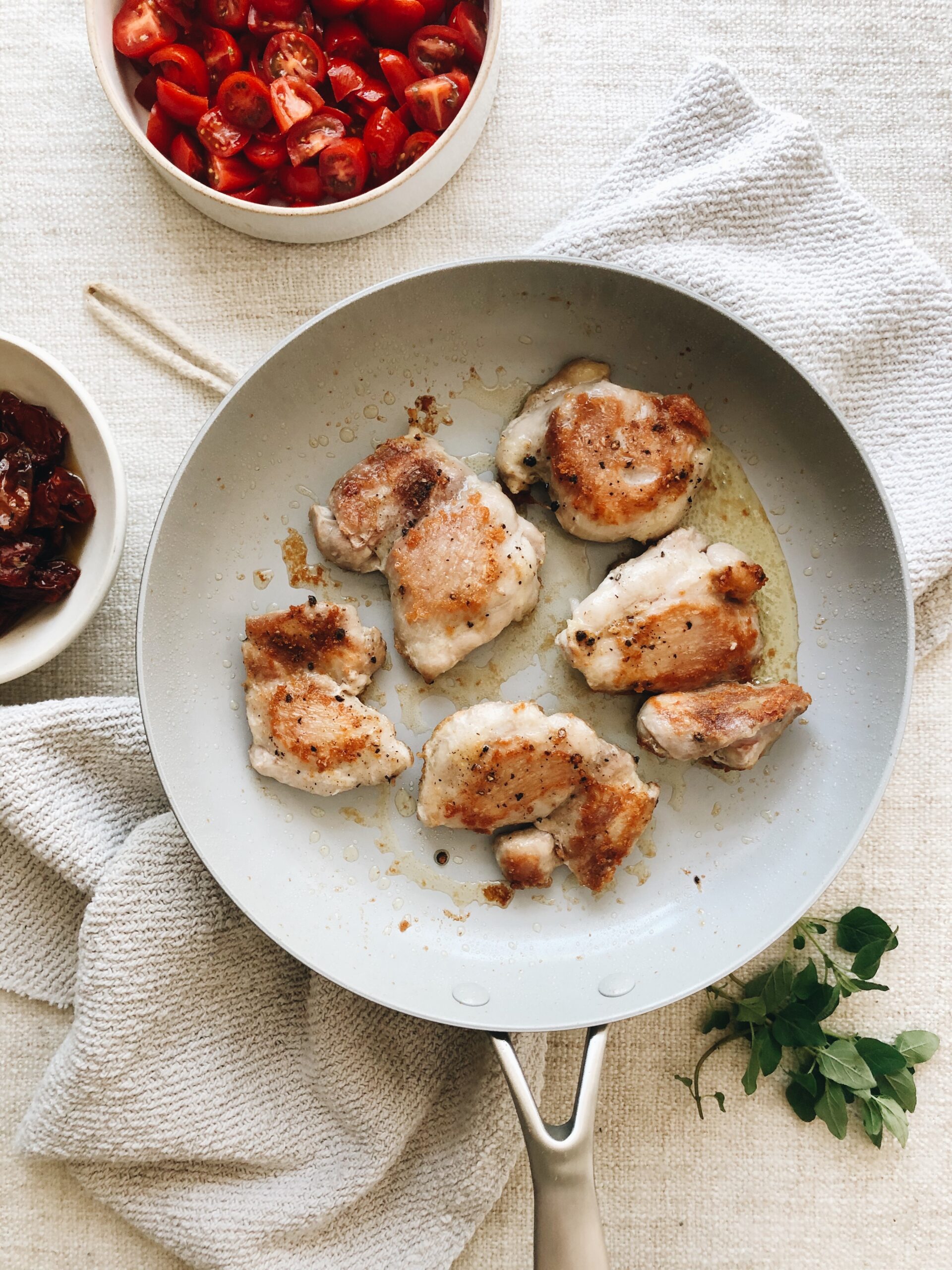 Okay! Let me interject here a moment and talk about this pan. It's from GreenPan, and it's called the Venice Pro Ceramic Non-Stick and IT.IS.PERFECT. It's a part of two larger Venice Pro collections, this 7-piece set, and this 10-piece. If you don't know much about GreenPan, they're known for their healthy non-stick coating. That's first and foremost. No toxins will release if the pan ever gets too hot! Isn't that something? It's so good for me because I'm always cranking up that heat like a psycho.
AND, I love this one especially for its aesthetic. You know me and style. It has to land prettily upon thy eyes or WE ARE OVER.
This one is a classic stainless steel, but the inside is a pale, muted gray and that just sings to me.
Oh! Sear your chicken thighs. (exciting hint: nothing sticks!)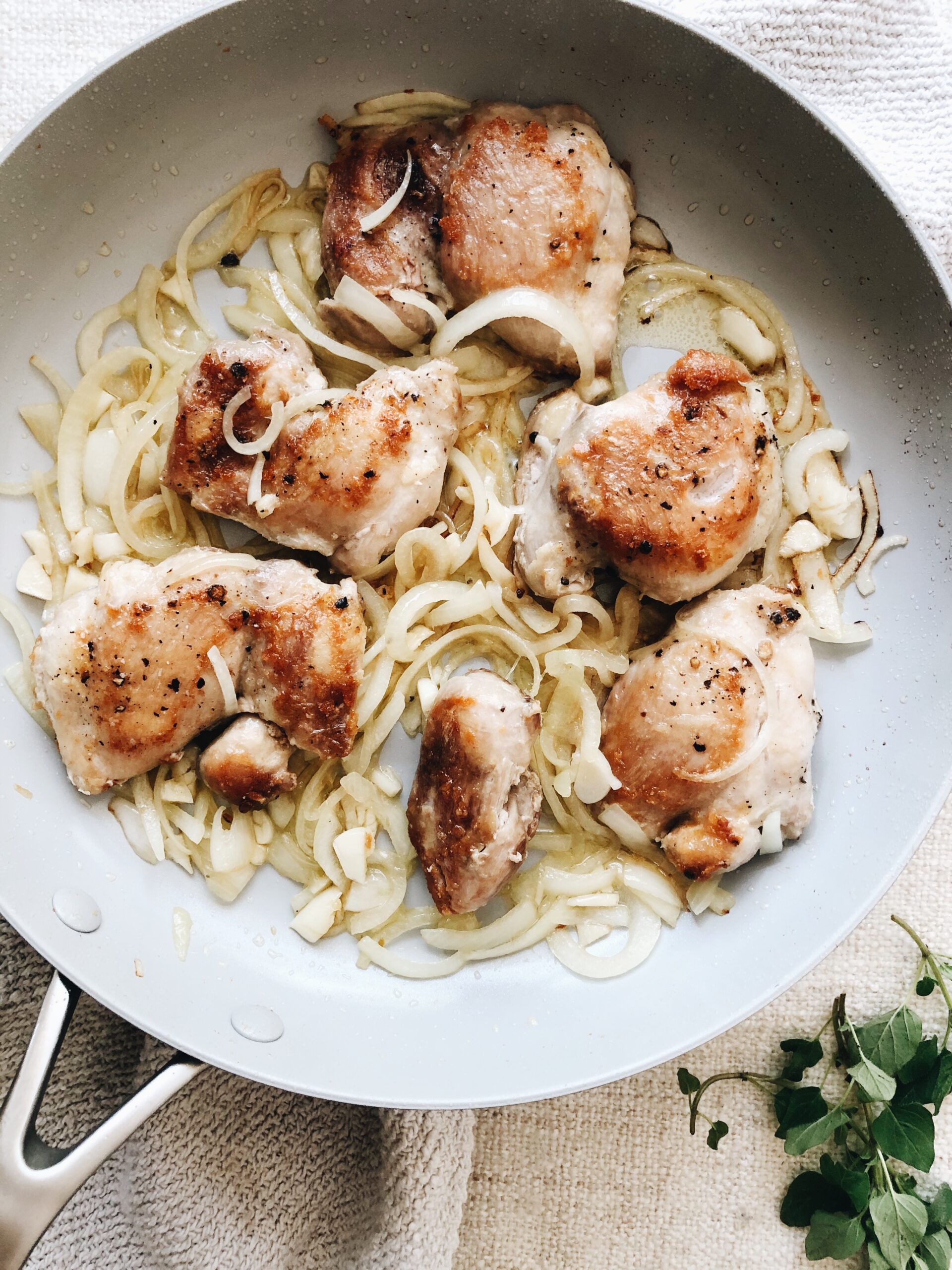 After about 12 minutes of searin', you'll add sliced onion and garlic. Get that sautéed to the point of sweating (the onions, not you), and a little browning here and there. Look how yummy this already is AND WE'VE NOT ADDED THE TOMATOES YET.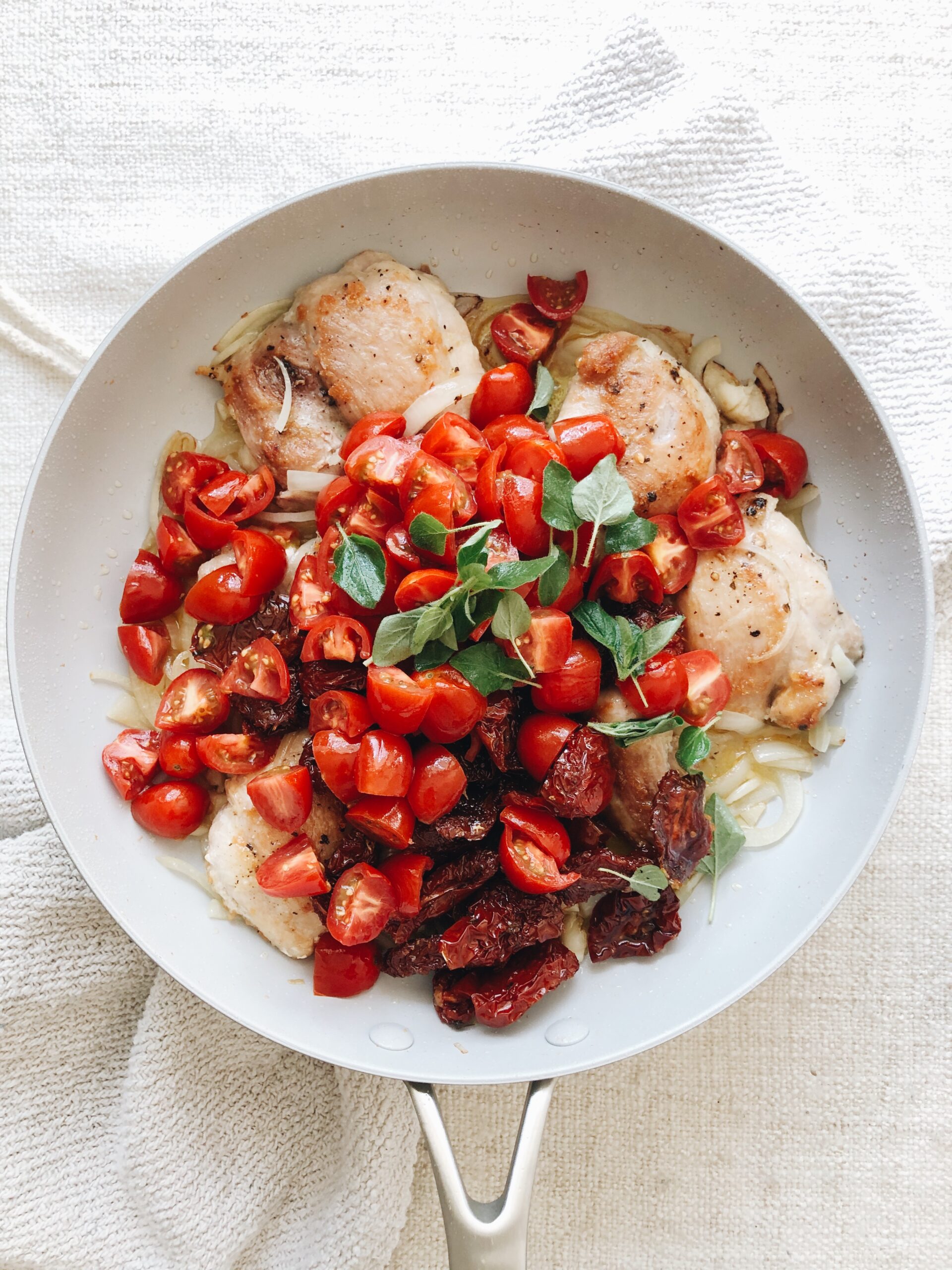 Yes I DO have a Mother's Day discount for this pan, gurl. Matter of fact, I've got a promo code that will get you 30% of the entire site. The entire site! Just use bev30 at checkout and have the best time. (It expires a week from today – Wednesday May 6th, so hoppity hop!)
Oh and – add both the sun-drieds and the fresh tomatoes and simmer this on medium (with a lid! this specific pan doesn't come with a lid, but I'm guessing you have a pile of lids that will work just fine.) for about 10 minutes. You want those tomatoes to break down and release their juices. It all becomes one and glorious and rustic but oh so elegant. Perfect to cook with your mom if you're in quarantine with her!
Also, another exciting hint: the handle doesn't get hot. It's not too thick either. I can't stand handles that I need like 83 arms to hold. This one is juuuust right.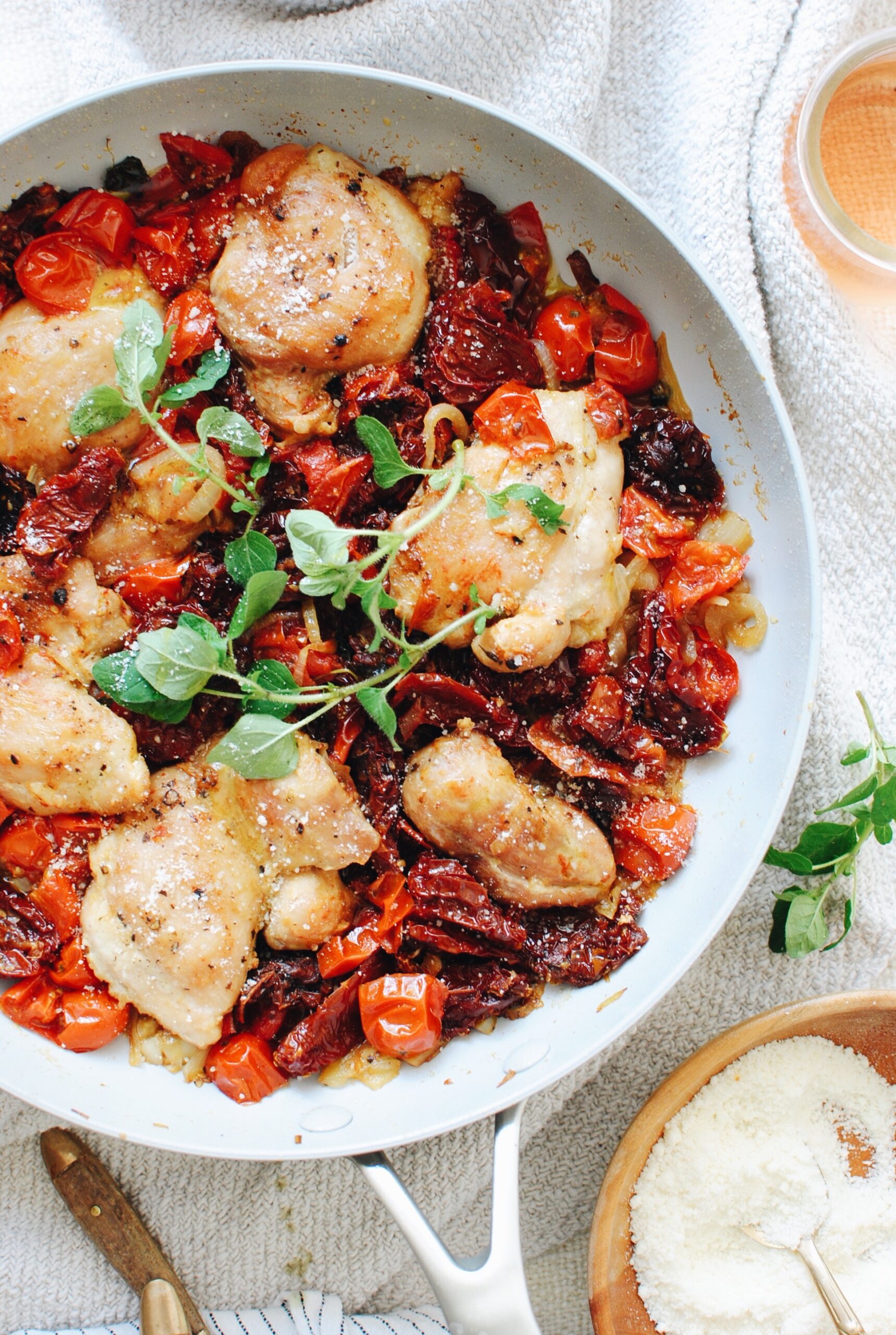 And here we have it, bunnies. The chicken thighs are just divine, as the rich flavor marries with the tomatoes, garlic and onion and creates this umami bomb of mouth and soul delight. Of course I garnished with pungent oregano and nutty parmesan cheese, to bring it all together. Like, this is painfully good. And guys we barely did a thing!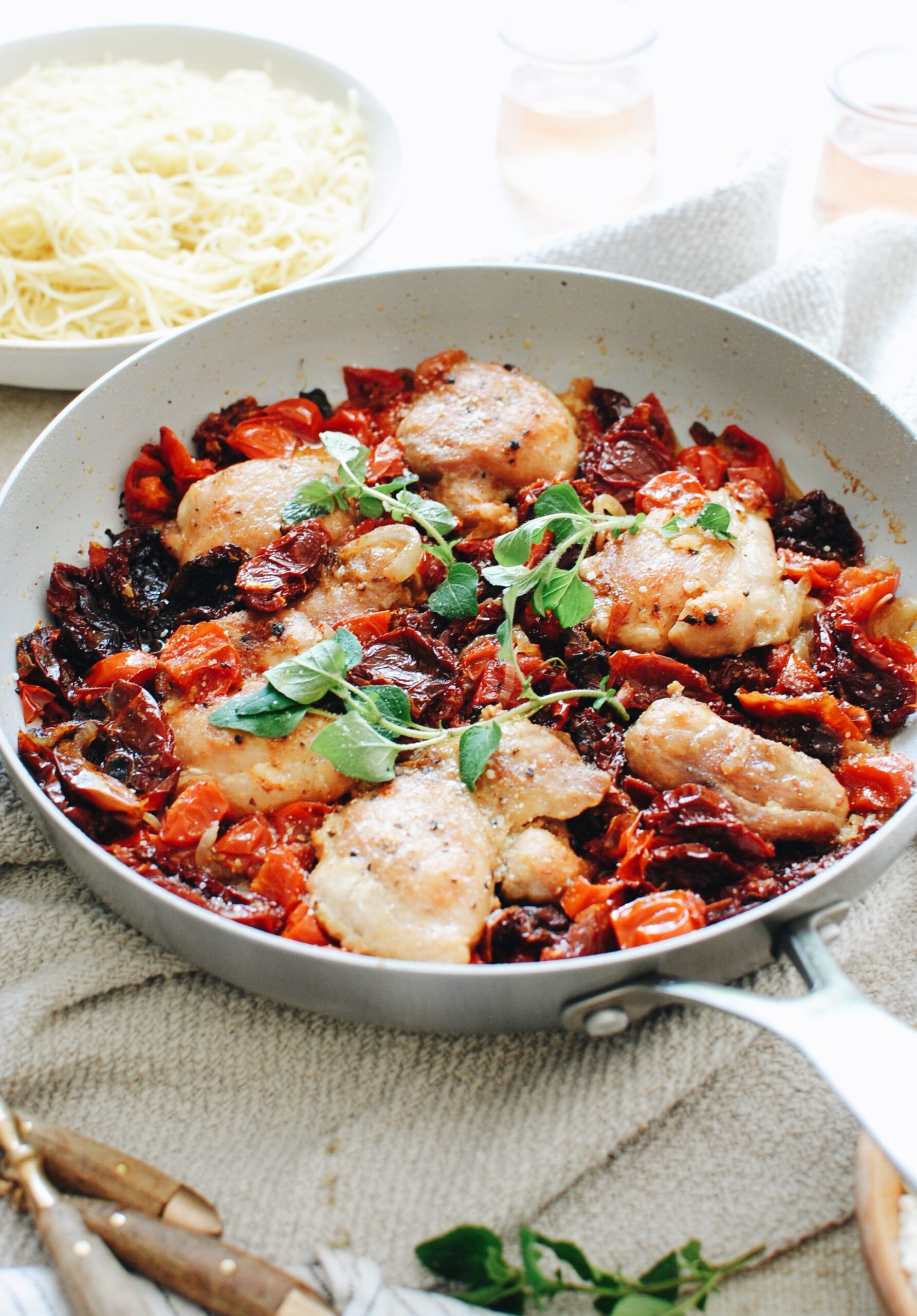 I know many of us won't be with our moms on Mother's Day this year. Some may be at home with theirs in quarantine, so this recipe idea is my hope that you can find a connection with your Ma in one way or another. And the discount, goodness knows we're all shopping on a budget this year, so if this code helps you get a new pan for your mom (or hi, you.), then fabulous! My day is made. My week. Shoot, the whole month.
Also, you saw that dish up there, didn't you?
Serve it with any kind of pasta, rice, grain, side salad or crusty bread that you dig!
One pan, guys. Should we elbow bump right now?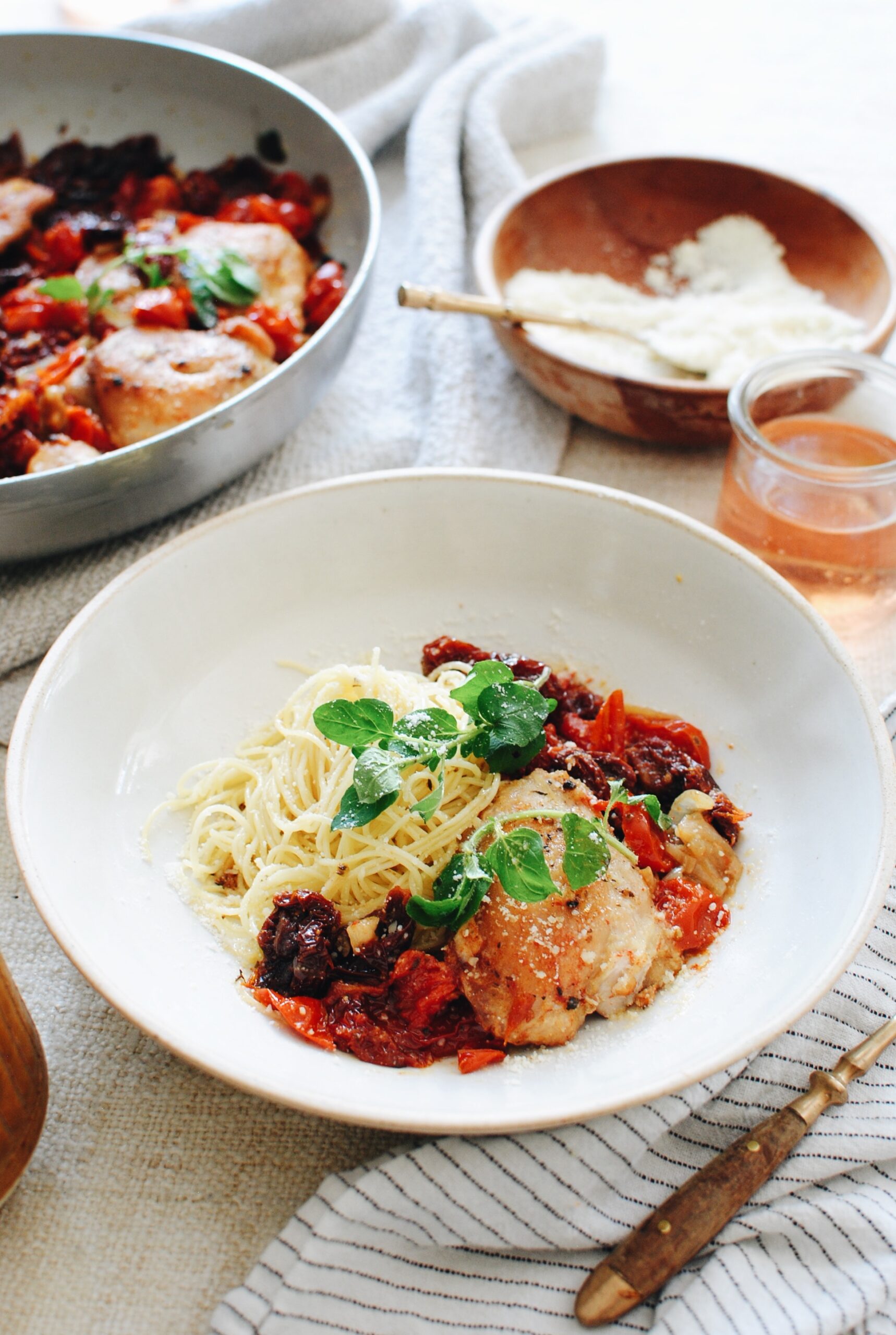 Mother's Day in ya face! Literally.
Rustic Chicken and Tomatoes
Ingredients
1.5 pounds chicken thighs (boneless, skinless), five total
1 medium onion, thinly sliced
5 cloves garlic, chopped
1 (8.5 oz) jar sun-dried tomatoes, in their oil
1 pint grape tomatoes, quartered
A few oregano sprigs, for garnish
10 oz angel hair pasta
Coarse salt and freshly ground pepper
Parmesan cheese, for garnish
Instructions
Heat a Tbs. of the jarred sun-dried tomato oil in the Greenpan skillet over medium high. Season the chicken on both sides with salt and pepper, and sear on one side for six minutes. Flip and sear another six minutes, until you see browning on both sides.
Add the sliced onions and chopped garlic to the pan; sauté about five minutes, until the onions start to brown and sweat a little bit.
Add the sun-dried and quartered grape tomatoes to the pan, reduce the heat to medium, cover with a lid and simmer for ten minutes, until the tomatoes release their liquids and wilt in the pan, creating a light sauce for the chicken.
In the meantime, bring a large pot of salted water to a boil; cook the angel hair pasta until it reaches al dente. Reserve about a cup of pasta water and drain the rest. Back in the pot or a serving bowl, drizzle a little sun-dried tomato oil over the noodles to keep them from sticking. Add a bit of the pasta water back to the noodles as well, creating a thin sauce.
Serve the chicken and tomatoes along side a small mound of pasta, garnish with parmesan cheese and fresh oregano leaves, and you're set! SO GOOD. So rustic. So perfect.
Serves four!
7.8.1.2
421
https://bevcooks.com/2020/04/rustic-chicken-and-tomatoes-with-angel-hair-pasta/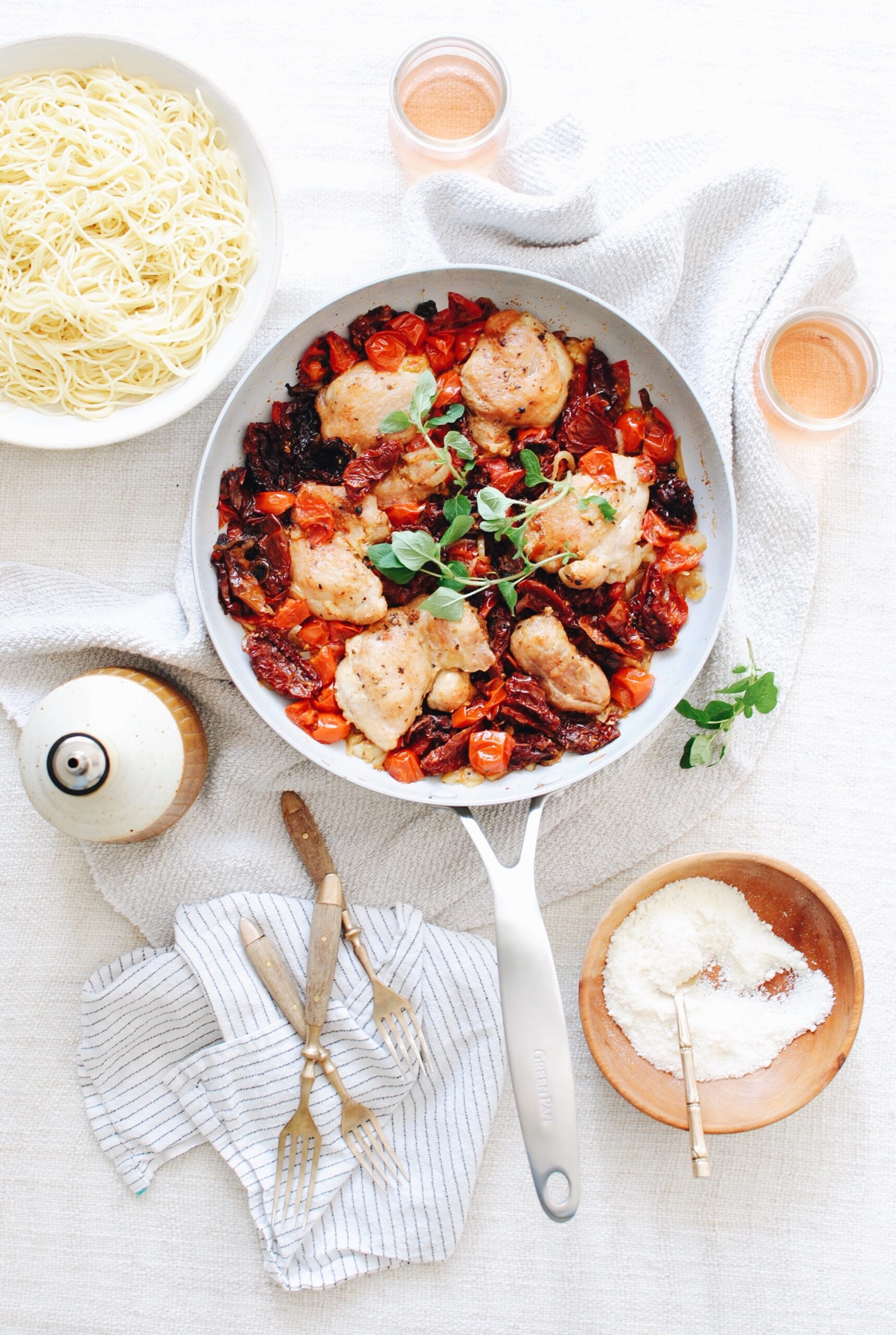 This post is definitely in partnership with GreenPan, but all ramblings and chicken/tomato inhalings are totally my own. We coo?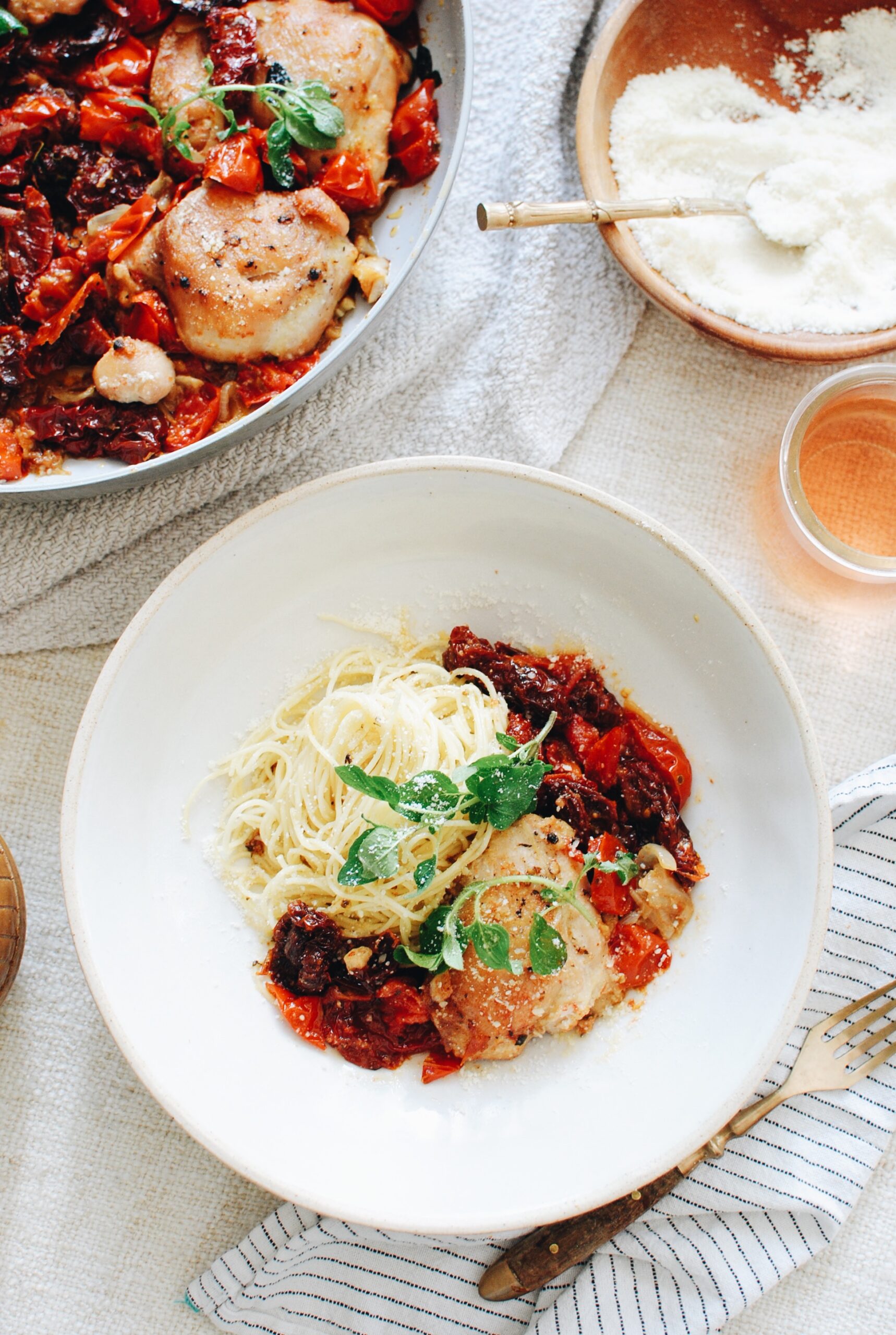 One more photo because ha-nom.