Didn't you know that sheet pan nachos are your new life?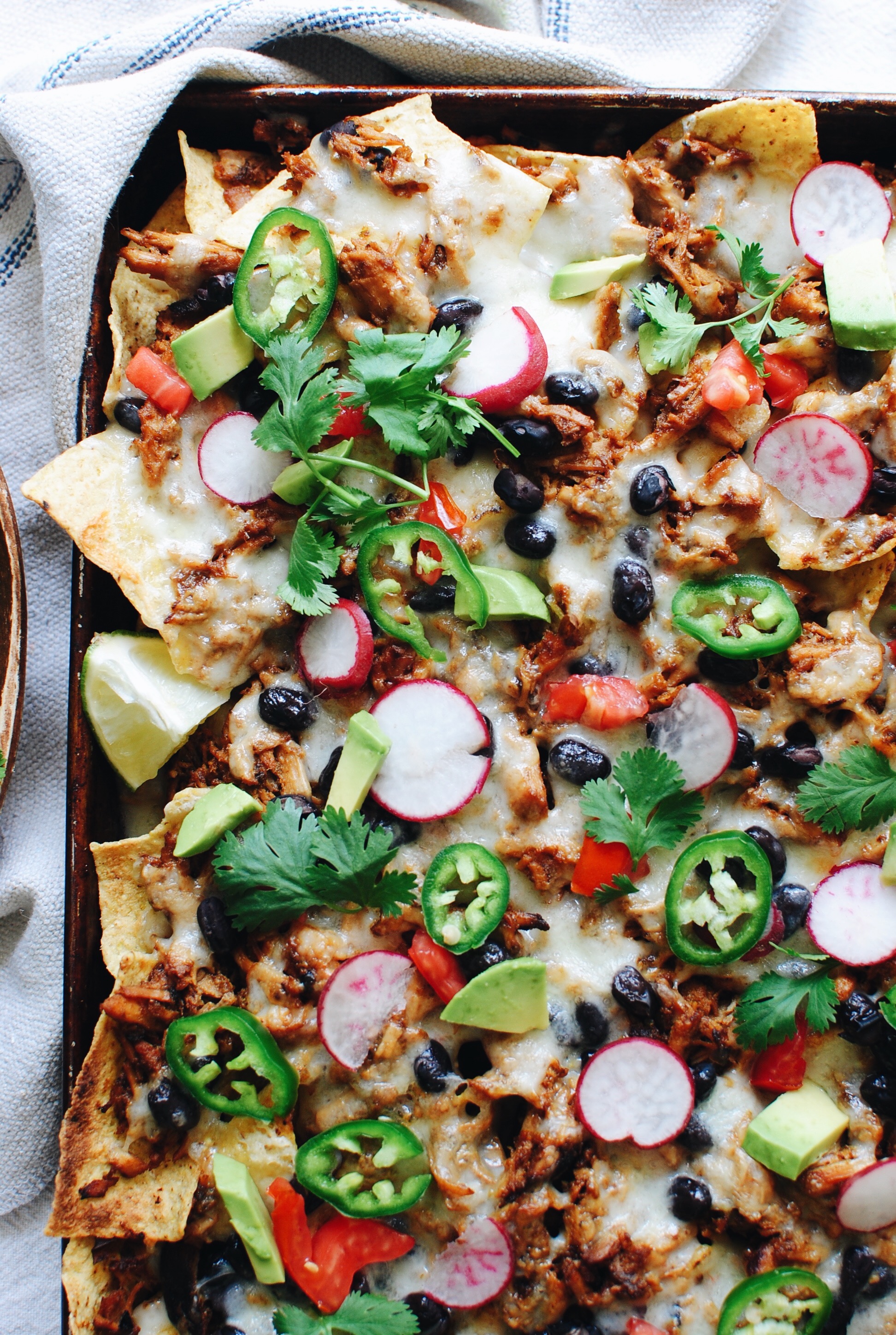 They are.
These are.
This pan is.
That up there is.
However, let's call these SUNDAY NACHOS. Because you know how so often I'm like, "It's so quick blah blah! It's so weeknight yadda yadda! Comes together in a flash la dee da!" These don't. But that's not a bad thing. It's not a laborious meal by any means, but it is a time commitment. In a fun way!
Here, I'll show you.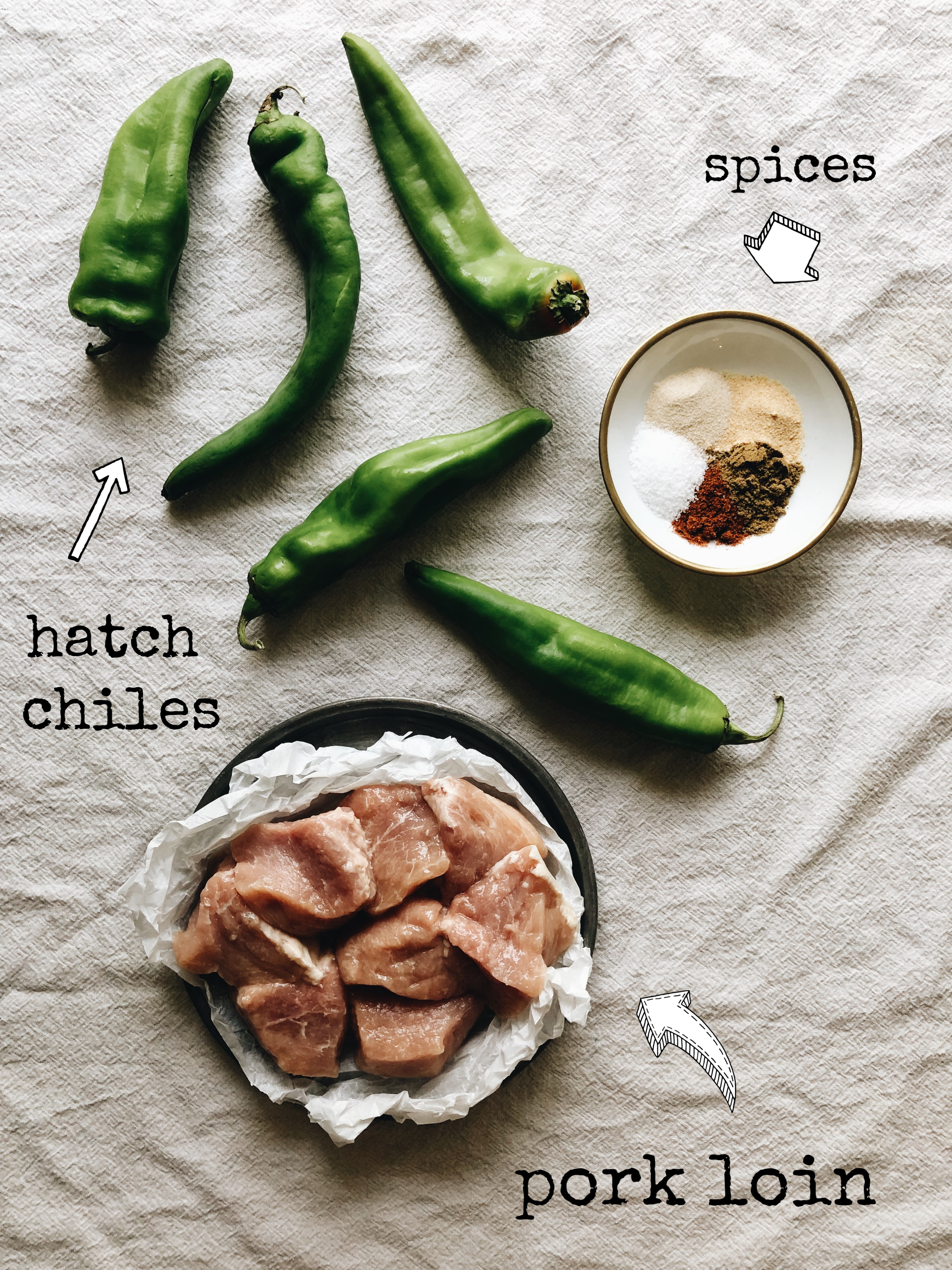 This is a two-parter nacho situation. Which, makes sense since you have the prepare the meat part of it, unless you buy a rotis. Which is fine. But are you seeing those hatch chiles right there? You do know it's hatch chile season right now, right? Remember I spent 1986-1996 in New Mexico, so I definitely remember the yearly freakout that would occur when these peppers were at prime.
And they're not crazy hot! Much like a poblano or anaheim. So don't go shyin' away, now.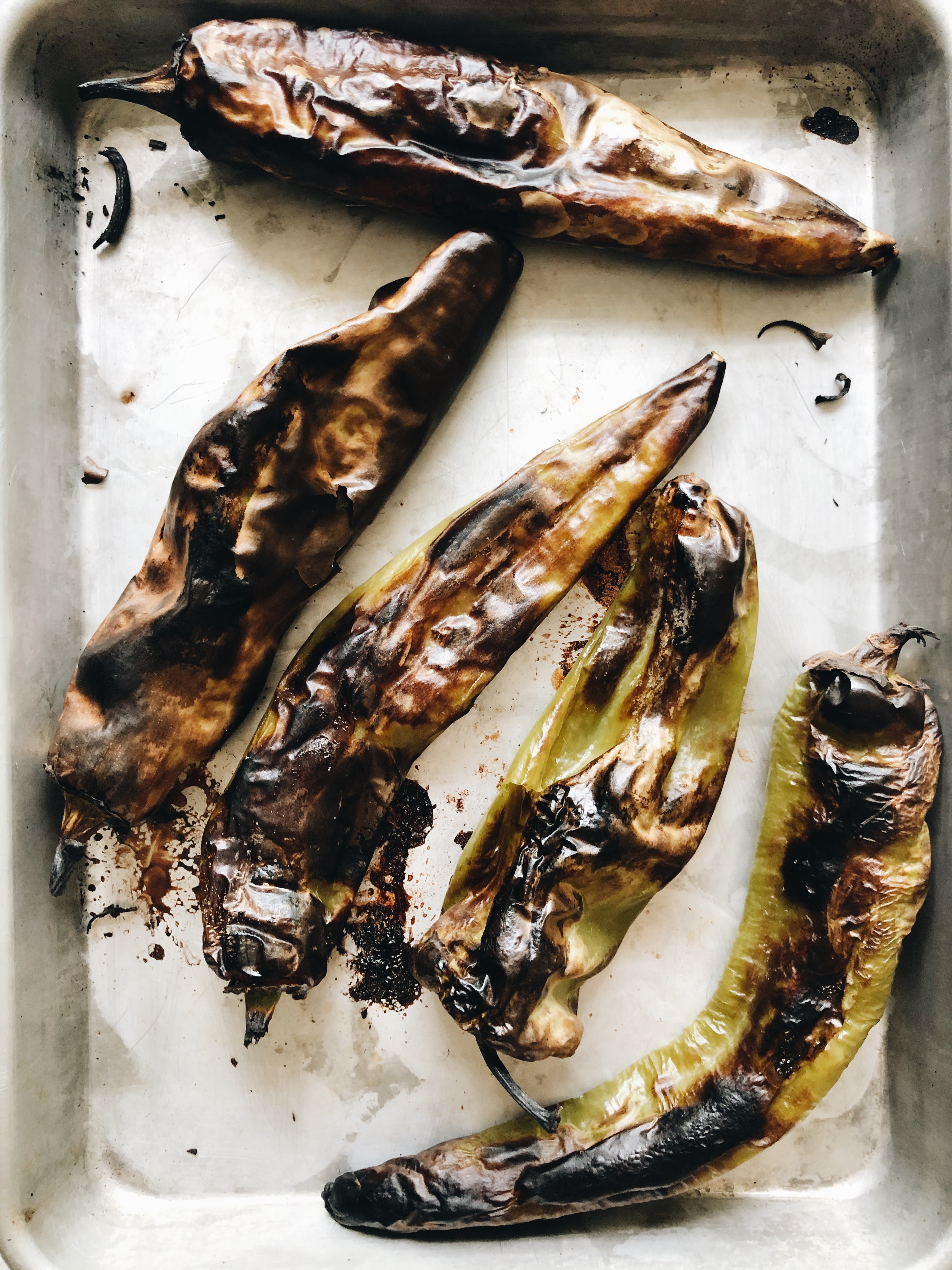 We roast! And by roast I mean stick under the broiler and rotate every five minutes until these pups are CHARRED, yo.
Throw them in a baggie and them let steam for ten minutes. Then slap them back on a cutting board, cut them open and remove as many of the seeds as you can, along with the stem, aaaaaand….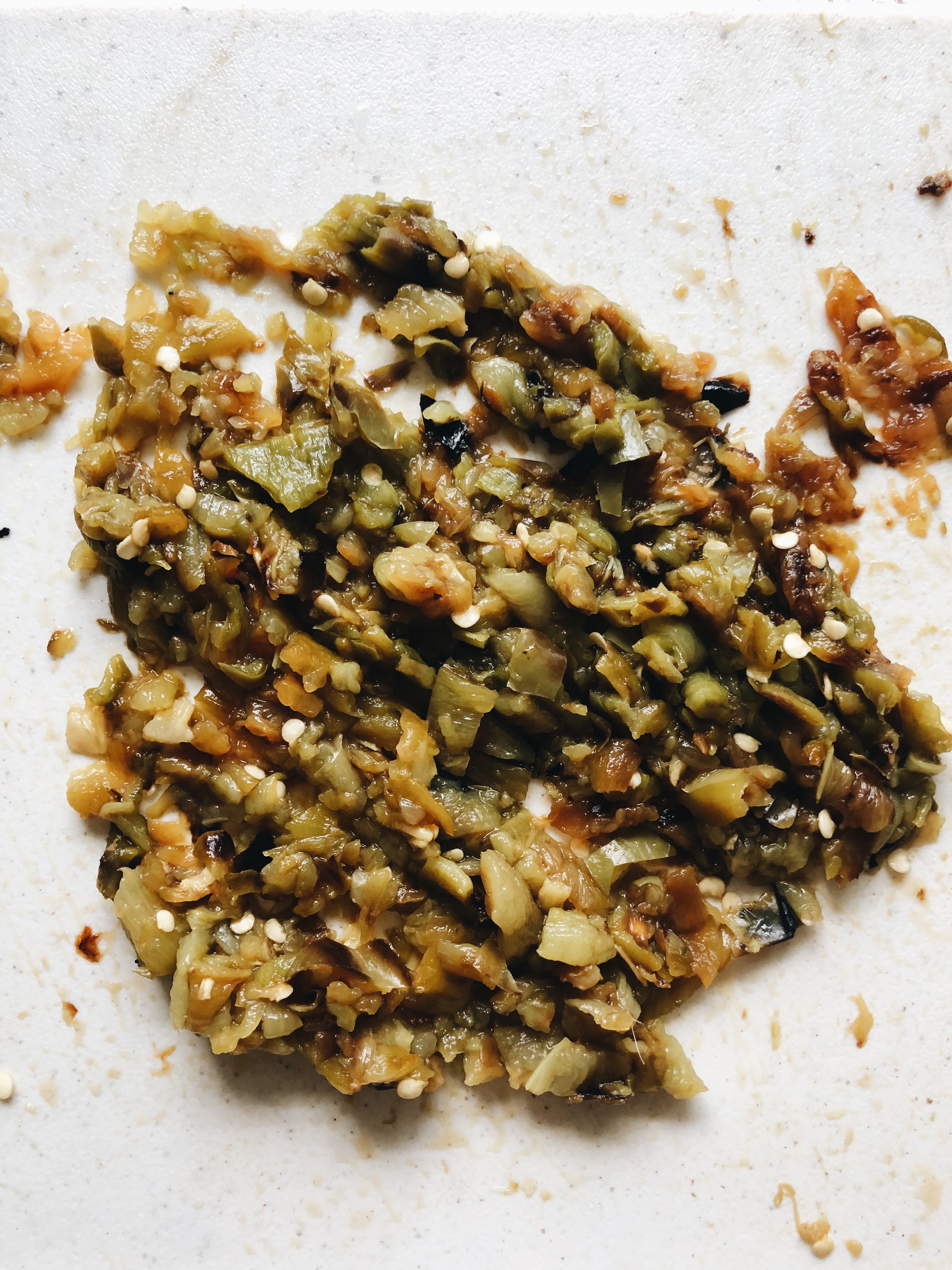 Chop! Of course I still have some seeds in there because we can't WIN IT ALL, GUYS.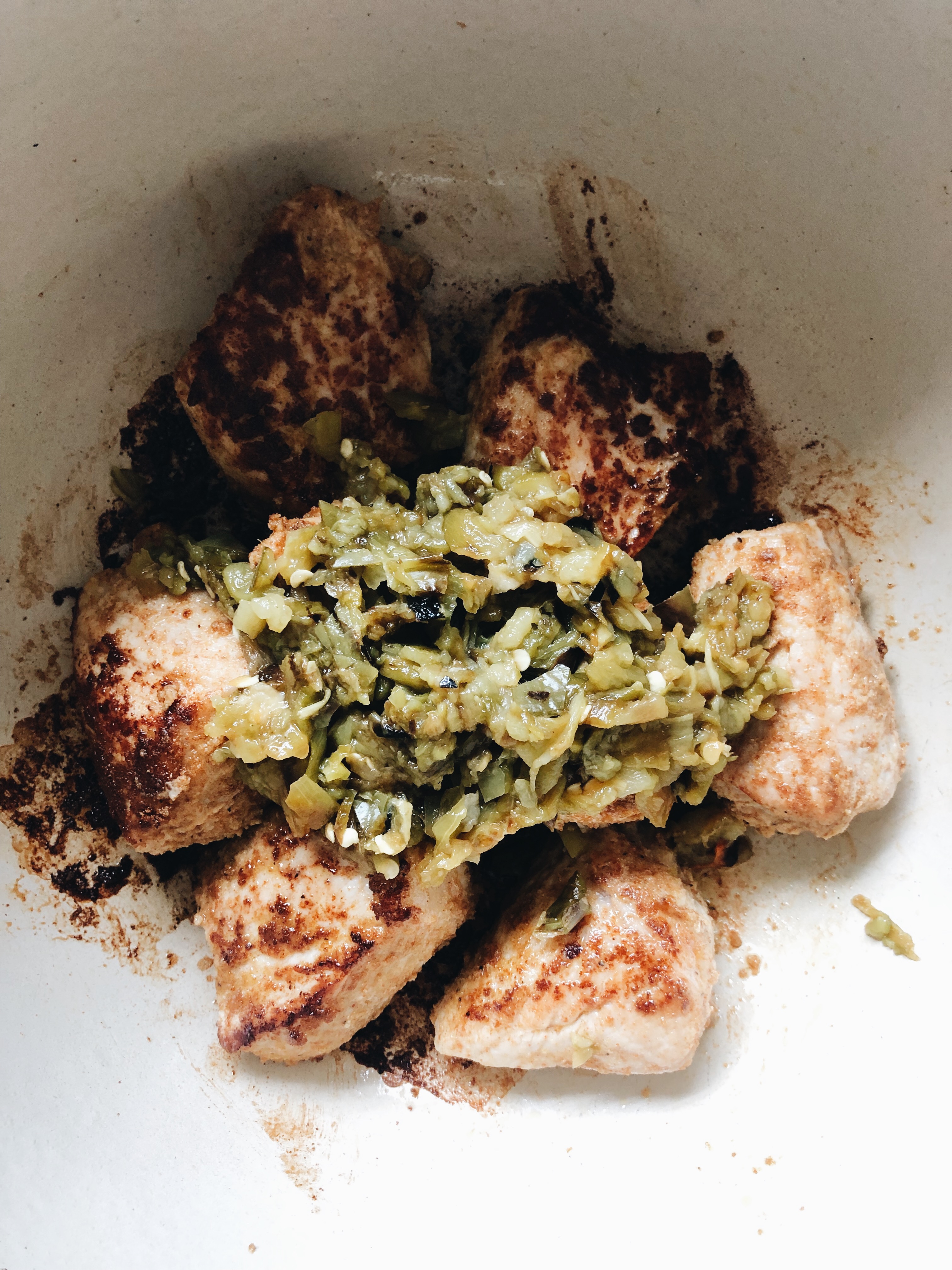 This is what happens. You've cut up that pork loin (or tenderloin) into chunks and rubbed a spice mix all over (simple stuff – cumin, garlic powder, onion powder, chili powder and salt) and seared the pork all over in a pot. Now add the chopped roasted hatch chiles, some chicken stock, and simmer for two hours on medium low. I'll be more specific in the actual instructions because there's stock adding and heat lowering that happens. You'll see pigeons. Ain't no thang.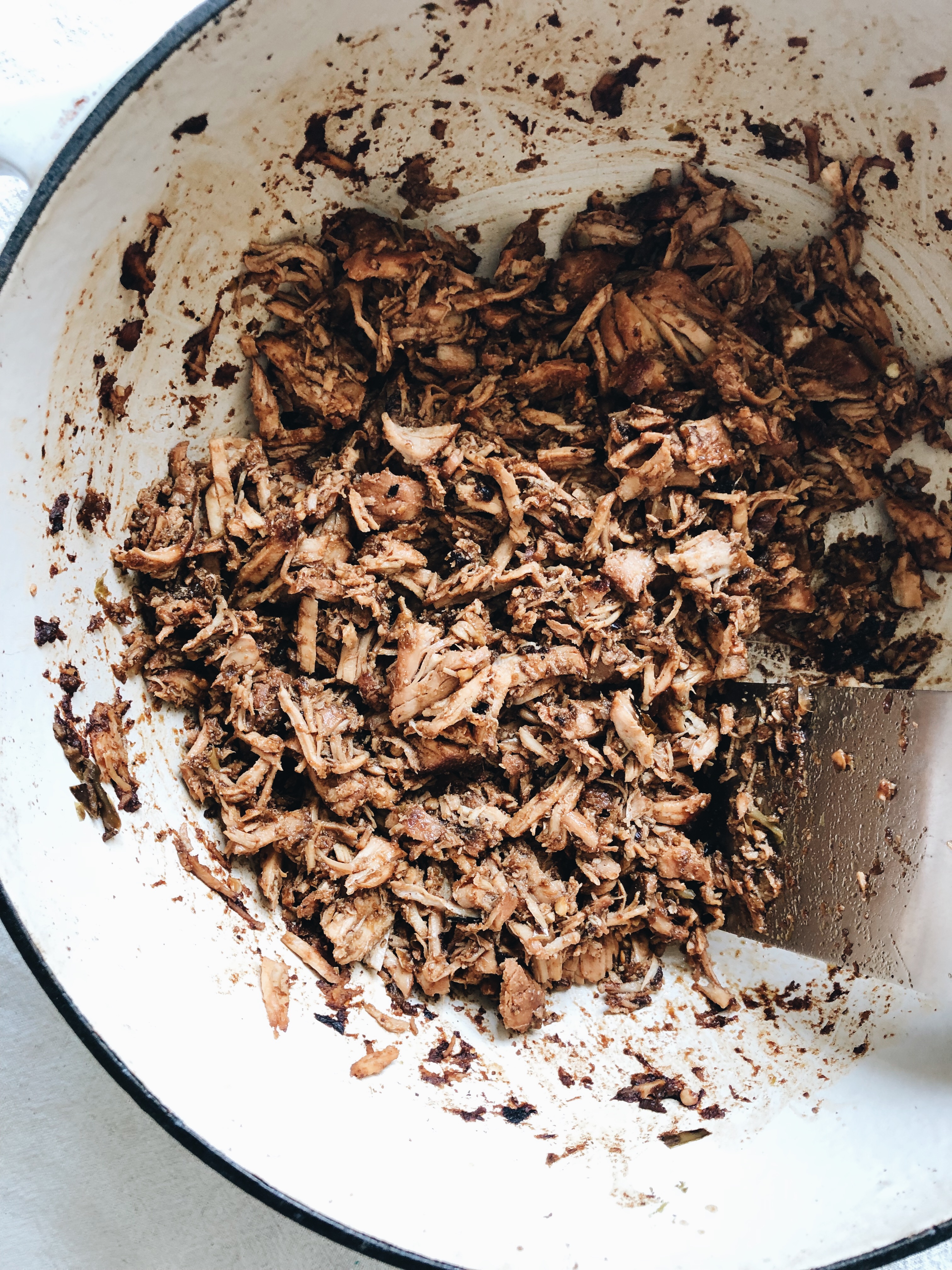 Two hours later and that meat just falls apart in total submission.
You're probably like, "Isn't a pork loin dry, though?" Nawww, you've added almost two cups of stock over the last two hours. It's PERFECT. You'll absolutely freak over this flavor, I'm telling you. The chiles have cooked down into the pork and infused the whole ding dang pot with roasted essence and you will SOB.
And IMHO, it shreds prettier than a shoulder does. I'll probably be cast from food blogdom for that one, but I stand by it.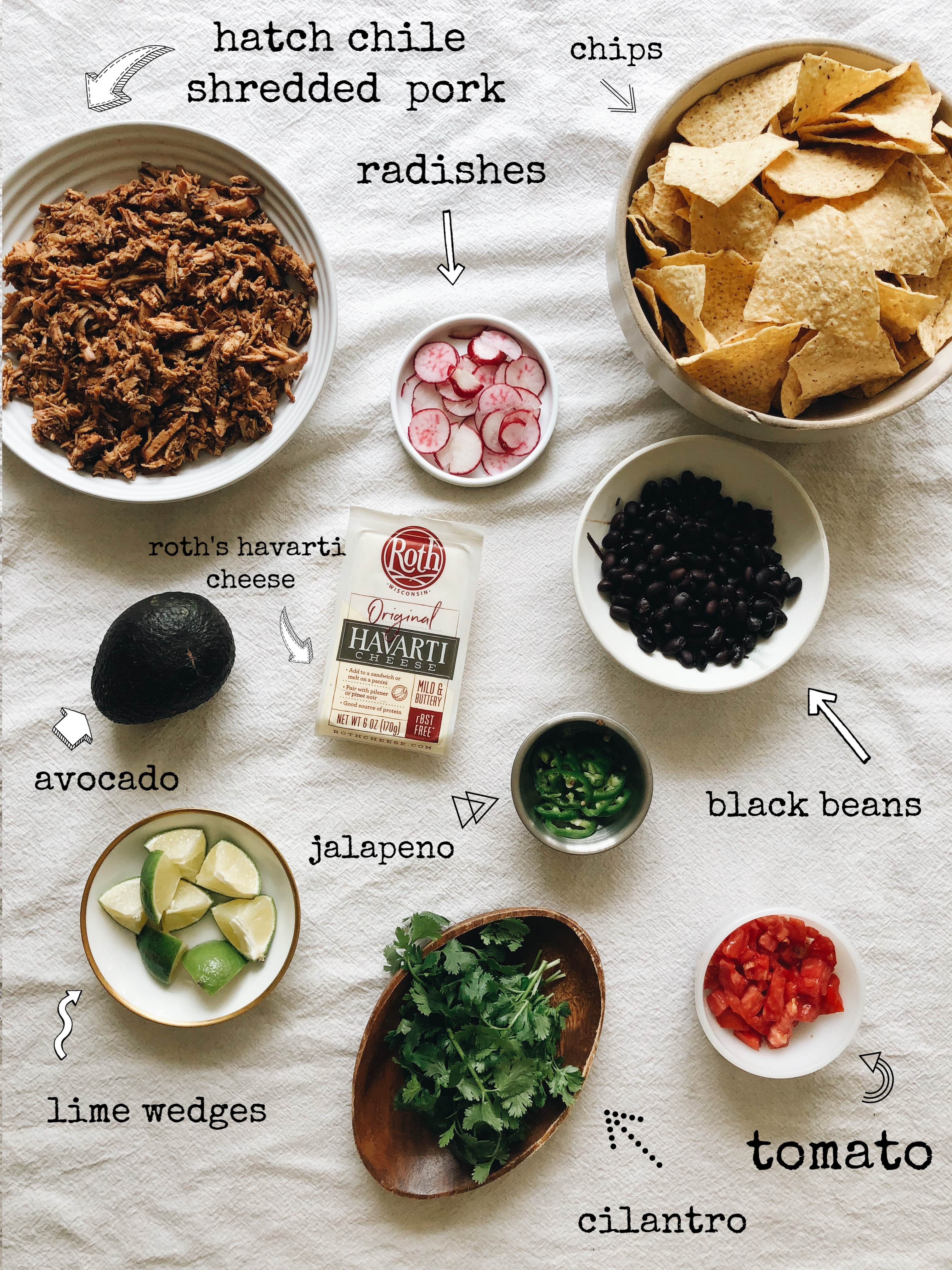 PART TWO: the nacho building! (building being a verb, not a noun. "What is this, a center for ANTS?" – name that movie.)
And see, all this stuff you can prep while the pork is cooking! Look at us budgeting our tiiiiime.
The toppings are all pretty standard, but there is one standout ingredient that will seriously change the course of your life. You already know my obsession with Roth's original Havarti cheese. It's out of control, but I'll never quit it. It's SO CREAMY and mellow with all these magical subtle nutty undertones, that blanketing a nacho situation (where you'd normally use say, a cheddar) is MIND BLOWING.
We'll get there, hold up.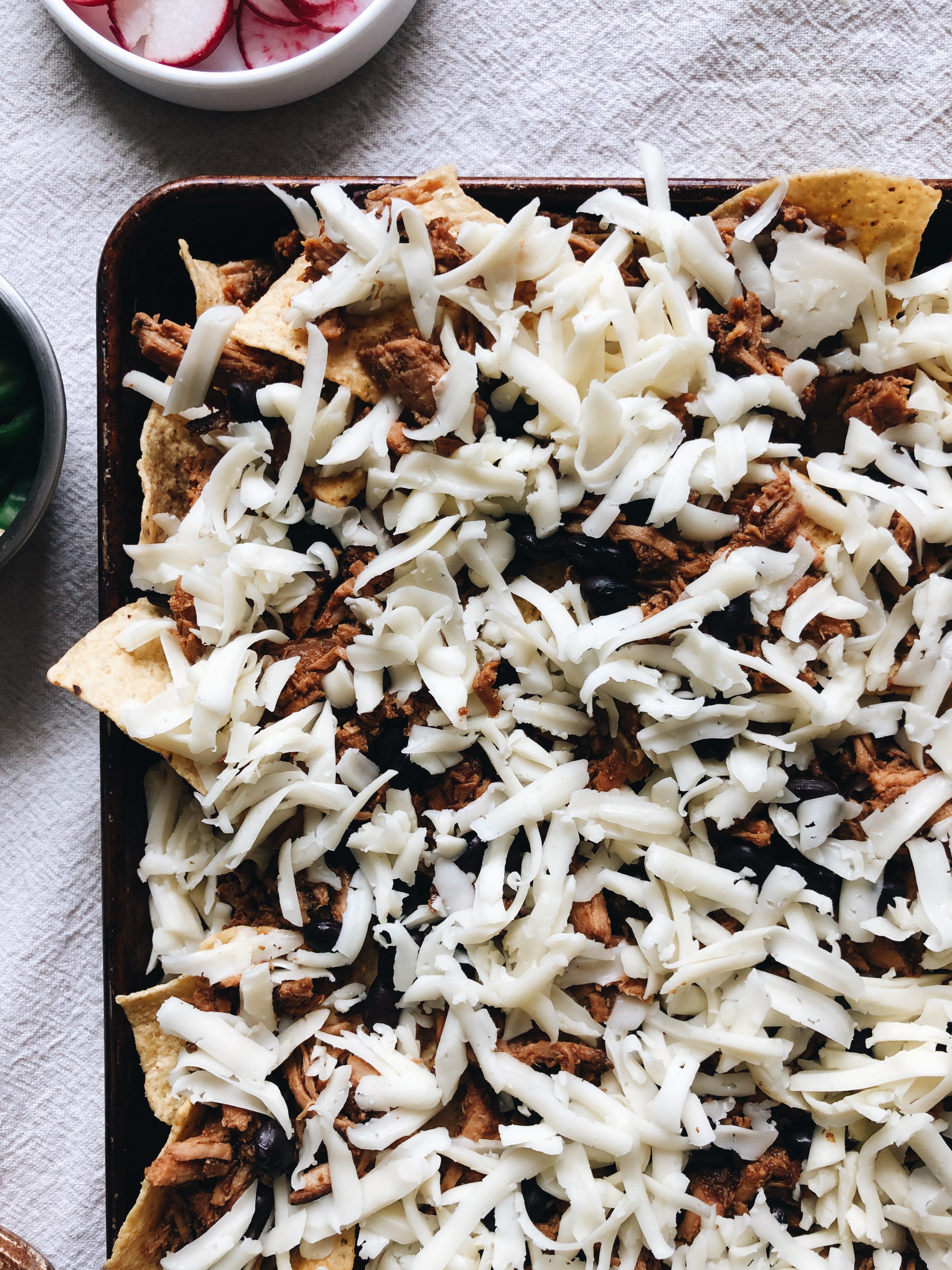 It's all so good – chips scattered on a baking sheet, the entire pot of shredded pork because you're no animal, a handful of black beans, and so much grated Havarti you can barely see straight.
Let me say, I started with one six ounce block, and needed more. So I grabbed another six ouncer and grated half of it. This will be up to you. If you want it light on cheese (what is wrong with you?) stop at one block. If you want more ('atta girl) add a bit more! Fly, birdie.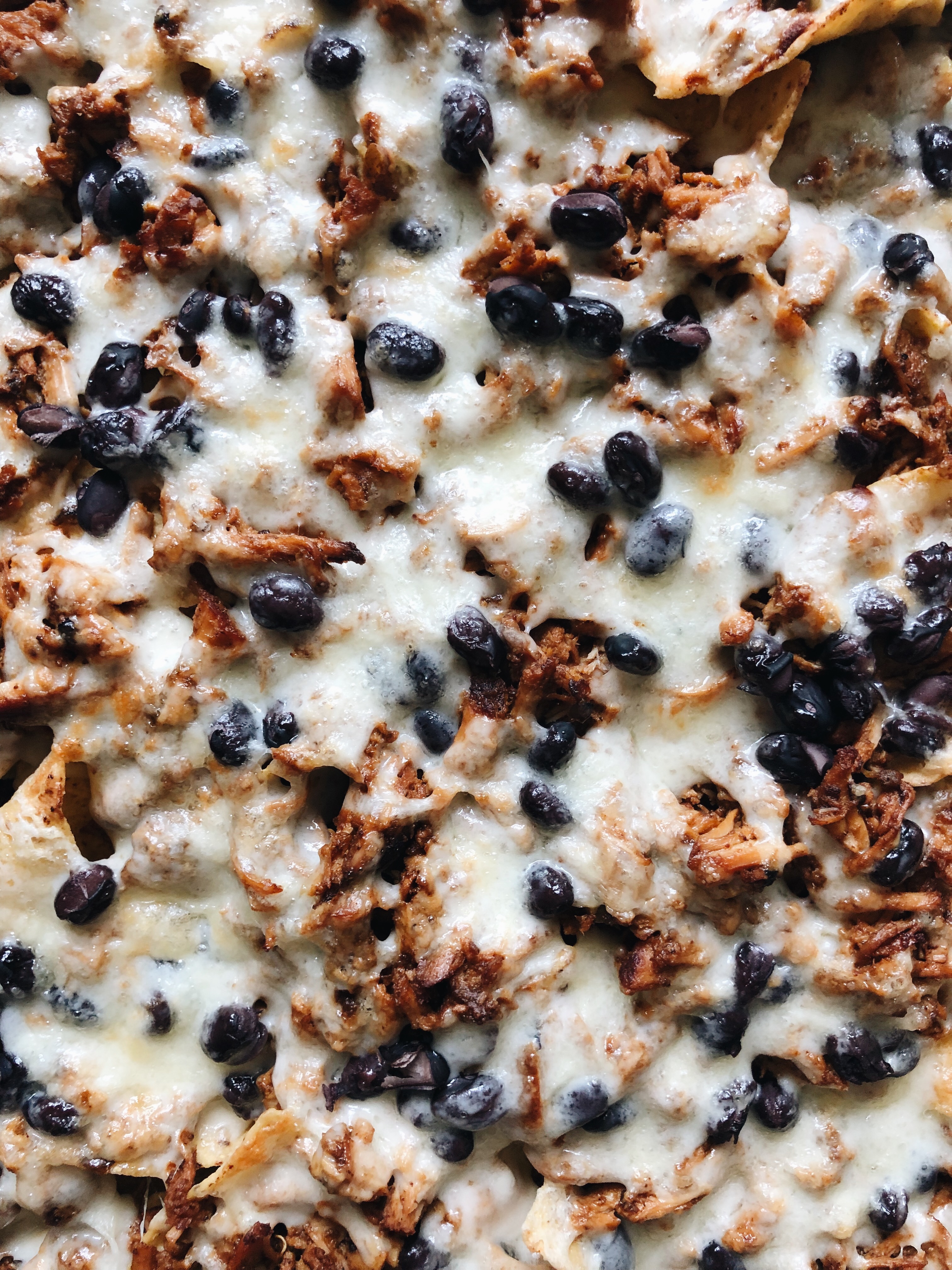 Hi, this is BEFORE the fixins. Look at that beautiful glossy melted Havarti!
You'll be a puddle of glorious giddy goo on the floor right now, because what happens with that Havarti and pork is other worldly. Creamy meltage meets savory shreds of bliss. It's just so wildly different than a cheddar. You have to try this or else I might cry forever.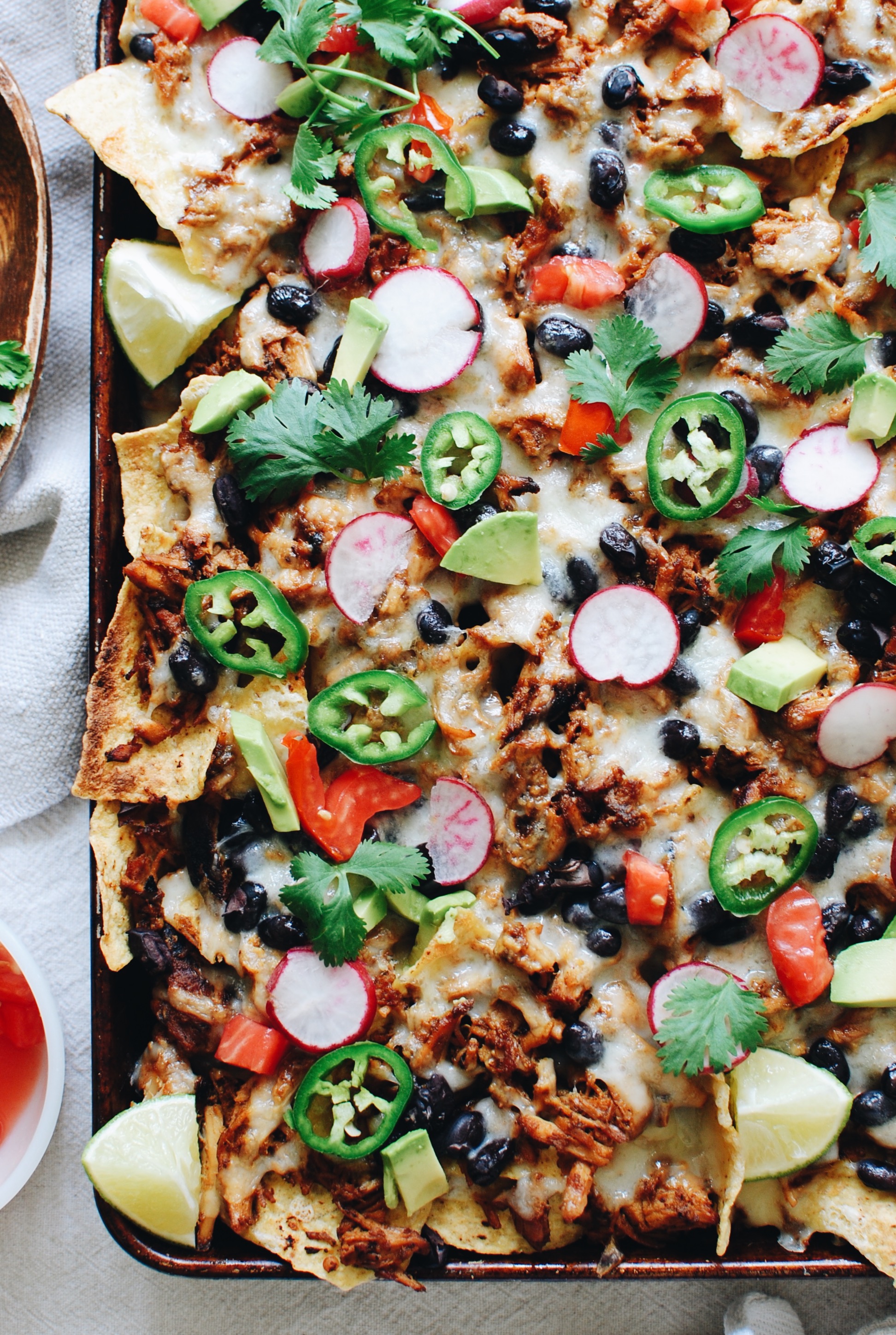 Aaaaand bedazzled! Anything and everything. Make it dreamy and load it up with all the things.
I had someone in Instagram Stories dm me all, "RADISHES on my nachos? You're crazy and I love it." UM, DUH. Get those sliced peppery bites on there!
Don't forget to squeeze a bit of lime over the whole sheet before serving. Wakes it up, ya know. Brings it all together.
In LONG: roast you some hatch chiles because they're in season and have such incredible flavor and you can get them anymore. Simmer them with a pork loin because I said so. Use Roth's Havarti cheese to blanket your sheet pan nachos because the cream factor will transport you to another planet.
Sunday nachos? Yerp!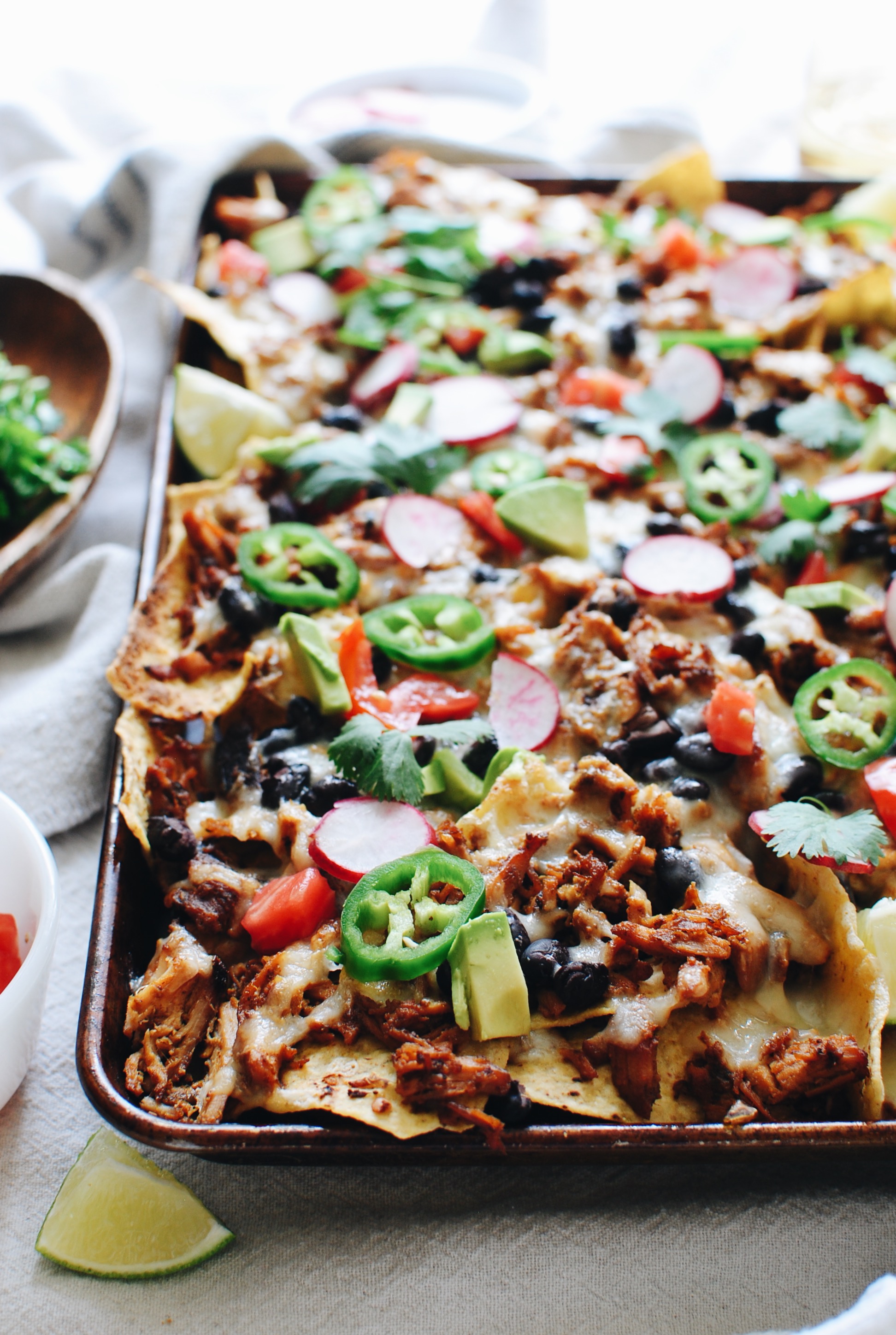 But maybe invite me over.
Hatch Chile Pork Nachos with Havarti Cheese
Ingredients
5 hatch chiles
1.5 pound pork loin (or tenderloin), cut into large pieces
1 tsp each: cumin, garlic powder, onion powder, chili powder, coarse salt
About two cups of chicken stock (you might not use it all)
A bag of tortilla chips
1/2 cup canned black beans (drained and rinsed)
2 (6 oz) blocks Roth's original Havarti cheese, grated
1/2 cup chopped tomato
one jalapeno pepper, thinly sliced
Fresh cilantro leaves
Thinly sliced radishes
Cubed avocado
1 lime, cut into small wedges
Instructions
Preheat your oven to broil.
Place the hatch chiles on a baking sheet, and broil, turning the peppers every five minutes, until they're charred and blackened all over. Could take up to 20 minutes. Place the charred peppers in a plastic bag, and let steam for ten minutes. Transfer the steamed peppers to a cutting board, and using a knife, scrap away the stem and seeds. Pull the charred skin away from the soft roasted flesh. Chop up the peppers and discard the blackened skins.
Mix the spices together in a small bowl and rub the seasoning all over the pork. Heat a Tbs. of extra-virgin olive in a pot and sear the pork all over. Add the chopped peppers and 1/2 cup of stock. Reduce the heat to medium low, cover and simmer for 30 minutes. At that point, check the pot and keep adding stock a little at a time (and scrape up any browned bits on the bottom of the pot). After an hour of simmering, reduce the heat to low, add more stock and simmer another hour. Keep checking the pork to make sure nothing is sticking or burning. You'll simmer for two hours total. Your house and life smell so insane right now.
After two hours, shred the pork right in the pot! You can use tongs or a spatula. It's so tender by now it'll just fall apart.
Now, for the nachos. Spread a bag of chips (or almost the whole bag, you can decide!) onto a rimmed baking sheet. Top with the entire pot of shredded pork, black beans and the grated Havarti cheese (use as much of the cheese as you want. If two blocks seem like a lot, go less. Up to you!). Stick the pan under the broiler and cook until the cheese is melted and starting to bubble, just a couple of minutes. Don't take your eye off it!
Garnish the nachos with all the toppings. Jalapeño, tomato, cilantro leaves, radish slices, avocado - go nuts!
Squeeze lime juice over the whole pan before serving.
Serves four!
7.8.1.2
368
https://bevcooks.com/2019/08/hatch-chile-pork-nachos-with-havarti-cheese/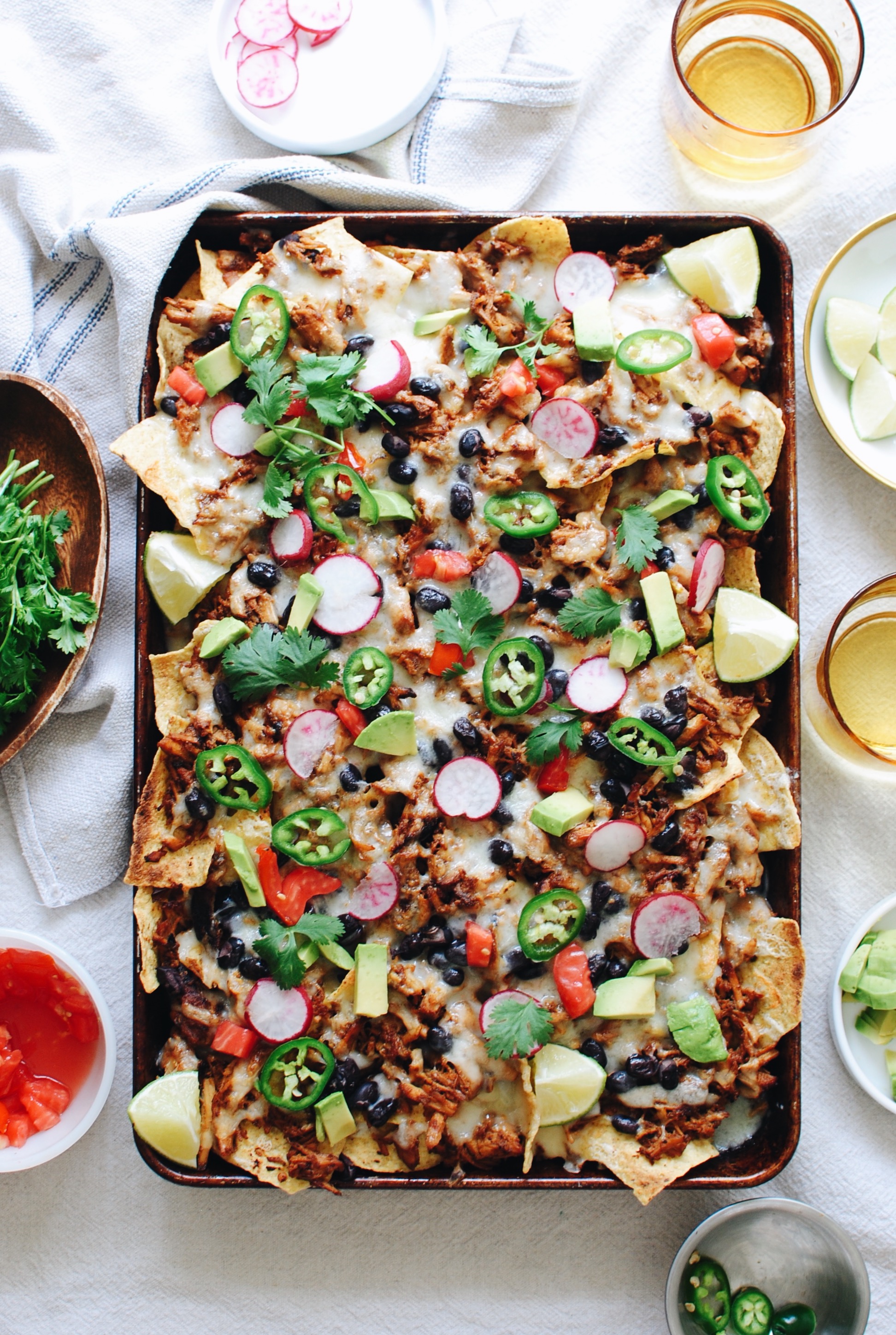 Like, I might eat the leftovers seriously right now just did.
(This post is definitely in partnership with my lover Roth Cheese, but all ramblings and cheese inhalings are totally my own. We coo?)