UM, YOUR NEW WINTER LIFE.
Mulled rosé. MULLED ROSÉ.
I know. You guys. It is a thing and it is happening right at this moment and things are officially looking up for all of us.
MULLED ROSÉ.
Just let that sink in for a second.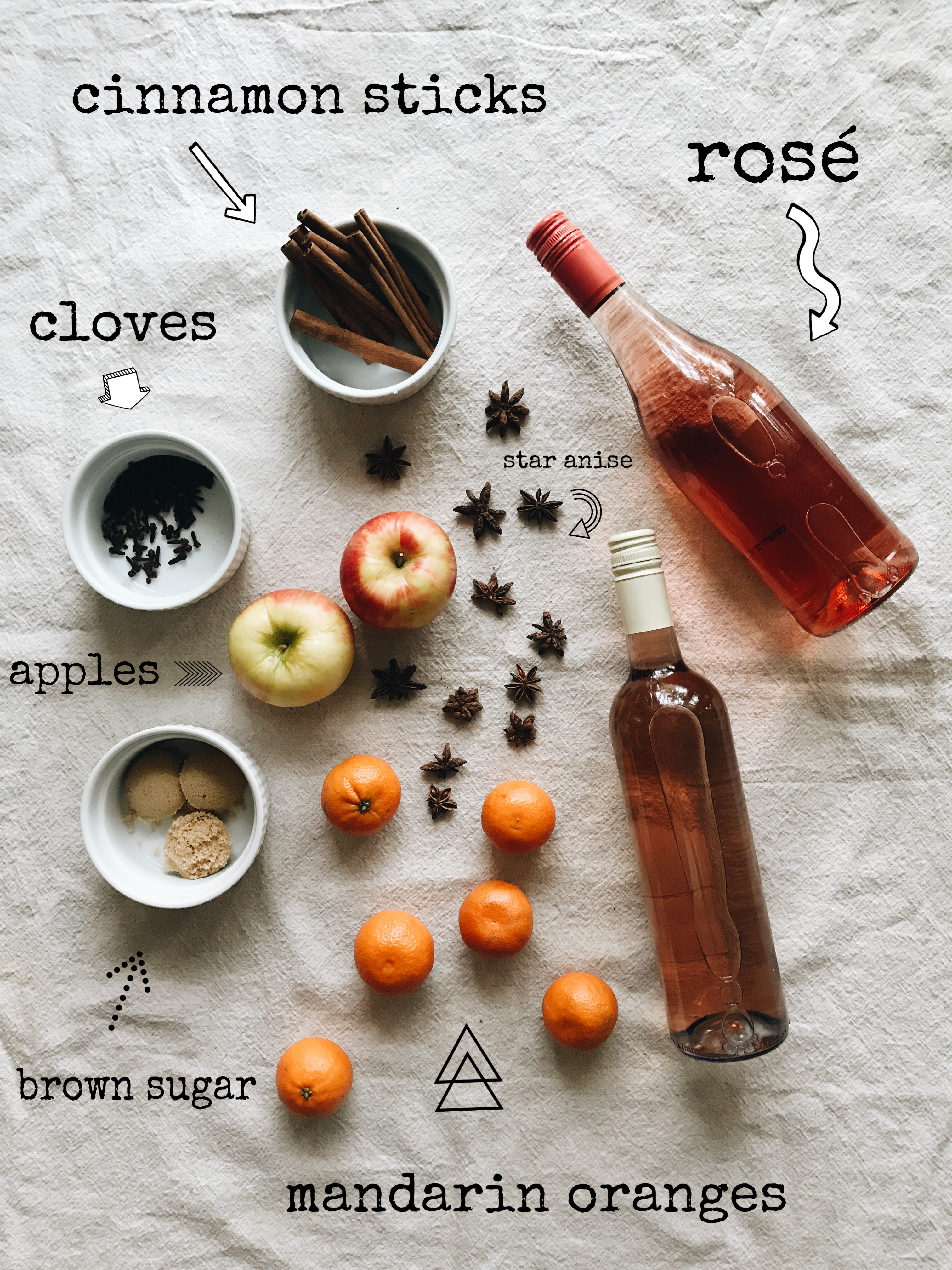 And the thing is, this is so easy! Most of it is stove top or slow cooker simmerin', while you watch Gilmore Girls reruns and start ordering all of your Christmas gifts online. And by your I mean the ones you buy for yourself. Who are we kidding here?
I kept this drink super simple, but superbly festive. Because really, the way I look at mulled wine is like, WINTER SANGRIA. It's warm. It's cozy. It's got all that fruit in it, man.
Let's break this down.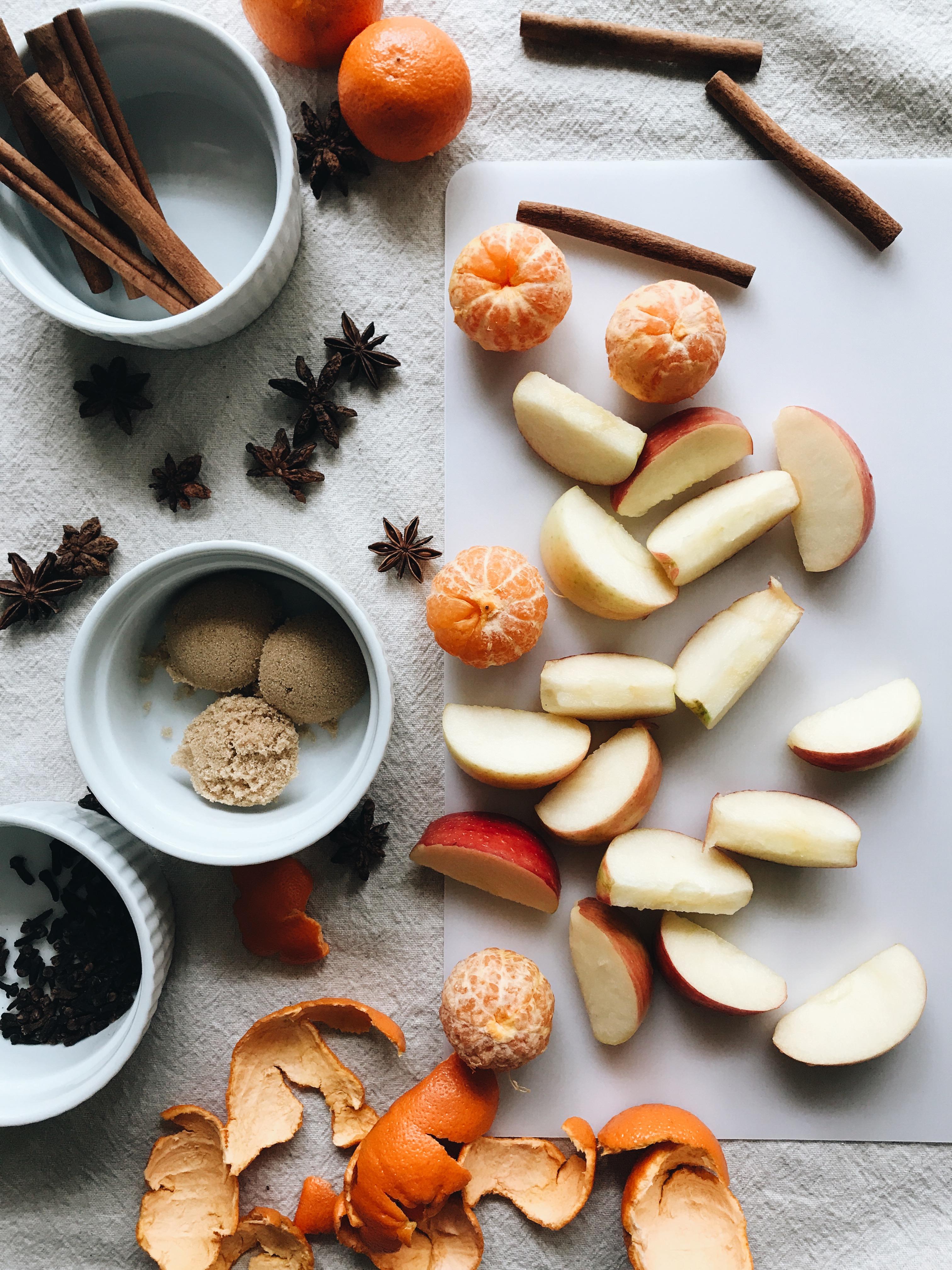 You'll peel a few mandarin oranges and slice up some apples. QUICK NOTE – you're totally welcome to use regular oranges in this. I just grabbed the mandarins because I buy those 55 thousand pound bags for the kids each week. And they work just dandy! Plus they're little and dainty and you'll want to pet them and call them Frank.
So like, everything gets dumped into a pot. That is IT. Simmer simmer simmer for days. The longer the better. If you have all day, throw this in a slow cooker. If you need it done pronto, anything will do, boo.
Oh that rhymed.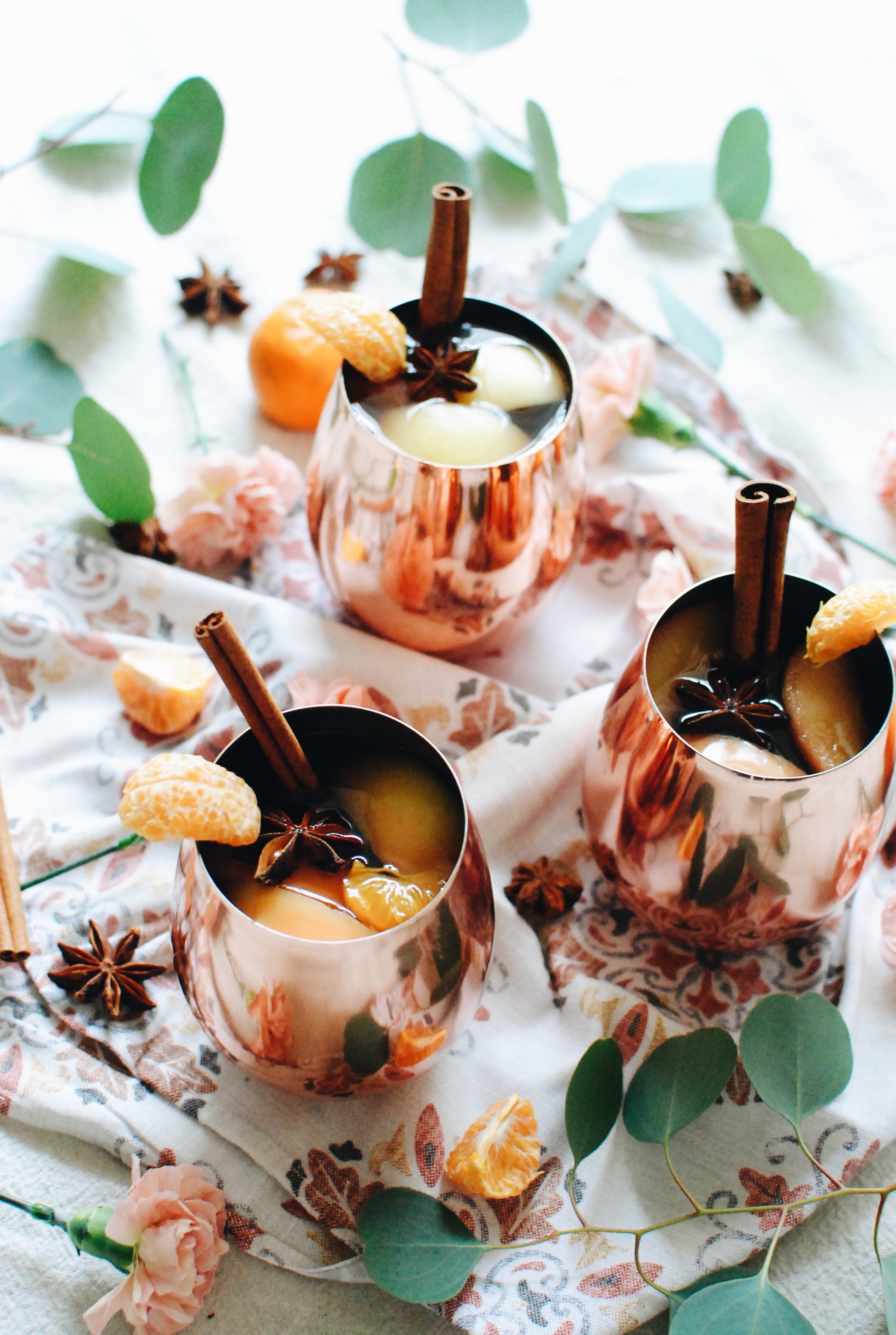 And there you have it! So rosy and festive and shiny and you want to stick your whole face in it.
However, you're probably less focused on the rosé, and more into my new cute copper-plated stemless wine glasses, aren't you? I KNOW HOW YOU PEOPLE ARE. It's actually the Food Network brand! They have an entire line of cookware, dinnerware, flatware, linens, etc., all at Kohl's. Who knew! (I did.) The medallion napkins are Food Network, as well. I love how muted and understated they are.
Listen, I won't tell a soul if you order yourself these for Christmas. Just sayin'.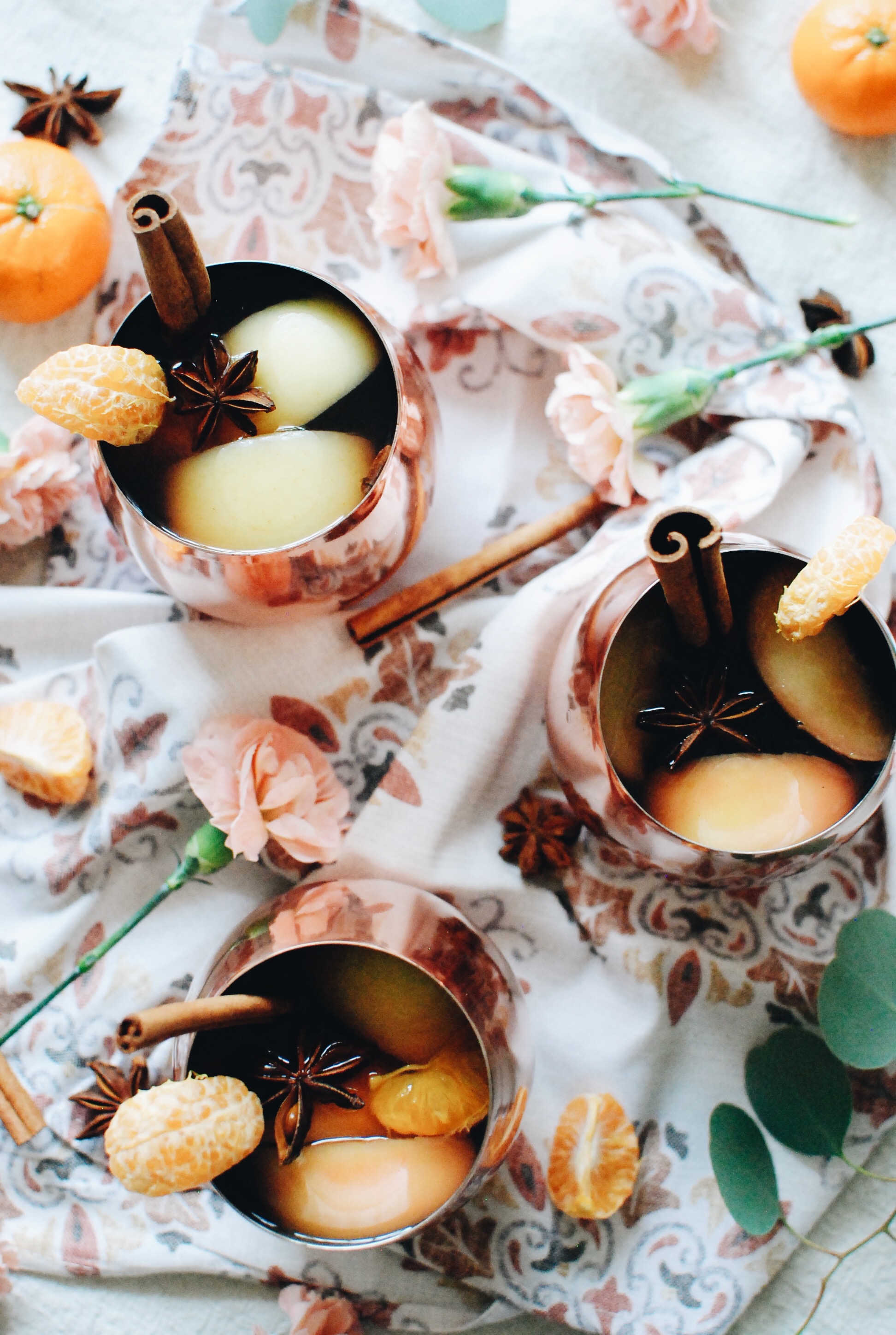 NOW BACK TO THIS DRAAANK.
How perfect would this be for a cozy girls' night at your house?! However, if you do that, I'm coming over. Just ignore the psycho standing in your window. That would be me.
Or Thanksgiving! You should totally make this post meal. However, if you do that, I'm coming over. Just look away from the mentally deranged woman lurking in your back yard. That would be me.
Or holiday parties! You should absolutely make this for any and all Christmas noshings. However, if you do that, I'm coming over. Just pay no attention to the crazy lady hanging from your chimney. That would be me.
Guys, it's MULLED ROSÉ HOW DO YOU EXPECT ME TO BEHAVE?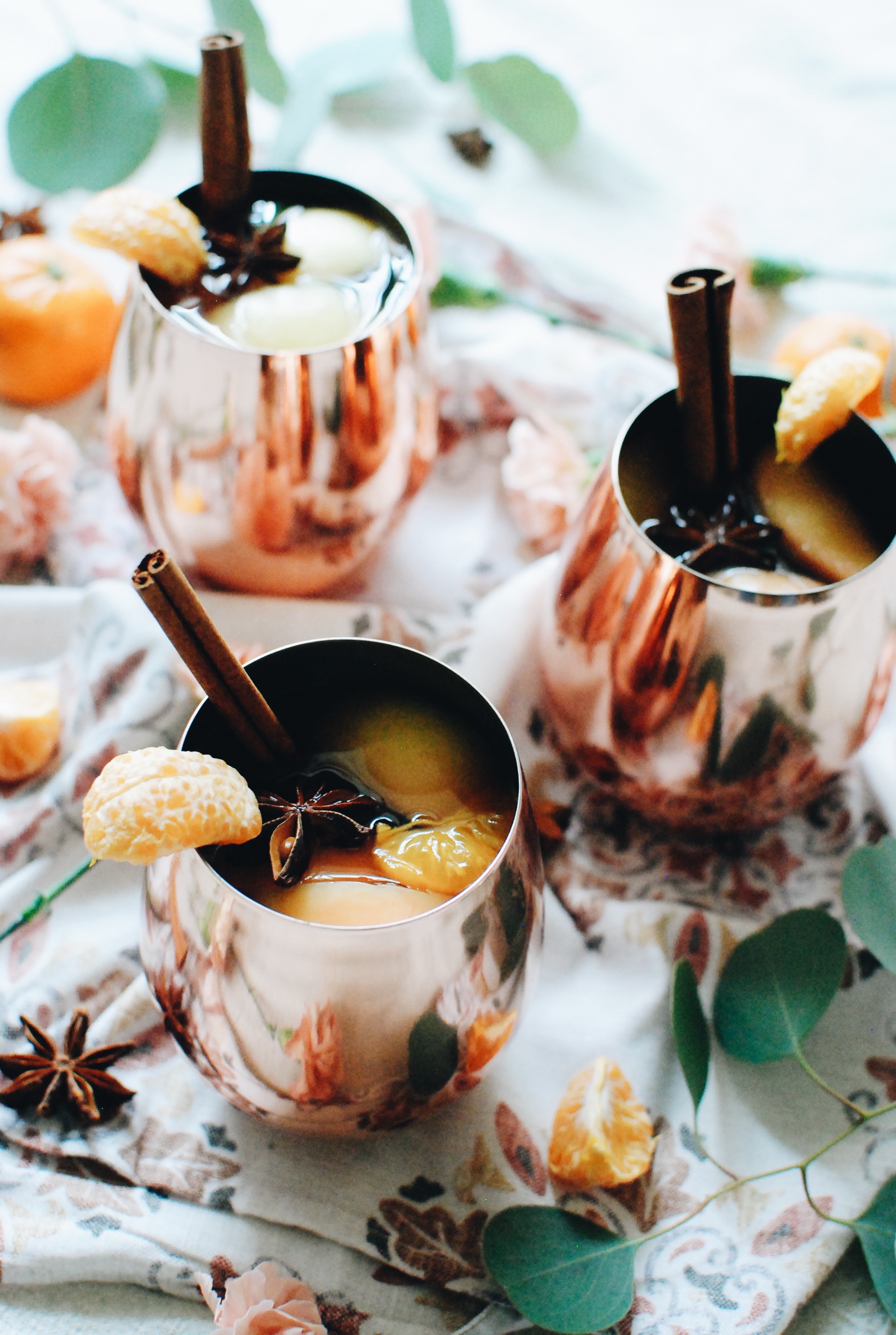 *hiccup.
Ingredients
2 bottles dry rosé
3 Tbs. brown sugar
4 cinnamon sticks, plus more for garnish
4-6 mandarin oranges, peeled and pulled into wedges
2 apples, cored and sliced
1 Tbs. whole cloves
Star anise, for garnish
Instructions
Place all the ingredients (minus the star anise) in a large pot or slow cooker. Simmer at least for half an hour. The longer the better. Ladle into copper glasses, garnish with cinnamon sticks, another mandarin wedge and a star anise.
Serves 3-4!
7.8.1.2
188
https://bevcooks.com/2018/11/mulled-rose-wine/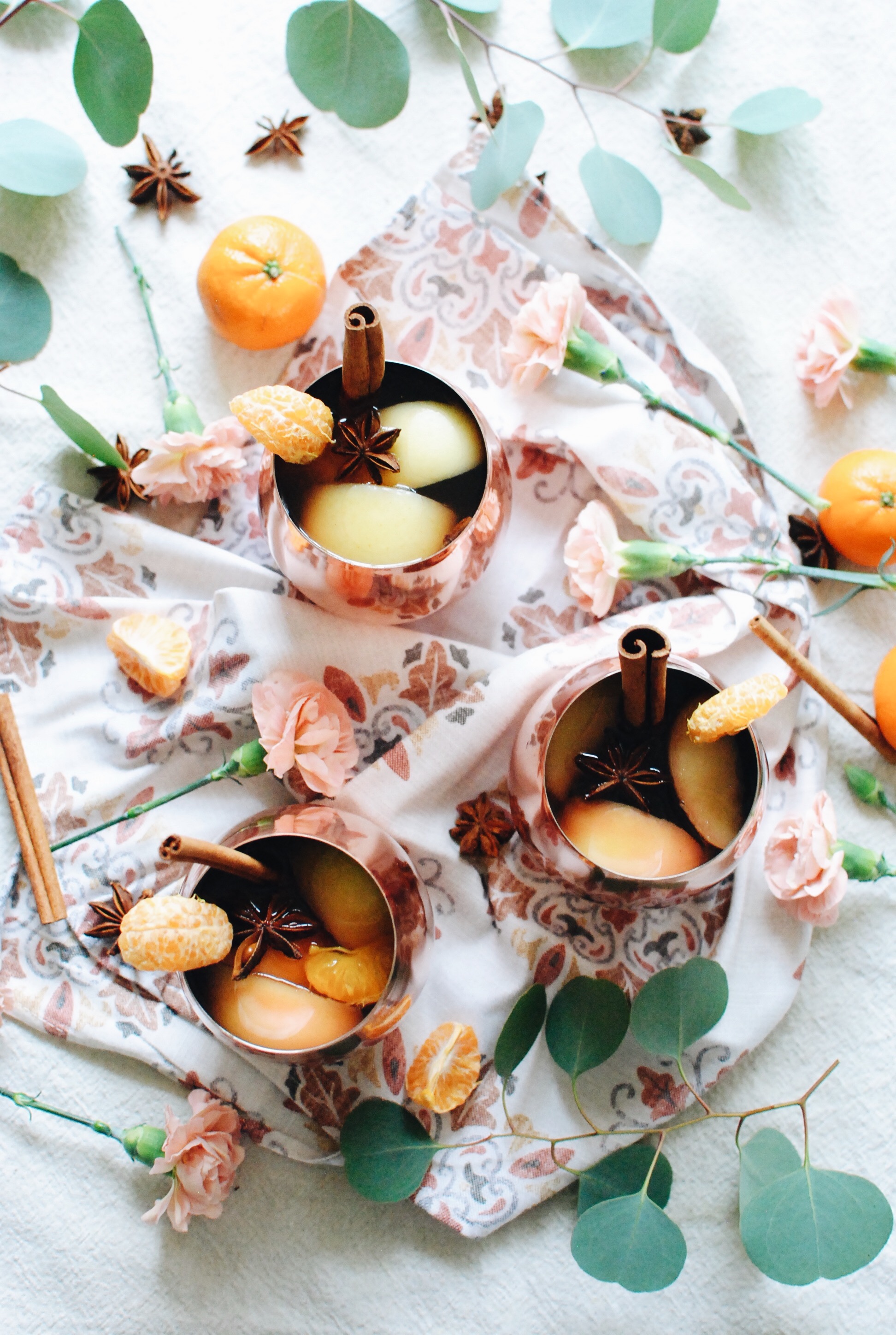 Your new winter life awaits you.
(This post is definitely in partnership with the Food Network and Kohl's. But all ramblings and rosé slurpings are my own. We coo?)