And onions and garlic. All of it's roasted to smithereens! Are you so excited?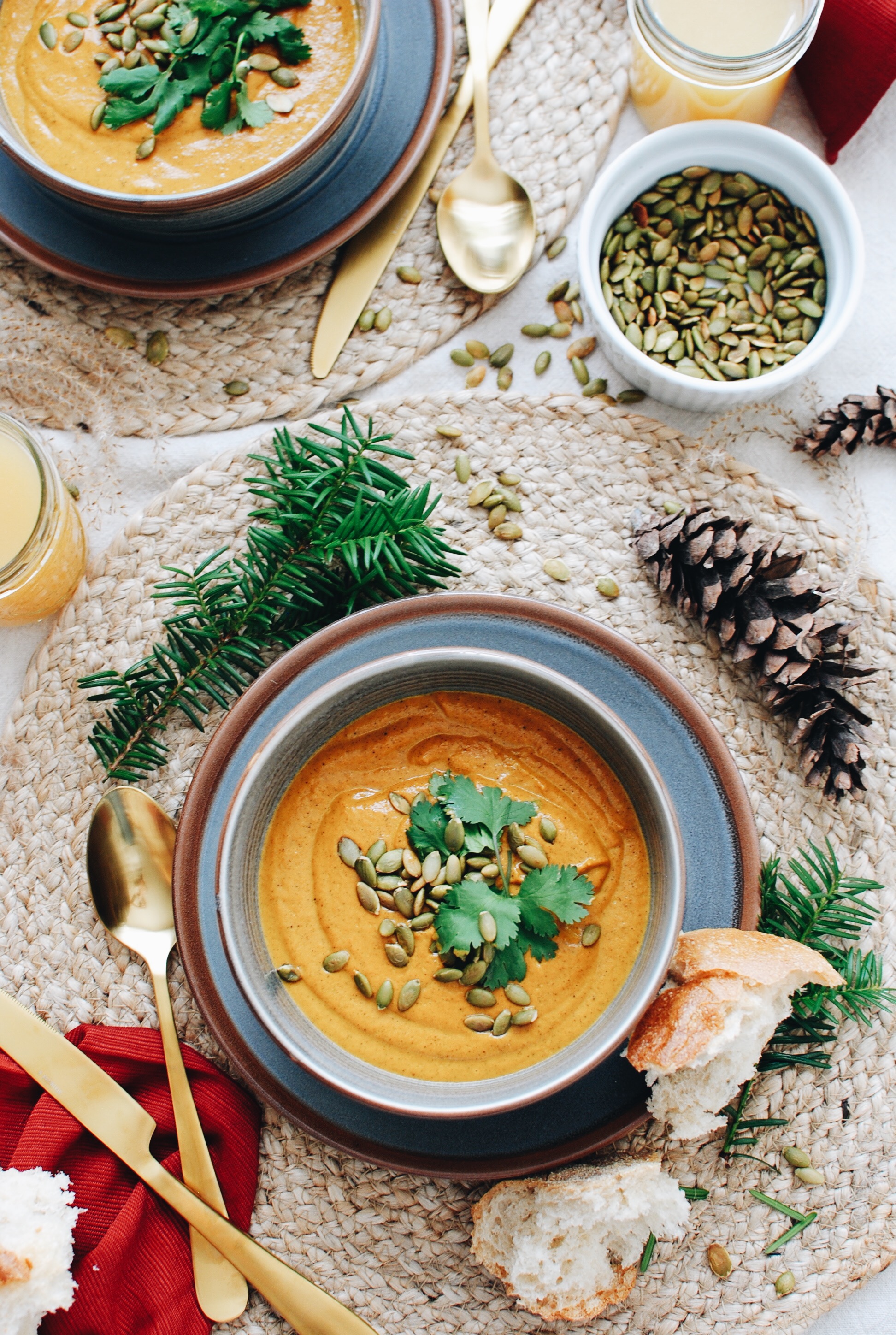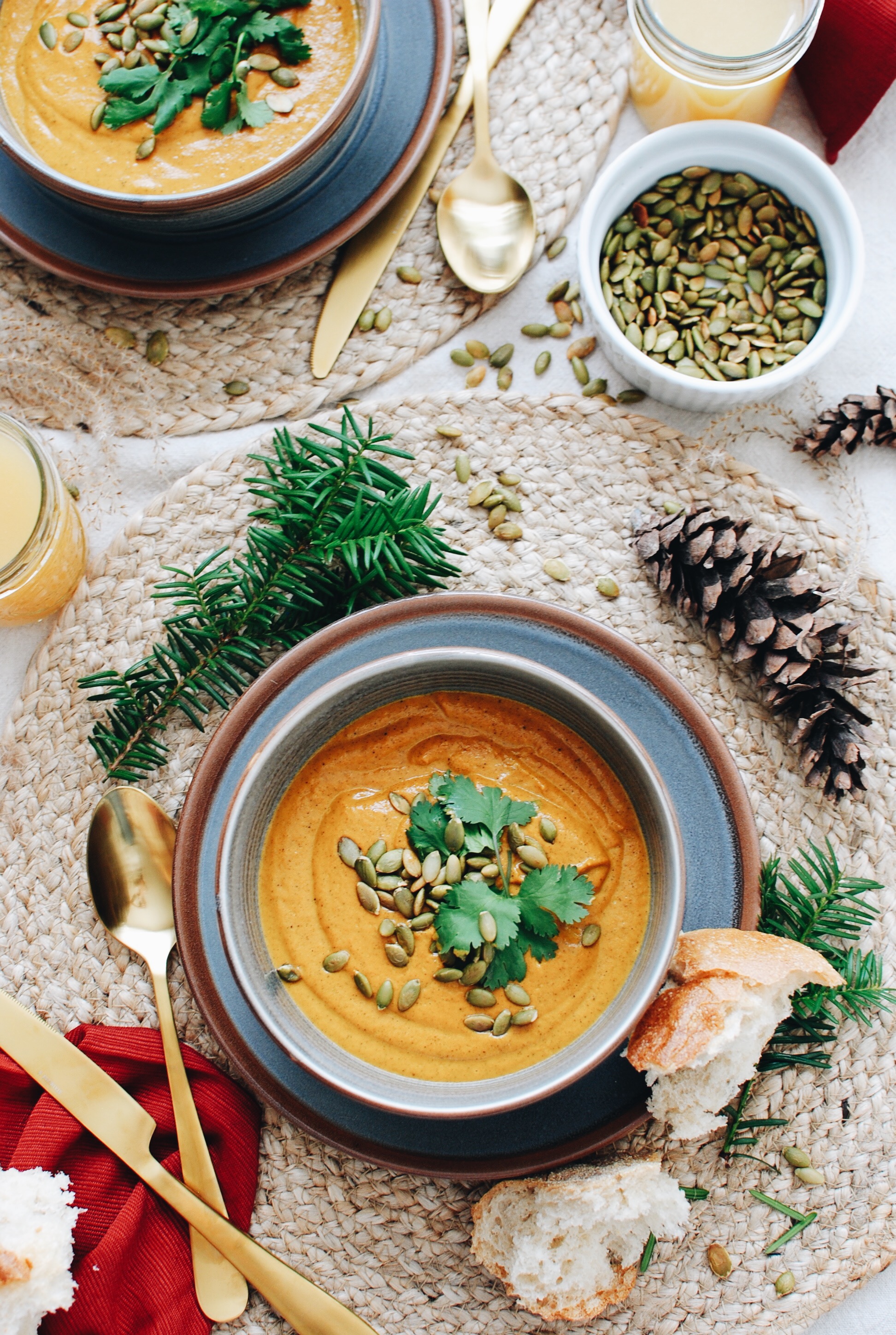 I've been dying to show you this recipe for forever and ever now. It's one of those starter soups, you know. It begins the meal. Wets the whistle. Sets the stage. Wakes you up. PAVES THE WAY.
You know.
But it's just absolutely divine! Lusciously creamy, incredibly cozy, with so much roasted insanity inside.
Here. Look.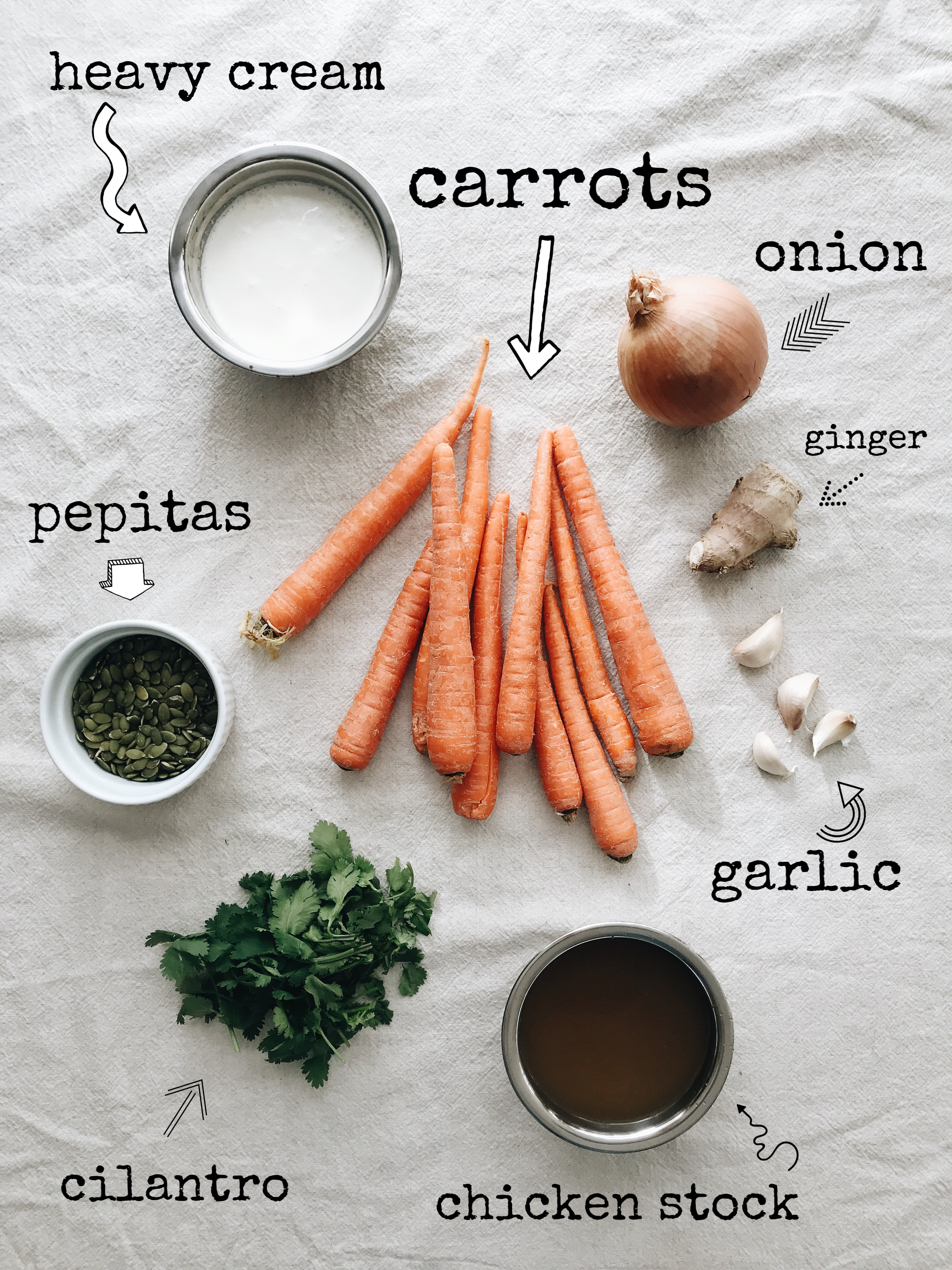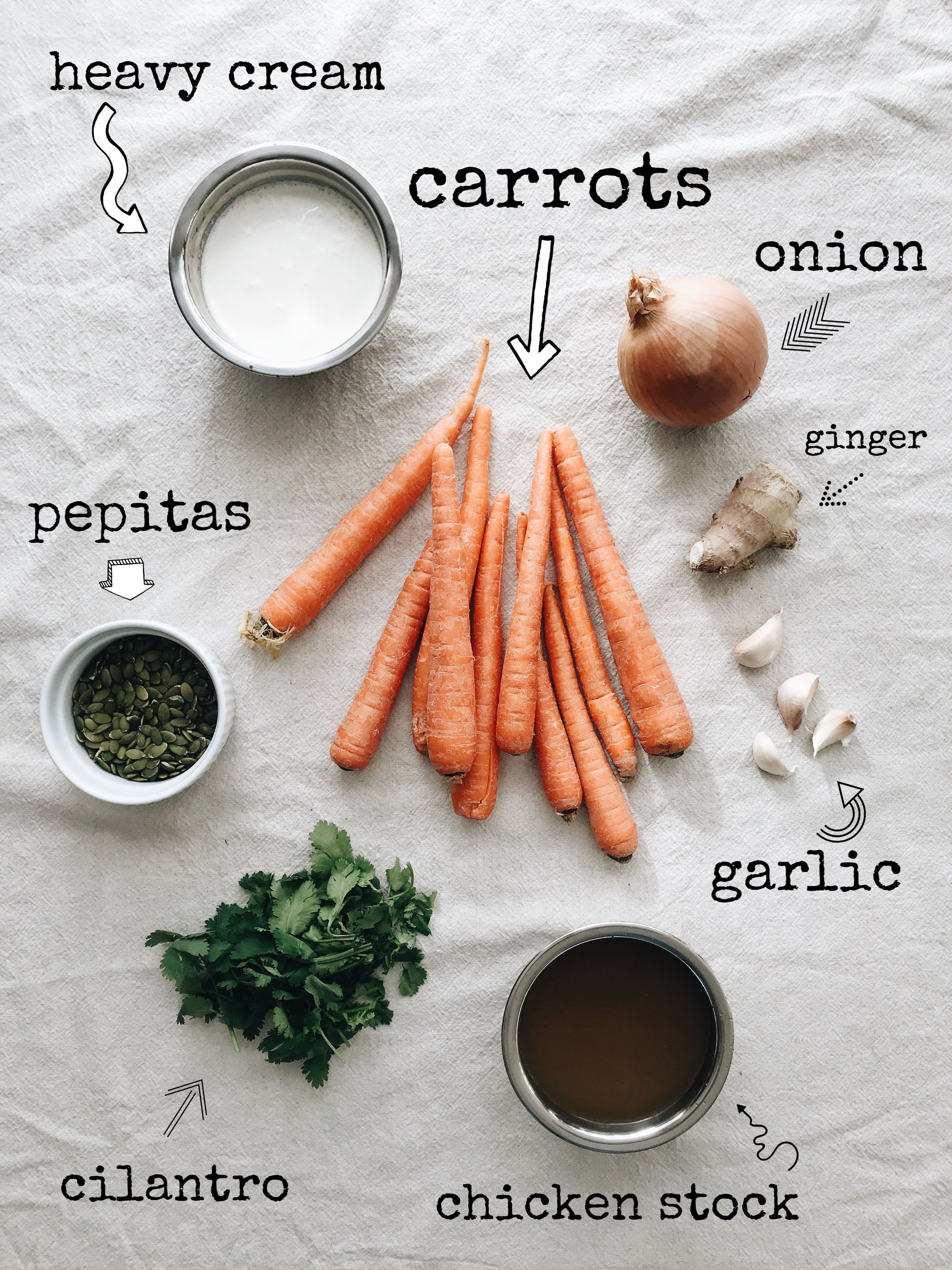 EASY. So straightforward. And we basically roast everything except the ginger and pepitas!
Which, come to think of it – I've never roasted ginger root. Have you? What would that do? Does it work? Now I'm obsessed and must know what roasted ginger does to my life.
And the liquids? Cream and chicken stock! That's IT. So simple, bunnies.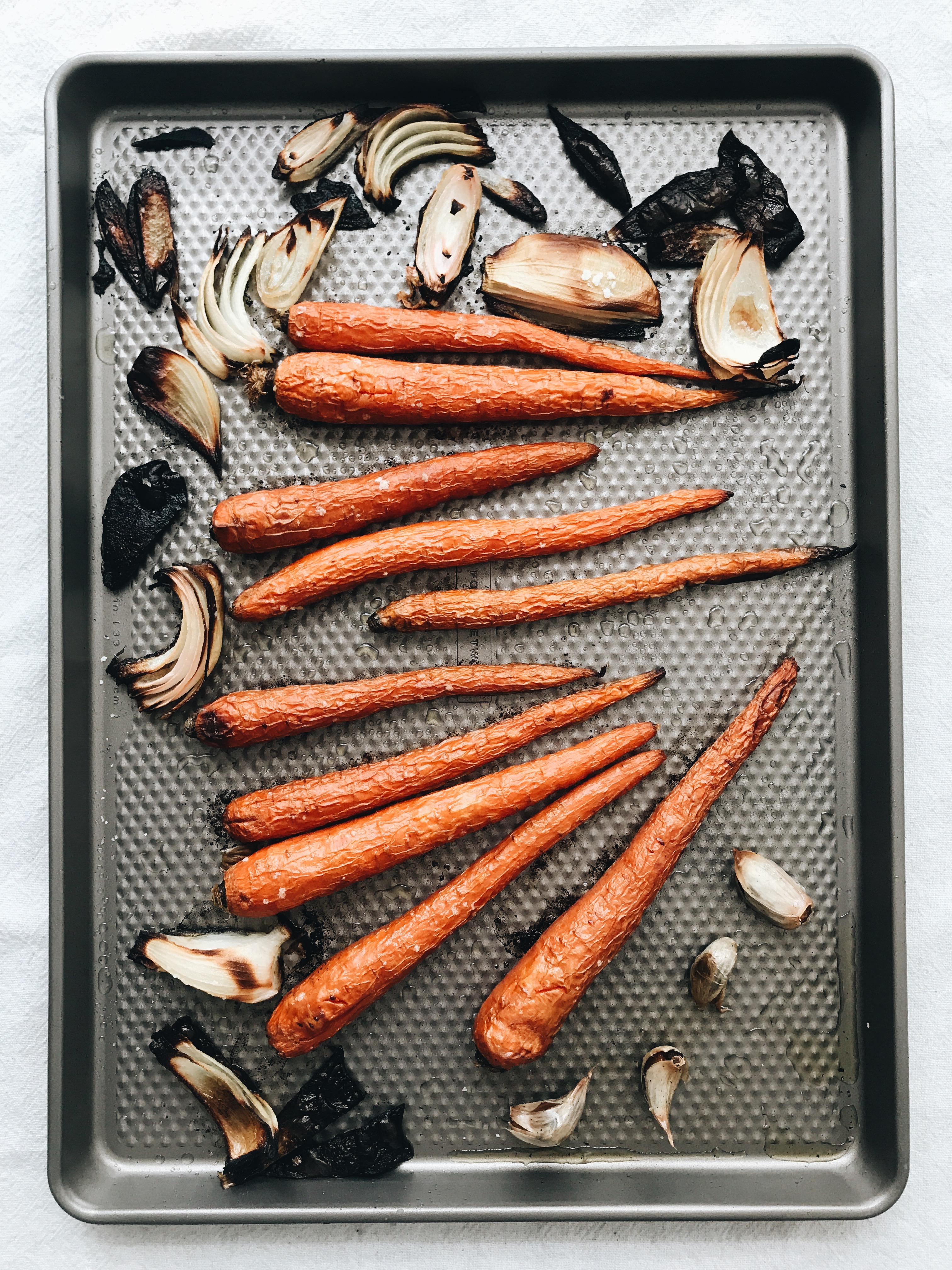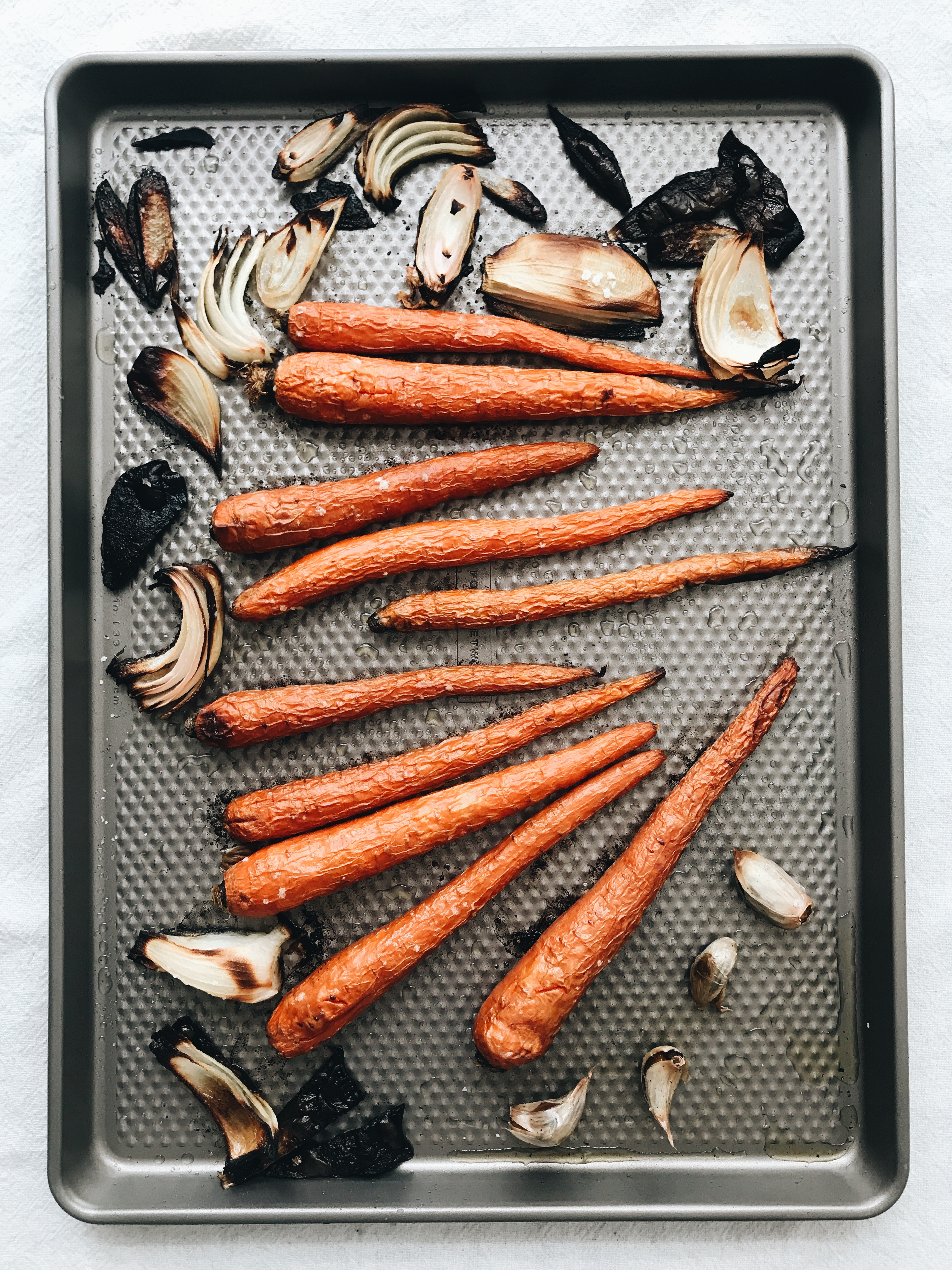 On a baking sheet they go, and one hour later you have this. And the scents will jump up into your face and massage your nose cavity and soul for a month.
Also, see those charred onion bits? Once whizzed in a blender, that will beautifully fleck your soup with so much depth, you have NO IDEA.
Except for the fact that I just told you. So you have some idea. A good idea.
Never mind.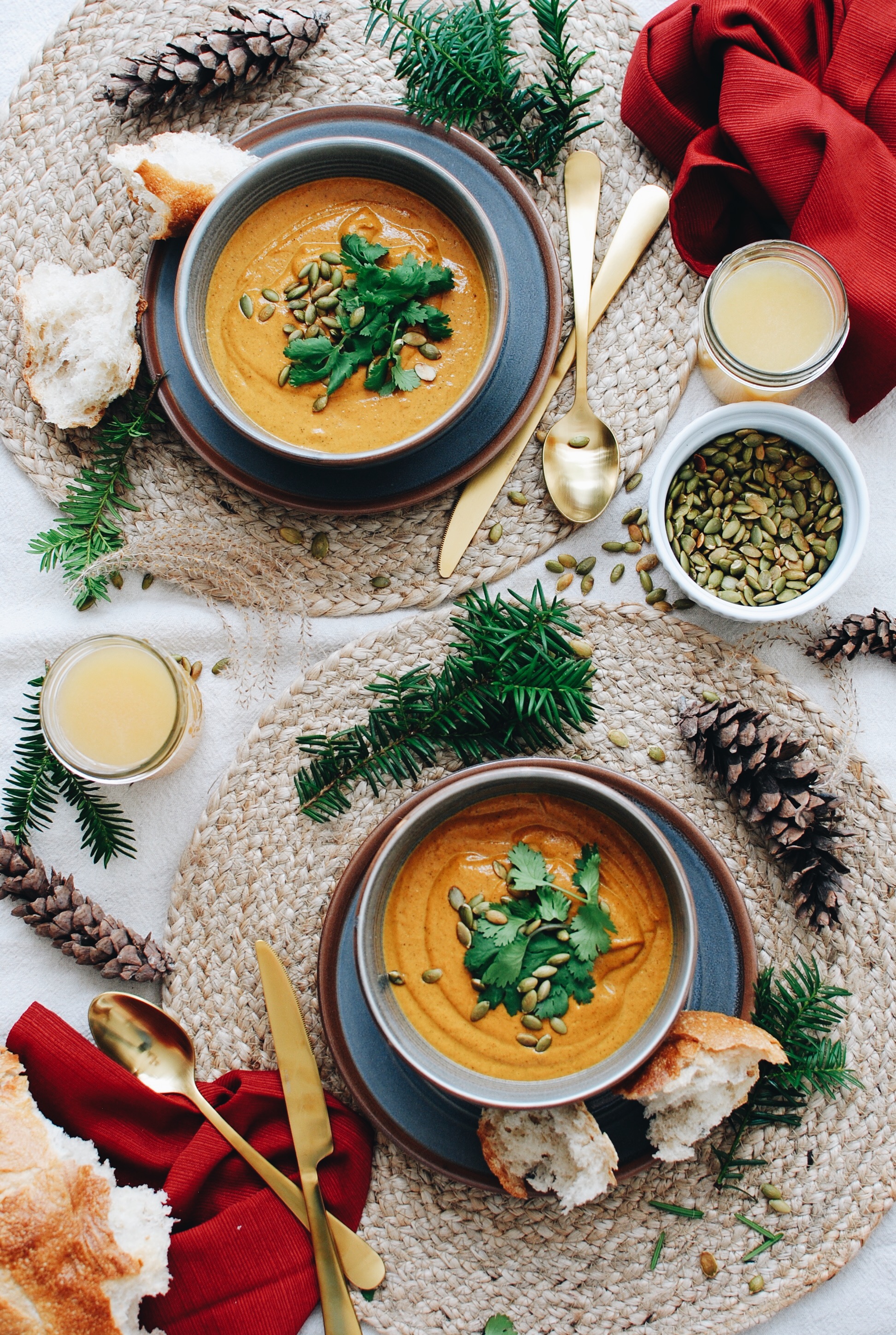 Voila!
So the magic happens in two places. One – the roasting. And two – you'll blend everything together in a food processor or blender, add the liquids and a good pinch of salt. Once it's velvety smooth and tantalizingly creamy, your work here is done.
Okay, almost. You'll sauté a little bit of grated ginger in a pot on the stove, and add the soup to warm. You're done!
Seriously almost. Because all it needs it a sprinkling of toasted pepitas and fresh cilantro sprigs. THEN you're done.
Like, so close. Rip up a huge loaf of crusty bread and dip it in that soup until Kingdom come. NOW you're done.
Also, remember how I told you about Food Network's new line of cookware at Kohl's in my mulled rosé post which SO MANY OF YOU are making which makes my whole life. So thank you for that. Well, they also have this stylish classic matte gold flatware set (gives me life), that fabulously textured bronze baking sheet above, and this slightly rustic, cozy Colby dinnerware. I totally dig the way the carrot soup looks in it! But I dig it more in my face and mouth.
Obviously.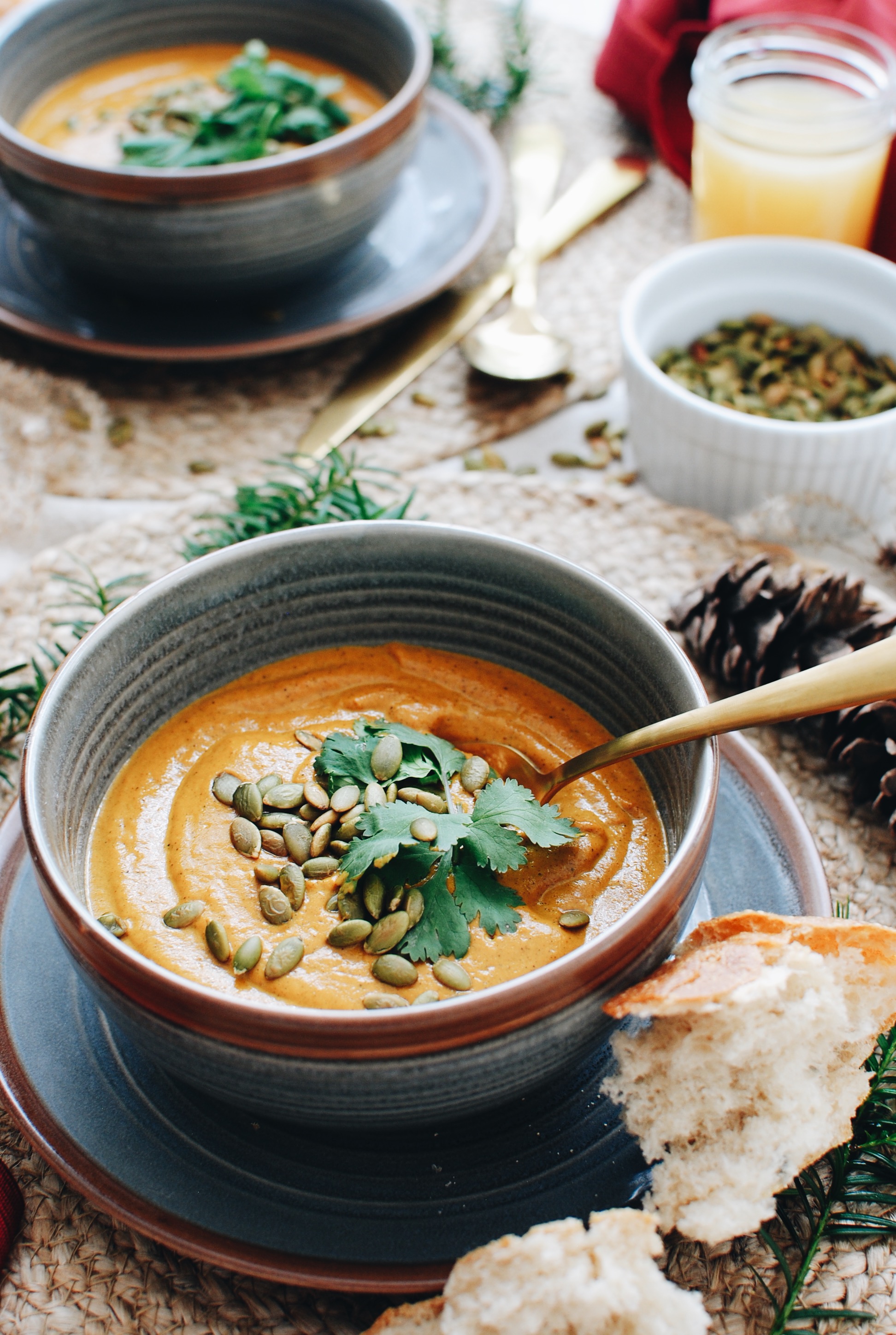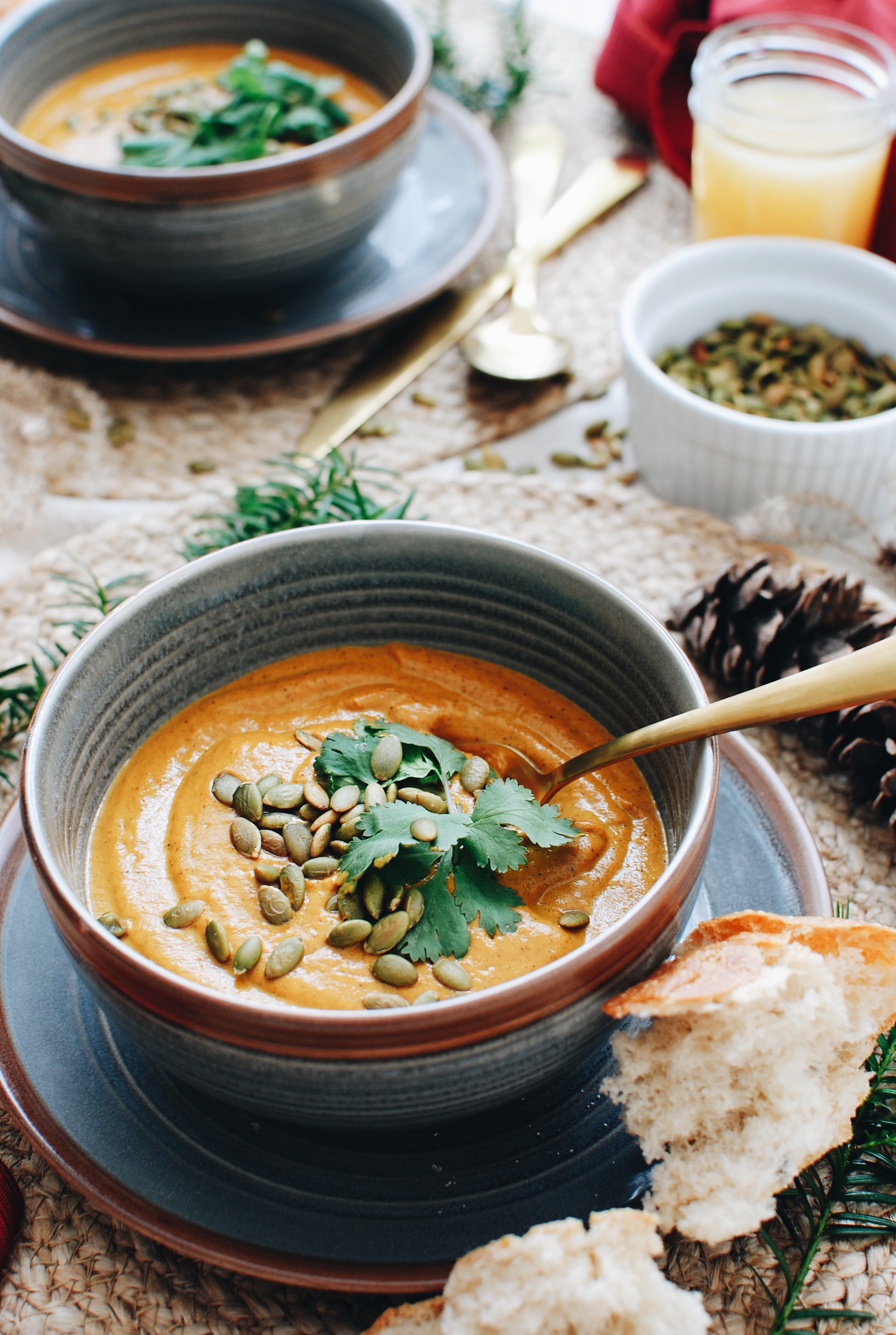 ALL SOUP FOR YOU! (<–name that show. sort of.)
Creamy Roasted Carrot Ginger Soup
Ingredients
10 medium carrots
1 yellow onion, peeled and cut into large chunks
4 garlic cloves, in their skins
2 Tbs. extra virgin olive oil, divided
1 Tbs. grated ginger root
1 cup heavy cream
1 1/2 cup cup chicken stock
Coarse salt
1/2 cup toasted pepitas
Cilantro sprigs, for garnish
Crusty bread, for serving
Instructions
Preheat your oven to 400.
Arrange the carrots, onion chunks and garlic on a large baking sheet. Drizzle with a Tbs. of oil, and season with a pinch of salt. Toss with your fingers to coat. Roast for one hour.
Trim the carrot stems off (and discard), squeeze the garlic cloves out of their skins, and transfer everything to a food processor or blender. Pulse until combined, then slowly add the cream and stock, along with a good pinch of salt. Blend until smooth and creamy.
Heat the remaining Tbs. of oil in a medium pot. Add the grated ginger root to the pot and sauté about 30 seconds, until fragrant. Transfer the soup to the pot, stir everything together and warm through.
Serve with toasted pepitas, cilantro sprigs, and torn crusty bread.
Serves 3-4, as a starter soup.
7.8.1.2
191
https://bevcooks.com/2018/11/creamy-roasted-carrot-ginger-soup/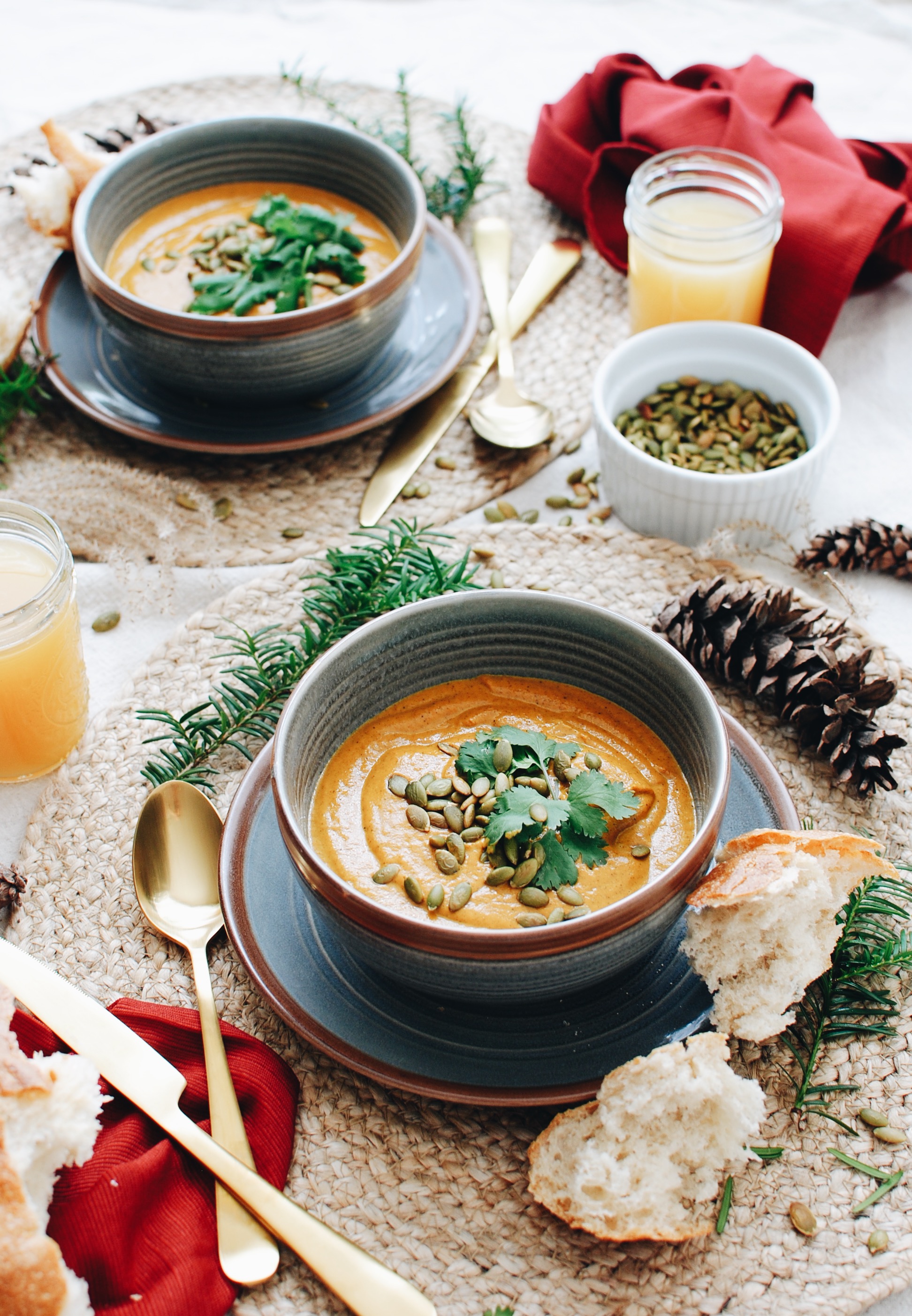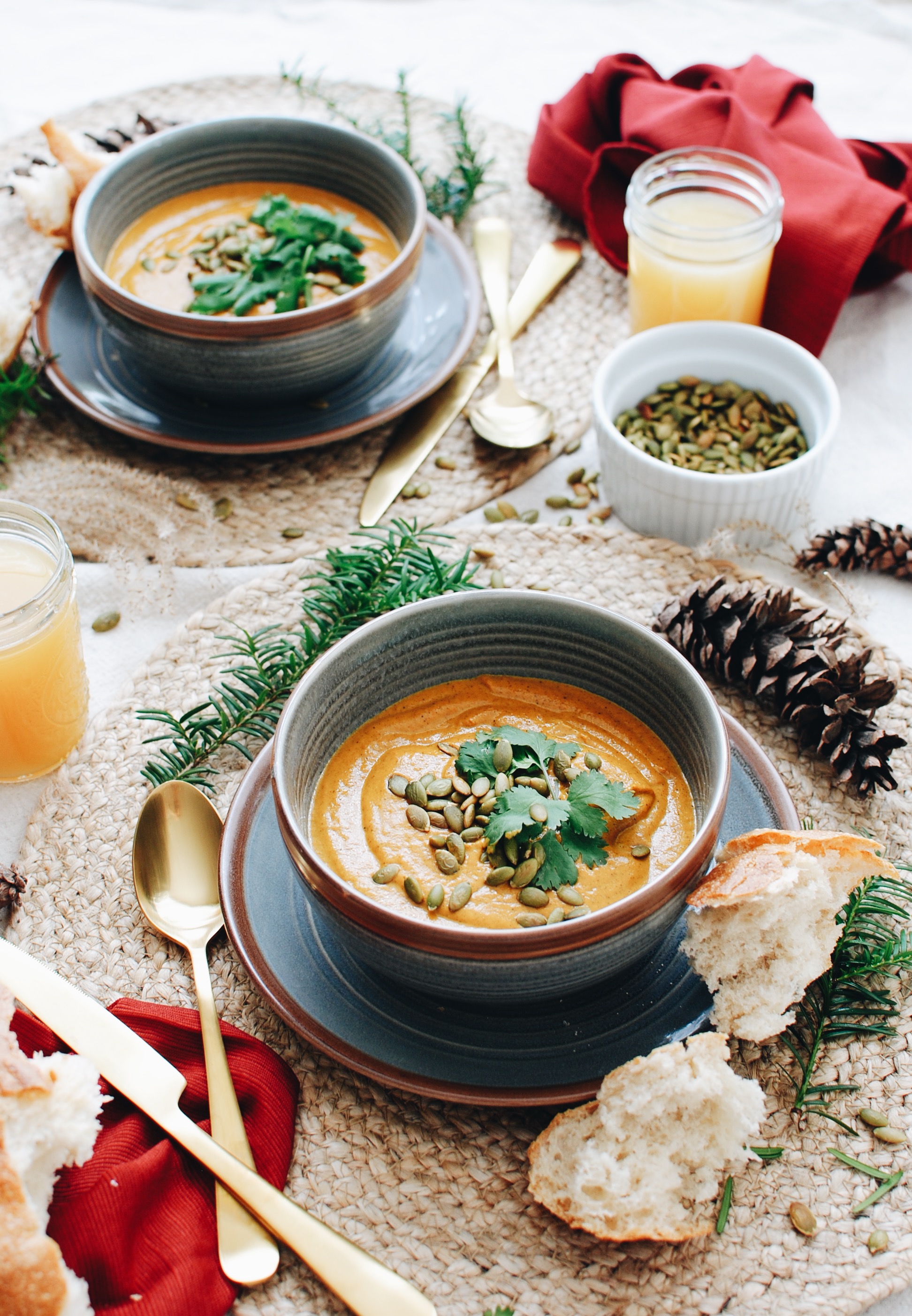 Just get in that.
(This post is definitely in partnership with Food Network and Kohl's. But all ramblings and slurpings are totally my own. We coo?)