With butter! There's butter in this. Because fall. And life.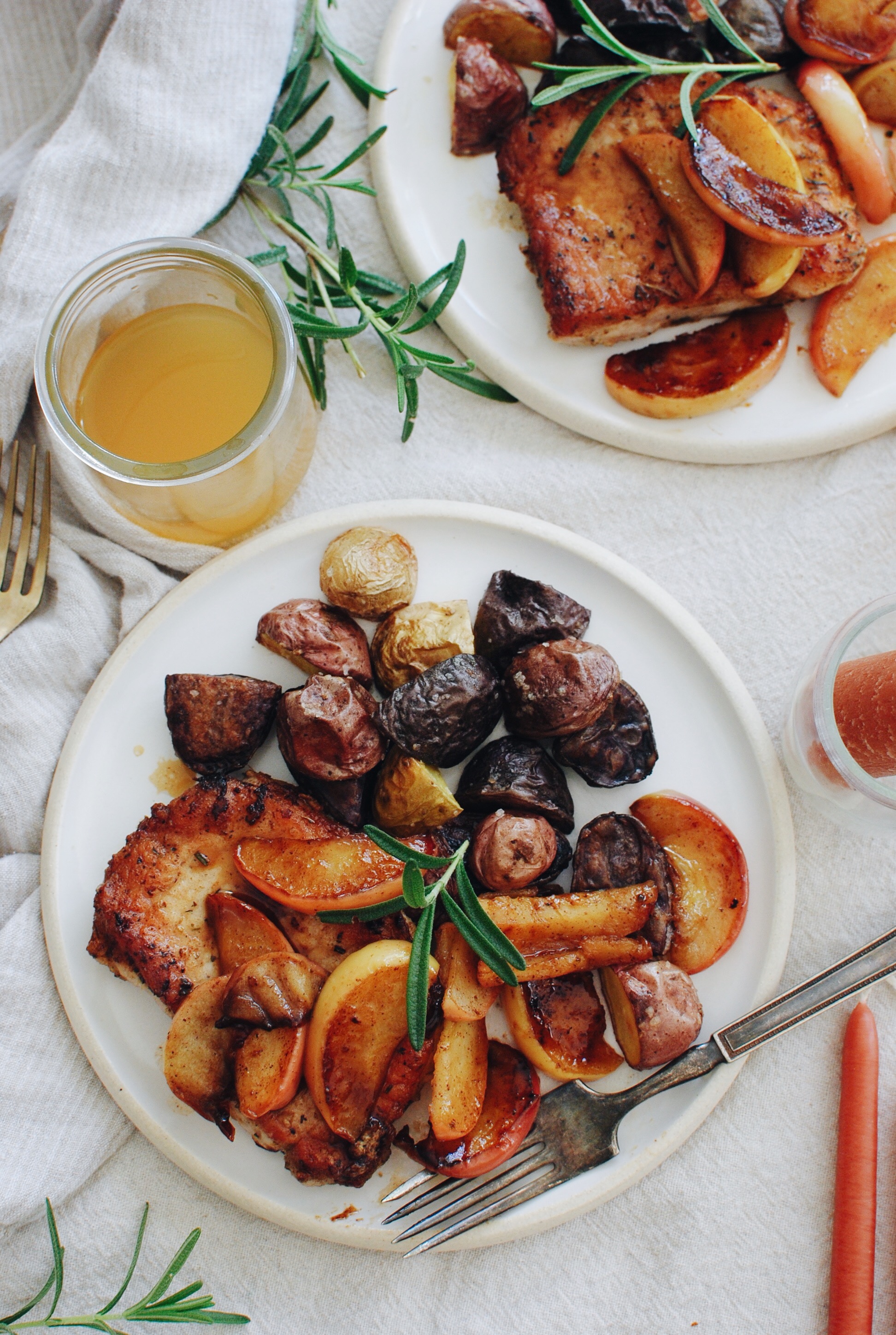 I swear, this just may be the U-L-T-I-M-A-T-E in Autumn grubbage. I mean, we've got pork and apples, for crying out loud. With roasted potatoes. And cinnamon. HI.
And it's so easy! This is going to be your new flava fave. Let's break it down.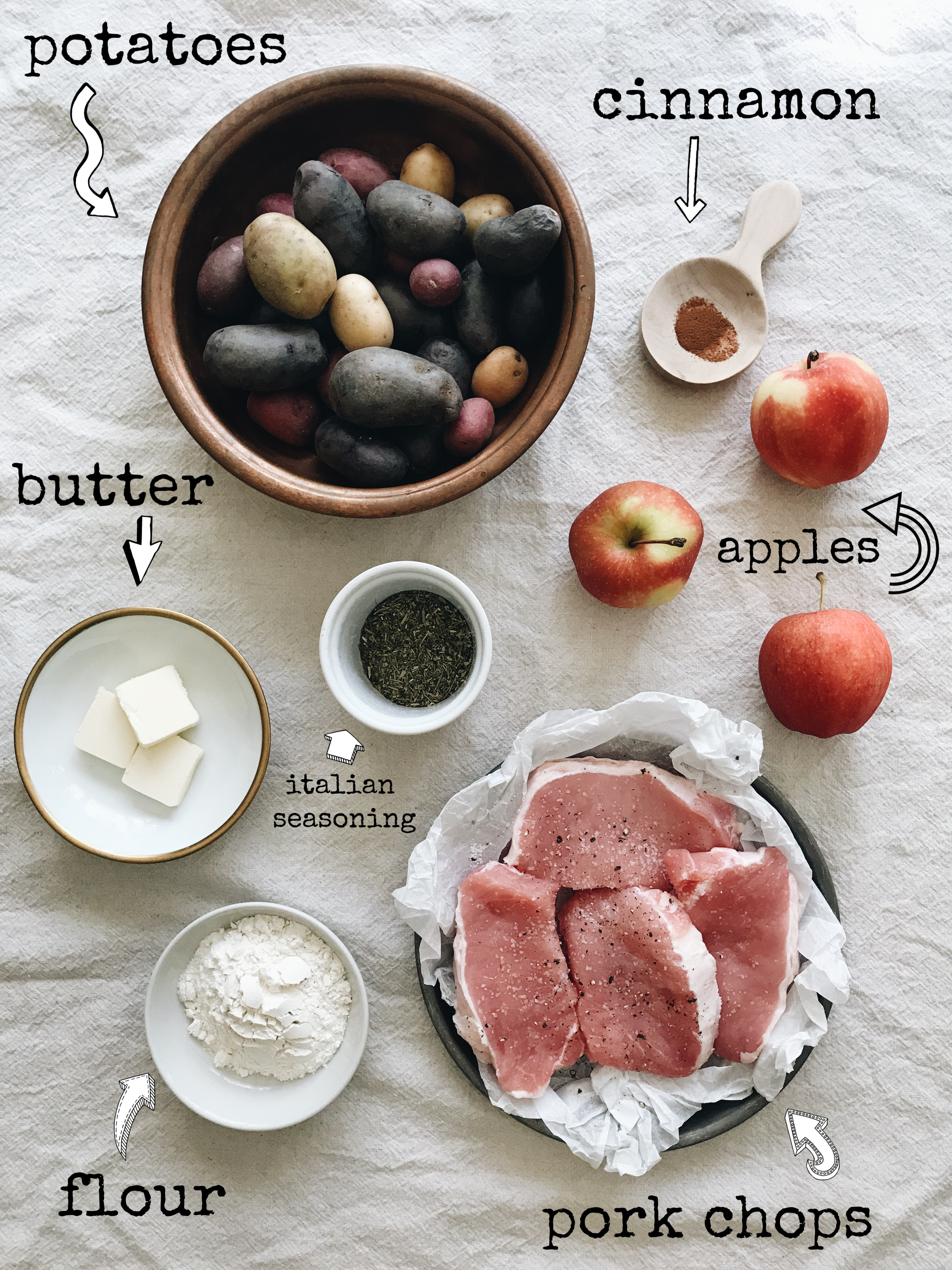 Everything that you're seeing right now is truly happening. And it comes together like a fall dump truck in your mouth.
Also, that's real butter. Don't use the weird alien stuff in those tubs. Go real. Always.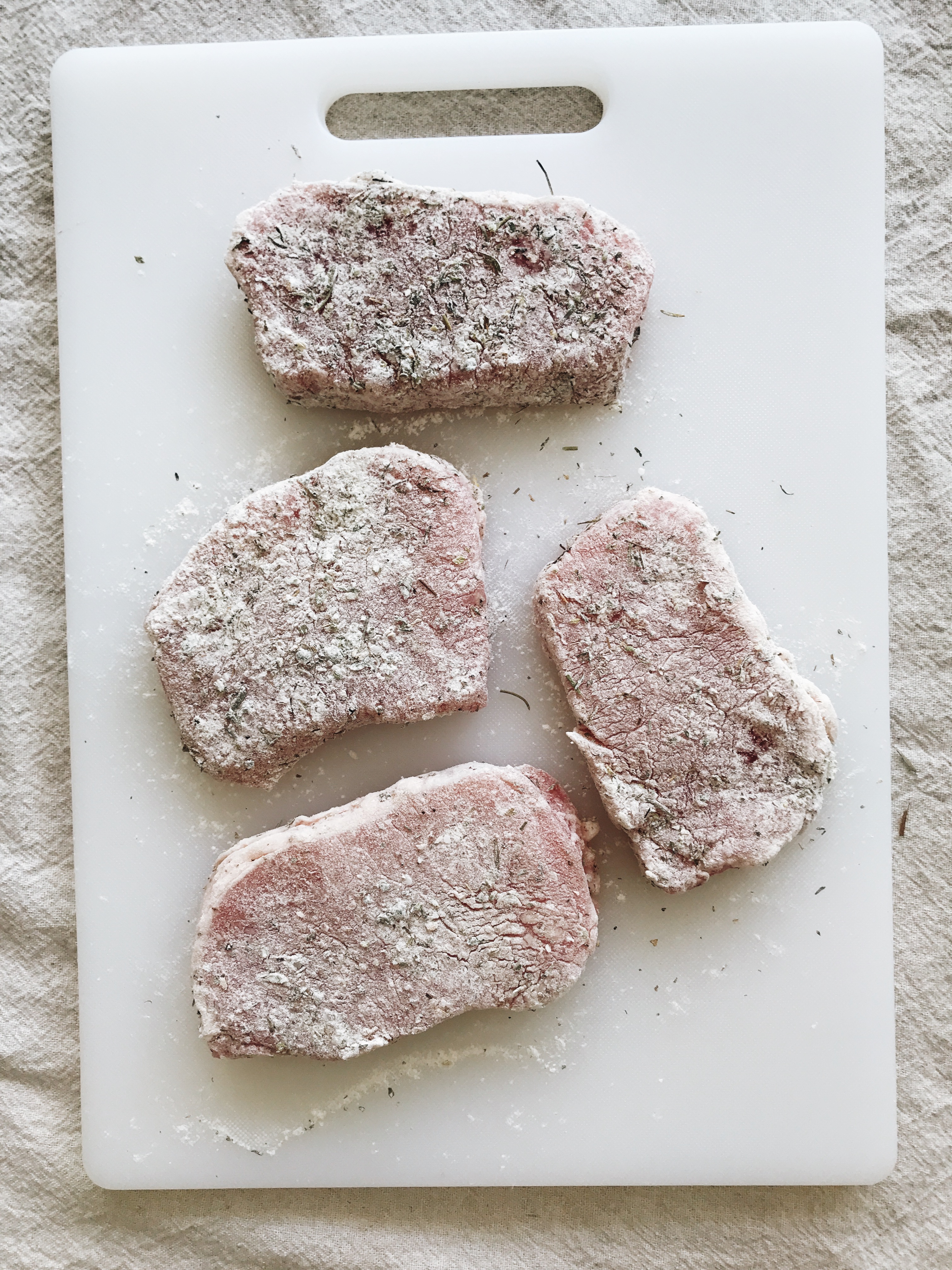 So this is what ya do! All we're trying to achieve with the pork is a sear. Some purty browning. So dredge it in a mix of flour, salt and Italian seasoning. The dried herbs give it that MAMA OOMPH.
We should start a band called Mama Oomph. We'll never get signed.
First up! Sear in that in that real butter. At this point we're only using 2 Tbs., but dun chew worry, more is coming. (I like, FELT your sigh of relief.)
After you remove the pork from the pan, add the sliced apples, along with the last Tbs. of butter (!), a pinch of cinnamon, a tiny pinch of salt, and about a Tbs. of brown sugar. Which I added last second because I'm a rebel. Hi-ya!
Get those apples nice and seared and tender. I forgot to take a photo of this part because I was blacking out over the glory.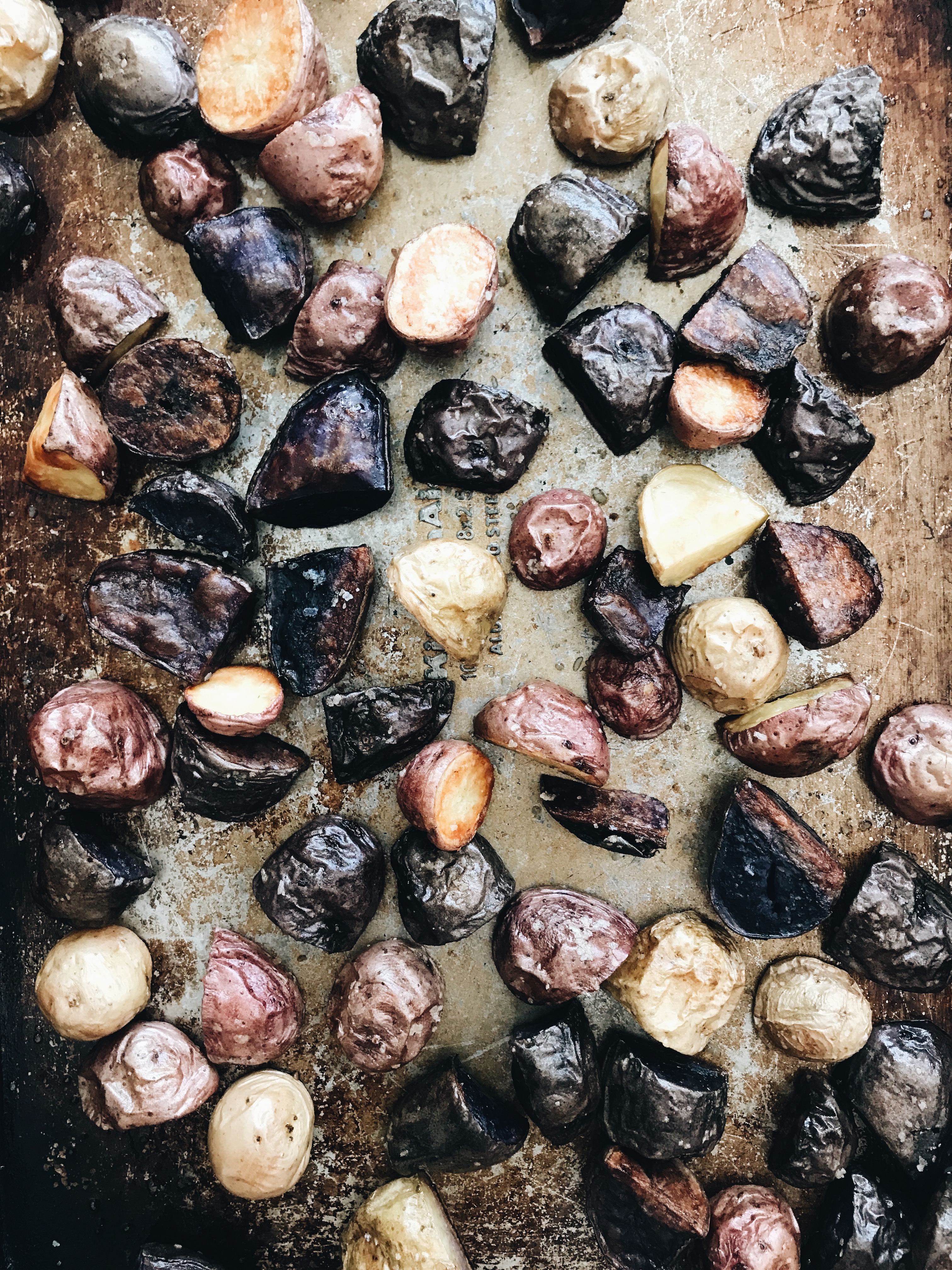 In the meantime, you'll roast some fingerling (or any) potatoes you dig, for an hour. Go that full hour, man. You want 'em crispy. These are the good things in life.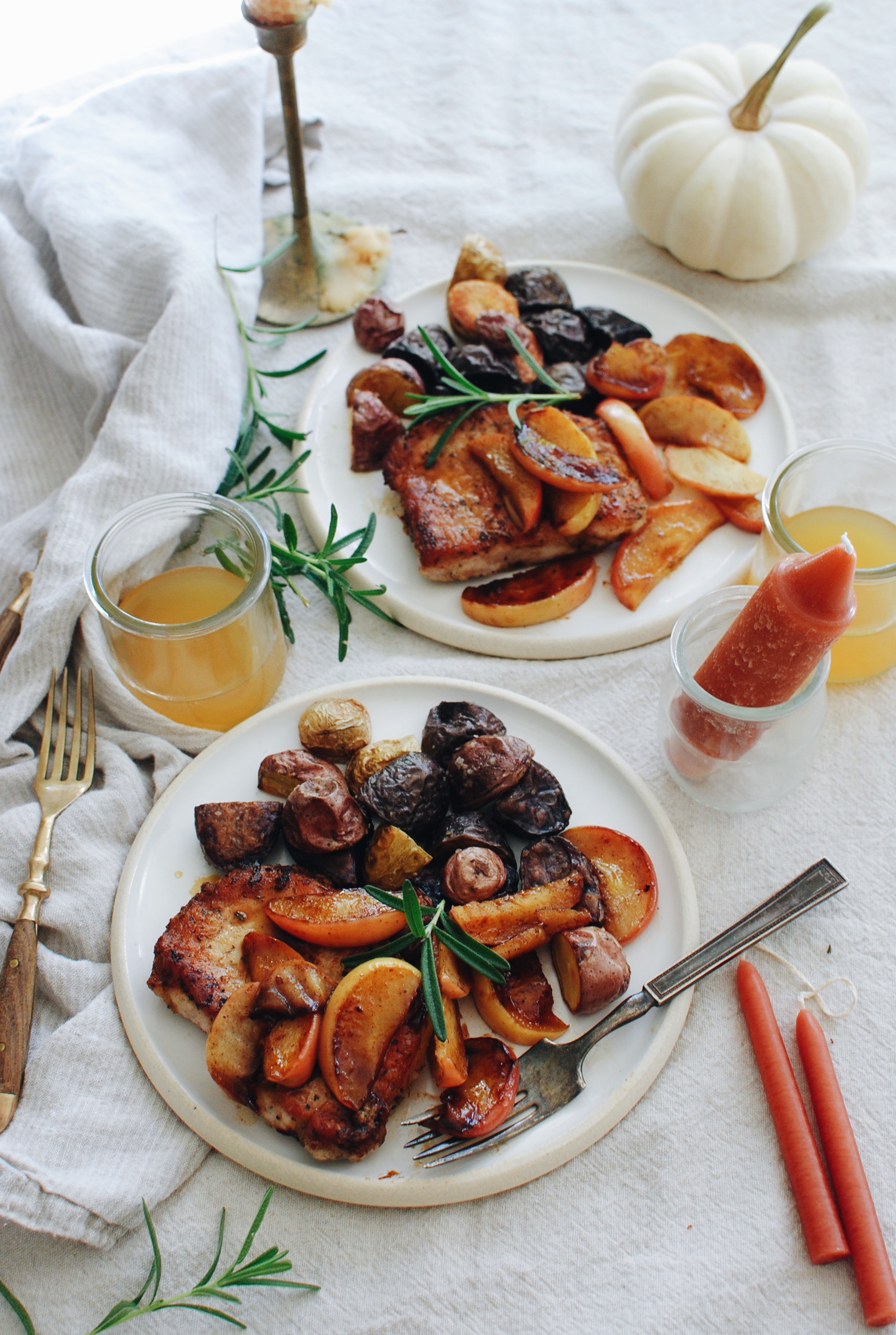 Oh, hi.
How simple was that?! Arrange your seared pork on a few plates and drape those buttery apples all up over everything. Pour the remaining buttery sauce from the pan, along with any collected pork juice (<–sorry) over the dish for that final gloss. Serve with your potatoes and maybe a fall sprig of happy. AKA Rosemary. (but not her baby.)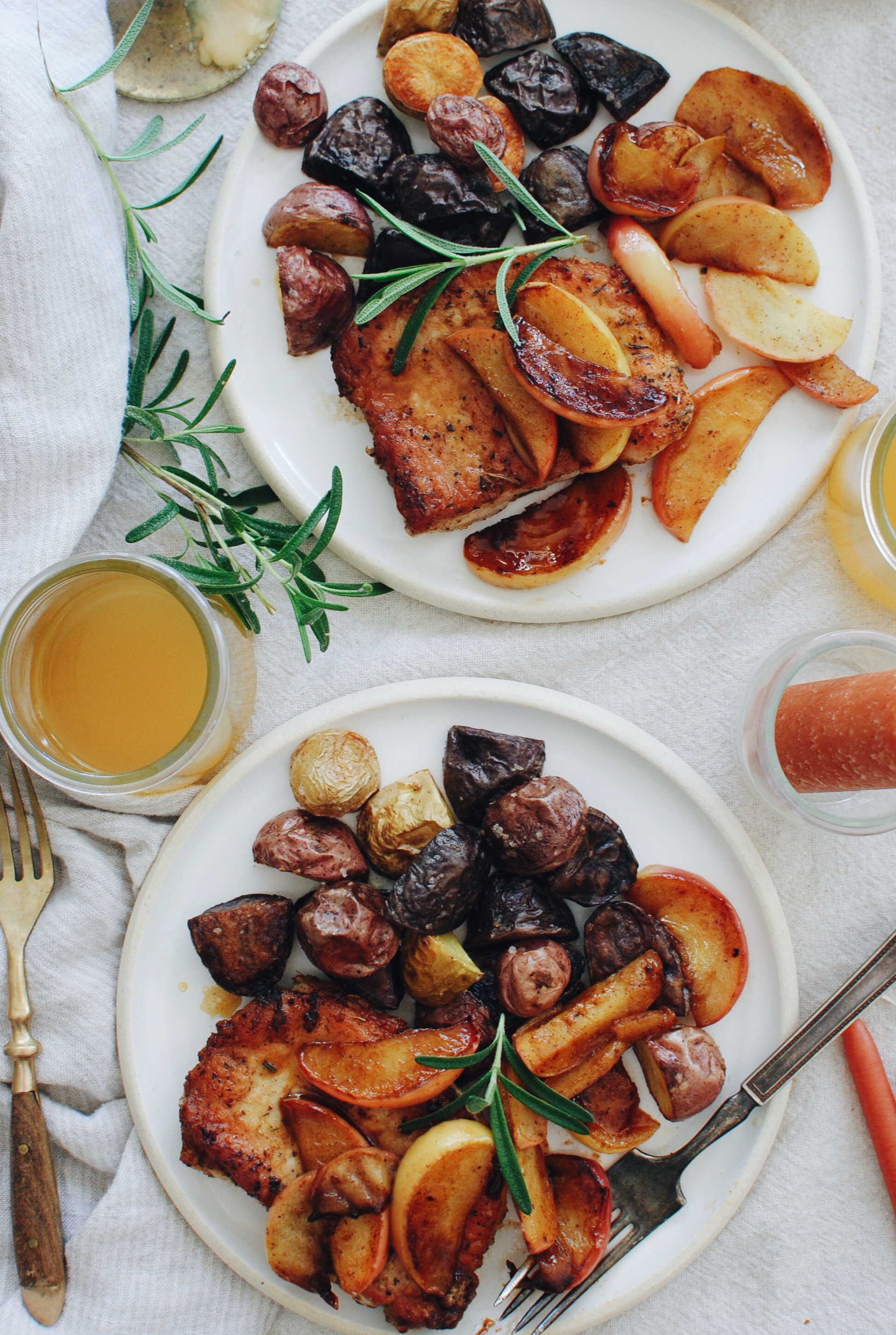 Aaron flipped out over this. The pork was so tender and juicy – not tough at all. And that sear on it, paired with the buttery, cinnamony sautéed apples and potatoes? Ugh. Freaking delicious.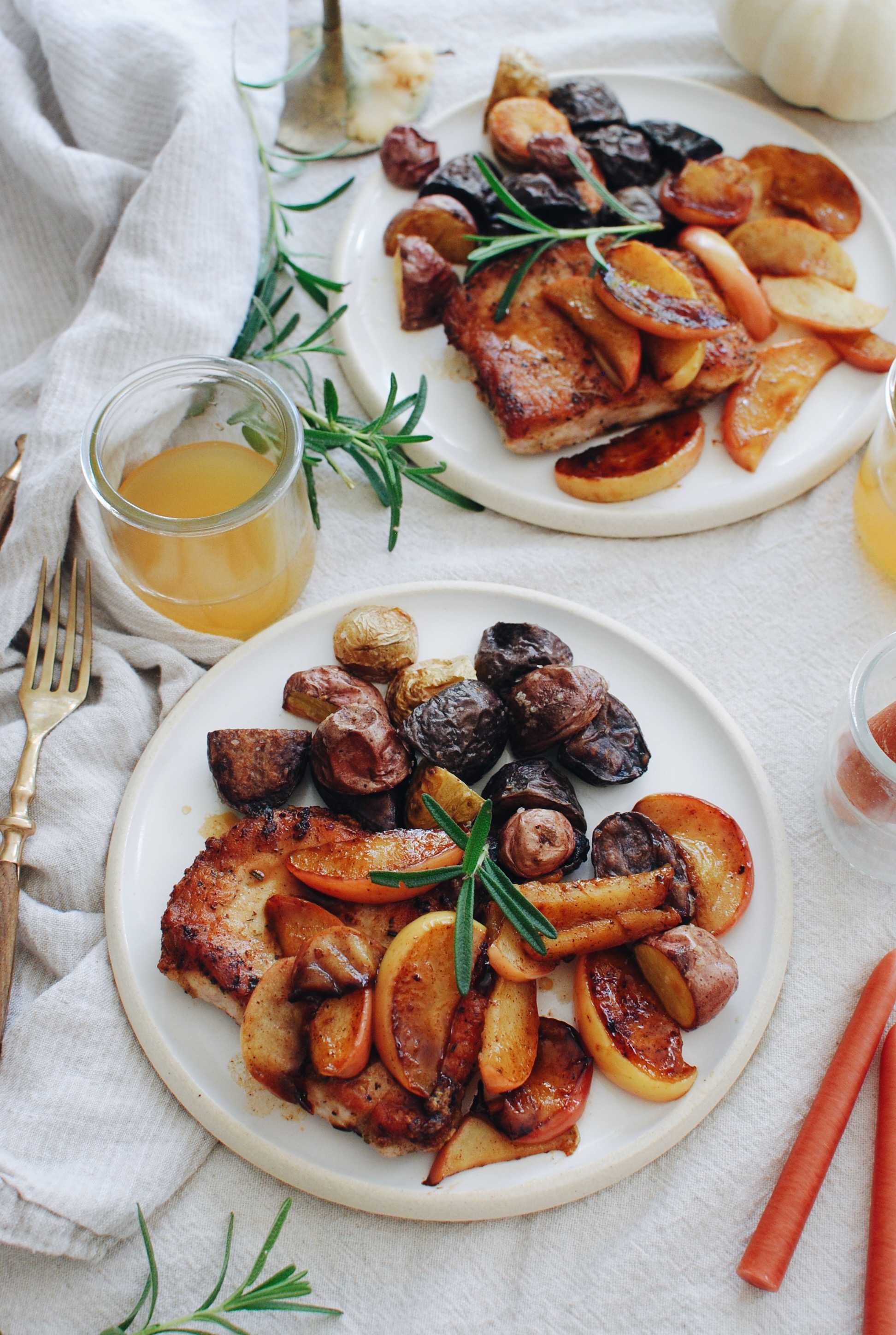 YOU'RE SO FALL RIGHT NOW. (<–name that movie.) And also, make and eat this.
Pork Chops with Sautéed Apples and Roasted Potatoes
Ingredients
4 boneless pork chops
3 Tbs. all-purpose flour
2 Tbs. Italian seasoning
3 Tbs. real butter
3 apples, sliced (I used gala for these, but anything goes!)
1/2 tsp cinnamon
1 Tbs. brown sugar
2 pounds fingerling potatoes, halved or quartered into bite-sized pieces
Coarse salt
Instructions
Preheat oven to 400.
Arrange the potatoes on a large baking sheet, and drizzle with a little bit of olive oil and a good pinch of salt. Roast for one hour.
In the meantime, combine the flour, Italian seasoning and a good pinch of salt in a shallow bowl. Dredge the pork chops through the mix, coating on both sides. Melt 2 Tbs. butter in a large skillet and sear the pork chops in the butter, 4 minutes per side. Remove and cover to keep warm.
Add the remaining Tbs. butter to the skillet, along with the sliced apples, cinnamon, brown sugar and a small pinch of salt. Toss the apples to coat, then cover and sauté for five minutes. Remove the lid and sauté another minute or two, until they're tender and the brown sugar is caramelizing the apples. This is a good thing.
On dinner plates, place a pork chop, a draping of apples, and a helping of potatoes. Pour any remaining butter sauce and pork juices over each plate, garnish with Rosemary and you're set for life!
Eat.
Serves four.
7.8.1.2
183
https://bevcooks.com/2018/10/pork-chops-with-sauteed-apples-and-roasted-potatoes/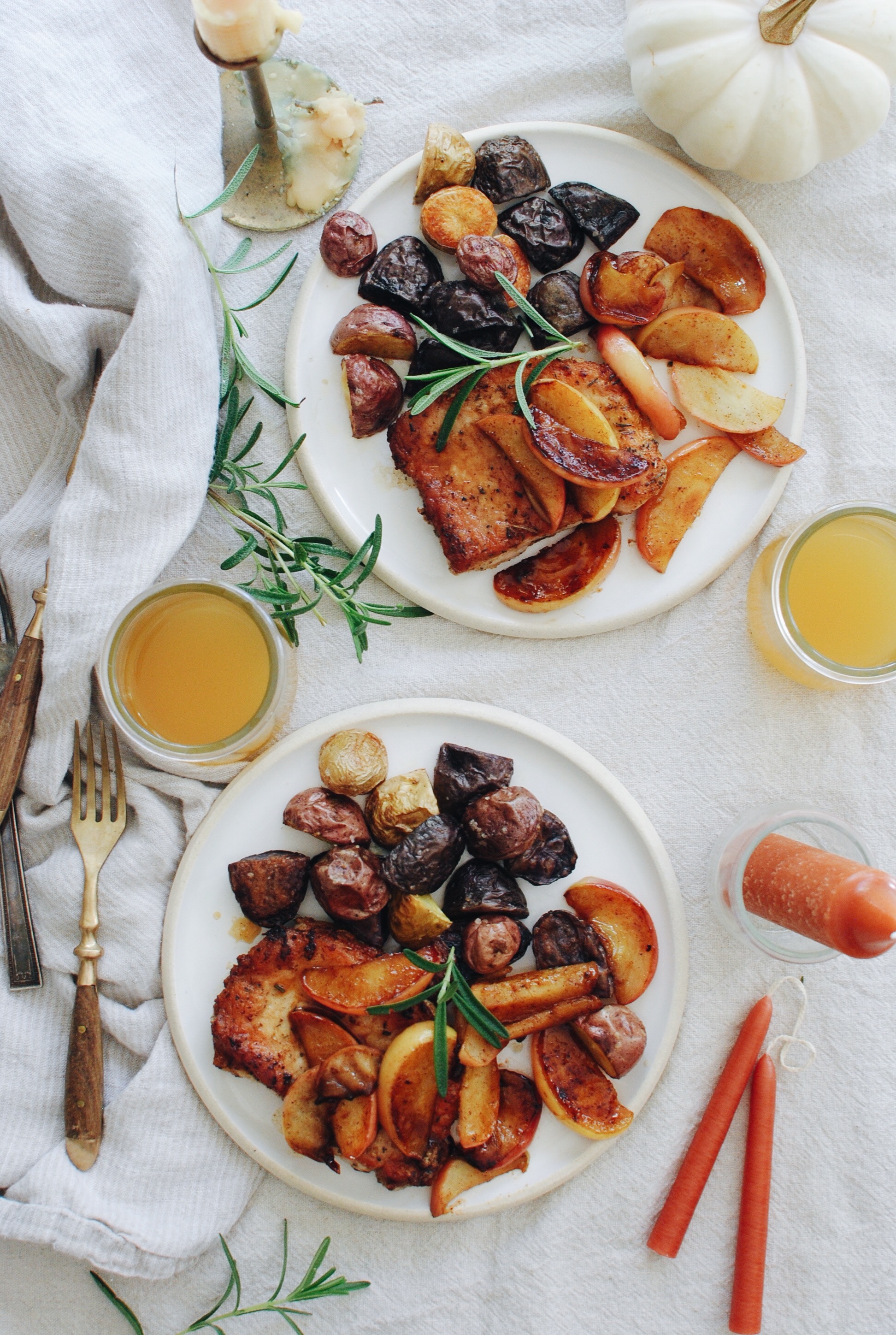 Of course I want it all over again.
(This post is definitely in partnership with Real Butter. But all ramblings and butter slurpings are my own. We coo?)