AT LAST! It's here. Aaron's famously deliciously ridiculously ludicrously supercalifragisldkfnsldfswhatever GRILLED Buffalo Chicken Waaangs are here.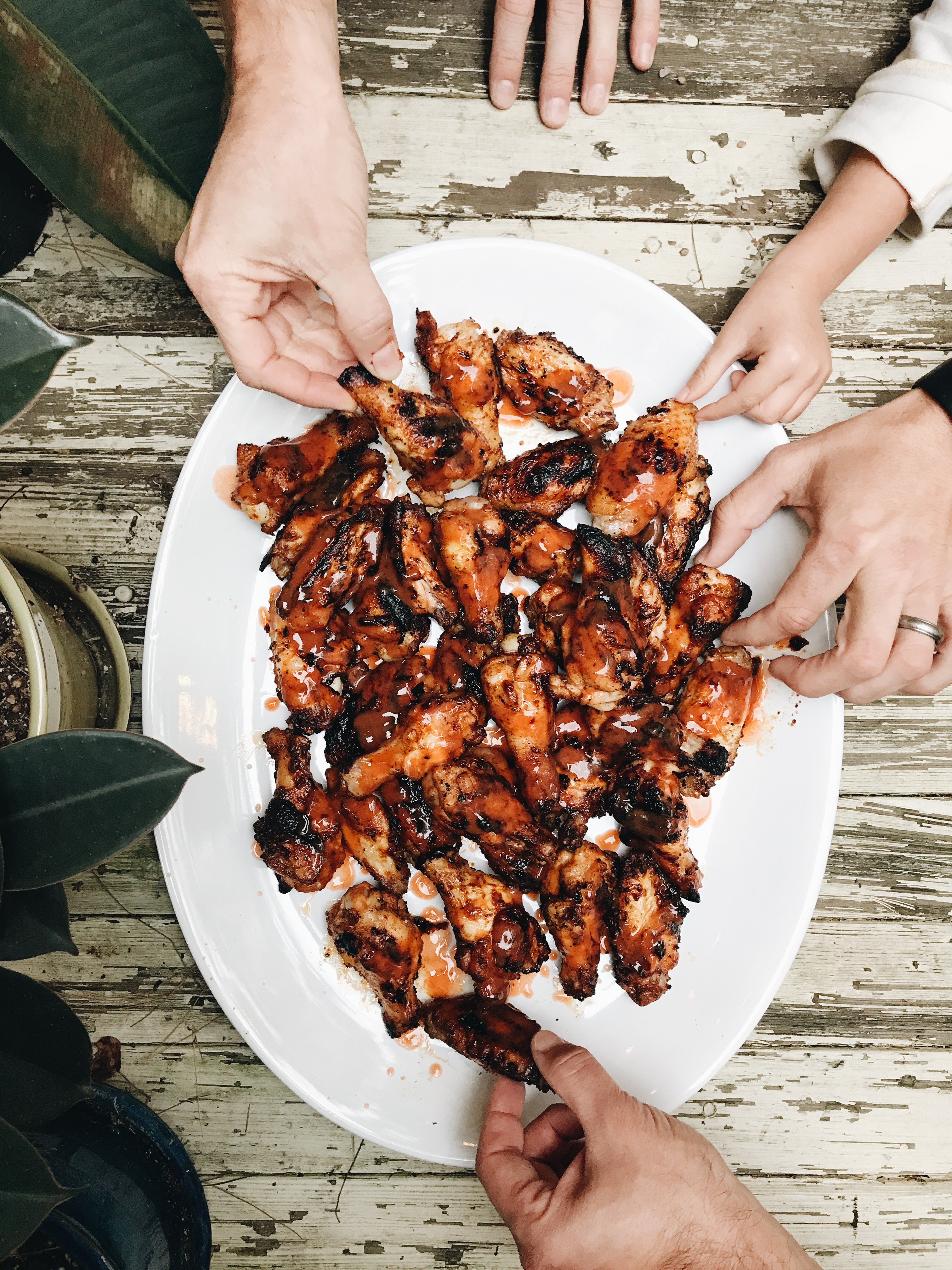 And it is worth the wait, promzee.
Now, it IS a three-parter. But it's not scary. And so festive. And perfect for this time of year. And it has beer in it. And you'll love it. And it's wonderful, and brilliant, and we're getting maaaaaaarried. (<–name that movie.)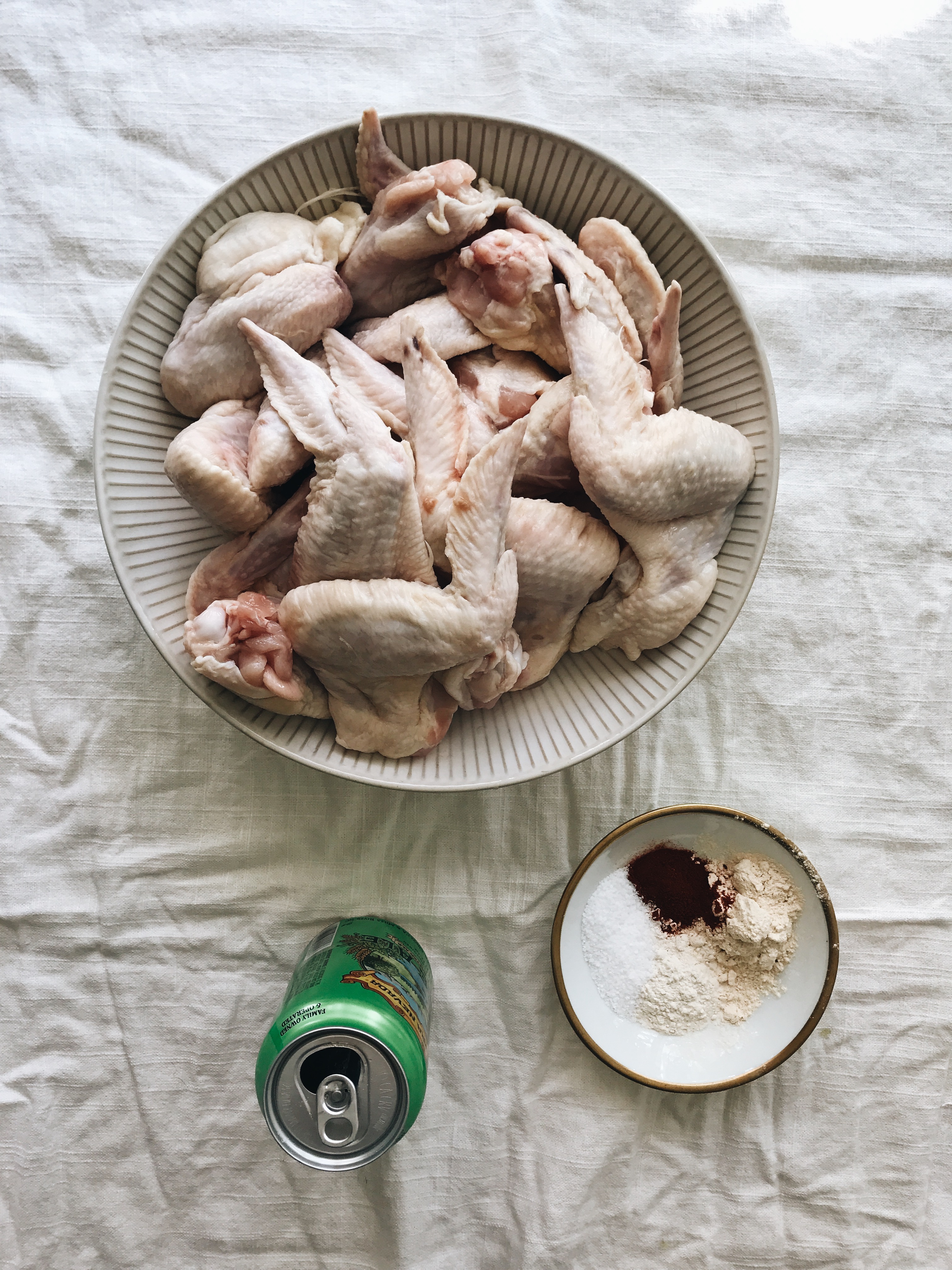 First step! The MARINADE.
You'll start this the day before for the b-e-s-t results. If you only have a few hours, that works, too! Start it early in the morn and grill later that evening. You're still a good person.
Take 18 whole wings, and chop them right at the joints. So then you have the little baby drumsticks, and the little baby wing parts. Discard the tiny tips!
After you chop them at the joints, you'll have 36 wings. Which SOUNDS LIKE A LOT. But trust me, it's perfect. And your face will rejoice.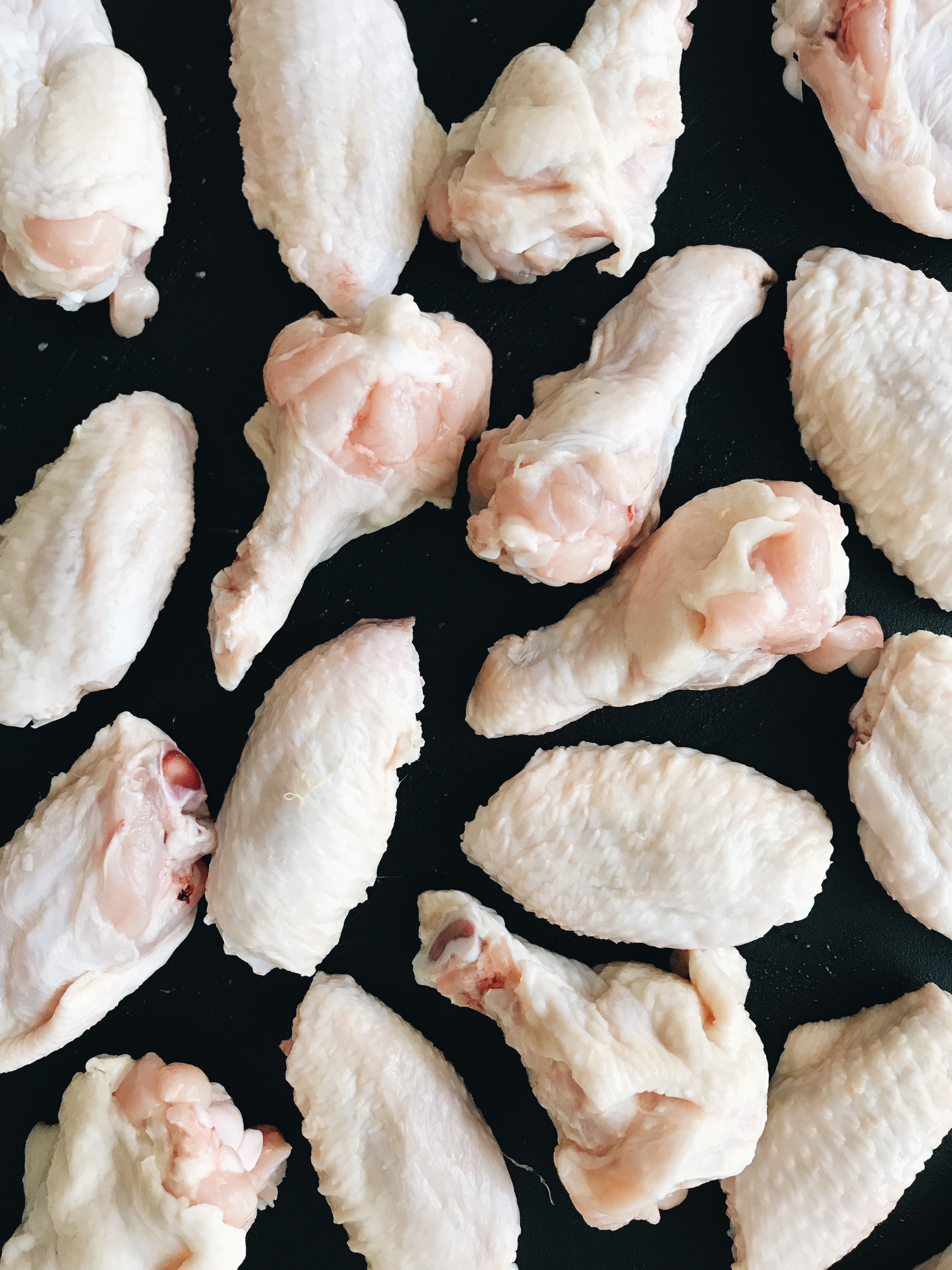 This photo of raw chicken is simply to make sure you're awake this morning.
Okie doke –  in a bowl, you'll combine a Tbs EACH of garlic powder, onion powder, smoked paprika and salt. Then add a beer to it! Just one beer. We've used a Miller Light before, and a pale ale for this'n. Anything goes, Sutton Foster style.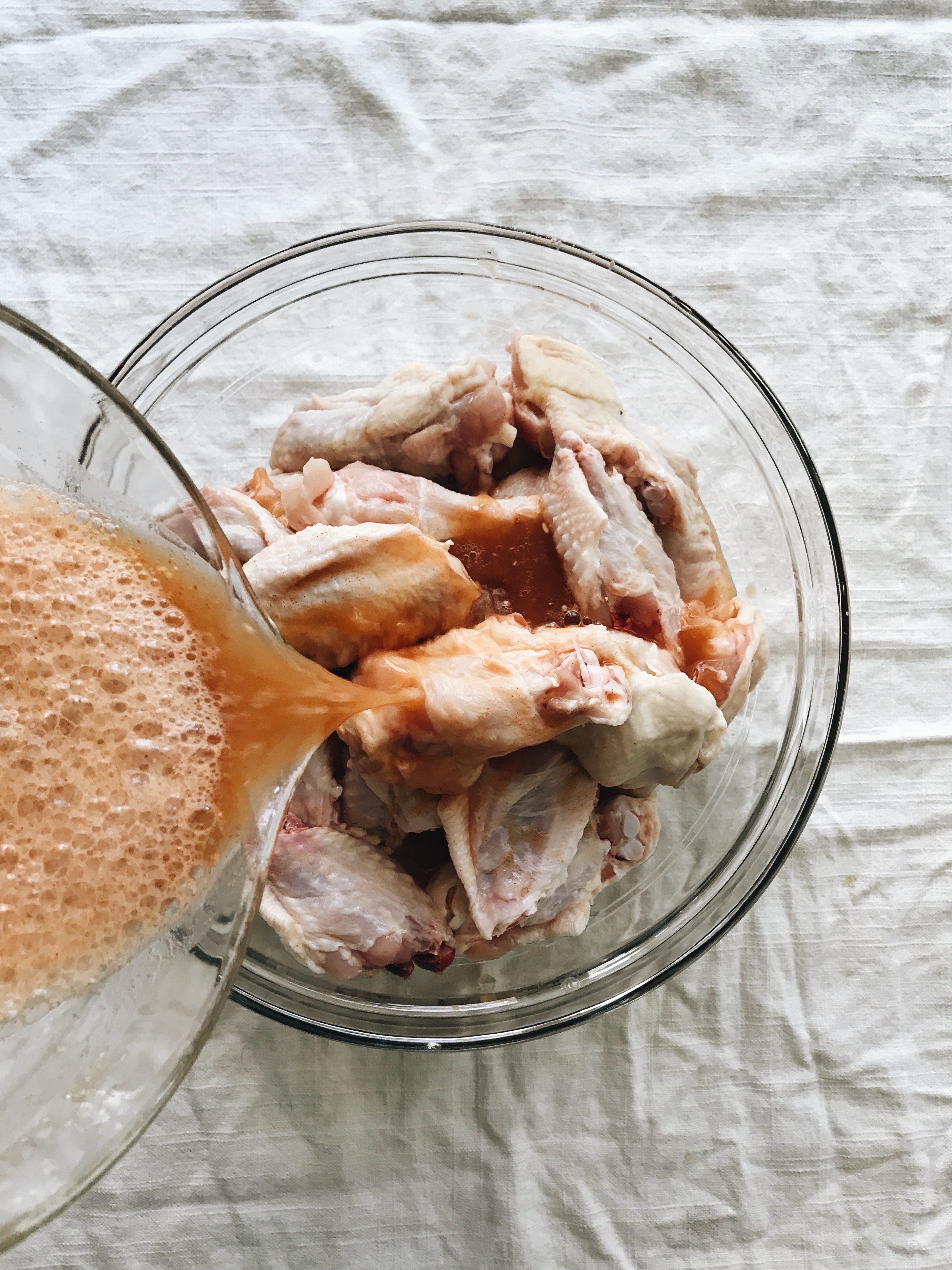 Once you've mixed the beer in with the spices, pour that over the chicken. After you've poured the beer, add just enough water to cover the wings. About a cup, I believe. Make sure alllll those wings are submerged, cover it and chill it overnight. Or a few hours. Whatever you have.
Also, it already smells insane and amazing. And your heart is beginning its initial joyful leap out of its cavity. You've been warned.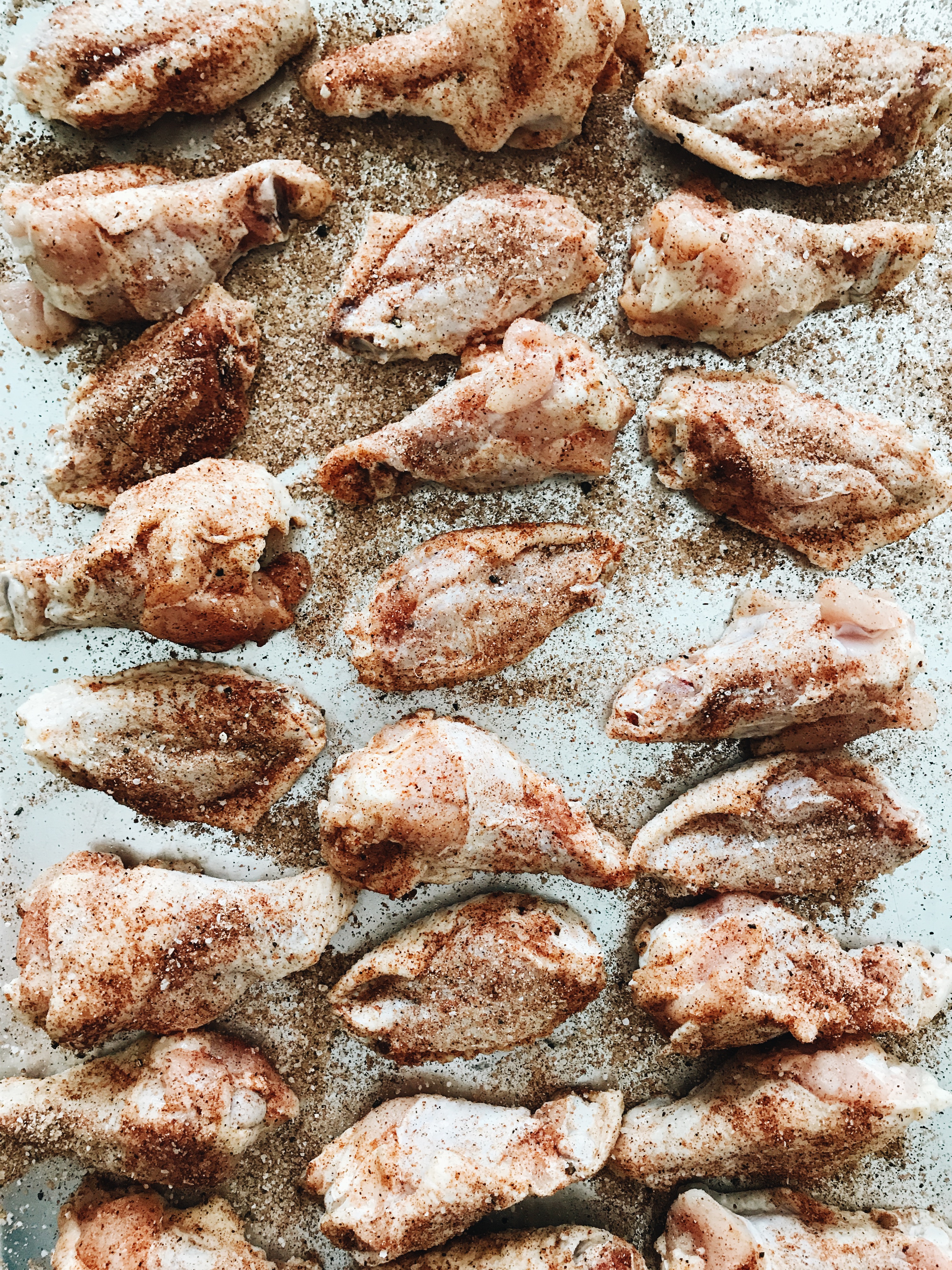 Next day! Drain the chicken from the marinade and pat them each dry with a paper towel. Then arrange them on a large baking sheet and prep your DRY RUB. Which is part two. The dry rub. You'll love this so hard.
In a bowl, combine a Tbs EACH of garlic powder, onion powder, chili powder, brown sugar and salt. And then a tsp EACH of cayenne, cumin, smoked paprika and black pepper. Mix mix mix and evenly sprinkle and coat all those wings, man.
Now, put these wings in a large plastic bag (or multiple small ones) and let them dry marinate for about two hours. More if you can swing it. I mean wing it.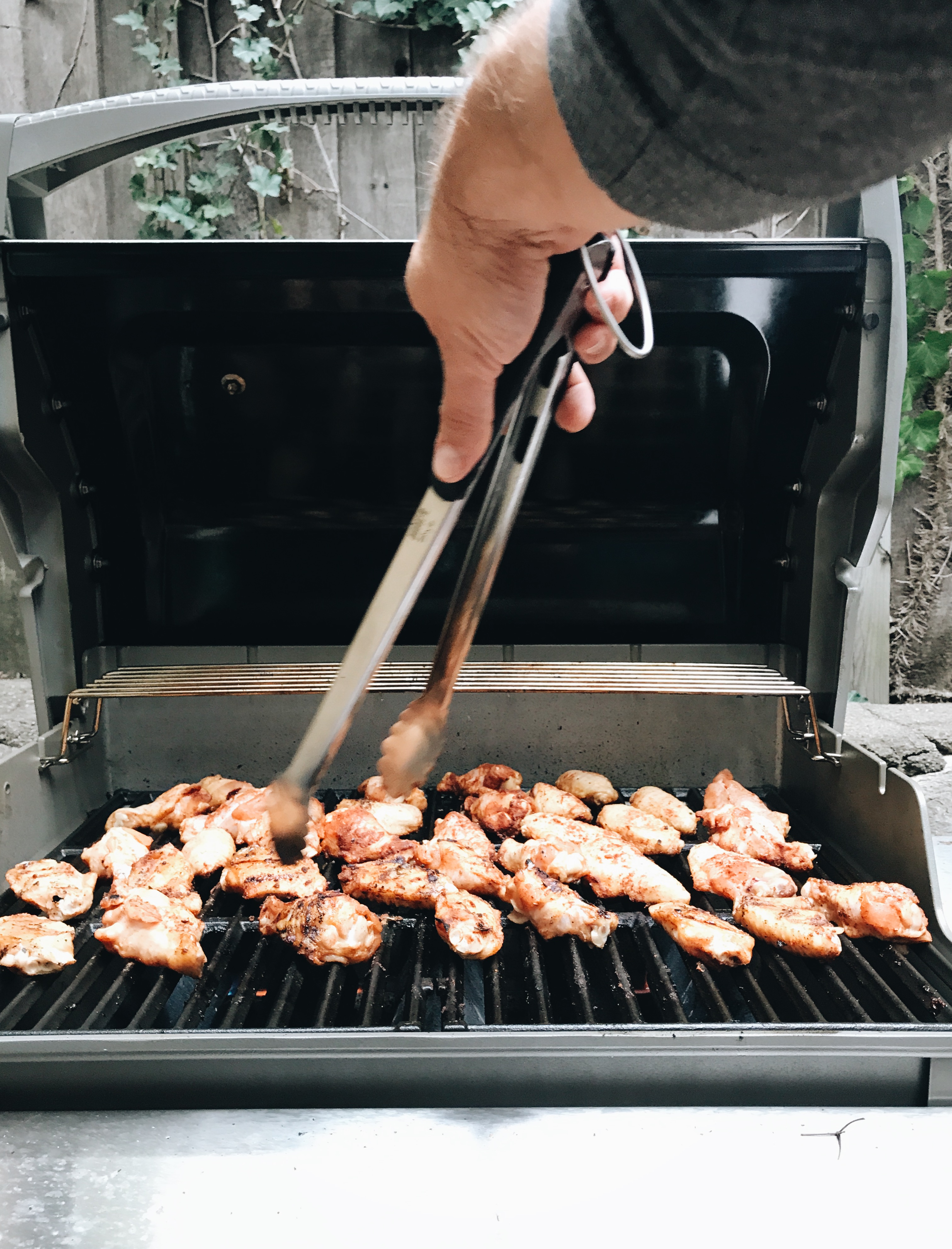 Noooow, later in the day, when you're starving, grill 'em up! This is part three. The grilling. I'm so excited for you.
BUT HARK, Chachi. Not so fast. We need sauce. Duh.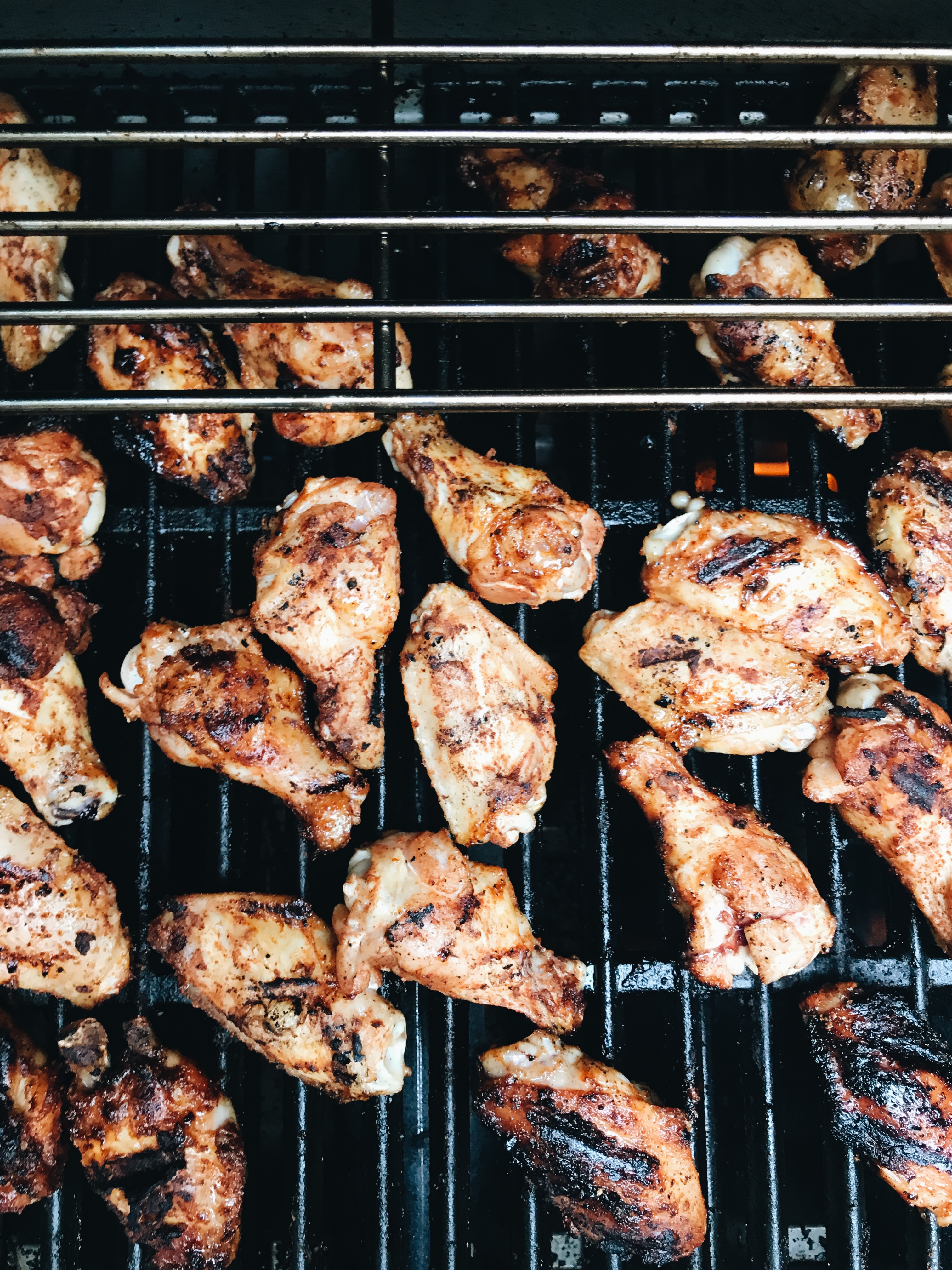 In a bowl, you'll combine 4 Tbs. melted butter, 1/4 cup Frank's buffalo sauce and 1 Tbs. honey. Use this as your basting sauce while you grill. And keep those wings on for 8-10 minutes per side. You want those delicious grill marks and that sinful charring and that magnificent smokiness. Amen.
Aaaaand omg. The veeeery last step is to simply brush or drizzle a little more Frank's sauce over the wings, and you're set for life and beyond.
Guys.
GUYS.
The texture will give you that crispy grilled party up in your mouth, and the flavors are going to slay your soul. Smokey, a little bit of heat, so much char, the slight caramelizing from the brown sugar, HOLY faces. It's just out of this world. Seriously.
We took these to our friends' house one day. Let's see what they think.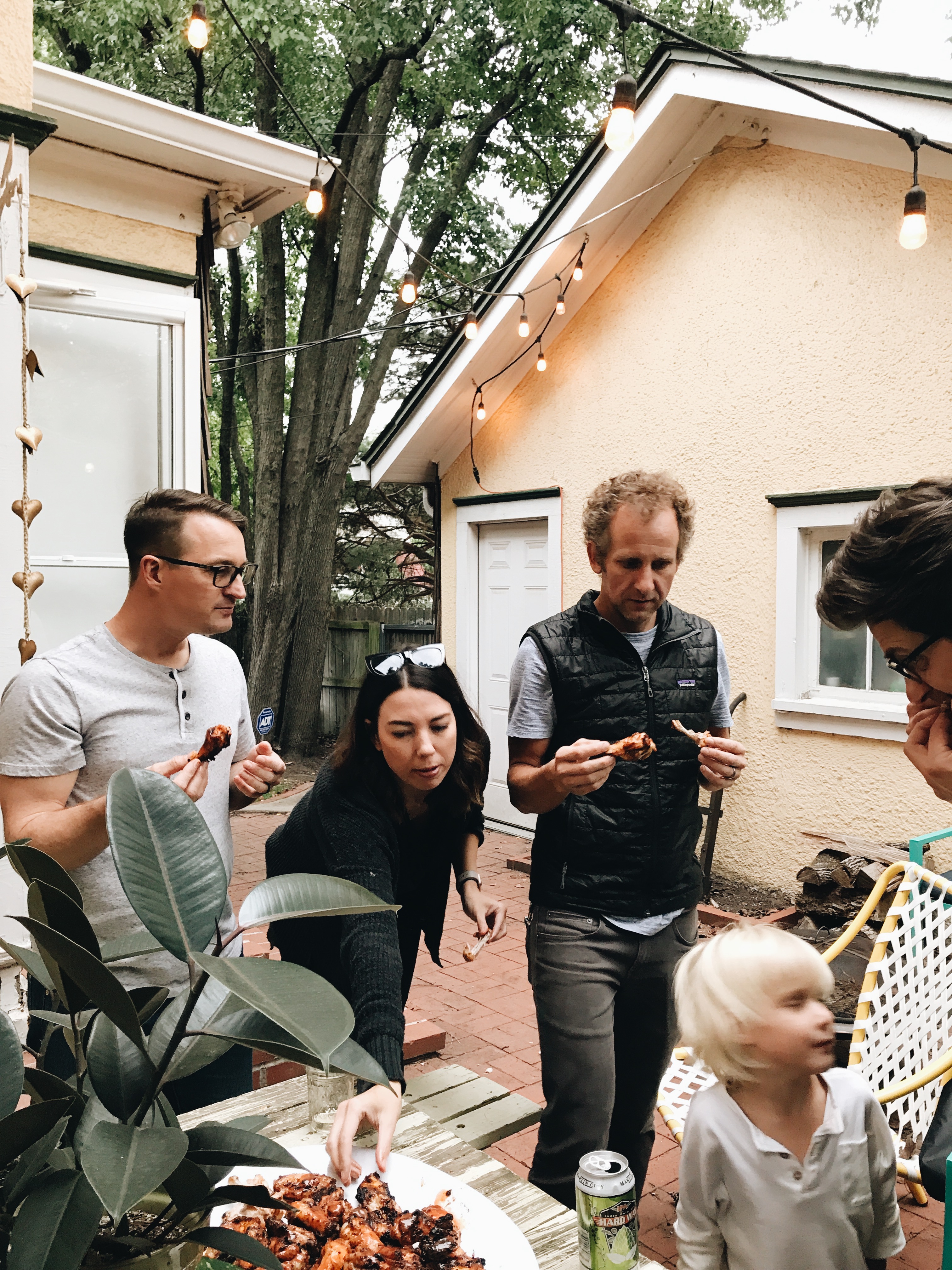 Going in.
Also, this is actually the photo that Will used when he auditioned for The Ring.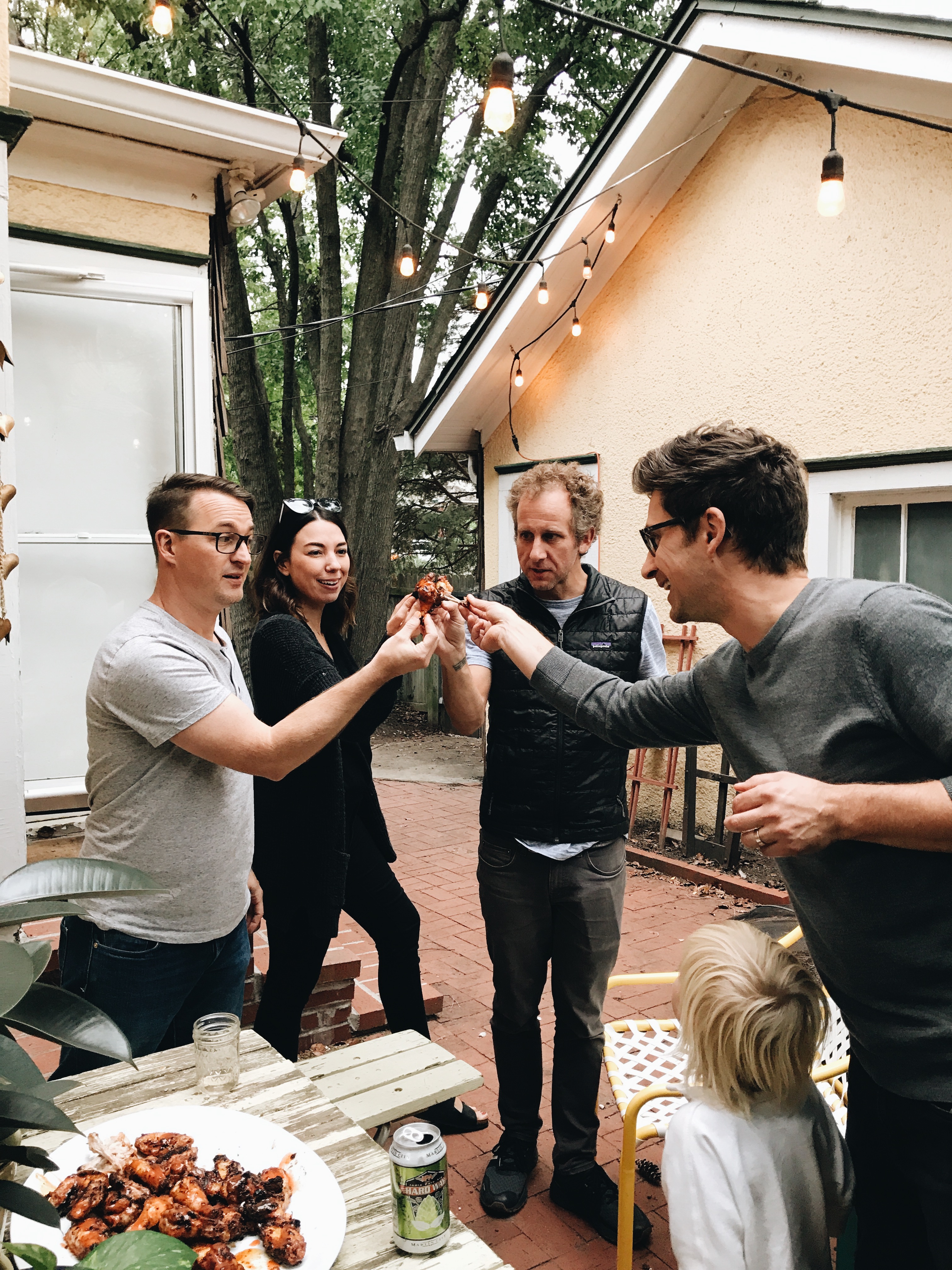 Total bloomin' success! Everyone absolutely raved. That is, when they weren't shoving wings into their face and/or burping and/or weeping. This plate was GONE within 10 minutes and I ish you not. Aaron, will you marry me? …Again?
You must must must make these! Don't make me beg.
Grilled Buffalo Chicken Wings
Ingredients
18 whole chicken wings
1 (12 oz) beer
For the marinade:
1 Tbs garlic powder
1 Tbs onion powder
1 Tbs smoked paprika
1 Tbs. coarse salt
For the dry rub:
1 Tbs. garlic powder
1 Tbs. onion powder
1 Tbs. chili powder
1 Tbs. brown sugar
1 Tbs. coarse salt
1 tsp cayenne
1 tsp cumin
1 tsp smoked paprika
1 tsp black pepper
For the basting sauce:
4 Tbs. melted butter
1/4 cup Frank's buffalo sauce, plus another few Tbs. for drizzling at the end
1 Tbs. honey
Instructions
Using a sharp knife, cut the wings at the joints, where you get drumsticks and wings. Discard the tiny tips. You'll have 36 wings.
In a small bowl, combine the marinade spices. Pour the beer into the spice and mix. Place the chicken in a large bowl, and pour the beery marinade over the chicken, making sure all the chicken is submerged. Add about a cup of water if needed. Cover and chill overnight if you can. At least two hours!
Next day, drain the marinade and pat each chicken wing dry. Place them on a large baking sheet in a single layer. Now it's time for the dry rub! Combine all the spices in a small bowl, and evenly sprinkle and coat each chicken wing all over. Place all the wings in a plastic bag, and let them marinate in the fridge at least two hours.
Time to grill! In a small bowl, mix your basting sauce ingredients.
Preheat the grill to a medium high, and arrange the wings on the grates. Grill for 8-10 minutes PER side, basting with a brush as you go.
Final step, toss, brush or drizzle a little more of the Frank's hot sauce over the wings, until glossy and sexy and you want to sob like a toddler.
Aaaaand INHALE. You are going to lose your ever loving mind, I'm telling you.
Makes 36 wings!
(Serve with ranch dressing or blue cheese dressing, if you desire!)
7.8.1.2
182
https://bevcooks.com/2018/10/grilled-buffalo-chicken-wings/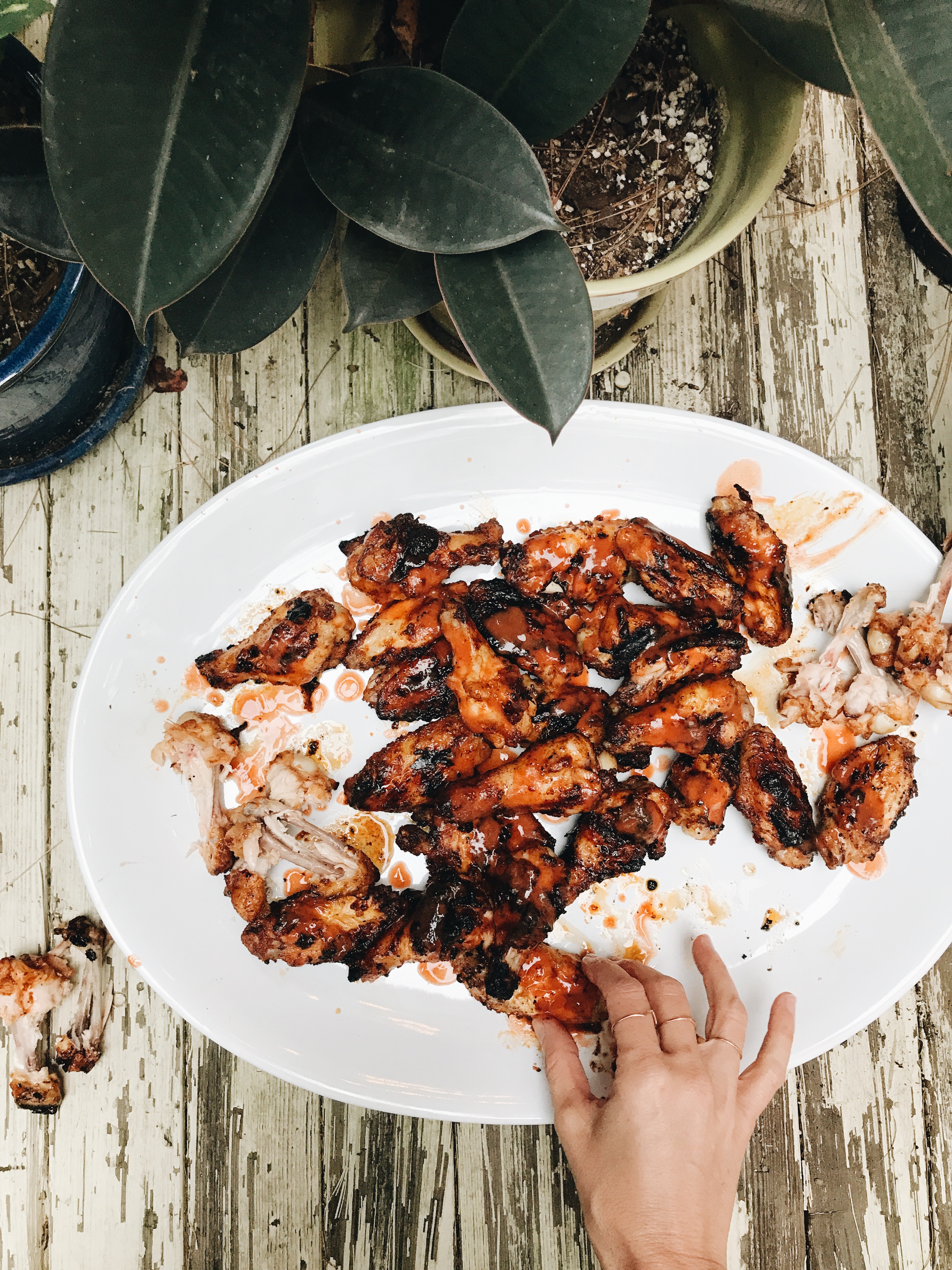 My turn.