The soup is spring, not the chicken!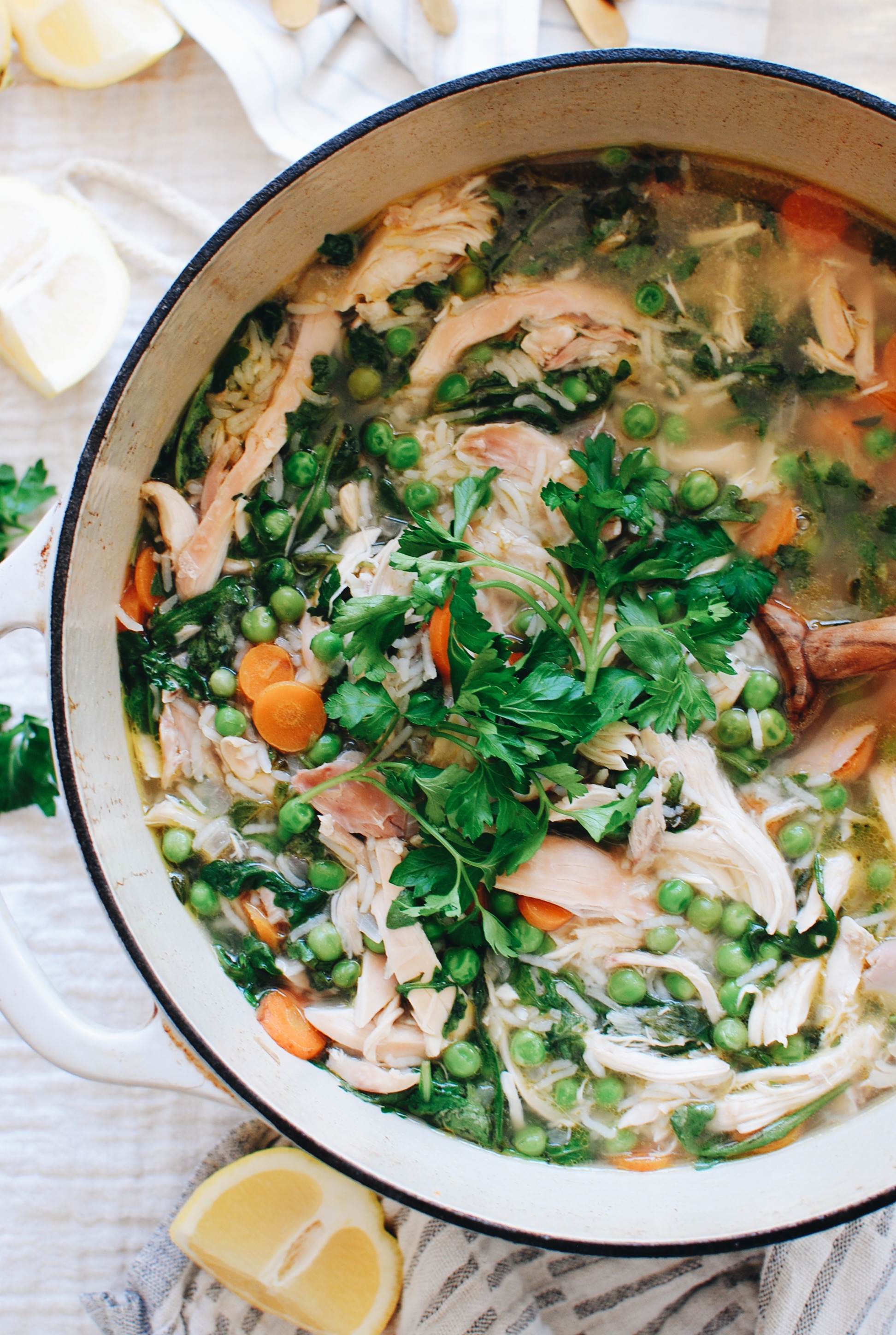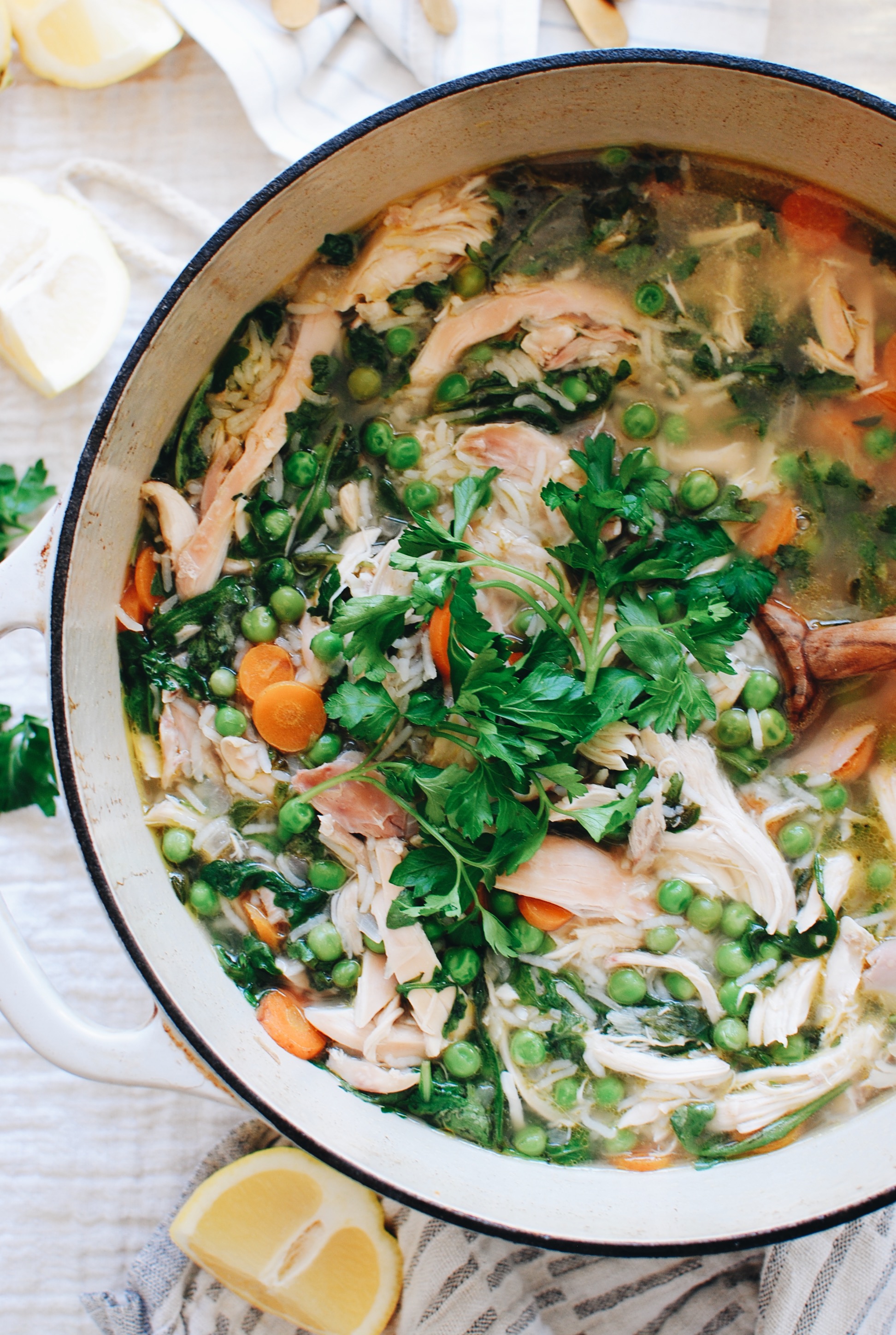 Well, it might be a spring chicken. I don't know. But the season is spring, so the soup is spring. But not the rice. The rice is normal. All-year rice.
Never mind.
Let's have some soup!
Guess who came up with the idea for this springy soup? My little female busted-nose Rocky Balboa. This is alllll her.
(Oh, so the nose. Nat fell off the toilet and hit her frickin' nose on the corner of the stool. We saw a doc yesterday, and they said it didn't look jank enough for a scan, and just to let it heal on its own. WHICH IS GOING TO TAKE A CENTURY. The end.)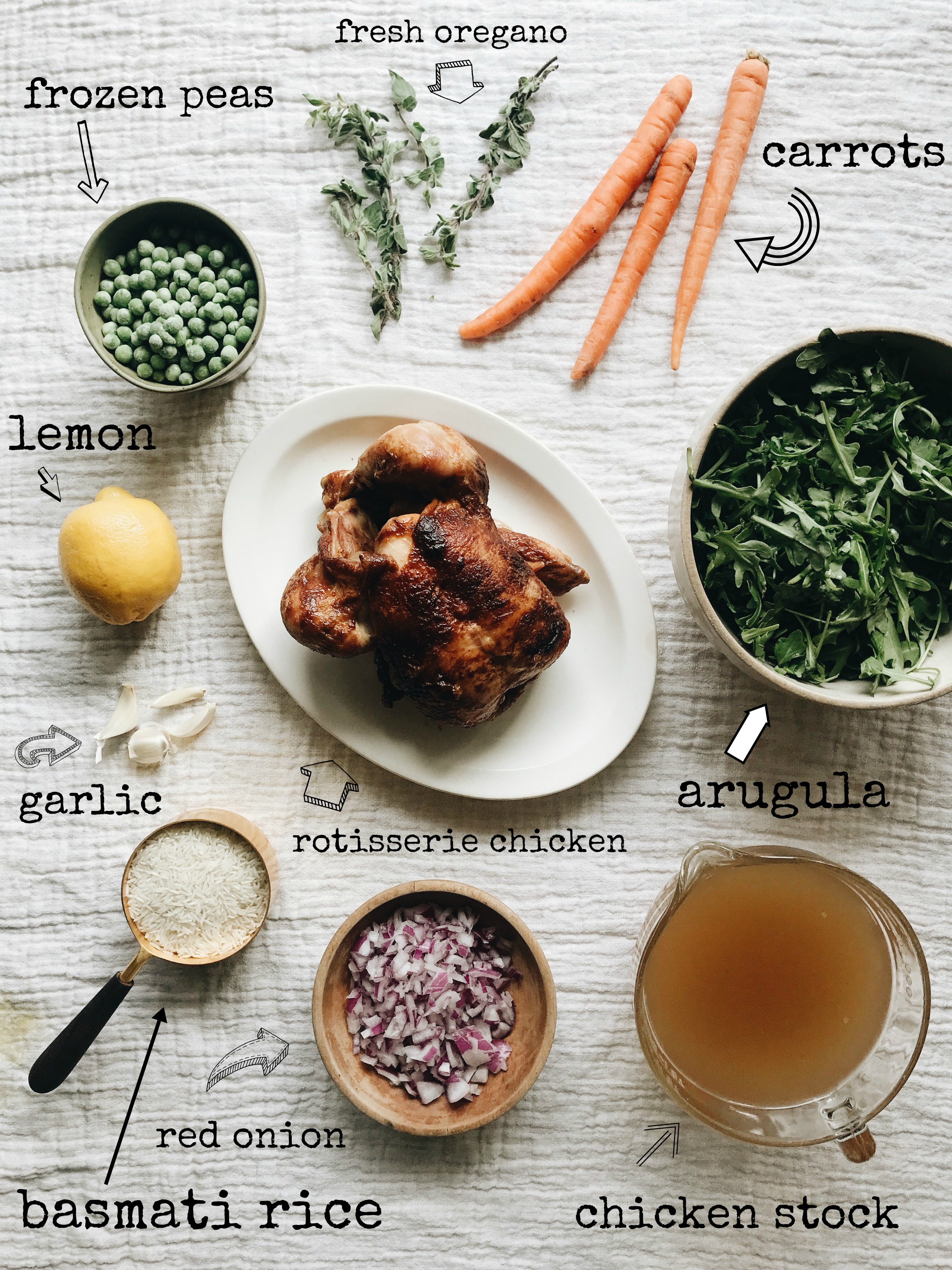 We do have a shortcut here, with the rotis. But I don't think you'll hate it. This soup is basically a springy version of chicken and rice soup, with a happy heap of baby arugula and spring peas. And lemon! Don't ever quit the lemon.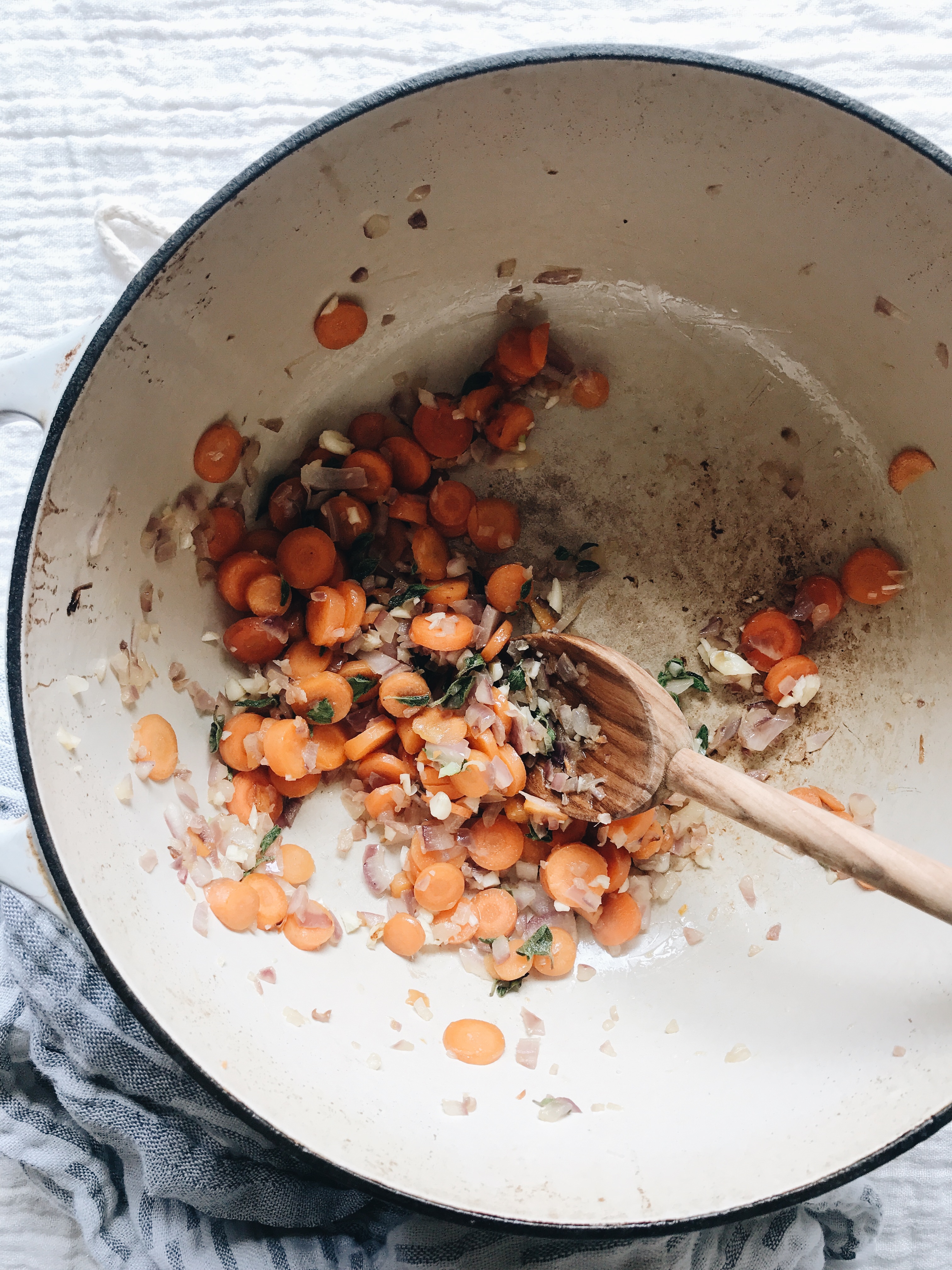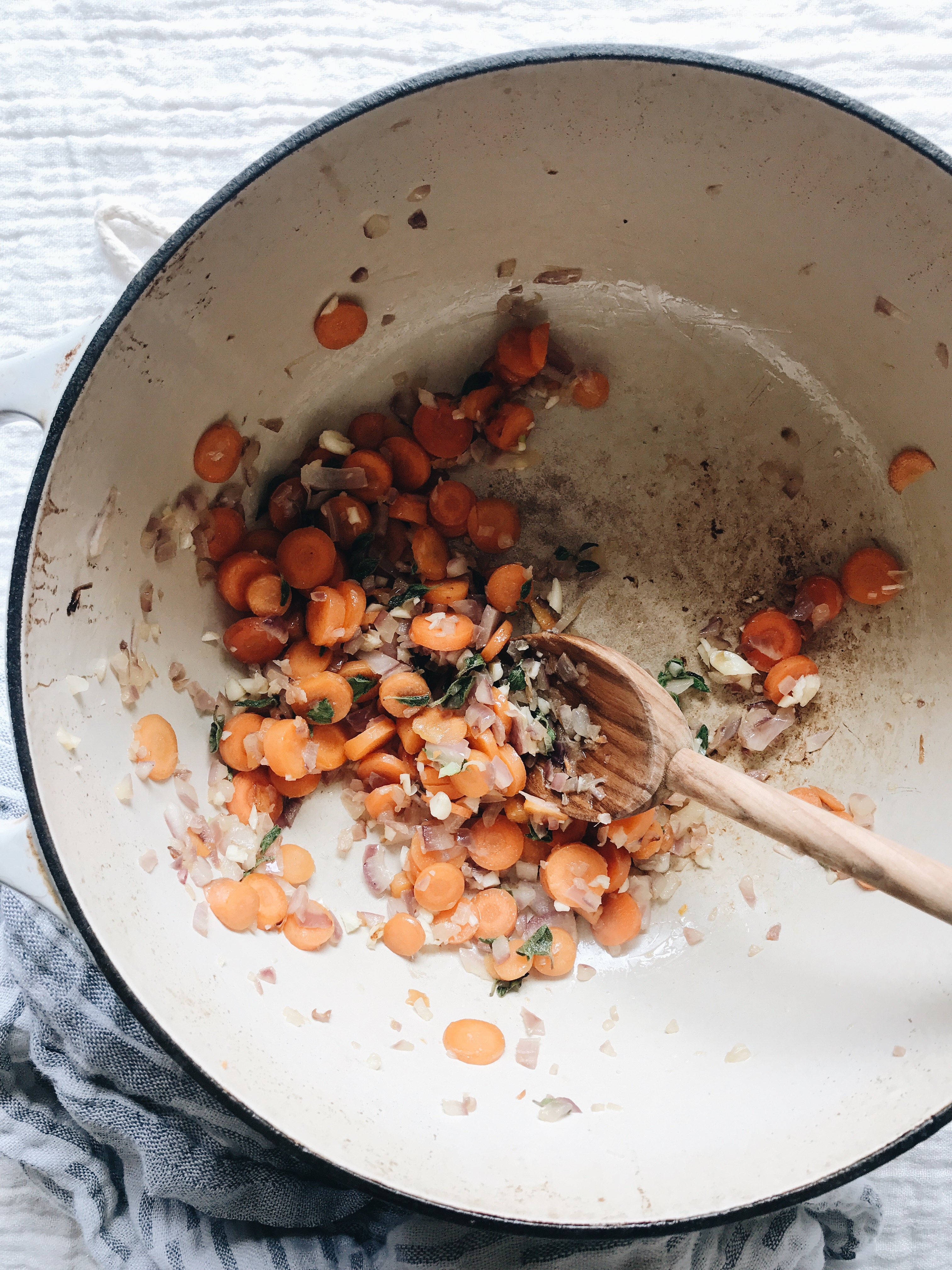 Super simple start – just sauté those onions, garlic, carrots and oregano, man.
This is why a comma is important. I could have typed oregano man. WHO IS OREGANO MAN? A super hero? An herb dealer? We'll never know.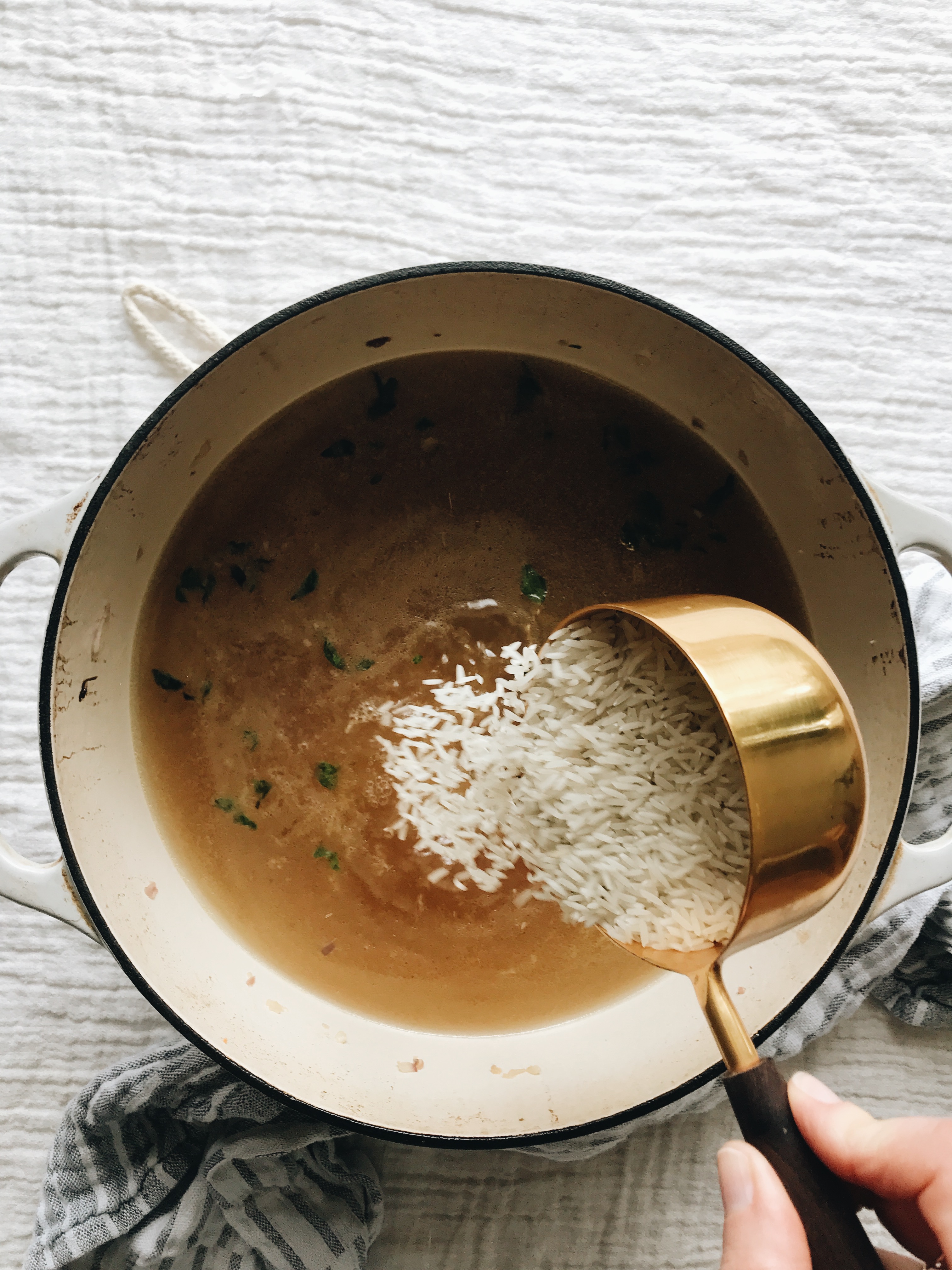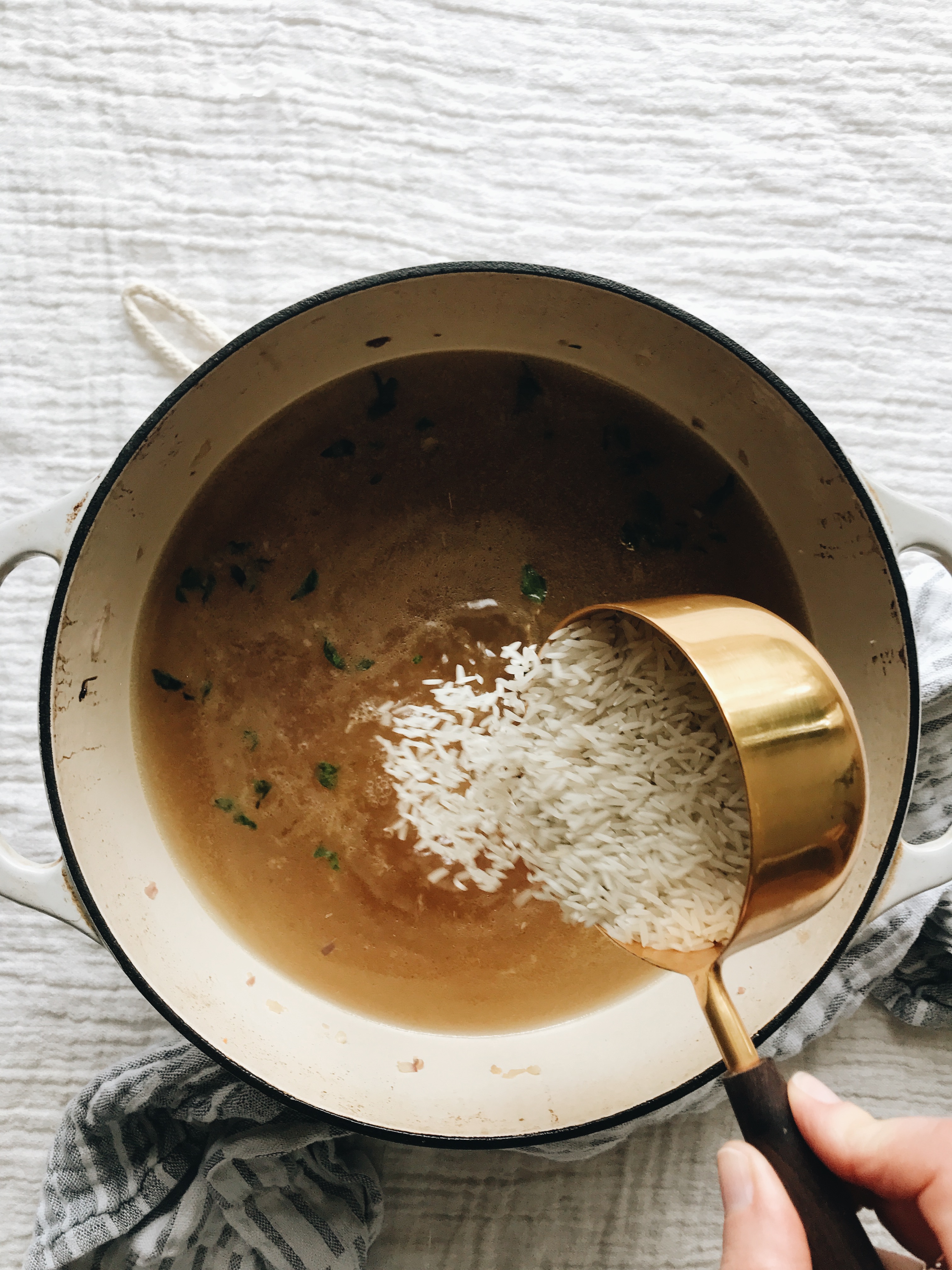 Pour in allll the stock (like 10 cups, seriously. no seriously.), bring to a BAWL, then add the rice. While the rice is cooking, shred up that 'tis.
My mom is going to text me, "Hey, hon! What's a 'tis? Is that a typo?"
A 'tis. A rotis. Rotisserie. Rotisserie chicken.
The chicken.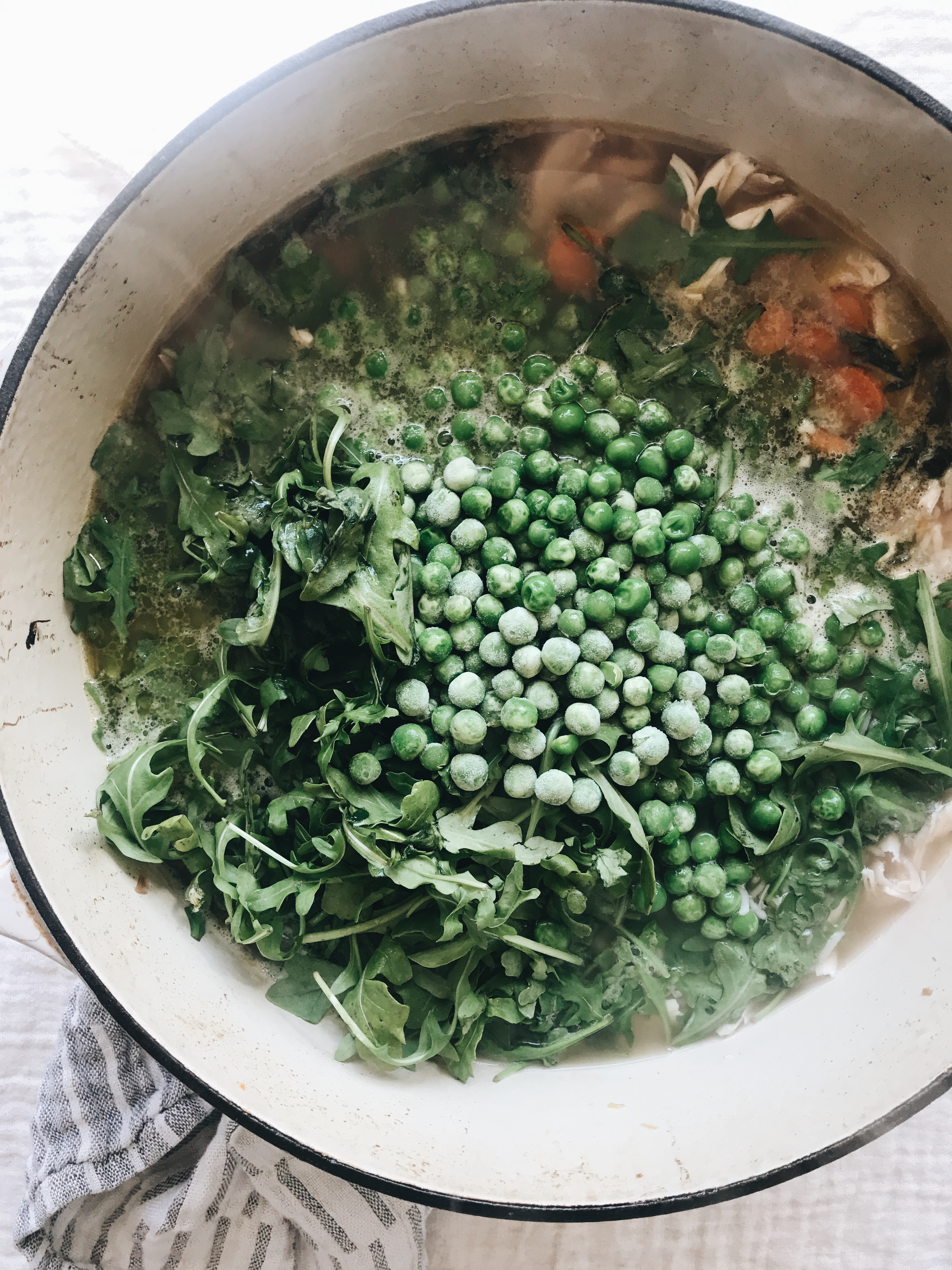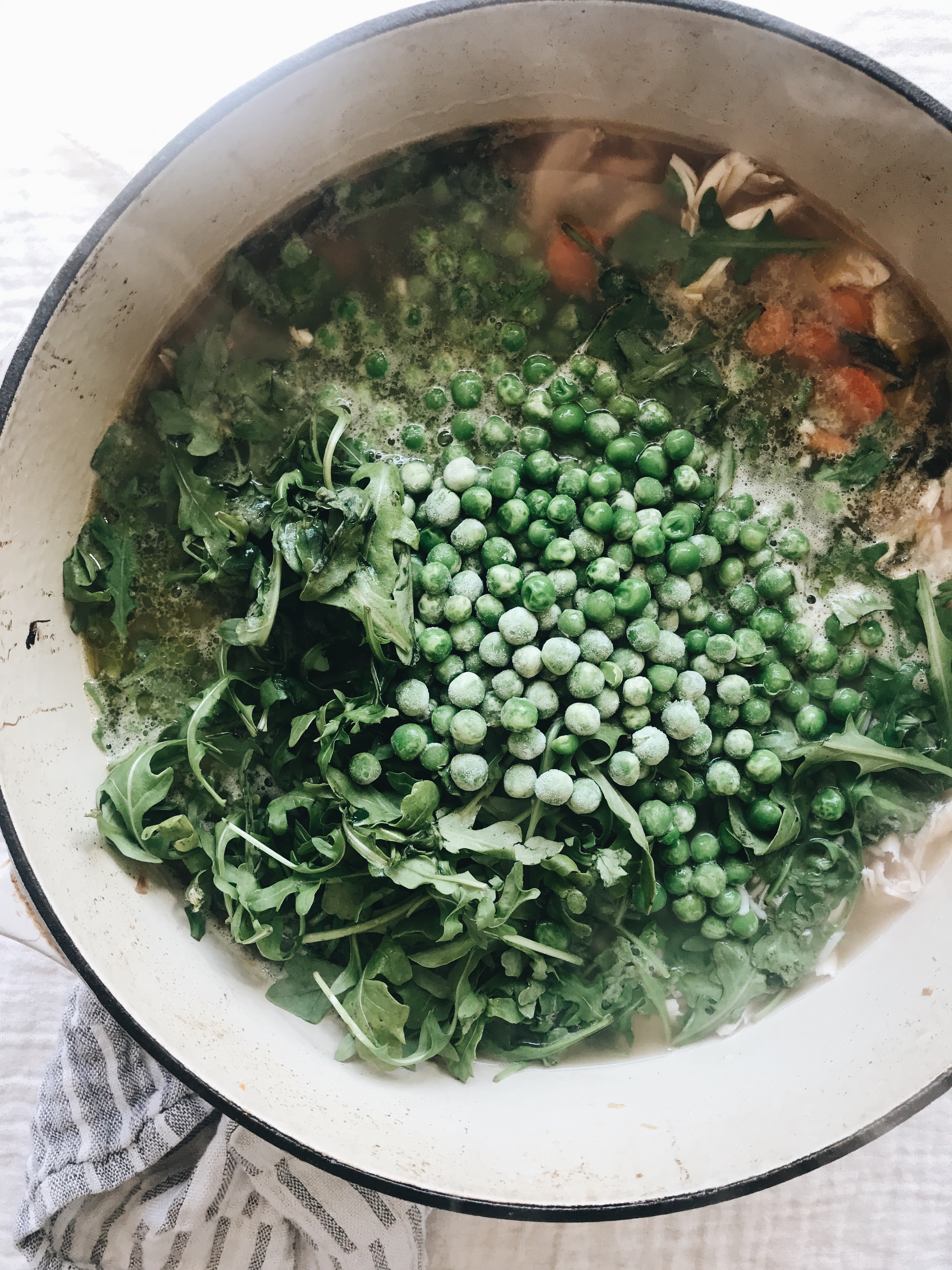 Then you pretty much just throw everything into the pot with all your might, and let it warm up a few. The rice is tender, the greens will wilt and pop, the chicken will nestle in. It's all so good right now.
Taste it and add a goooooooood pinch of salt, along with the juice from a lemon. A lot of lemon! This WAKES THAT MOTHER UP.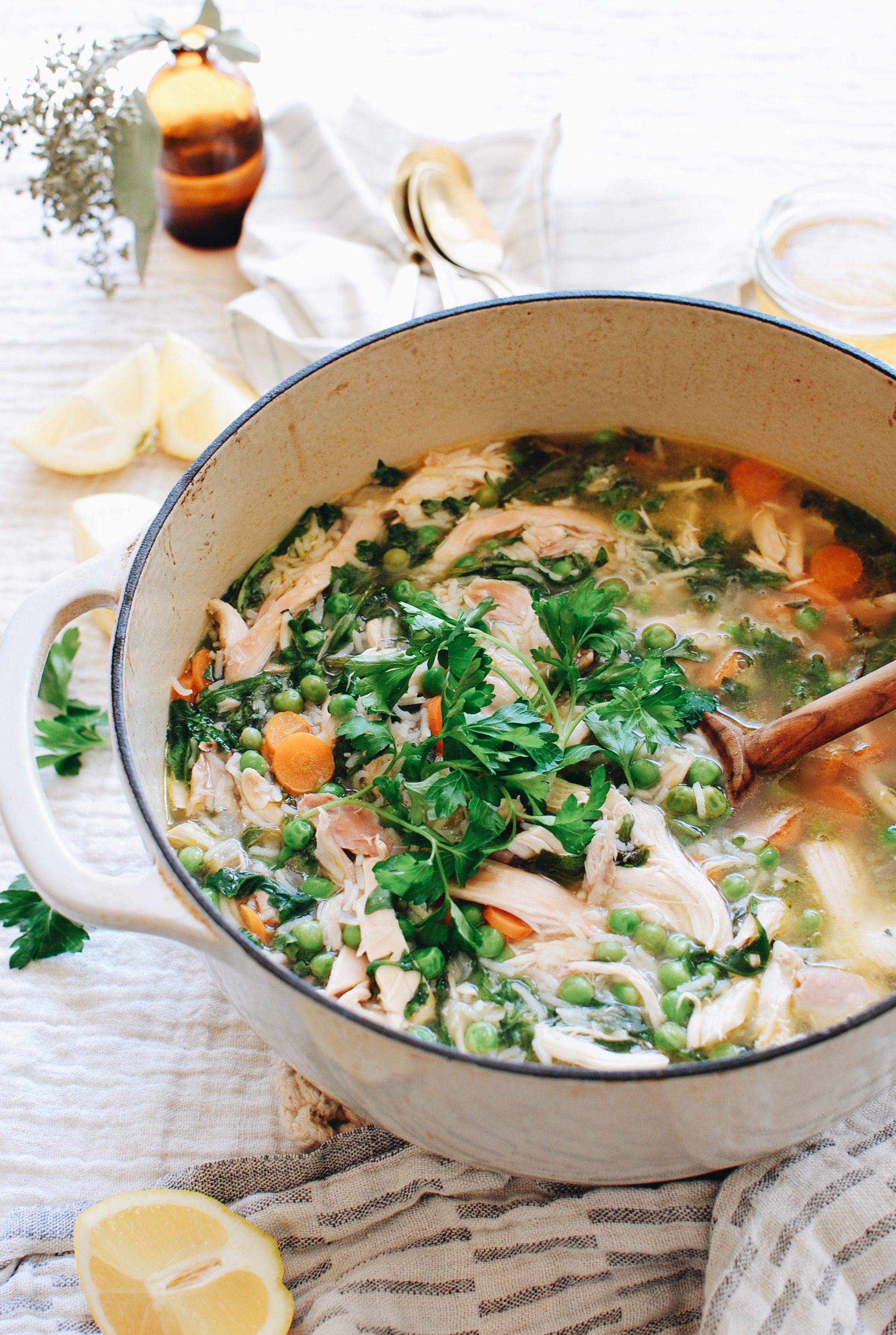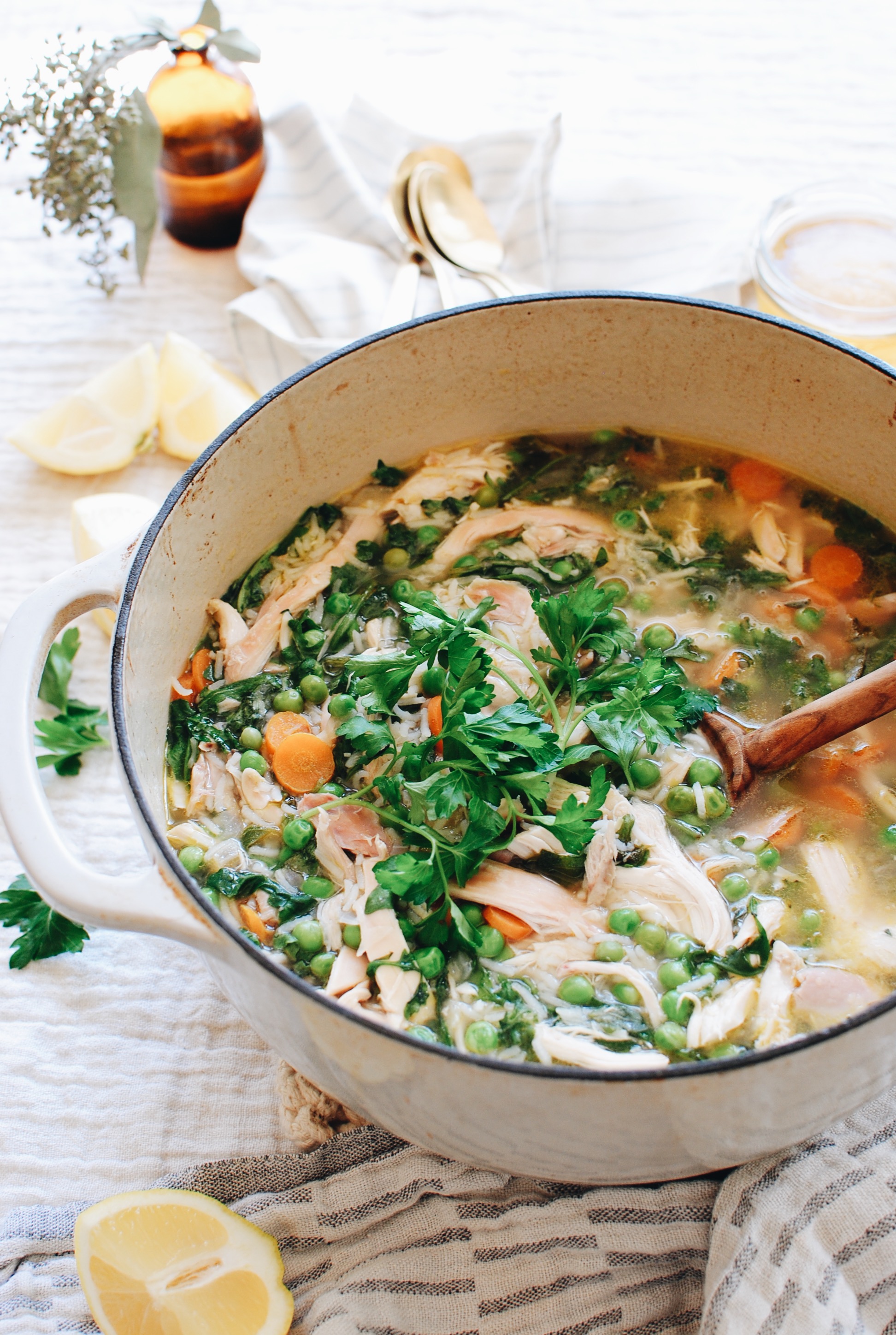 You can also throw in a handful of torn parsley for pow and pretty. That's never a bad idea.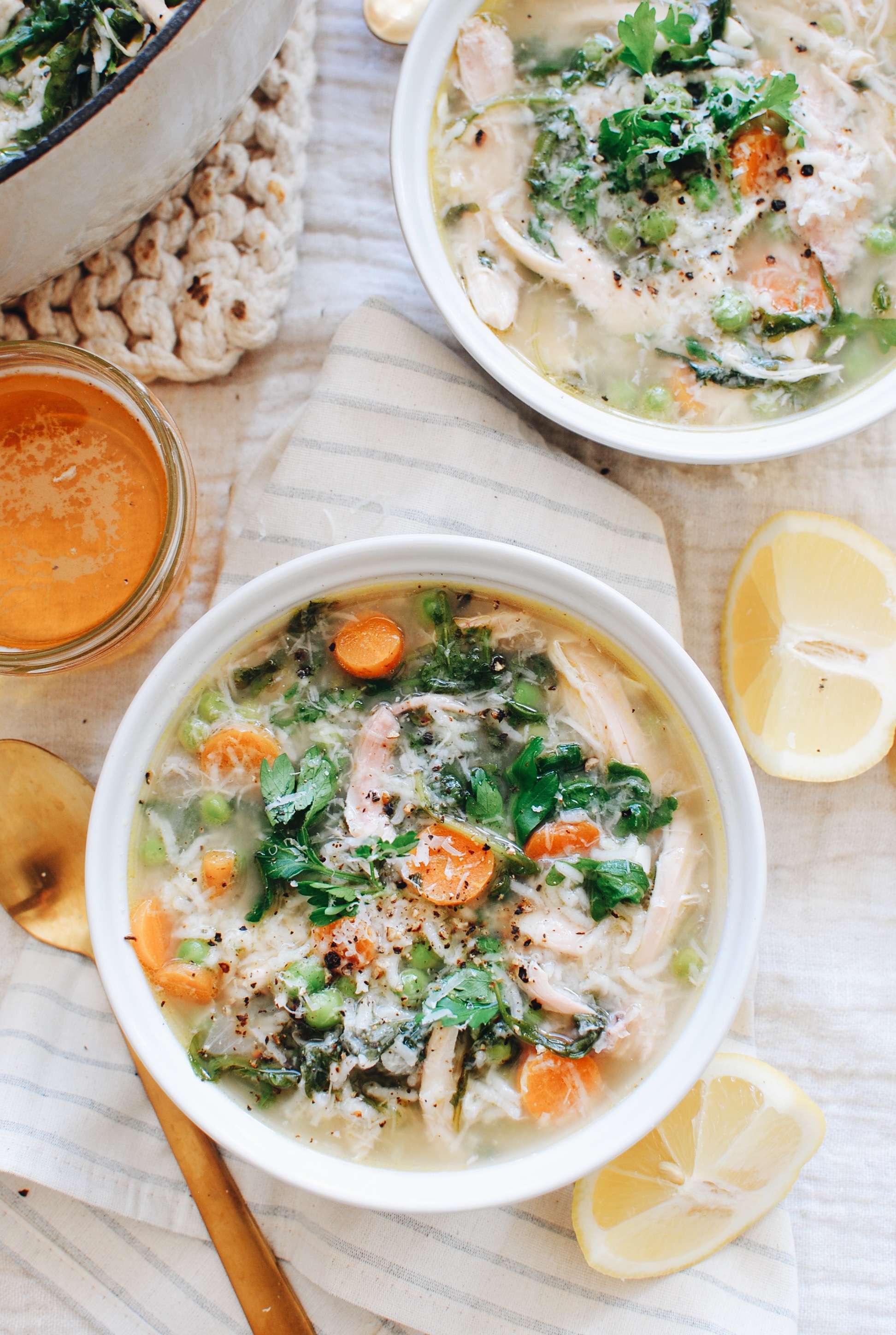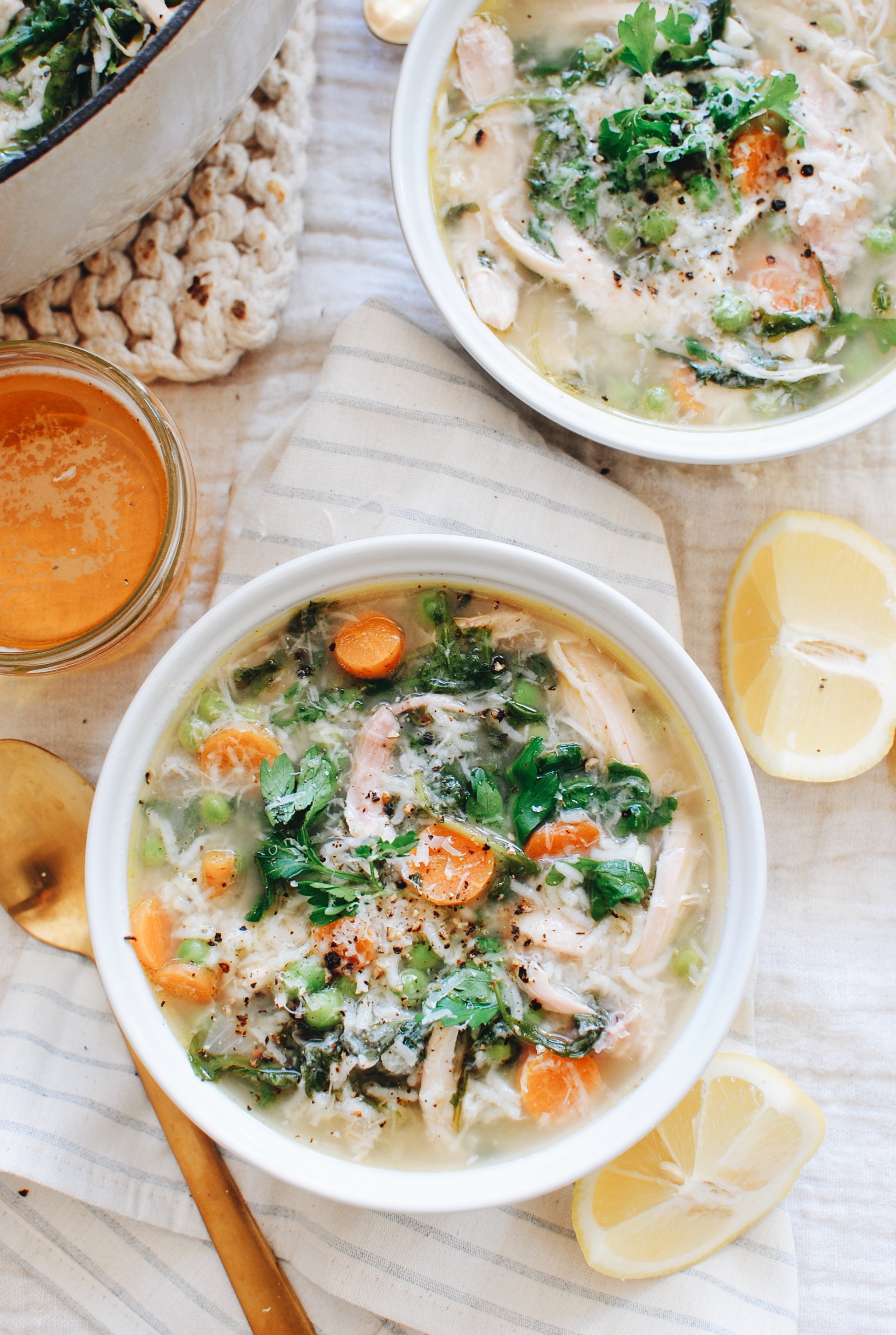 And serve her up! Garnish with a mountain of freshly grated parm, because you make good decisions in your life. Extra lemon wedges, because duh.
Maybe some crusty bread? It's chilly outside. Bread = so much yes.
Make this today and you'll eat for 45 days.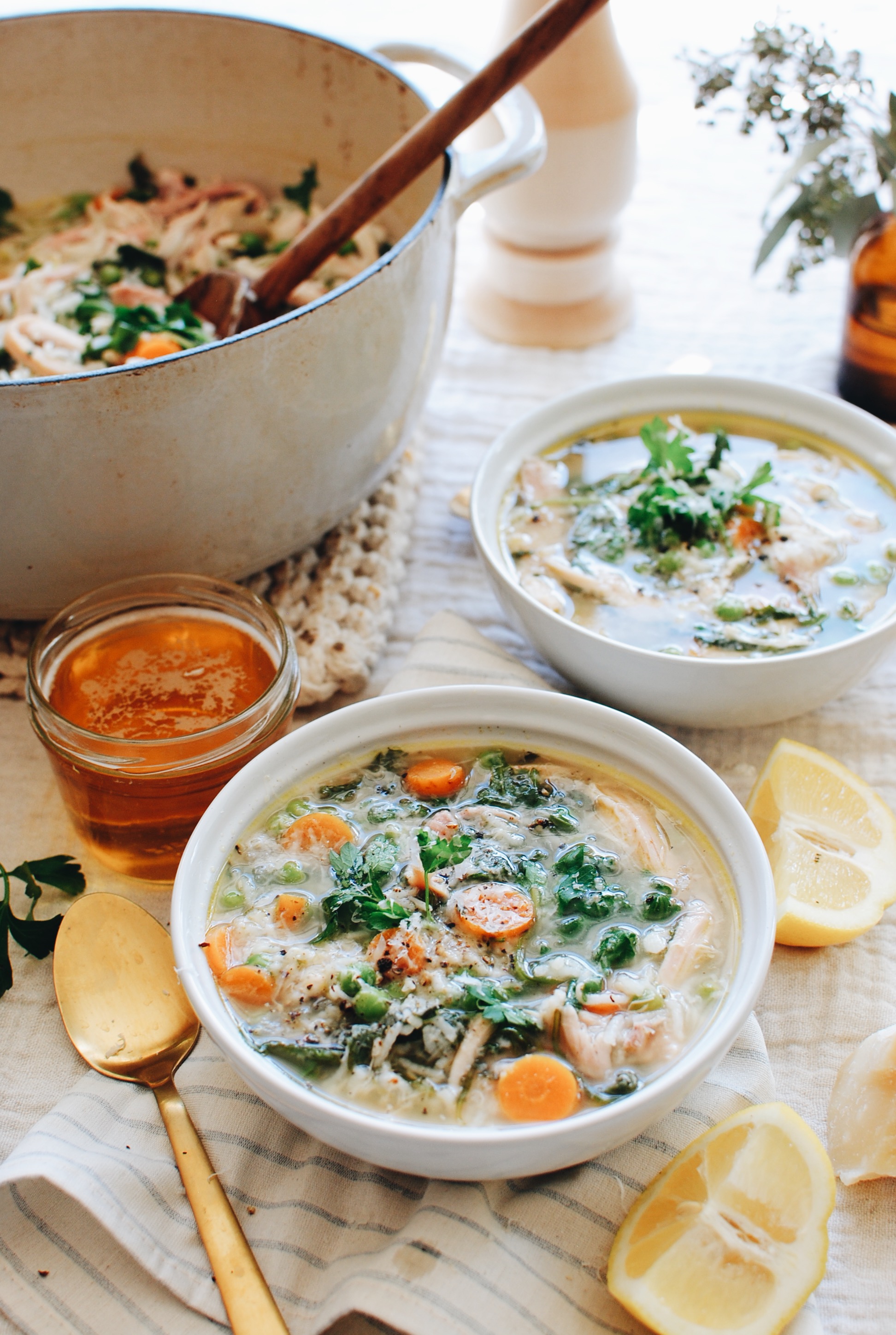 Really.
Spring Chicken and Rice Soup
Ingredients
2 Tbs. extra-virgin olive oil
1/2 cup finely chopped red onion
3 or 4 cloves garlic, minced
3 carrots, cut into thin slices
2 Tbs. fresh oregano leaves
10 cups chicken stock (or: 8 cups stock + 2 cups water)
1 cup basmati rice (or any long grain white rice)
1 rotisserie chicken, shredded (skin and bones discarded)
5 oz arugula
1 cup frozen peas
A couple of lemons
Freshly grated parmesan, for garnish
Fresh parsley leaves, for garnish
Coarse salt and pepper
Instructions
Bring the oil to a medium-high heat in a large pot. Add the onions and carrots; sauté about five minutes, until the carrots begin to soften. Add the garlic and oregano, and sauté another 30 seconds to a minute, until the garlic is fragrant.
Add the stock to the pot. It's going to seem like SO MUCH STOCK, but the longer the rice sits, the more it absorbs. Promzee. (<—what?) Add the rice and let it simmer for about 15 minutes, or until it's tender. Add in the chicken, arugula, peas, and a huge pinch of salt. Let it simmer another couple of minutes, until the peas pop in color and the arugula wilts. Add in the juice of one lemon, give it a stir, and taste. Need anything? Another pinch of salt? Get it juuuuust right for your buds of the taste variety. Throw in some fresh parsley while you're at it.
Ladle up and garnish with a lot of fresh parmesan, extra lemon wedges and a grind or two of black pepper. This is your new life.
Serves 150! Just kidding, like 6-8.
7.8.1.2
147
https://bevcooks.com/2018/03/spring-chicken-and-rice-soup/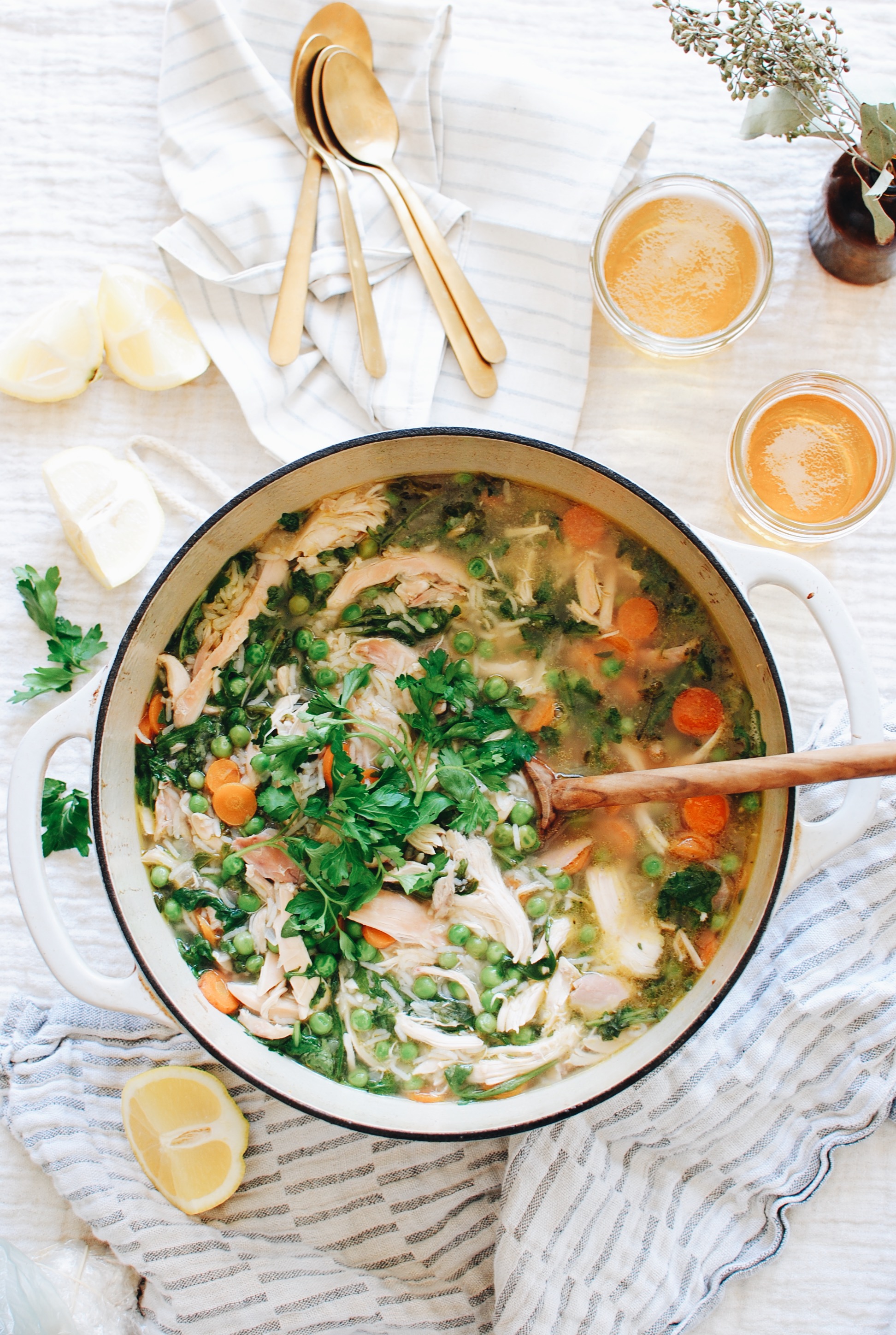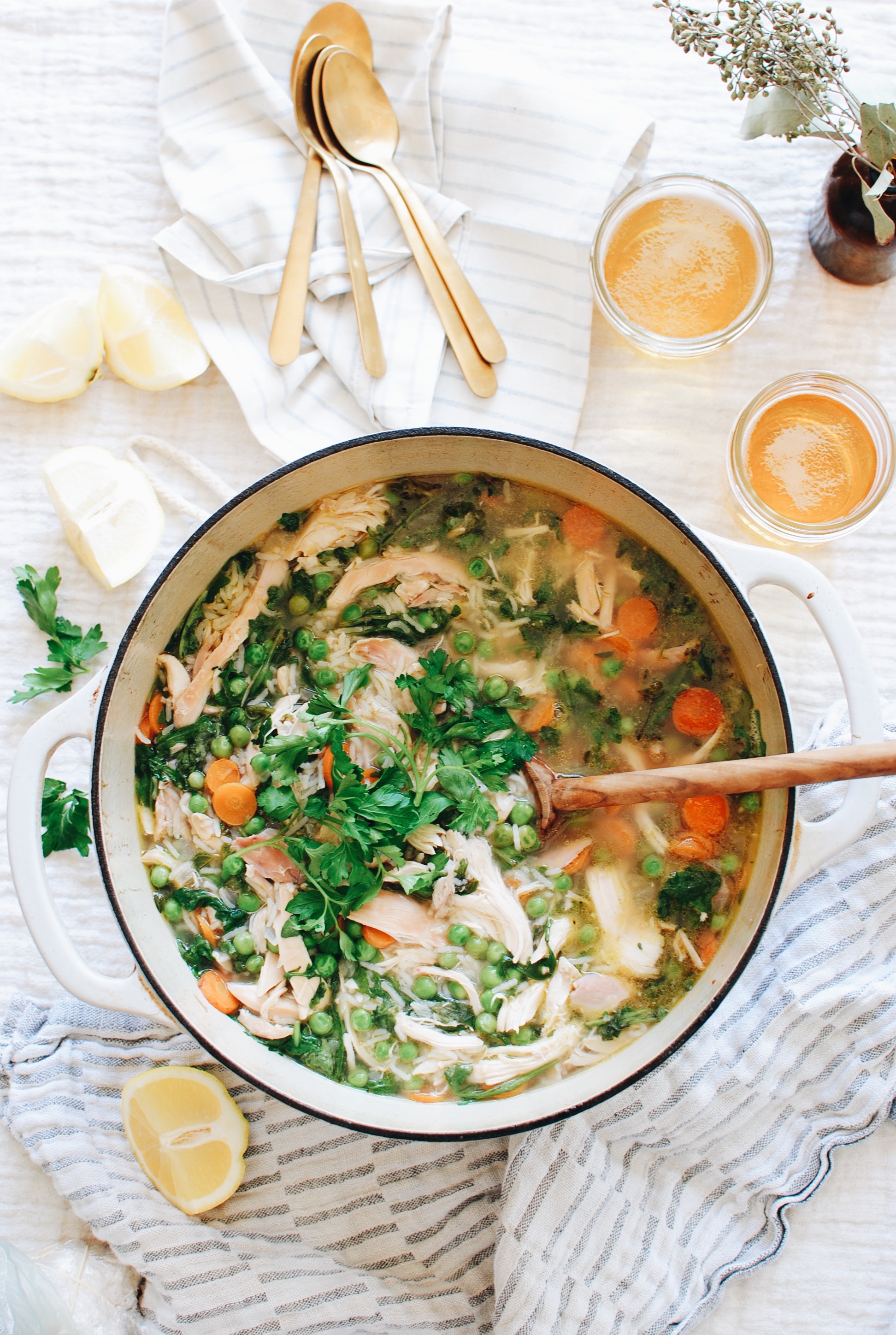 Saddle up.