It's so weird, I know! But hear me out. HARK MEH.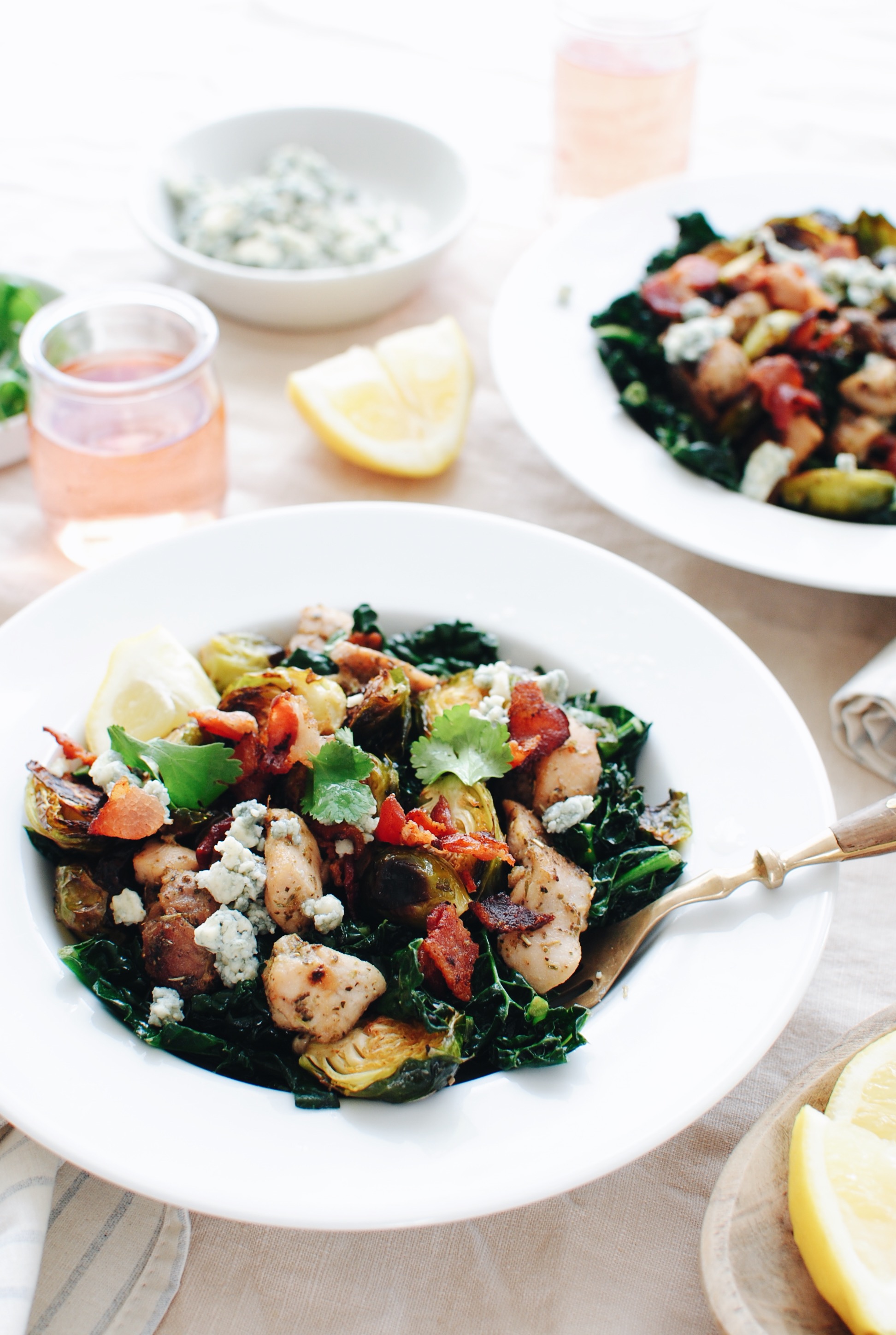 We accidentally made this dinner the other night when I felt like we had NOTHING IN THE HOUSE TO EAT WAAAAAH. You know those nights. The kitchen sink nights. Well this wasn't just any kitchen sink night. No siree, Bob. It ended up being that kitchen sink meal that kicks the rest of the kitchen sink meals in the pancreas.
Just look at this.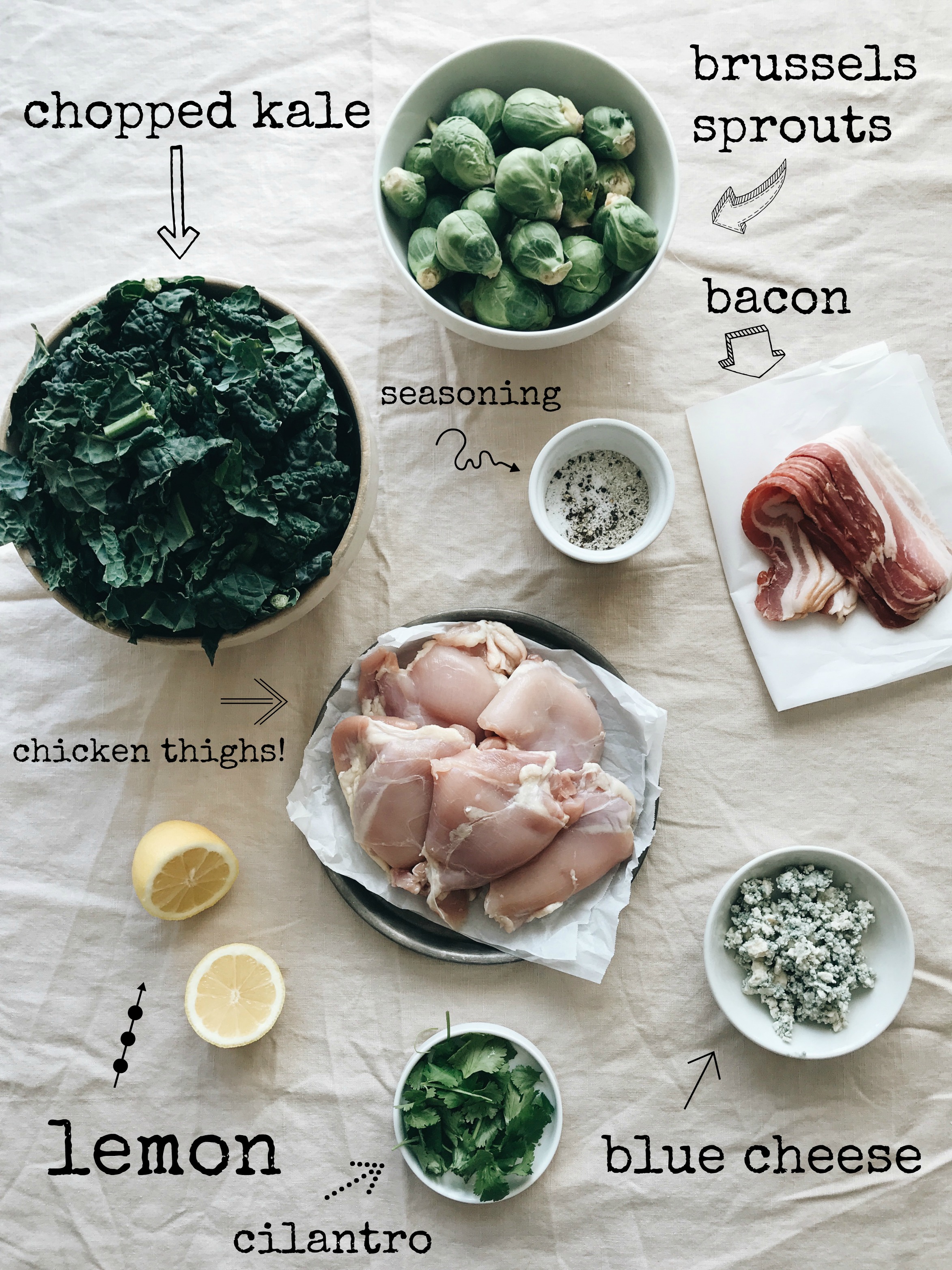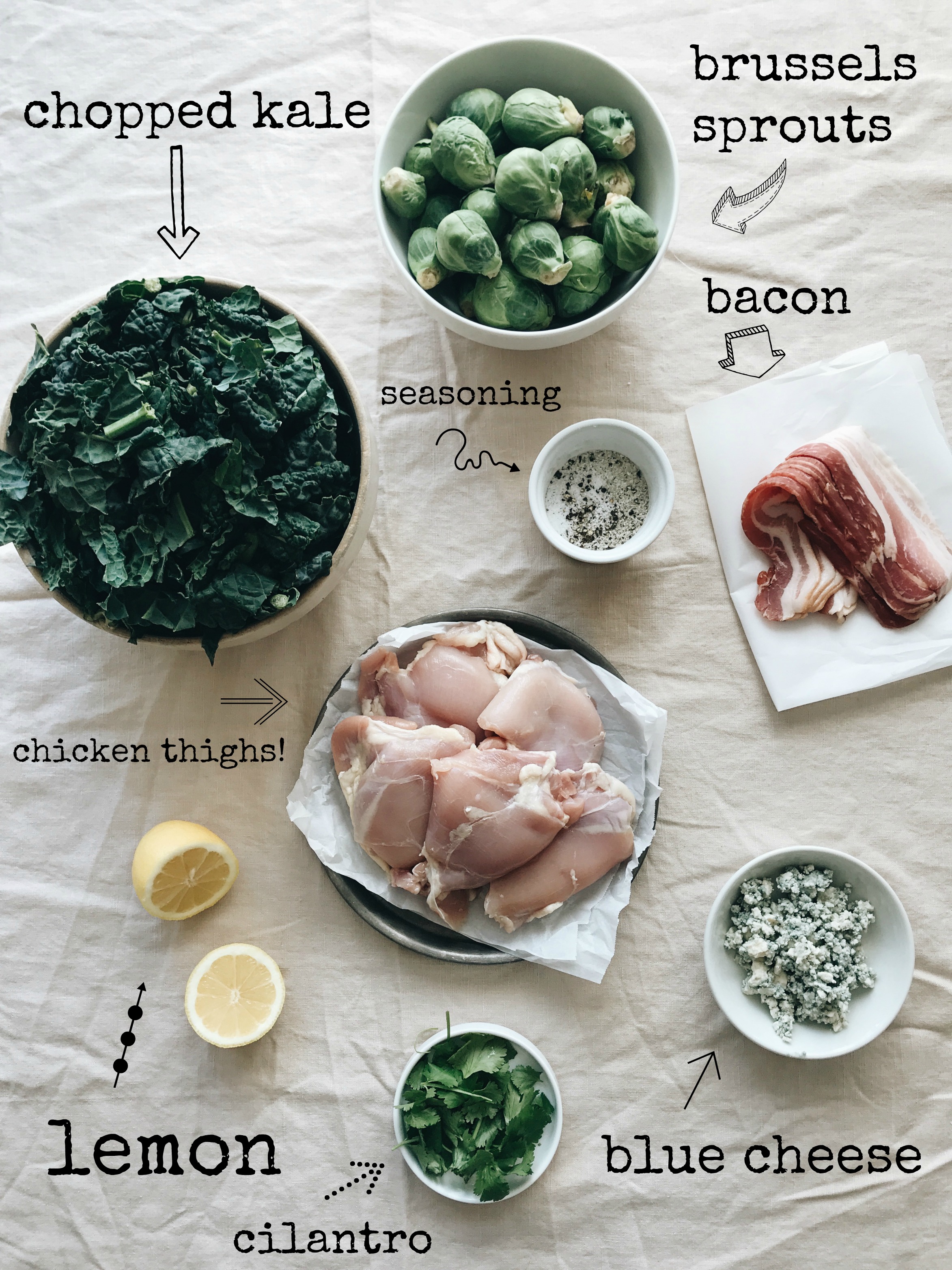 It's so weird, I know! But it WORKS. It werks?
No, it works.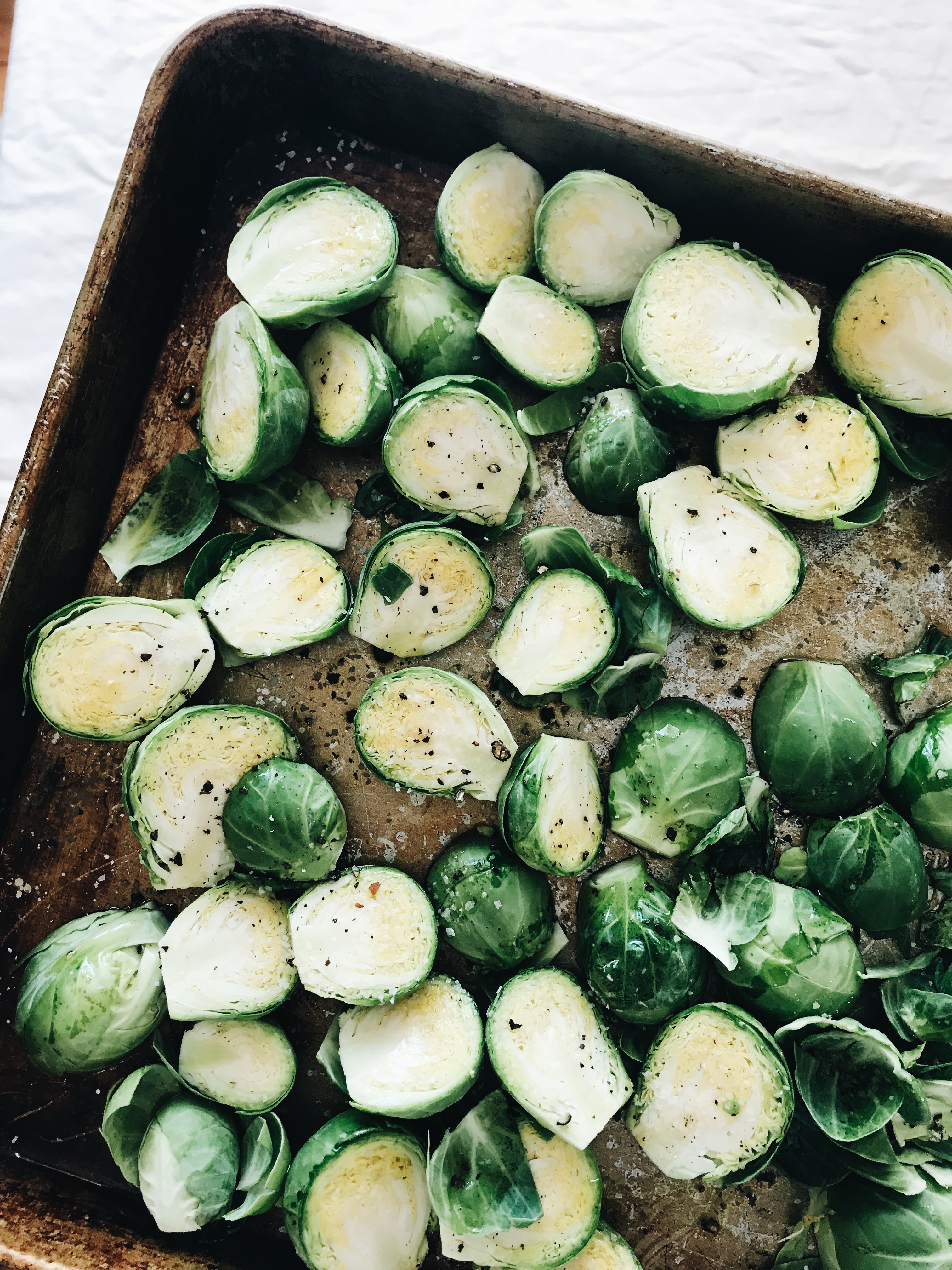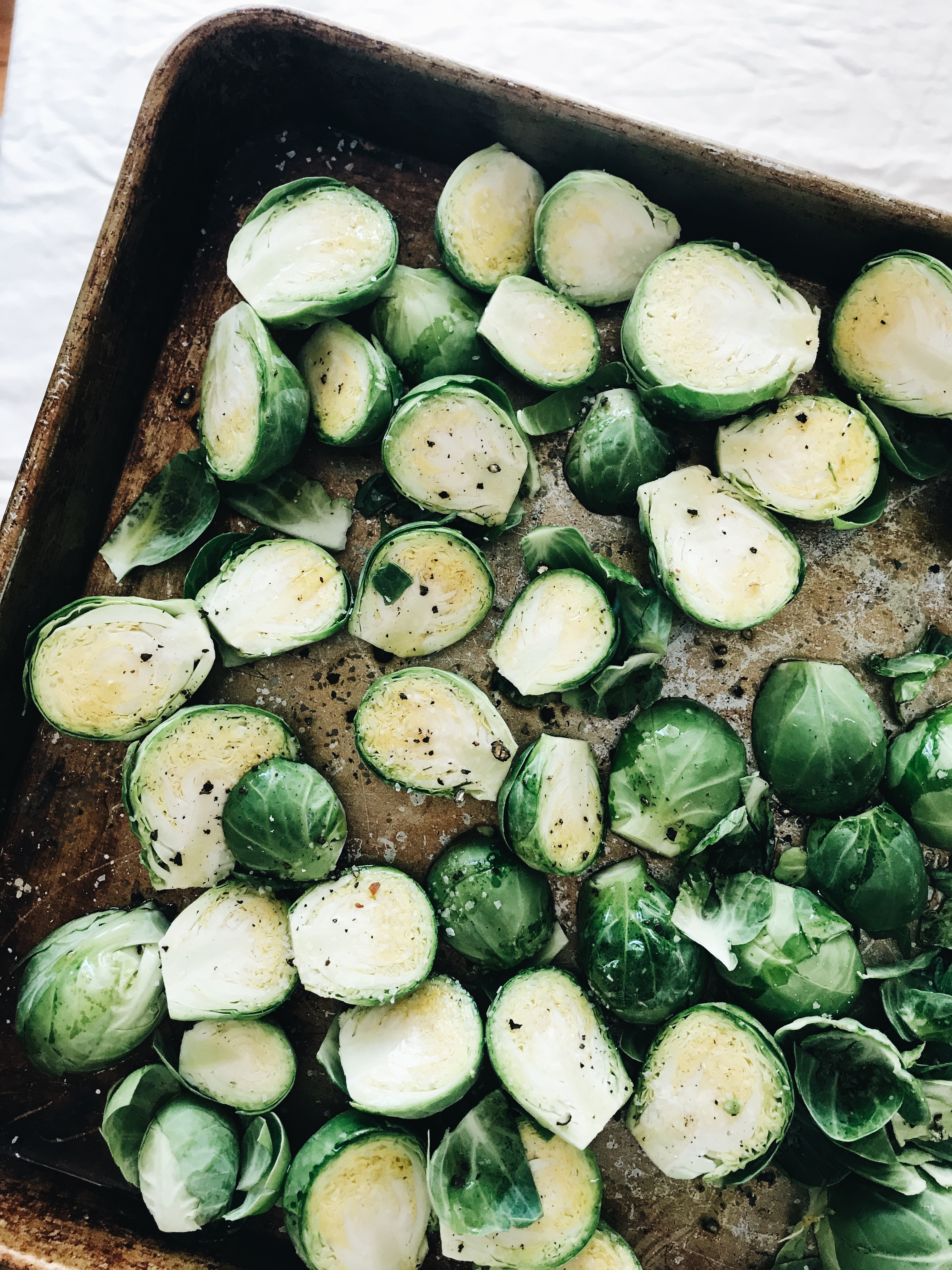 I don't care who you are, but you know you love roasted brussels sprouts. If you don't like brussels sprouts, it's because you've never roasted them. You BETTER ROAST, yo.
Also, wilted kale bumps the nutrition up to 11, so you're welcome for that.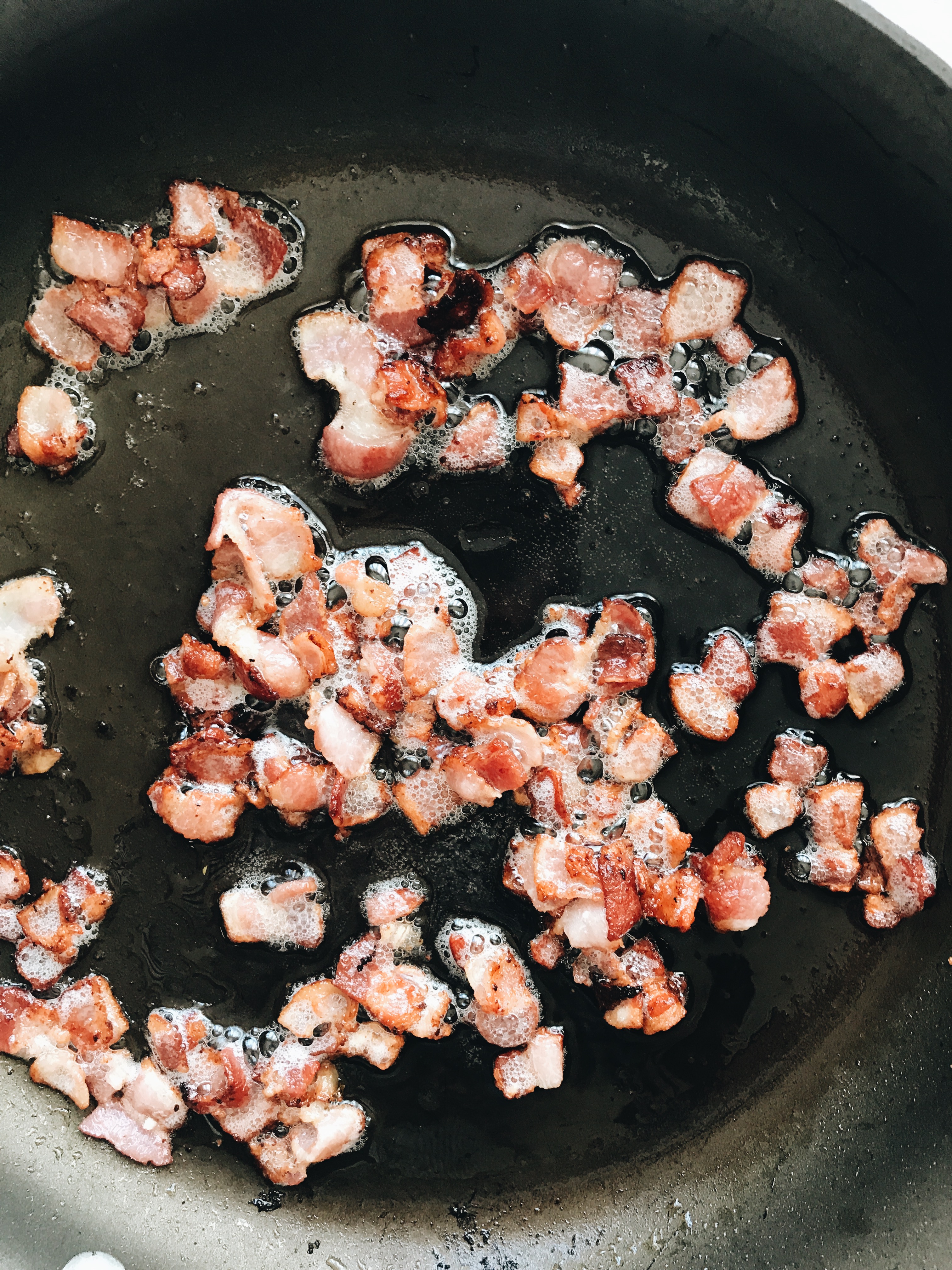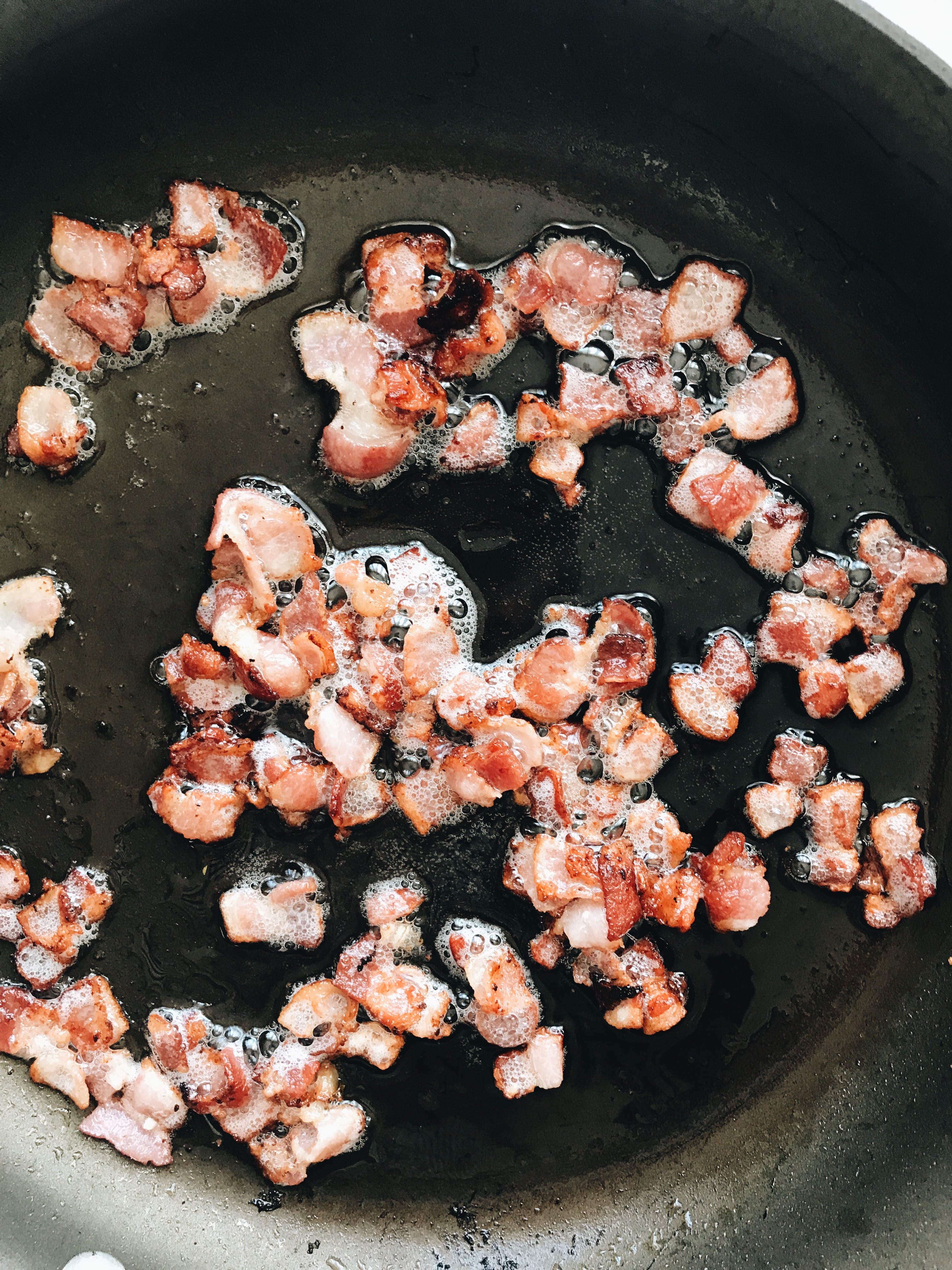 Bacon adds depth and meaning to life.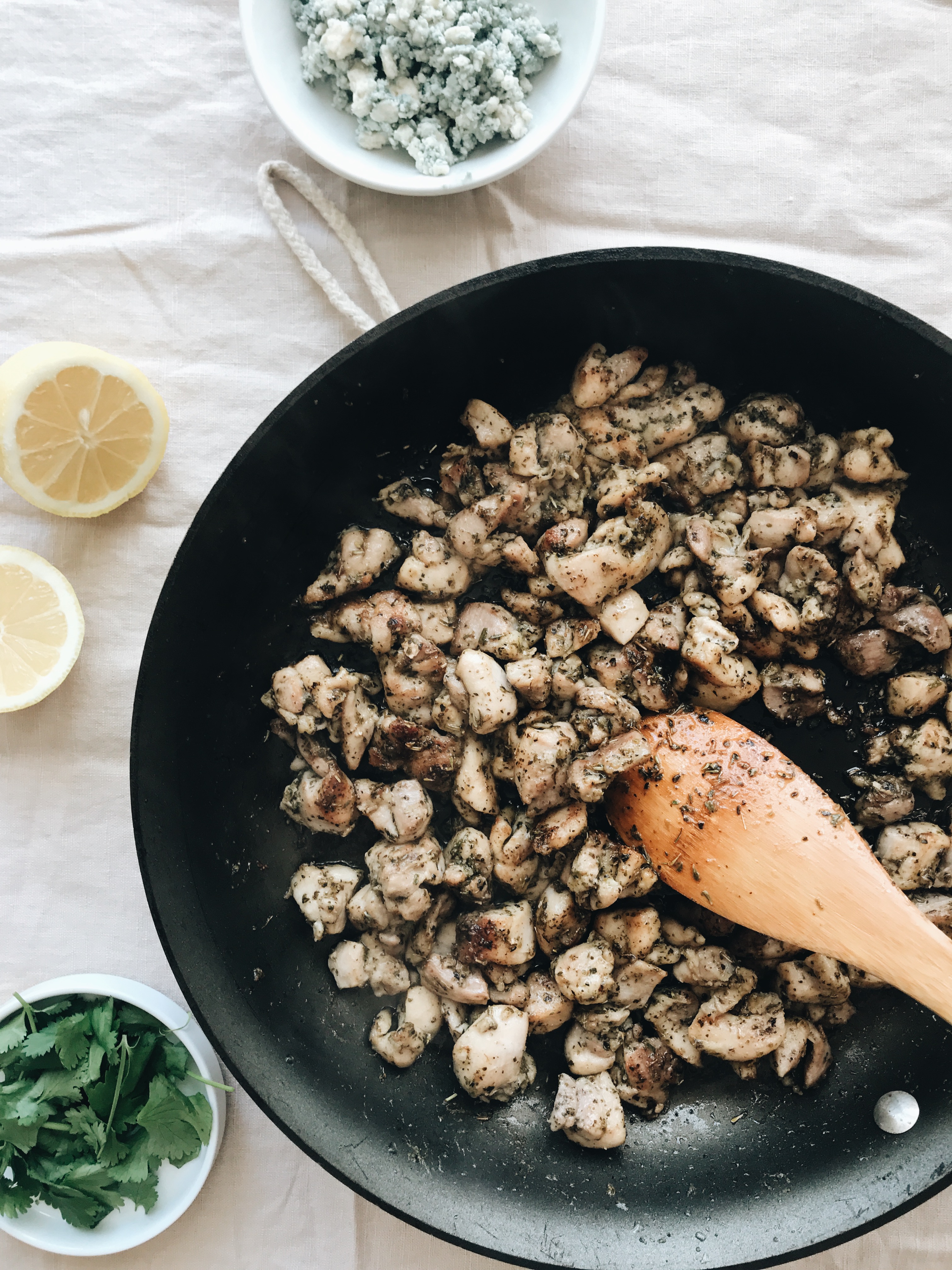 Seasoned chicken THIGHS (don't argue with me) add purpose and fruitfulness to your well being.
And tossed together with pungent crumbled blue cheese, fresh lemon juice and torn cilantro sprigs all willy nilly. Well, your mouth is about to embark on a joy ride like whoa. (sorry I said "like whoa." that was so 2015.)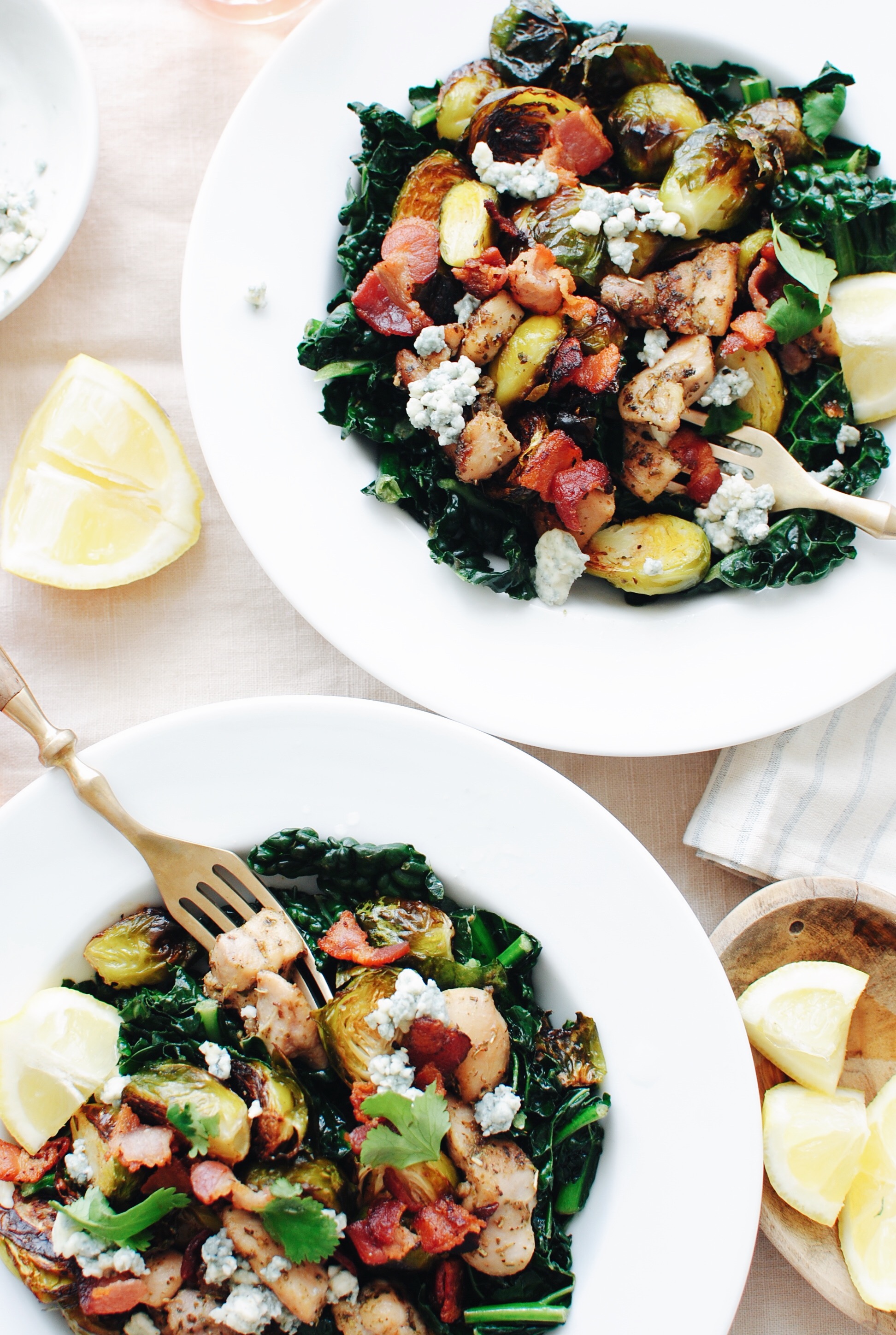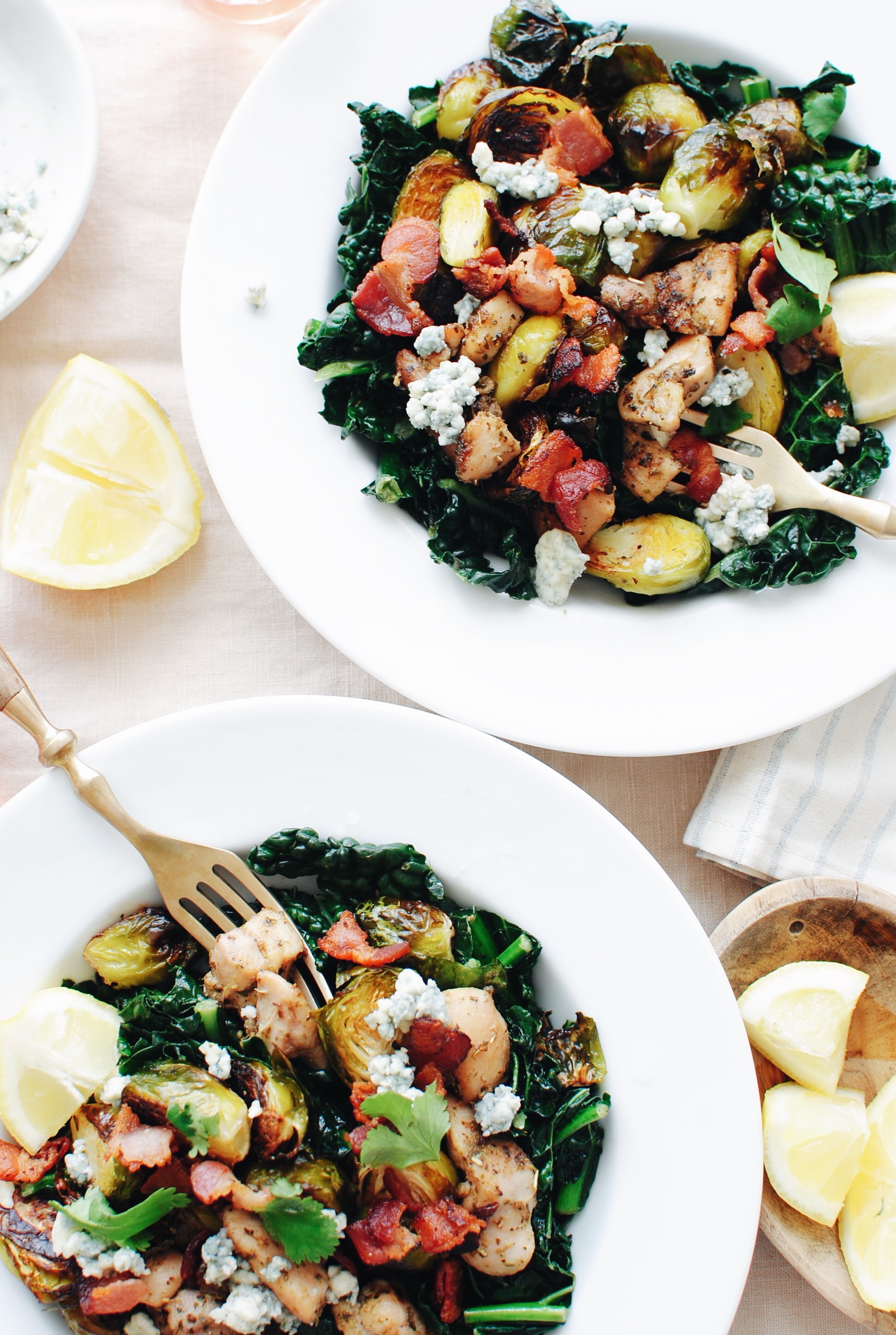 This is so weird, I know!
But I am TELLING you, some how, some way, on some planet, in some universe, it's just brilliant. (notice I didn't say brillz. don't rightly feel like a face punching today.)
Tell me your go-to kitchen sink meal! I want those ODD, WEIRD, NEVER-THOUGHT-OF, ARE-YOU-SERIOUS meals. Spill it.
And then make this.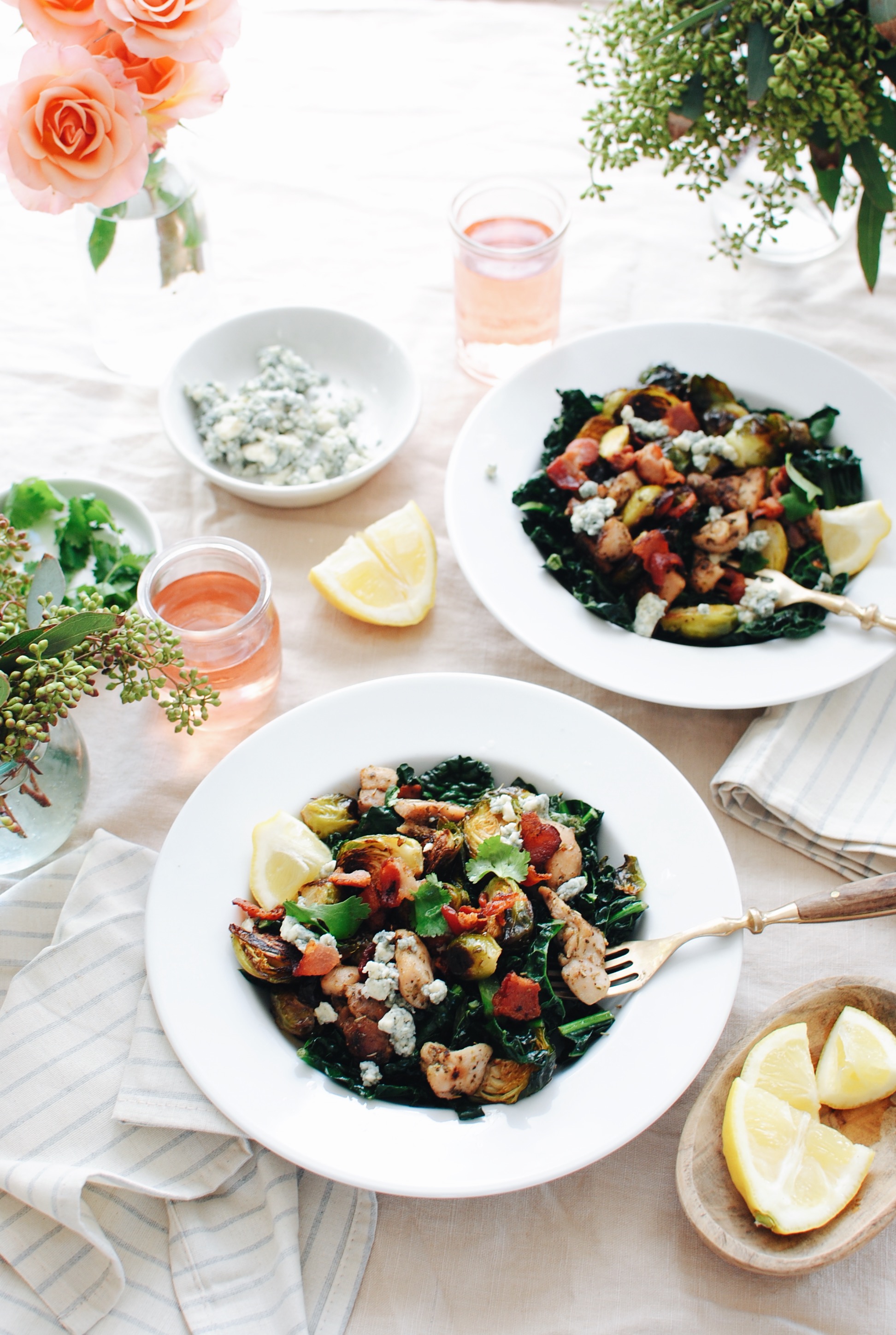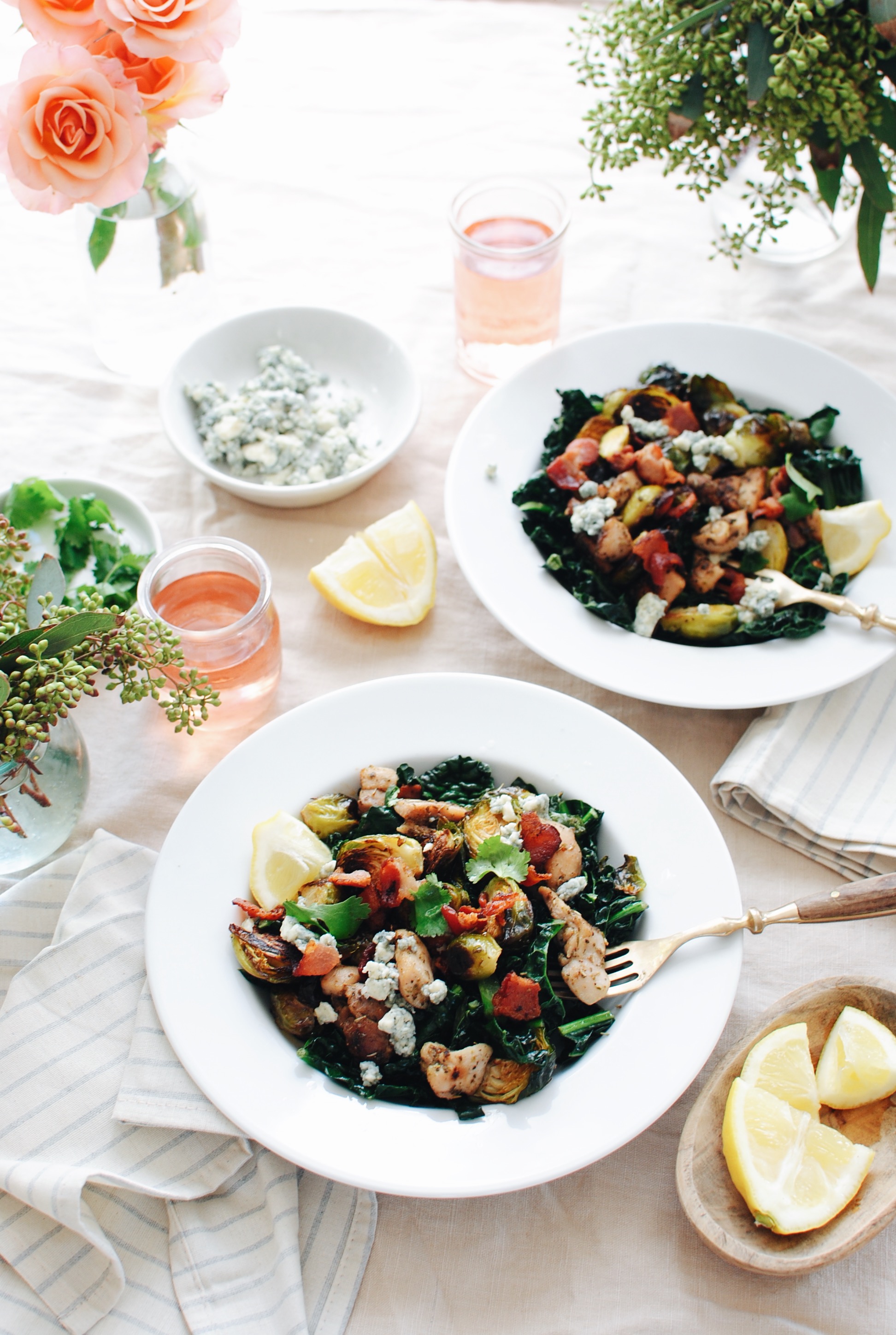 It's a KITCHEN SINK OFF.
Roasted Brussels Sprouts with Kale, Chicken and Bacon
Ingredients
1 pound Brussels sprouts, ends trimmed and sliced in half lengthwise
5 slices bacon, cut into small chunks
1 pound chicken thighs (excess fat trimmed), and cut into bite-sized chunks
2 Tbs. Italian seasoning
2 tsp garlic powder
2 tsp onion powder
10 oz chopped kale
1 lemon
1/2 cup crumbled blue cheese
Cilantro leaves
Salt and pepper
Instructions
Preheat oven to 400.
On a large rimmed baking sheet, arrange the halved Brussels sprouts, and drizzle with a Tbs. of extra-virgin olive oil. Season with a pinch of salt and pepper, and roast for 30-45 minutes, until tender and gloriously browned all over.
In the meantime, render the bacon in a large skillet, until crispy. Remove the bacon with a slotted spoon and set aside on paper towels to drain.
Toss the chicken with the Italian seasoning, onion powder, garlic powder, a pinch of salt and pepper. Add to the pan with the reserved bacon fat and sear until browned all over and cooked through.
Remove the chicken from the pan and set aside.
Add the chopped kale to the pan, season with a pinch of salt and wilt, about four minutes.
Evenly divide the kale among two dinner plates, and top with Brussels sprouts, chicken, bacon, blue cheese and a few cilantro leaves. Spritz the lemon over each dish and enjoy your new life. KITCHEN SIK WHAT.
Makes two dinner plates + two smaller kid plates.
*if you have more adult eaters, double up on the kale!
7.8.1.2
135
https://bevcooks.com/2018/01/roasted-brussels-sprouts-kale-chicken-bacon/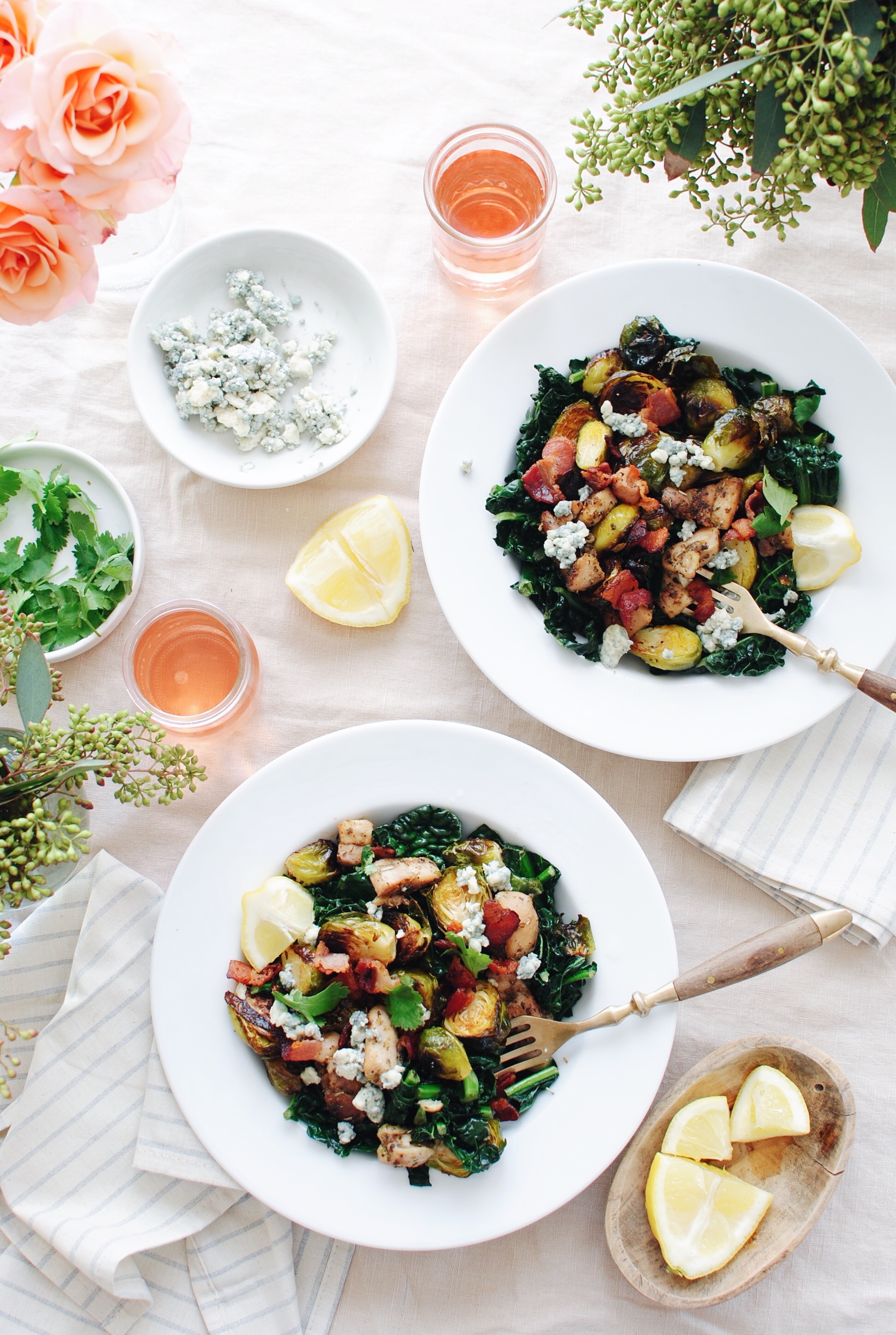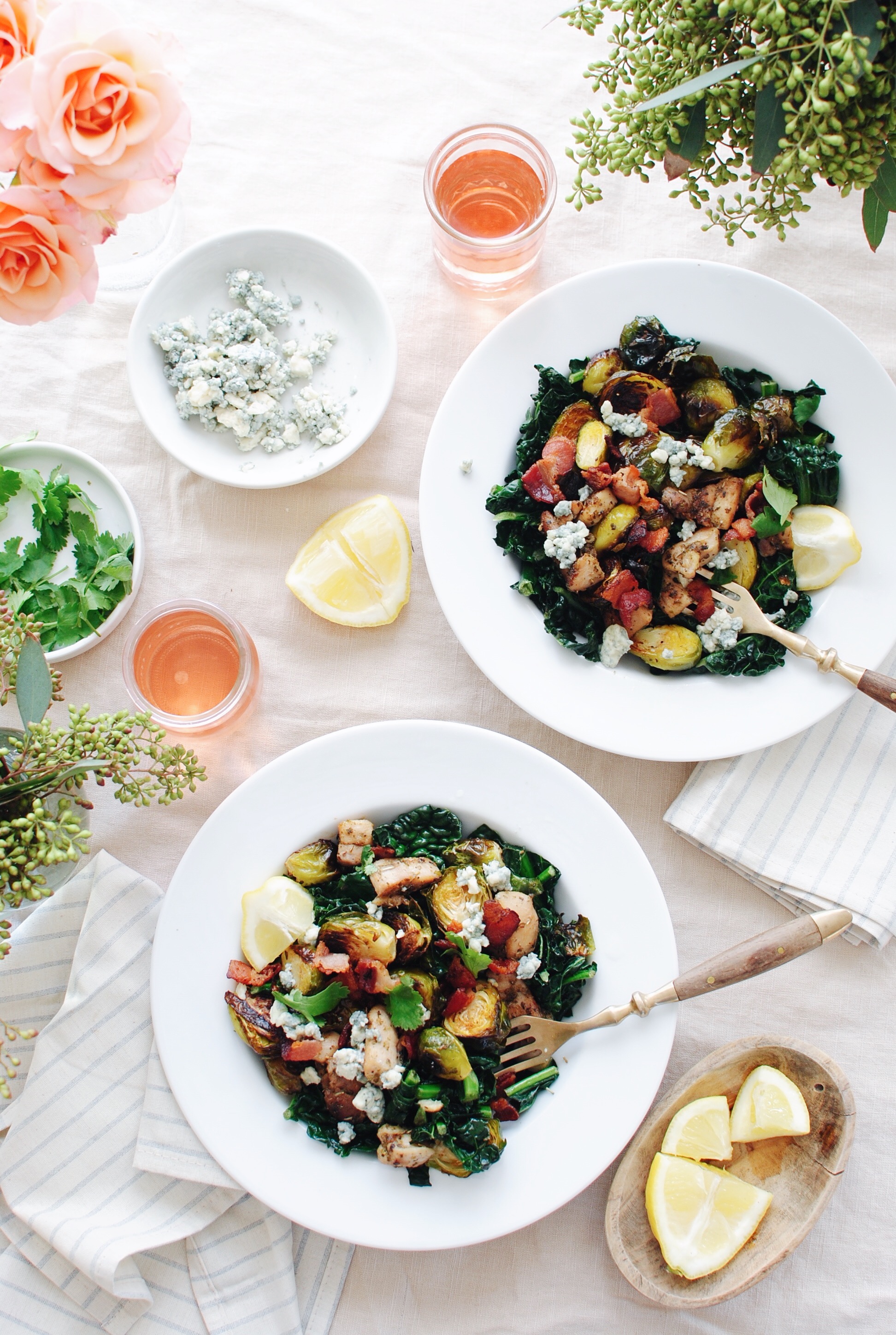 It's so weird, I know!