Bappy Balemtime's Bay! (yes I'm that troll who still says it that way.)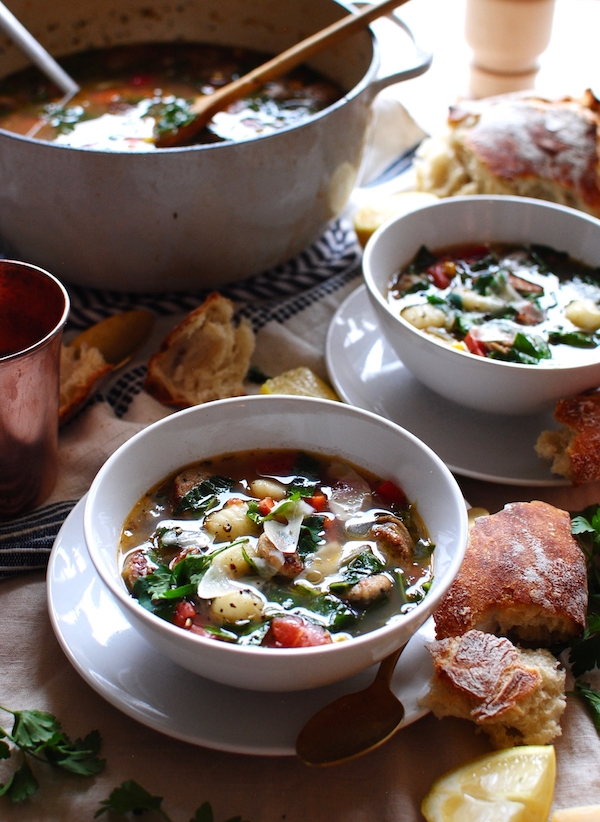 I made you love soup! It's love soup because you're going to have a full blown heart attack once you find out what's in it. Not because the ingredients are heart-attack inducing. I mean, they are. But not like, hospital-gown-open-in-the-back-see-your-bum-style. It's more like a lovely heart attack. I happy heart attack. A romantic heart attack! A giddy, school girl heart attack!
Never mind.
I made you love soup.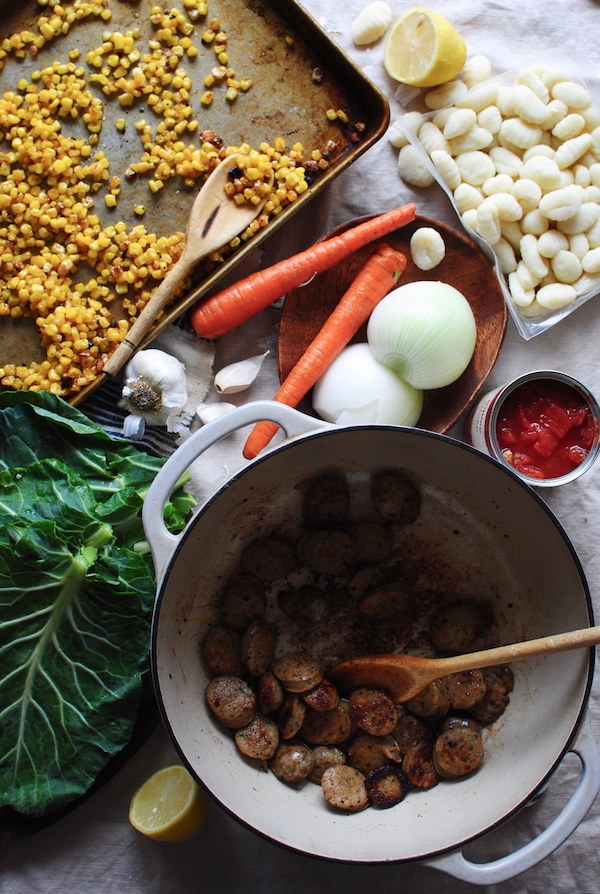 You praaaabby already have your Valentine's Day dinner menu mapped out like the organized planner that you are. But if not! I've totally got you covered with this. Because a) it doesn't take 55 years, so you still have time to get your smooch on (sorry), and b) it's a good mix of veggies slash health and CARBS. Because Valentine's Day ain't rightly Valentine's Day without some pillowy carb nuggets, amiright?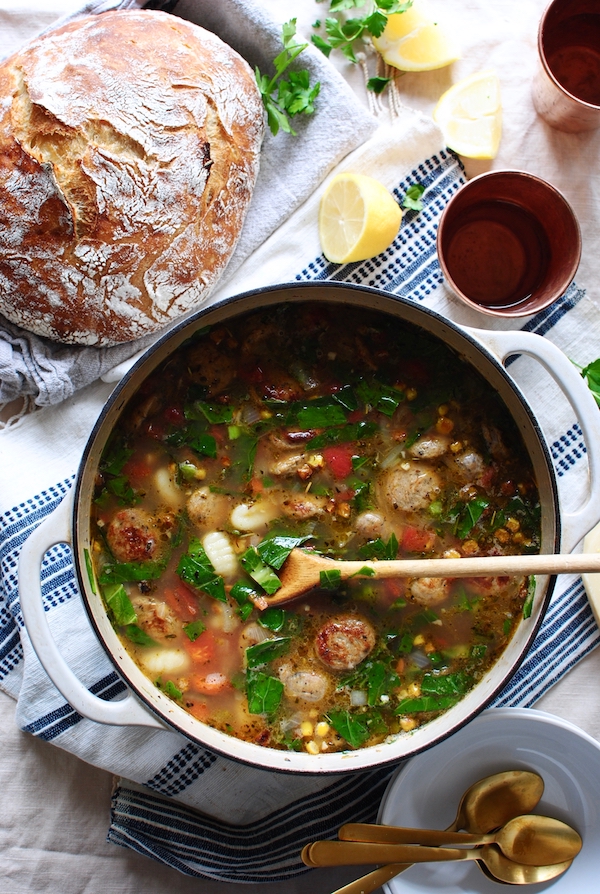 The secret weapon in this soup? (and all soups, really) – ACID. Not to be confused with battery acid. But citrus! Citrus is the key ingredient to the good life. (and rosé, but I don't have to tell you that.) Lemon or lime juice at the end of a soup will WAKE IT UP like whoa. And also, a good drizzle of olive oil. And a mama crack of black pepper. And a few gigantor shavings of fresh parmesan cheese. And your entire upper torso.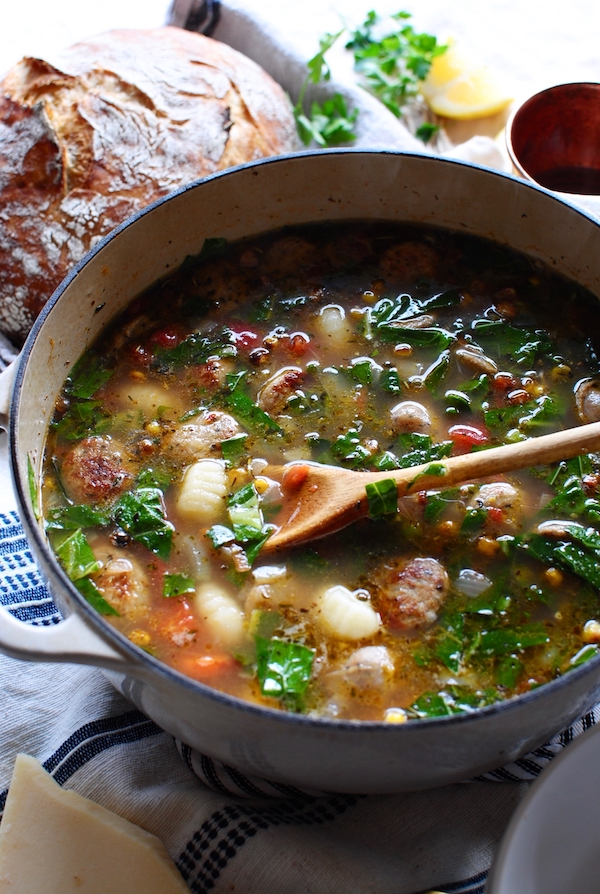 It's super simple to pull together. First, you'll broil some frozen corn. Like, straight from the freezer, on the pan, under the broiler, ba da bam. You won't believe what eight minutes under that blast of heat will do to the corn. Perfectly sweet charred little nubs of corn delight. That in your soup? Please.
Slice and sauté your favorite chicken sausage. I chose sun-dried tomato this time around, but whatever you choose will have cartoon baby birds singing Disney songs at your windowsill.
The greens in this soup? Collards! I wanted a change from spinach and kale, but also something hefty and sturdy enough for a hearty winter soup like this. Collards are wonderful in it. Silky, but with guts. I like gutsy greens. Oh! Let's start a band called Gutsy Greens! We suck.
Finally, your soul's happy place – the gnocchi. You'll add these last second, because they take like half a nano to soften in the soup. There's also stuff like onions and garlic and tomatoes and carrots in it – but I wanted to keep the weeping to a minimum. Can't mess up your mascara on a day like today.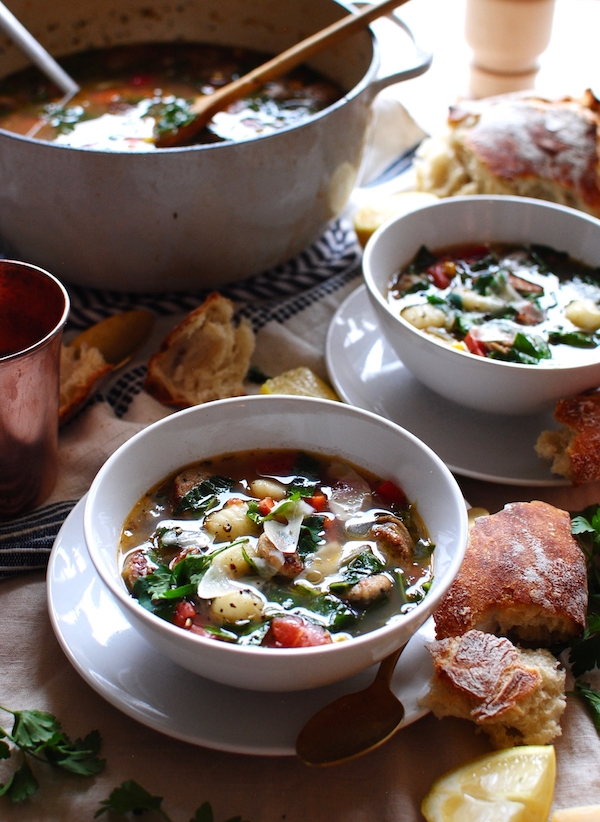 Love soup! Totally a thing.
Gnocchi and Chicken Sausage Soup
Ingredients
1 (12 oz package) frozen corn
2 Tbs. extra-virgin olive oil, divided
1 (12 oz package) favorite chicken sausage (I used sun-dried tomato), sliced into 1/2-inch pieces
1 white onion, diced
2 carrots, sliced
4 cloves garlic, minced
1 tsp onion powder
1 tsp dried thyme leaves
1 bunch of collard greens, stems removed and leaves chopped
1 (14 oz) can diced tomatoes
2 quarts chicken stock
1 pound dried gnocchi
1 lemon
Fresh parmesan and parsley leaves, for garnish
Salt and pepper
Instructions
Preheat oven to broil. Place the frozen corn on a rimmed baking sheet, and drizzle with 1 Tbs. oil. Season with salt and pepper, and toss to coat with your fingers. Broil for 8-10 minutes, checking on the corn to make sure it doesn't burn. You want a bit of browning all over.
Heat the other Tbs. of oil in large soup pot. Add the chicken sausage and brown on both sides. Remove from the pot. Add the onions, carrots, garlic, onion powder, dried thyme, and a large pinch of salt. (And a little more oil if needed) Sauté until the veggies start to soften, about five minutes. Add the seared chicken sausages, diced tomatoes and chicken stock; let simmer for 20 minutes on medium. Finally, add the broiled corn, chopped collard greens and gnocchi. Let it simmer another five or so minutes, until the gnocchi softens and the collards pop in color. Squeeze in the juice from the lemon. Season with salt and pepper, to taste. GAH.
Ladle and serve! Garnish with a drizzle of olive oil, parmesan shavings, and parsley leaves. And more lemon wedges! Always always always.
Serves 4-6.
7.8.1.2
68
https://bevcooks.com/2017/02/gnocchi-chicken-sausage-soup/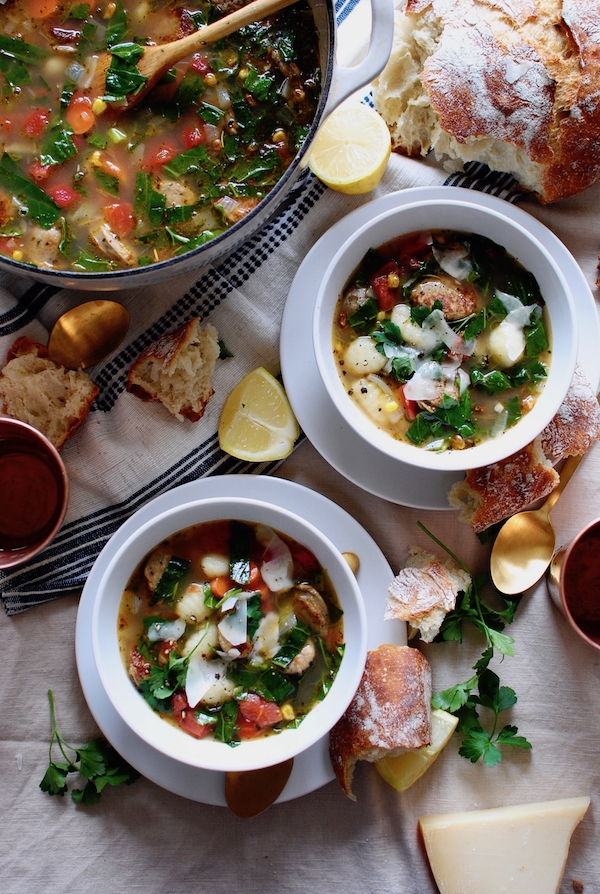 Love slurping is highly encouraged.