There's rice in it, too, so please don't x out.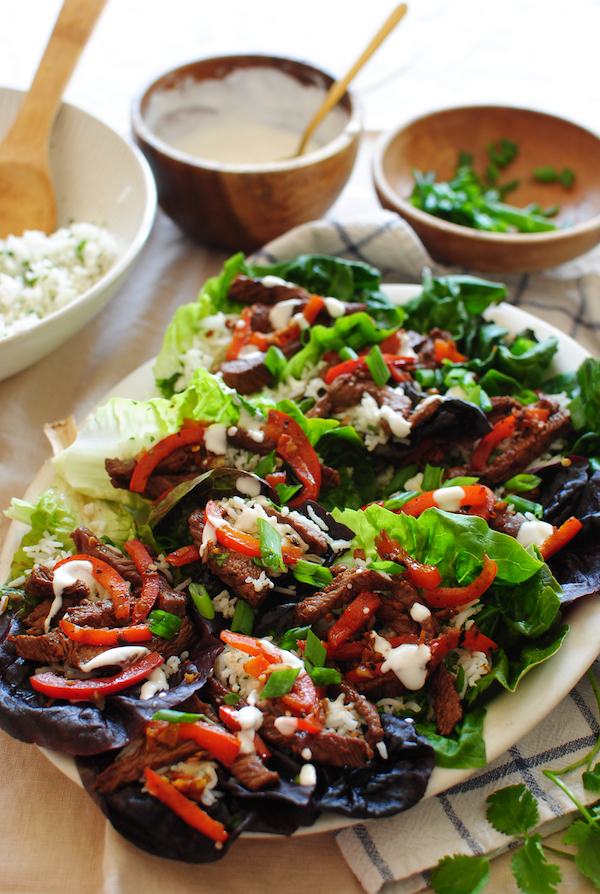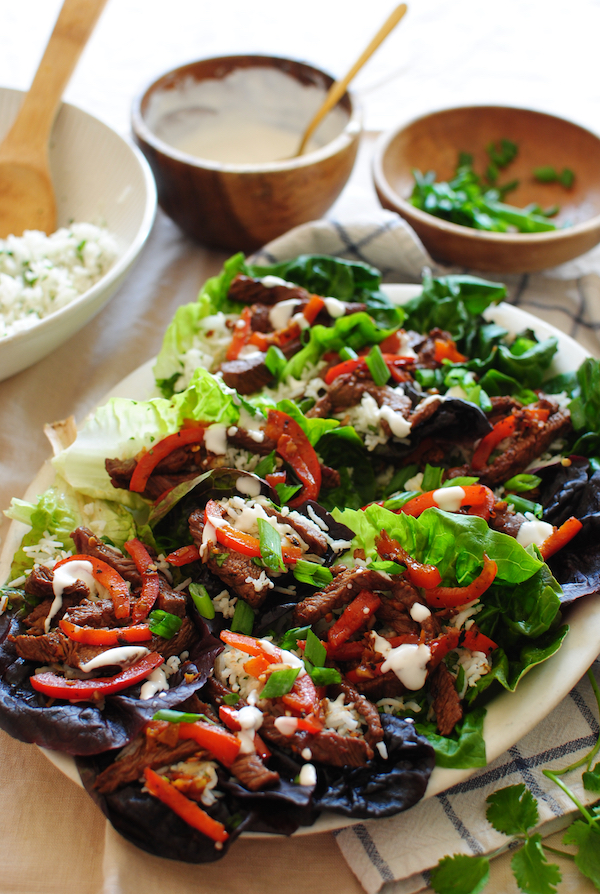 Lettuce wraps! It's been a while since I've made slash posted lettuce wraps. I always forget about these delightful canoes o' savory bliss. I know it's an odd time of year to be posting lettuce wraps, with all the soups and creamy pastas and casseroles and WHAT HAVE YOU. But I think they're nice! This time of year, I mean. Lighter. Zippier. Pippier. (<–I don't know.)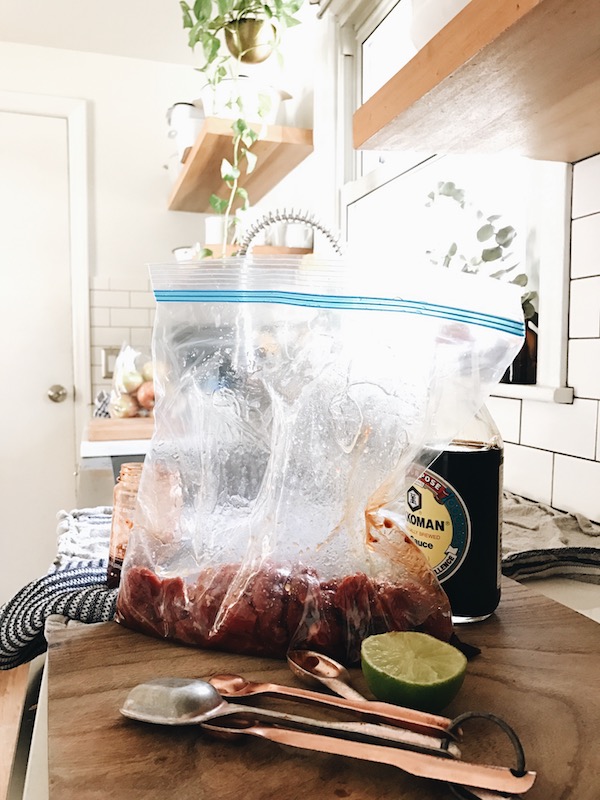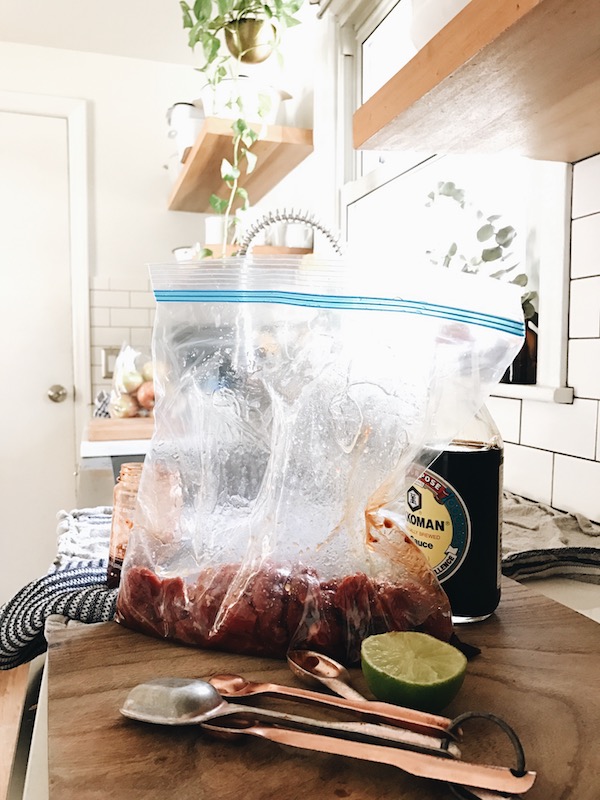 Let's start wid yer protayne. Steak! I've been on a beef kick lately, yes – I know. But sometimes chicken is just so YAWN to me. I feel like we eat it 47,000 times a week, so I simply couldn't deny my blistering internal soul shift within.
Marinate your steak in a little bit of soy sauce, sambal oelek, brown sugar and lime juice. EASY marinade. By the way, have you ever noticed the way Martha Stewart says marinade and marinate? She says marinATE, like normal. NATE. Long A. But then she'll pull a switcheroo and say mariNAWD. Like, NOD. NAHD. MarinOD. MarinAHD. Why do you think she does that to us? She must have learned it in prison.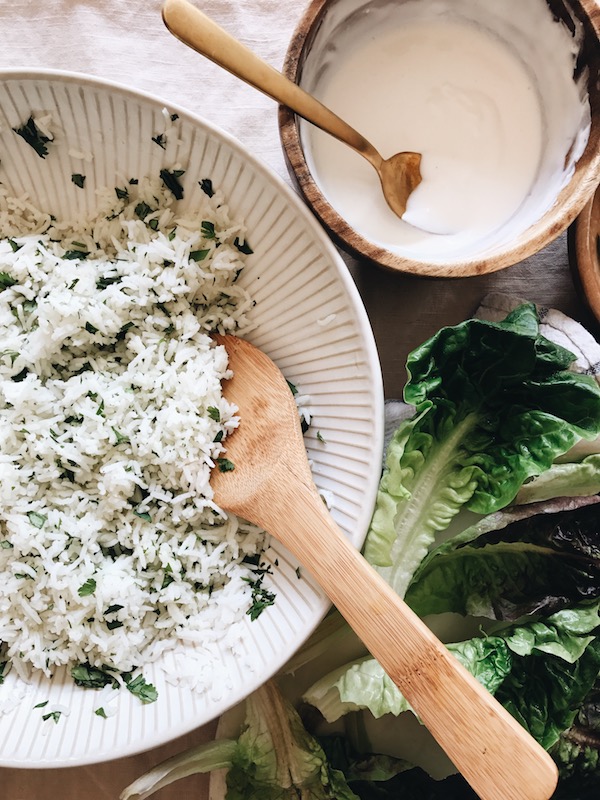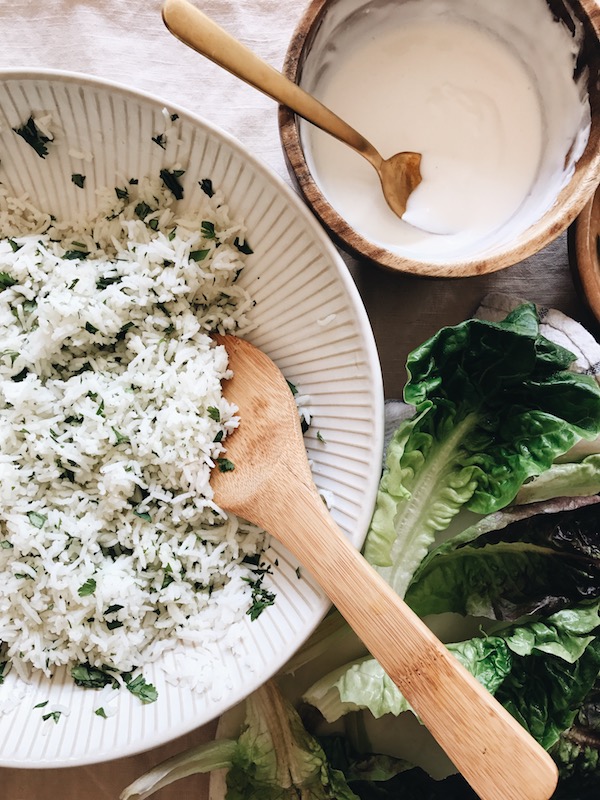 It wouldn't be right not to include some sort of carbs in these canoes, so you'll make a zippy pot of cilantro lime rice. I used Basmati, but any long grain rice you have is pawf.
Now, the lettuce. Let's talk about the lettuce. The VESSEL of this whole dang operation. I accidentally got sucked into this pretty package of artisan lettuce. But when I started pulling the leaves apart to rinse, I noticed how narrow they were. Even more narrow than romaine leaves. SO – maybe go with Boston lettuce, or anything with a wider leaf. Oh! Let's start a band called the Wider Leaves! No one likes us.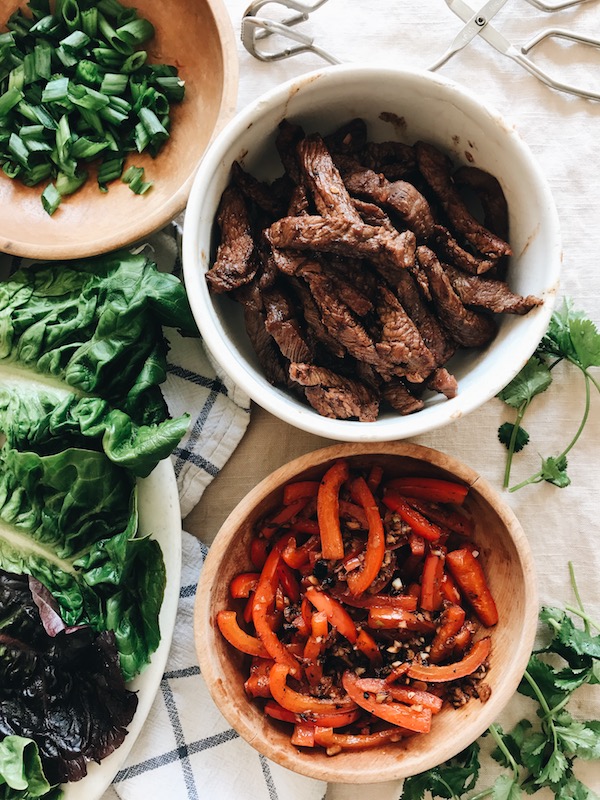 Two more things here: you have the pepper mix, and the finishing horseradish sauce.
So okay – the steak, the rice, the veggies, and the sauce. THE SAUCE. But hold on. Let's talk about the peppers. It's beyond a cinch. Once you sear the steak, you'll then sauté thinly sliced red bell pepper with fresh ginger and garlic. That's it. You in?
Now, THE SAUCE – it's a tiny mix of sour cream, horseradish sauce, lime juice and water (to thin). You can find jarred or bottled horseradish sauce anywhere! Right next to the ranch dressing and mayo, you know. If you like that face-punching HEAT that horseradish delivers, this sauce is your new bff. Just a little finishing drizzle over the wraps at the very end. You still in?
Duh.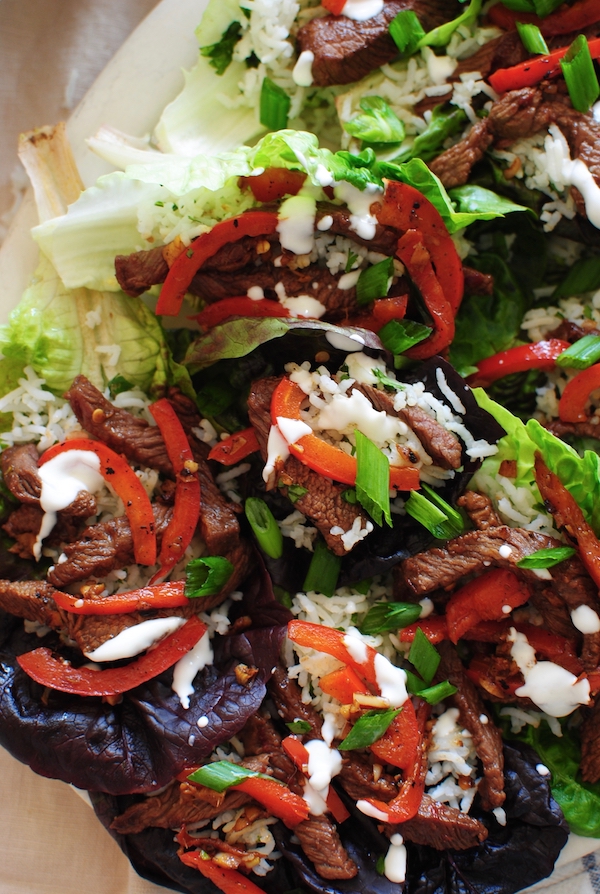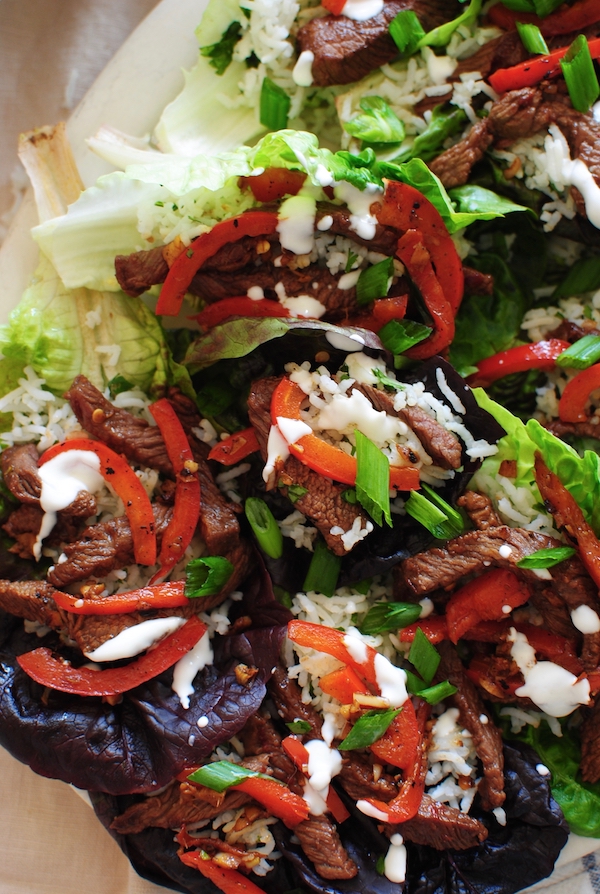 One thing about the meat! Once you mariNATE it for an hour or so, pat the steak strips dry before you sear. You'll get better browning that way.
So like, pile it all in. Lettuce leaf, cilantro rice, steak strips, pepper mix, sauce-y sauce, and scallions for garnish.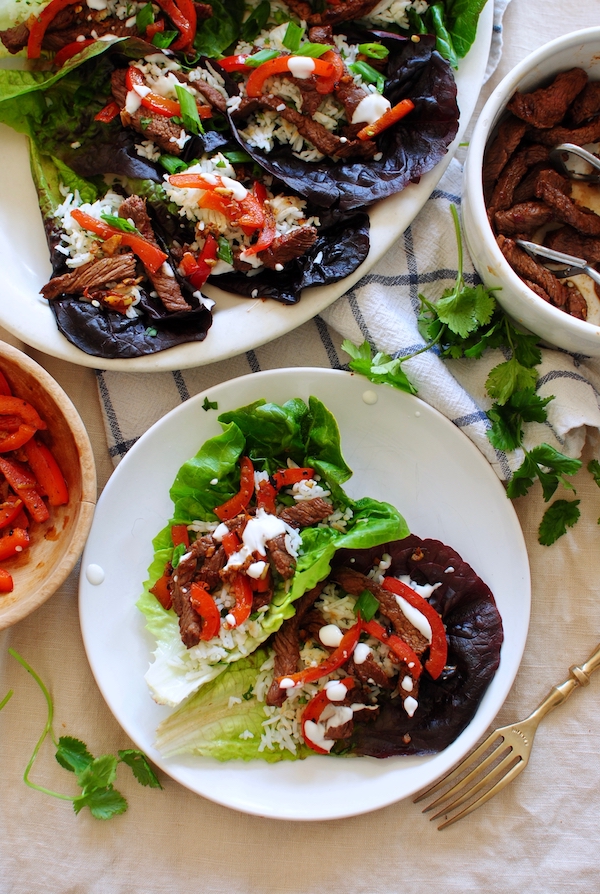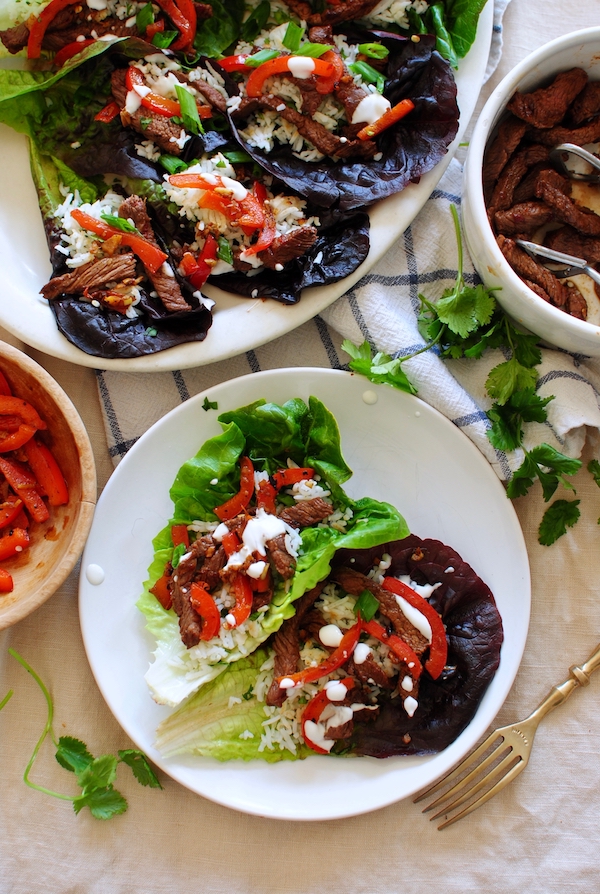 Are you getting excited yet? Should we start a whole winter lettuce wraps movement!?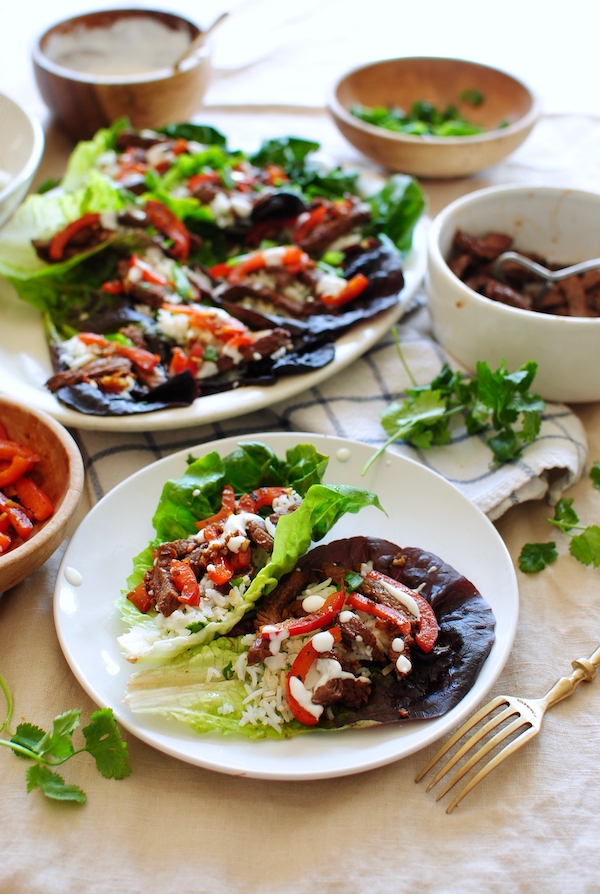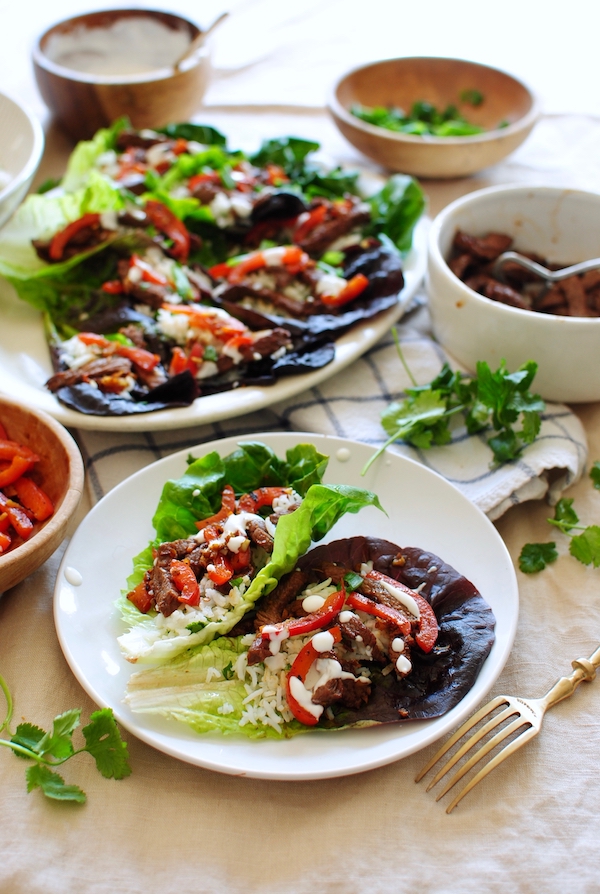 OKAY, here's the thing. If you want to nix the lettuce all together and just pile the steak and peppers on top of a heaping mound of rice, drizzle with the horseradish sauce and possibly a tiny hint of hot chile oil, YOU HAVE MY PERMISSION.
Because that works, too. Aaron did it. (so did I) And he'll never regret it a single day of his life. (neither will I)
But lettuce wraps are good, too!
Never mind.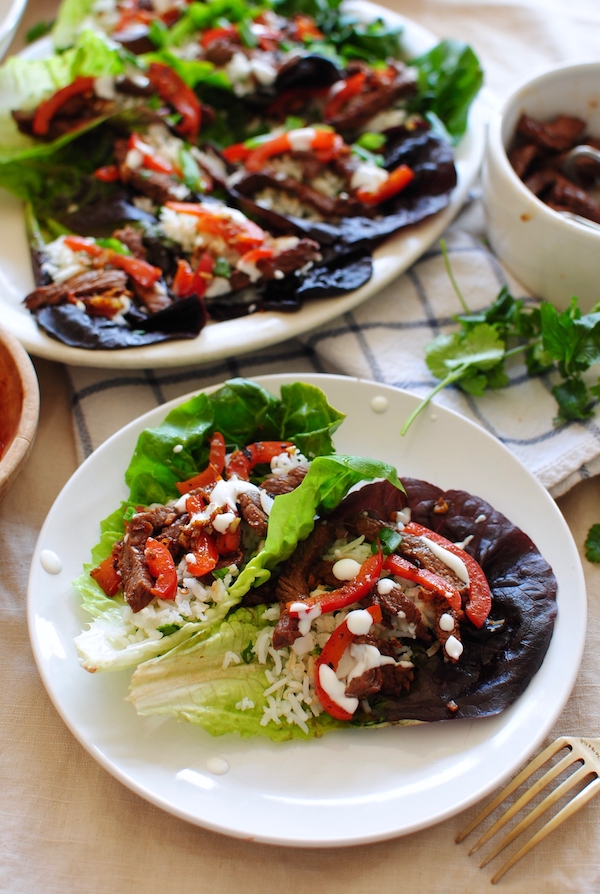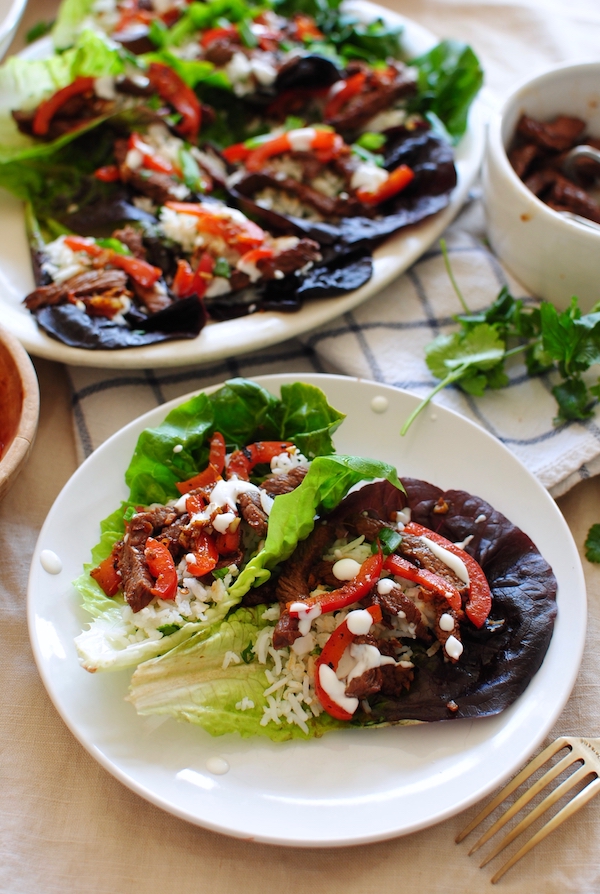 Get wrapped! Or, or not.
Asian Steak Lettuce Wraps
Ingredients
1 pound thin steak (skirt, flank, top round), cut into thin strips
2 Tbs. soy sauce
1 Tbs. sambal oelek
1 Tbs. lime juice
1 Tbs. brown sugar
1 Tbs. extra-virgin olive oil
Pinch of salt
1 cup uncooked Basmati white rice
1/2 cup finely chopped cilantro
1-2 Tbs. lime juice
1 red bell pepper, cut into thin strips
1 inch fresh ginger root, minced
3 cloves garlic, minced
2 Tbs. sour cream
2 Tbs. horseradish sauce
1 Tbs. lime juice
2 tsp water, to thin
1 head Boston or butter lettuce (or your favorite type of lettuce for wraps), rinsed and pat dry
Thinly sliced scallions, for garnish
Extra cilantro leaves, for garnish
Instructions
In a large plastic bag, combine the steak strips, soy sauce, samba oelek, lime juice, brown sugar, olive oil and salt. Move the steak around inside the bag to evenly coat the steak, then let it marinate in the fridge for about an hour. Remove the steak from the marinade and pat dry.
Place the rice in a rice cooker (1 cup rice to 2 cups water). Once cooked, add the cilantro and lime juice. Maybe a pinch of salt. Toss to combine.
Heat a large skillet over medium high. In two batches, sear the steak on both sides, until you get nice charring, about 3 minutes per side. Remove from the pan to rest.
Back in the pan, add a little oil, and the red bell pepper. Sauté for a minute, then add the ginger and garlic. Season with a pinch of salt, and sauté another 30 seconds.
In a small bowl, combine the sour cream, horseradish sauce, lime juice and water. Whisk until you get a thin, smooth sauce.
In each lettuce leaf, place a small mound of rice, steak and peppers. Drizzle with the spicy sauce and garnish with scallions and cilantro. And more lime!
You in?
Serves 4.
7.8.1.2
69
https://bevcooks.com/2017/02/asian-steak-lettuce-wraps/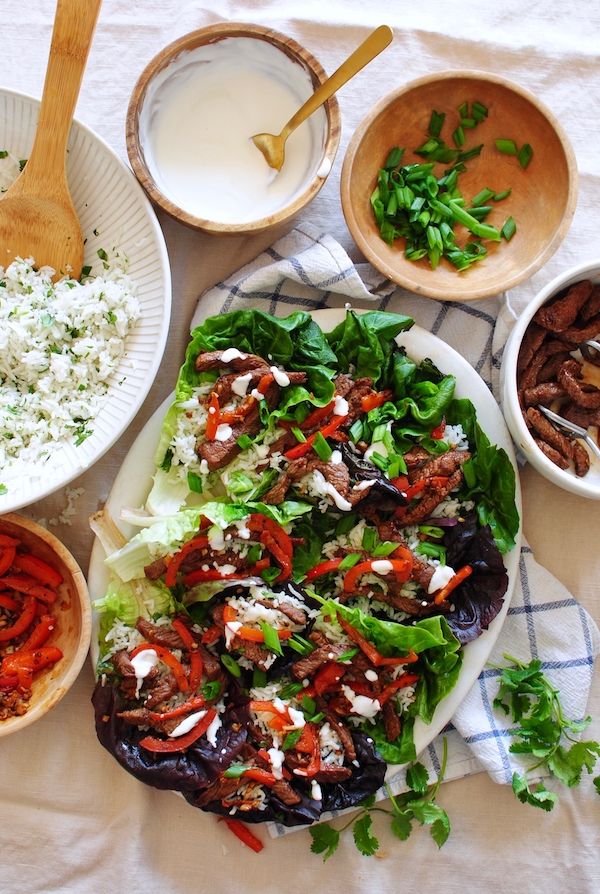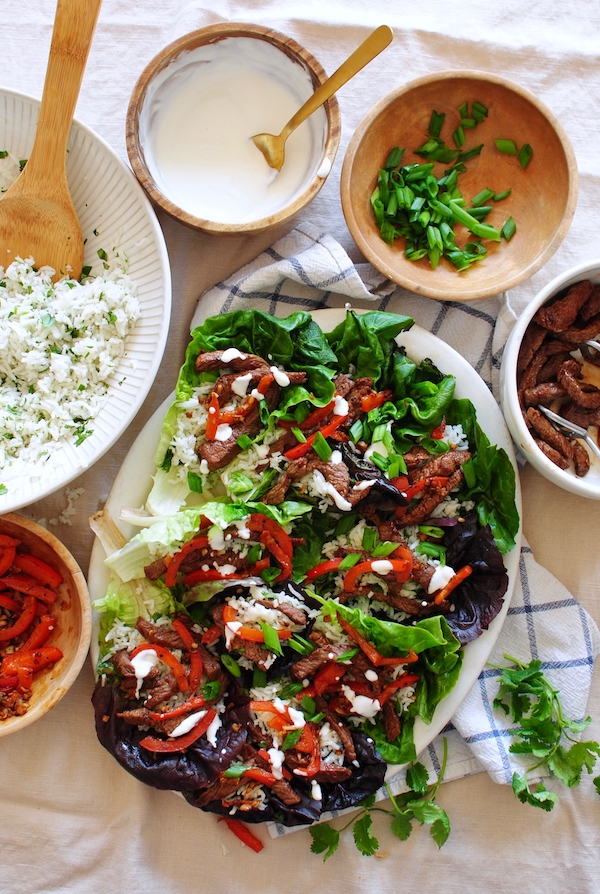 BUT LIKE, THAT SAUCE.