In other words, YOUR NEW FAVORITE CHAPTER OF LIFE.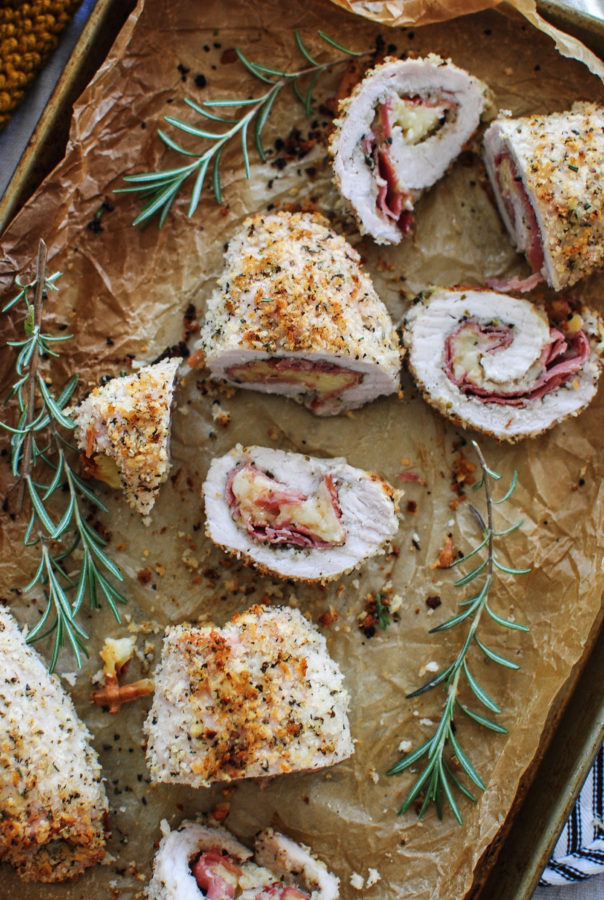 I am completely dead over these. Dead and gone. Gone and buried. Buried and forgotten forever.
Wait.
A few weeks ago I made some crispy chicken rollup thingies from a magazine, that were stuffed with baby swiss and deli ham. And they were just  . . . eh. No pow! No wowza! No boom! No mama said knock you out!
So I thought slash yelled out really loud to no one, "I can do way better than this criznap."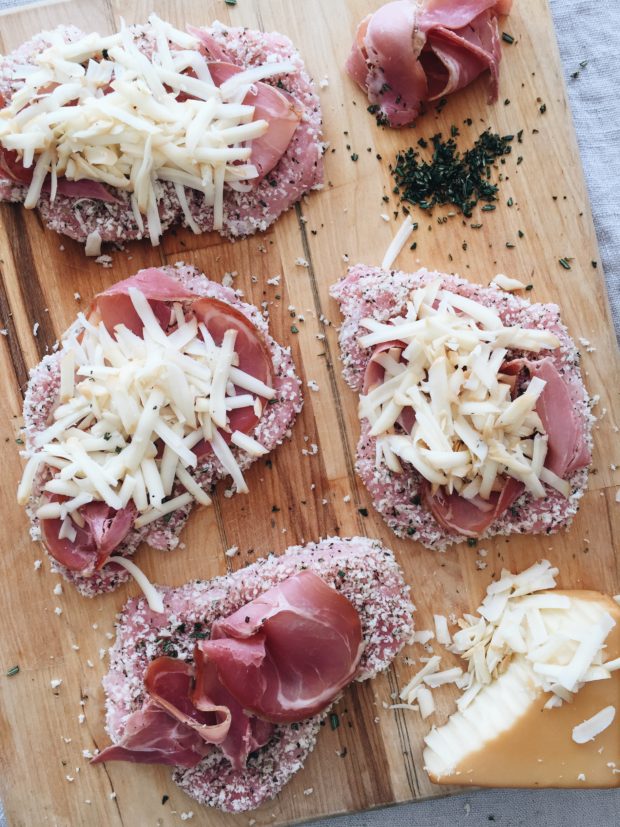 So I made them with pork.
Boneless pork loin chops that I so ferociously pounded out until super thin. Nothing ever felt so good.
And I swapped in prosciutto. And smoked gruyere. (You can use regular gruyere if you want! I actually couldn't find it this time, and don't normally gravitate towards smoked cheeses, but my soul fairies gave me the blessing to do so this time around.)
And I seasoned the panko with dried Italian seasoning, melted butter, powdered parmesan, and sprinkled extra freshly chopped rosemary from the garden because by this time I was weeping uncontrollably and had no power to stop.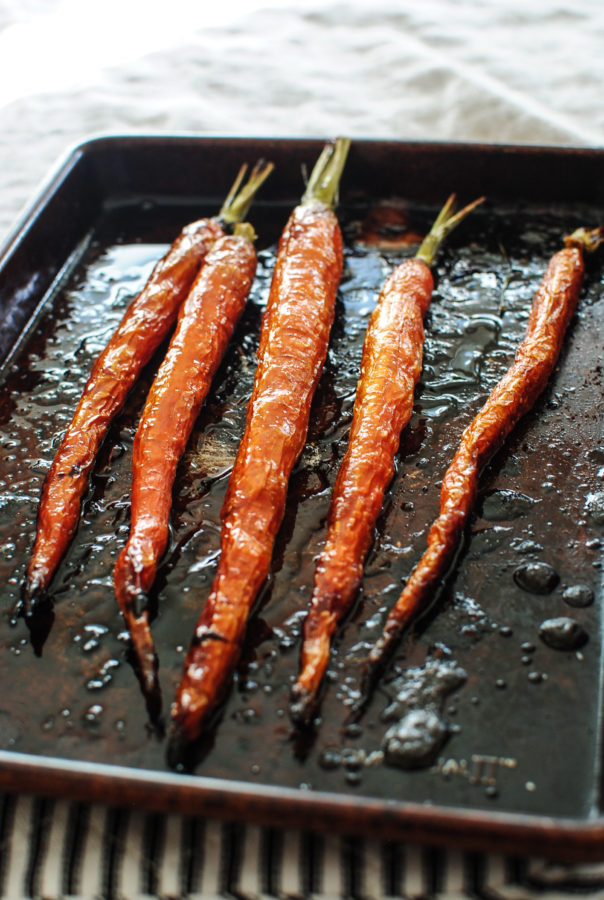 These ROASTED BROWN SUGAR CARROTS, though.
My hubs brought back a cooking tip from a holiday commercial shoot he was just on, and that is to sprinkle slash dump 86 buckets of brown sugar on whole carrots before you roast them. Waaaaaah.
I also added the tiniest bit of ground cumin because I'm a lunatic like that.
You absolutely must try this before I punch you. Add it to your Thanksgiving meal plan! (Also, I'm cooking the entire Thanksgiving meal this year, ALL BY MYSELF. And I'm terrified and seriously excited. Mostly for the Bloody Mary bar I'm setting up. Obviously.)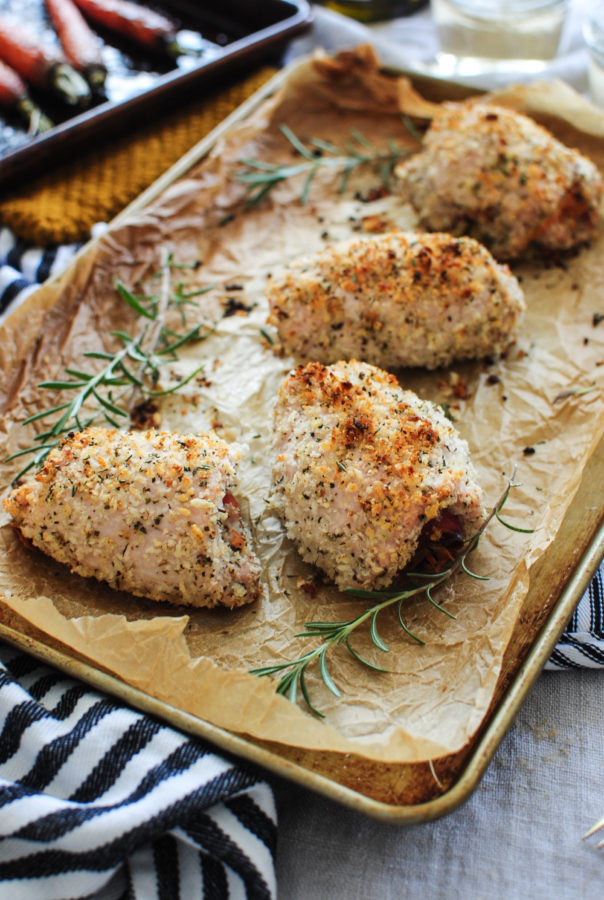 These.
Please.
You must.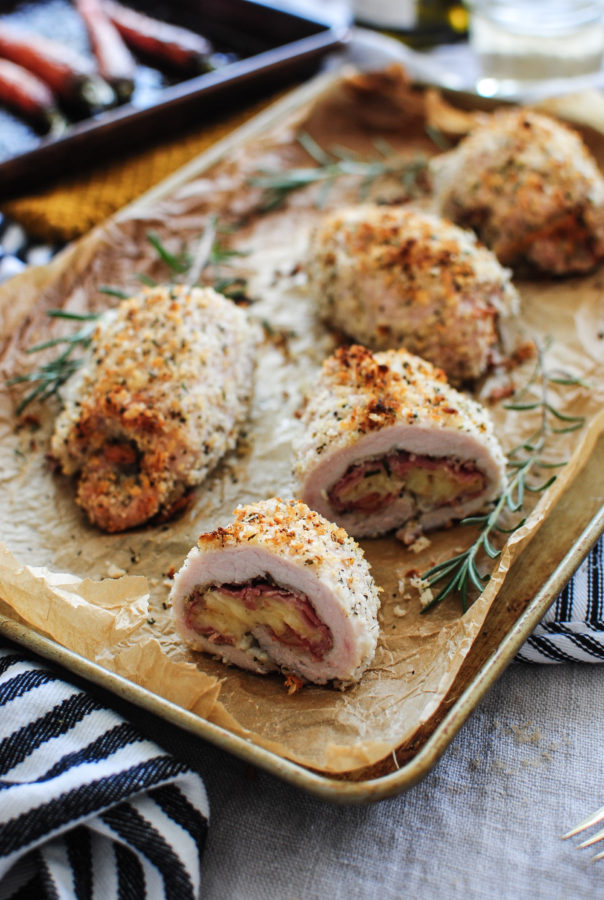 They go abouuuuuut 20 minutes in the oven, followed by a broil blast to get that panko good and golden brown on top.
You like words broil and blast back to back, don't you?
These are unreal. Not over-the-top salty, but just the properly righteous amount from the prosciutto and cheese filling. Remember the thing I said about being dead and gone? Right.
The whole process took me right at an hour, maybe an hour and 15, counting the carrot roasting. So it's easy enough to be a weeknight throw together. But fancy enough to save for Saturday night and have your best pals over and casually hang in the kitchen or by the fire while you take your time with it.
A wine to pair with this dinner? You won't believe what I'm about to say, but – a Chardonnay! UNOAKED, for the love of the baby sloths. Something about the rosemary and pork and the depth of the gruyere that's just pawwwwfect with that dry Chard. (don't punch me for saying chard.)
(you can if you want to.)
Fall just landed in your mouth.
Prosciutto and Gruyere-Stuffed Pork with Roasted Brown Sugar Carrots
Ingredients
1 cup panko breadcrumbs
1 Tbs. melted butter
1 Tbs. dried Italian seasoning
2 tsp powered Parmesan (like from a can, haha!)
1 pinch of salt
1 Tbs. finely chopped fresh rosemary
4 boneless pork loin chops, edge fat trimmed, and pounded out thin
4 thin slices prosciutto
about a cup of freshly grated gruyere cheese, maybe more
1 bunch whole carrots (about six)
2 tsp extra-virgin olive oil
1 tsp ground cumin
2 Tbs. brown sugar
1 pinch of salt
Instructions
Preheat oven to 400.
Sprinkle the carrots with the oil, cumin, brown sugar and a pinch of salt. Roast for 40-50 minutes, until the carrots are soft and roasted, and the brown sugar has caramelized and turned into pure glory. Cover and set aside.
In the meantime, combine the panko, melted butter, Italian seasoning, Parmesan and a pinch of salt in a small shallow dish. Place the pounded-out pork in the seasoned panko, coating on both sides. Season one side of the pork with the fresh rosemary.
Place a slice of prosciutto on each pork chop, followed with a sprinkling of gruyere cheese. Starting at one end, roll the pork up as tightly as you can, placing the rolls on a baking sheet, seamside down. Sprinkle the tops of the rolls with the remaining chopped rosemary.
Bake for 20 minutes, or until the pork is no longer pink on the outside. Crank the oven to broil and cook until the panko is golden brown on top.
Slice and serve with the roasted carrots! You could even add a simple green salad to the mix. Ugh, so perfect.
Serves 4.
7.8.1.2
50
https://bevcooks.com/2016/10/prosciutto-gruyere-stuffed-pork-roasted-brown-sugar-carrots/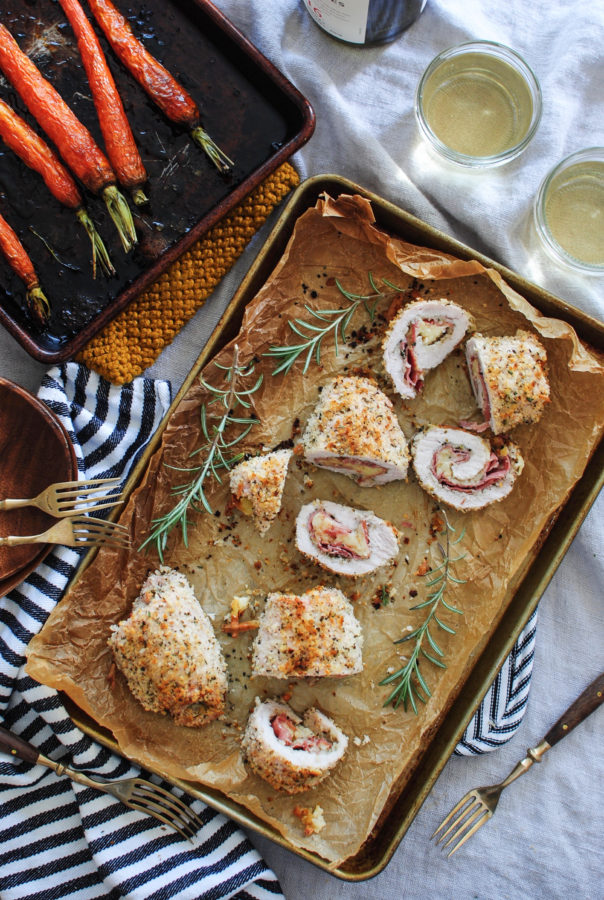 Like, really.
Save
Save
Save
Save