This recipe is brought to you by – my ENTIRE CHILDHOOD.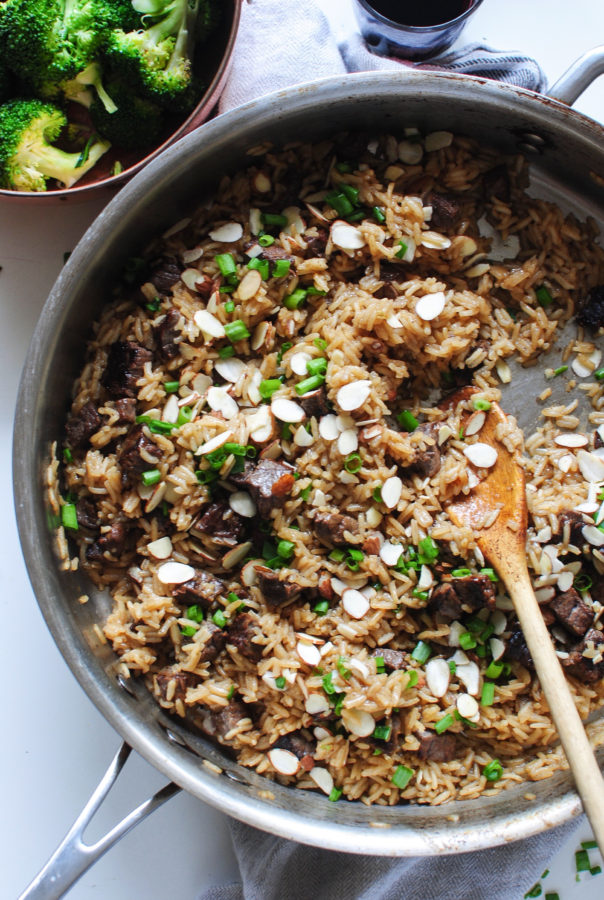 When I was growing up (IN THE EIGHTIES. I miss the eighties.), my mom have a fine-tuned meal rotation that almost never budged. Monday night was this. Tuesday night was that. Wednesday night was this, plus that. However, one meal in particular that never left me was this here Chinese Rice with Beeeeefaaaa.
That's not to say I've been making it all these years. I've actually not eaten it since Family Ties was on. (Oh, Alex P. Keaton) But when my mom was up visiting a few weeks ago while Aaron was dudes tripping (hahaha! oh.) in south Texas, we made it again. AND IT'S ALL COMING BAAAACK TO ME NOOOOOW. (<–name that tune)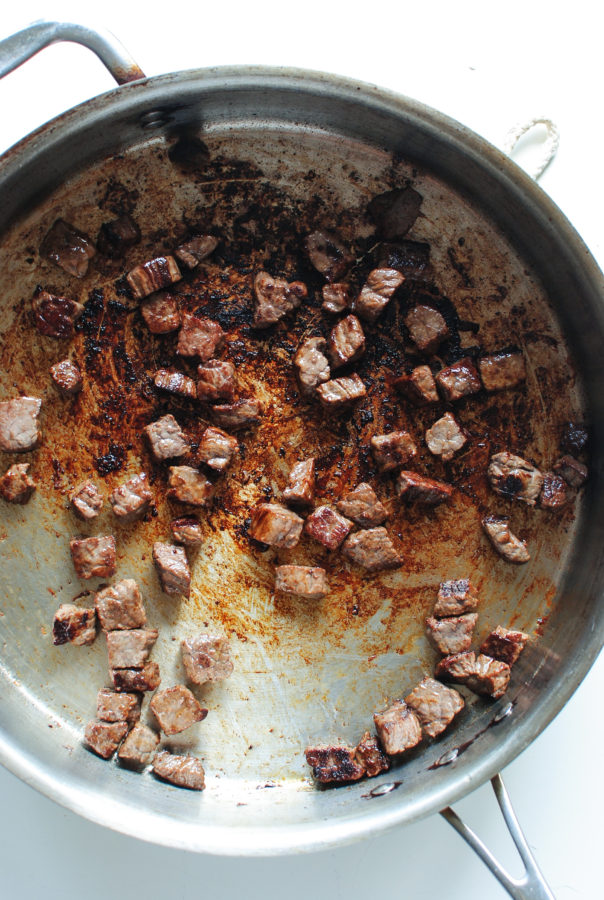 I might even be able to call this a Rewind Recipe, since it hails from my mom's southern church lady friends when she and my dad got married back in the early '70s. They gave her this recipe (among others) as a present! Isn't that cute? You're like, NO WAY I WANT ALL THE SPATULAS.
Don't ask me what makes this Chinese Rice. I have no idea. There's no soy sauce in it. No fish sauce, no sesame oil, no miso. No nuttin'. (SIDE NOTE: My mom just texted and said, "Ohhhhh yeaaaah, we were supposed to add a tablespoon of soy sauce at the end. Oops?" You guys, omg.)
But! It's got seasoned beef bouillon cubes and butter, so I'm obviously surrendering my life to it.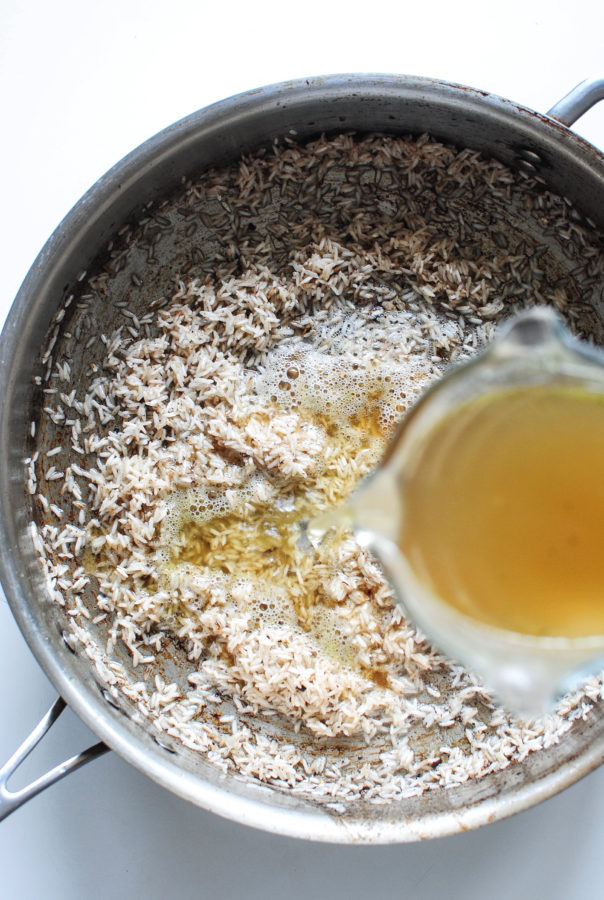 The cooking method is extremely simple, and fabulously weeknight friendly. You sear some beef round cubes. You toast some white rice in butter. You add water that's seasoned with the bouillon cubes. It's sort of like risotto! But not as much stirring. Which means you can watch Family Ties reruns and not worry about burning the rice. Holla.
Right at the end you'll add the beef back, and garnish with sliced almonds and scallions. THAT IS ALL.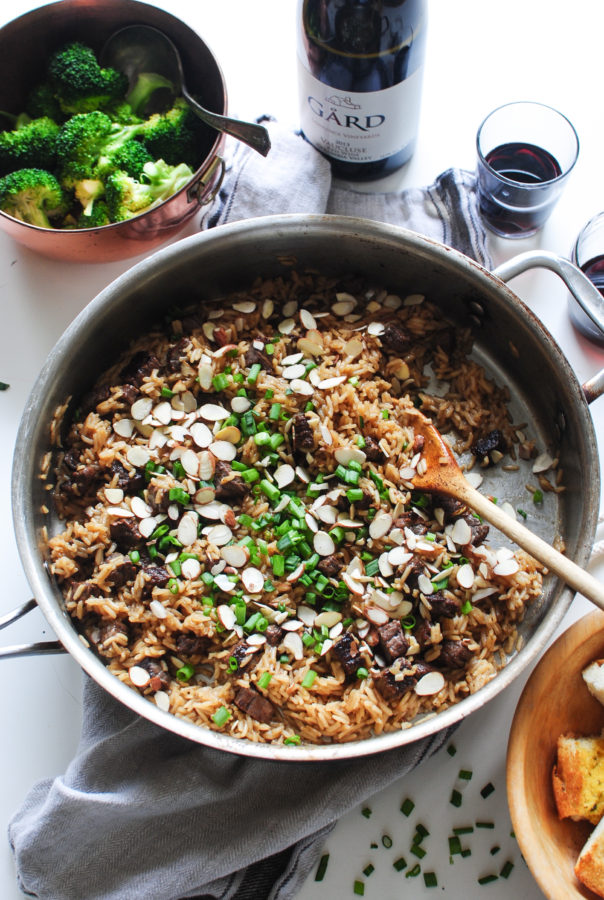 As in, the recipe is complete. Wasn't that so easy?
I do want to try something a little willy nilly the next time I make it. (which will be Sunday night September 18th because I'm a psycho planner) I want to try adding the beef back to the pan right after the toasting of the rice. I want that beef as tender as wilted flower petals, but I don't want to lose any of the gorgeous searing on the outside. Not that the meat is tough! I just want it melting in my face. So, I'll try it and get back to you. Thank you. Goodbye.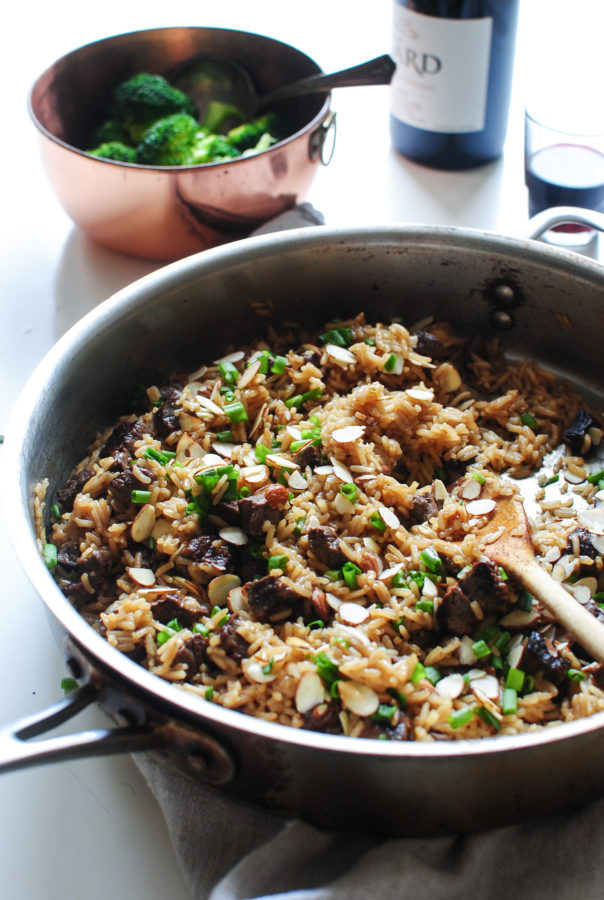 Just kidding.
I'm dying for you to taste this. The scallions and almonds all mixed it with the seasoned rice will have you pretty much mad at the world. IT IS SO GOOD. How everything magically comes together in a flavor love fest we will never know. But thank the baby sloths it does.
Now get yourself in that.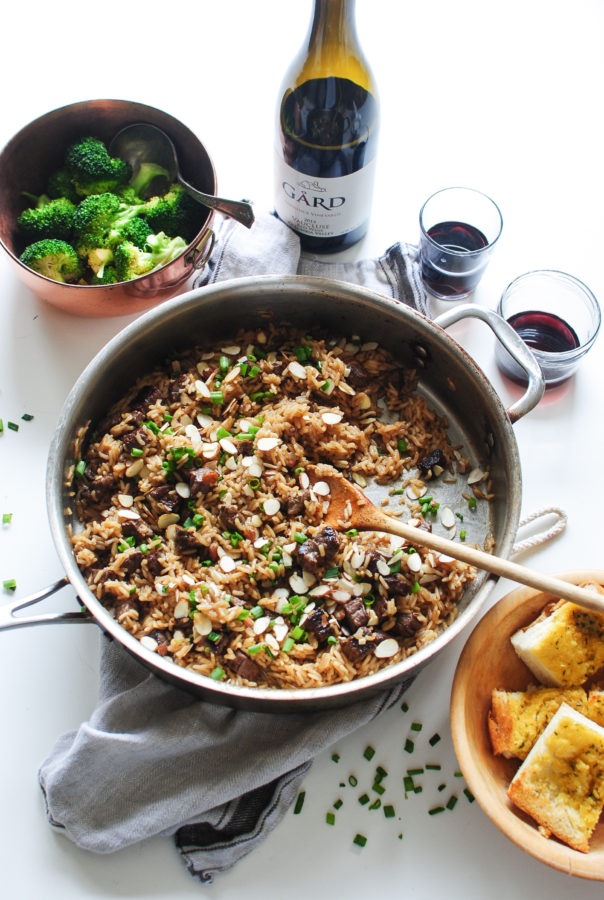 The end. Forever.
Ingredients
1 tsp extra-virgin olive oil
3/4th pound beef round steak, cut into cubes
2 extra large beef bouillon cubes
4 cups water
1/2 stick of butter
1 cup long grain white rice
1/2 cup sliced almonds
1/2 cup thinly sliced scallions
1 Tbs. soy sauce
pinch of coarse salt
Instructions
Heat the oil in a skillet over medium high. Add the beef cubes, season with a small pinch of salt, and sear on both sides, about 5 minutes total. Remove from the pan and set aside. (if you have any burned marks, wipe that out of the pan. But any good browned bits can stay. That's flavor, man.)
In the meantime, bring the water to a simmer in a small saucepan. Add the bouillon cubes and let them dissolve.
Melt the butter in the pan, then add the rice. Toast the rice in the butter for about two minutes, then add three cups of water to the pan. Cover the let the rice cook on medium for 12 minutes. Uncover, give the rice a stir, and let it finish cooking for another 5 minutes. If you need to add any seasoned water, you have that reserved cup! See, we didn't forget about it. You could also probably even add the beef back right now.
After 5 minutes, give the rice and beef a good stir, and garnish with the scallions, almonds and soy sauce. Inhale.
Serves 4. You will freak.
7.8.1.2
41
https://bevcooks.com/2016/09/chinese-rice-beef/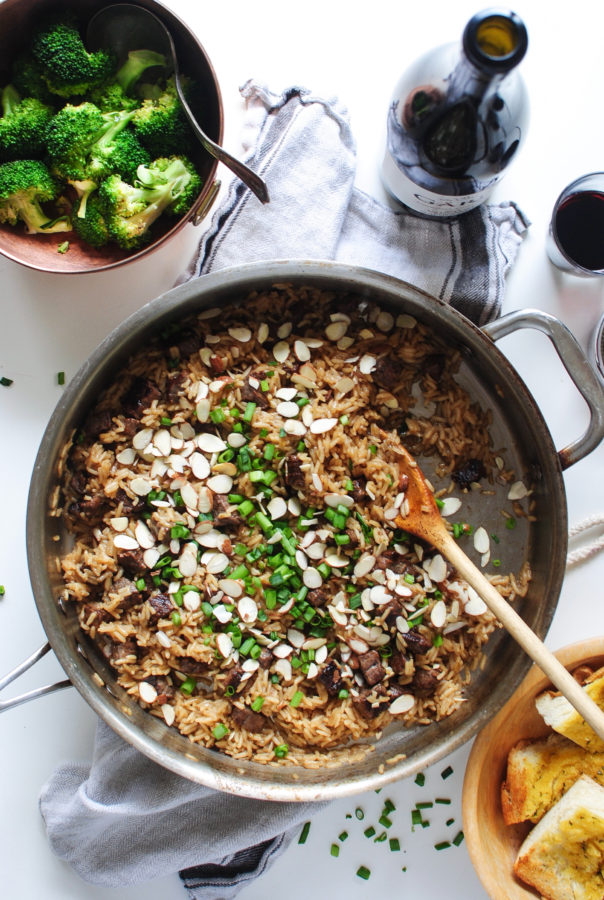 Thanks, Mom! (And Alex P. Keaton)
Save
Save
Save
Save
Save
Save
Save