Feels like a good day to slurp.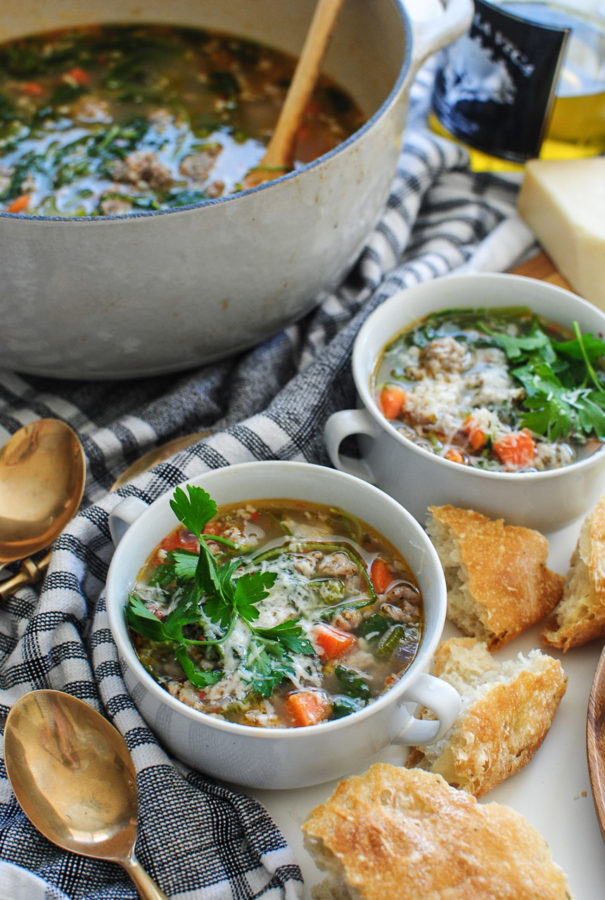 I could slurp on any given day, though. Any day is good to me. For slurpin'.  The soup.
Aren't you so glad we had this talk?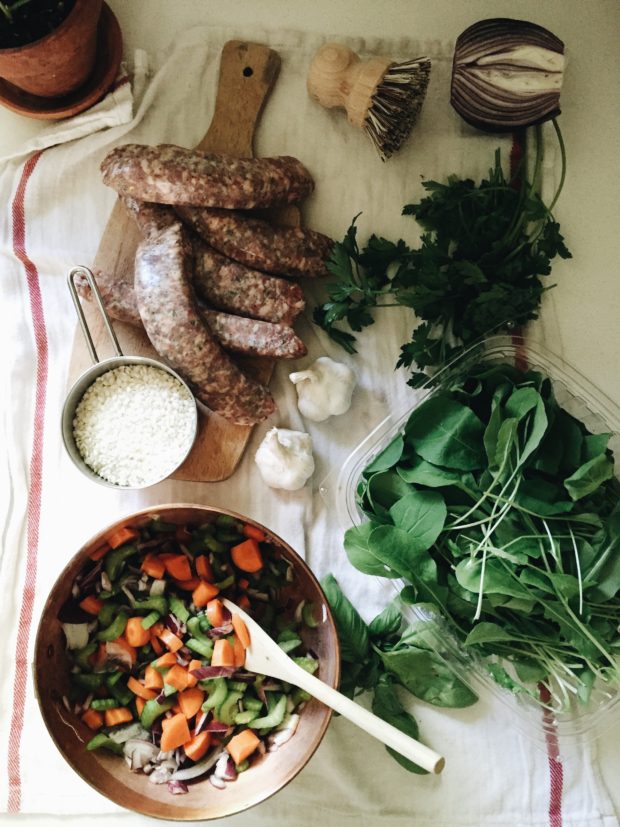 Gotta tell ya – this soup is kind of blowing my mind. It has RICE IN IT. Arborio, to be specific. You know, the pudgy little rice that you use in risotto? You know you've got a mostly-full container somewhere in your pantry, because you made risotto that one time over the winter, and now you're like, "What am I supposed to do with all this risotto rice?" Go find it. I'll wait.
….
………
You find it? Sweet! Okay, so this soup.
First of all, you know my obsession with my all-time fave kale, sausage and white bean soup. Everyone loves it. You can't not love that soup. But! I wanted a little something different this time around. Something a tad more seasonal, without losing that earthy, gutsy satisfaction. (<–almost wish I hadn't said gutsy just now.)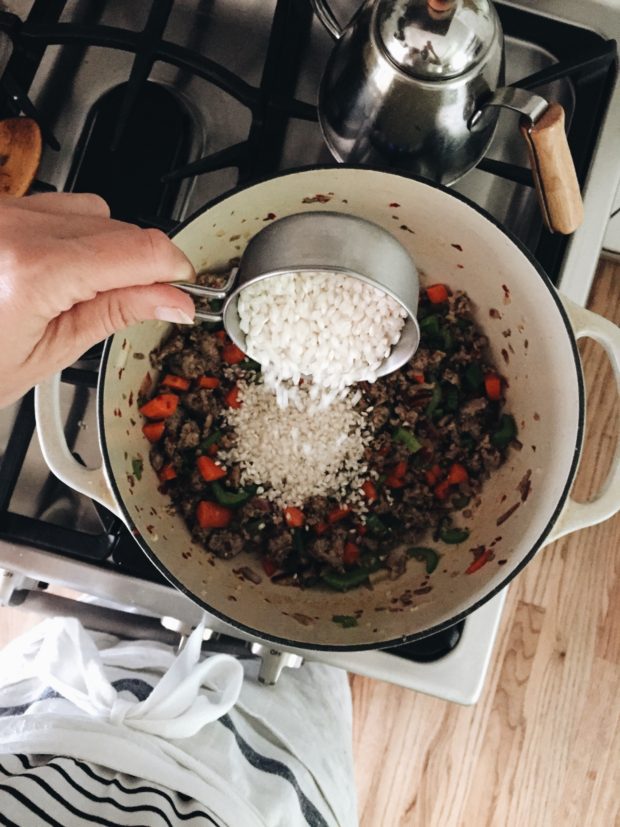 So instead of kale, we're having baby arugula. Instead of the white beans, the rice! And on top of that, I threw in a heavier amount of veggies, just to feel like I'm doing something right in this life.
But I kept the Italian sausage, because Italian sausage.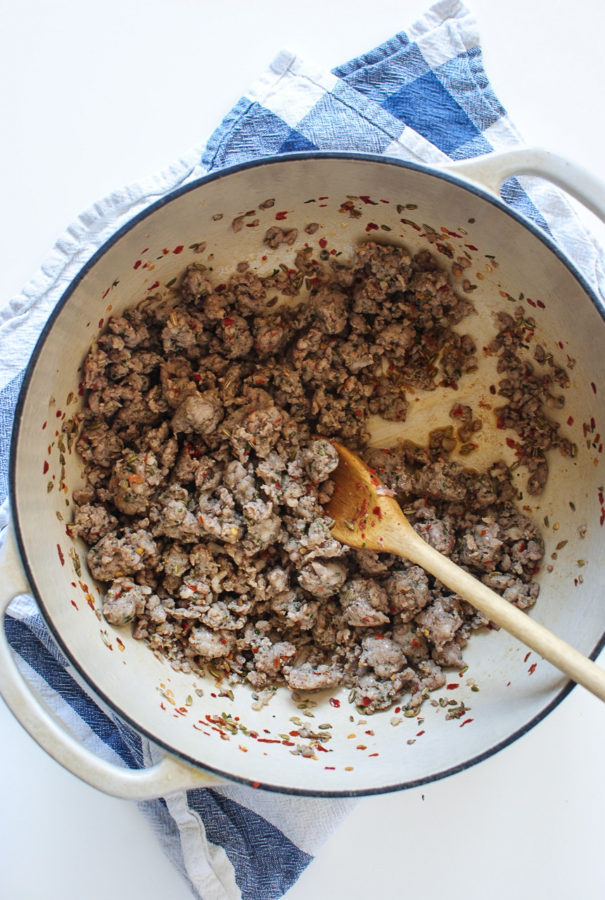 See those little red pepper flakes around the edges of the pot? That means you are a very good person.
Listen, this soup is insanely easy. You can easily prep it right after work and have it on the table in under an hour. Maybe even like, 43 minutes. 42!
A bit of sausage browning, then you'll add a few cups of diced veggerz (<–why did I do that?), THE RICE (<–remember the rice part?), and chicken stock. Let it simmer simmer, until the rice goes a little tender. Then add your arugula, a bit of lemon juice, and herbs. I used basil and parsley for this one. Use what you have growing in the garden! But I'm telling you, that basil be like jeah.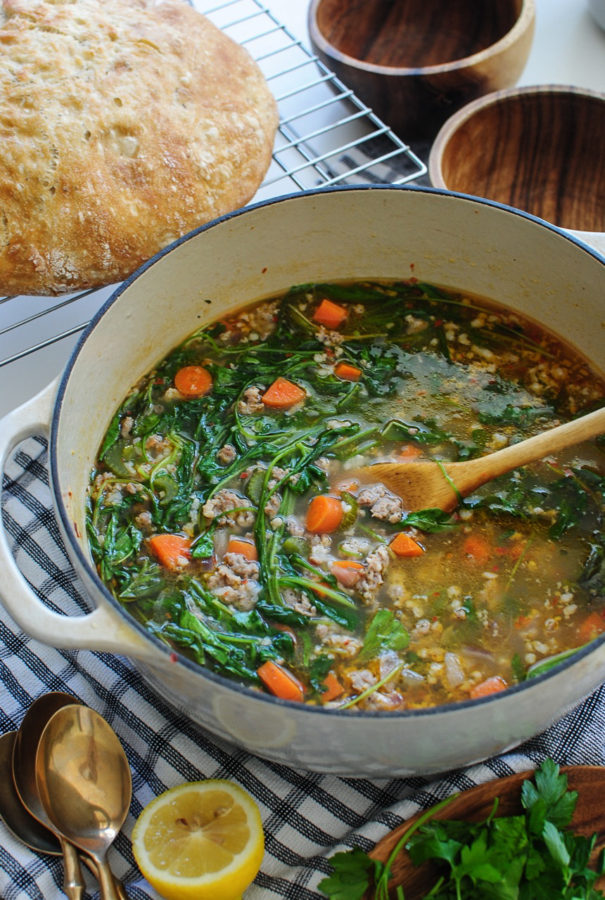 Then of course, serve with extra lemon, a good dusting of fresh parmesan, and a tiny drizzle of your best olive oil. (<–worth it)
Aaaaaaand don't forget some crustalicious bread! Dip that bread in your soup. Seriously, just dip dip dip. Praises will fly from your facehole.
You guys, these cool spring nights are evaporating fast. Make this soup BEFORE IT'S TOO LATE.
SAVE YOURSELF.
I'll chill.
RICE IN SOUP.
I'm done.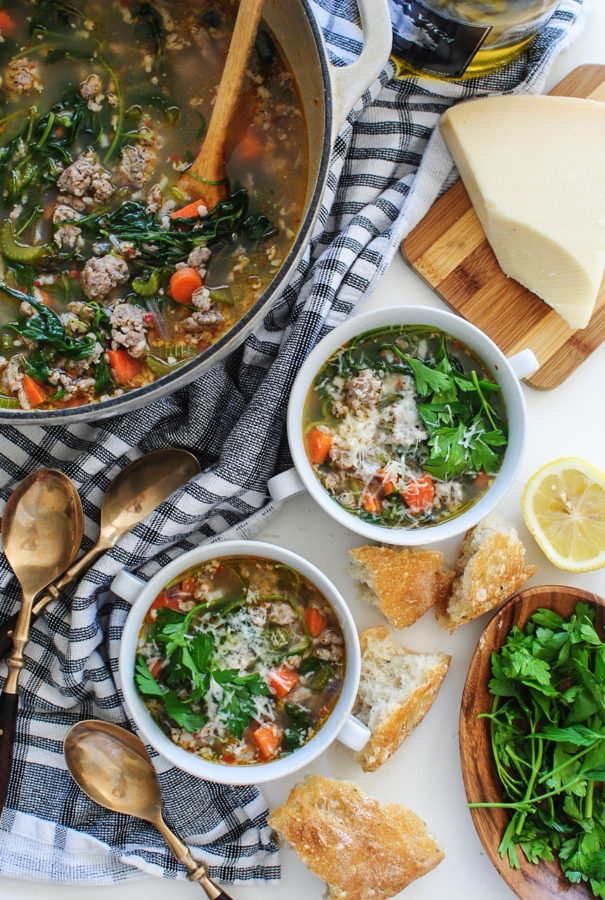 Slurp slurp.
Spring Soup with Italian Sausage, Rice and Veggies
Ingredients
1 1/4 pound hot Italian sausage, casings removed and torn apart into chunks
3 stalks celery, diced
2 large carrots, diced
1/2 large red onion, finely diced
4 cloves garlic, minced
1/2 cup Arborio rice
5 oz baby arugula
8 cups chicken stock
1 cup loose parsley leaves, plus more for garnish
1/2 cup loose basil leaves
1 lemon
freshly grated parmesan cheese
salt and pepper
Instructions
In a large pot, brown the Italian sausage, breaking it up with a wooden spoon as you cook it.
To the pot, add the celery, carrots, red onion and garlic. Season with a pinch of salt and pepper and sauté for a minute or two. Then add the rice to the mix. Toss the rice in everything, toasting it for a minute. Now add the stock; bring the soup to a boil, then reduce to a simmer and let cook for maybe 15 minutes, letting the rice soften. Once the rice feels the way you want it (not mushy, but not too toothy), add the arugula, basil and parsley. Toss to wilt the greens.
Off the heat, add a good squeeze of lemon juice to the pot. Taste it. Need anything? NOPE IT'S INSANE.
Now serve it with extra lemon, parmesan cheese and more herbs! And crusty bread. For the love do not forget the crusty bread.
Serves 6-8.
7.8.1.2
20
https://bevcooks.com/2016/05/italian-sausage-soup-rice-veggies/
Can we please just camp out in that forever?